This article may contain affiliate links; if you click on a shopping link and make a purchase I may receive a commission. As an Amazon Associate, I earn from qualifying purchases. 
While I like reading blogs of women with similar personal styles as mine, I find the most inspiration from those who do not dress like me on a regular basis. It's easy to follow a blogger and see how they styled the same blouse you own, or how they fit in a brand you have been considering, but bloggers with different personal styles can force you to think outside your sartorial box, encourage you to try new things, and refine your own look. A blogger who has a clear vision but sometimes shares an outfit that is not my personal cup of tea inspires me to think about WHY, to analyze my feelings on certain styles and trends and how that fits into my personal style. This is how I feel about Catherine of the fab blog Not Dressed as Lamb, and that is one of the reasons I asked her to be part of my True Fashionista series.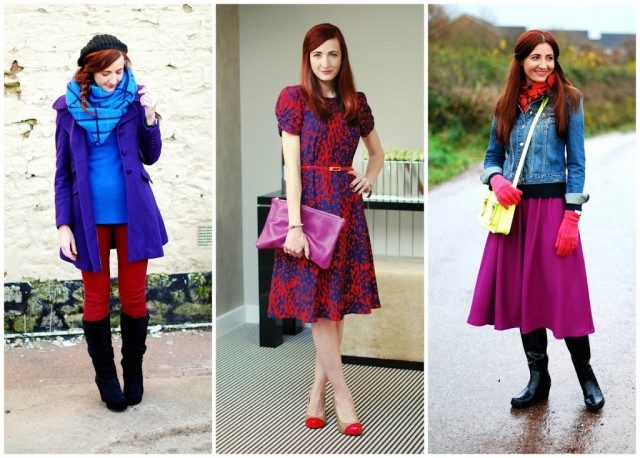 When I first found Not Dressed as Lamb, I found Catherine's color and print combinations to occasionally be jarring, but as I read her blog I understood WHY she made such sartorial choices and grew to admire and adore them. Gosh, she even calls herself "Queen of Clash." You can also see in the past year how I have made bolder choices in pattern and color mixing and I would have to say blogs like Not Dressed as Lamb gave me that confidence. I would bet that Catherine's blog gives many women a boost of confidence. She regularly shares musings about age, the media, and her thoughts about fashion that make one think about society's expectations for women dependent on their age.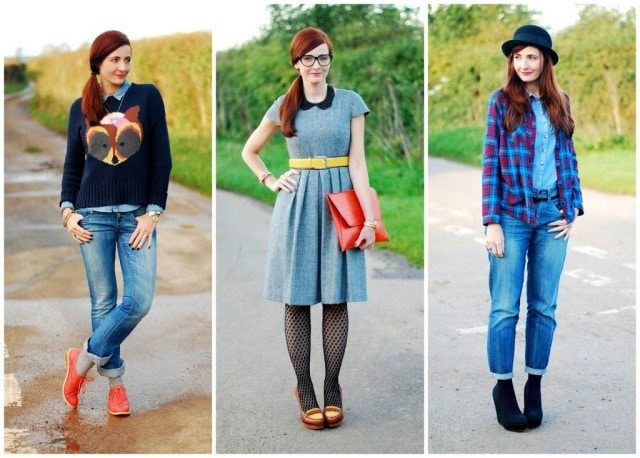 Catherine is inspiring because she shows that current trends and fun with fashion doesn't have to be limited to those under 30; she rocks the milkmaid braids, pattern mixing, neon pops, and shoe trends with finesse. Catherine doesn't just share her personal style and thoughts on fashion, she's also a blogger's blogger offering photography tips and how to improve your blog. She writes these tutorials in a manner that a blogger of any level can understand, and usually has access to the tools suggested.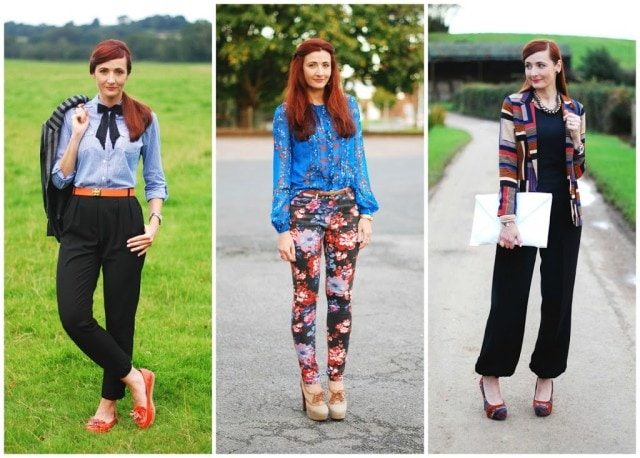 Catherine shows that fashion can be fun, and that fun isn't limited to a certain age demographic. That color and patterns and play with lengths and silhouettes can be educational and inspiring. That the best way to rock your age is to dress for the woman within, not the date on your driver's license. As with every other True Fashionista I asked Catherine to answer the same five questions; here are her answers.
How would you describe your personal style?
I'd describe my style as eclectic, but veering towards preppy with a twist. I also can't get enough of pattern mixing and bright colour.
Where did you get your passion for fashion?
I think by having much older sisters, I always wanted to emulate their music, their clothes, lifestyles, etc. I was ten when one sister was a stylish and beautiful 19 year old and I first noticed that she wore "fashionable" clothes, and, in my eyes, I didn't. I always loved dressing up and role play; her beautiful clothes sparked my interest in fashion, so it seemed a natural progression from the dressing up box! Also my best friend at school from the age of 11 was also really into magazines and fashion, so the two of us spent our teenage years obsessed with clothes and make up.
Where do you find sartorial inspiration?
My number one inspiration is other bloggers' style. I used to physically cut out images from magazines and keep a scrapbook for inspiration, but now of course there's Pinterest to do that online for me! Most of my looks can be traced back to an outfit I've seen on a blog as inspiration, from the whole outfit to just the way a shirt's been tucked in. The bloggers whose style I love the most are Kim of Eat.Sleep.Wear, Krystal of This Time Tomorrow and Sheree of It's Not That Deep (no longer in existence).
When I was a teenager I used to copy looks I'd seen in movies, for example Ali McGraw in Love Story, Madonna in Desperately Seeking Susan, and Molly Ringwald in Pretty In Pink. In fact I watched Pretty In Pink not long ago, and I thought how I'd wear a lot of the clothes that she wore in that film now 😉

What is the difference between fashion and style?
I recently read a quote along the lines of Fashion is what you buy, Style is what you do with it – I wish I'd written that because I think that is the perfect way to describe it! But I always maintain that what is stylish to one person won't be stylish to another: we should all embrace our uniqueness. And rather than trying to be someone else, take inspiration and work with what you've got. I think someone who's put loads of effort into a crazy-ass (and arguably uncoordinated) outfit is, in my opinion, extremely stylish – much more so than someone who's made no effort at all in sweats and unwashed hair, or someone who's wearing all the current trends by copying a store or designer's look from head to toe with no personality added to it.

Any advice for a woman who is starting to find her personal style?
Draw inspiration from what you see around you and in the media, online, on blogs, etc. Don't be afraid to try unexpected combinations or try on clothes you wouldn't normally touch with a bargepole. As mentioned above, work with what you've got: once you've accepted that you can't make your legs longer or your boobs smaller for example, move on and highlight your best bits! Make a note of compliments you receive about any part of your body and make sure you draw attention to that area. And my best piece of advice for finding and perfecting your own style comes in two parts:
Buy a full length mirror. It's truly impossible to dress yourself properly without one.
Photograph your outfits and upload the photos to study objectively on a monitor screen (don't just zoom in on the camera). I guarantee you'll see the outfit totally differently, and you'll be able to get a feel for what suits you and what doesn't very quickly. That's how to develop your own style, because you're not dressing anyone other than yourself.
The purpose of the Friday True Fashionista series is to show women who use clothing to express their personal style. Each woman has a different, unique look and opinion on clothing and fashion. These women inspire me in my clothing choices, and possibly their bold sartorial statements will inspire you. Stay tuned, there will be a featured True Fashionista every Friday. And if you know of a True Fashionista in your life, tell us about her in the comments… you never know she may end up being featured!