This article may contain affiliate links; if you click on a shopping link and make a purchase I may receive a commission. As an Amazon Associate, I earn from qualifying purchases.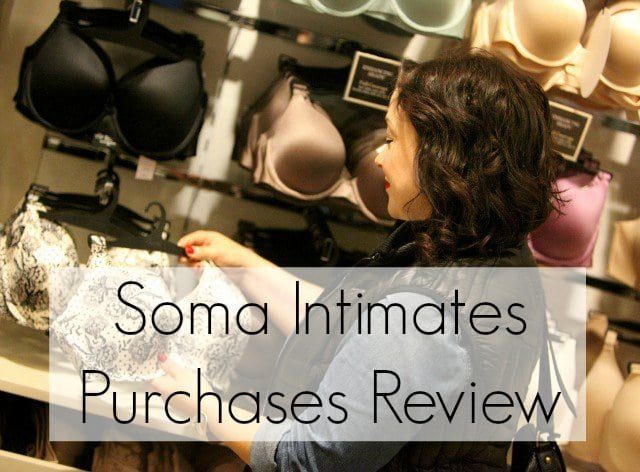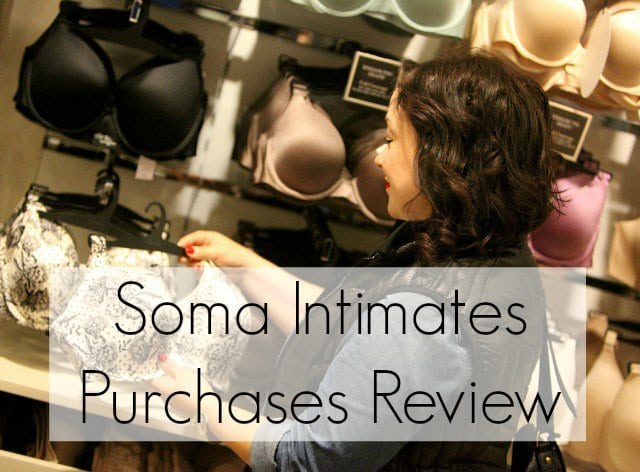 Spoiler alert – there's no misses really in this post. Also note some items were gifted to me from Soma, the rest were purchased with my money and my only discount was the code I got from one of their emails that goes to all customers. Anyway, on with the items I have recently purchased or received from Soma and what I think!
Soma Cool Nights Collection
I was going on vacation and wanted a pair of cute pajamas that wouldn't be too heavy, too hot, or take up too much room. You have all raved about Soma's Cool Nights collection for so long I decided to try it out. While the Cool Nights collection is 93% rayon and 7% spandex, I find it breathable and yes, cool at night, even in heat and humidity. It's thin, stretchy, silky, and can survive the washer, dryer, being laundered with things like denim and towels and Velcro and come out looking like new.
I got this in a no longer available color combination of Poppy Red/Rose Violet which is in my eyes, an orangey red and a cool blue pink. I love orange and pink together, and this color combo made me happy. I ordered a large… and think I could have gone with a medium. This is a very loose, drapey, swingy camisole. It's not too low in the neck or under the arms, but I wouldn't have minded less volume in the body. I also for some reason didn't think about the combination of older softer, let's say… drapey breasts and a soft, thin, drapey camisole. It's not the most flattering combination. However, this cami is uber comfortable. I prefer to go commando when I sleep and find many pajamas annoying. This cami doesn't annoy me at all. I used a promo code and got it for a bit over $40 and it has been totally worth the money. The cami has been washed at least a half dozen times and each time after put in the dryer and I haven't experienced shrinkage, fading, pilling, or even snags in the lace. I love the fabric so much I am considering a more structured sleep cami that better flatters the bustline!
I love these shorts. They're like longer, fuller tap pants. Super cute and feminine, not clingy, not snug, they don't give wedgies, they're long enough to not have my thighs rub, but short enough to look a bit sexy. If you're between sizes, go down. Like the cami, I think I could have done these in a medium. With the code I used these were $38 and completely worth it. I have bought similar shorts from department store brands that aren't nearly as nice in quality or fit as these. I love these so much, I may get the longer pants for winter.
Soma Vanishing Edge Collection
Soma sent me a pair of their Vanishing Edge Modern Brief. Again, you all raved about this collection and I see why. They completely vanish under clothing, and the little silicone grippers aren't uncomfortable yet keep the back in place (no wedgies!). The biggest thing is that though they are 83% Nylon, 17% Spandex (though with a 100% cotton crotch), they don't get swampy and uncomfortable in heat and humidity. As a petite woman, briefs are often too high on me and fold over; as a woman with a belly I often find lower rise underwear to roll down when I bend. I find these are a perfect height for me and are still sassy looking. I decided to get a couple other pairs in a variety of Vanishing Edge styles to see which I like best and to have a good stash for my road trip.
I already had one pair in nude but I bought another in nude and one in black. These fit exactly like the pair I got free, and all three have survived being in the wash and dryer (though I recommend washing on gentle in a lingerie bag and line drying to keep them looking and fitting great as long as possible).
I got these in leopard print with black lace (currently not available online but plenty of other patterns and solids are on the site) and they're super cute. They run a tad lower rise than the modern brief, but not enough to have them ride down or cut me under fitted dresses. The black lace makes them look more luxe, more sexy. I like these a lot.
I got these in black with white dots and black lace. They're cute… but they look the most like a pair of shapewear (very similar to my DKNY Lace Curves shaper briefs). It's funny but I find the hint of lace on the sides to make these look more frumpy than the plain solid ones. However, they fit similar to the plain modern brief and are quite comfortable. So on looks, they get a C but on fit and quality they get an A.
Other Soma Purchases
When I visited Soma for this post, I was measured as a 38D though I usually wear a 36DDD or F. I found it to be a bit off in size after owning it, so when Soma offered to send me this bra, I told them 36DD. It was the wrong size too, but Soma was kind enough to send it to me in the size I normally wear in Chantelle, Fantasie, and Wacoal. It's a super comfortable bra, I hardly notice it's on and I'm not itching to remove it as soon as I get home. That being said it doesn't give me as gorgeous of a bustline as my favorite Fantasie bras. It's more of a… relaxed silhouette. Decent lift and separation, no back bulges, no quad-boob, a good everyday casual bra.
I was traveling so a pair of these seemed like a natural choice. These are okay, but they are not my favorite. They run a bit more snug, and a bit lower rise than the Vanishing Edge, and the leg opening isn't as open. They're not bad, they're more like an awesome pair of Target underwear than something that costs $15. I got them free as part of a buy X get Y promotion taking place at the time of order. I got them in Ruby, which was an ordinary red, not the brilliant red I saw on my computer monitor.
The Enticing Lift bras from Soma are supposed to give lift without being a padded pushup bra. As someone who wears a molded cup bra for that pushup lifted look, this sounded pretty darn good to me. Soma sent me one without me even asking for it, and thanks to my Vanishing Back experience, sent me a 36DDD in black.
The bra is black lace with a beige lining but the layers are bonded together so it's super smooth and there's no texture even when worn under thin fitted knits. No padding, but better shape and support than unlined stretch or lace bras. In fact, after my beloved Fantasie bras this is the best bra I have owned in a very long time. I think because of its weight but the bonded fabric, the bra molds to your body over the day and has a seamless and comfortable fit. It has been a favorite this summer because it's lighter weight than my molded cups and well, it's prettier too!
Soma sent these to me in black along with the Enticing Lift bra and they're fine. My body isn't made for a boyshort, I find them to ride a bit too low and not be too flattering on my figure. But these are nice quality, the lace holds its shape, they've been washed and worn and have held up beautifully. They are a lightweight lace, lighter than Hanky Panky, and not as stretchy/form fitting. Not my cup of tea, but if you like lace boyshorts, you may like these.