This article may contain affiliate links; if you click on a shopping link and make a purchase I may receive a commission. As an Amazon Associate, I earn from qualifying purchases. 
I have been invited to an out of town wedding. It's outdoors, in the Texas heat, on the grass and the invitation advises us to choose our footwear carefully. The attire is semiformal. I'm a pear-shaped thirty-something who is most at home in jeans, tees and skate shoes and I like to hide my midsection the most. My bust line is large and embarrassing. I normally stick to loose fitting garments that swallow me up and my look could best be described as "tomboy" or "please don't notice me". To say that this is my worst nightmare is an understatement, but I'm determined to try a dress and even wedges because this is my best friend's wedding. I'd like to spend no more than $100 on the dress and up to $50 on the shoes. Semi-formal is kind of vague to me, and all I know is that it's just shy of prom and nicer than church clothes. Is there a list of do's and don'ts for what counts as semiformal?
I usually pare down my Ask Allie requests, but I kept the majority of your email because I think many can relate to your feelings about formalwear (or semi-formalwear) and their figures. Even I, who loves a frock, freaks out when I have to go to an event where I need to dress up and start questioning my figure.
Semiformal is really very open-ended. You're right, it's nicer that most church clothes, but not a prom dress. This actually gives you a TON of options, and the ability to purchase a dress that could be worn again.
Before we get to the dress, I want to discuss what goes UNDER the dress. I have a very large bust, and it isn't firm and perky, but I don't call it embarrassing. But I have before… before getting a professional bra fitting. This isn't going to Victoria's Secret or Lane Bryant and having a college kid wrap a tape measure around your sweatshirt. It's worth it, if you have one nearby, to visit a bra boutique or high-end department store's lingerie department. It's not just about size, but the bra brand, the bra shape, and type. When I found The Bra, I no longer found my bust embarrassingly big. In fact, my chest looked smaller and my whole body looked more trim. I get sized every year, and I now know what kinds of bras to get (for me, I like a molded cup because it gives lift and makes me look perky and firm without being bigger). As for the bottom half, if you don't usually wear control garments now is NOT the time. It's going to be hot and you will be stressed. However if you ever deal with "chub rub" consider a pair of Skimmies or Undersummers (haven't tried but a friend highly recommends them). Not only will they stop chafing, they will help your dress drape better.
Now, on to the dress. Since you're not usually a dress gal, I recommend buying something very simple in a fabric and color you can wear again. A solid color dresses up more easily than a print and is easier to wear to multiple events without looking like a one-trick pony. After writing this you got back to me and expressed interest in a printed dress so I added some that I felt were more classic in pattern that could be worn year-round.  Sleeveless or cap sleeves will be comfortable in the Texas heat and also look appropriate in the middle of winter for a dressy event.  I know you mentioned you like covering your arms but arms are the same size whether swathed in fabric or bare; it's going to be hot and there's nothing less stylish or attention-getting than looking uncomfortable. For fabrics, there's no need to get beading, sequins or satin to be semi-formal. Your shoe, bag, and jewelry choice can take a simple matte jersey church dress and make it cocktail-appropriate.
Semi Formal Plus Size Dresses Under $100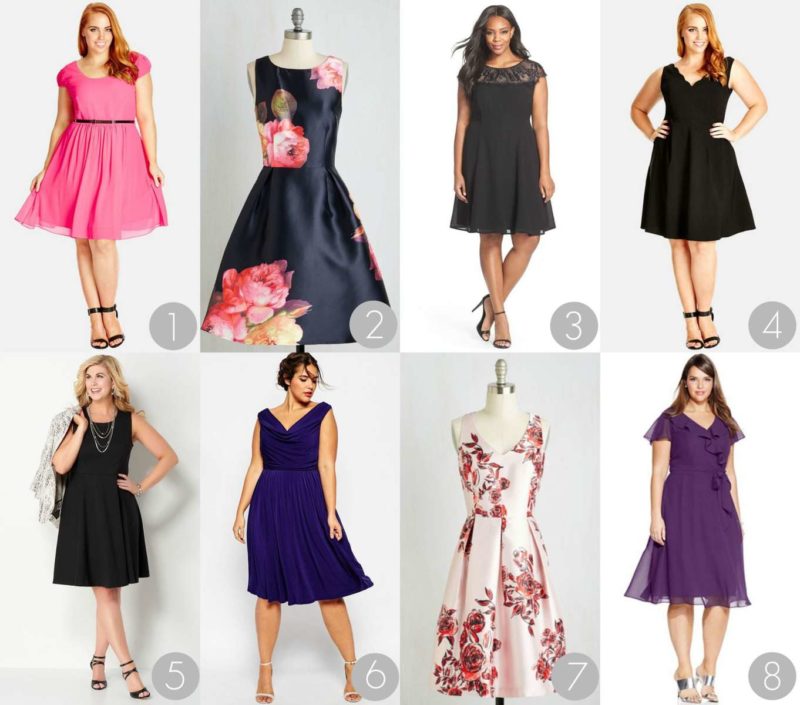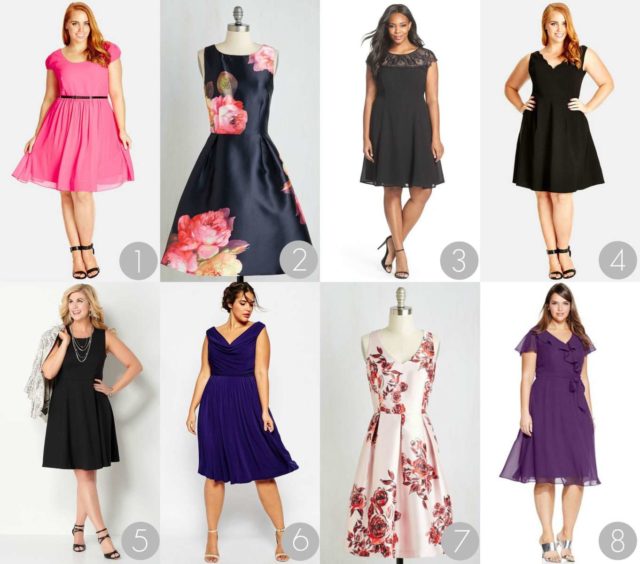 Below are dresses I found that are under $100, work with a sturdy bra, don't show off the bust or belly, and flatter a pear shape. Not only that, all of these dresses have free shipping and great return policies so you can try more than one without regret:
Shop Plus Size Semi Formal Dresses:


Outdoor Wedding-Friendly Shoes Under $60
I'm glad the invite stressed the importance of shoes; nothing will ruin a good time better than wobbling around, sinking into grass, and ruining a favorite pair of footwear.  Wedges are a brilliant choice for such an event, but don't be afraid to consider dressy flat shoes; especially with this being an outdoor event, it won't look wrong to keep your feet low to the ground.  Also it's okay for such a situation to have a shoe that may at first look more office-appropriate; a peeptoe, almond toe, or sandal wedge or flat in patent leather (as long as it's a covered wedge and not cork/wood/straw) can look quite festive.  A few shoes I found under $60 that would be great for a semi formal outdoor wedding:
Shop Flat and Wedge Semiformal Footwear:


Accessories to Complete the Semi Formal Look
Sometimes all you need is the right accessories to take a simple dress from your closet and make it semiformal.  I can't recommend a signature or statement clutch or evening bag enough; something with a bit of sparkle or a unique pattern even when paired with a printed dress can take your look to the next level and add a festive and formal touch.  A sparkly statement or bib necklace is a great way to elevate a not-so little black dress or other dark-colored frock already hanging in your closet.  A sparkly stud earring – an oversized faux gem has a lot of power without overwhelming your look.  Below I have carousels of some great accessories I have found around the web that are budget-friendly and will take your look to the semiformal level.
Shop Budget Friendly Semiformal Jewelry:


Shop Budget Friendly Semiformal Bags: