This article may contain affiliate links; if you click on a shopping link and make a purchase I may receive a commission. As an Amazon Associate, I earn from qualifying purchases.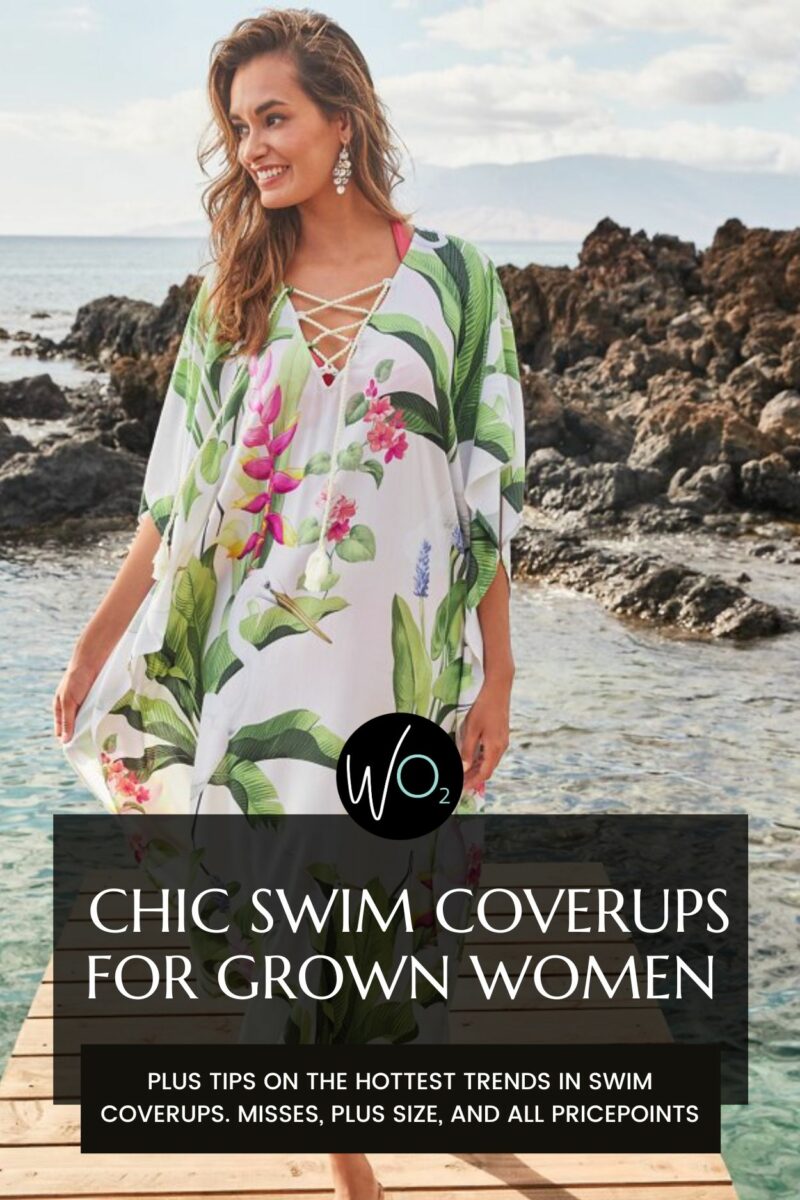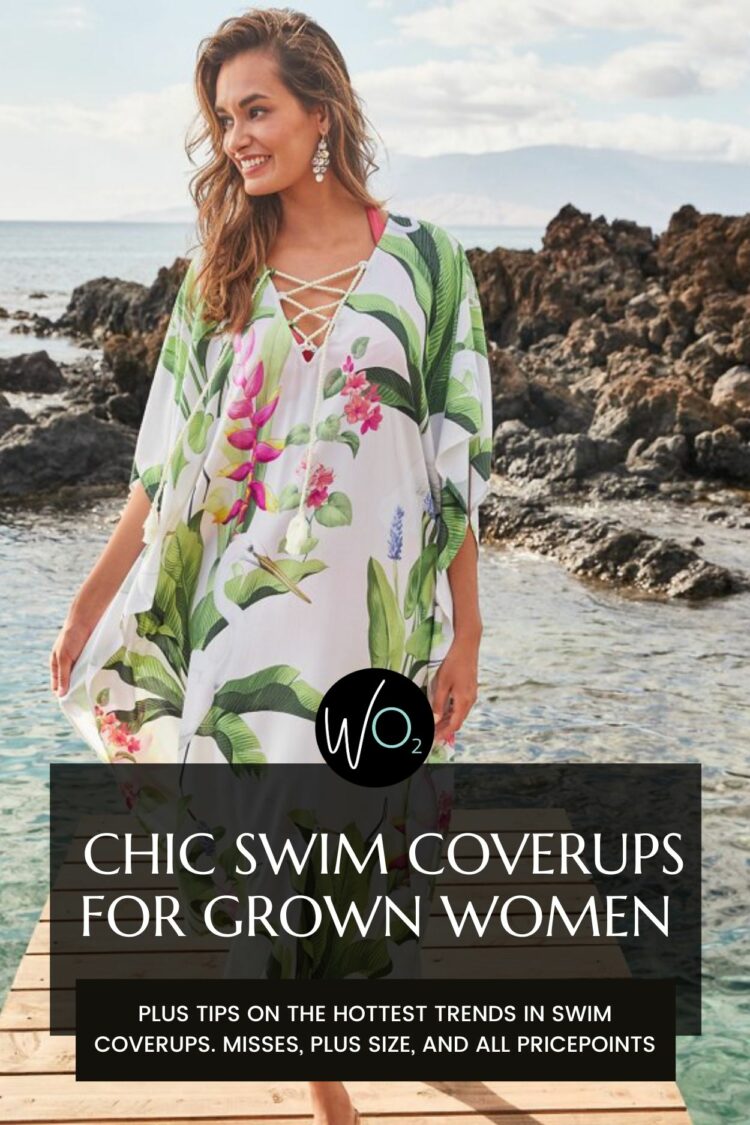 Everybody and every body deserves to have fun in the sun. And it's a lot more fun when you're wearing swimsuits and swim coverups that make you feel confident and look chic. Not all swim coverups are created equal, and some may be more appealing to those of us who are grown-ass women. Below I share my picks for chic swim coverups for grown women separated by the different swim coverup trends happening this year (but will also look chic next summer and the summer after that).
The Most Chic Swim Coverups for Grown Women
You know me, I made sure to have a range of misses and plus size swim coverups as well as a range of prices. This collection of swim coverups offers ways to incorporate current trends, purchase stylish classics, and update your favorite swimsuit for the upcoming pool season, beach getaway, or vacation at the lake. I find these styles to be the trending looks in swim coverups for Summer 2023 that are perfect for grown-ass women.
If you're looking for swimwear reviews and past articles about swimwear and coverups, please visit my swimwear archives.
The Boyfriend Shirt
My personal favorite, the boyfriend shirt is a classic swim coverup that looks chic on many, regardless of age, size, or shape. Looks good open, buttoned closed, tied over a pair of shorts or breezy beach pants, and after the summer can be worn with relaxed jeans or leggings. This year the boyfriend shirt is more popular than ever, providing a great range of lengths, colors, prints, and fabrics.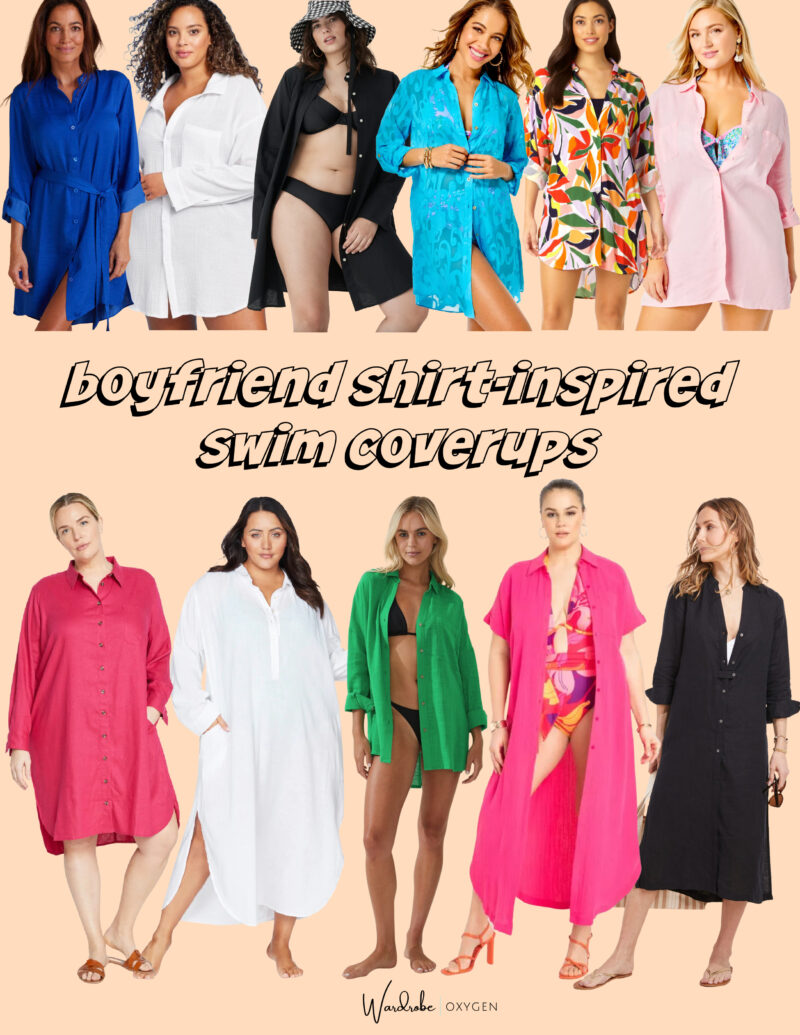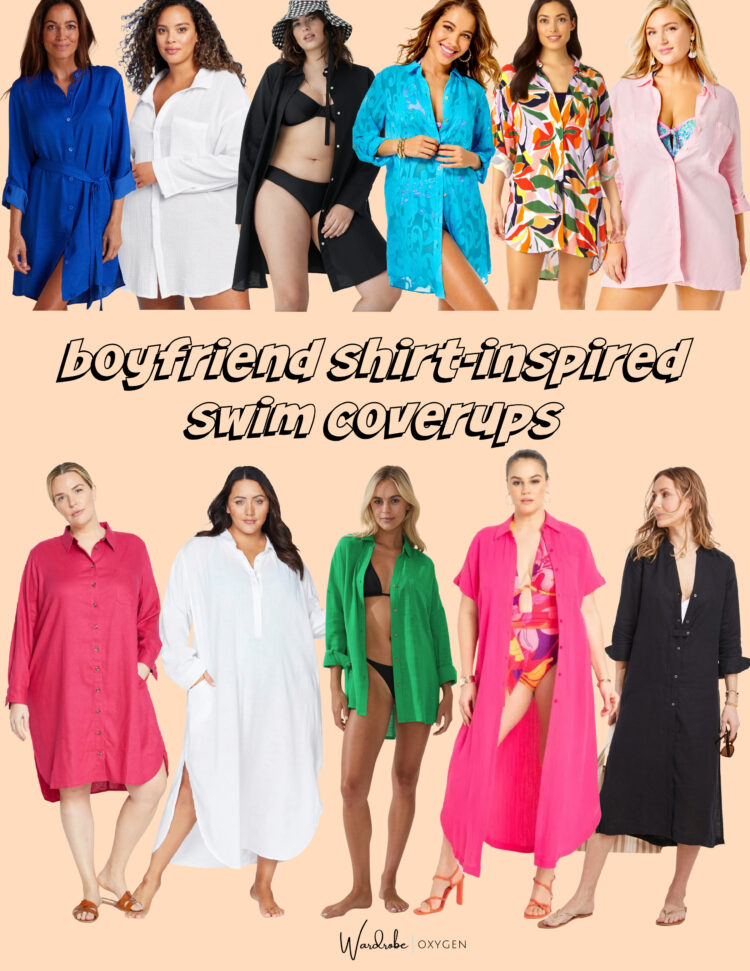 Top row, left to right: one (XS-2X) | two (S-3X) | three (XXS-3X) | four (XXS-XL) | five (XS/S-L/XL) | six (XXS-XL)
Bottom row, left to right: one (00-40) | two (8/10-20/22) | three (XS-XL) | four (14-28) | five (XXS-3X)
I found several more boyfriend shirt-inspired swim coverups beyond what is in the collage above. Shop more of them in the carousel below:

Crocheted and Open Work Design
Open-work or crocheted swim coverups are THE look for Summer 2023. You will see them everywhere from the tourist trap on the boardwalk to Saks Fifth Avenue. While many of these breezy coverups are more for fashion than function, I have found many that are on-trend while also providing a good amount of coverage.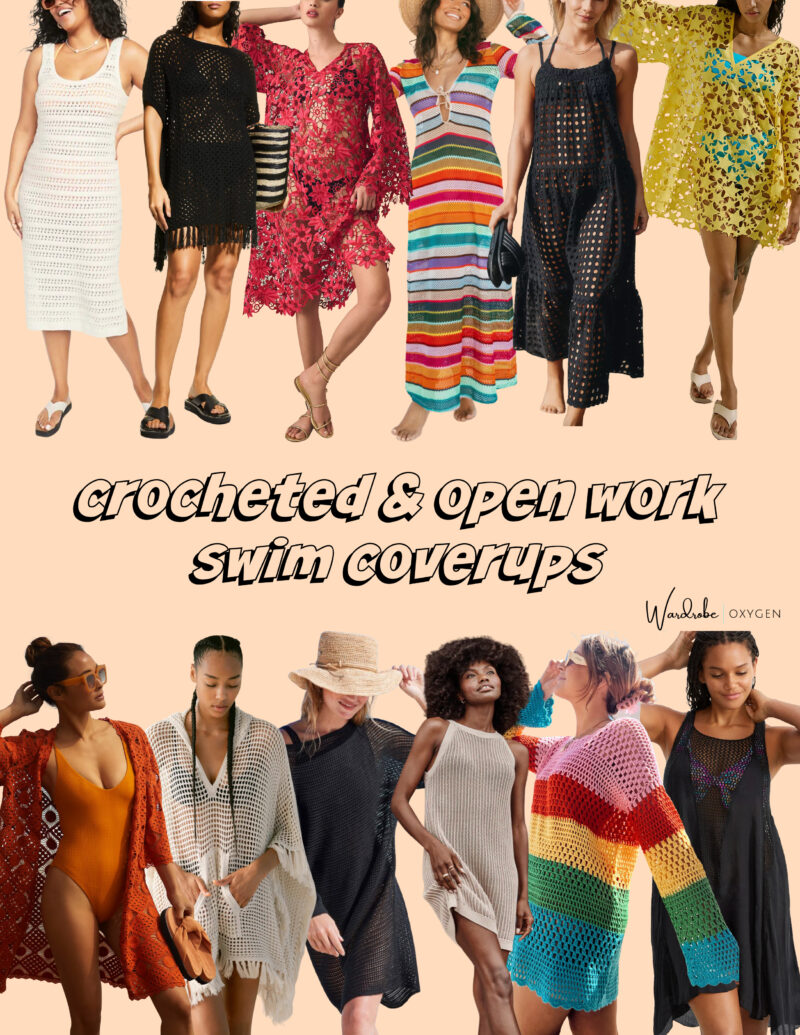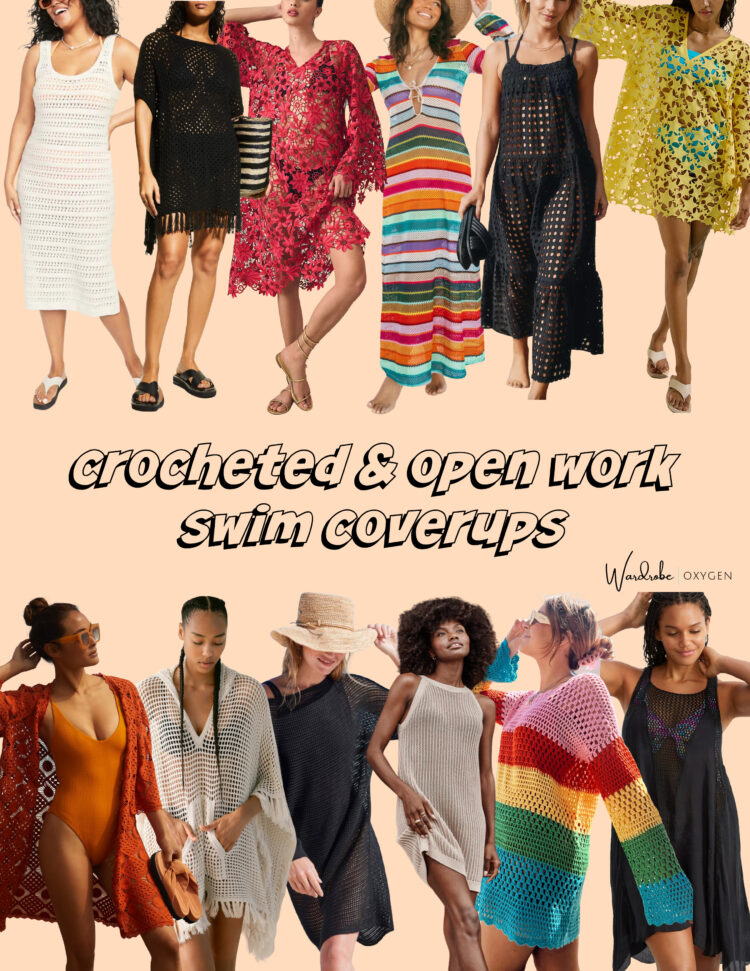 Top row, left to right: one (XS-4X) | two (S/M-L/XL) | three (OS) | four (XS-XXL) | five (XS-XL) | six (OS)
Bottom row, left to right: one (XXS-XL) | two (OS) | three (OS) | four (XS-2X) | five (XXS-XXL) | six (S-L)

Built-in UPF Protection
We grown-ass women know the effects of the sun's rays and are often looking for the best sun protection without sacrificing style. These looks have built-in UPF protection along with coverage so you can feel more secure when out in the sun.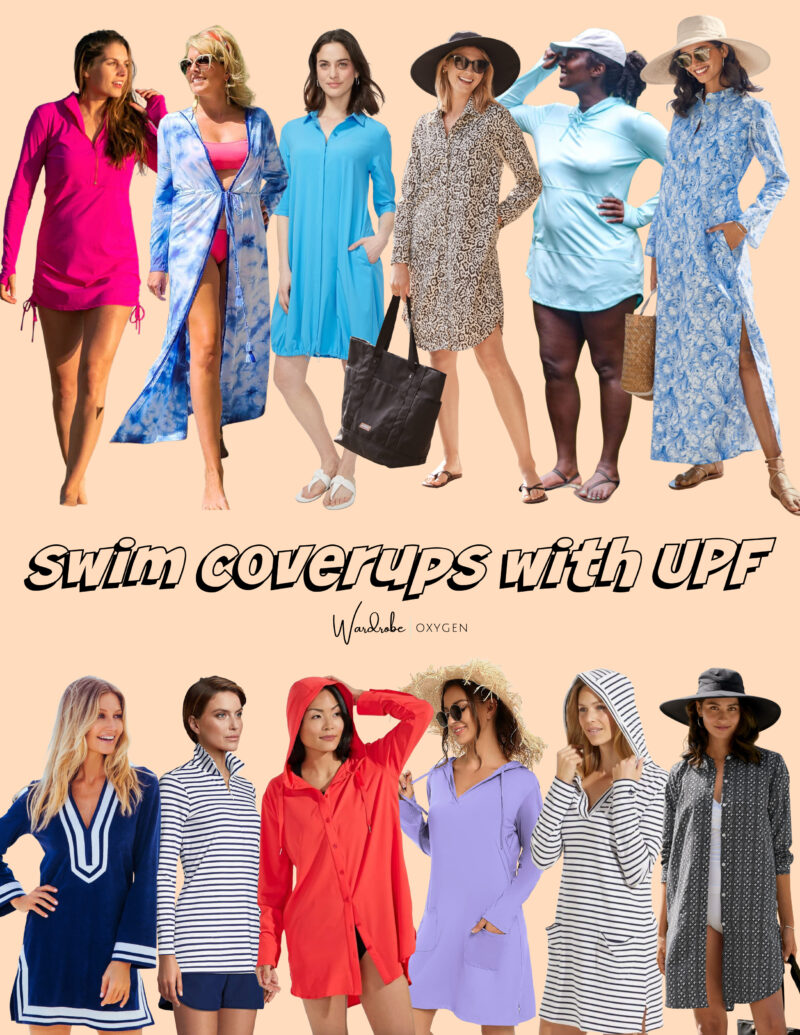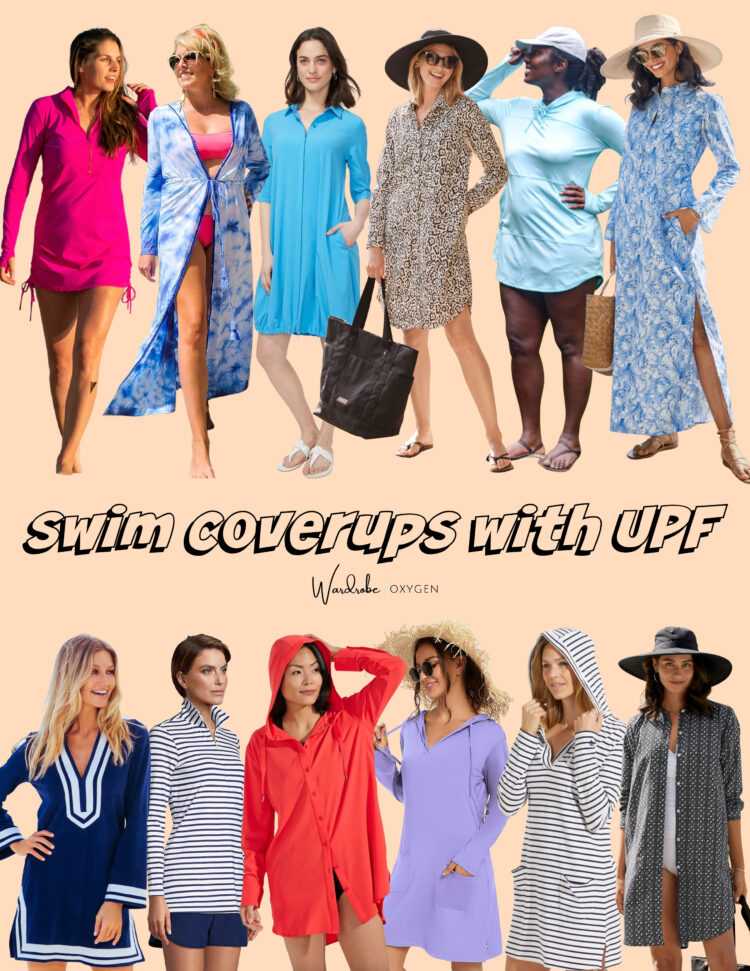 Top row, left to right: one (XS-XXL) | two (XS-XL) | three (0/2-20/22)n | four (2-20) | five (S-XL) | six (4/6-20)
Bottom row, left to right: one (XS-XL) | two (XS-XL w/ petite & long; link for 1X-3X) | three (XS-3X) | four (S-XXL) | five (XXS-3X) | six (2-16/18)
I personally have the striped one, second on the bottom row. It's from Lands' End and on me (I'm 5'3″ and got the regular) it covers my entire swimsuit and rear and looks nice enough to pair with shorts or a skort for leaving the beach and heading to a restaurant or shops. I've also worn it as streetwear.

The Classic Caftan
The caftan never went out of vogue, but this season it's hotter than ever. A variety of lengths, fabrics, and styles means you'll likely find one you love. Look for quick-drying fabrics so they don't cling to wet suits and skin. And don't hold yourself to the swimwear department; I've worn many a caftan, dress, or shirt from other departments as a coverup and they have performed and looked great!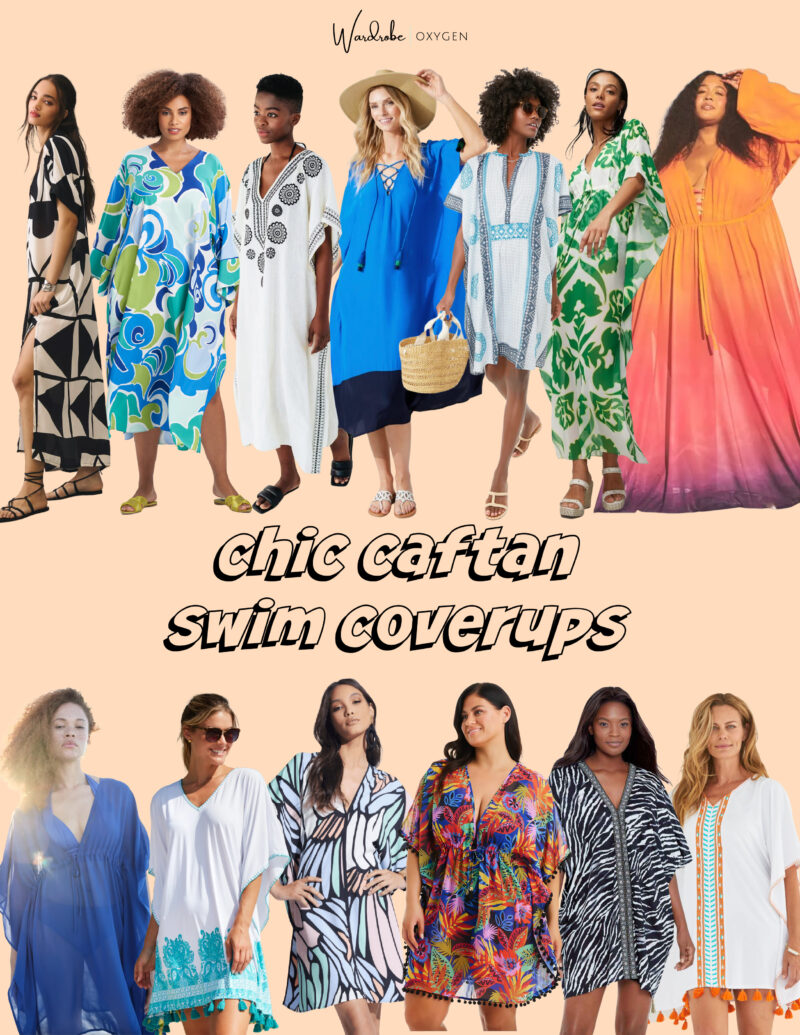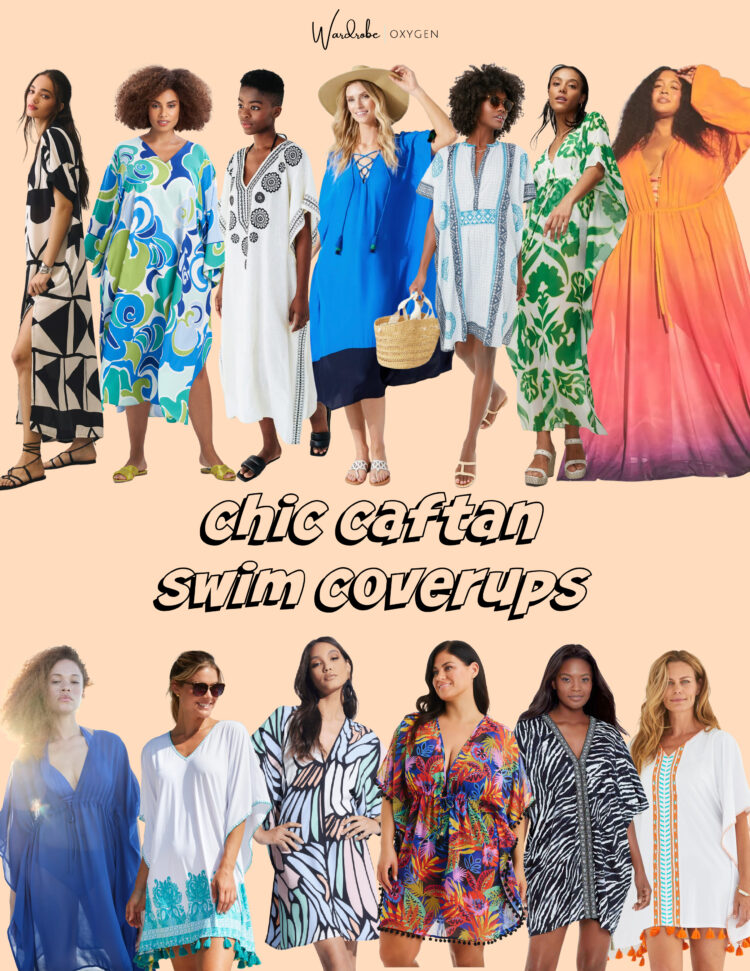 Top row, left to right: one (XS/S-M/L) | two (XS-3X) | three (S/M-L/XL) | four (S/M-L/XL) | five (OS) | six (OS) | seven (14/16-26/28)
Bottom row, left to right: one (XS/S-XL/XXL) | two (XS-L/XL) | three (XS-XL) | four (S-L) | five (S-L) | six (S/M-L/XL)
There were far more than I could fit in this collage so scroll through the carousel below for more caftan options. Also know the majority of these caftans and all the chic swim coverups in this post come in more than one color/print:

What Other Styles of Swim Coverups Are Fashionable in 2023?
When shopping for swim coverups this year, you will see plenty of dresses. Maybe a little lower cut or with thinner straps, these dresses lack lining and are of breezy fabrics that will look chic at a beachside cafe or a cocktail hour at sunset. Some are clearly just made for resort life, while other styles that more closely resemble a sundress, could be a great choice especially when you go from the water to the boardwalk or a walk back to the house.
Another coverup trend you will see is the two-piece set. A button-front shirt and shorts or pants in the same fabric, often in a print. We have seen this trend for a few seasons in street style and now it has hit the beach (or pool). Look for sets in linen, cotton voile, and quick-dry tech fabrics so you don't end up with a big wet spot on your bum and on each breast. Darker colors and bold prints also cover places that are damp.
Is Any Style of Swim Coverup Out of Fashion This Year?
Honestly, if you're feeling confident in your current swim coverup, rock it. You don't need anything new. Fashion is so fluid in 2023, we're seeing the return of the '70s, the '80s, the '90s, and Y2K along with new modern silhouettes. You can rock a muumuu you inherited from your aunt or a modern laser-cut open-work design in a neon color.
What I do think is out of fashion is feeling the need to coverup for others. Wear what makes you feel secure and confident, but don't feel because you are a certain age, a certain size, certain ability, or your skin isn't smooth enough or the "right" tone that you should hide under fabric.
The next time you go to the beach, the lake, or the pool take a glance at others. Not just the Super Mom with the six pack or the teenagers giggling, but the other individuals. See what stands out and what you don't notice. There's a good chance what stands out are those who are trying to not be noticed. The folks not going in the water, wrapped up in clothes, eyeing everyone else, they stand out from the rest who are having a good time on their terms.
Fabric technology has advanced where you can find coverups that will protect you from the sun without overheating. Natural fabrics like cotton gauze and linen are back en vogue so you can find boyfriend shirts, tunics, caftans, and coverup dresses in most any style, color, size, and price that's right for you. Look through your closet, you may have a shirtdress or tunic that can live a second life as a chic swim coverup; as long as it can be washed it can work!
And as always, I love to hear from you. Your favorite swim coverup may be exactly what another in the Wardrobe Oxygen Community is looking for. Please share your favorites in the comments below!