This article may contain affiliate links; if you click on a shopping link and make a purchase I may receive a commission. As an Amazon Associate, I earn from qualifying purchases.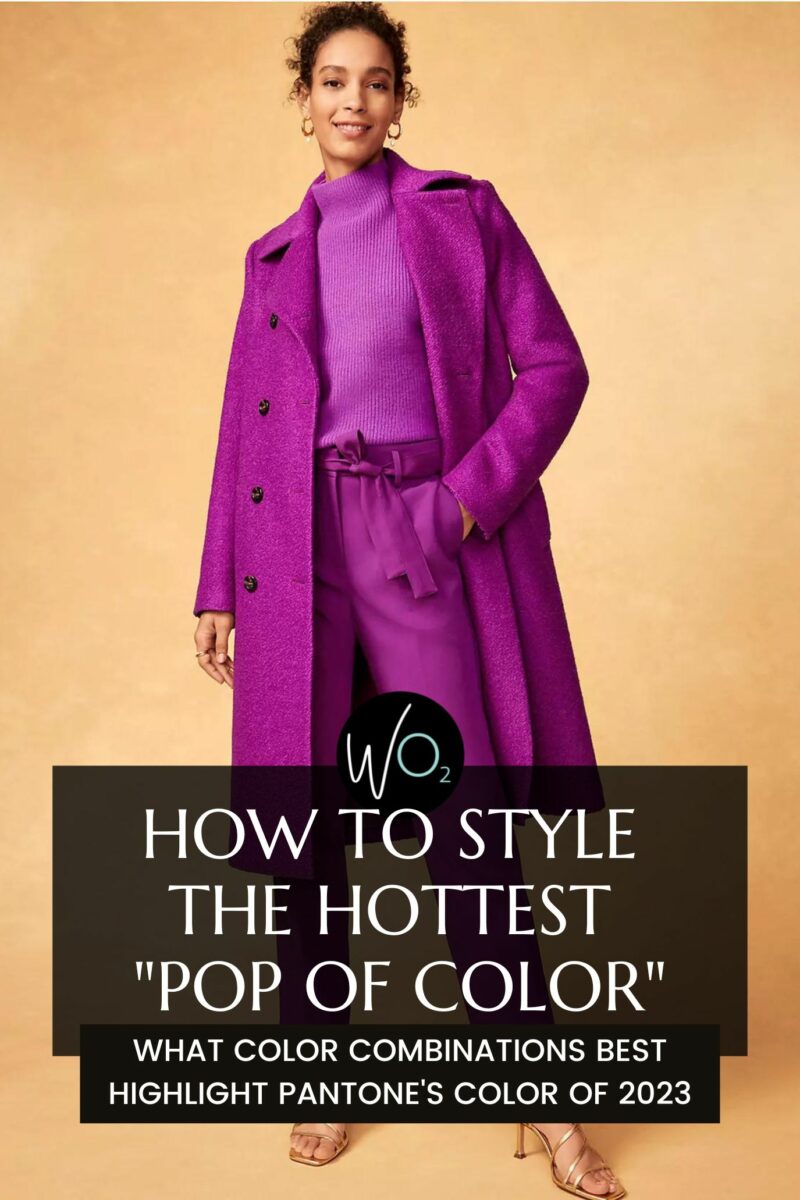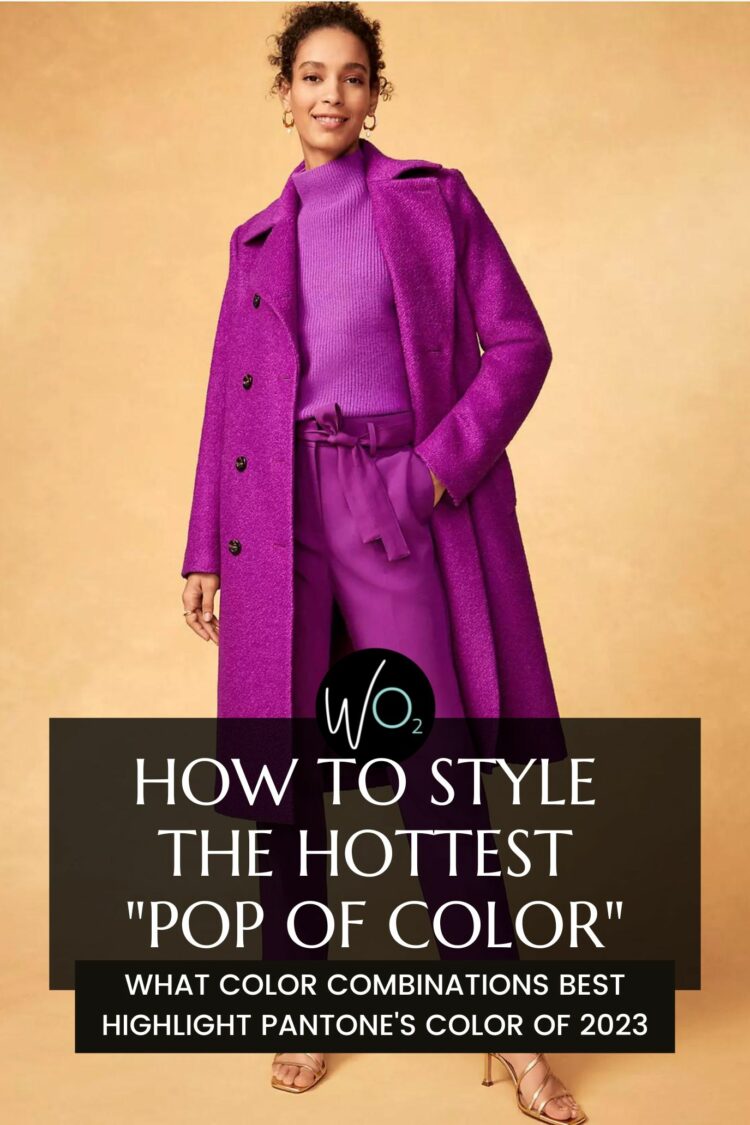 Valentino started it this past spring with an electrifying hot pink that verged on neon. Worn from head to toe, it was seen on all the hottest celebs all summer long. At the same time photos from the set of the upcoming Barbie live-action movie were leaked showing Margot Robbie and Ryan Gosling rocking that iconic bright Barbie pink. This fall and winter, retailers are showcasing shades of pink, fuchsia, berry, orchid, and electric lilac. Pantone just released 2023's Color of the Year: Viva Magenta, which fits perfectly into this theme of the new pop of color.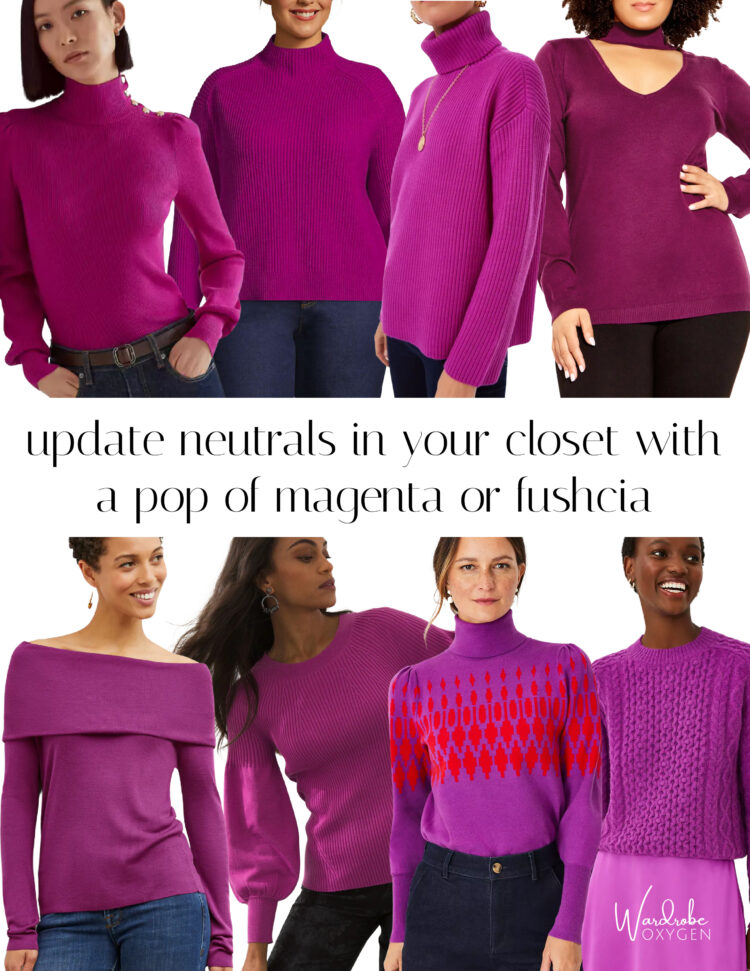 Shop the Collage:
Top row, left to right: button-detail turtleneck (XS-XL) | mock neck (1X-3X; link for misses) | chunky turtleneck (XS-XXL) | cut-out neckline (12-22)
Bottom row, left to right: off the shoulder (XS-XXL) | balloon sleeve (4/6-20/22) | Fair Isle print (XXS-XXL & petite) | cableknit (XS-XXL)
Pops of color is nothing new, it has always been a way to add interest, color, and personality to any look. For years, red was the quintessential pop of color, added with bold lipstick, an accessory like a bag or hat, a belt or shoes, or a single garment in a multi-piece ensemble. But each year, that pop is a different color – a neon yellow, coral, cerulean, canary, and yes many different shades of pink, fuchsia, and berry.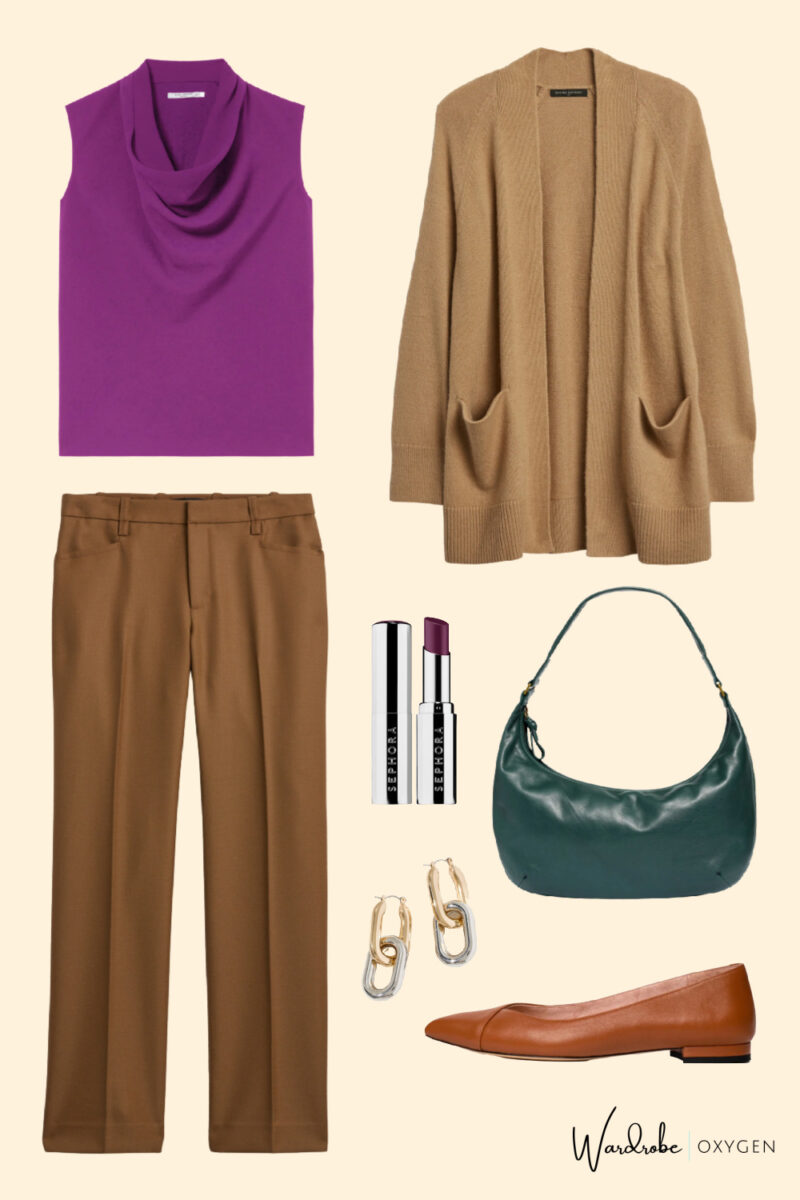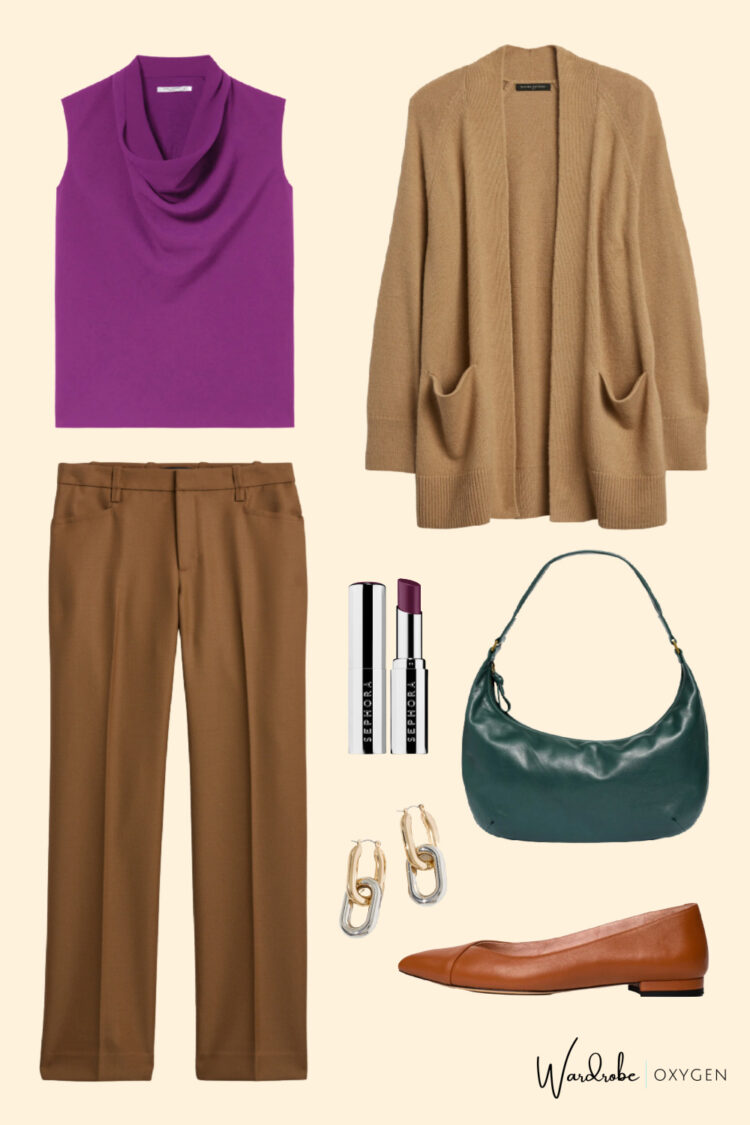 Shop the Collage:
blouse | pants | cardigan | lipstick | bag | earrings | shoes
What is new is how this current pop of color is being styled. It's not with crisp black or white, it's not being blocked with similar shades like orange and red, and it's not being stuck with denim, navy, or gray. Just like Pantone showed when introducing Viva Magenta, these berry tones are being styled with soft dusty pastels.
Essentially, all those sad beige colors from the pandemic that I have ranted about in the past have gotten a glow-up by being styled with intense pinks, purples, and berry tones. And you know what? I'm not mad at it.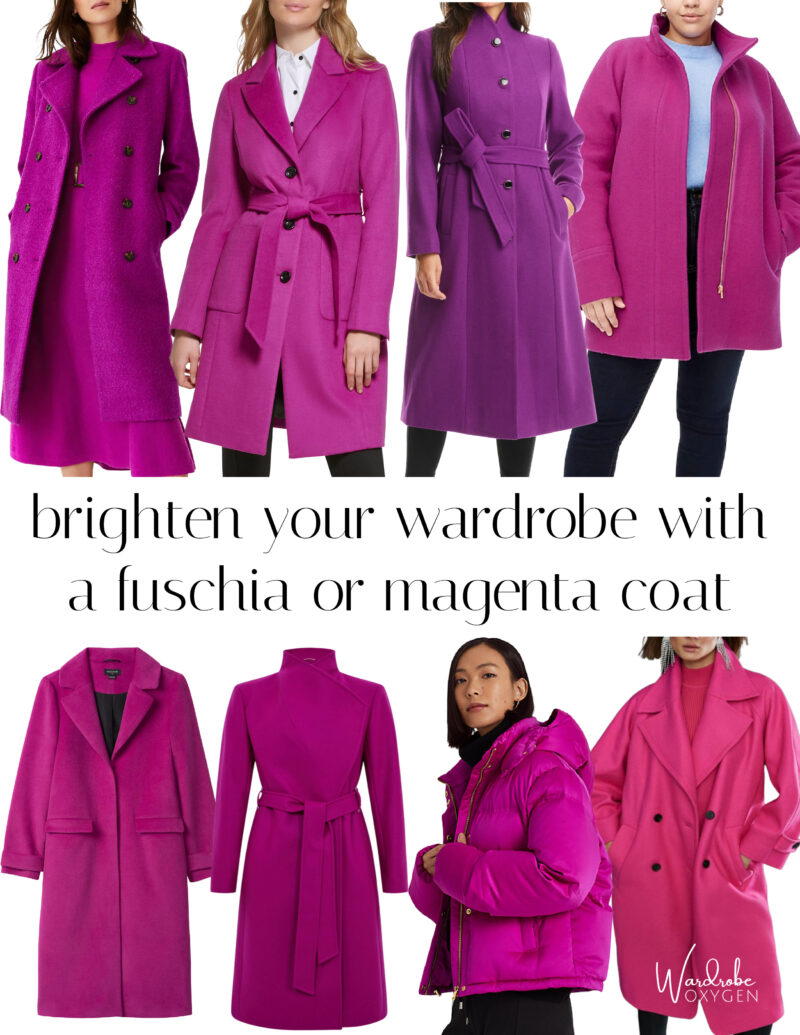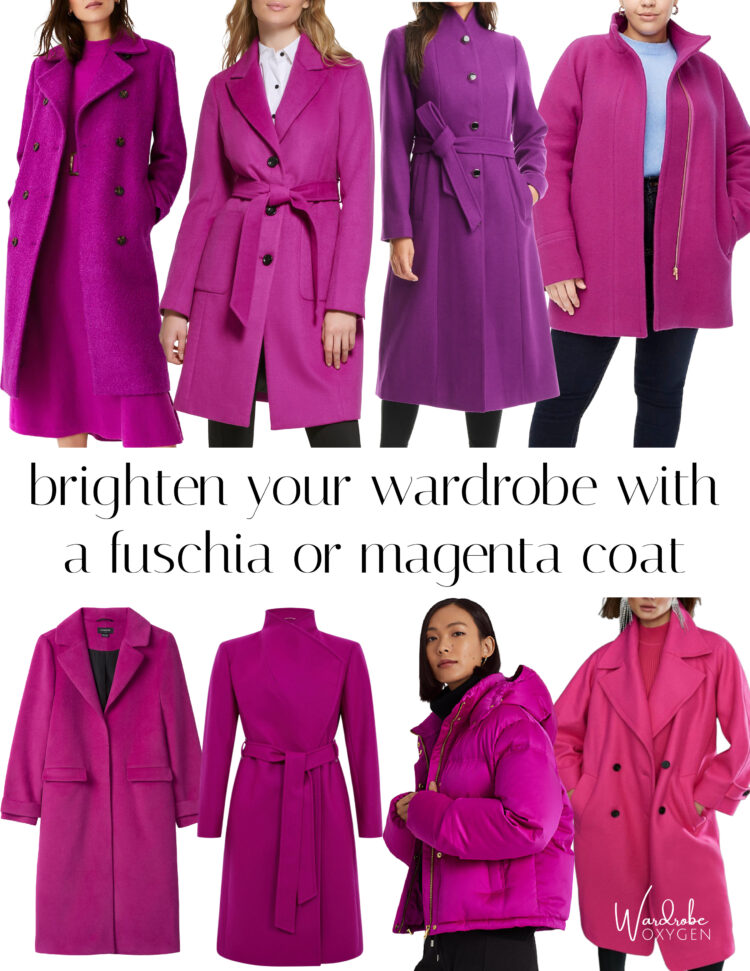 Shop the Collage:
Top row, left to right: textured wool double-breasted coat (XXS-XL & petites) | belted single-breasted coat (/2-14/16) | belted longline coat (XS-L) | wool blend city coat (00-24 & petite)
Bottom row, left to right: wool overcoat (XS-XL) | belted wrap collar coat (0-14) | satin puffer with gold hardware (Xs-XXL) | oversized double-breasted coat (2-12)
That doesn't mean you can't rock fuchsia with coral, berry with black, or Viva Magenta with gray. It just means to create a new effect for your wardrobe and possibly give a new life to those earth-colored pieces you've bought over the past two years, consider adding a pop of pink or purple.
If the idea of beige, celadon, or dogwood makes you shudder, you can go darker but the key is this unexpected color mix. Consider rust or khaki, mustard or olive, terracotta or brown. Instead of black shoes, try alabaster, or camel, or cream.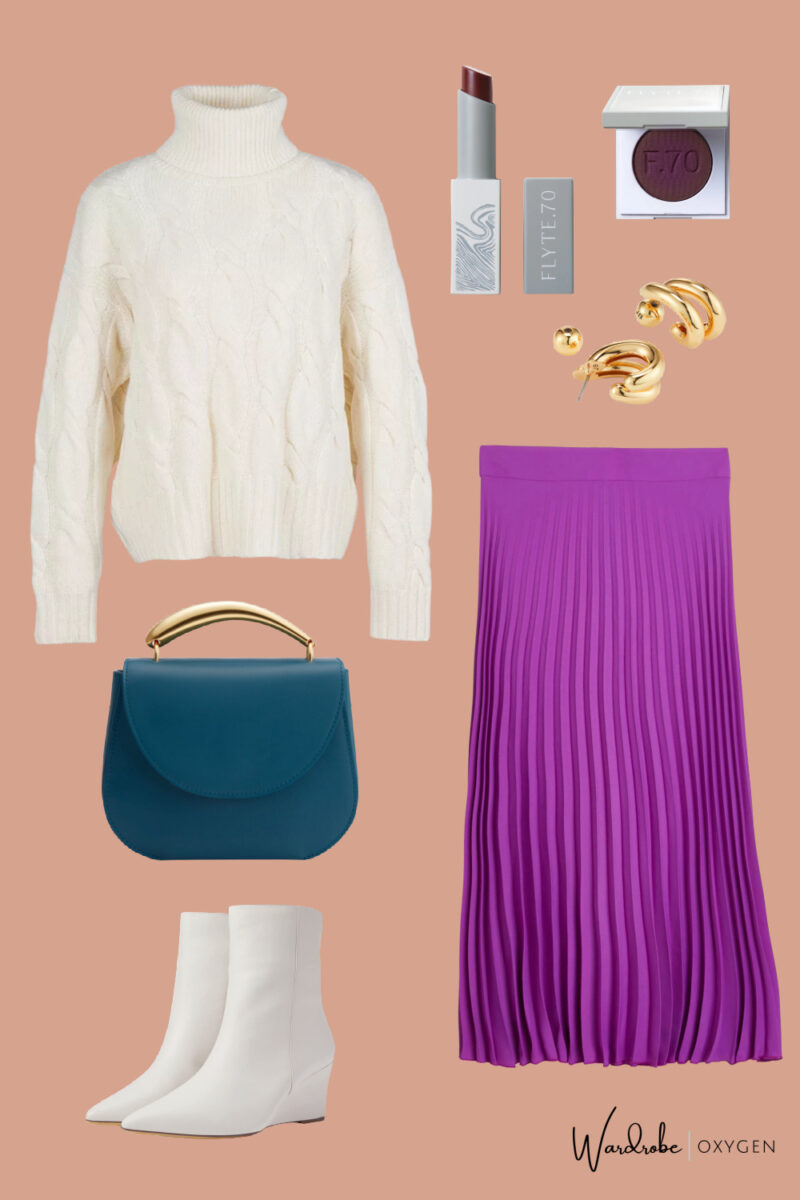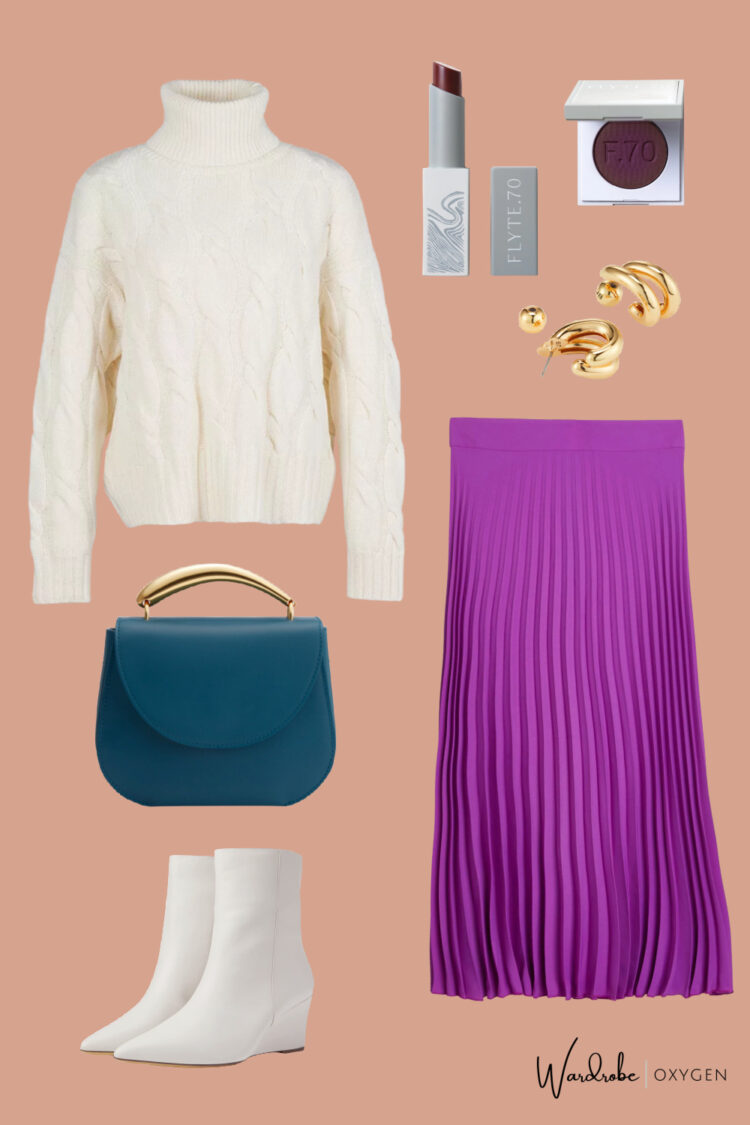 Shop the Collage:
sweater | bag | boots | lipcolor | eyeshadow | earrings | skirt
As someone who has always loved cool, crisp, and black as the base of her closet I swore I would never like such a combination. But lately, it feels fresh, modern, and a good update to my closet. These boots in alabaster have been worn more than I ever thought I'd wear them; I find them the perfect height shaft for midi skirts, buttery soft enough to stretch to fit my thicker ankles and shins, the wedge heel a walkable height, and they look cool with skinnier pants or peeking out of wider leg openings.
This is not to say the only way to wear such colors is with pastels. Seriously, wear these colors any way you like. I've worn them with black, I've worn them with jeans, I've colorblocked with other bold hues. Fashion is fluid these days, you can wear whatever the heck you want. But this combination may be possible with what you already own in your closet and may give a fresh perspective on your wardrobe.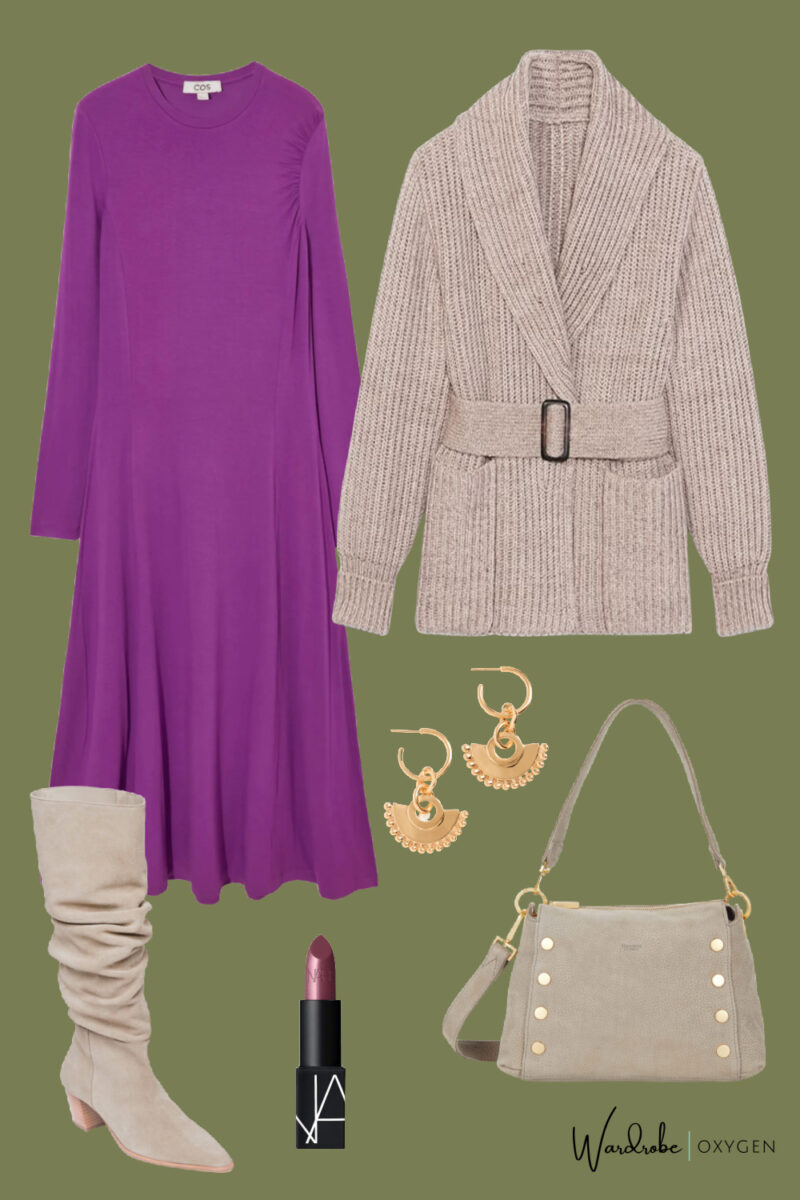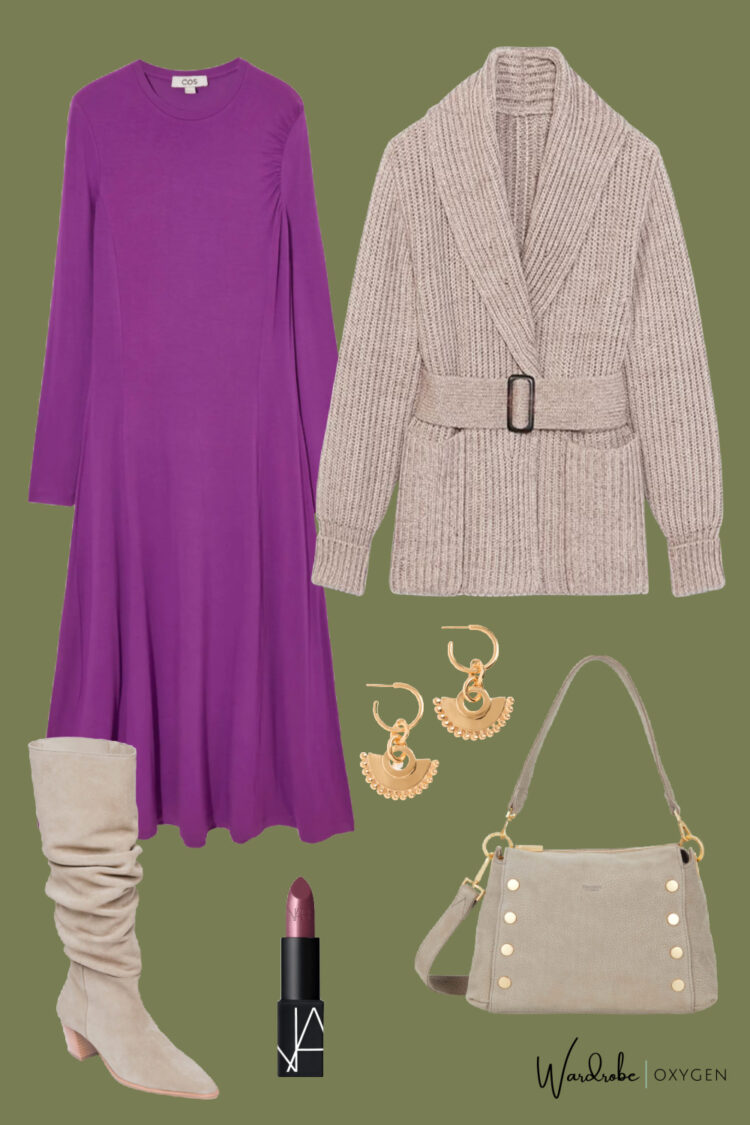 Shop the Collage:
dress | boots | lipstick | sweater | earrings | bag
I'm all about trying something new, especially if it's when you're shopping your own closet or buying a single item that will give new life to so much you already possess. And as grown-ass women, we have earned the right to be creative with our wardrobes, make more style with less, and break a few rules!