This article may contain affiliate links; if you click on a shopping link and make a purchase I may receive a commission. As an Amazon Associate, I earn from qualifying purchases.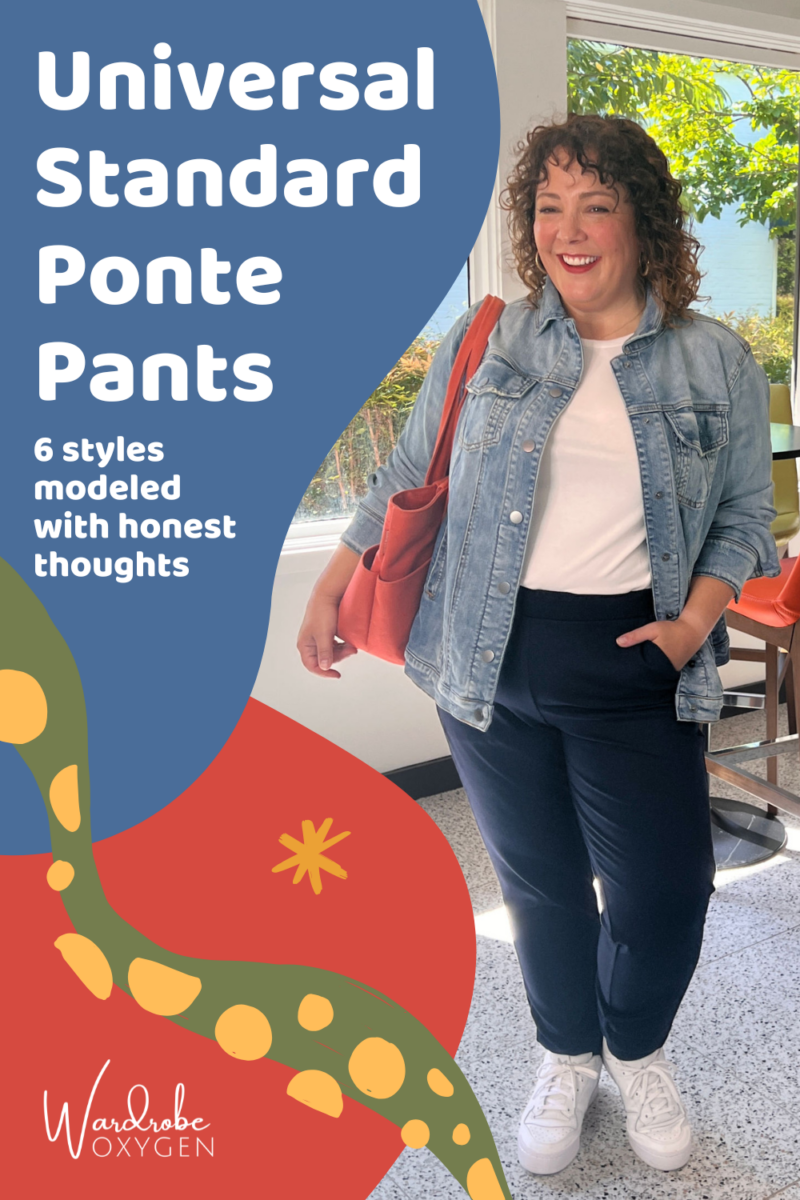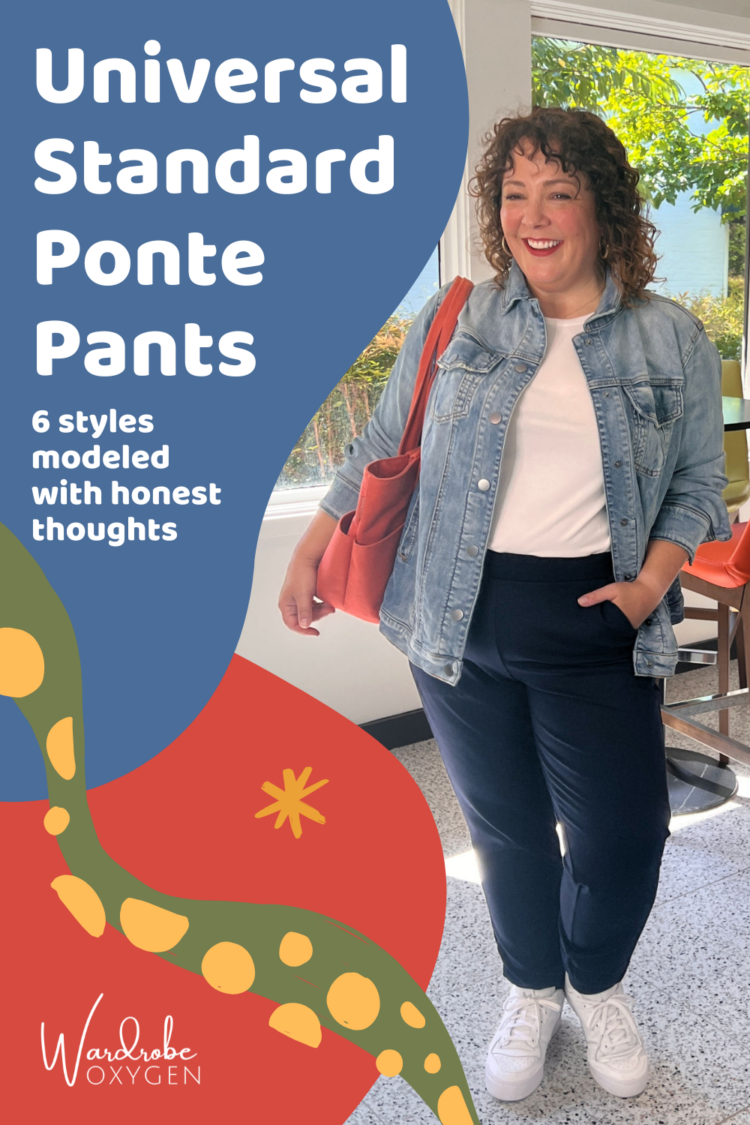 Y'all know I am a fan of Universal Standard; I've been showcasing this brand since 2017. I love the brand's size inclusivity (sizes 00-40 with the occasional petite and tall offerings), the elevated basics that are hard to find in such a size range, the choice of models (hello seeing clothing on a body similar in size and shape to your own!), the brand's political stance, and the edgy yet everyday aesthetic. When Universal Standard came out with a line of new ponte pants, I knew I had to try them. I reached out to the brand to see if they would send me a few pairs in exchange for an honest Universal Standard ponte pants review.
Please know that this is not a paid review. While Universal Standard sent me clothing for free and knew I'd be doing this review, they have not viewed it prior to publishing, and my review is completely honest (and sometimes, a bit brutal). I do make a commission of any sales; if you click a link and make a purchase I may make a small bit of income. However, I would rather you buy nothing than have buyer's regret from any of my recommendations so I always do my reviews with complete honesty.
What is Ponte Knit and What Makes Ponte Knit So Great?
I have always been a fan of ponte knit. The full name is Ponte de Roma, which means "Roman Bridge." It's thought that the fabric got its name because the weave looks like little interlocked arches or bridges. Over the years, Ponte de Roma has been shortened to be just ponte and is a fabric found at a mix of retailers and pricepoints.
Ponte is a doubleknit that is a blend of polyester, rayon, and spandex. The tight weave and heavier weight makes this fabric extremely versatile and look more elevated than a lot of other knits. Ponte knit is wrinkle resistant, has a bounce-back factor so it holds its shape, and is relatively easy care (throw in the machine, but it's best when air dried).
I think I first experienced ponte knit in the late '90s when I worked for the clothing store Express. The district manager who interviewed me for the position was wearing a belted ponte safari jacket and matching bootcut pants. When I got hired I immediately bought the same exact set. I loved how it was comfortable but looked so refined.
I've been recommending ponte and wearing ponte since almost the beginning of Wardrobe Oxygen. Ponte is one of those fabrics you can find at most any pricepoint and at most any retailer. While some ponte is more expensive and with it, a bit higher quality of yarns and heavier weight of fabric, I've found nice quality ponte from budget brands and mediocre ponte from higher-end brands.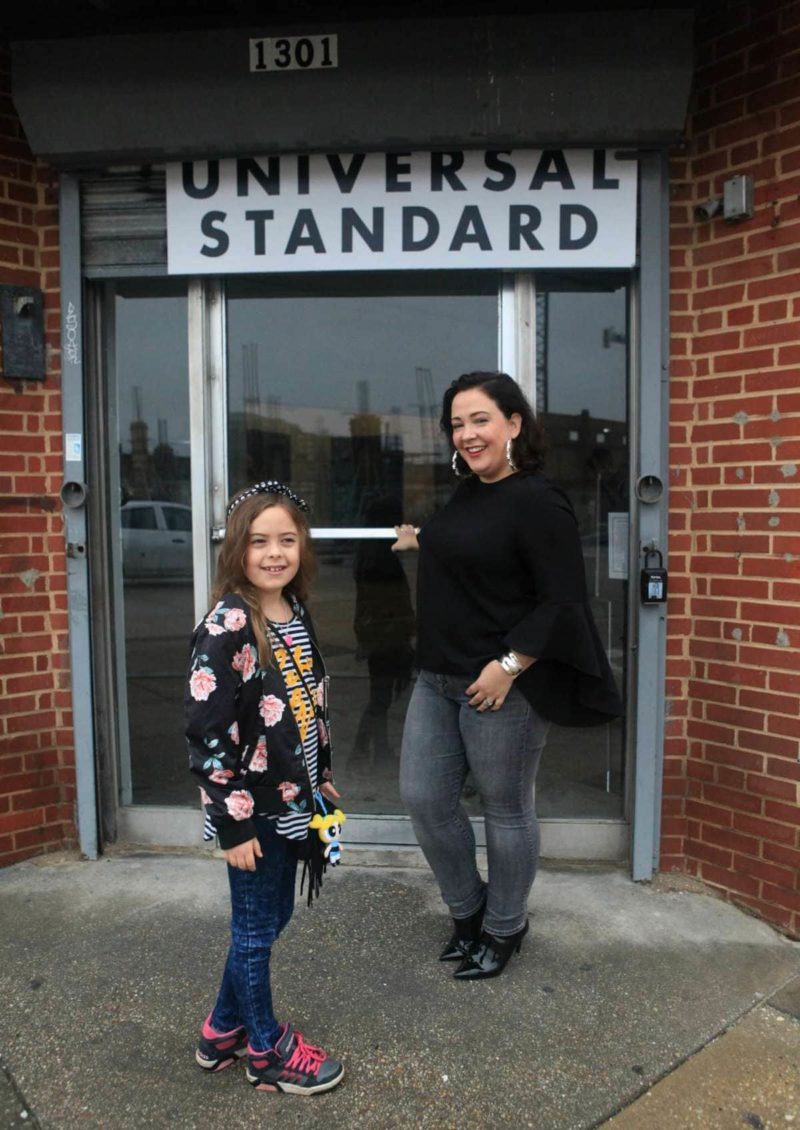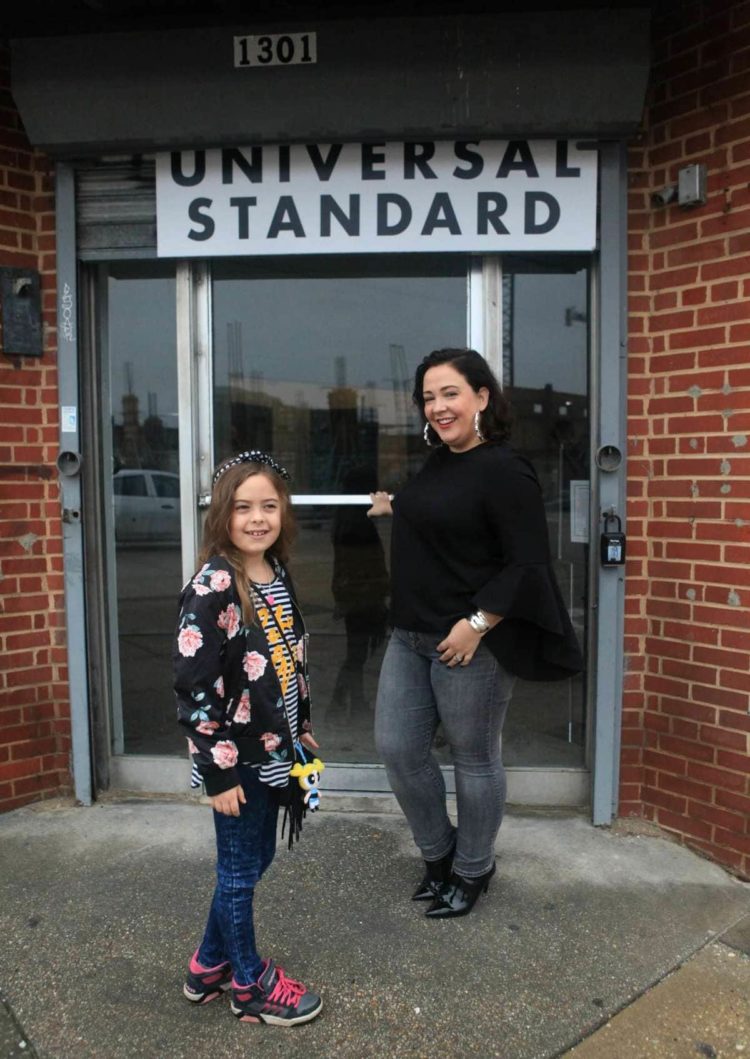 I've been shopping Universal Standard since 2017 and have always appreciated how the brand is truly size inclusive, and offers elevated yet not unattainable fashion. In general, Universal Standard chooses high quality fabrics; silky opaque knit for their t-shirts, stretchy yet substantial denim for their jeans, and the appropriate weight of ponte for their pieces.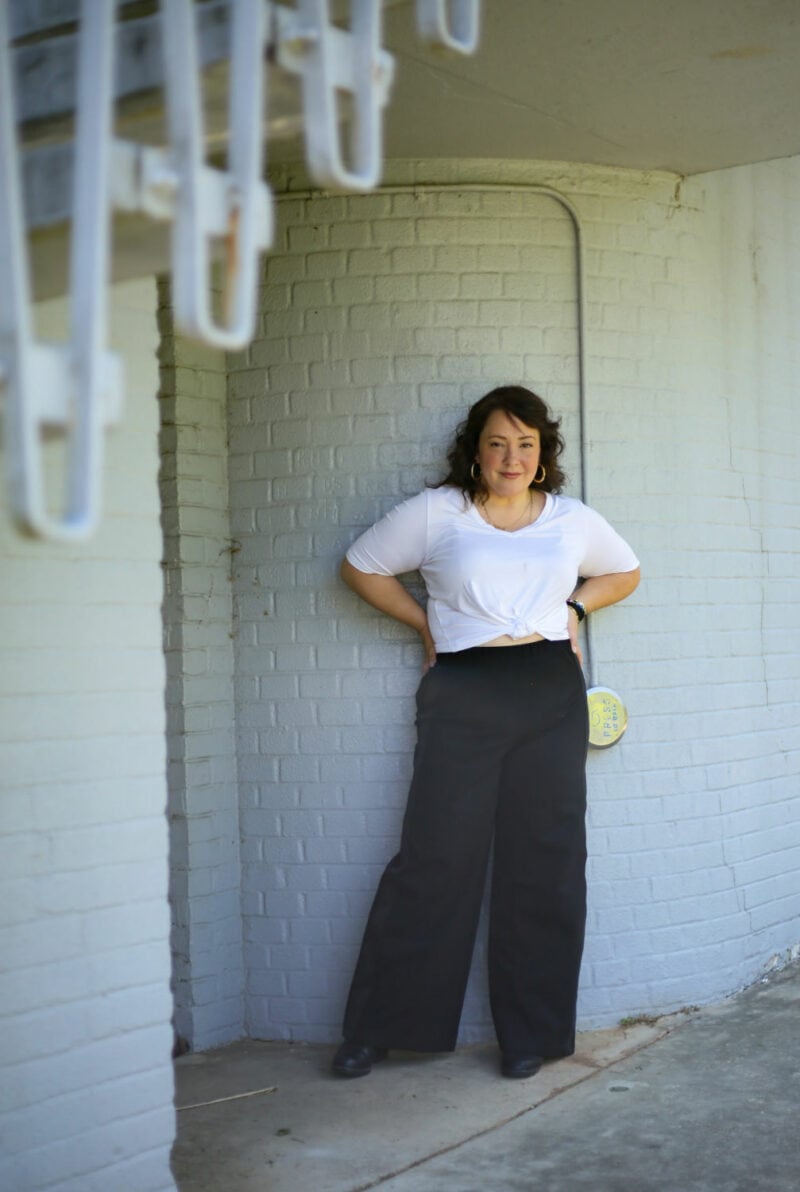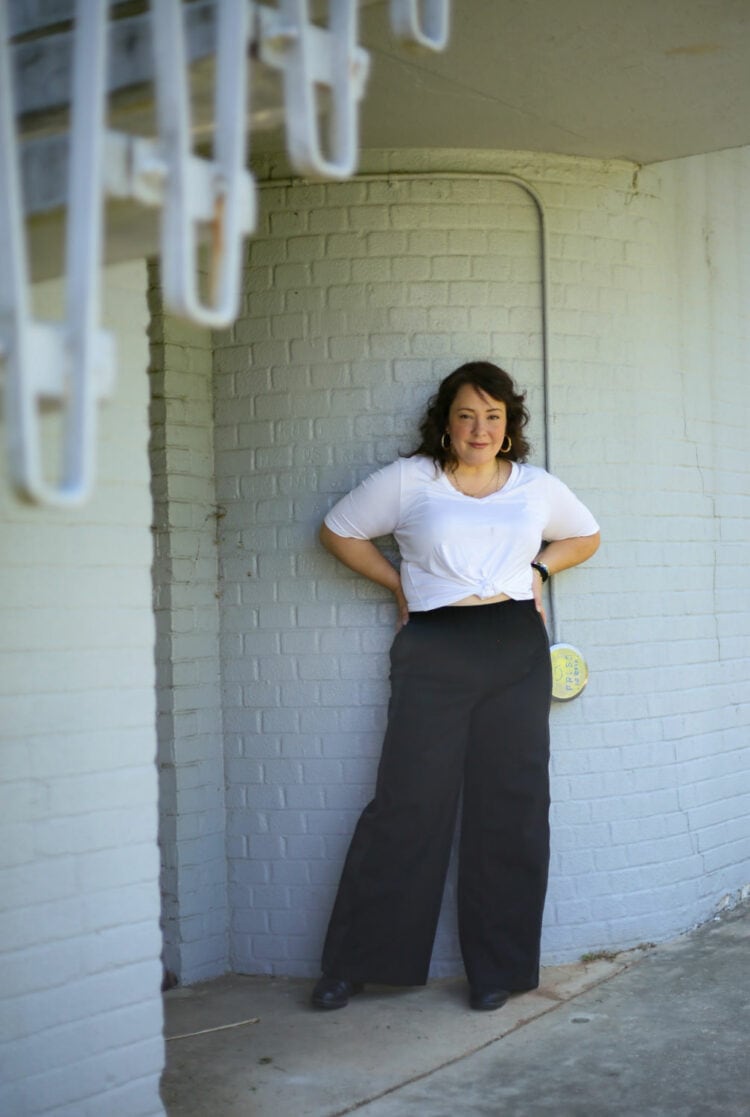 I was intrigued by this new collection of Universal Standard ponte pants. I've owned ponte pieces from Universal Standard in the past, and wondered how this new collection of Universal Standard ponte pants would compare.
What Pants I Got for my Universal Standard Ponte Pants Review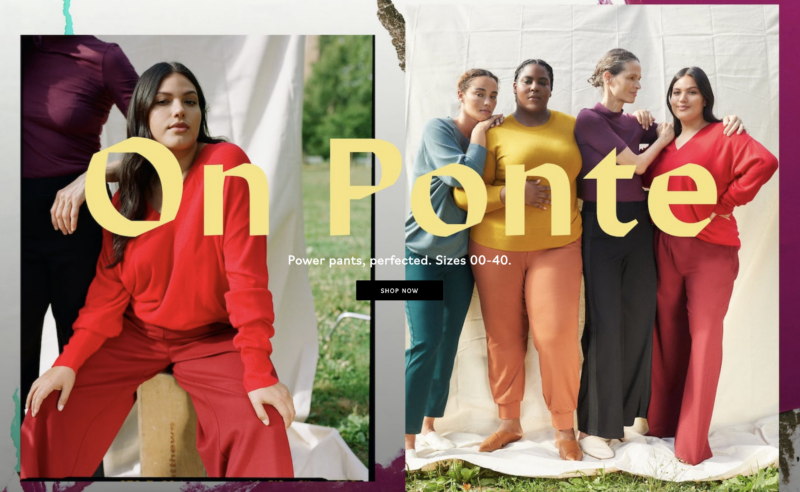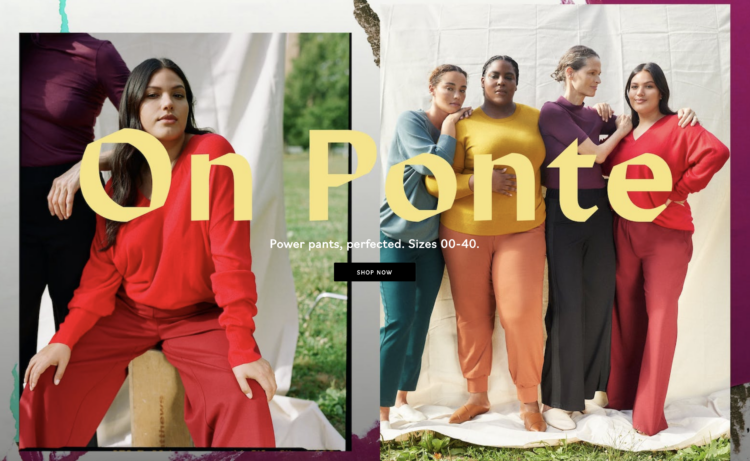 Universal Standard reached out offering one pair of pants in exchange for social promotion. Since doing my two-week break from the internet, I have pared back my Instagramming and I felt that such a review didn't really capture the quality and style range of this brand. I asked if instead I could get a few pairs of my choice in exchange for an honest unedited review here on Wardrobe Oxygen. I was psyched they were game!
As I mentioned above, I have tried a few ponte pants from Universal Standard in the past and wanted to get a mix of new styles and a few of the new colors. What I ended up getting:
Universal Standard also sent me their Denim Chore Jacket in XS and their iconic Tee Rex in white, size XS for styling. I ended up adding a few other Universal Standard pieces in my closet (currently available and archived, links are below the first photo for each style of pant) to style these pants more in a way I could envison them IRL.
What Size I Wear in Universal Standard
I am 5'3″ and usually a size 14 with mall brands; I often choose petite for pants. Over the years whether I have been closer to a 16 or closer to a 12 I have found that XS fits me well with Universal Standard. However, I have found some of their pants, especially the ones with proper buttons and zippers, do better in size S.
I asked for a mix of XS and S and only received XS which I will consider a blessing because it better shows the fit differences between the styles. I found the XS to technically fit in all styles, but I think a size larger would have been more of a pants and less of a leggings fit. If I could do it again, I'd ask for all of them in S instead. As you will see below in my Universal Standard ponte pants review, I would have also benefitted from the brand offering these in petites.
Where are the Petites, Universal Standard?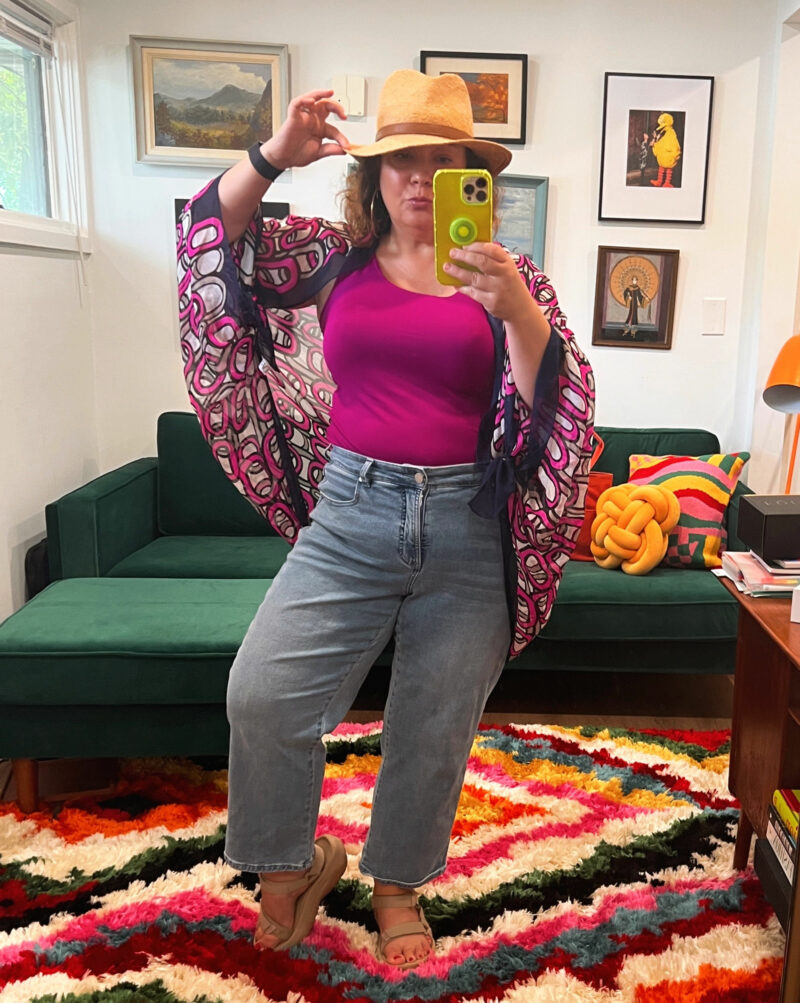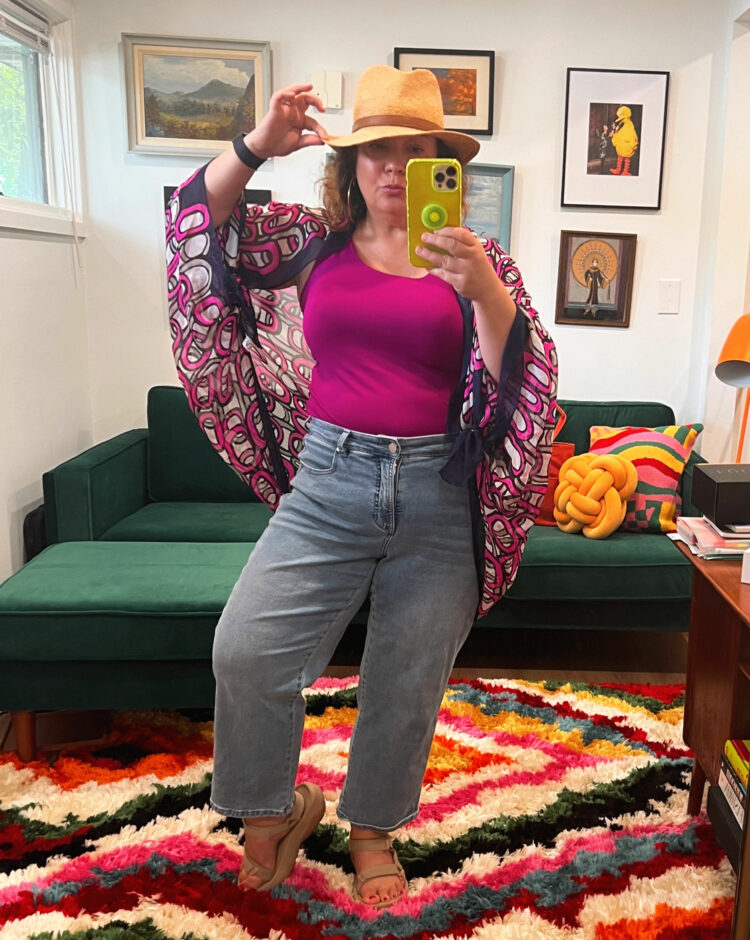 And now it's time for the rant I share in a lot of my Universal Standard reviews – the lack of petites. In 2018, Universal Standard brought me up to their New York City showroom to try their new petites line and share my thoughts for a promotional video. I was so excited for this update to what was my favorite fashion brand.
At 5'3″, I am pretty much the average height of a woman in the United States. Having this blog for almost two decades, I know part of my success is because women can relate to my body – my size, my shape, and also my height. To finally have a size-inclusive brand cater to not just the average clothing size but the average height of women in this country was thrilling!
But Universal Standard didn't really follow through with their petites. They made their skinny jeans in petite, their Geneva dress, and a couple of other things. But as new items were added to the collection, petite offerings were not included. Now looking at the site, there are technically 35 petite offerings from Universal Standard, but many are versions of the same (V-Red, T-Rex, and cap-sleeve Rex) or are on Final Sale/being discontinued.
At first I understood. Every retailer went through a lot with the pandemic, they needed to pare down, simplify, adjust for supply chain issues and rising costs. But Universal Standard keeps bringing out more and more and more new styles and rarely do those styles come in petite offerings (or tall! There are a lot of tall women out there who are struggling to find long options!).
It makes me question WHO Universal Standard is trying to dress, because it doesn't feel like the same woman they started with less than a decade ago. And as a woman who is a pretty darn average height and size, I had very little luck with finding Universal Standard ponte pants that fit my frame. While there are some hits below, most styles wouldn't work without having them tailored.
Universal Standard Ponte Pants Review
In general, I found the styles of pants available in Universal Standard's ponte pant collection to be great. A nice mix of pull-on and proper pants, all styles had pockets, the pockets in general were streamlined and didn't add bulk. The color mix is fun but wearable, the silhouettes on trend yet classic.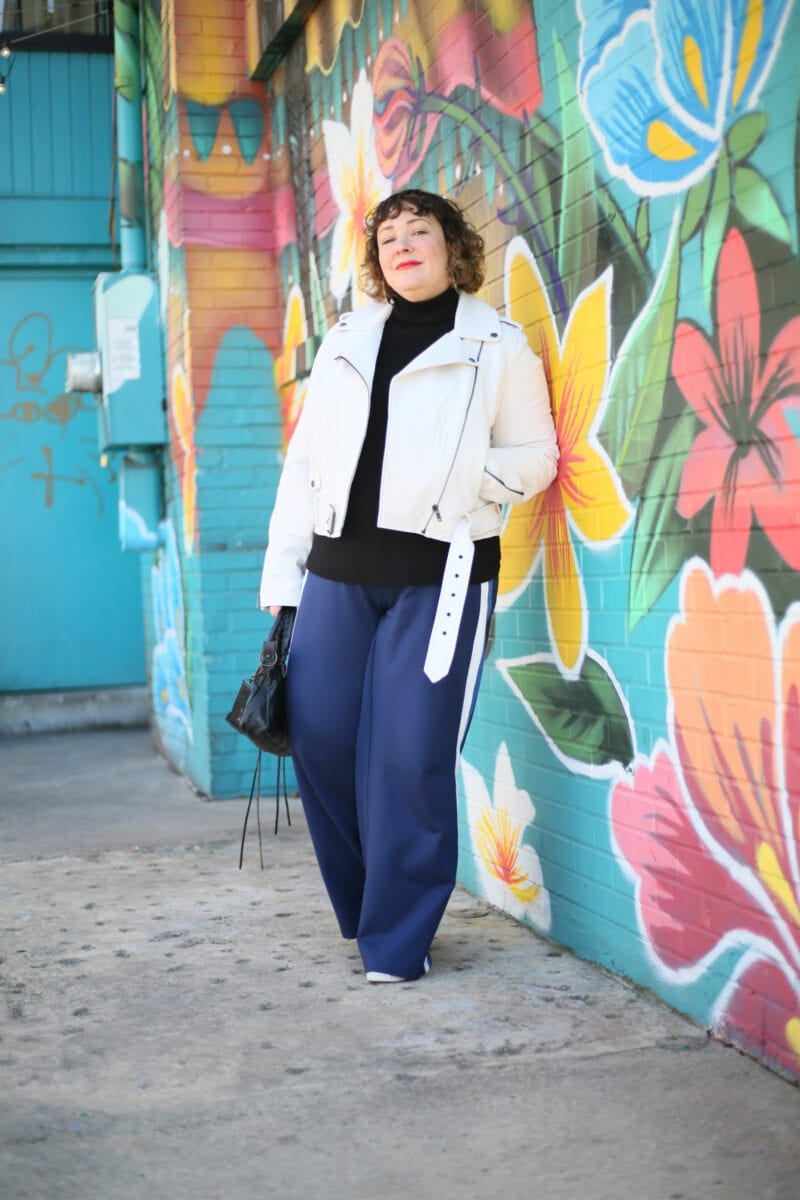 For those who are longterm Universal Standard customers and remember their ponte pants from the past… this ponte is not the same weight or finish. For example, I am wearing the black on black original Stephanie pants in this post and navy stripe Stephanies in this post. The navy stripe ones have more drape and a subtle sheen; this entire Univeral Standard ponte pant collection is the same fabrication as the navy stripe Stephanies.
If you have only tried Universal Standard ponte in the past year, this ponte knit is the same. It has nice drape, good bounceback, and a subtle sheen that can dress up or down. However, if you are expecting their old-school heavyweight ponte, you will be disappointed. I personally found all these styles (except one) to benefit from the newer midweight ponte.
Anyway, on with the show!
Universal Standard Luxe Laid-Back Ponte Jogger Review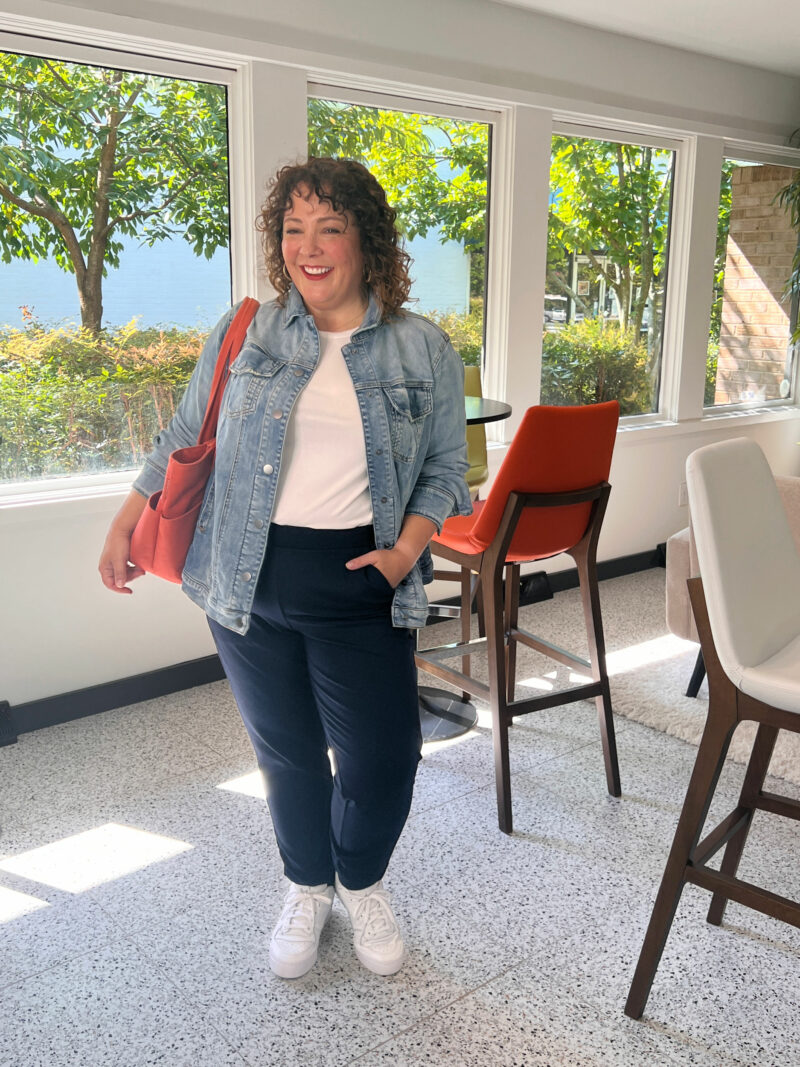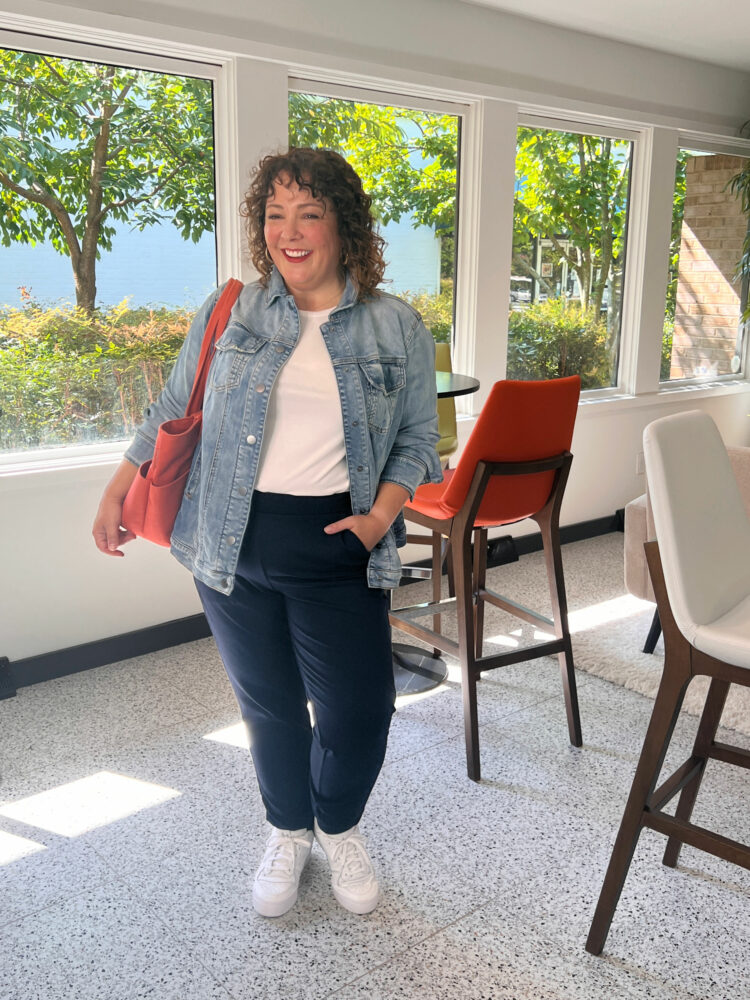 The only Universal Standard joggers I have owned previously were the Hathaway Jersey Joggers and they weren't what I desired. I wasn't looking for loungewear or activewear but an elevated jogger I could style with a blazer and boots. Made from jersey they were too floppy; at the time I wished they were made from ponte. Wish granted with the new US ponte joggers!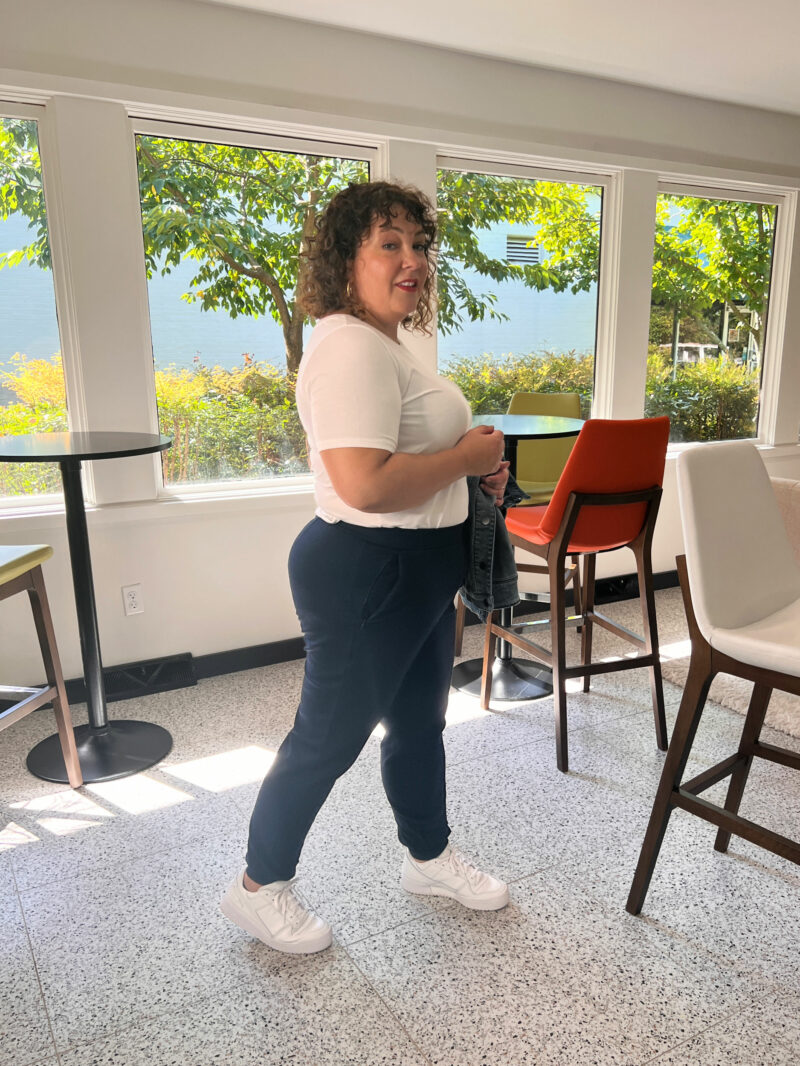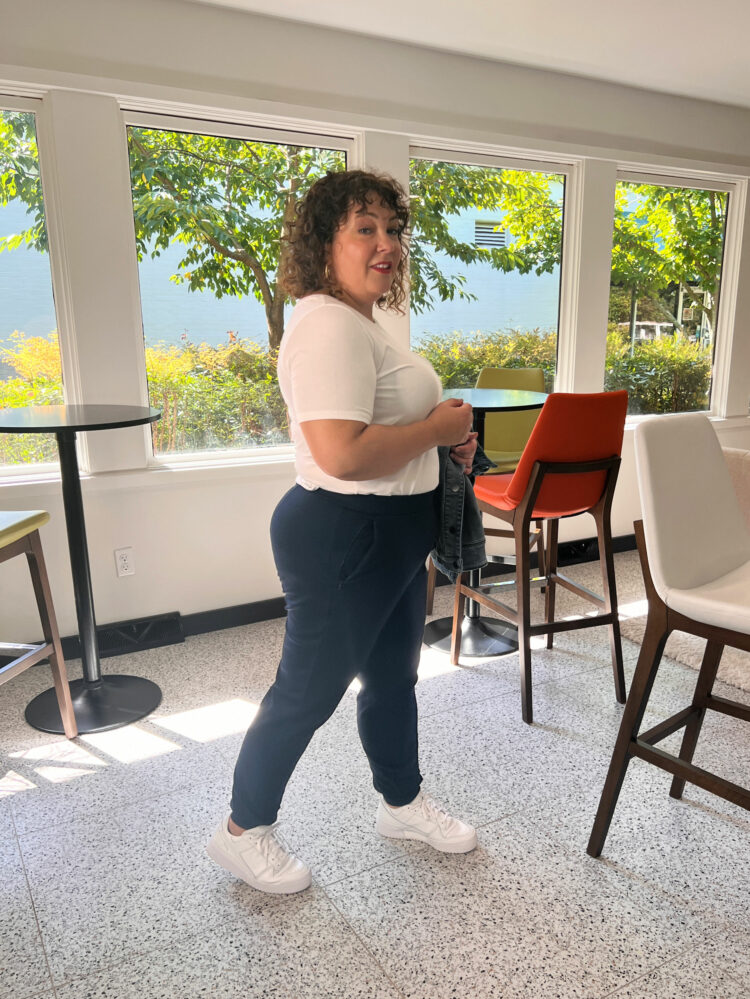 I decided to get the Luxe Laid-Back joggers in navy to switch it up, but also to be able to better show the fit and fabric in photos for you. These are an XS and I wish I had them in size S to have some more drape and have them fit more like joggers instead of loose leggings. That being said, I like these joggers.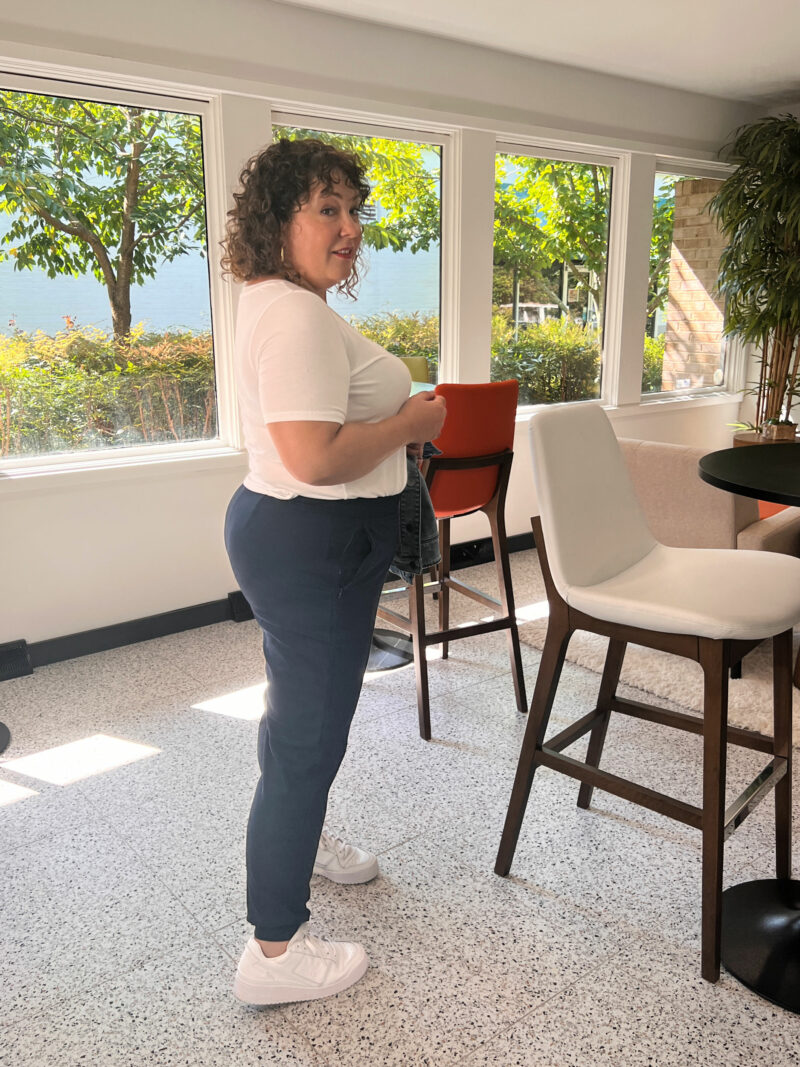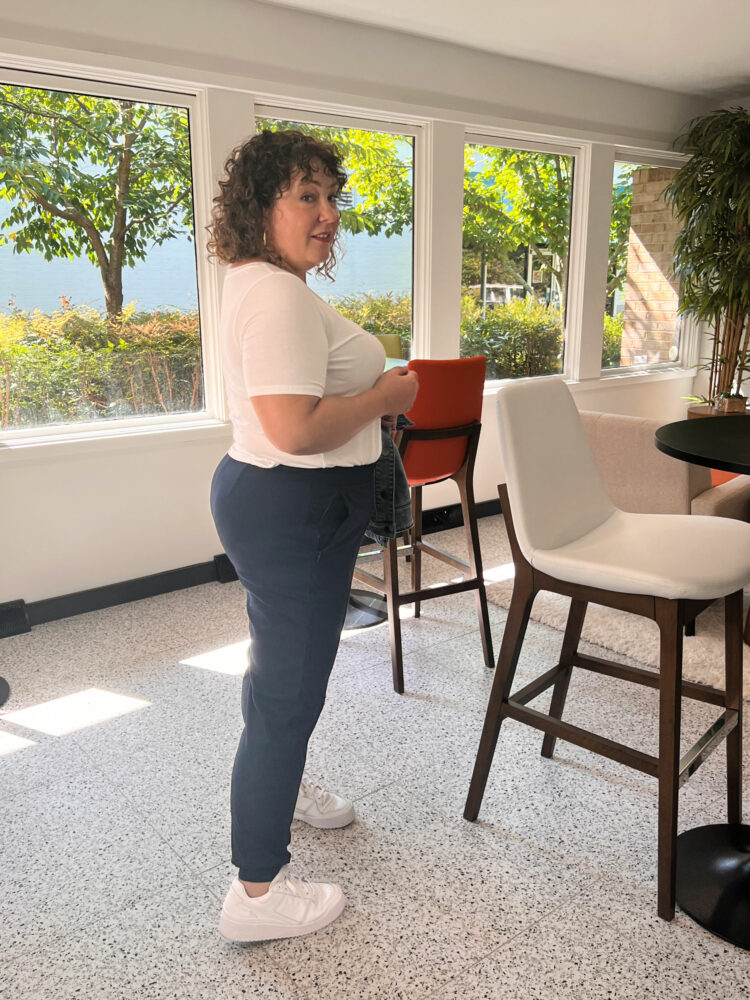 The weight of this ponte knit is perfect for joggers. The zipper pockets are subtle but practical. The waistband folded a bit on me but I think that's because I had on too small a size; otherwise the waistband is well-formed. These are the kind of joggers I was looking for the best joggers back in 2020.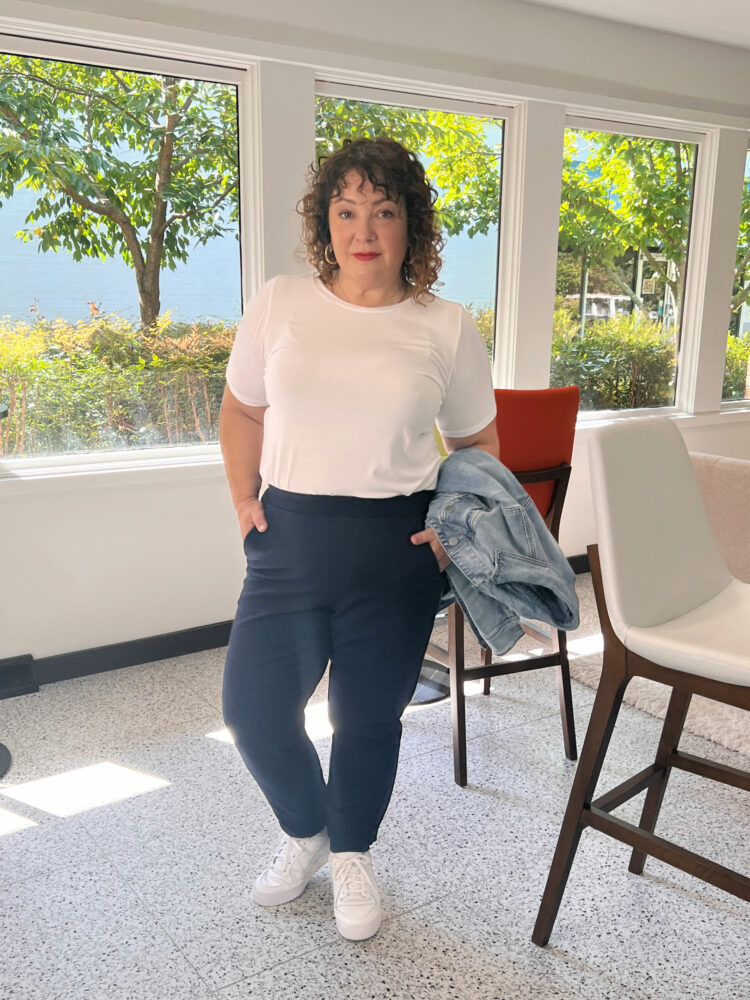 I am glad that Universal Standard added these to their collection, and I think navy is a nice alternative to black that still works with so many things during most any season. Wouldn't it be cute if US came out with a few more colors and some of them with a matching bomber?
Universal Standard Pull-on Bootcut Pants Review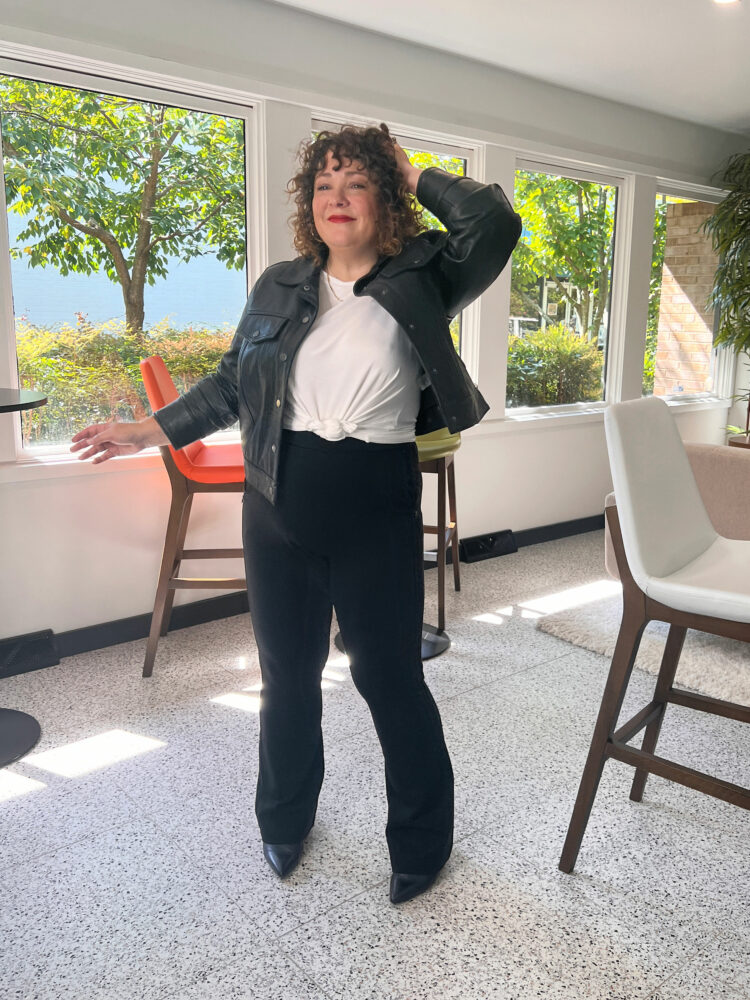 When I worked for Express in the late '90s/early Y2K, their pull-on ponte bootcut pants were the JAM. They looked great with that belted matching blazer, but so much more. Oversized sweaters and sweatshirts became elevated with them. I wore them to death with a pale pink sandwashed silk button-front shirt, and paired them with untucked ribbed turtlenecks and hip belts. But trends changed and a pair of what were essentially heavyweight leggings with a flare at the ankle didn't go with the direction of fashion.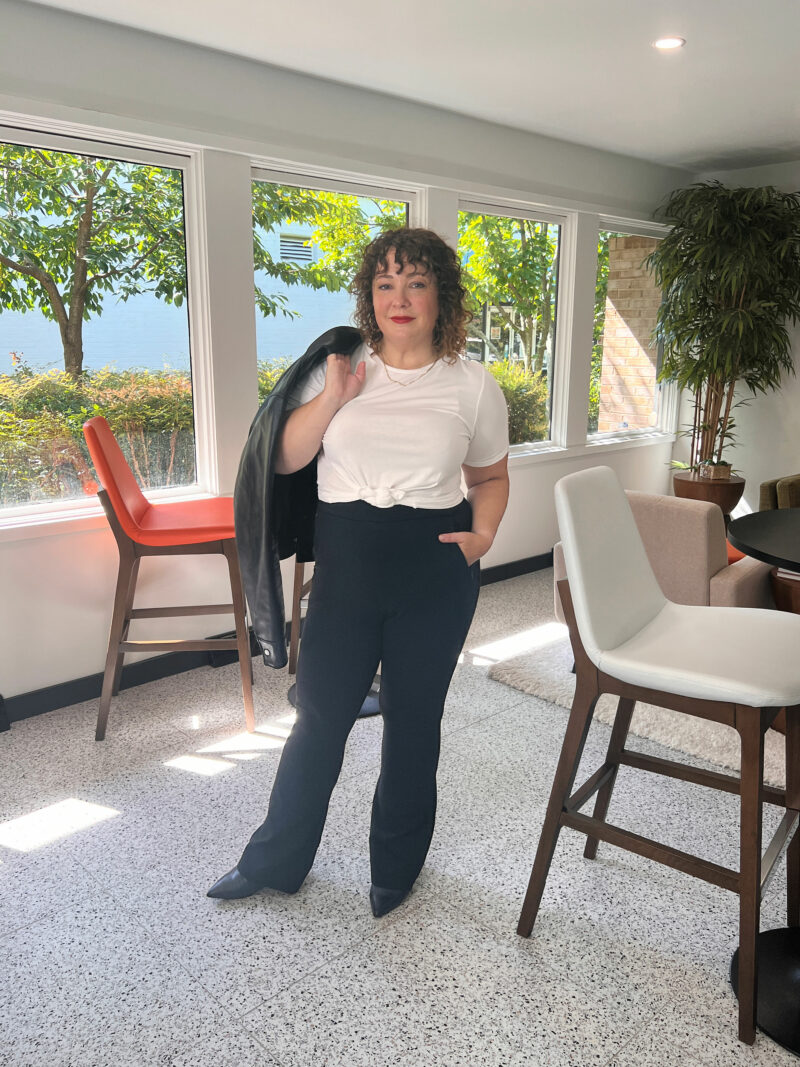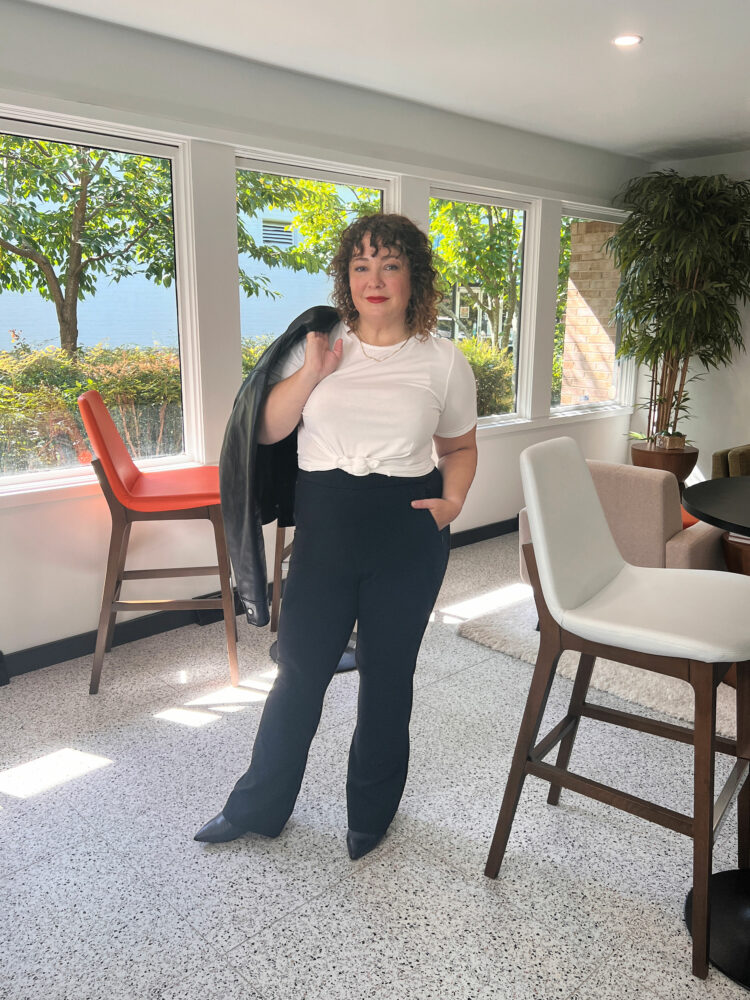 But fashion is cyclical, and again we're wearing oversized button-front shirts, long sweaters, oversized blazers, and even fitted turtlenecks with hip belts. And leggings and jeggings with a longer, loose top is feeling kinda played out in 2022. These pull-on bootcut pants are a really great alternative.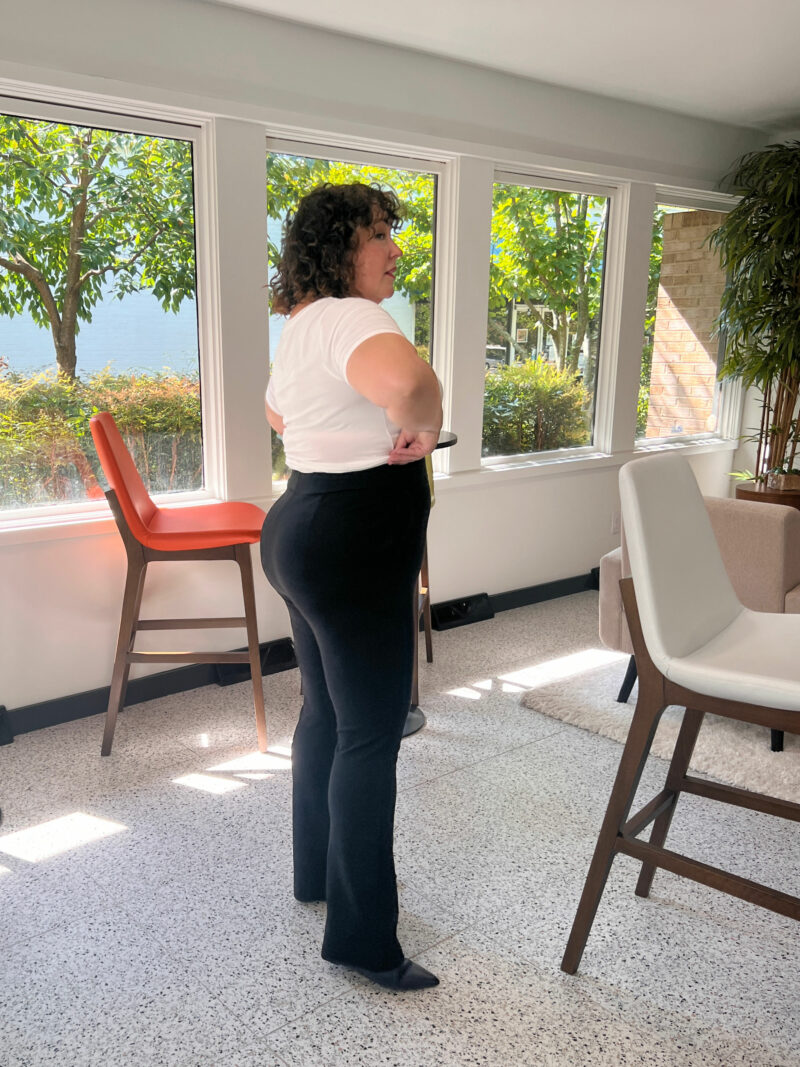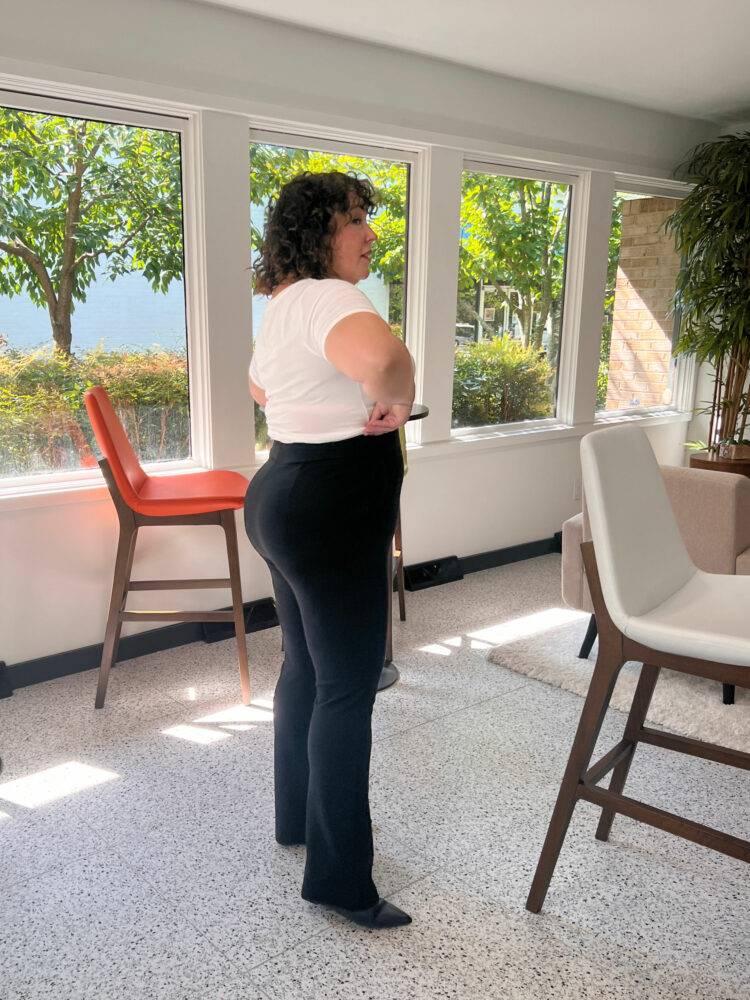 Clearly, I needed a size S in these pants and really wish I got them to show the improvement. But I think a looser fit would also result in an even higher rise and longer length. As it is, I can practically tuck the waistband of these pants under my bra and in 2 1/2″ heel boots, the hems are dragging on the ground. I need a petite. I like these so much but I won't wear these or consider a larger size in these pants because there aren't petite sizes.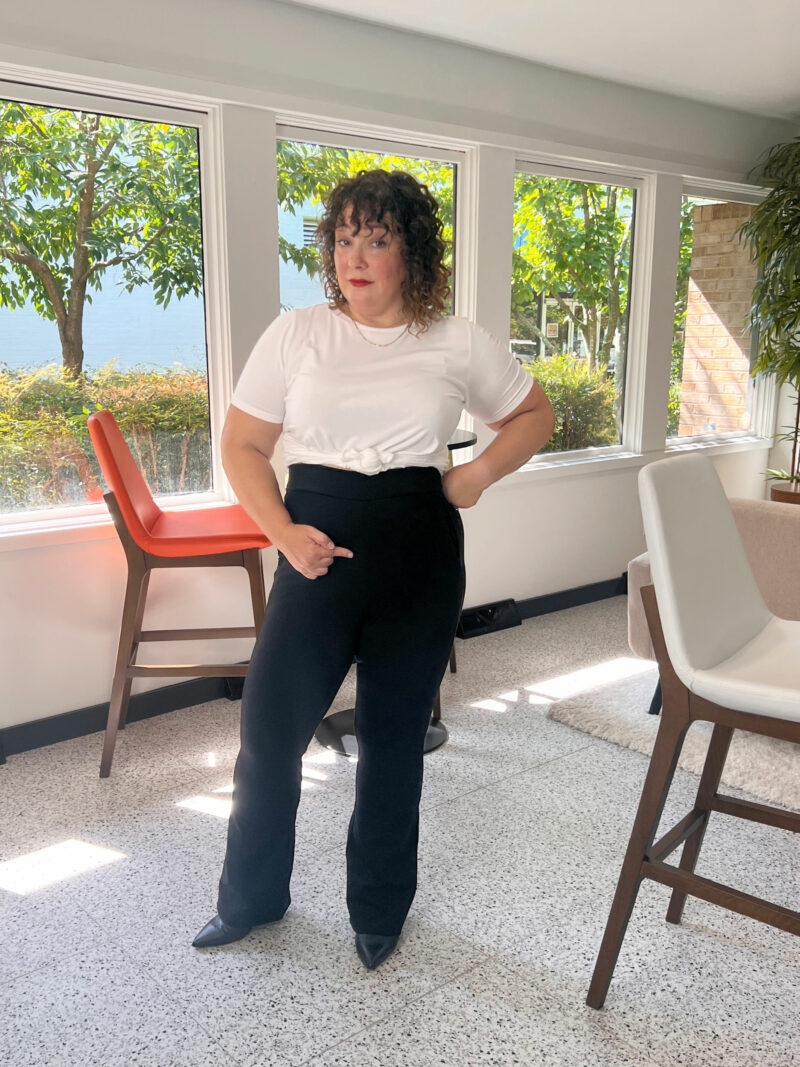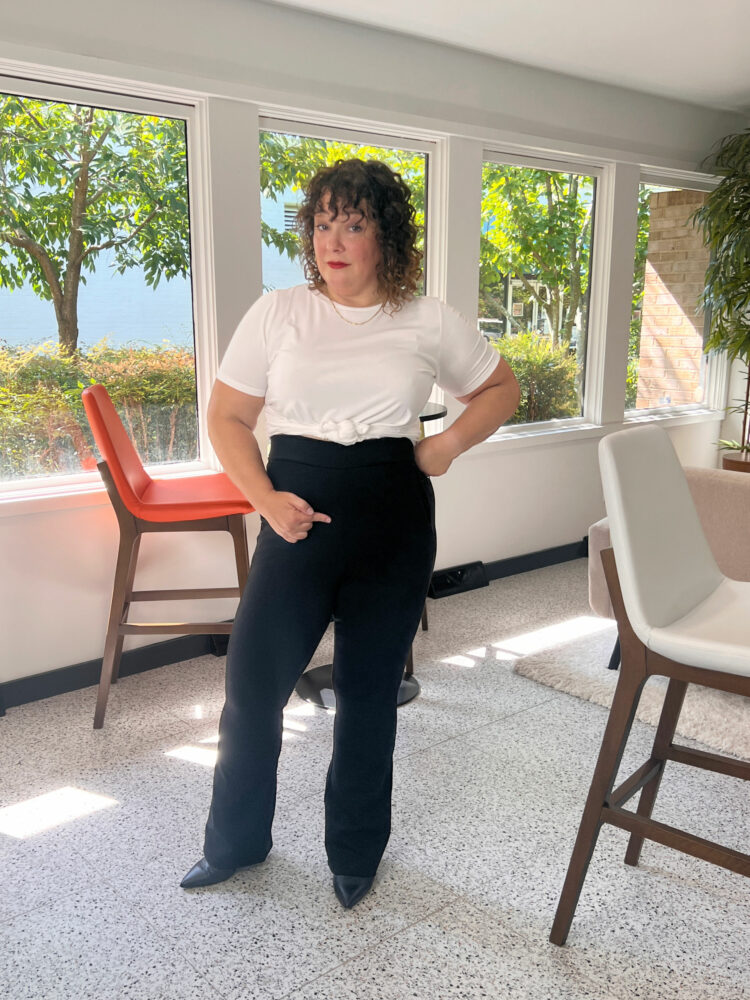 This is the style of pant in this Universal Standard ponte pant collection that really really needs to be available in petite and long/tall. If these are too long, getting them hemmed takes away the flare, ruining the style. And having bootcut highwaters can also be a style ruiner. In this collection, only two styles are available in long and there isn't a single style available in petite or short. As for that 26″-28″ inseam stated on the website, I am not sure what they were measuring as the pair I received are 30.5″. (Update: seems like the 26-28″ was a typo and further into the description these pants are described as 30″ inseam.)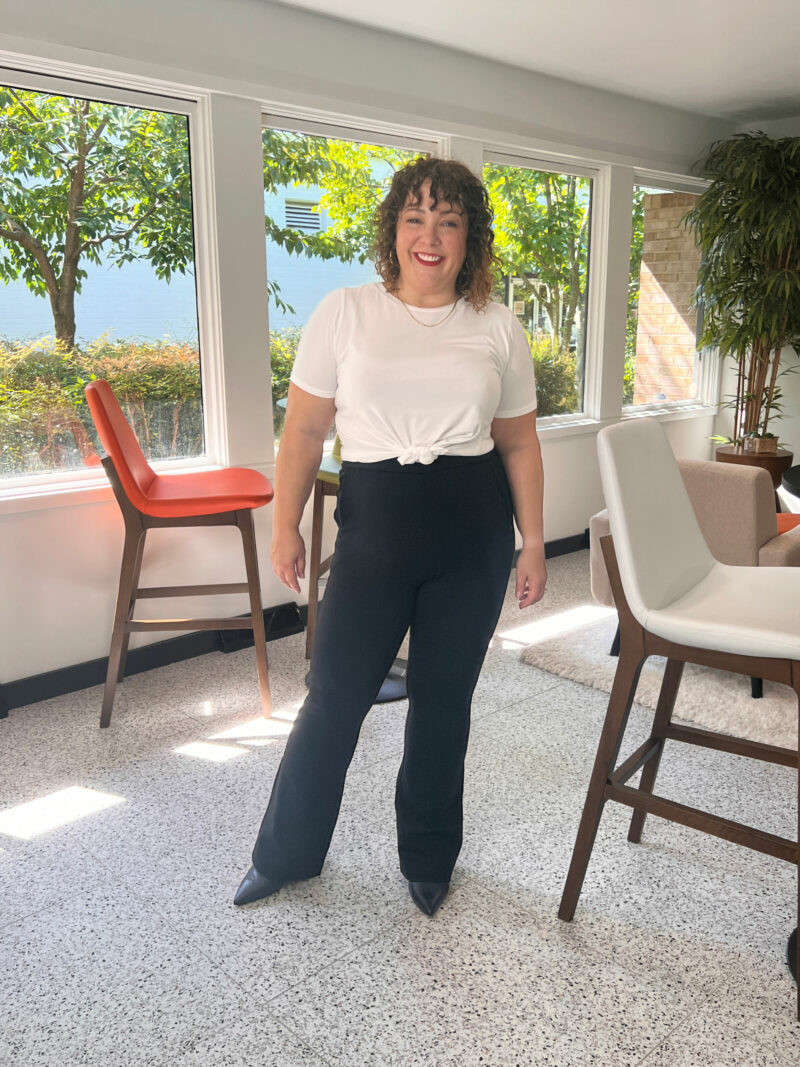 I like these pants… but just like the leggings they are replacing, your personal taste may desire a heavier weight fabric and/or more relaxed cut to consider them pants. And others will rock them with tucked-in top, looking and feeling amazing. Both are fine, you know you best. I think these are a great replacement for your faux leather and ponte leggings and a cool silhouette to switch up your Old Navy Pixies and Eloquii Kady Pants.
Universal Standard Minimalist Moro Pocket Signature Ponte Pants Review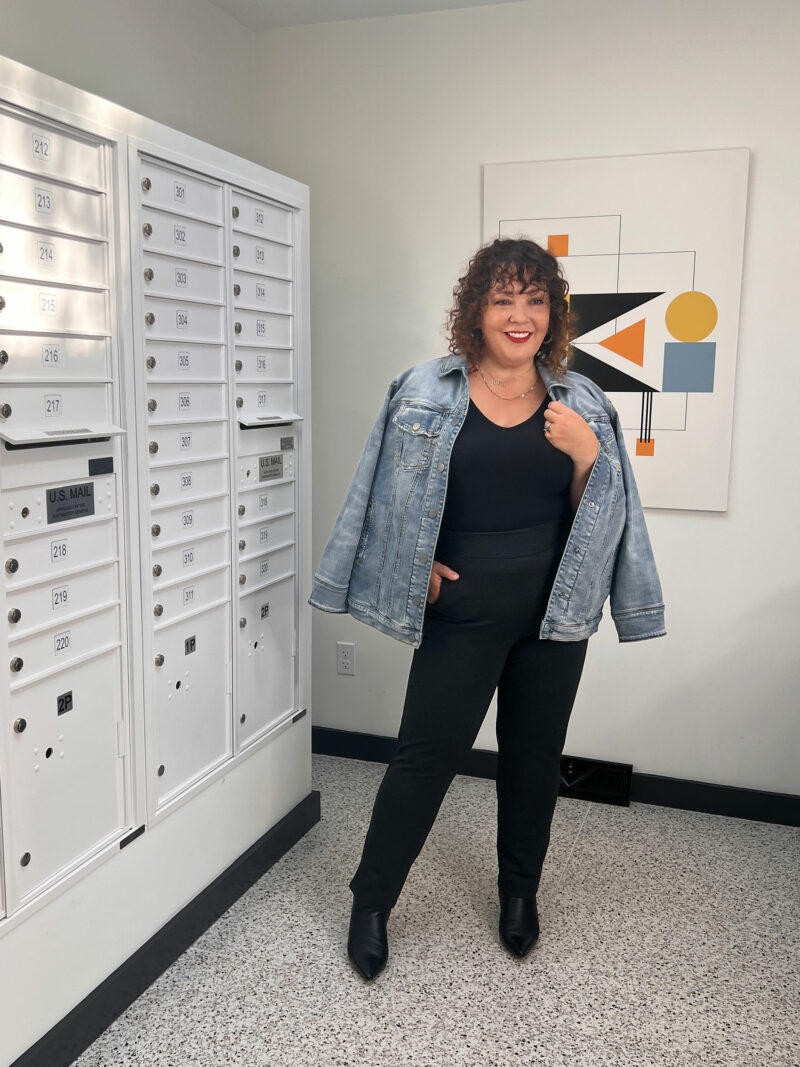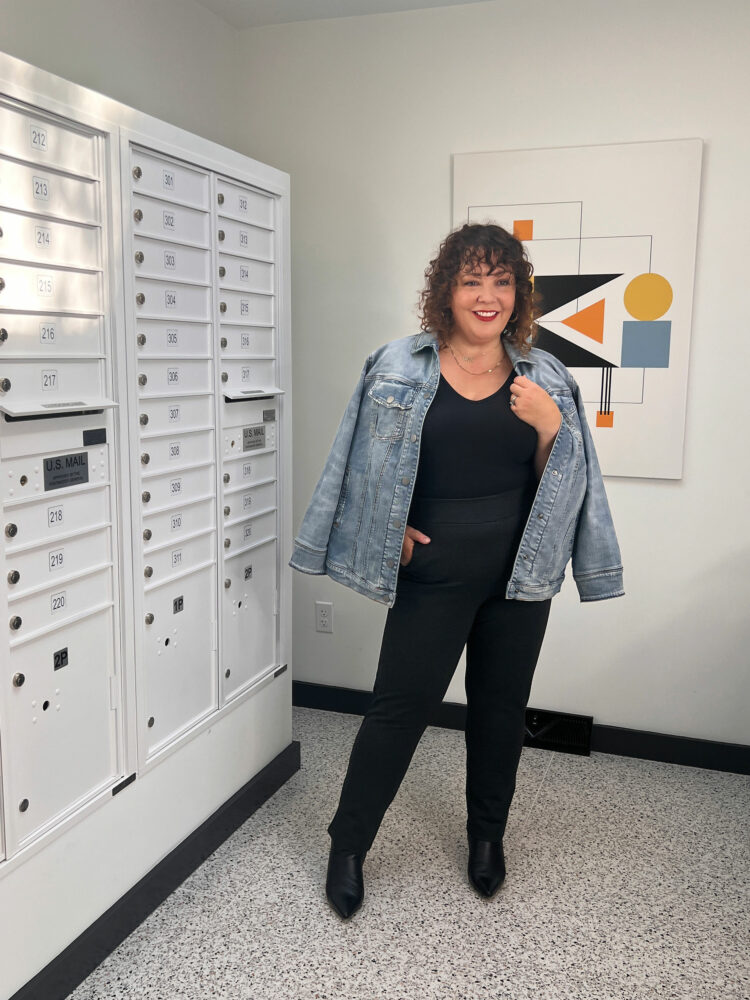 I ordered the Smart Signature Ponte Pants. My packing slip stated I received, "Crop Skinny Pant" and these pants don't seem to be Smart Signature, at least not at all like the pair I showcased in this blog post. And if these pants are considered cropped then I am an Oompa Loompa. These pants have the same composition (60% Rayon, 35% Nylon, and 5% Elastane) as the Minimalist Moro Pocket Signature Ponte pants, so I decided to make these a review of the Moros!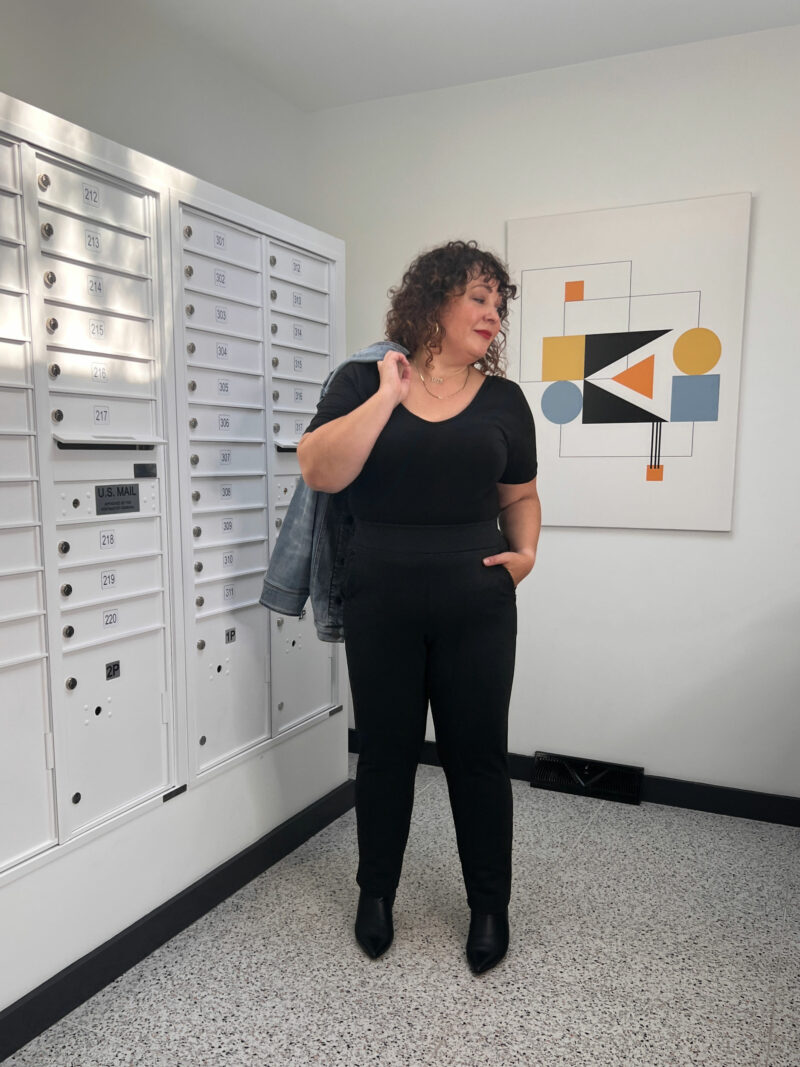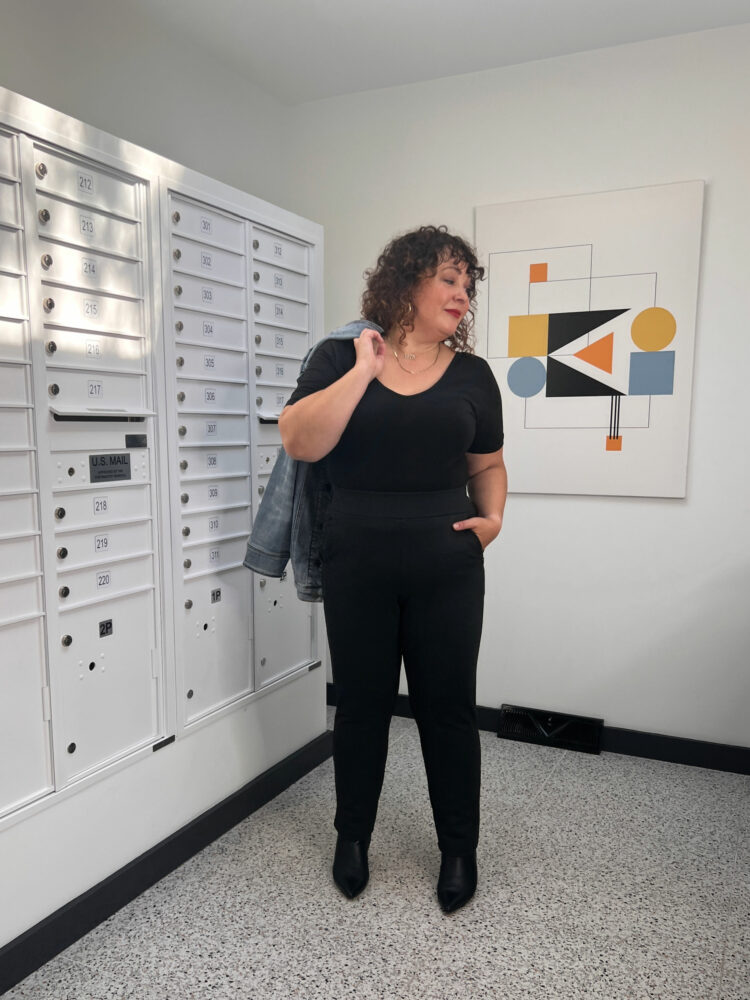 I know I received some of these pants before they launched on the site, and when I placed my order I don't think they finalized the marketing. I don't fault US for sending me different pants, in fact I'm grateful because I think I like these better than I would have liked the Smart Signature (which looks a lot like the Cigarette Pants ended up on me, see below).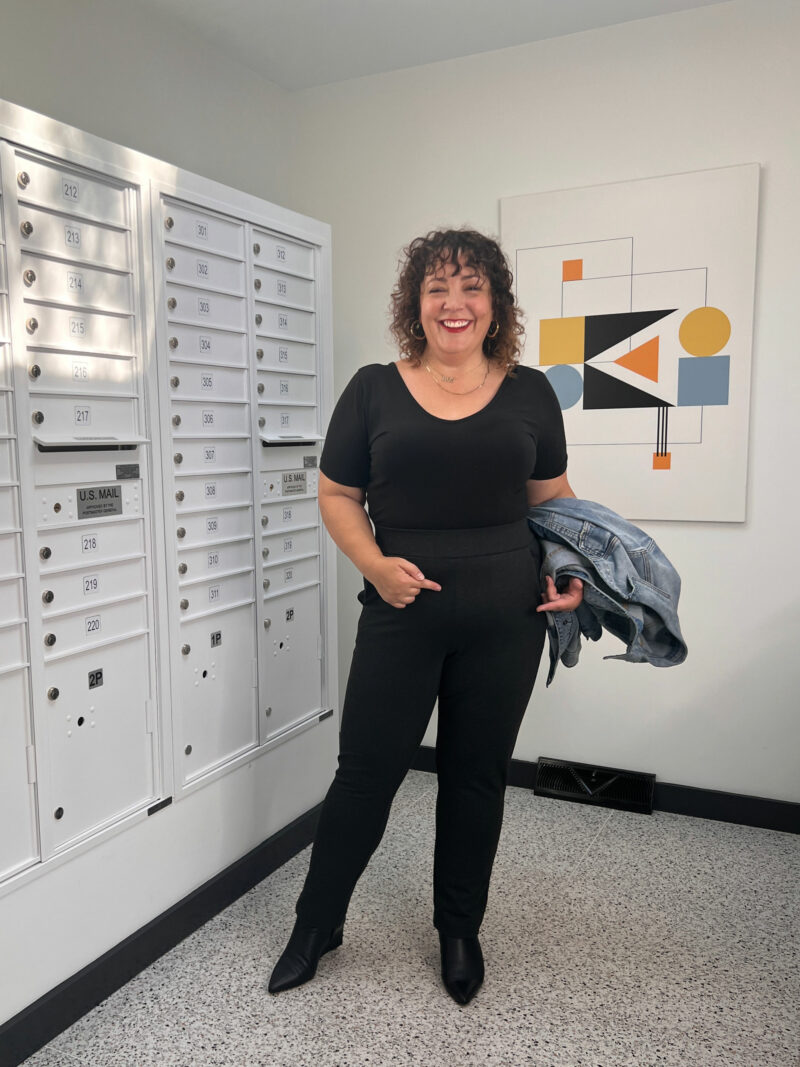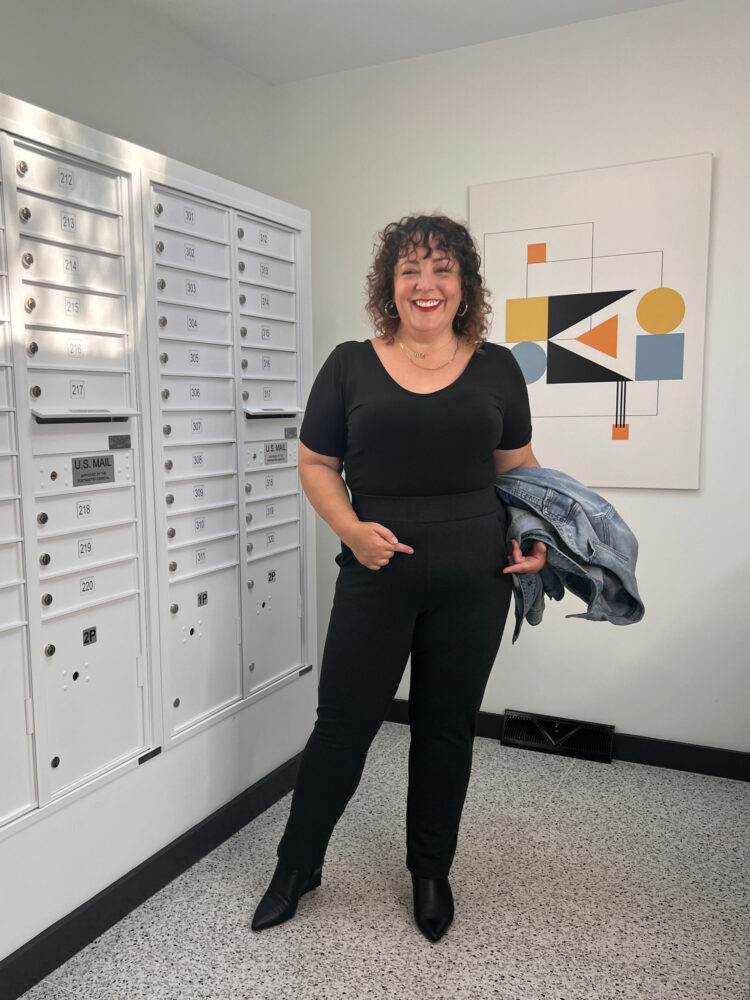 If these are the Minimalist Moro Pants, they are a size XS which is too small for me. I don't own any Moros right now but I did in the past and found a size S was a better fit. Anyway, I put these on and said to my reflection, "Tell me about it, Stud." If they were shiny and black I'd feel like Sandy at the end of Grease.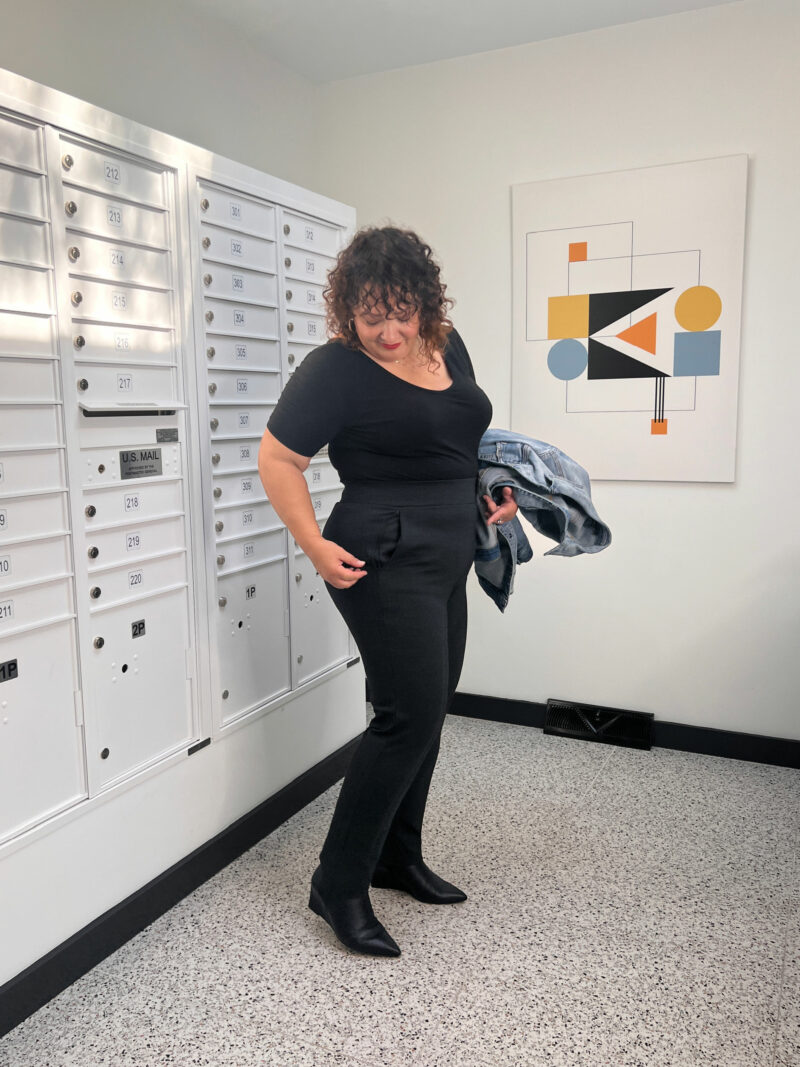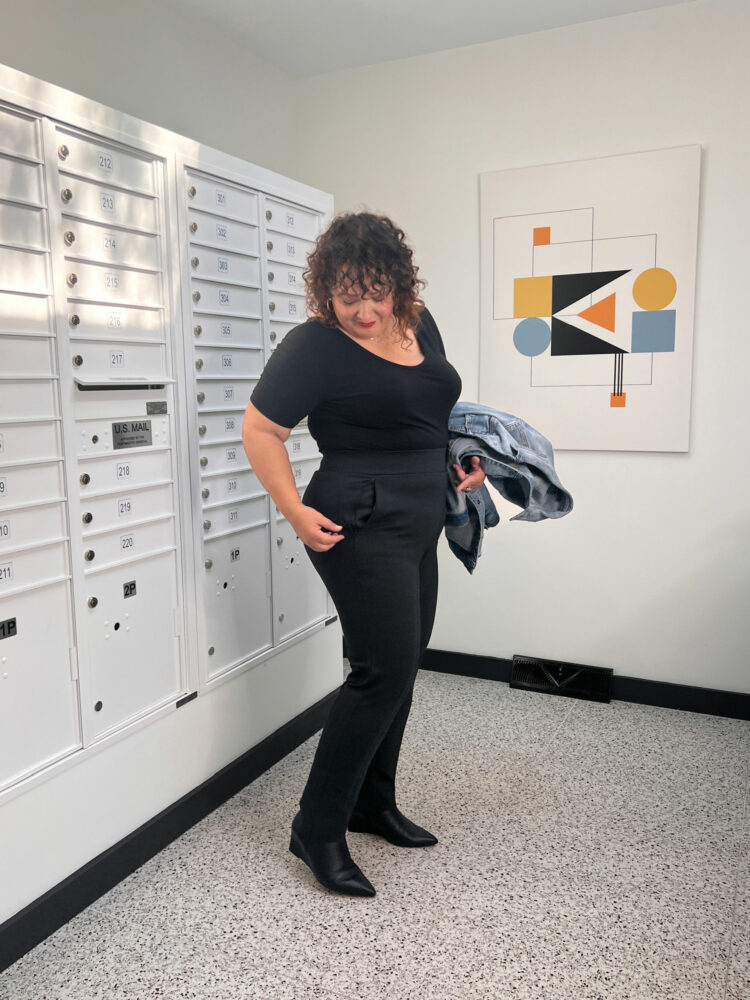 These are thicker feeling than any of the other ponte pants I received, but it may be the charcoal heather color, which often is firmer or thicker regardless of brand. They have front zipper pockets and even in a size too small, the pockets don't leave visible lines. However unzipping them and posing and then trying to zip them back up I ended up breaking off the zipper pull. I will chalk that up to these being too small and the zipper being strained.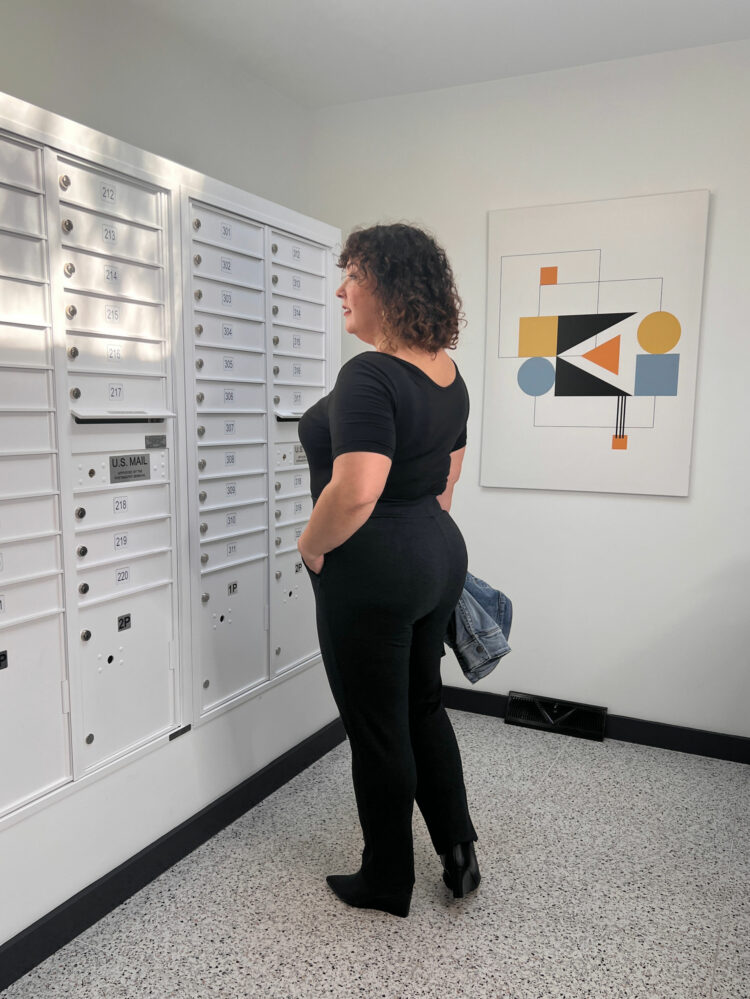 I think a size up (I am wearing XS), these would be some really great pants. Like joggers, they'd be an alternative to jeans and chinos but be far more easy care and comfortable. Universal Standard experts, what pants do you think these are? Are they the minimalist Moro or something else?
Universal Standard Stephanie Pant Review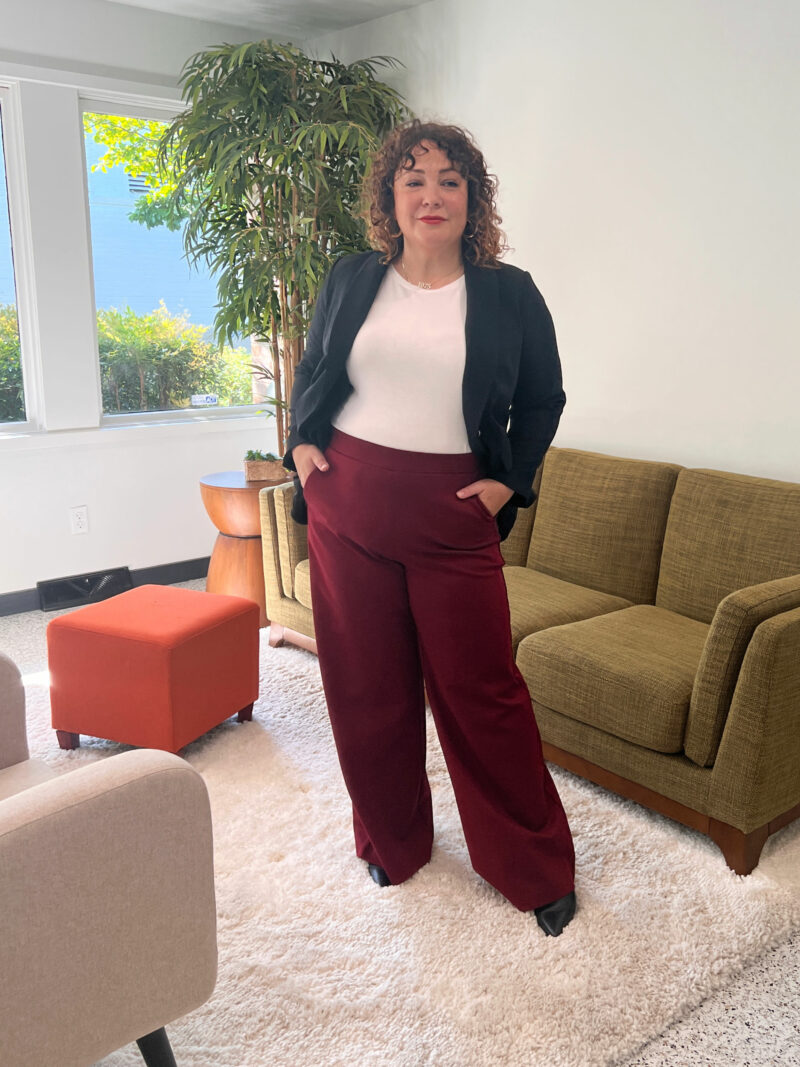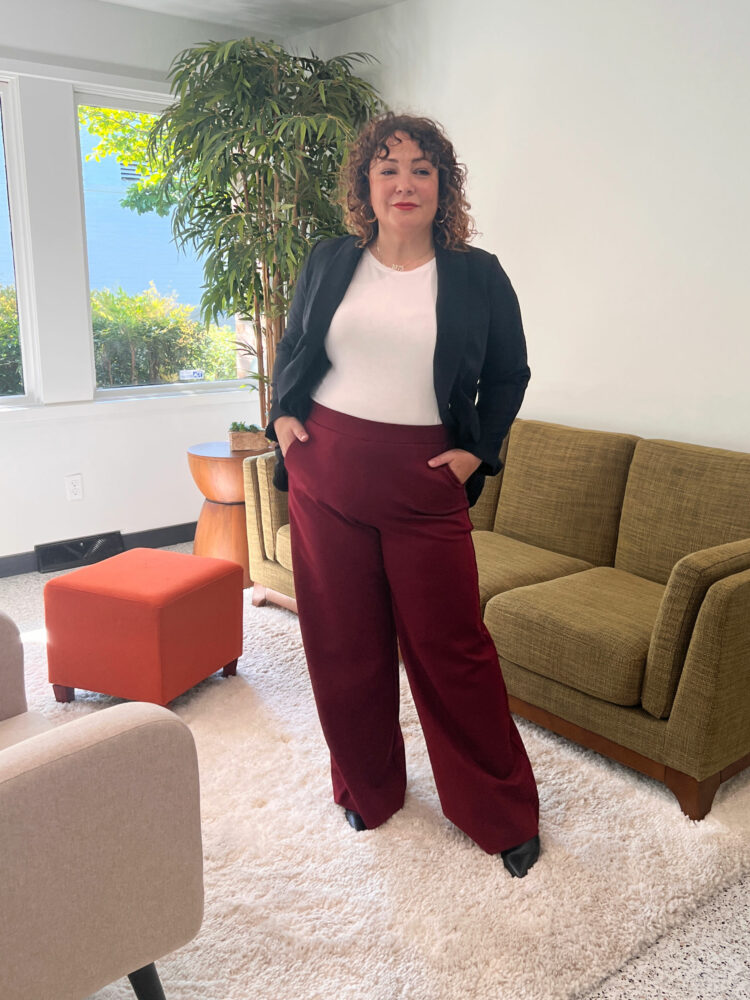 The Stephanie from Universal Standard is not a new style of pant for the brand (here I am wearing the original version in early 2021; here I am wearing the striped version earlier this year). However, what makes these pants new is they don't have a tux/racing stripe down the side AND they come with pockets! Available in four colors, the new Stephanie pant is 68% Rayon, 29% Nylon, and 3% Spandex. I was sent a size XS.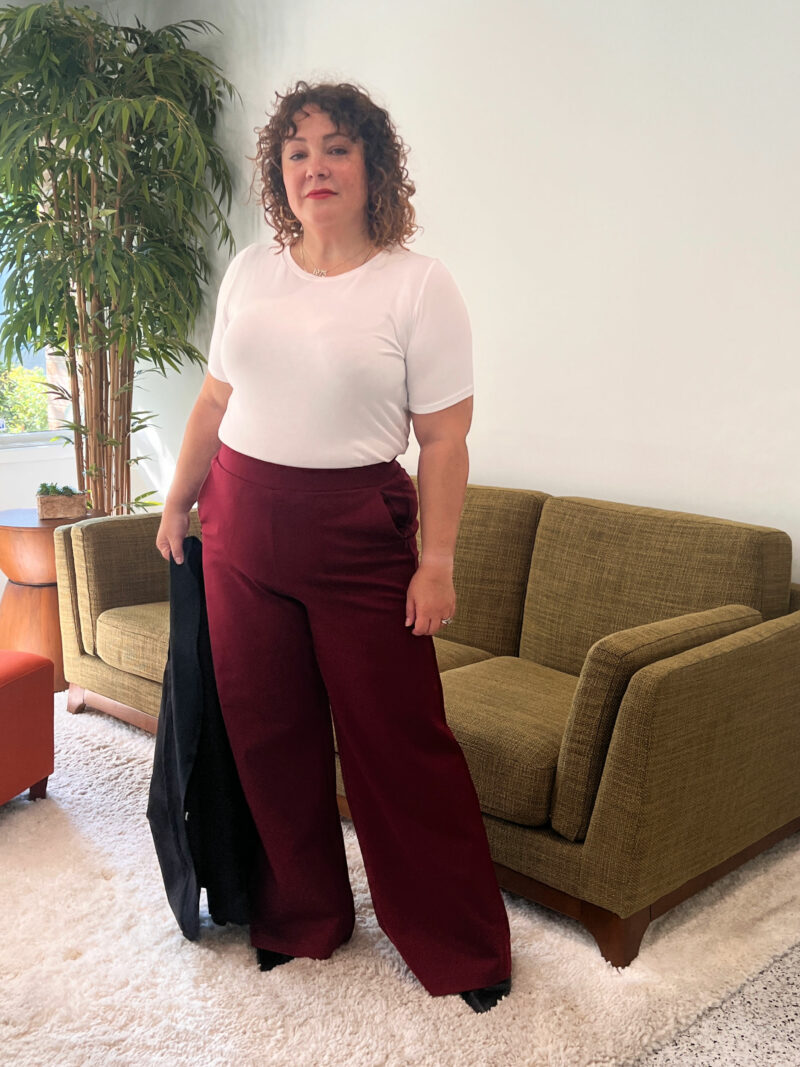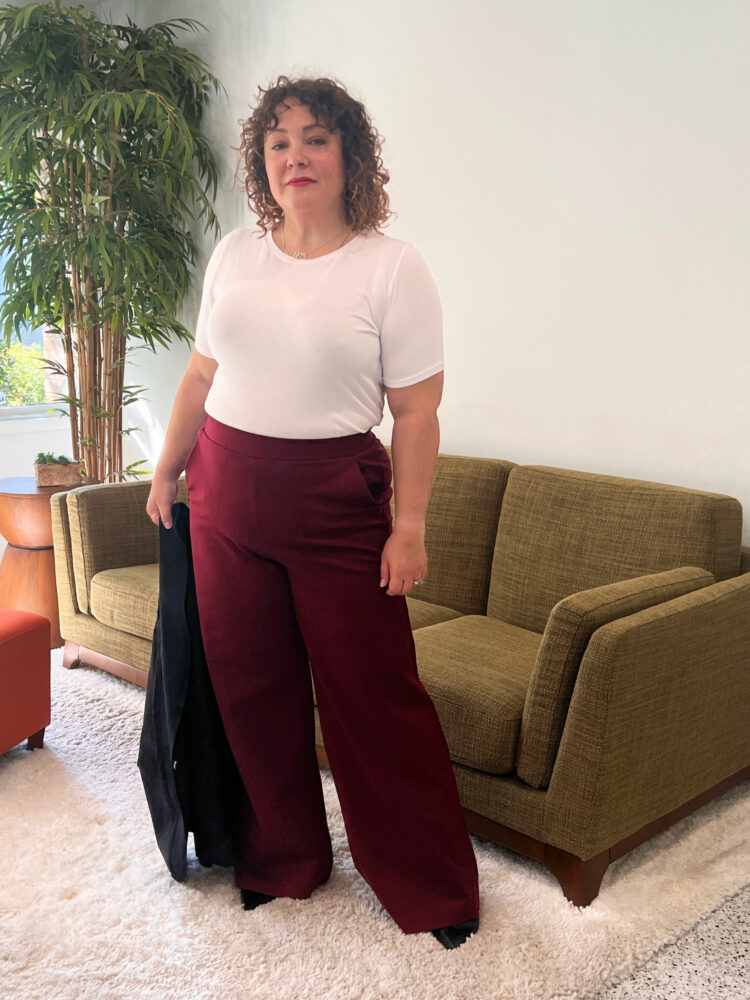 Okay the first things folks want to know about the new Stephanie pants is if the fabric is like the original Stephanie or more like the more recent striped Stephanies. And they are the same as the striped Stephanies. As you'll see throughout this Universal Standard ponte pants review, the new ponte pants are a mid-weight ponte, which has more drape, has a subtle sheen, and isn't as heavy as the old original ponte piece from US.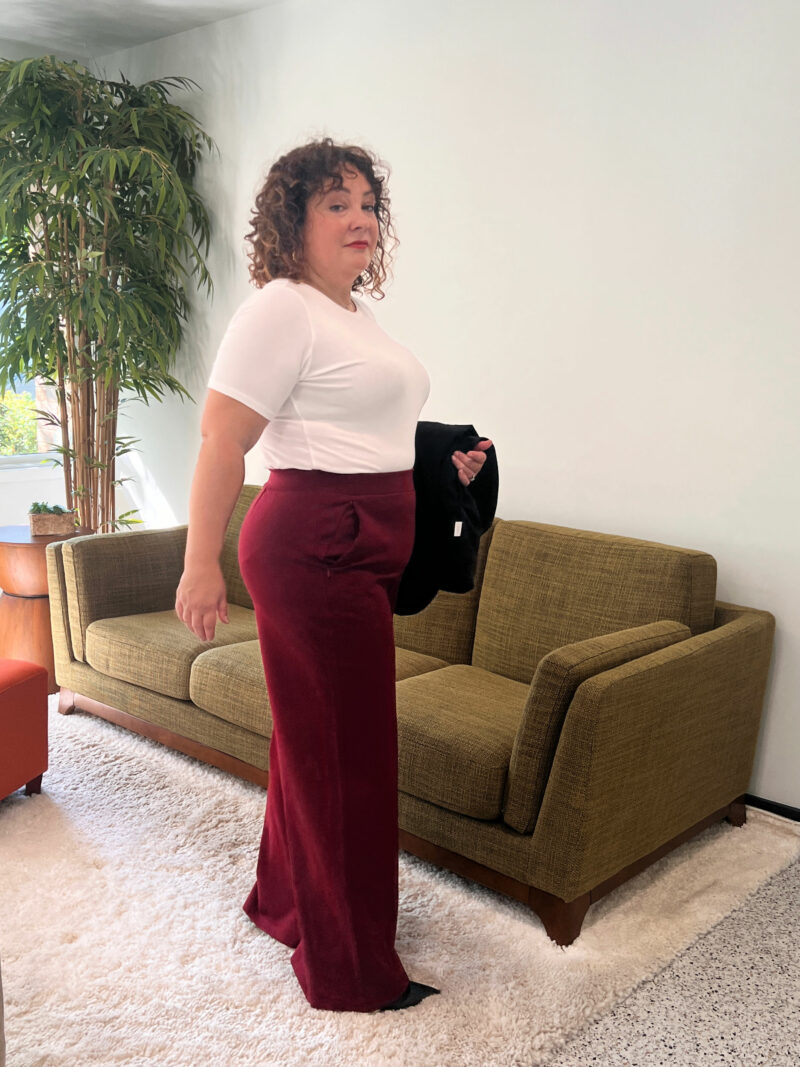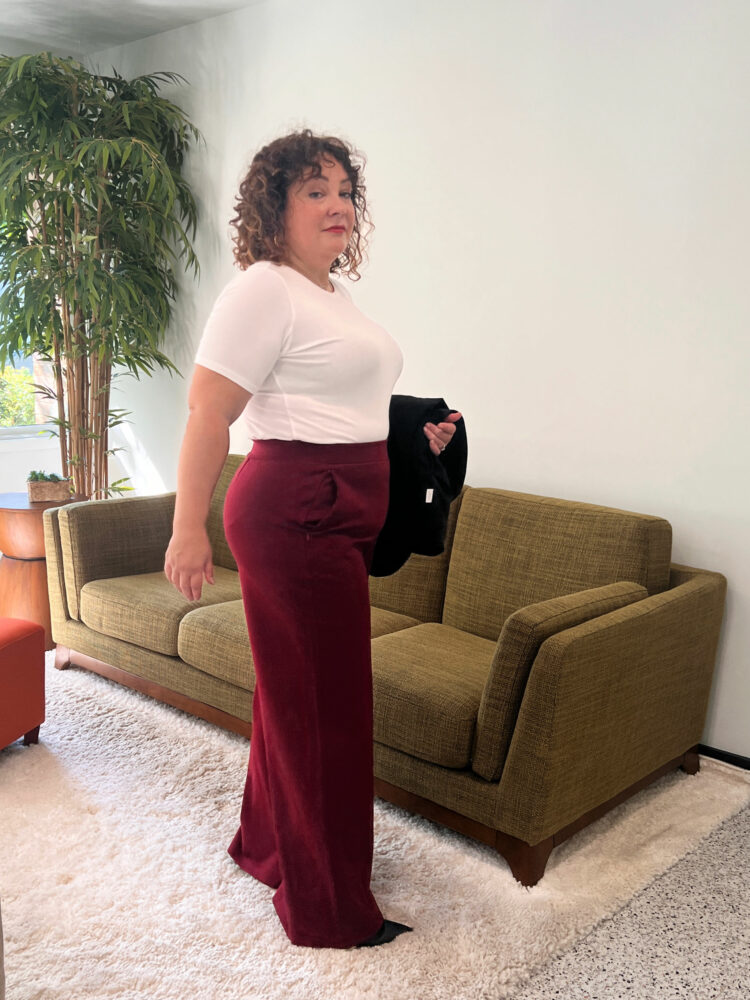 As someone who has now owned all three versions… I think the latest one is the best. The original may have had a thicker fabric, but I found that created a bulky waistband that looked weird visible but was visible under fitted knit tops. They also weren't as comfortable, sort of standing on their own (at least on me). I ended up getting rid of my pair.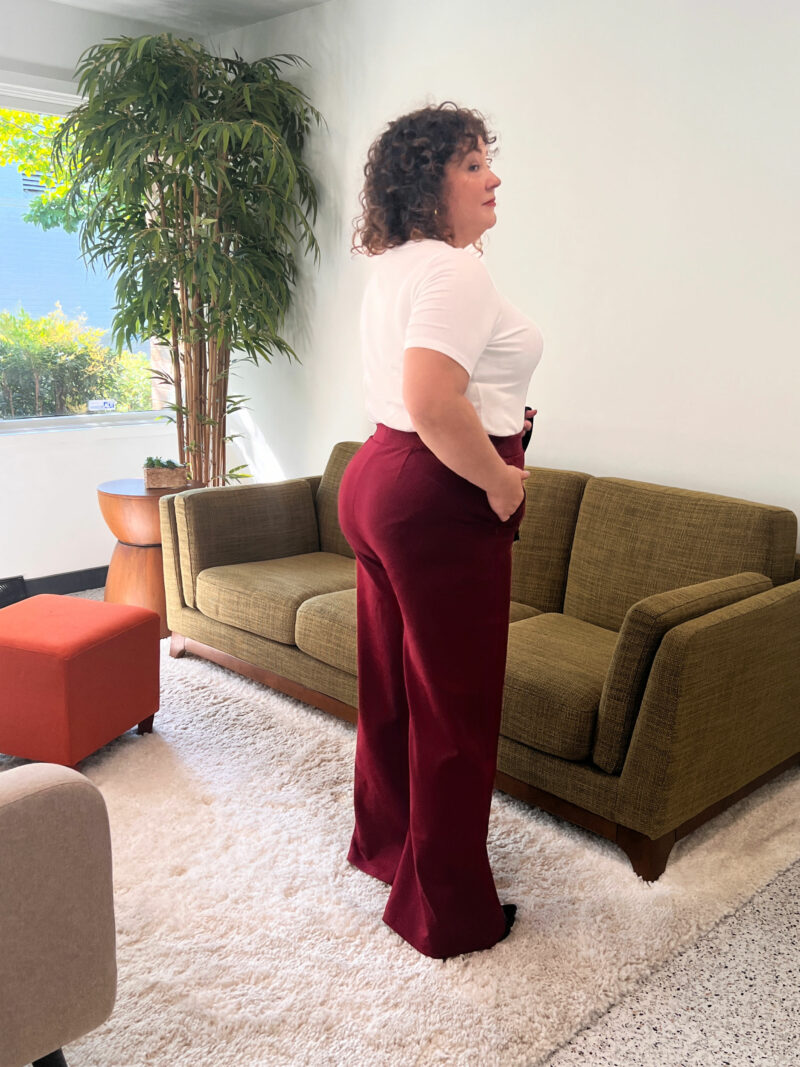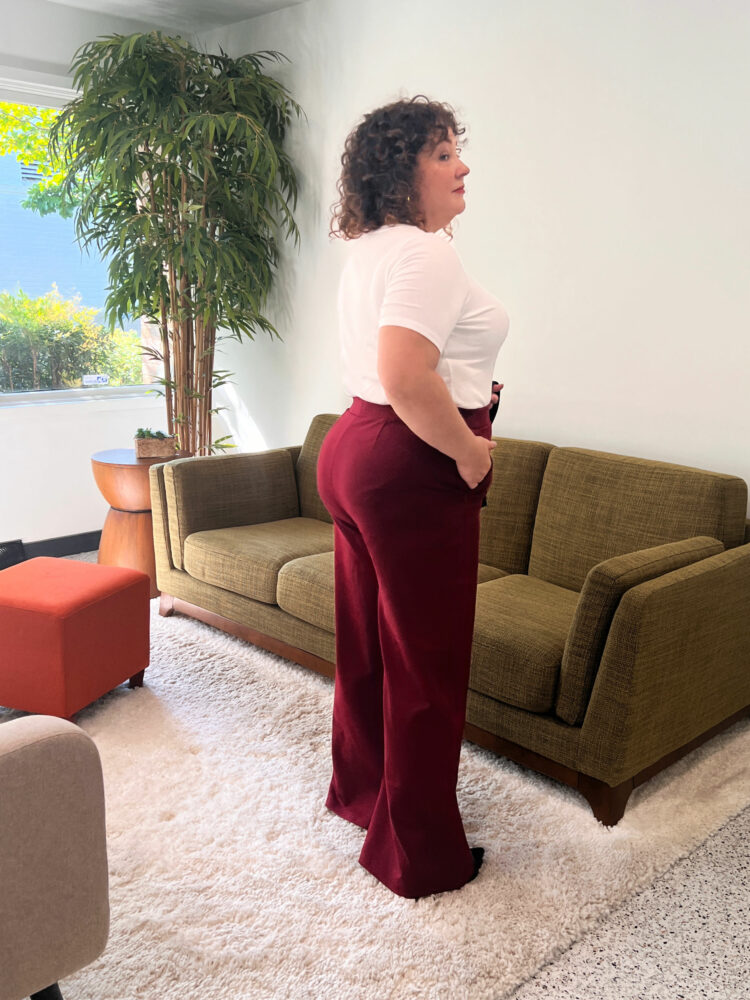 The blue stripe I still have; I had them shortened by my tailor and wear them often but rarely as part of an actual outfit. It's usually a "throw on and get out the door" look, and the pants are most often worn at home. I love them, but the stripes and lack of front pockets leave me struggling to style them or wanting to even wear them.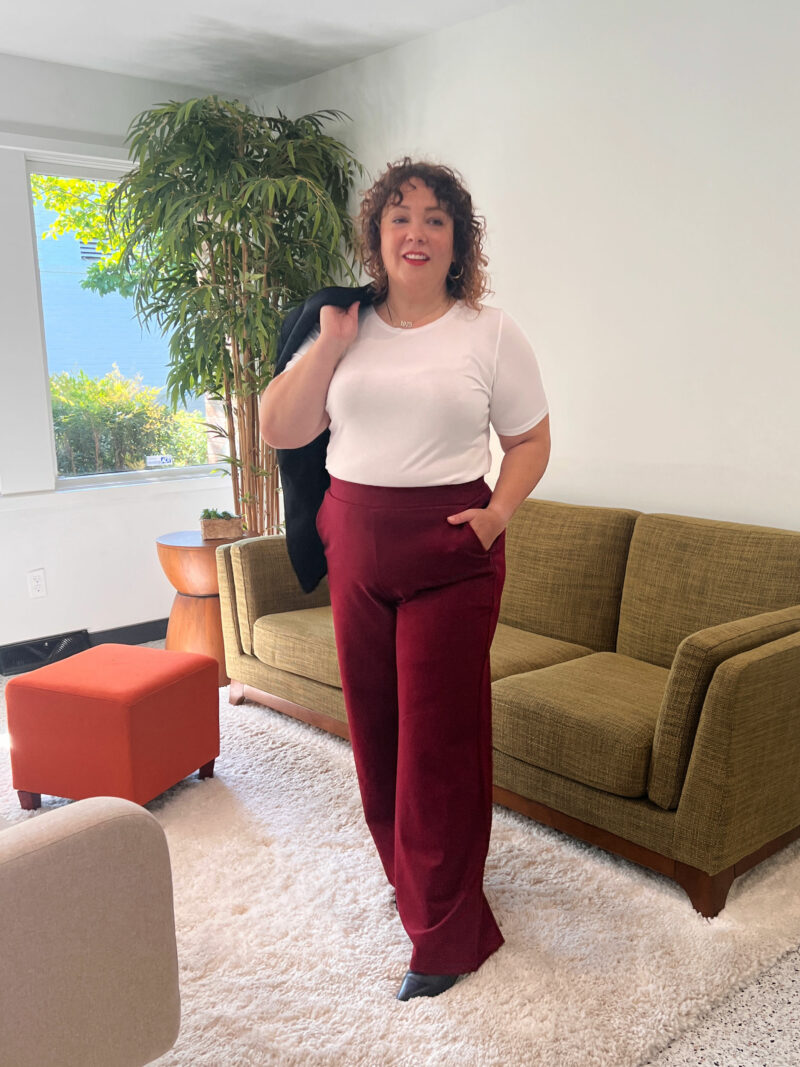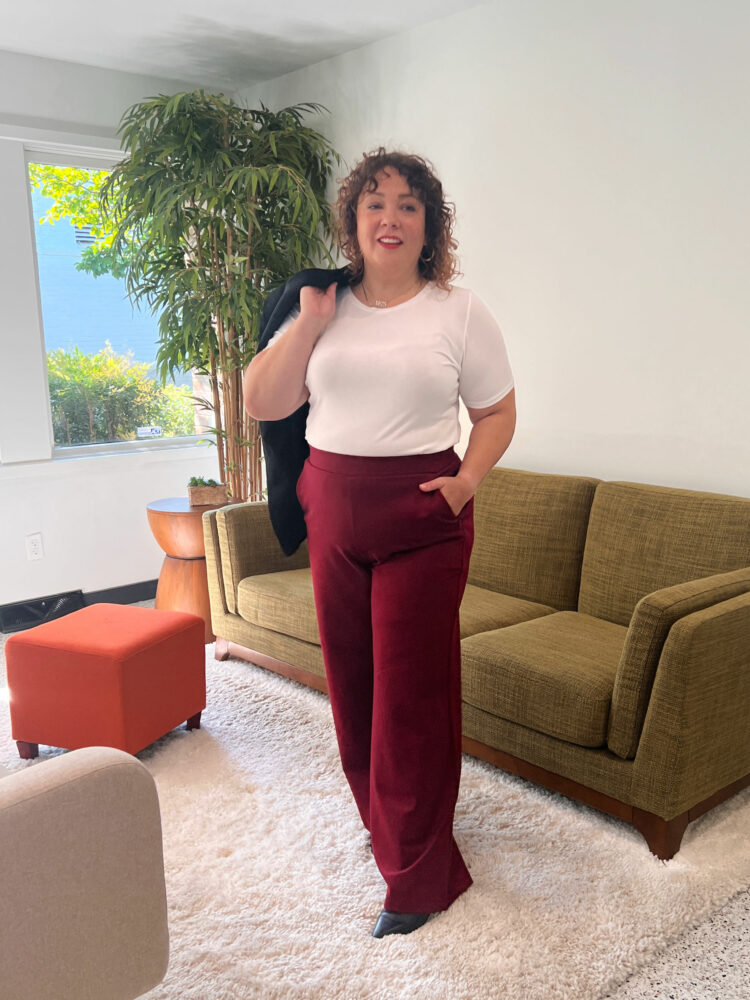 But the new Stephanies… I think they make a lot of sense. The lighter-weight ponte may not feel as luxe, but it offers drape so the pants looks elegant. And instead of pointless back pockets, they have front pockets! The pockets are super subtle, an invisible zipper closure with pulls the same color as the pants. The pockets are made from lining material and even in a snug-fitting XS, I didn't find them obvious or adding bulk.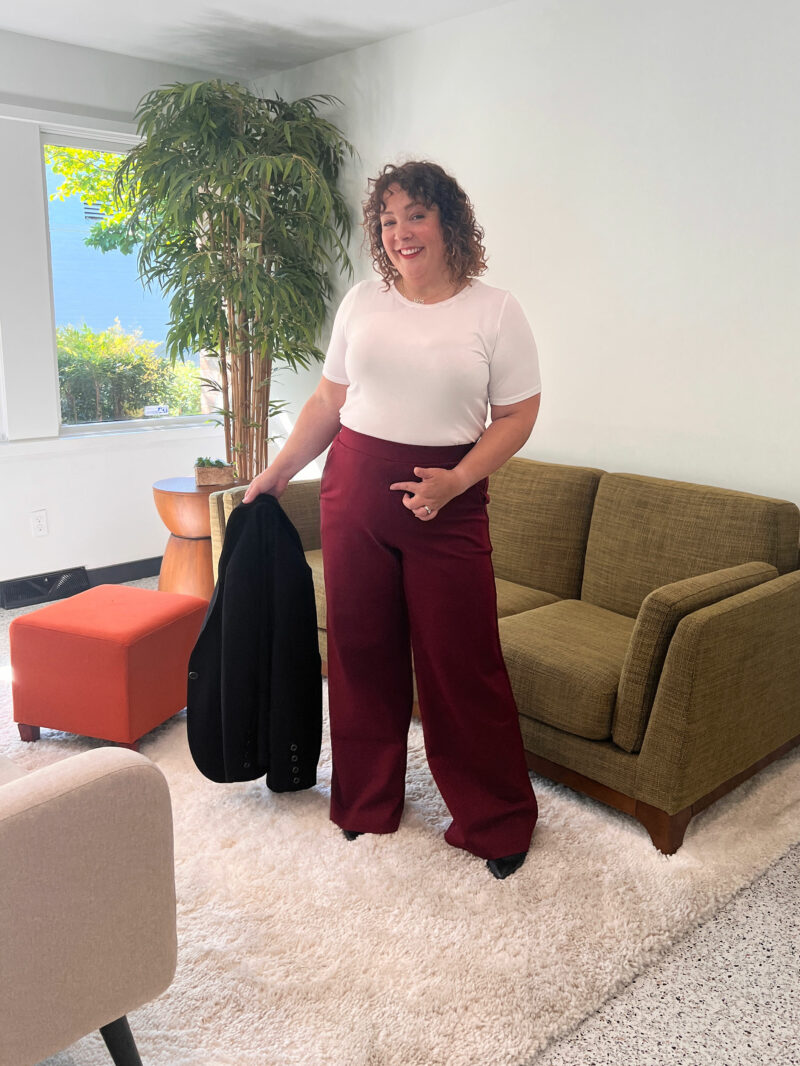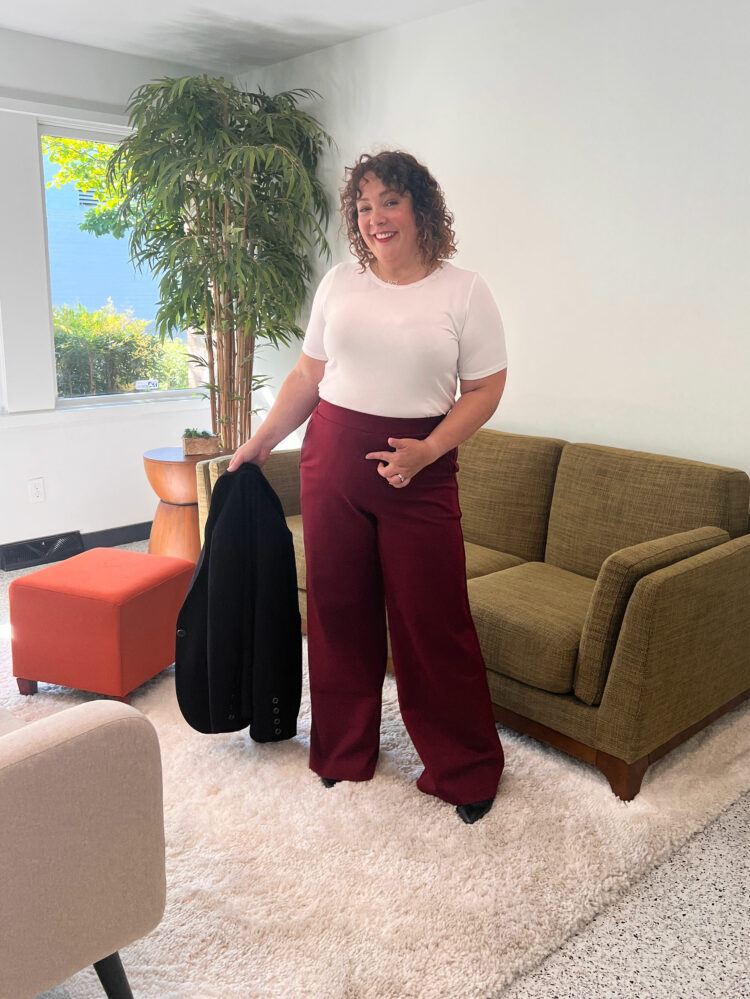 The Stephanie pants are a bit higher rise than I'd want (a petite would be really lovely, US), but I will get these tailored so I can wear them with sneakers and know they'll get a lot of wear out of the house, styled in a multitude of ways. I may even get another pair in Black or Crocodile (a tan/camel color) because I can see these being a favorite in fall and winter.
Before the Next Reviews… What The Heck is a Cigarette Pant?
If a pant is called cigarette, you know it's a slim pant with a straight, not tapered leg opening. A cigarette pant is usually ankle length. While one may think that the pant is called cigarette because it's narrow and straight like a cigarette, it's actually because the original style of pant had a small side pocket perfect for a pack of cigarettes!
The difference between a straight pant and a cigarette pant is that a straight pant is straight from hip to hem, while a cigarette pant may be fitted in the thigh, but is straight from knee to ankle. A skinny pant on the other hand, is tapered from knee to ankle so it's fitted from hip to hem. Considering the curves of different bodies, a cigarette pant can resemble a skinny pant on some frames, a straight pant on others.
These days, most any skinny pant is called cigarette, and it's clear with the different styles of cigarette pants I got from Universal Standard that they are being pretty liberal with this term.
Universal Standard Cigarette Pants Review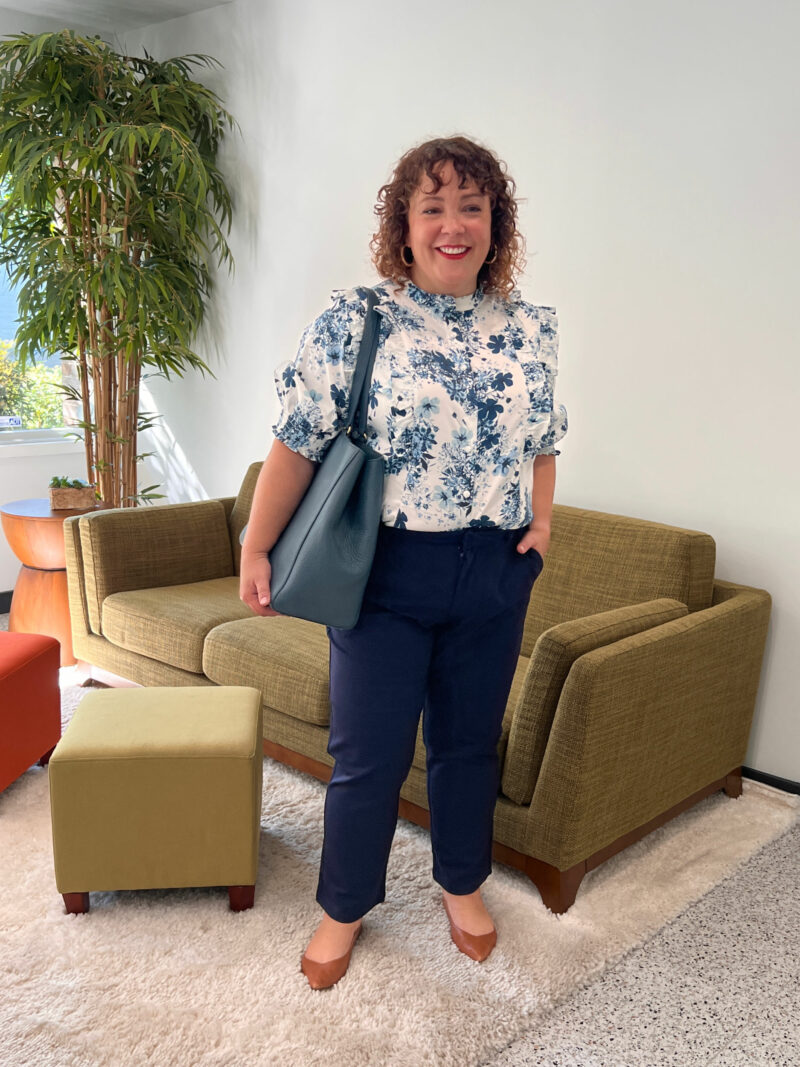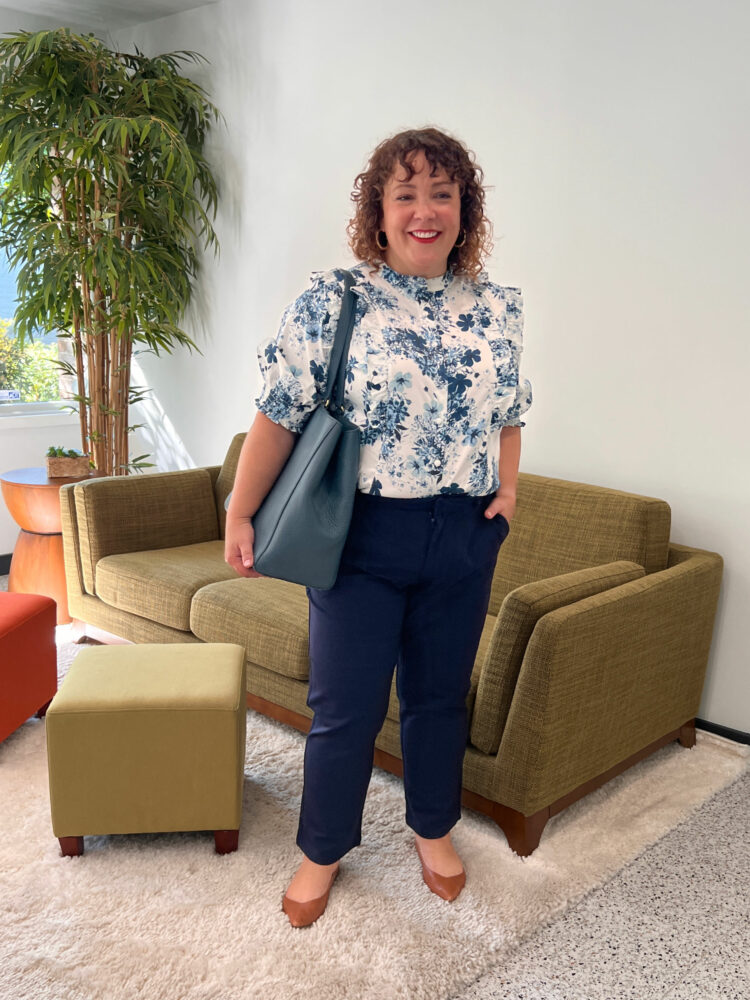 I owned Universal Standard's previous Cigarette Pants and liked them (see them in this review of Universal Standard workwear), but found they ran smaller than other US pants. I asked for these new ponte cigarette pants in S because of my previous experience and received XS… and found them to be roomier as well as a completely different fabric from my old cigarette pants. They are 68% Rayon, 29% Nylon, and 3% Elastane which is the same as many of the other ponte pants in this new collection.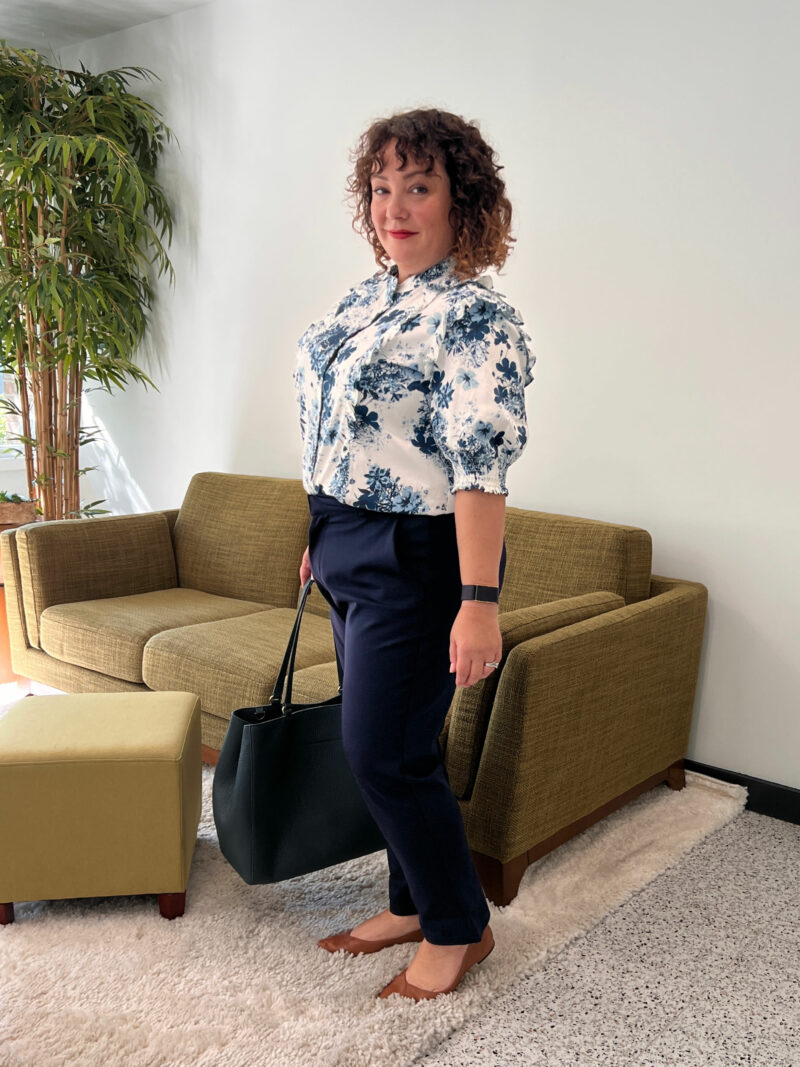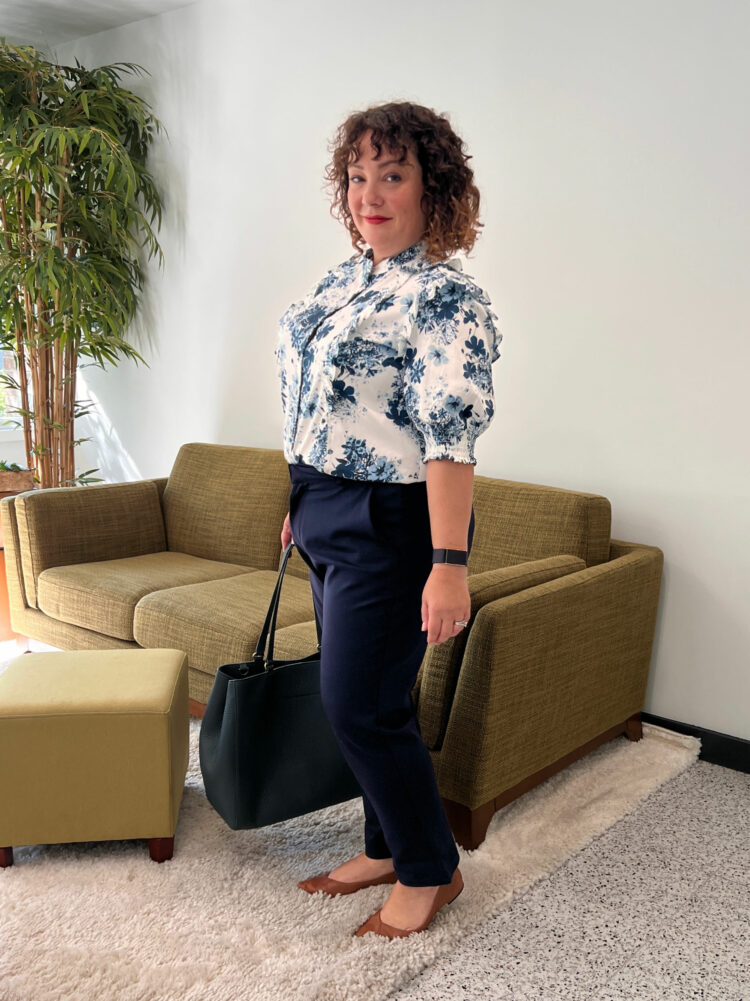 This ponte is soft, stretchy, has nice drape… and I don't think structured enough to support a zipper and pockets. That may be why the zipper was visible with these pants. I often encounter this with cheaper brands of pants and did not expect to see this with Universal Standard. I hope this is a fluke and not on all of their cigarette pants.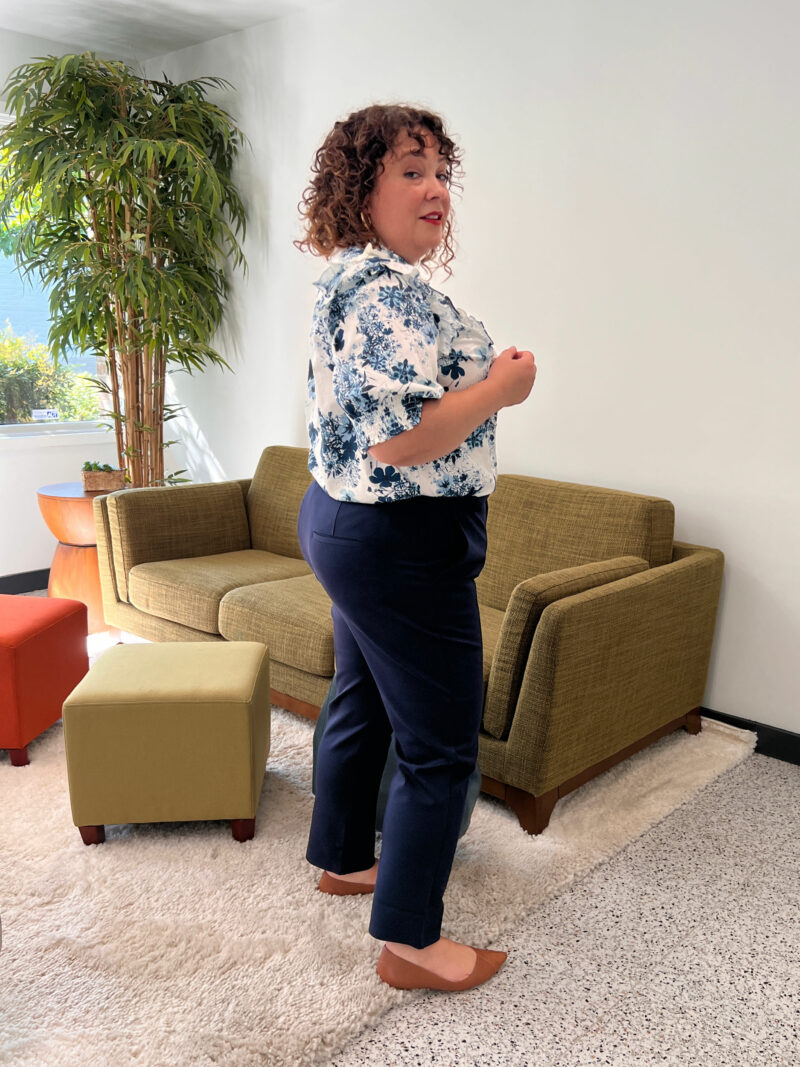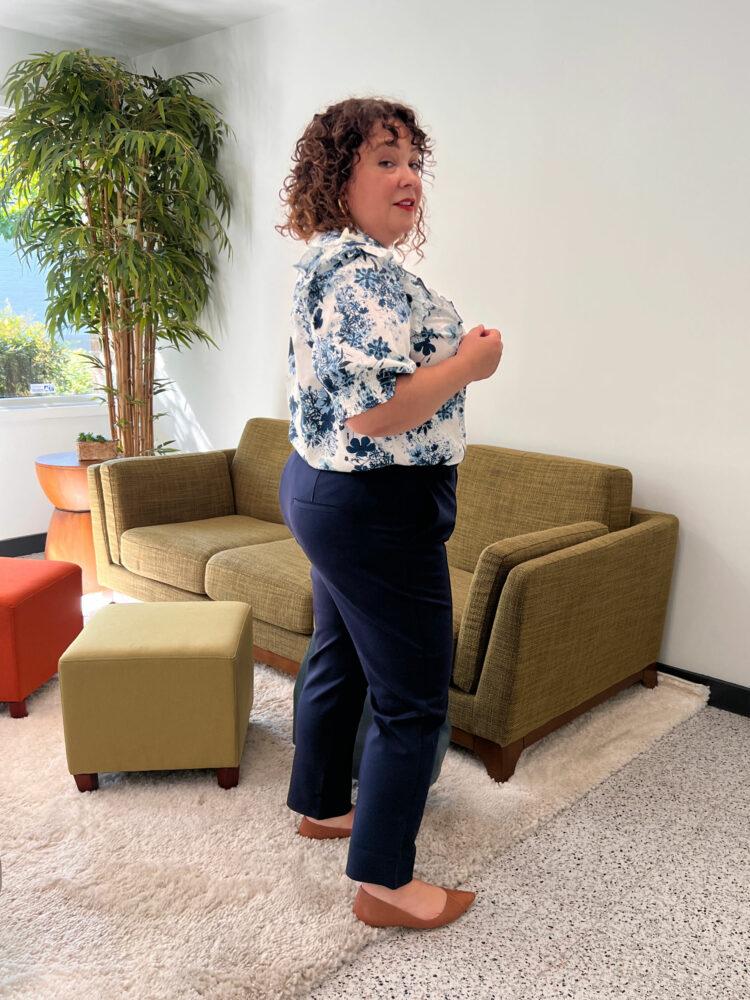 In general, I found these pants something that would be great in theory, but not well executed. The weight of the zipper and tab closure caused the pants to do weird things across my belly and the waist folded over. The rise was far shorter than any other pants, hitting me right at my natural waist which makes me wonder how they would fit those taller than I.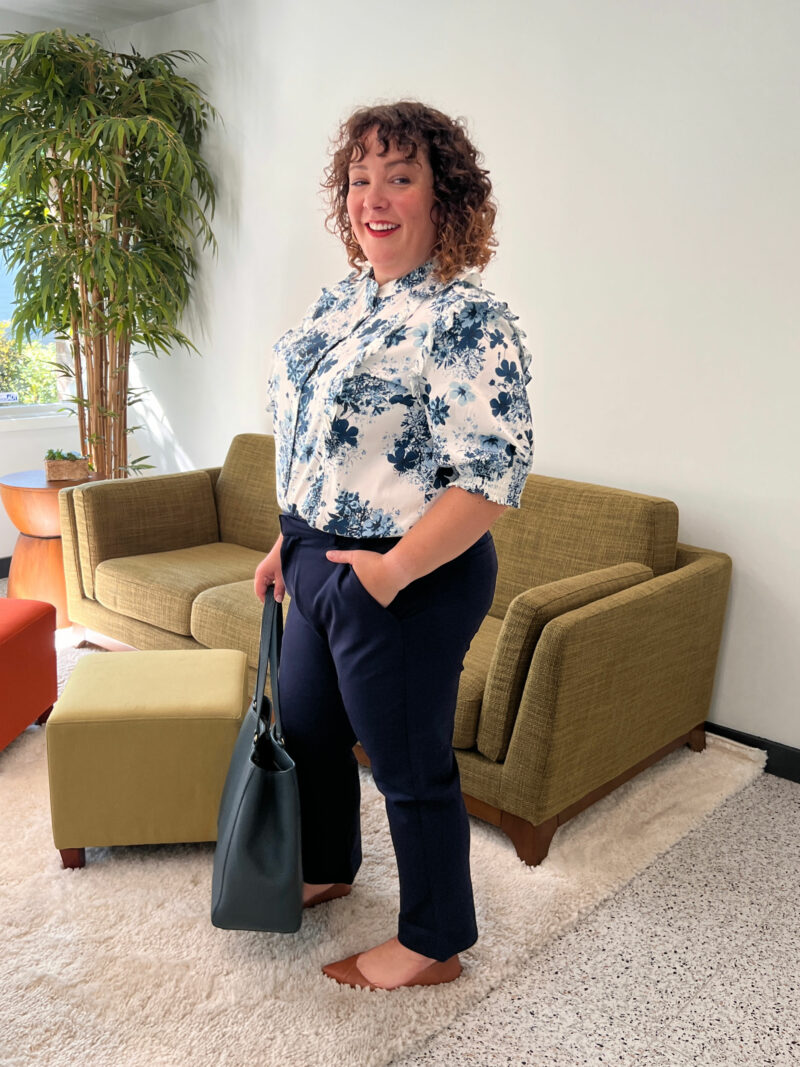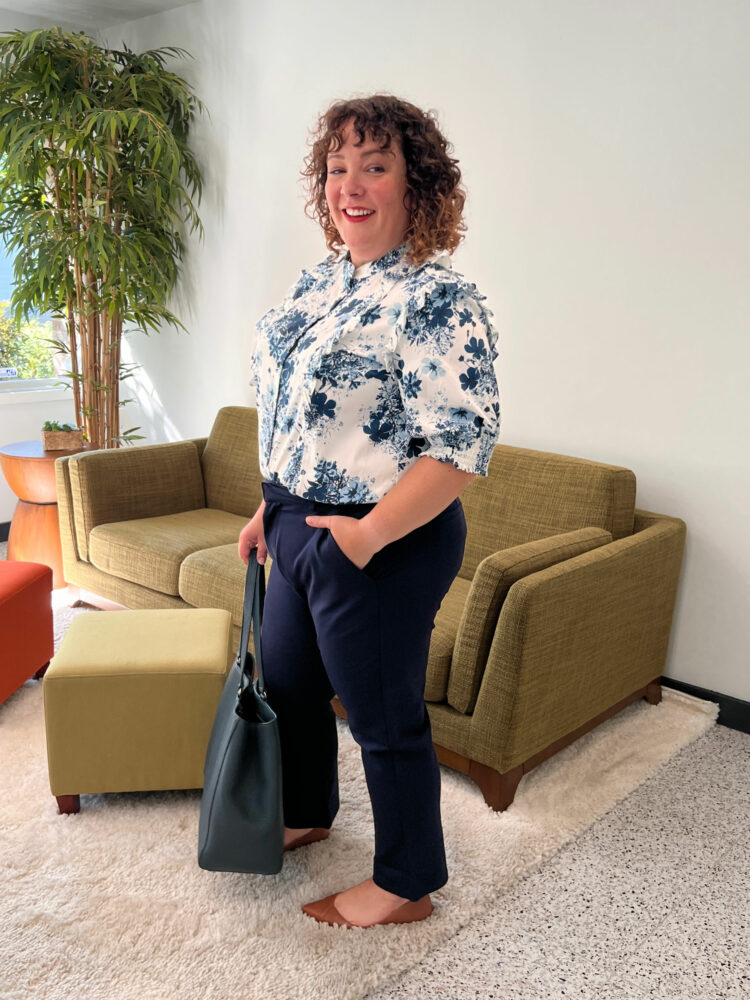 I appreciate that US updated their ponte cigarette pant with a true ankle length and a wider leg for this new collection, but with the thinner ponte, I don't see how they are more elevated or better designed than the typical ponte pant you find at the "old school" plus size retailers and lower-priced department stores.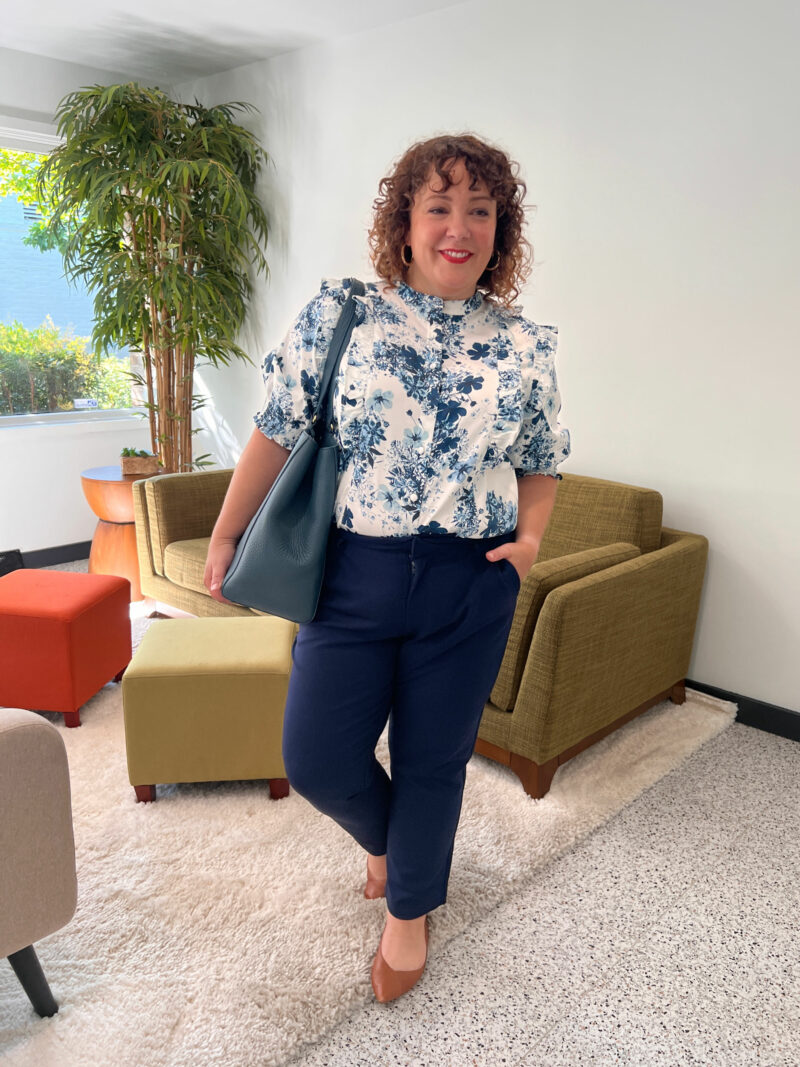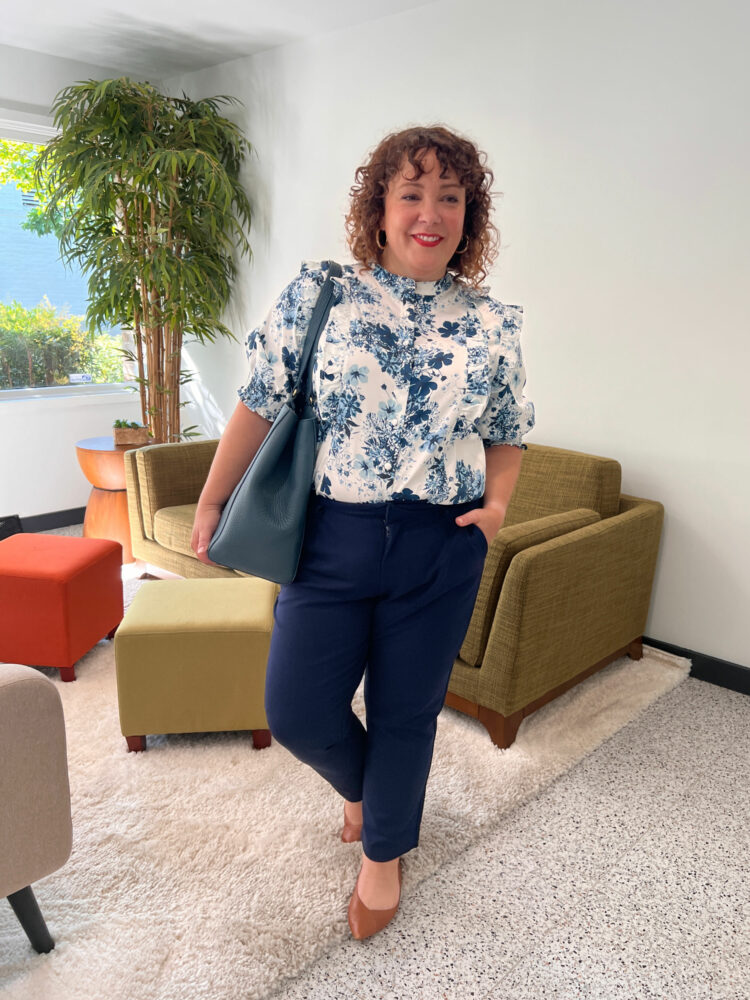 I look forward to hearing from those taller than I and who wear a larger size and what they think of these pants. Please let us know in the comments because I'd really like to find out me not liking these pants is a fluke.
Universal Standard All Day Pull-on Cigarette Pant Review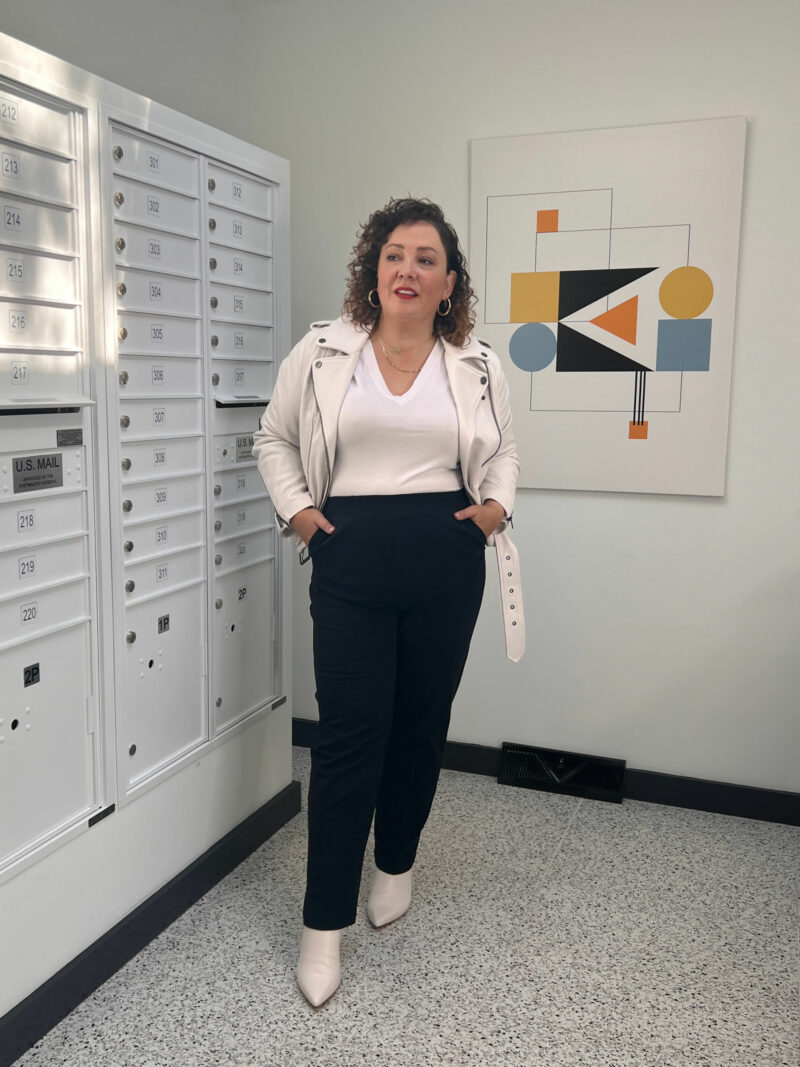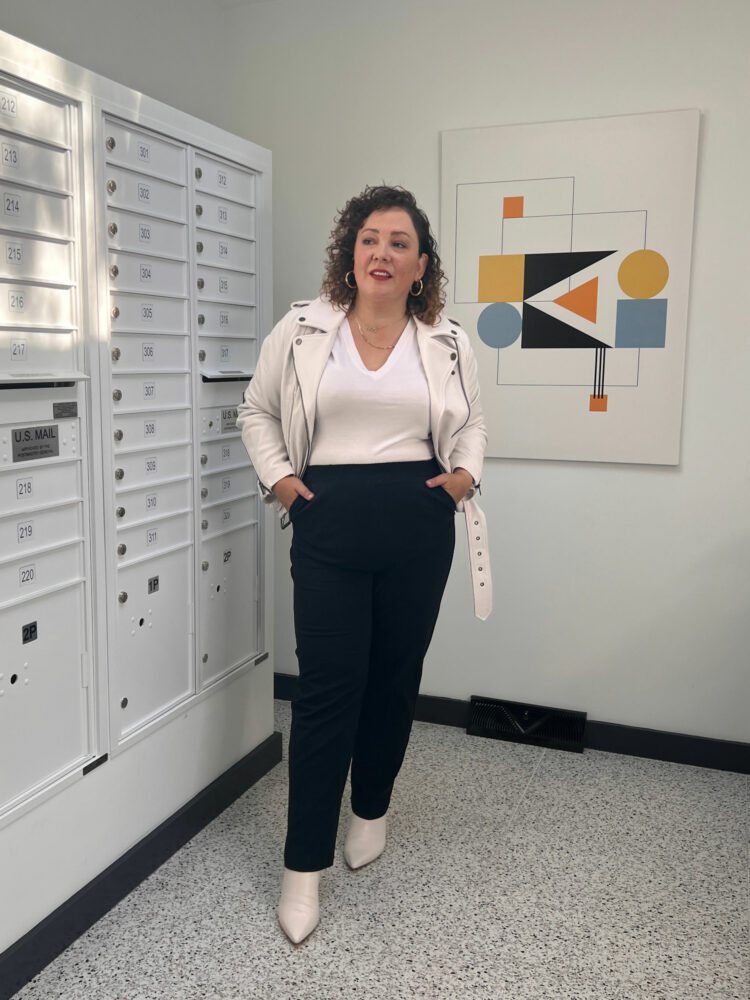 The Universal Standard All Day Pull-on Cigarette Pants are a completely different fabric from any of the other pants in this ponte collection. They're not even called ponte in the product description yet are marketed with them and were offered to me for this Universal Standard ponte pants review. They are 66% Recycled Polyester, 30% Rayon, and 4% Elastane and while the website says to dry clean only, the tag in the pants say machine wash, tumble dry low. I plan to just wash gentle and line dry, a nice hybrid that I think this unusual fabric would tolerate.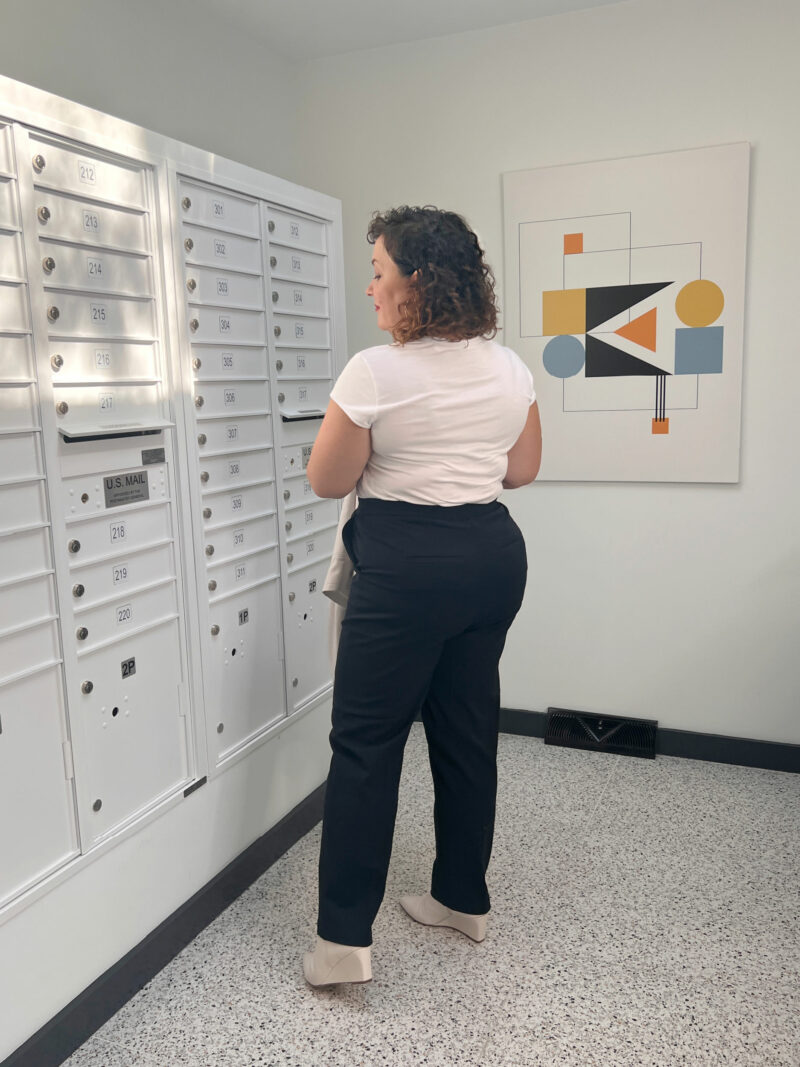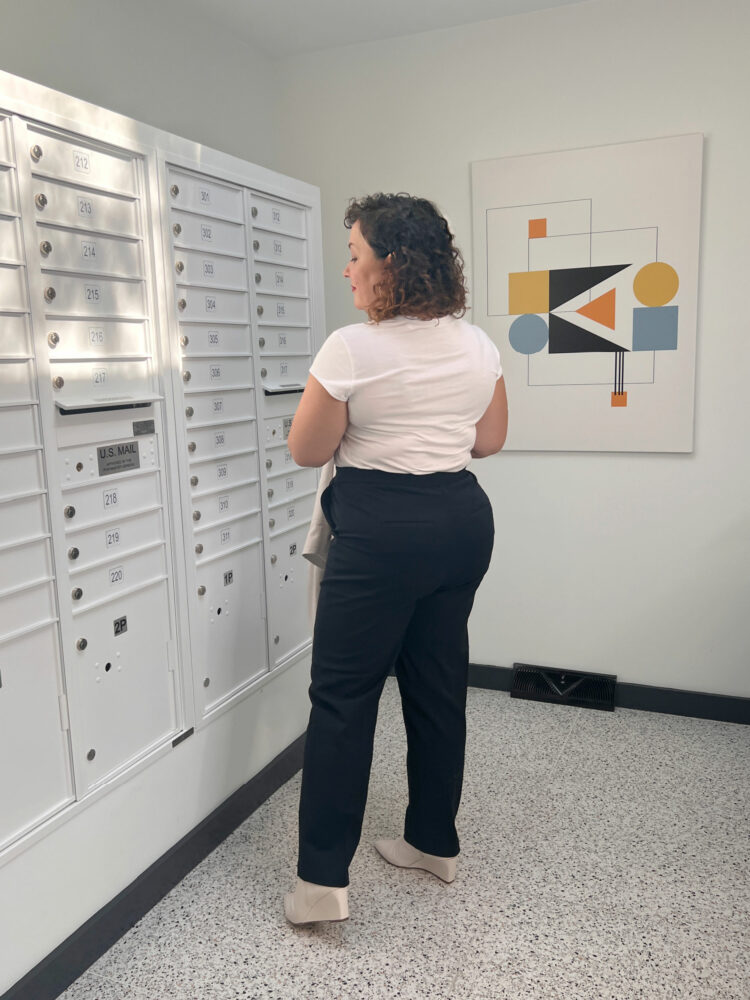 While these pants have stretch, the fabric looks more like a refined twill or suiting fabric. You could easily wear these pants to the office. These pants don't even have the same pockets as the rest of the ponte pant collection. Unlike the others which all have the invisible zippers, these have zipper-free pockets.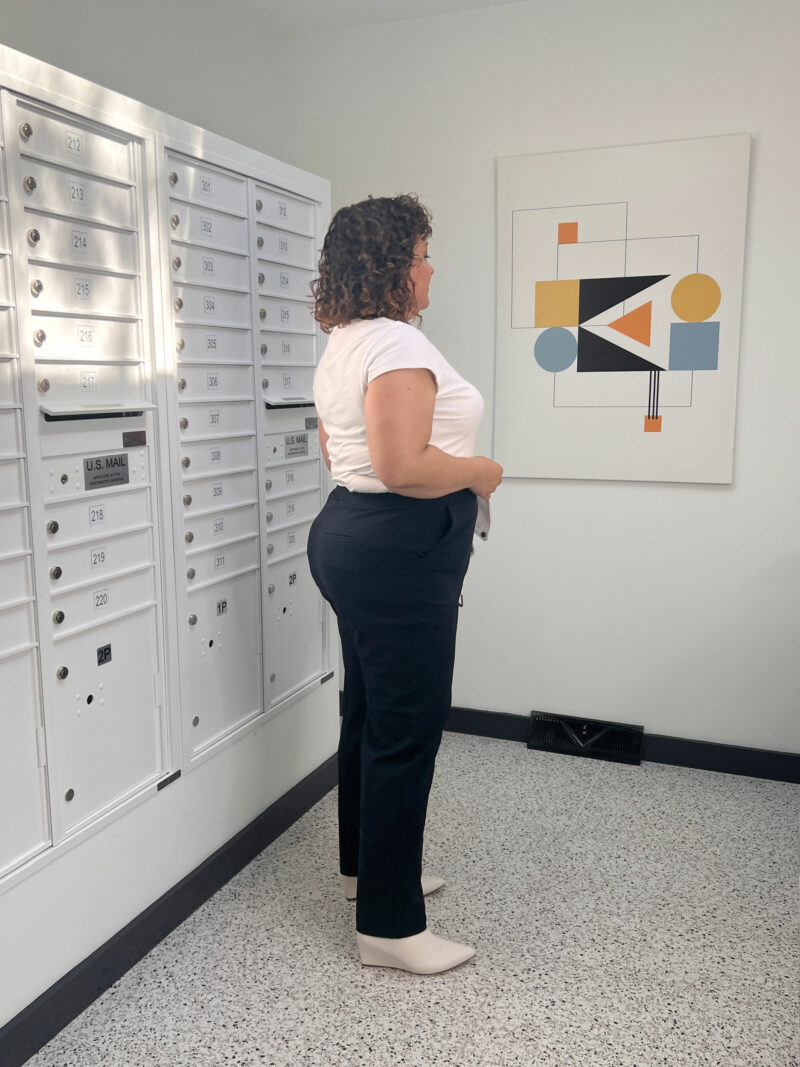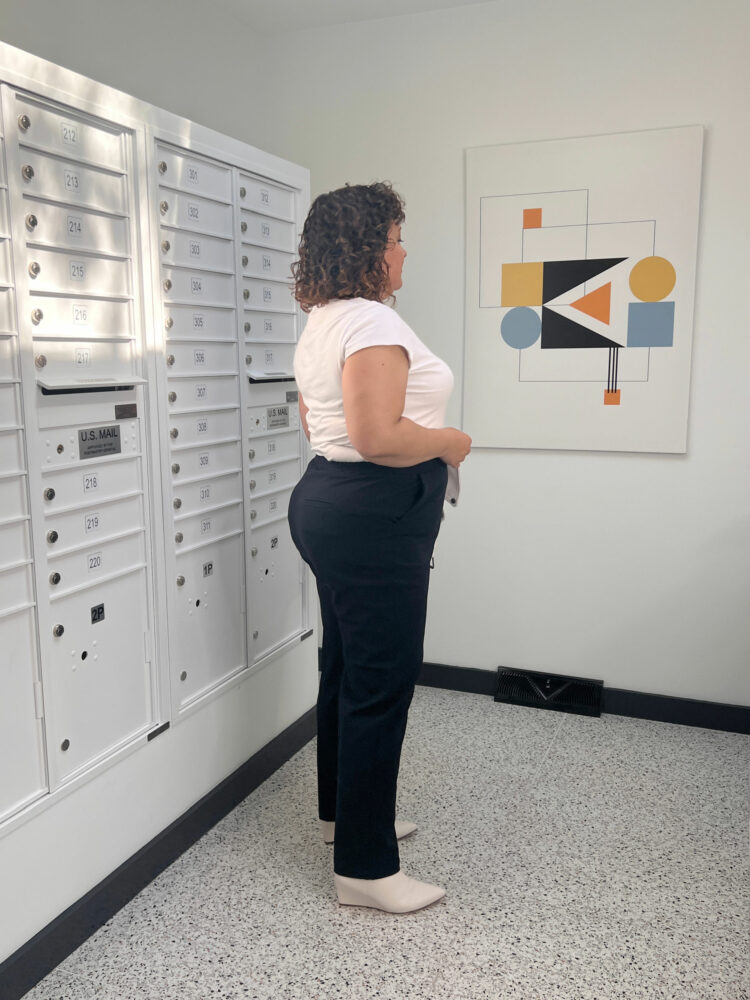 When I first saw these pants in green modeled with the matching zipper jacket, I chuckled. It looked like a mix between a work uniform and something worn by a resident of an active senior living community back in 1997. But now that I have experienced this fabric, I can see that set working in black as a suit alternative.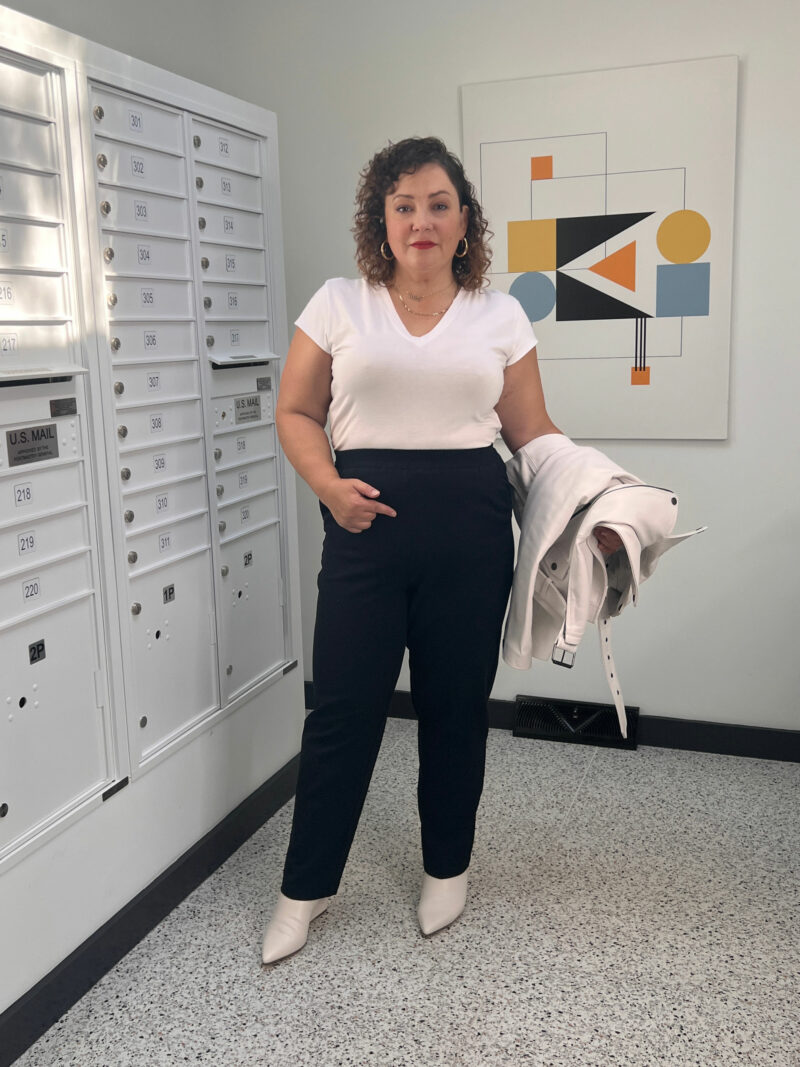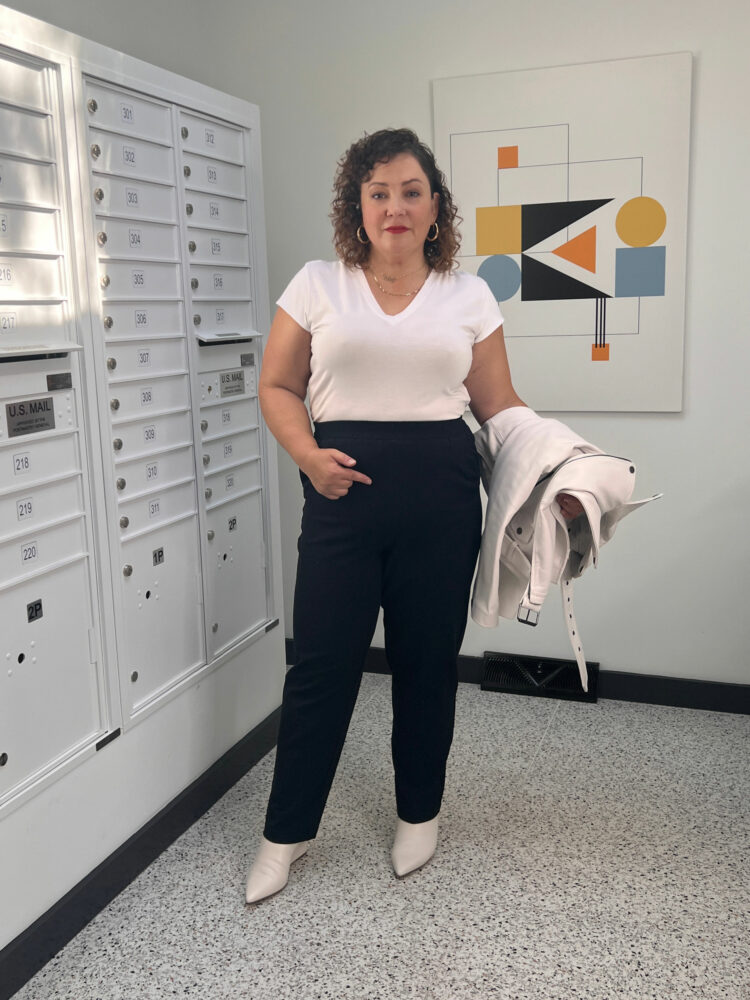 In an XS I think these pants are the right size for me. They were so comfortable, they were the last pair we photographed and I kept them on to write this review. If you desire a pull-on pant that looks more elevated, I recommend these. Just keep in mind, I am 5'3″ so on many folks, these will be ankle or cropped pants.
In Summary…
I am so glad Universal Standard gave me the opportunity to try their new collection of ponte pants. In summary, I think the pants are great. Not all are right for me, and there are some tweaks US could do (PETITES PLEASE!), but I feel it's a good mix of styles to work with a range of personal style aesthetics and range of bodies. If you have tried any of the new US ponte pants please share your thoughts in the comments along with your height and size or whatever you think would be helpful to others (any comment can be completely anonymous; enter any name and a fake email address). And if you have any questions not answered regarding these pants leave a comment and I (and likely some US customers) will try to answer them for you!
Shop the Post: