This article may contain affiliate links; if you click on a shopping link and make a purchase I may receive a commission. As an Amazon Associate, I earn from qualifying purchases.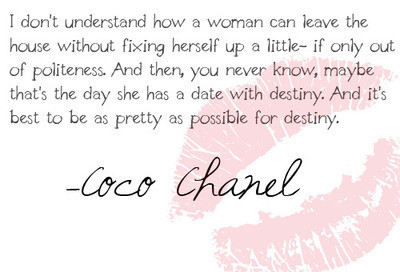 I am tired. Dog tired. This week is kicking my tail, and it's only Wednesday. Today I had to get to work pretty early. I knew I had no meetings today, will pretty much be holed up in my office. I even brought my lunch. I would be on the subway so early, I could end up with an entire car to myself, the streets of DC would be pretty empty. I may only bump into a handful of people by 5pm, and I won't be able to take outfit photos. With that sort of day, it's tempting to roll out of bed, throw on something "presentable," toss my hair in a ponytail and head to work.
Instead, I took a shower, put on an outfit I had worn before and knew was flattering and office-appropriate, did a one-minute makeup application of the basics (concealer, mascara, lip color) and headed out the door.
It's so easy to justify a slob day. You're tired, you're hungover, you're sick. It's only a trip to the grocery store, you work in IT and don't interact with humans, it's raining, you just don't FEEL like putting forth effort. I've been there. Today after two cups of coffee and looking longingly at a can of Diet Coke… I'm there.
The thing is, you never know where your day will take you. Your seemingly quiet work day may be changed by a visit from the CEO or a last-minute client meeting. Your early Sunday morning trip to the market could be the time you bump into your ex… and his new fiancée. You're just driving your kid to preschool… and am asked to attend a quick parent/teacher meeting about your child's behavior. You're walking to the bank and bump into the person who conducted your job interview the day prior, or the person you really liked and went out on a first date with the past weekend.
You can't predict your future, so you might as well dress for a date with destiny.
This doesn't mean I expect you to don a party frock and heels on a rainy Saturday when you're running to Target for a box of tampons. What it means is shopping for and owning a wardrobe that works, even if you don't want to. What I have found is by limiting my shlubby clothing collection and simplifying my entire wardrobe it's EASIER to get dressed when your heart isn't in it:
– When an item gets stained, torn, misshapen, faded or no longer fits it gets removed from the closet. I have a box on the floor of my closet for pieces that need to be fixed, and a bag near my dressing table where I stuff pieces that need to be donated. It's so easy to just hold pieces in your closet until you get around to fixing or tossing them… but that makes it all the more easy to put that piece on one day and regretting it later.
– Don't hang wrinkled pieces in the closet. When they come out of the laundry looking like a crumpled paper bag, they go in that "repair" box and stay there until I get the time to iron it. Again, it's so easy to justify wearing a crumpled garment – I have done it in the past. I tell myself it will get creased just getting to work or to my destination, or that the humidity will steam it out. Nope, a wrinkled from the dryer item looks very different from a pressed garment that got wrinkled with wear. This process prevents the temptation of "making it work."
– I have one drawer for lounge/gym/painting a piece of furniture and that's it. If that drawer starts getting stuffed I know it's time to pare down. No one needs 20 pairs of sweatpants and 50 free swag tee shirts from every 5K race and conference they have attended. If the shirts have sentimental value, consider framing them
or making a quilt (or store them elsewhere and switch out the tees every so often).
When I work out or paint, I only wear these clothes. I also change my clothes when I get home from work or an event so I can keep my nice clothes nice. This prevents nice garments from verging into bum around territory, and keeps my lounge clothing drawer streamlined.
– Even the clothes I paint in are flattering. There's always a need for a Home Depot or Starbucks run when working on a home project. When the yoga pants get stretched out, replace them. Stalk Old Navy sales for replacement pairs – I have never paid more than $15 for a pair and I think their quality is pretty good. When white tees turn yellow or gray, hit them with some sunshine or oxygen bleach or get rid of them. Instead of those swag tees, consider getting some feminine-cut tees in flattering colors – Target and Old Navy are great places to find them for less, and this is one item where I always have success finding when I thrift.
– Buy casual clothes. This is something I didn't do for quite a long time. It was either sweatpants or silk blouses and I didn't own any shades of gray. I regretted it. Now I own some shorts, flattering jersey tees and pullovers, comfortable jeans and refined knit pants that can be worn out in public without feeling embarrassment. For summer, I love simple sundresses from H&M and other discount retailers (again another easy thing to find at thrift stores) – they can be thrown in the washer and dryer, worn with a pair of sandals and look like an ensemble while having the comfort and ease of a nightgown.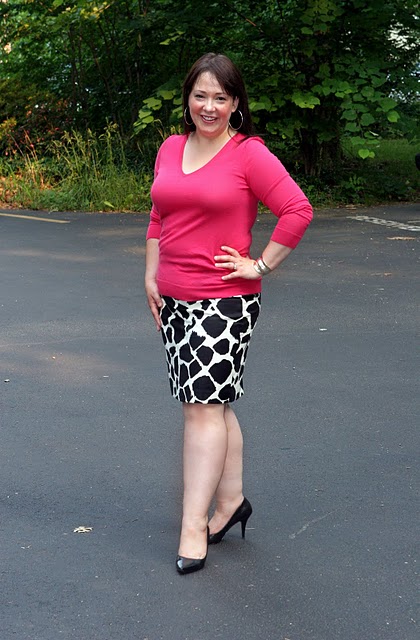 Can't really tell it was a rough morning thanks to my uniform and choice of color
– Have a uniform. This doesn't mean every single day you need to wear the same type of ensemble, but it means you have some go-to pieces that you know will work with little effort. For me, it's merino v-neck sweaters with a pencil skirt or pair of wrinkle-free trousers – I can get dressed in the dark with this combo and feel attractive and put together. Many a very early and dark morning, I have gotten dressed by feel – here's my Gap Perfect Trousers, here's a v-neck sweater. I'll grab my black ankle booties, a necklace or bracelet and I'm pulled together in five minutes.
– Embrace color. If you feel green, you won't look as green if you are in a flattering hue instead of a neutral or black. You'll also feel better when you're looking at your reflection in a pleasing color. For me, it's pink – be it bubblegum or berry, a pink color will flatter my skintone and lift my spirits.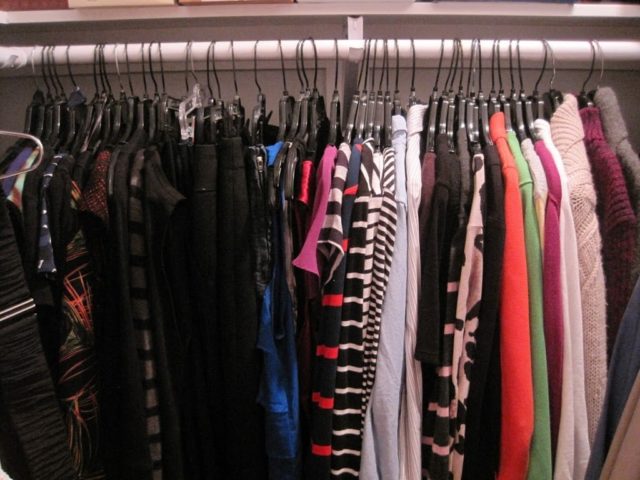 – Organize your closet. If you open your closet on a rough morning and the first things you see are cocktail dresses and complicated blouses, you'll get frustrated and seek out your jeans and flip flops.
For me, I find it helpful to have pants and skirts in the center of the closet. To the right are tops, to the left are jackets and cardigans, and then to the left of the jackets are dresses. To the right of the tops are the things I don't wear on a daily basis – cocktail dresses, interview suits, out of season pieces that won't survive being boxed in the attic. This way, I can quickly find pieces and get dressed with less stress.
I also find it helpful to have similar hangers throughout the closet. If you have those white plastic tubular hangers, hefty wooden hangers, clear plastic ones that come free with the dress your ordered online and a few of those skinny velvet ones, garments can get lost. For years I have stuck with the plastic hangers you can buy or get free with some retailers – they're a consistent size, are great for open neck and spaghetti strap pieces, and often "monkey hang" to save space. Lately I have started switching to the slimline velvet hangers, but I am only doing it by category – all my tops first, then all my jackets and cardigans at a separate time when I acquire more. This way I don't lose my black cardigan because it's hiding behind my neon yellow linen blazer and black tux jacket.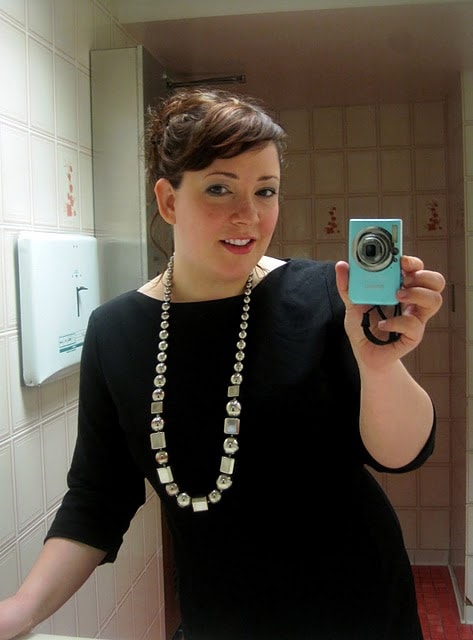 My early-morning look – simple makeup, messy updo with polished bangs
– Create an emergency beauty routine. If you're like me, you don't have easy wash-and-go hair and you look better with some concealer and blush. And if you're like me, some days you need to leave your bed but the idea of brushing your hair sounds like torture. When you're feeling bright and bubbly, try out simplified beauty routines so you have them in your back pocket for days where you don't feel your best or are short on time.
For me, it's a messy updo with smoothed sideswept bangs – the messier the better because it will hide roots, grease, and bedhead. I let a few tendrils down so it looks purposeful, and use an iron or my dryer and a round brush to just make the bangs look polished. Takes less than a minute and is way better than a slicked-back ponytail with random bumps missed in haste. As for my face, I focus on what is most obvious – for me it's the dark circles under my eyes and the redness around my nose and lips. A couple pats of concealer will even my skintone, making me automatically look more awake, healthy, and polished. I find mascara really opens my eyes, and I swear by Burt's Bees Tinted Lip Balm in Rose for quick color on the lips AND the cheeks (so easy, can apply without a mirror while dashing to your car). I also keep a concealer, travel-sized tube of mascara (they often sell them at the counter of Sephora or come with a gift with purchase) and the Burt's Bees balm
in my purse so if I can't get the face on before I head out the door, I can at least do it once I arrive at my destination.

 

What are your tips for looking polished when you don't feel so fab?
Follow Me | Twitter | Facebook