This article may contain affiliate links; if you click on a shopping link and make a purchase I may receive a commission. As an Amazon Associate, I earn from qualifying purchases. 
For the past couple of years, one of my favorite fashion blogs is the awesome Cynthia of Simply Cyn. Her style, music, and decor constantly inspire me and I love seeing a peek into her life in New York City. Below I share my Simply Cyn interview for my True Fashionista series.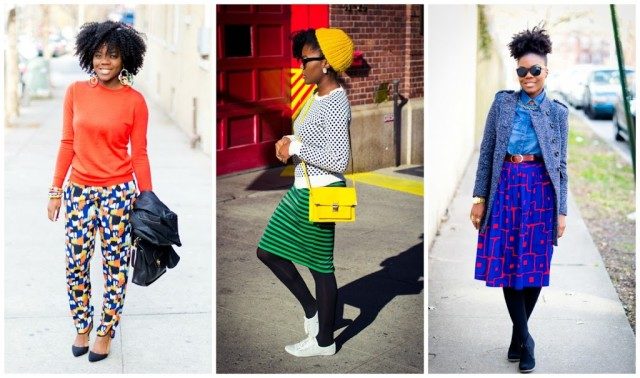 If Cynthia looks familiar to you, you may remember her blog with the old name, Addicted2Etsy. While Cynthia is still a big fan of Etsy and features sellers and products from it regularly, her blog showcases her personal style, as well as peeks into her personal tastes and lifestyle.
Her music mentions thrill me because I often learn about new artists that I too end up loving. Her hair is amazing and she regularly writes about how she cares for it. She does reviews of fashion and décor trends and beauty products without it being overkill and they always fit her clean, bright, fun and spirited aesthetic.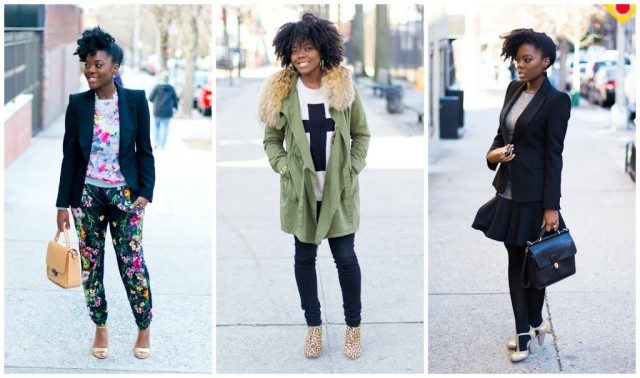 And Cynthia's personal style? Just as stated above, it's bright, fun, and spirited. She can pattern mix like the best, but always does it in a clean, thoughtful manner. You can see her personality and lifestyle through her clothing choices, be it a vintage Coach bag from Etsy, a band tee shirt, or a pair of sandals she picked up on a trip to Barcelona.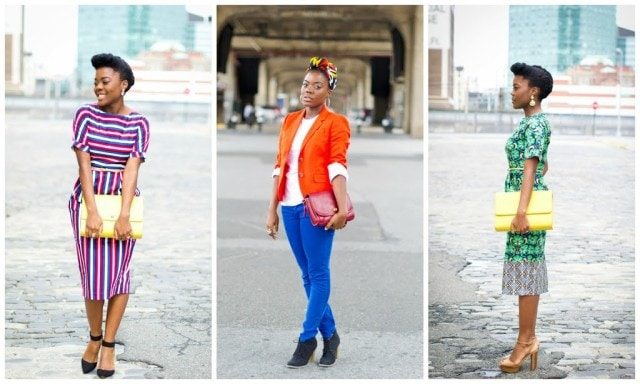 Cynthia can rock color and bold prints without it feeling costumey. She has a good eye for proportion, balancing voluminous blouses with skinny jeans and knowing the right hem length to flatter her figure. She shops at budget-friendly shops but looks like a million bucks with her creative styling and pairing. I love how her hair is constantly changing, switching up the look of re-worn pieces and giving a whole new effect to her personal style. And her smile – gosh it's refreshing to see a big happy smile in a sea of duck lips and pouts!
Simply Cyn is a blog I always look forward to showing up in my reader; Cynthia is positive, creative, and inspiring. My Simply Cyn interview has Cynthia answering the same five questions I ask of each True Fashionista in the series. Her answers:
Simply Cyn Interview: a True Fashionista
How would you describe your personal style?
I think my personal style is about being chic but with a healthy dose of ease and comfort. There was a time I would try anything that was fashionable but I learned that I feel most beautiful and get the most positive response from people when I wear something that I am truly comfortable in. Being comfortable in your clothes and in your skin really comes across. It's about confidence.
Where did you get your passion for fashion?
My mum was always a top notch dresser. I grew up in Cameroon, West Africa and my mum actually owned a tailoring shop. I would hang out there with the tailors and watch them work and watch my mum give out instructions. I think that's where I started really liking clothes and patterns and different designs. It wasn't however until later that I realized how that fashion is not shallow, at least it doesn't have to be. It can really help on a crap day, the saying that when you look good, you feel good.
Where do you find sartorial inspiration?
A few years back it would have been mostly magazines, but now it's definitely from other bloggers and living in NYC, its the ladies & gents on the street and on the train.
What is the difference between fashion and style?
Fashion is temporary, style is forever.
Any advice for a woman who is starting to find her personal style?
Experiment. Its harder in the beginning, but if you don't try, you won't figure it out. Grab something you wouldn't normally wear, pair pieces you don't think go together. Be adventurous. You might be surprised what you discover.