This article may contain affiliate links; if you click on a shopping link and make a purchase I may receive a commission. As an Amazon Associate, I earn from qualifying purchases. 
I know it's okay now to wear white after Labor Day, but how do I do it without looking like I'm wearing my summer clothes? I have a pair of white jeans I just bought and I want to know how I can wear them the rest of the year.
Yes, white is now acceptable year-round, but not all white clothing is created equal. While white jeans, heavyweight white dresses, and classic white shirts can work year-round, pieces in truly summer fabrics (linen, voile, eyelet) should stick to the summer months or warmer climates where such fabrics are the norm in December. But you CAN rock those white jeans all year long, and here's some ways to make them look seasonally appropriate.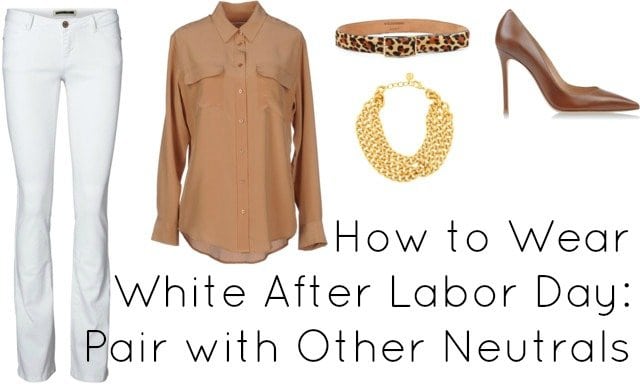 When white is mixed with other neutrals like camel, tan, cream, gray, and ivory it doesn't look as summery, and it also adds a level of elegance to the other colors. A silk blouse and white jeans can look quite summery, but with a haircalf belt, heavy gold necklace, and leather boots the feeling is quite autumnal and very luxe.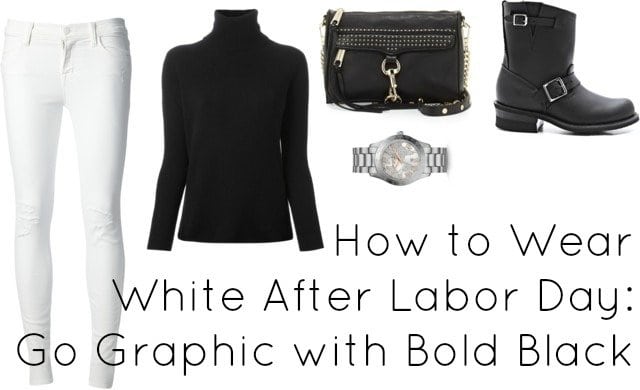 Nothing looks more modern than crisp white with bold black. By pairing white jeans with a black turtleneck sweater, it's clear this look isn't for July. Adding tough engineer boots and a men's style watch to the look adds weight and a wintry feel.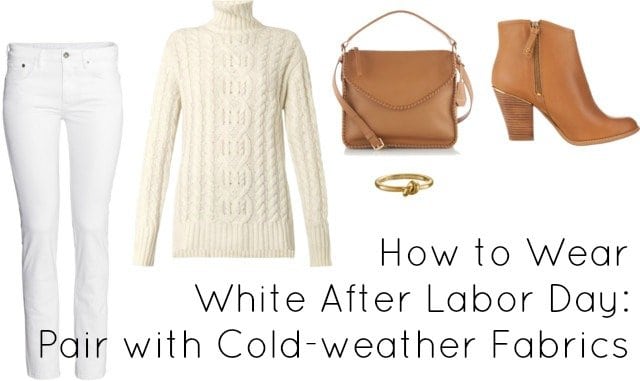 Mixing your white clothing with obviously winter pieces makes the ensemble clearly appropriate for the season. While a classic fisherman's sweater looks chic with traditional denim, pairing with white jeans ups the elegance factor. Camel accessories work year-round and aren't too much of a contrast with these soft shades.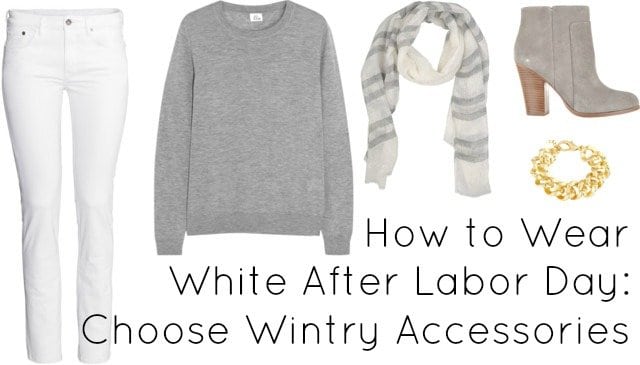 Fellow Project Runway fans will know where that phrase came from! Oh Tim Gunn how I adore you! Anyway, back to this ensemble. While I used the neutral concept and the wintry fabrics (hello cozy cashmere and suede), adding a scarf is what really ties this look together and makes the choice of white denim purposeful.
Some tips on Wearing White after Labor Day:
Go Heavy. Thin cotton pants are going to look odd on a snowy afternoon, no matter how you style them. Stick with heavier fabrics that are appropriate to the temperature.
Be Careful with Color. White can quickly make even the most autumnal color look summery; pairing white with many colors can end up making the outfit look seasonally inappropriate, even if you're in head to toe wool. Use colors sparingly and ground them with another neutral so the look is clearly for the colder months.
Nude is the Only Nude. White undergarments practically glow under white clothing; to keep your underpinnings under wraps, choose a color as close to your skin tone as possible.
Show Less Skin. The more skin you show, the more summery you will look. Consider boots instead of pumps, sleeves (even if they're rolled), and tops that cover the waistline.
Layer on Luxe. Pairing white with luxe fabrics like faux fur, leather, cashmere, boucle, and metallic will give an instant wintry feel and the white will really highlight such textures.