This article may contain affiliate links; if you click on a shopping link and make a purchase I may receive a commission. As an Amazon Associate, I earn from qualifying purchases.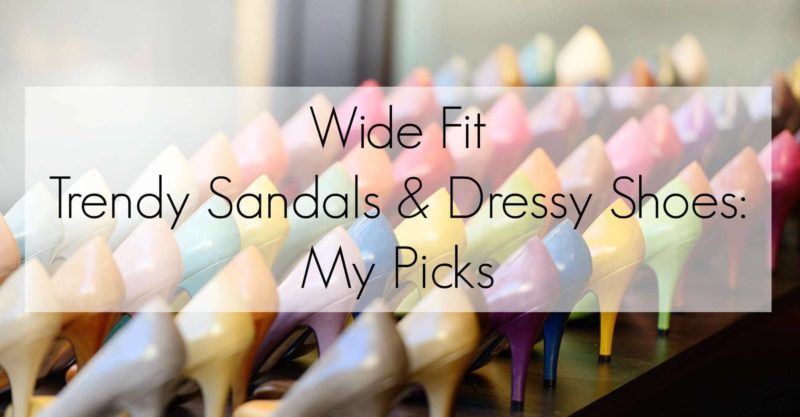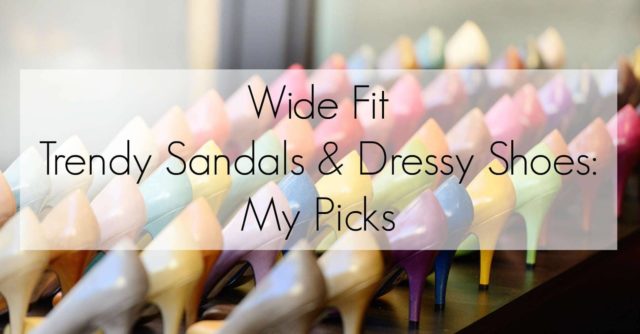 Ugh shoes. I love shoes, but shoes don't love me.
I walked on my toes as a child; when I'm tired I still do. This has built up muscles in weird places. I have an unusual amount of padding on the balls of my feet which makes the front of my foot wide and my toes short while my heel is normal width. Muscles built up in the actual foot, making the bridge unusually thick/tall so while my foot may fit width-wise into a shoe, it won't height-wise. And then the ankles which are so thick most ankle straps won't close and if they do, they cut off the circulation to my feet. I wear pumps so often because they work with such a foot… sandals are another story. If I find a unicorn of a sandal or dressy non-pump shoe that is not only wide but roomy in height for my foot, it's often frumpy or doesn't go with my personal style. I've been on a mission to find wide width sandals and dressy shoes that fit and are fashionable for a few upcoming events as well as life in general this spring and summer. My hits and misses below:
ASOS
ASOS has a good selection of budget-friendly trendy wide width shoes. I've found the quality and sizing is inconsistent; I've ordered the same shoe in two sizes and found one to have visible glue and a too-short ankle strap and the other look like a designer shoe three times its price with a longer strap. However, unlike many brands that claim to have wide widths (Stuart Weitzman I'm calling you out), these shoes are truly wide and worth checking out, especially for current shoe trends.
I've desired a "nude" shoe for a while – thin ankle strap, thin toe strap, single sole, thin heel. This is the kind of shoe that goes with everything from jeans to ball gowns. Knowing how my tiny pinky toe slips out of everything, this shoe's double toe strap looked like it would better corral my tootsies. I ordered this shoe in December in gold croco and it was a fail, way too big and the strap was the only way the shoe was staying on my foot. And the strap was too tight, I could barely buckle it and it was cutting off circulation. I needed the shoes for an event that month so I just returned but this month I decided to try in a 7 (I usually wear an 8). Success! The shoe fits! The ankle strap is snug, but not too tight. And as I expected, the cross strap keeps in my pinky toe. I got this in black suede; the gold croco is on mega sale and hardly any sizes are left. It also comes in rose gold.
I ordered these in Oatmeal which was a nude patent. They're delicate and neutral. They didn't fit over my toes and wouldn't buckle at the ankle. Miss.
I ordered these shoes thinking they were a more comfortable heel height and with the closed toe, could work better now when there's still a chill in the air. I thought they'd look cute with fit and flare dresses and fuller skirts, as well as ankle pants and cropped or cuffed jeans. Again, I ordered these in a 7 instead of my usual size 8.
These are really wide. Shoes like this usually dig right into the widest part of my foot but these do not. The toe box is surprisingly short; I have short toes yet I have a hint of toe cleavage going on. The ankle strap is a comfortable length, the gold mirror finish is fun and makes a statement. These aren't expensive shoes – they're stiff and they look like they cost less than $45, but they're a reasonable heel height, relatively comfortable, and far more fun than classic pumps.
I've needed a pair of leopard calfhair or pony hair pumps. I have a pair from a brand I no longer wear, and each time I find another company that sells them I find them too high, too narrow, too bright and cheesy of a leopard print. I decided to try these, especially when they were on sale from $106 to $63.50.
Unlike many wide width pumps, these shoes aren't too wide in the heel and they aren't so low in the vamp that my pinky toe falls out. The leopard print is classic. The only thing I don't like is the heel is a bit higher than I like and the heel is covered with black suede-like fabric (not as easy to patch when it gets scuffed). However they're really comfortable. So, not a dressy shoe or sandal but they filled a hole in my wardrobe!
I also ordered these shoes in a 7. They fit, though the ankle strap was a bit too snug for my liking. The problem is these are very heavy clunky shoes with a huge bow on the front. I know, duh, that's just what they look like in the photo but this isn't a shoe I need in my wardrobe. They would go with absolutely nothing in my closet. Also they're heavy and look a bit cheap.
How fun, a feminine rose gold shoe with crystal embellishments! They are just as pretty in person. However, they run more narrow than say the Soraya, so the edge of the toebox was digging into the sides of my feet. This material is so stiff there's no way it will stretch out to be comfortable. Also the rose gold mirror finish and the large crystals was too much for my personal style; they're the type of shoes I'd wear once and never again. So while they're super fun and pretty, for me they're a miss.
Payless
Payless is a great resource for wide width dressy shoes and sandals. However, you need to be careful because Payless is prone to being a trend salad. Let's have a bow and a statement color and a funky print and a lace up ankle and a block heel and a rhinestone buckle! And while some of their shoes can look quite nice (have had much success with the Christian Siriano for Payless collection), many can just look cheap and cheesy.
This is a good basic shoe – it's a block heel at a nice height and the ankle strap makes it look on trend. It comes in black and nude, but I couldn't find nude at any local stores. And the black isn't really what I need. A black sandal on my pale skin makes me look even shorter and squatter; the ASOS Hide and Seek at least has the heel and slimmer straps to balance me out. Also the ankle strap was snug. However, if you don't have cankles, this is a great spring and summer shoe to wear with dresses and pants of all lengths and styles.
A classic Payless trend salad. Not a bad shoe shape, but why does it have to be two-toned? Black or silver, the toe strap is patent while the rest of the shoe is a sparkly fabric. I think this combo makes the shoe look cheap and also more matronly. The ankle strap was also too tight to buckle. Miss.
Nordstrom
Nordstrom is my preferred online shoe boutique. While Zappos may have more shoe styles, there's so many that I just don't want and it's hard to weed them out. Nordstrom's buyers and I seem to have a similar style aesthetic and I can filter wide width shoes and choose certain styles and get more options I'd actually want to wear.
I mentioned this shoe in a weekly link-up post. These shoes are just as cute in person. I got them in red, but it's a warm red with a hint of orange that makes them look springy. They're tall, but the platform helps. They're super cute, they're pretty comfortable, and the ankle strap doesn't cut off my circulation! They also come in a white and neutral stripe and black suede; I think the red will be a great pop of color with all the denim looks this spring and so fun with prints and neutrals. Hit!
This is a beautiful shoe, the classic "nude" shoe that goes with everything. It comes in 12 different colors and fabrics and gets rave reviews for comfort. Problem is I didn't find these to be wide enough and the ankle strap is too short for me to buckle. If you're a bit wide with normal sized ankles, this could be a great choice. But for me it's a miss.
Spoiler alert, these are a fail. Stuart Weitzman is the brand that is known for the nude shoes. They have several styles with nude in the name, the Nudist is the shoe that it seems every TV actress wears on the red carpet. It's a great simple shoe that lets the outfit shine, but it runs narrow. Stuart Weitzman carries some of these nude styles, like the NearlyNude in wide widths. They aren't terribly wide, and they are made for low-volume feet and narrow ankles. I thought maybe because these are a lower heel they may work. Ha! I can't even slide my toes in these. Miss.
This is a cheat, I've had these shoes for almost a year, and instead of champagne satin, I have them in a champagne slightly shimmery fabric (after writing this I found the exact version I own on Zappos). They're awesome. They're truly wide, the ankle strap fits, and I have worn them all night on dancefloors at weddings and galas. Not really trendy, this is more the kind of shoe that fades into the background without looking too matronly. Look on Amazon where you can often find this shoe in other colors and materials (and usually for far less than on Nordstrom and Zappos).
A low low wedge sandal with a fun flower detail? I'm all over that, and ordered it in dusty pink nubuck leather thinking it would be close to a nude. They look exactly like the photo. They run a tad narrow, but I could get them on. However, the 8 was too long from flower to tip of toes and my tiny toes were hidden under the flower. I returned and reordered in a 7.5; we'll see how they work!
Lane Bryant
Whether or not you are plus sized, plus size retailers are a great place to look for wide width shoes. Problem is that many of these retailers go the Payless route – trend salads that look really cheap and cheesy.
I ordered these heels in 8. BIG MISTAKE. These are humongous, I wonder if a 7 would still be too long. The plus is the strap does fit around my ankle comfortably. However, these look cheap. The color is a good shade if you have a darker complexion, but on this white chick the color looks weird. The Velcro ankle strap is too wide for both style and comfort, and the Velcro is visible. Miss.
The Result
I have a statement shoe (the red Naturalizer Adelle), a simple heel that goes with a lot (the ASOS Hide and Seek in black), something lower (the ASOS Soraya… don't know may end up returning), and a dressy shoe with a wearable heel height (Nina Camille… though its style is more for an evening wedding than anything else). I'd love a nude-to-me semi-low heel, but otherwise I feel pretty good about my shoe wardrobe for spring and summer. If you've found any fab wide width shoes out there, do share in the comments!