This article may contain affiliate links; if you click on a shopping link and make a purchase I may receive a commission. As an Amazon Associate, I earn from qualifying purchases.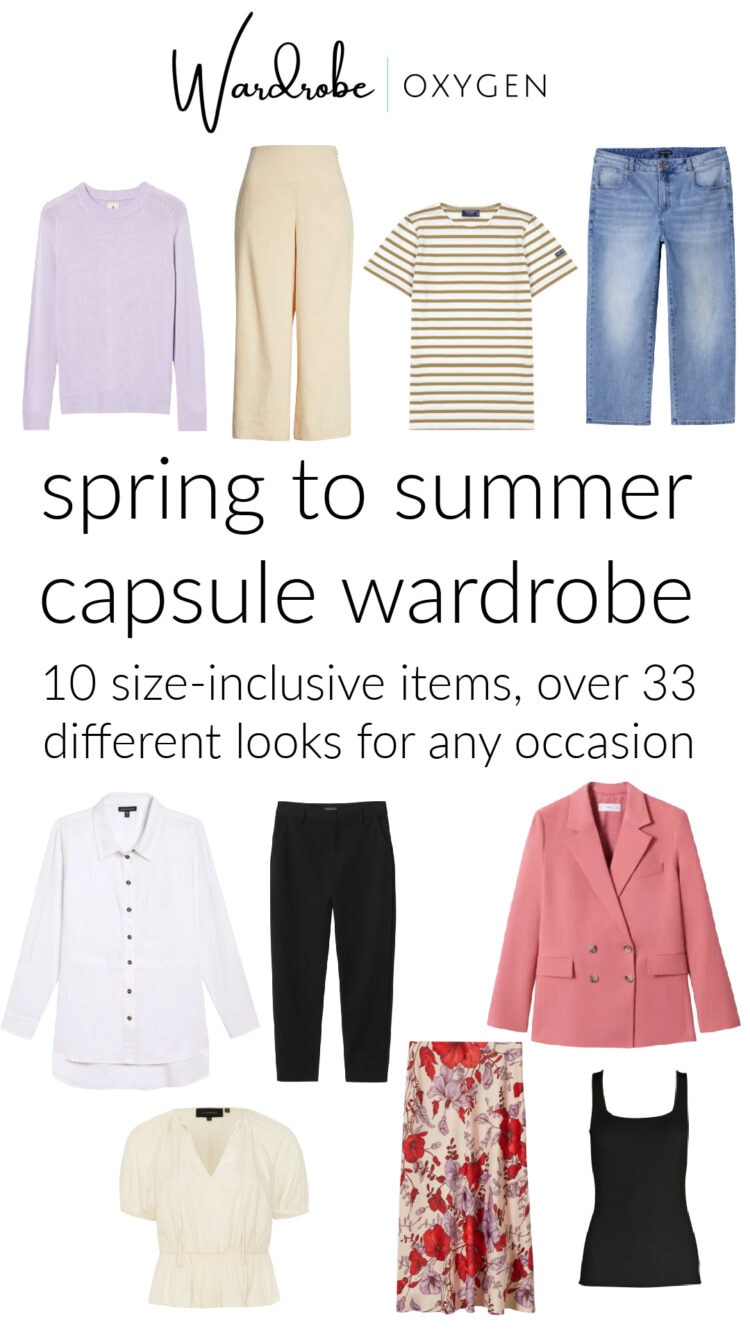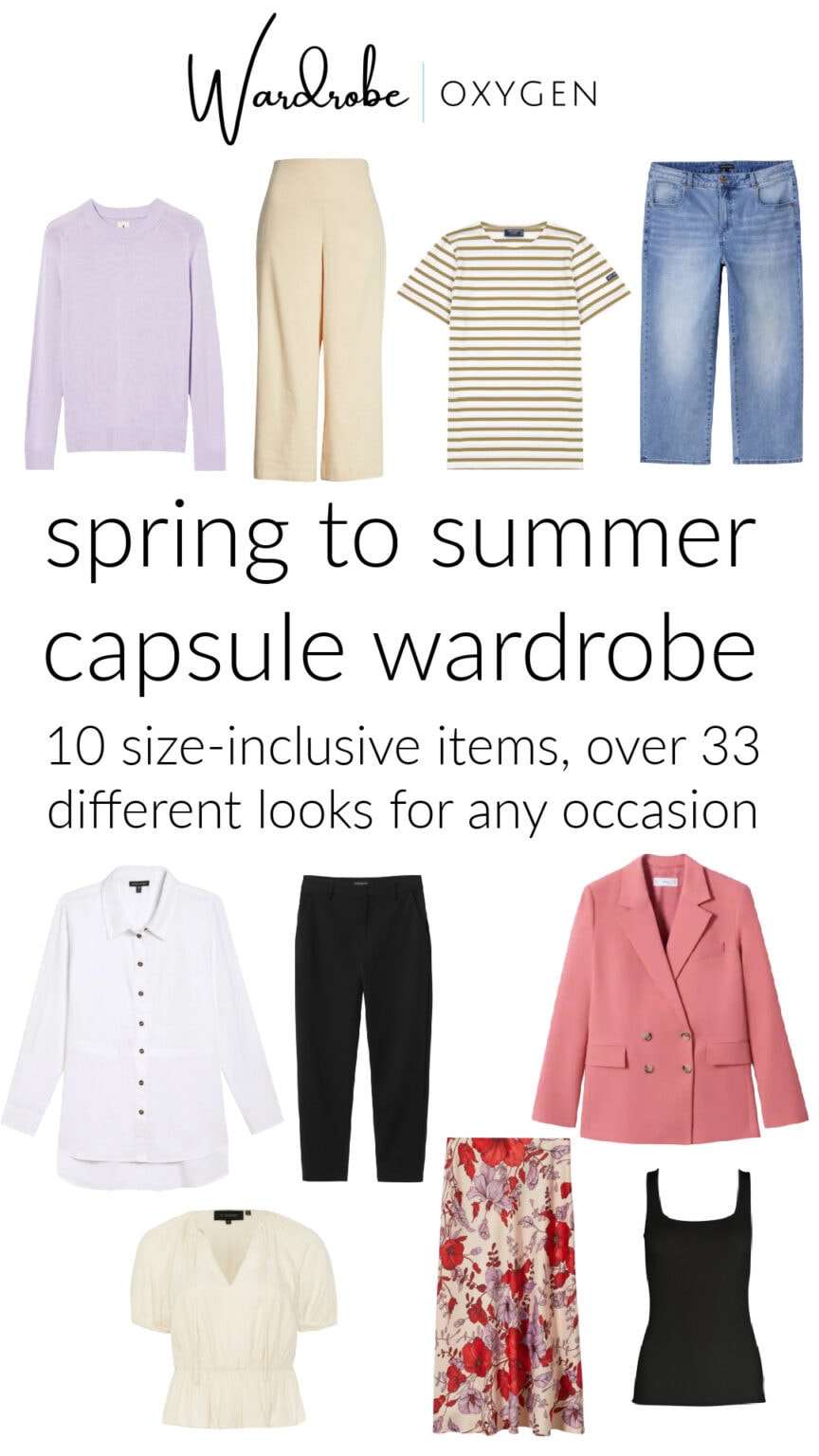 It's the time of year when we're often hating everything in our closets and desiring to buy new new new! However, I hope this spring to summer capsule wardrobe will inspire you to shop your closet and see what you already have that can mix and match… and if you do need to shop, ideas on how to make more style with fewer items.
This spring to summer capsule wardrobe is all pieces that are available in plus sizes. Items that are not available in smaller sizes, I will link to similar. As I peruse the internet, most capsule wardrobes are geared towards those who wear smaller than a size 14; that makes no sense when you realize that 67% of women in the United States wear a size 14 or larger.
Some of the pieces in this spring to summer capsule wardrobe may be more expensive than you are used to. I do have a good mix, but I added some higher-end items thinking about the discussion in my M.M.LaFleur review about how buying better quality and the true item you desire and that works with your wardrobe may at first seem expensive but could save you money (and stress, and time) in the long run.
However, all pieces in this spring to summer capsule wardrobe are relatively classic styles that could be replicated with retailers at a lower price point. In fact, if you know of lower-priced yet still great quality pieces that could be swapped out, I encourage you to share them in the comments!
Spring to Summer Capsule Wardrobe
With base colors of beige and black with soft shades of rose and lilac for pops of color, this spring to summer capsule wardrobe can go from work to weekend, casual affairs and more dressy occasions. Thinking about what is already in your closet, you could extend this capsule wardrobe even further with a denim jacket, a graphic t-shirt, a different silhouette of pants (maybe a pair of high-waisted trousers or a pair of white jeans).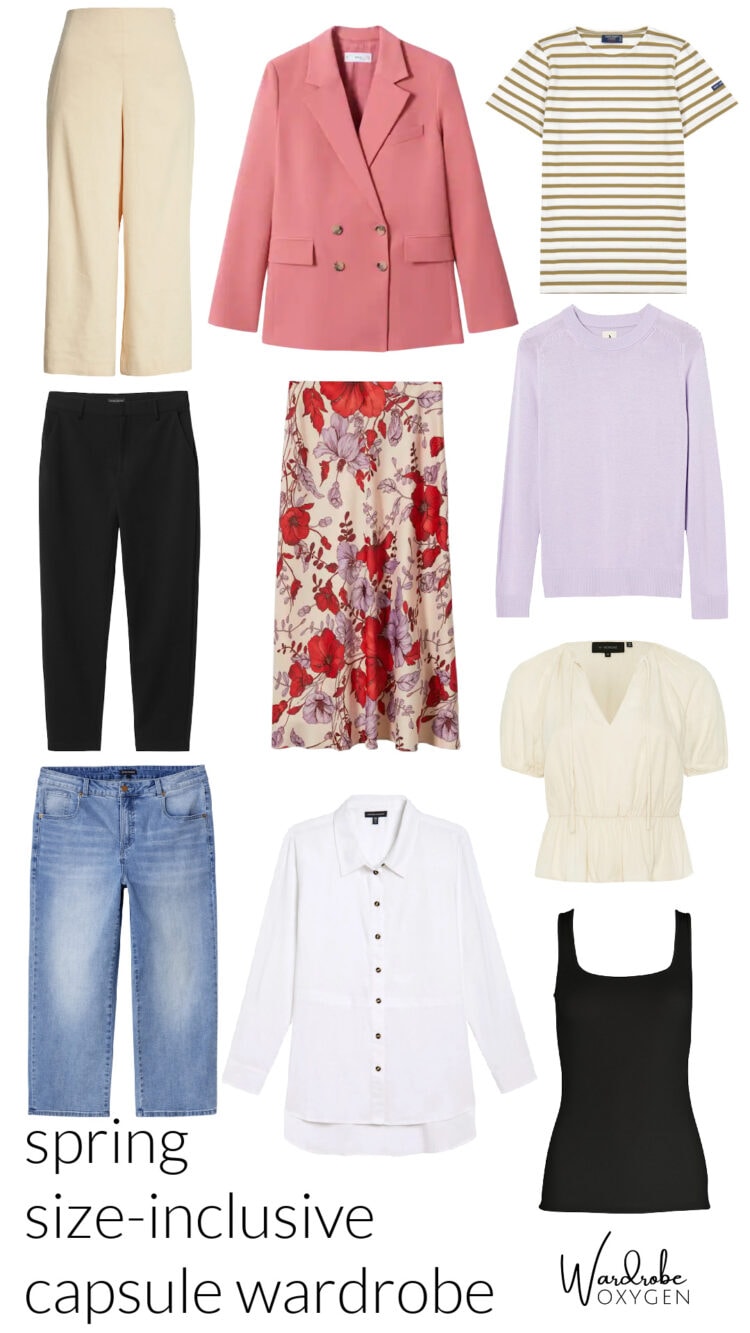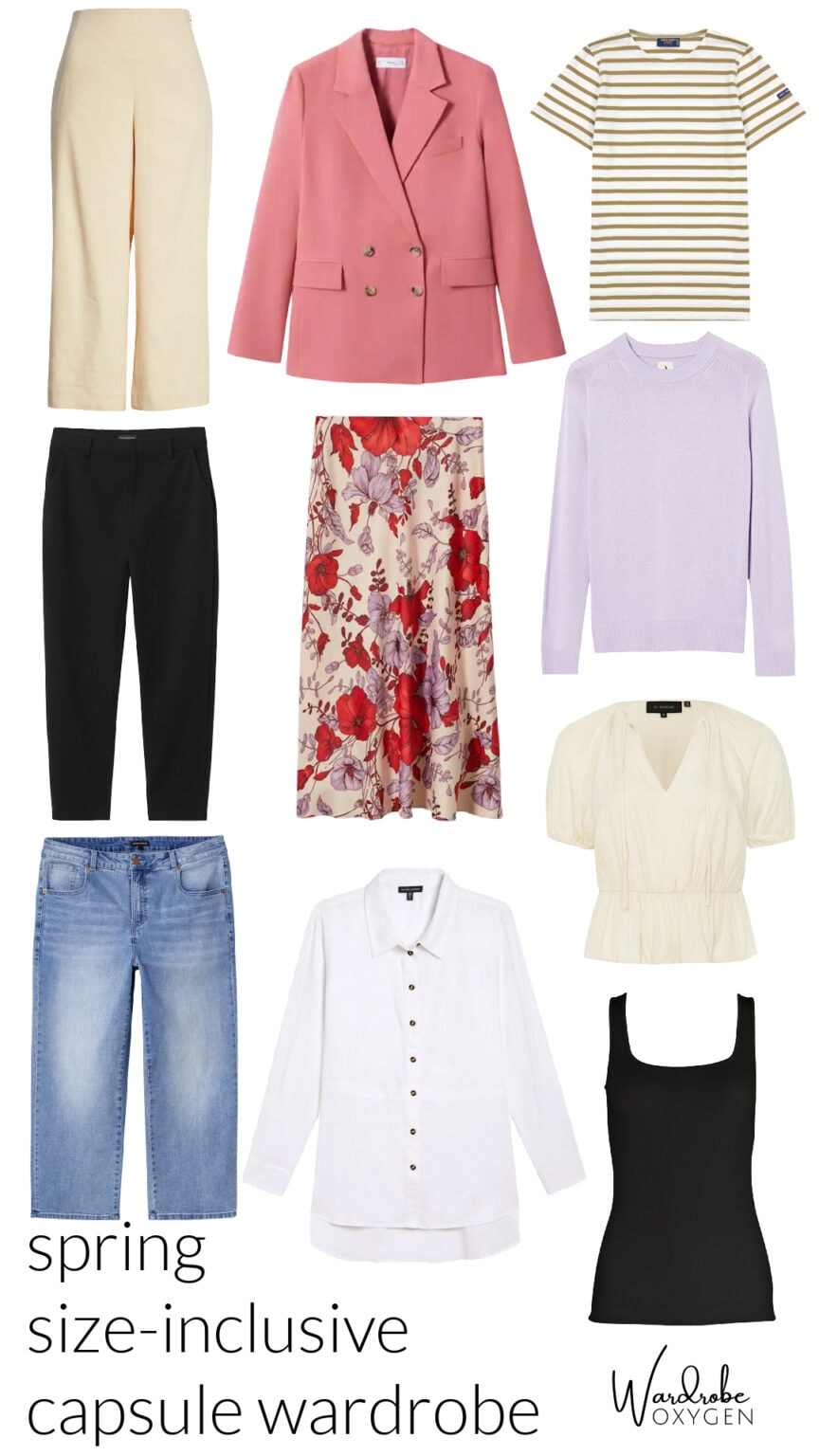 tan wide-leg stretch linen pant (sizes 18-24; link to sizes 00-16) | black cigarette pants (sizes 00-40) | cropped boyfriend jeans (sizes 00-40) | pink double-breasted blazer (sizes XXS-4X) | floral skirt (sizes XXS-4X) | white linen tunic (sizes 0-40) | striped Breton tee (sizes XS-4XL) | lavender viscose sweater (sizes XXS-7X) | cream peplum blouse (sizes 12-24; similar concept in XXS-XXL) | black square neck tank (sizes 00-40)
Shop the Items in this Capsule Wardrobe:
Accessorizing the Capsule Wardrobe
With previous capsule wardrobes, I usually stuck to just one or two pairs of shoes, one bag, and a handful of accessories. With this one, I got a bit more creative with the accessories because I think a lot of you grown-ass women have acquired a range of pieces over the years. The classic, the quirky, the functional, the fun. If not, I have links to all the pieces featured and you'll find similar items at mass retailers and resellers this season.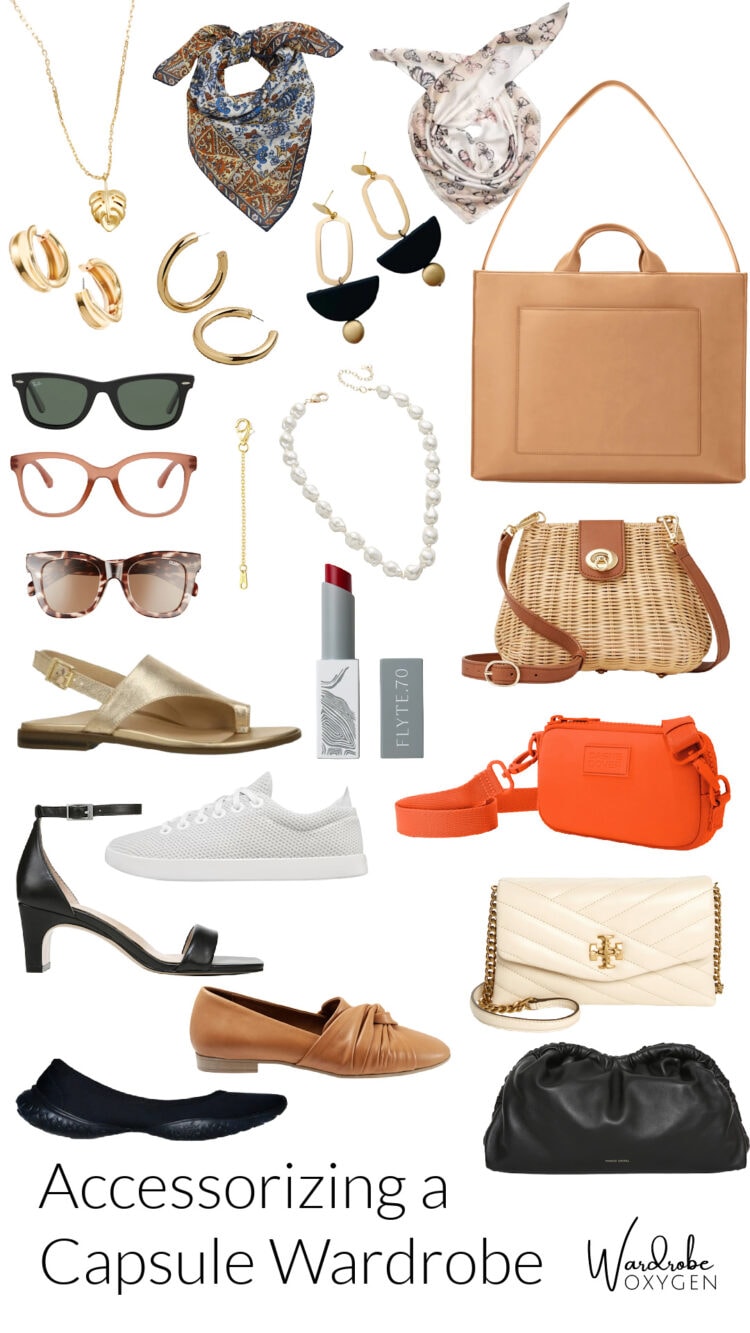 monstera necklace (available up to 22″) | thick short gold hoops | larger gold hoops | gold and black dangle earrings | pearl necklace | necklace extender | black sunglasses | reading glasses | tortoise sunglasses | matte sheer lipcolor | gold sandals | white sneakers | black heels | tan loafers | black flats | floral bandana | butterfly print scarf | tan tote | wicker purse | orange crossbody | cream purse | black clutch (budget-friendly alternative) | not above but in the outfit collages: black "don't tell me to smile" baseball cap
I focused on functionality along with style. Sandals with support, heels that come in wide widths, a tote that accommodate a laptop, lipcolor that can be swiped on in a second without a mirror, and a necklace extender to make all those too short on-trend necklaces more comfortable. I own the ballet flats and a similar version of the sneakers (read my Allbirds review), own the wicker bag, as well as several pieces from the company that makes the orange and tan bags and can attest to the quality.
However, many of the items can easily be replaced with what is already residing in your closet. Use this capsule wardrobe as a guide on how to restyle the same item multiple ways with a switch of accessories.
Shop the Shoes, Jewelry, and Other Accessories in this Capsule Wardrobe:
Ten Items, Over 33 Looks
As I mentioned, I was able to get 33 looks from this spring to summer capsule wardrobe of just 10 items of clothing. I probably could have made more, but I had to get home for dinner. I find these capsule wardrobes so fun to make because it really forces you to see beyond the basics and try something new.
Gallery of 33 Looks from the Capsule Wardrobe
Click on any of the images to see them larger. Use the arrows to scroll through all the looks, and then click anywhere outside of the slideshow (if on mobile) or click the "X" in the upper right corner (if on desktop/laptop) to return to the article.
I played with the garments in this capsule wardrobe. The linen shirt was left open like a "shacket," it was tied and tucked in. The sweater in one look is tied around the neck. I don't mention with most whether the top layer is tucked in our left out because that is a personal choice (though if you're against tucking in your tops, I do encourage you to read this piece and the comments).
Building Your Own Capsule Wardrobe
My #1 advice for creating a functional wardrobe is think in capsules. The best way to start is to imagine styling any item you add to your closet in three ways. That denim shirt, you can wear it open over a tank and chinos, you can tie it at the waist of a midi skirt, you can tuck it into those high-waisted wide-leg trousers. Get this style three ways mindset, and you'll be less likely to have shopping regrets.
This is also a great way in determining what deserves to remain in your closet. I believe in statement pieces and signature looks that may not be as versatile but add fun and personality to a wardrobe. But for the more staple of garments, they should be able to lead at least three different lives.
This spring to summer capsule wardrobe is a good example of styling items at least three ways. Each piece is styled multiple ways, with different garments, achieving different levels of formality. Shopping slow and with care, thinking about the rule of threes, you may find you don't need to add much to your wardrobe to achieve your own capsule wardrobe!
I hope you like this spring to summer capsule wardrobe. I look forward to your feedback on it. Would you like to see more capsule wardrobes this season? Any certain hero item you'd love it to be centered around? Do you have a specific trip or occasion that could benefit from a capsule wardrobe? Share it in the comments and you never know, it may be the focus of my next capsule wardrobe!
Shop the Look: