This article may contain affiliate links; if you click on a shopping link and make a purchase I may receive a commission. As an Amazon Associate, I earn from qualifying purchases.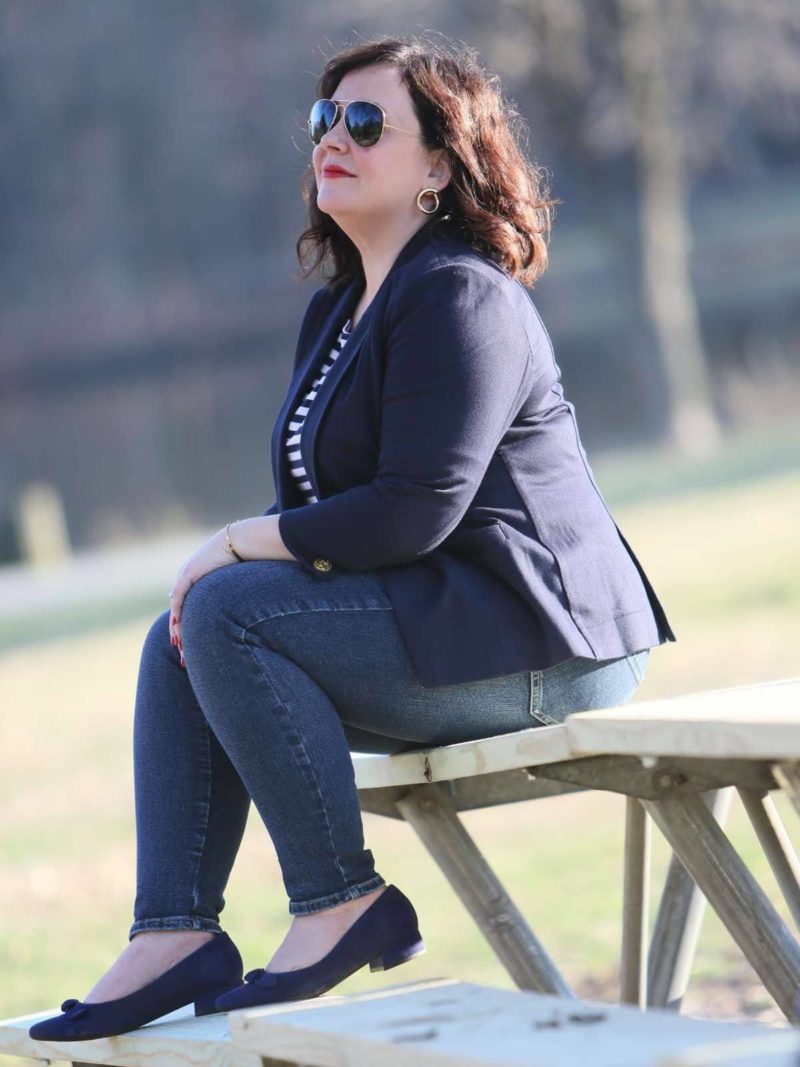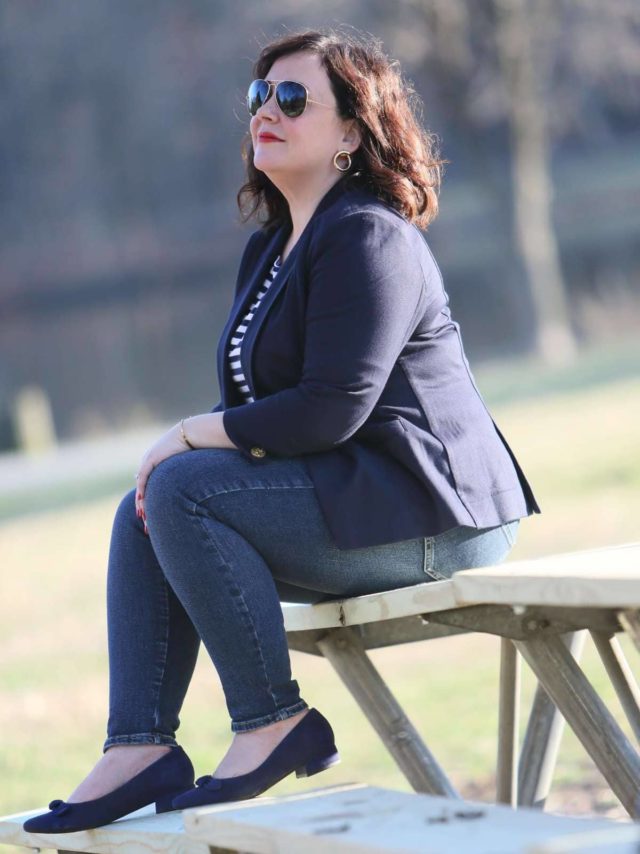 I love striped shirts. I think that's clear if you scroll through my outfit posts, my capsule wardrobes, and my sale picks. I think striped shirts are classic, work with so many personal styles, and are way more fun than a solid. I'm not ashamed to admit I had an entire dresser drawer filled with striped shirts – each one had a different look, fit, and purpose.
Note I said HAD.
I had a striped shirt tragedy.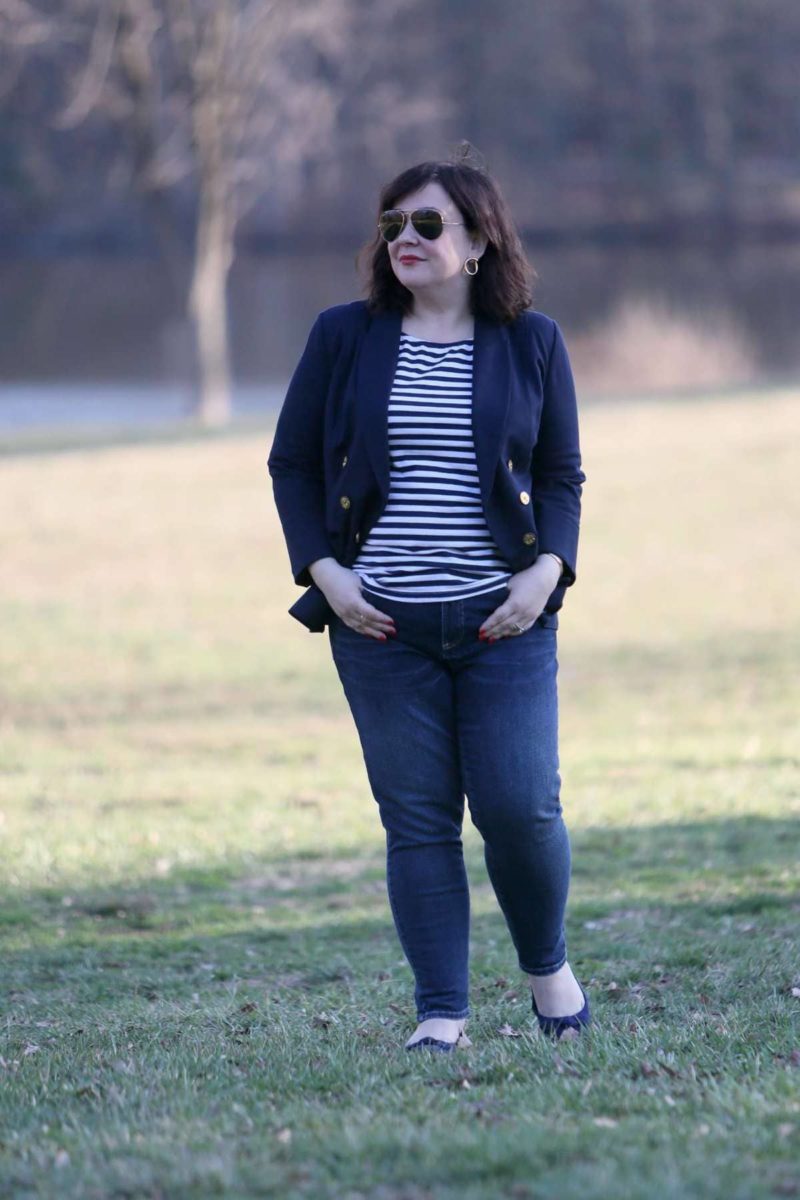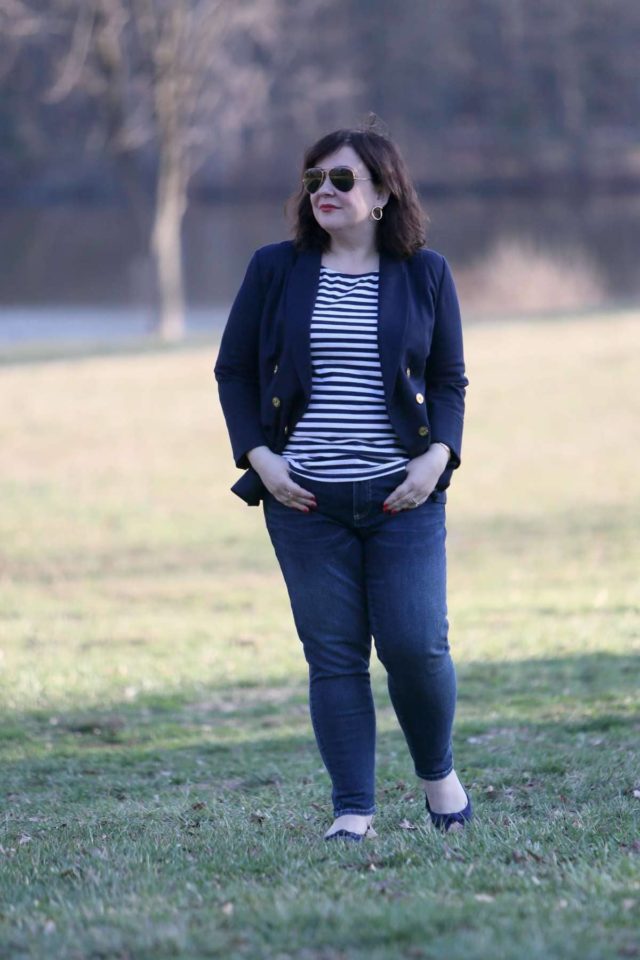 Striped Top: Off the Shoulder Tee c/o Ellos (14/16) | Jacket: c/o cabi (previous season; similar) | Jeans: Universal Standard (12) | Shoes: Calasee Suede Low Heel c/o Easy Spirit | Sunglasses: Ray-Ban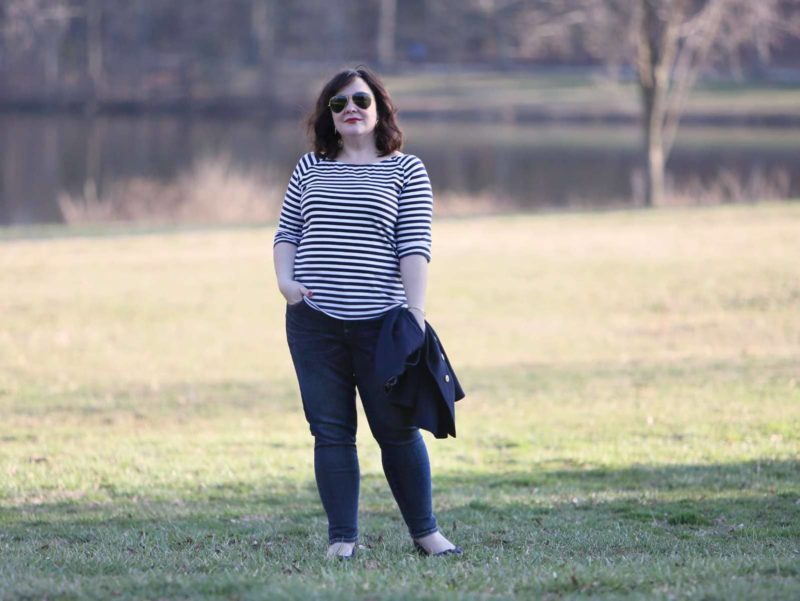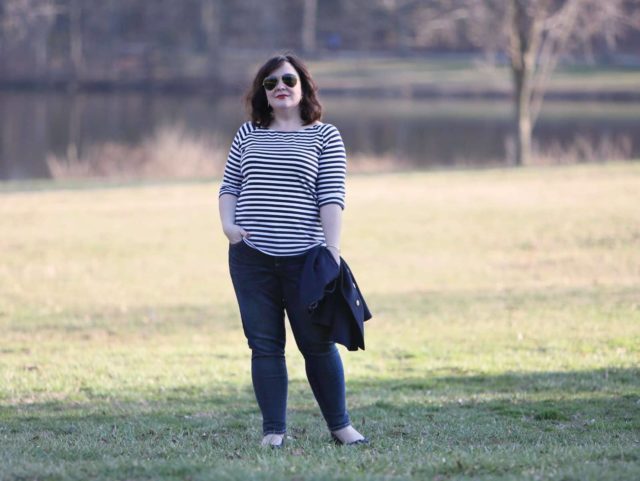 A brand sent me a pair of their jeans and I washed them on cold with other denim. The jeans bled like mad, leaving all my jeans a bit darker blue. Nothing terrible, just slightly annoying. Not thinking about it, the next load of laundry in the washer was striped shirts. My daughter and husband also love stripes so we usually have enough each week for a stripes-only load. Well I pulled the stripes out of the washer… and they were all stained blue. I was devastated. That is until I realized this shirt somehow got missed and was still in the dirty laundry pile.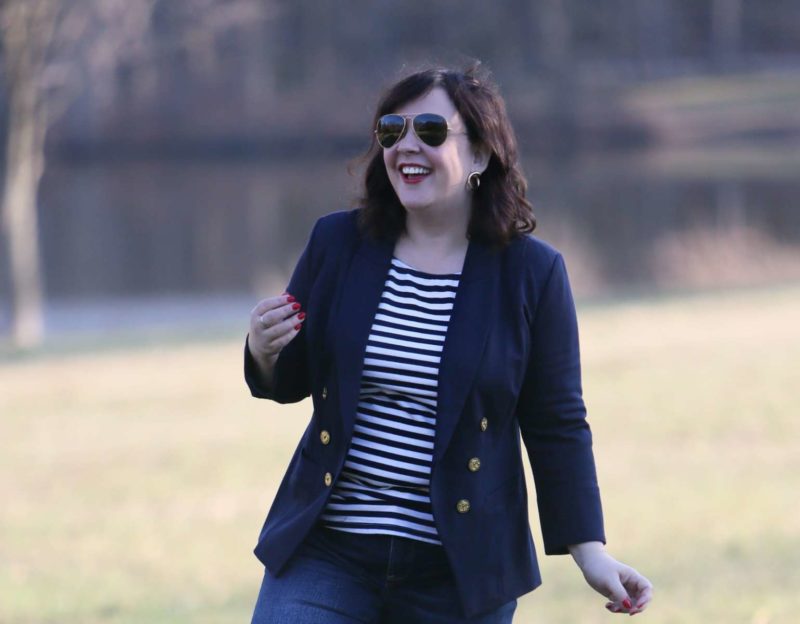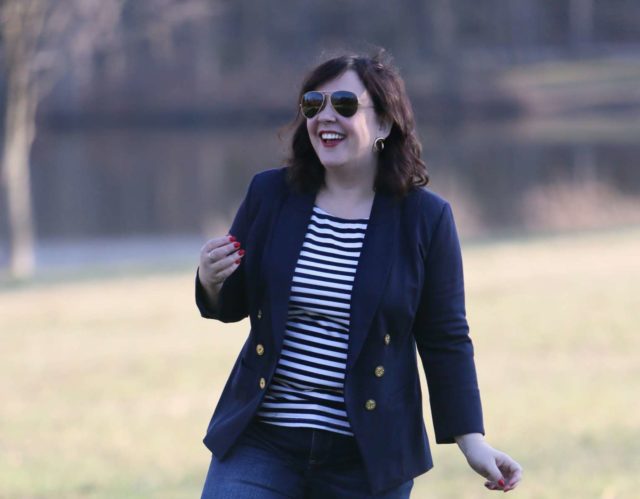 Ellos sent me this shirt a year ago. I was hesitant because it's described as off the shoulder, but as you see on me and the model it is not. It's a nice weight of knit, keeps its shape, is opaque, yet has great stretch and a refined finish. I love the longer sleeves, the open yet not too open neckline, and the length that works tucked in our left out. This top has been worn, washed, and dried dozens of times and still looks great. It's the perfect example of why I love Ellos so much.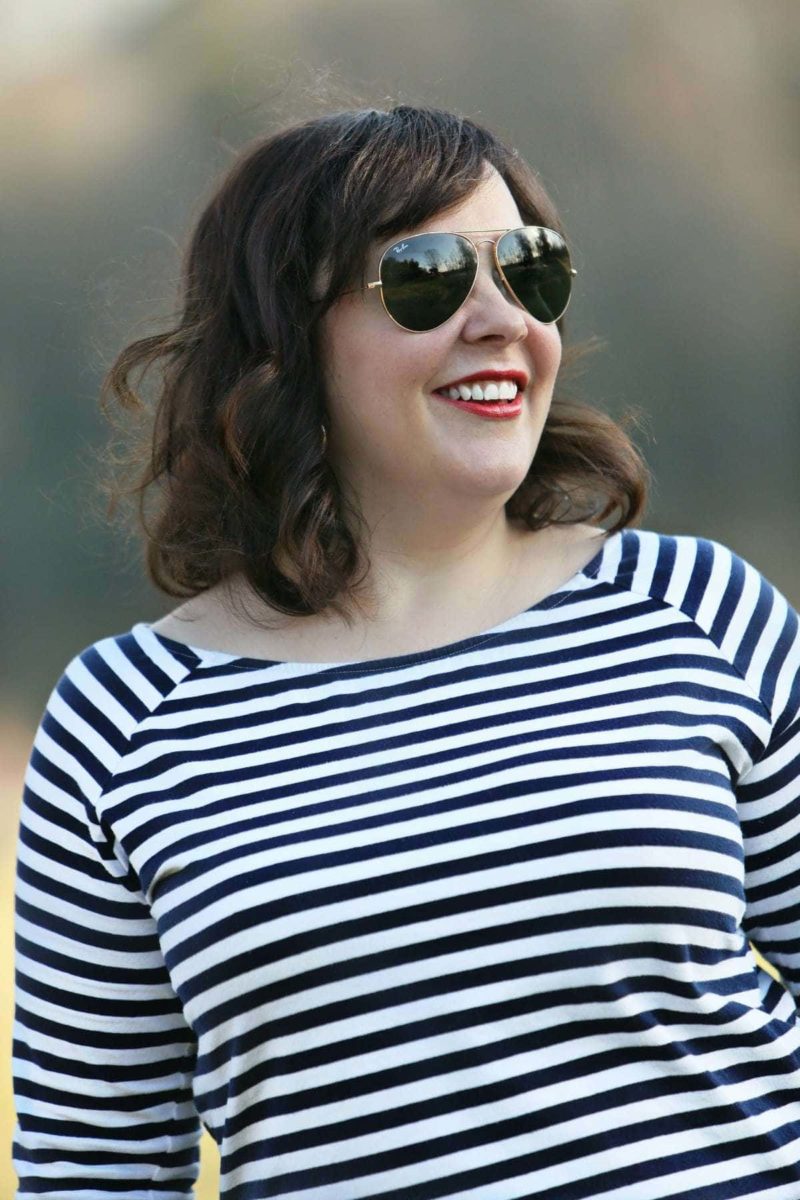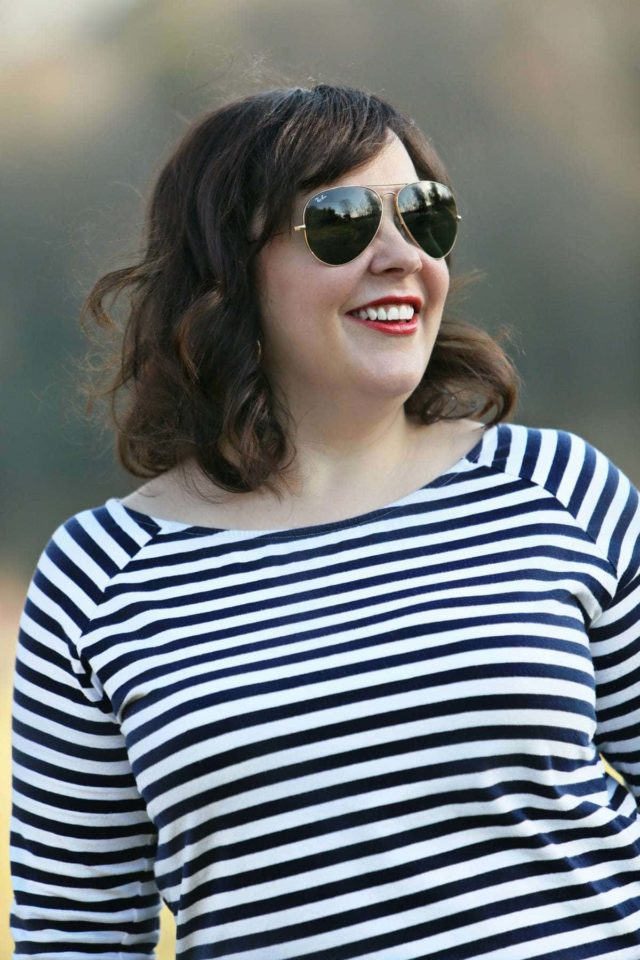 From wardrobe classics like this cotton shirtdress that I wore to death last summer, elegant pieces like this velvet pantsuit, to fun closet additions like this glitter jumpsuit that I wore on New Year's Eve or this luxe faux fur coat that I've worn all winter long, Ellos makes great affordable fashion for women in sizes 10 to 34. When I've featured the brand many of you have commented that you too have tried and fell in love with Ellos.
I've so enjoyed working with Ellos, whether it's partnering on a blog post or meeting the women who work for the brand this fall for a photo and video shoot with Full Beauty Brands. I'm thrilled they wanted to celebrate you by offering one Wardrobe Oxygen reader a $150 gift certificate to Ellos!
How to Enter:
Wardrobe Oxygen X Ellos Giveaway