This article may contain affiliate links; if you click on a shopping link and make a purchase I may receive a commission. As an Amazon Associate, I earn from qualifying purchases.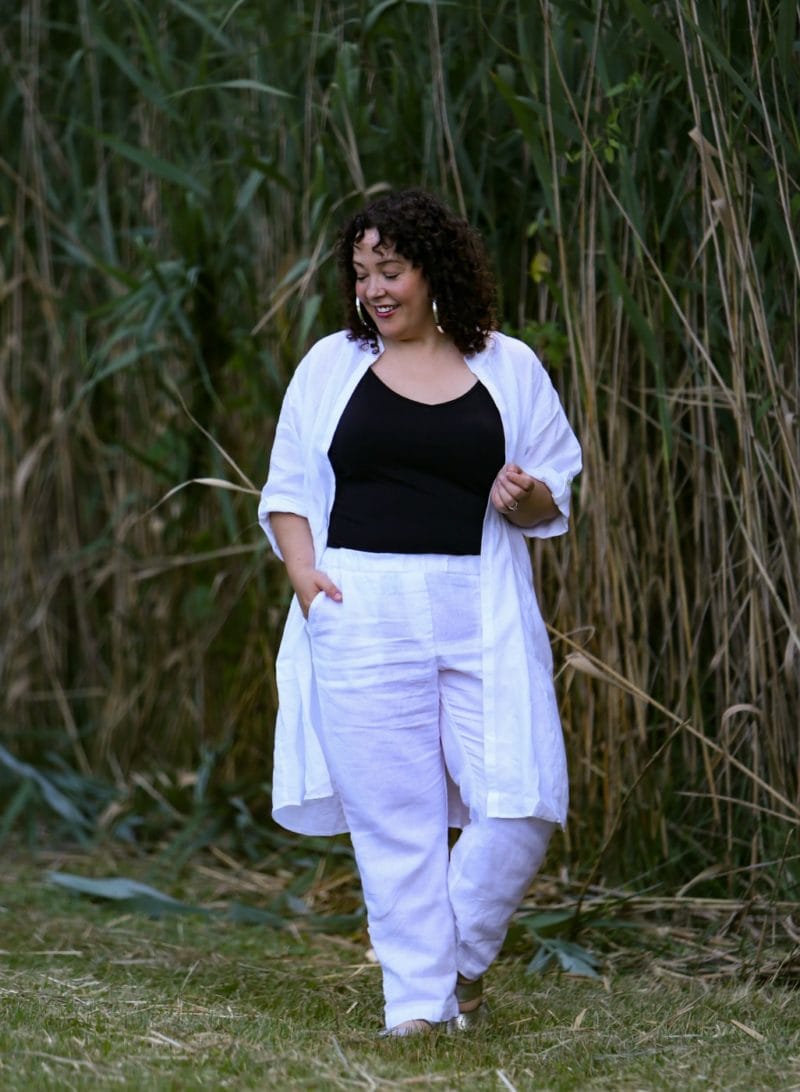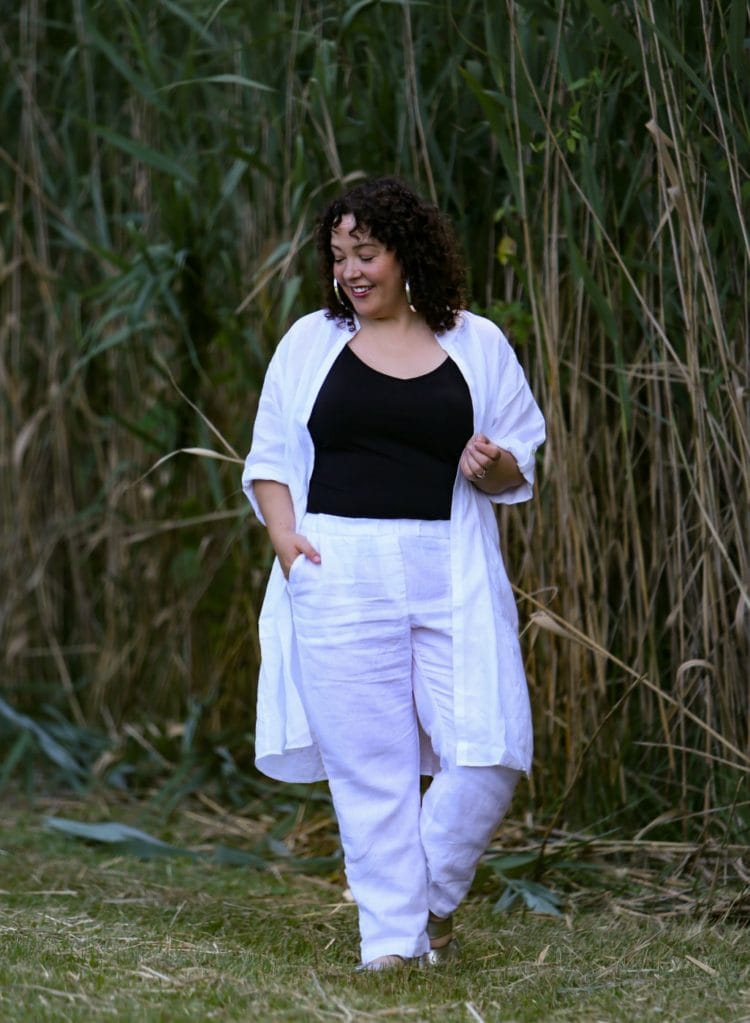 J.Jill reached out and asked if I'd like to try their linen collection. Since adding more linen to my wardrobe as seen in this blog post, I was game. I also know that many of you love J.Jill and recommend it regularly in comments on this blog and in the Wardrobe Oxygen Community. I appreciate that J.Jill carries all of their pieces in sizes 2-28 and offer petite and tall options; I wish more retailers did this. This is a year where I am looking to be comfortable while also maintaining my style. I desired a beachy, relaxed look that would work with the natural rumpled effect of linen so decided to try a longer jacket-like piece I normally wouldn't gravitate towards, with what J.Jill sells as a slimmer cut of linen pant to balance the volume of the topper. In both pieces I chose Large Petite; I am 5'3″ and usually wear a 14 in mall brands.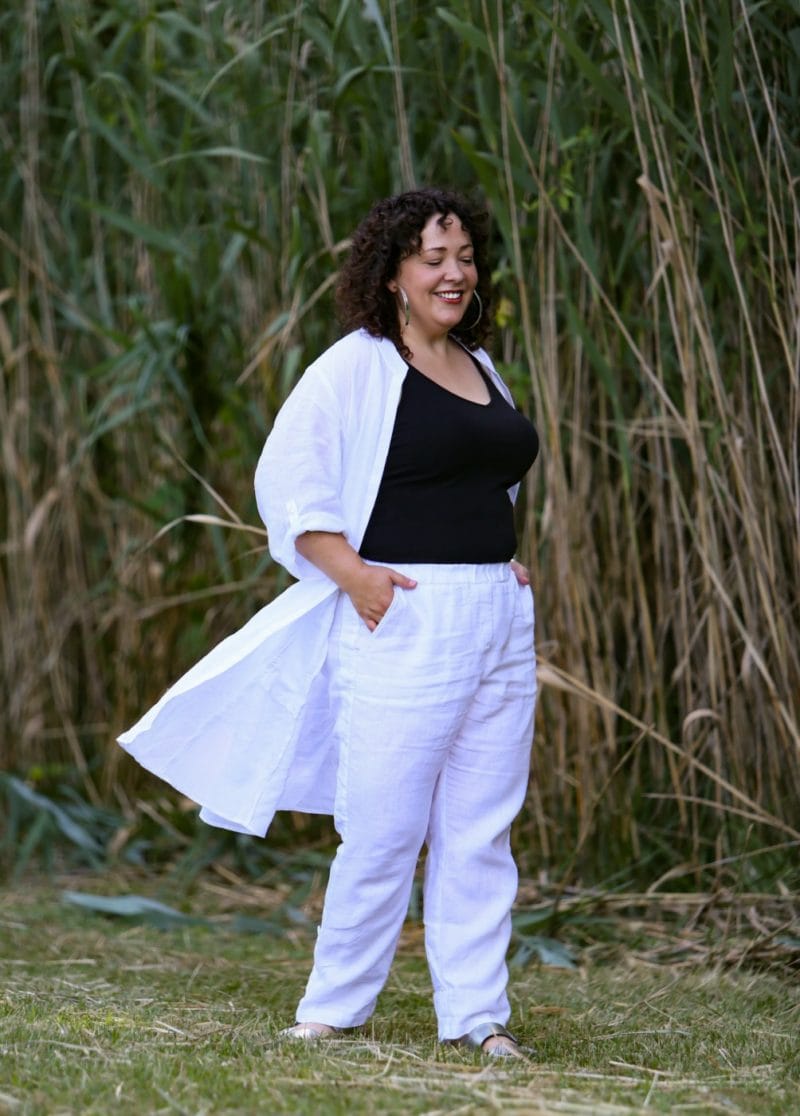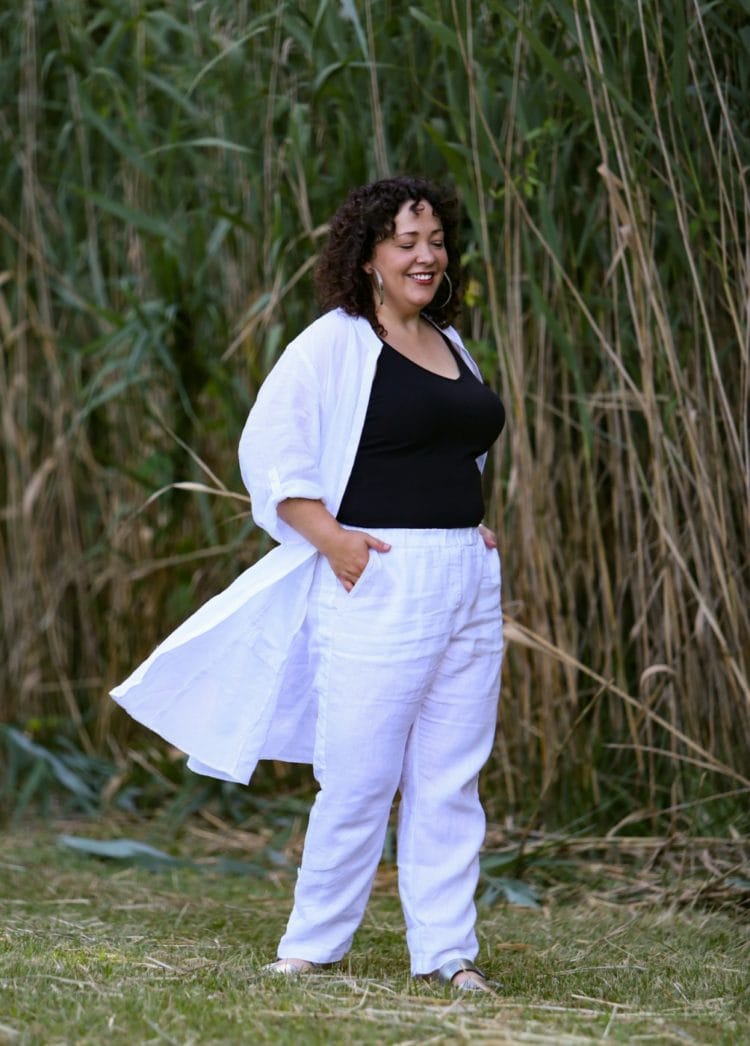 White Linen Topper c/o J.Jill (size Large Petite) | Black cami c/o cabi (size Large) | White Linen Slim Leg Pants c/o J.Jill (size Large Petite) | Shoes: Birkenstock | Earrings: Jenny Bird (sold out; similar) | Sterling Cuff: Old; similar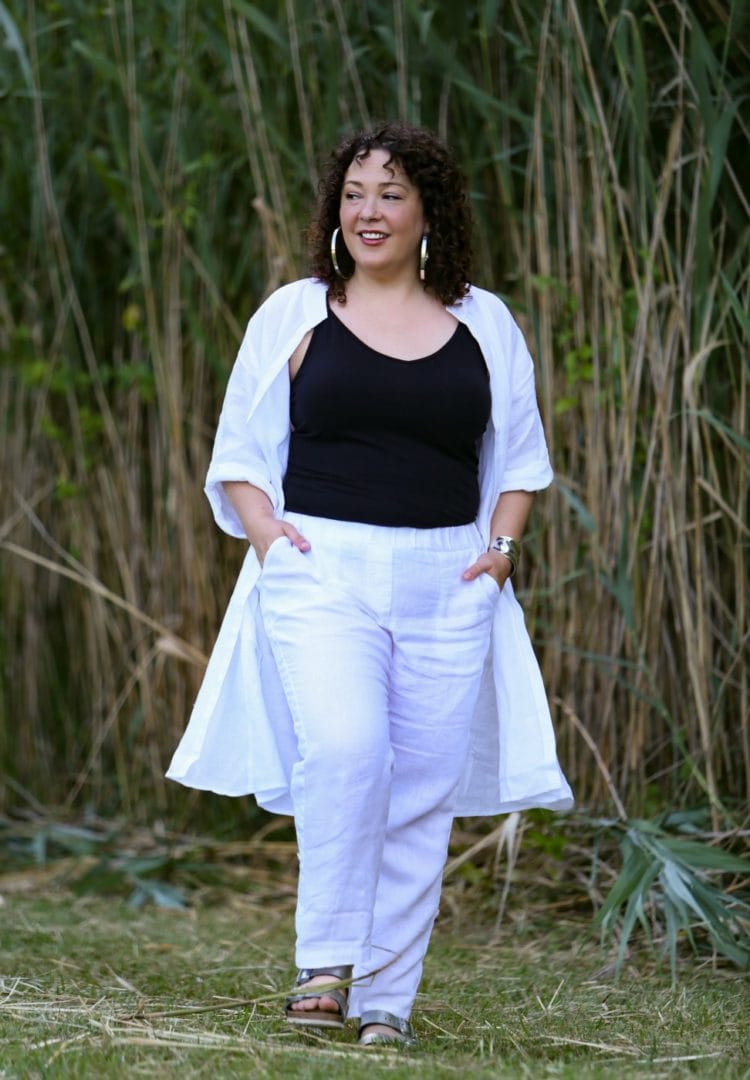 These pants come cuffed, but they have one of those tabs to hold the cuff in place. The length and volume didn't fit my personal style aesthetic; I uncuffed the pants and found them to be far more to my liking. Reviews said these pants ran a bit slim in the rear and hips; while the waist is loose on me I am glad I went with the size I did so I had room for my curves and could comfortably sit and squat without worrying about straining the fabric or seams. The pockets are roomy, the elastic waist doesn't fold over and I think is wide and clean enough to look good with tucked-in tops or be smooth under untucked ones. This linen is heavier in weight than the white linen pants I have from Chico's, but they are still breezy. The weight prevents severe creases; these photos were taken after wearing this outfit for about an hour of standing, walking, and sitting.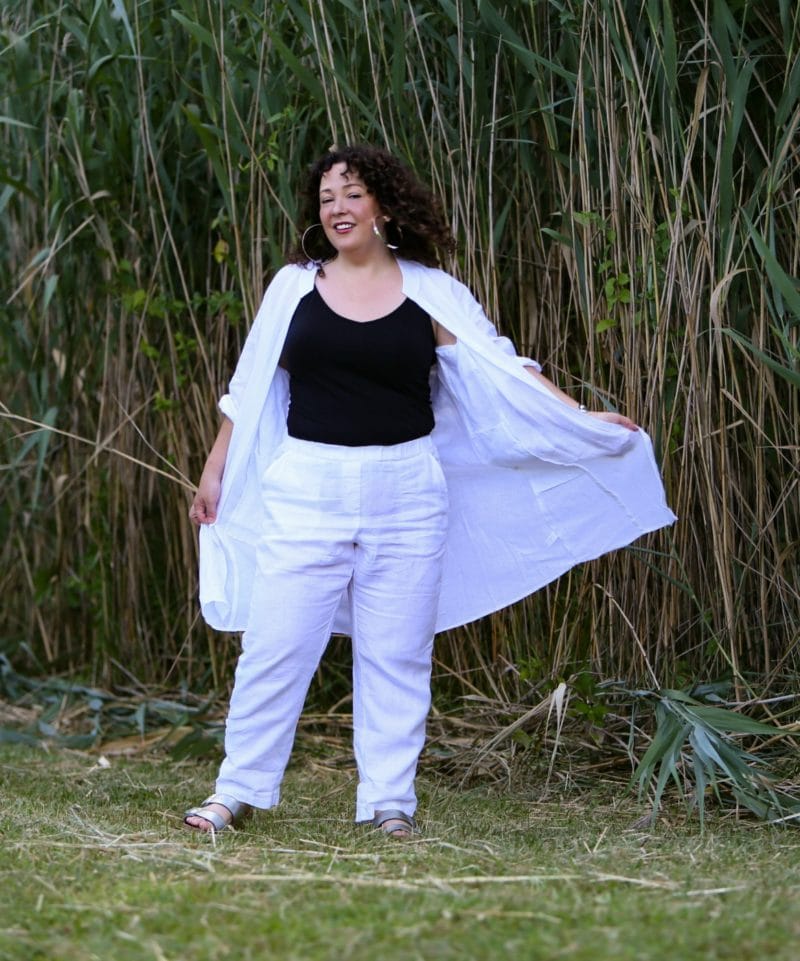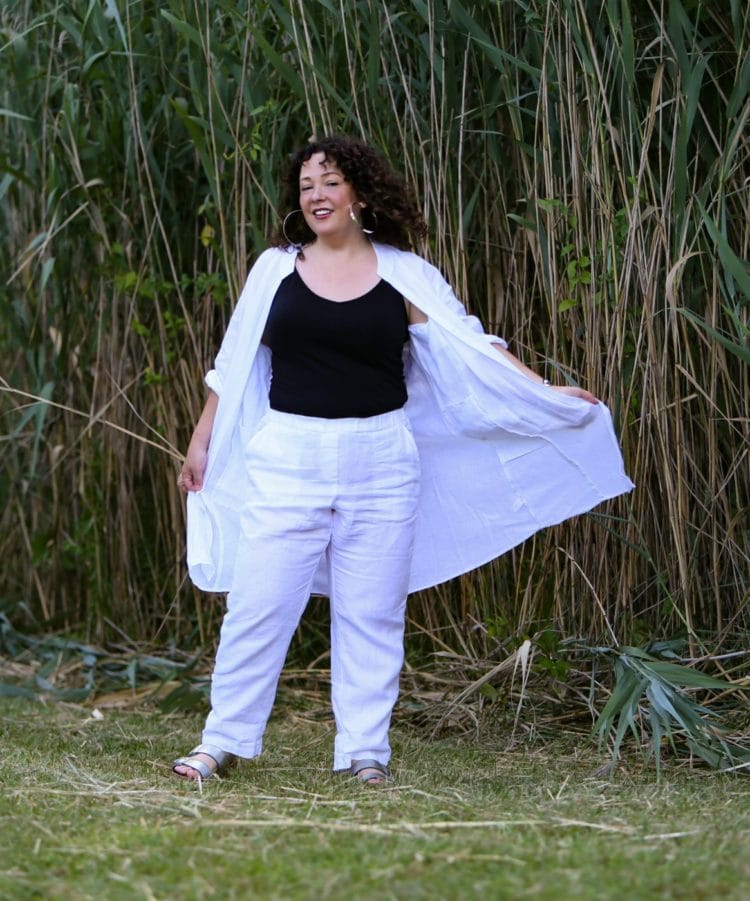 The linen topper also has tabs to cuff or uncuff the sleeves. With the topper, I preferred the look of the sleeves cuffed. I would have liked buttons to have the option to wear this like a proper tunic, but I still like it as-is. I appreciate the topper having pockets, and the fabric is the same weight as the pants. I'd like to try belting this tunic for a different look; I may try it with my tan leather obi belt over a pair of light-wash jeans and a white cami with turquoise and silver jewelry.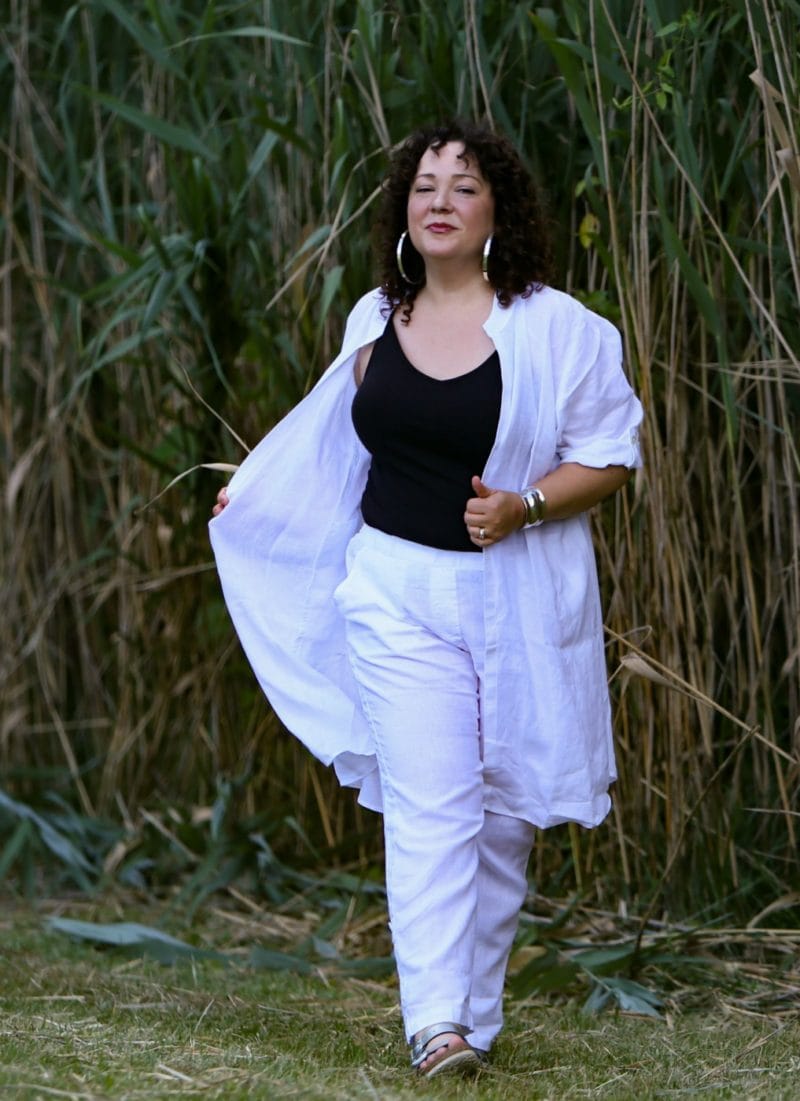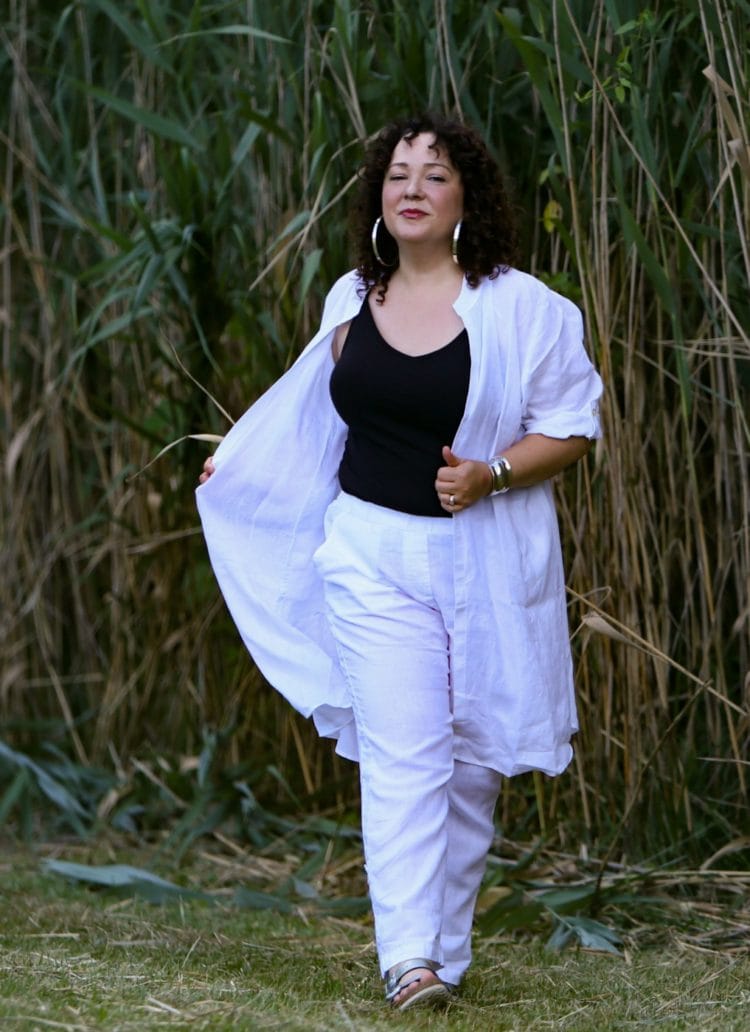 White isn't for everyone, I know how hard it can feel to wear it and keep it clean. But white is not much different from khaki or beige or light gray or chambray. White can still benefit from Tide to Go or a quick splash of La Croix with a cloth napkin to dab the spot. White can be bleached (or oxygen bleached), and can brighten with the power of the sun as it hangs on the line. I often just spot clean with my favorite stain removal recipe. And when it comes to linen, white makes it look crisp and cool while some other colors can look a bit dingy once the linen begins to wrinkle. As for white being transparent, a pair of skin-colored undies will take care of things. This is the pair I am wearing and love under white linen and other thin and light-colored pieces; it comes in three skin tones as well as ivory, black, and a dusty mauve that blends with many skintones.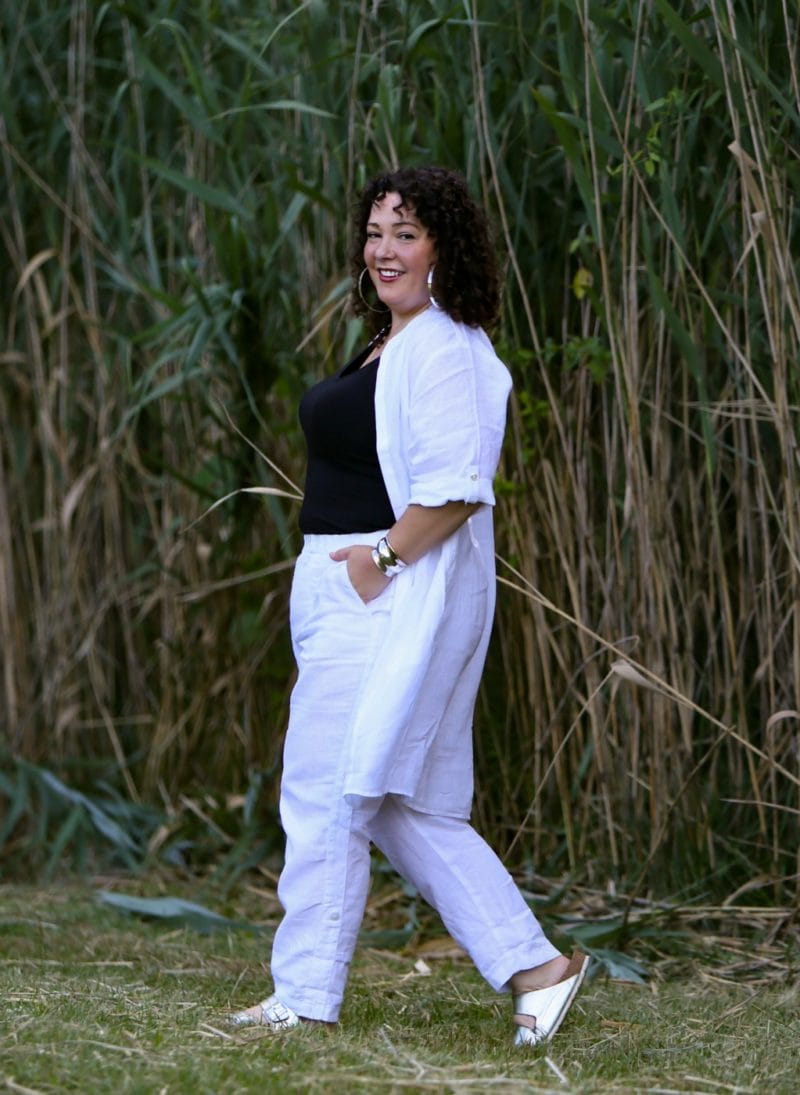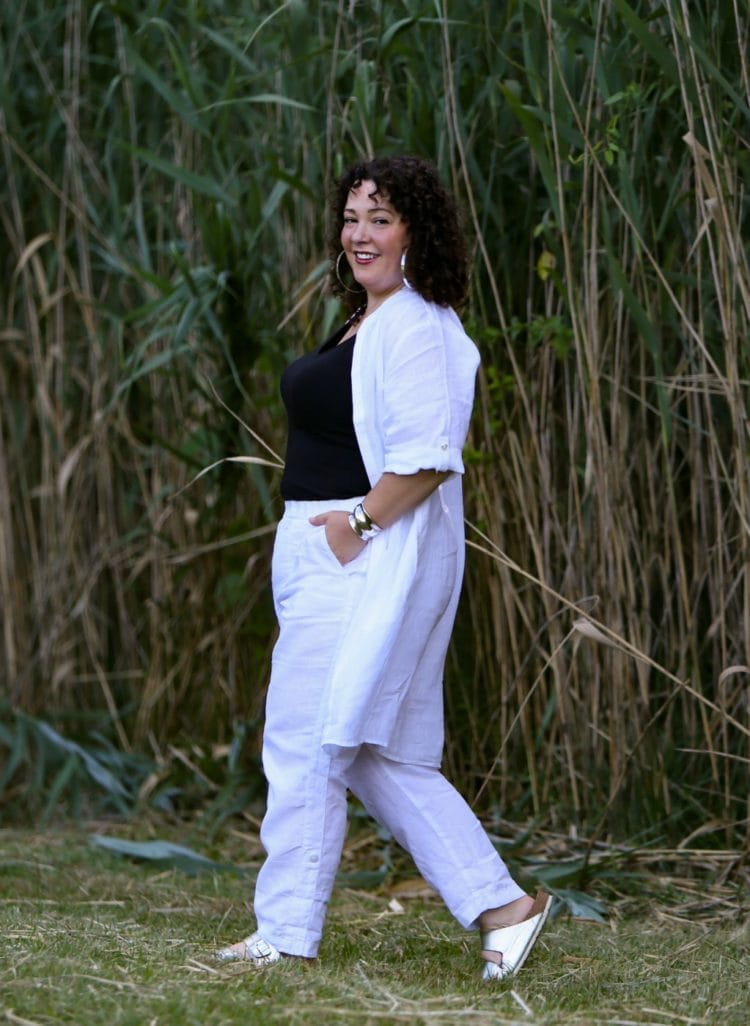 Speaking of silver jewelry, I really felt this look begged for bold silver pieces, so I added my favorite silver hoops and my beloved silver cuff I've had since 1997. Many of you have commented on my cuff over the years and it's hard to find something similar because it's old, and because Sterling silver is now so costly. However, Etsy is a great place to find new and vintage silver pieces for way more reasonable prices than you find at boutiques and department stores. I checked out Etsy and found some Sterling cuffs that are similar in size or style:
Shop Sterling Cuffs from Etsy: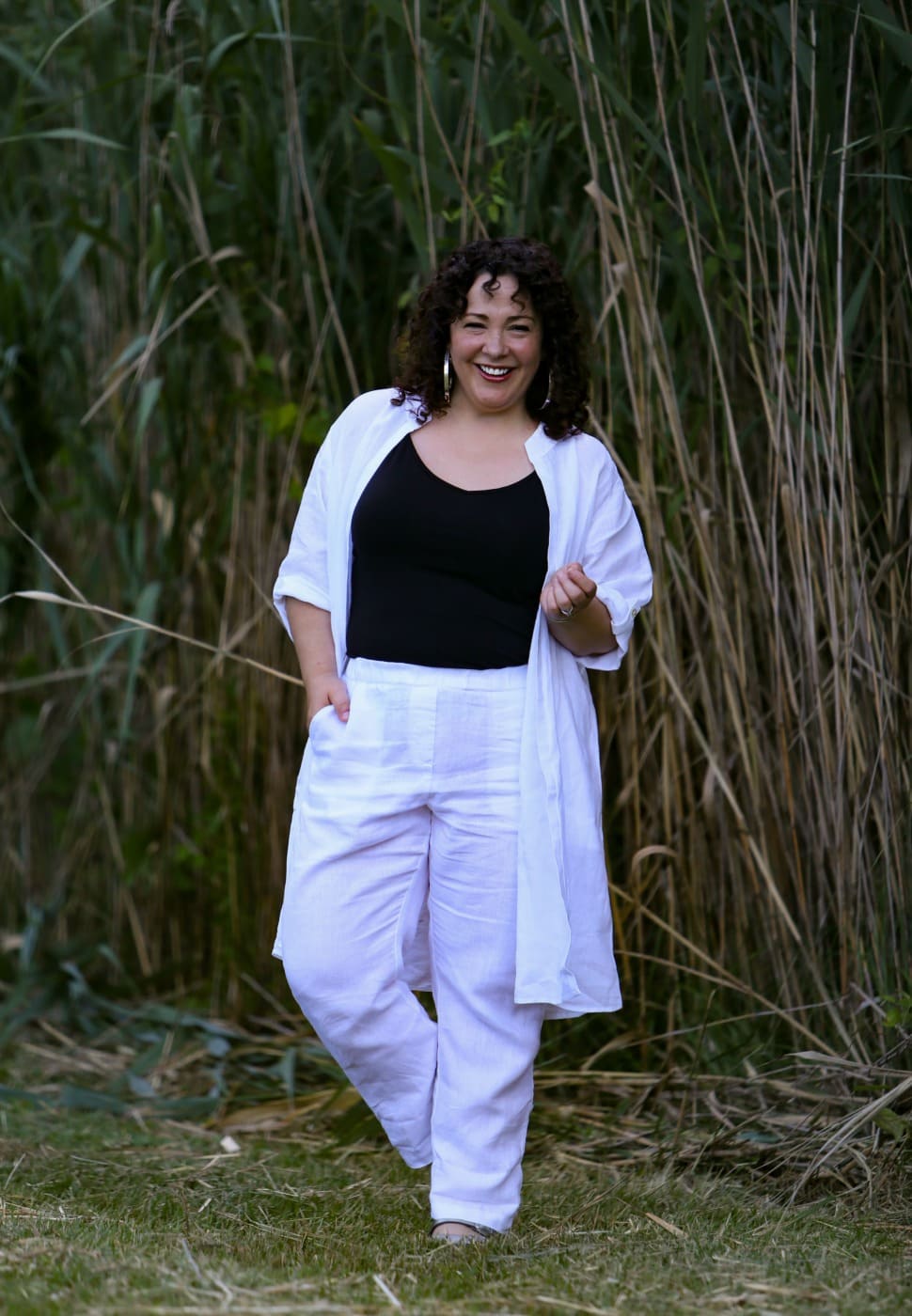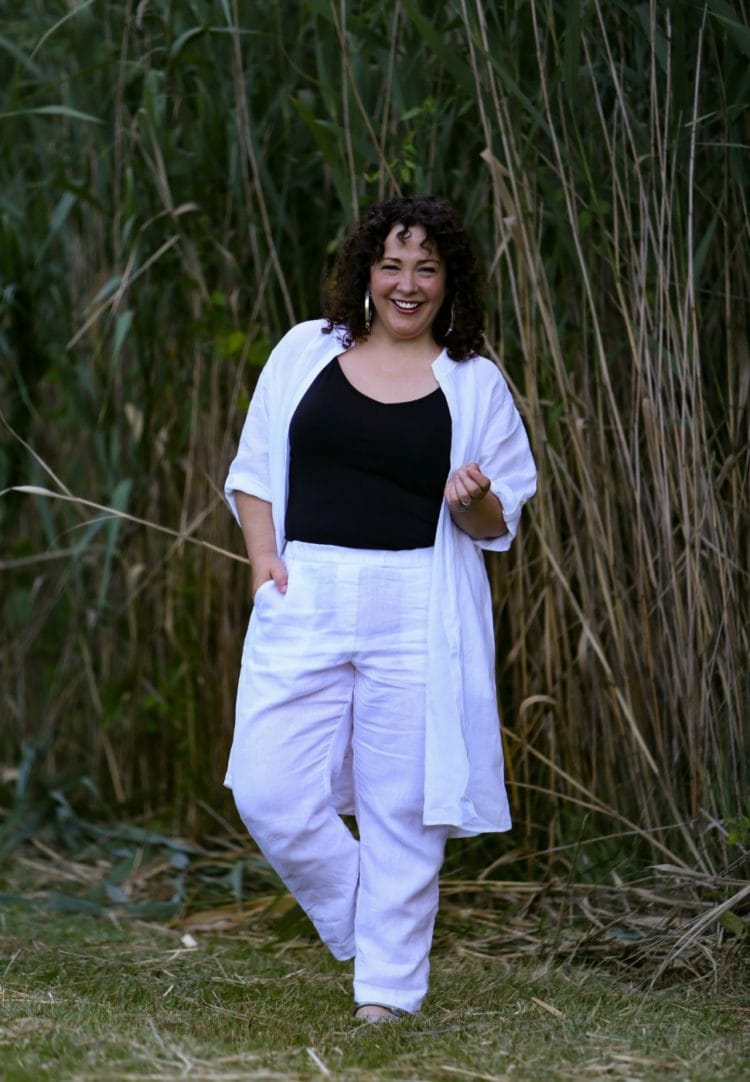 You will likely become tired of my Birkenstocks come the end of summer. I am at home. I am not socializing, I do not have a job that requires me to visit an office or clients and adhere to a dress code. My feet have really enjoyed being in flat shoes the past few months and I am reconsidering my relationship with a good portion of my shoe collection. While there are some shoes like my Margaux heels that are still relatively comfortable, there are also many that I likely will be selling or donating because my feet refuse to be wedged into them ever again. Finding stylish shoes for wide feet is a challenge, so I will be slow and methodical with my future shoe purchases and you know I will share the hits and misses along the way!
Shop the Post: