This article may contain affiliate links; if you click on a shopping link and make a purchase I may receive a commission. As an Amazon Associate, I earn from qualifying purchases. 
This is a sponsored post written by me on behalf of Sparkling Ice. All opinions are 100% mine.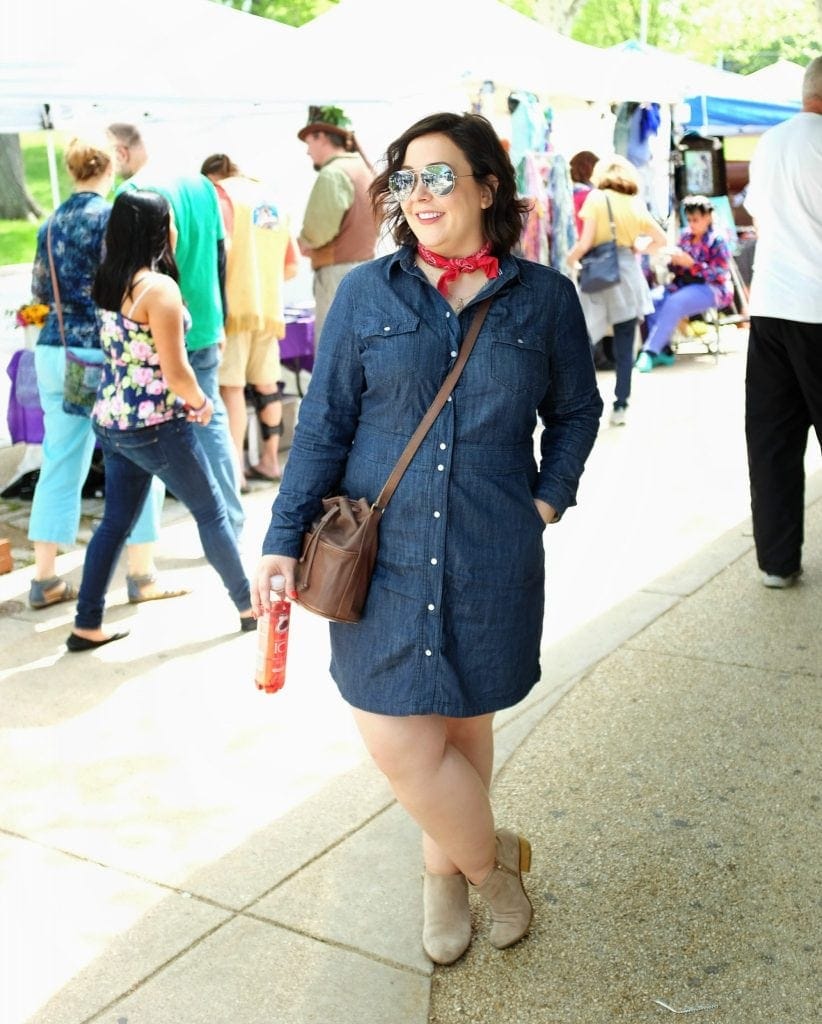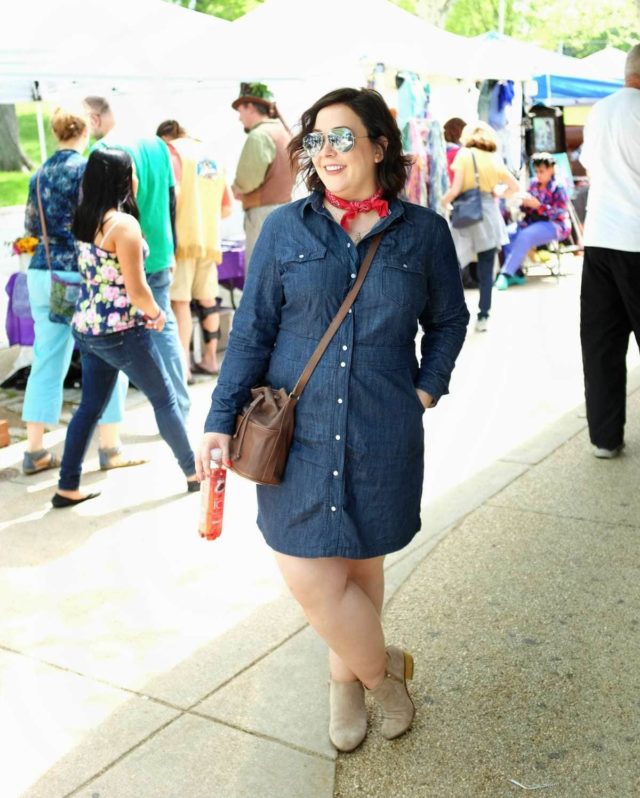 dress | bag | shoes | sunglasses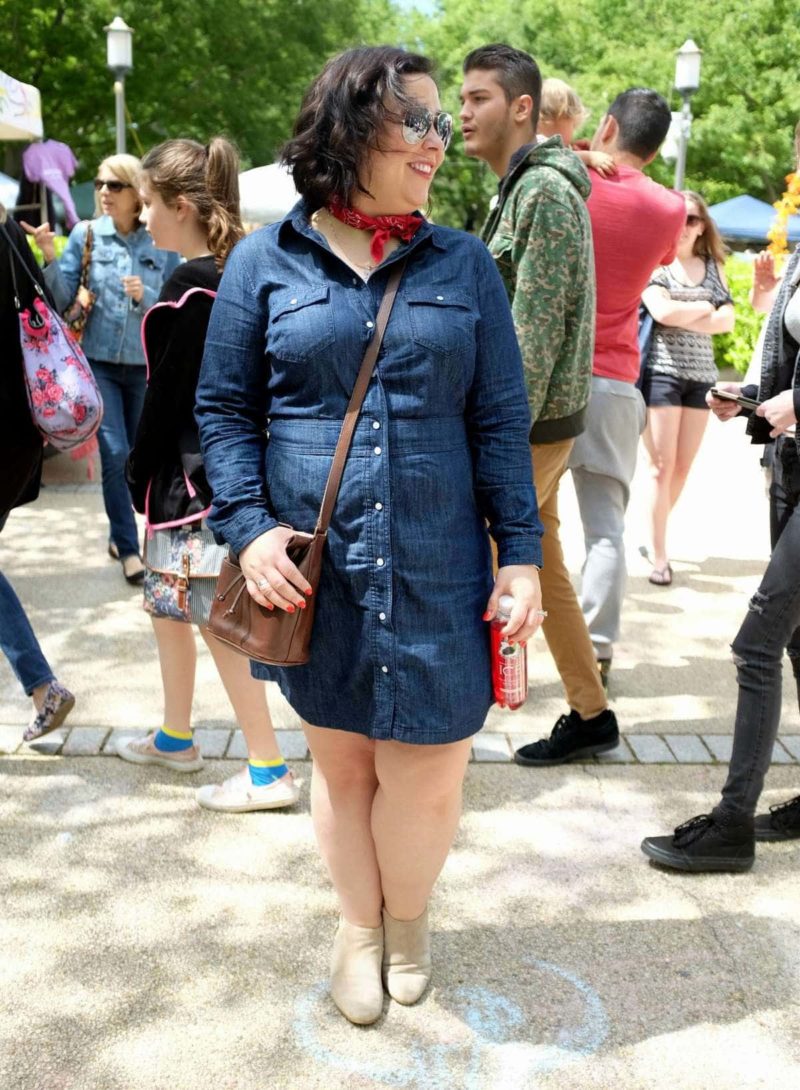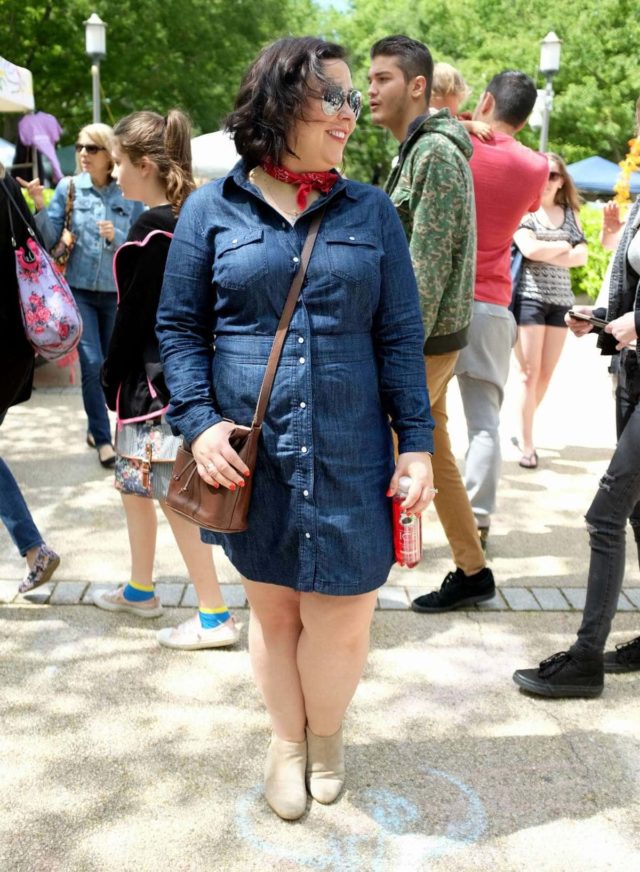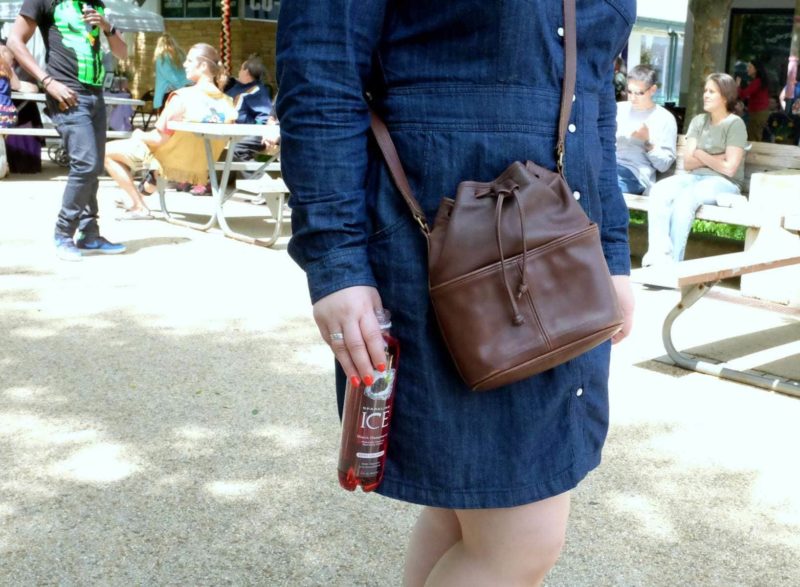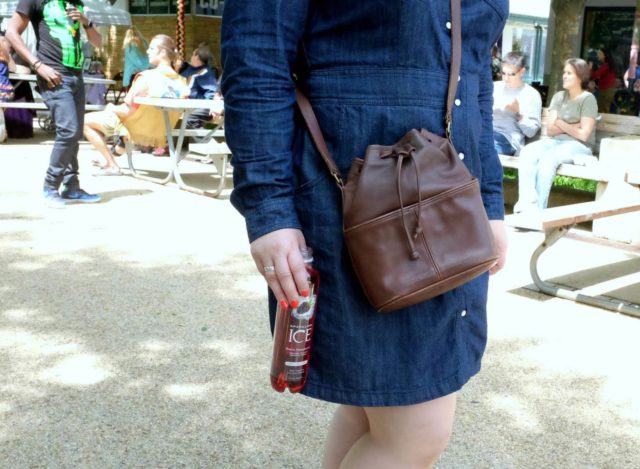 Dress: Boden | Bag: Coach (vintage; similar) | Sunglasses: Ray-Ban | Bandana: Had forever (similar) | Shoes: c/o Clarks
Greenbelt, Maryland, where I live, is known for its festivals, most centered around music. As I mentioned in this post, I was looking forward to the Greenbelt Green Man Festival, a two-day celebration of music, crafts, and environmental awareness. There's a stage in the town center with music all day, vendors selling their wares and food, crafts for the kids, and a focus on recycling and caring for our planet. It was a gorgeous spring day, not too hot but not cold. I decided to wear this denim dress (previously seen in this post), which is comfortable, relaxed, and I could roll up the sleeves if I got warm. These booties from Clarks (last seen on the blog in this post) are comfortable and perfect for a day of walking and standing. A small crossbody (previously seen in this post) is perfect for carrying essentials but keeping my hands free to carry around a cold bottle of Sparkling Ice or to dance.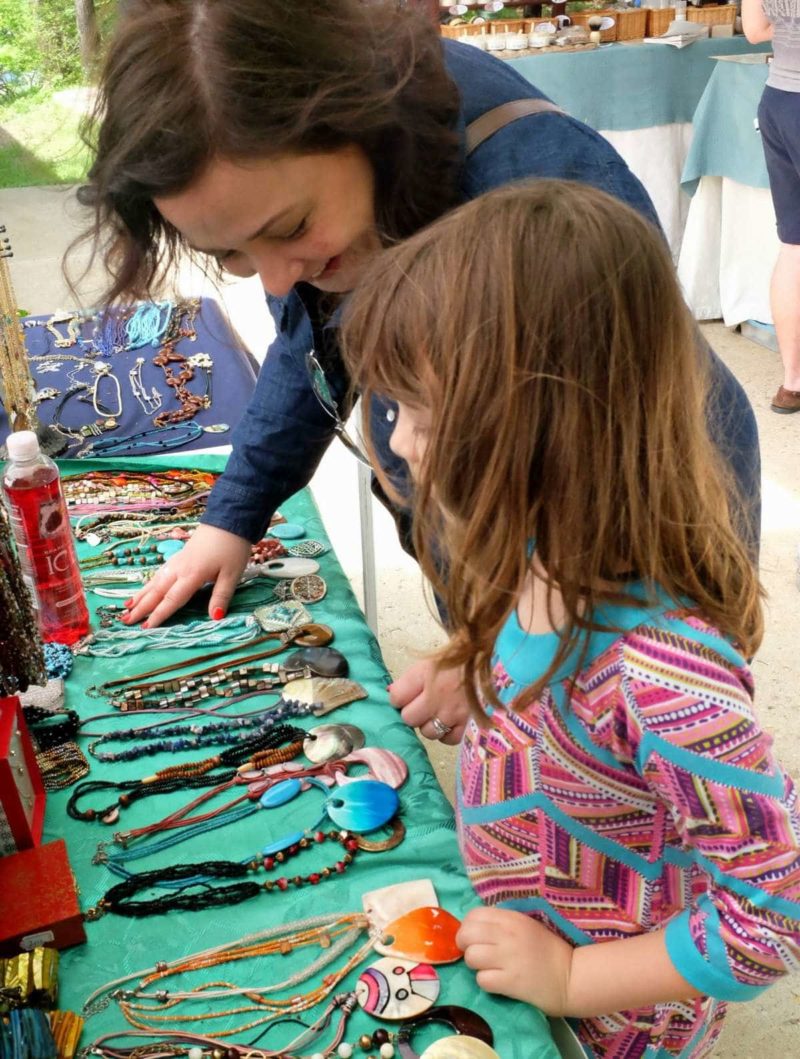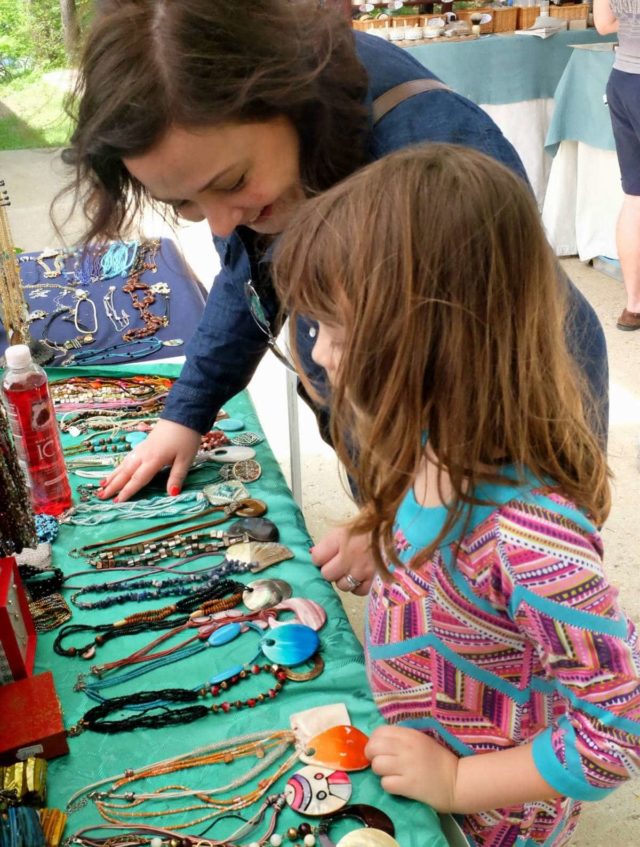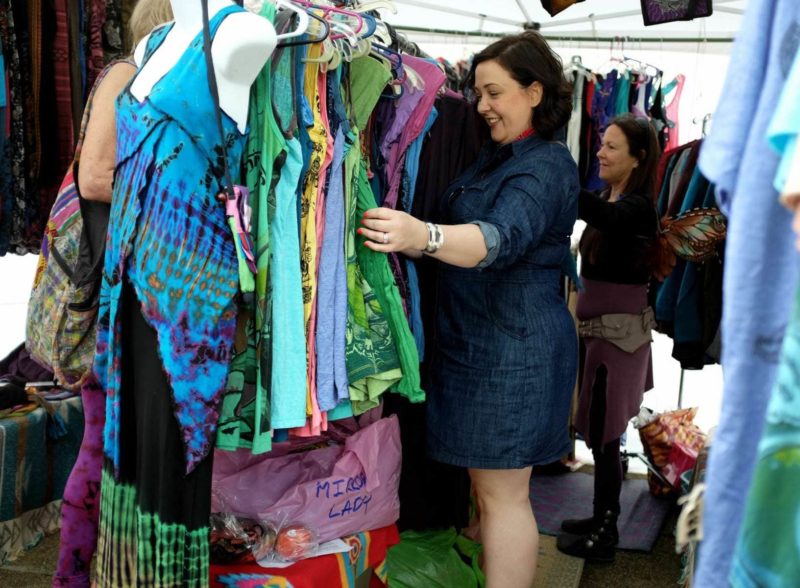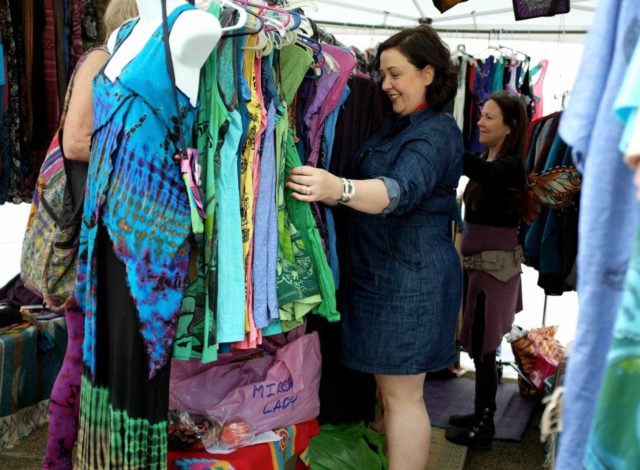 While I love these festivals for enjoying live music and spending time with my family, friends and neighbors; I also love them for the shopping! Some of my favorite pieces in my wardrobe are from vendors at festivals like this. At this very festival I purchased these harem pants and these earrings. I love adding items to my wardrobe that can tell a story and remind me of the fun events I experience.
I'll admit last summer I missed a lot of these festivals because I felt too busy. When given a free weekend I wanted to decompress, not dance. But I finished the summer feeling like I missed out. Not just for me, but opportunities to live life to its fullest with Emerson, with Karl, with my friends, family and my amazing community. I'm not letting that happen this year. I won't overextend myself, but I am being conscious of what I say yes to, and what may deserve a no so I can take part in more fun, have spontaneous adventures, and as Sparkling Ice is encouraging people to do, Flavor Up and live more this summer. I love that idea, to Flavor Up. Live your life, but with more color, more experiences, more fun.
I know a lot of you readers are busy women like me. You can spend so much time caring for others and you're the last priority on your list. But life is short, and those in your life who love you want to enjoy life with you. You deserve to have fun this summer too. Before summer really hits, I challenge you to look at the coming months and see how you can maybe pare down on commitments so you can enjoy yourself. I know this may sound impossible, a year ago I was frazzled and telling everyone it was impossible. I'm too busy, I have no time. I have two jobs and I volunteer at X and Y and I need to do Z around the house and I promised so and so I'd be at this event, make this casserole, chair this committee. But in the past year I've really looked at life. It's short. it's precious, and the more stressed and over-committed I am, the faster it flies by and less enjoyable that speedy time is. You deserve to enjoy this time in your life, to make your own memories. Whether it's small pockets of time just for you to sit out on the deck with a cold drink and a magazine or a girls' getaway, put yourself higher on that priority list this summer. After all, you can only care for others well if you first care for yourself!
Flavor Up your summer with Sparkling Ice