This article may contain affiliate links; if you click on a shopping link and make a purchase I may receive a commission. As an Amazon Associate, I earn from qualifying purchases.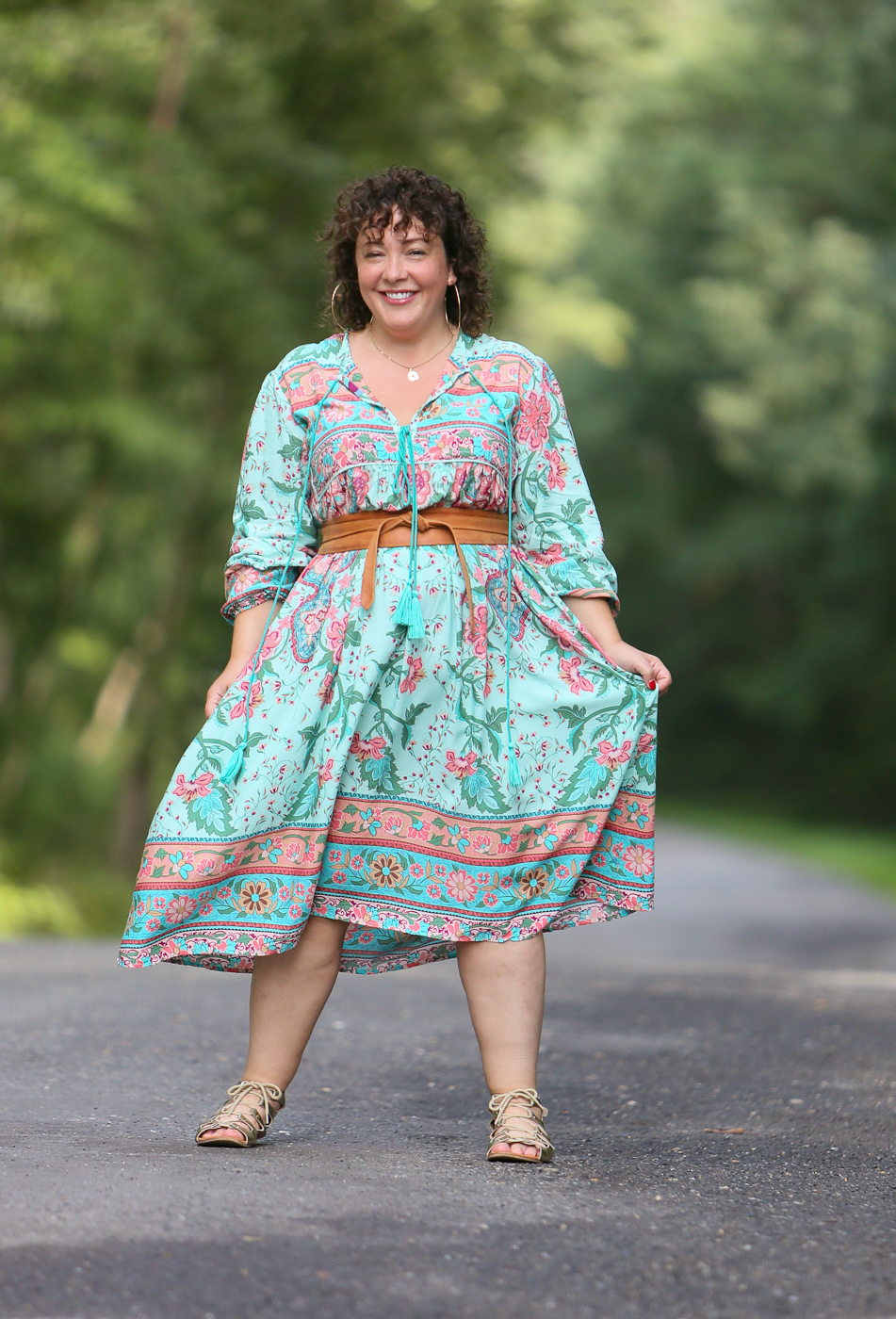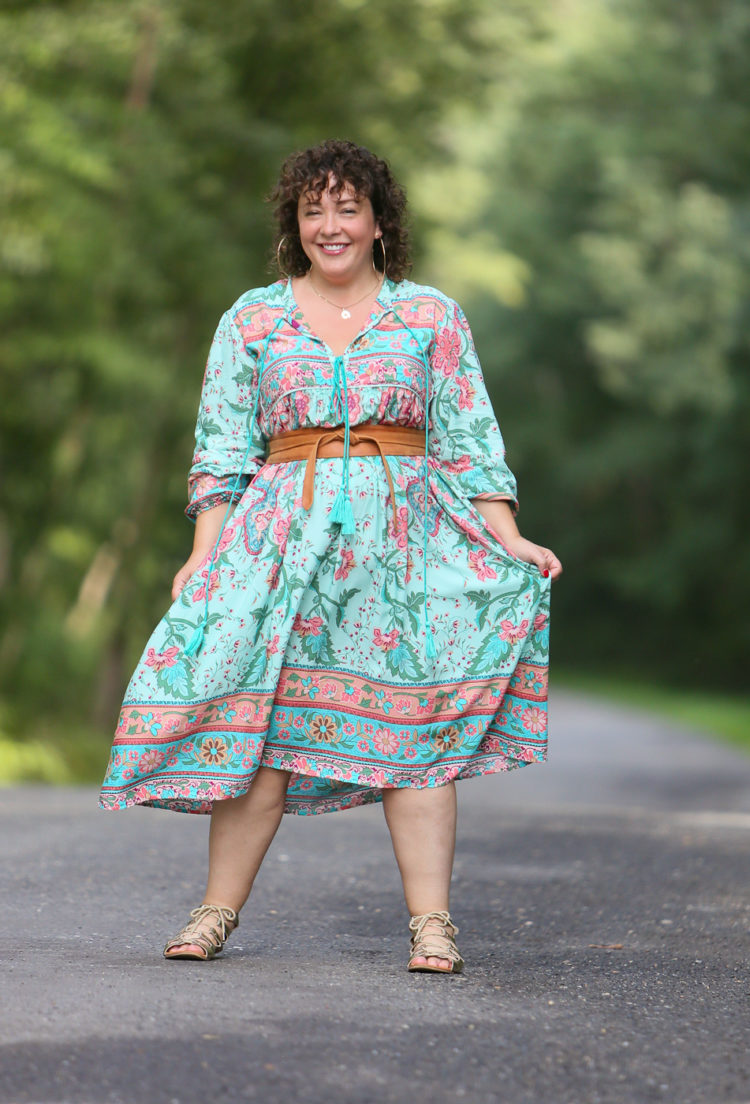 Each season, there seems to be a handful of super cheap fashion items on Amazon that go viral. As a blogger, I know that Amazon really pushes their fashion with plenty of perks, therefore influencers push Amazon. Amazon converts well because the pricepoint and shipping is awesome. Also, if you click on this fashion item and don't buy it, but you stock up on batteries and toilet paper and shower gel, the person who promoted that garment will get a commission off your non-fashion purchases (read my post on how blogs make money for more detail). Needless to say, I'm skeptical of "viral" Amazon fashion purchases. However, a blogger I respect for her honesty, Grace Atwood at The Stripe, started promoting a dress from Amazon (she calls it the Amazon Nightgown). The dress has gained major popularity (just check out the hashtag #amazonnightgown on Instagram) and it intrigued me. Consider me influenced, Grace! Since I didn't see anyone who was cusp or plus-sized wearing it, I wanted to try it out – does the Amazon Nightgown work for a large bust and a larger clothing size?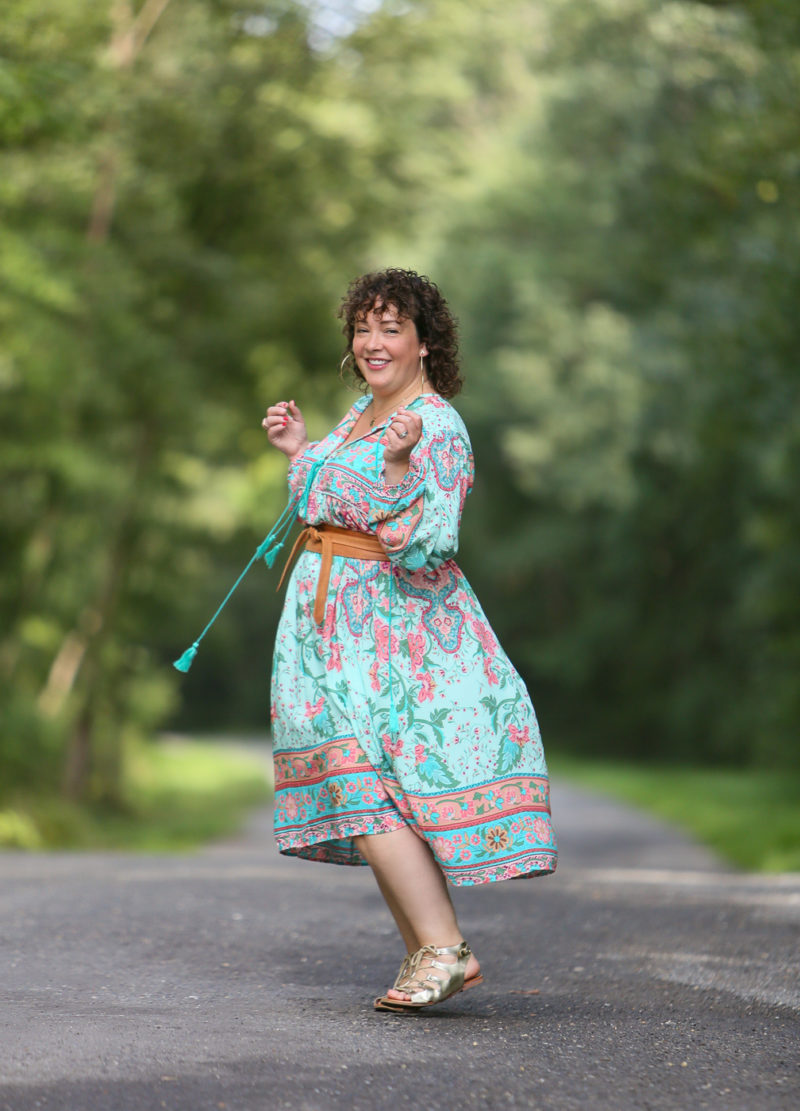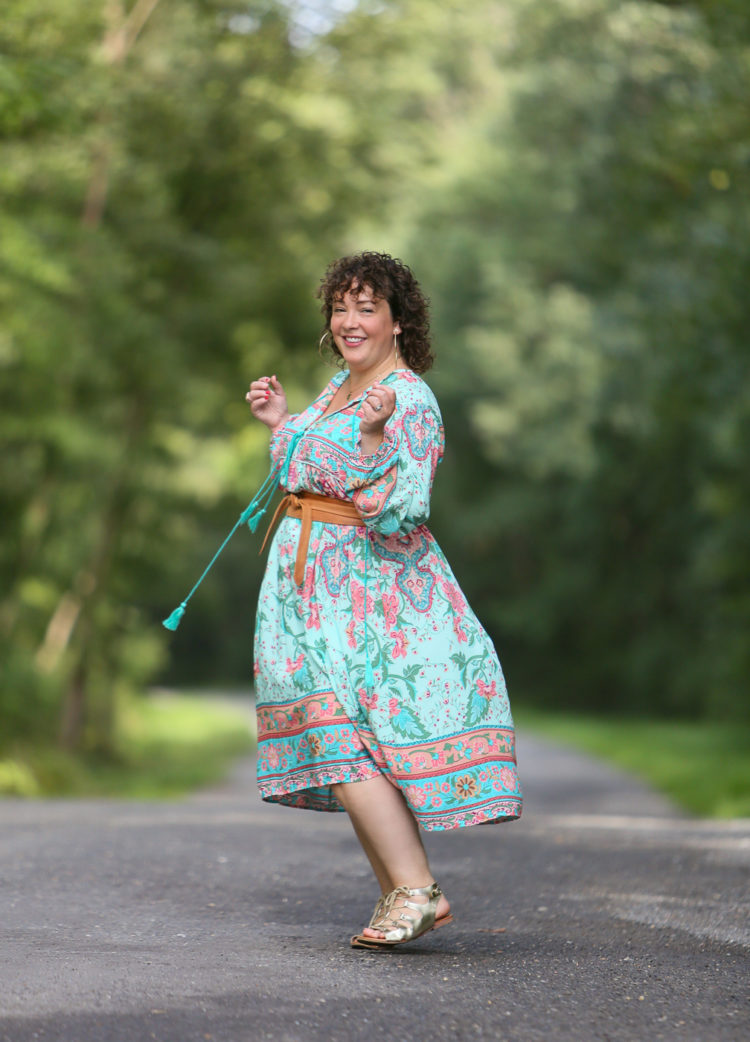 What Size to Order in the Amazon Nightgown?
The Amazon Nightgown is actually a boho dress from the Chinese brand R. Vivimos, which seems to specialize in cheap boho-inspired fashion seen on very slim headless women. Nothing is over $50 in their Amazon shop, with the majority of pieces under $20. This specific dress is just under $30 with free Prime shipping and returns. Typical of much fast fashion on Amazon, the description is confusing, lacking information, and written by someone whose primary language is not English. The size chart is also confusing and typical of many brands like this made overseas, runs extremely small. I used customer reviews to choose my size; based on information about this dress being very tight in the bust and running small, I went with an XX-Large, the largest size available. For reference, I am 5'3", wear a 36F bra, and usually choose a 14 or large in dresses. At the time I placed the order, only two colors were available in XX-Large; I chose what is described as Lightcyan.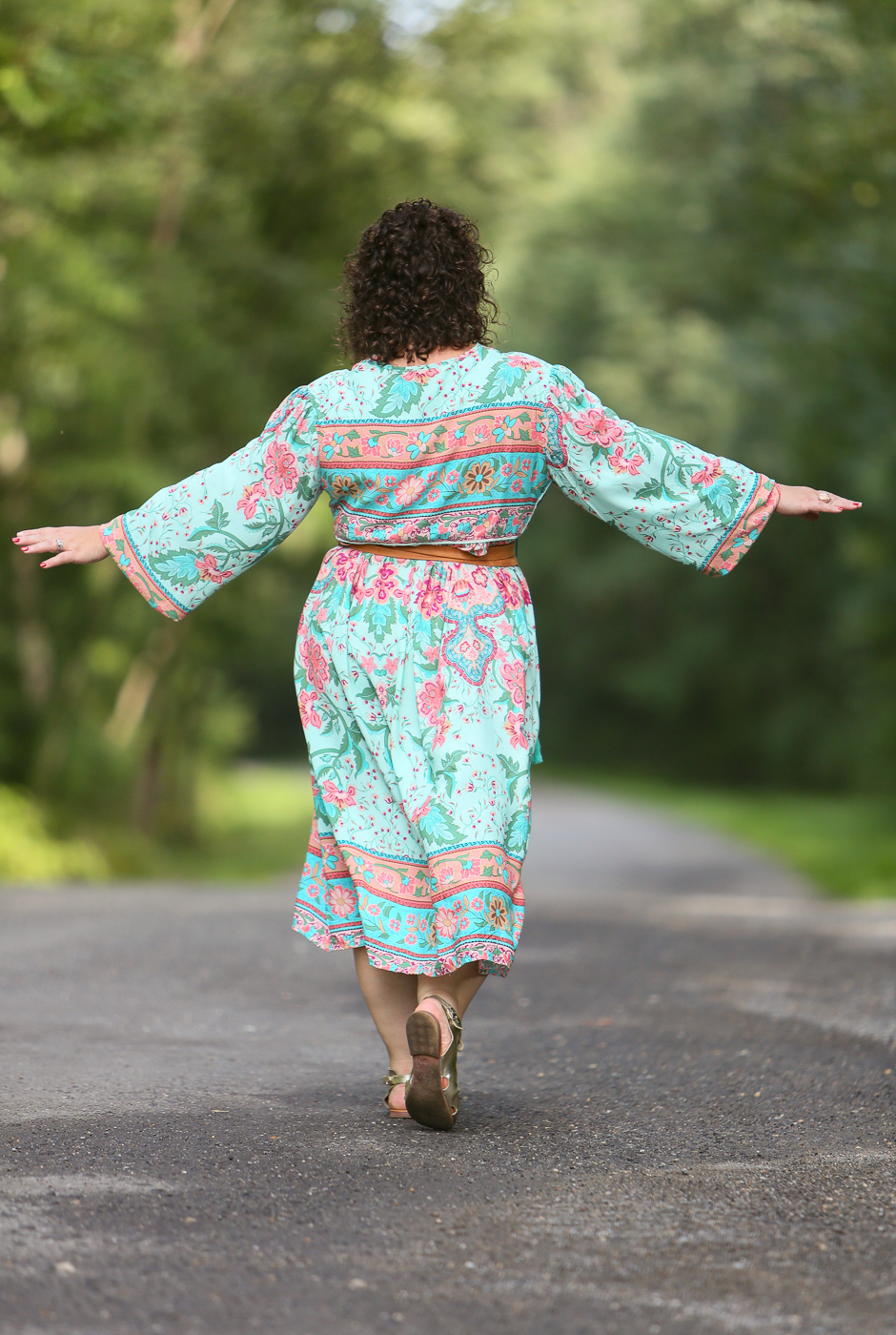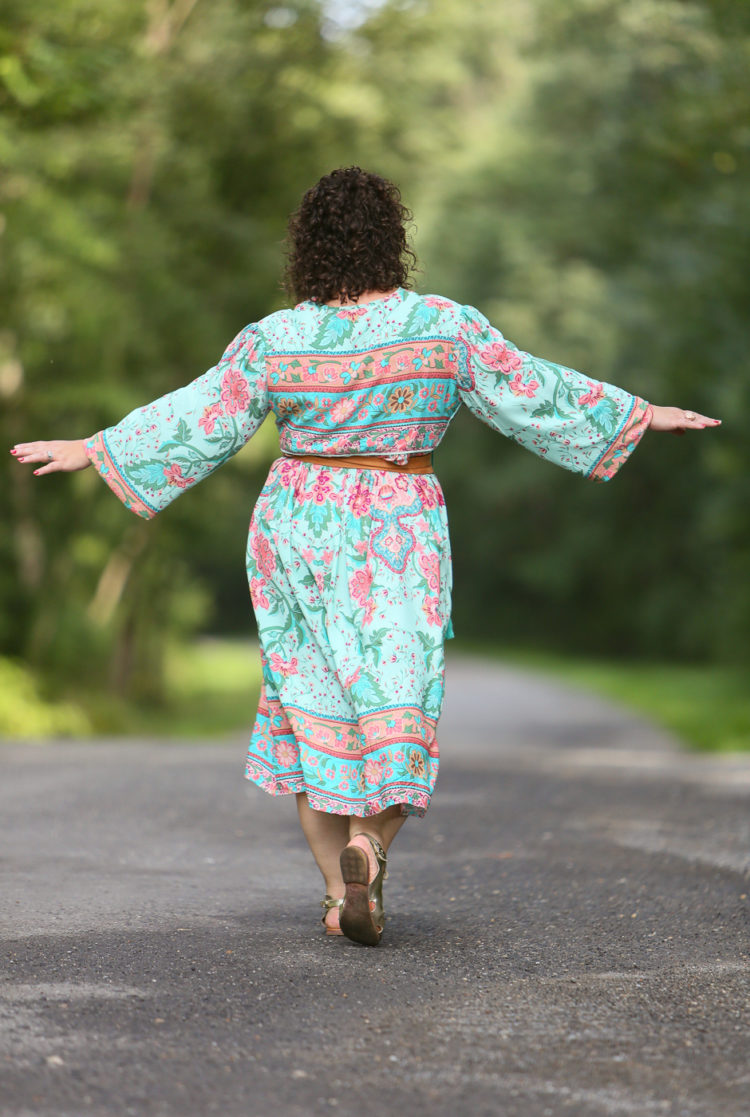 Through reviews on Amazon and comments on Grace's blog post, many say the sizing isn't consistent. Buy two sizes, return one. But be careful, not every size and color combination is eligible for free returns. I didn't do this, with my bust size I chose to risk it being too large rather than having it too tight.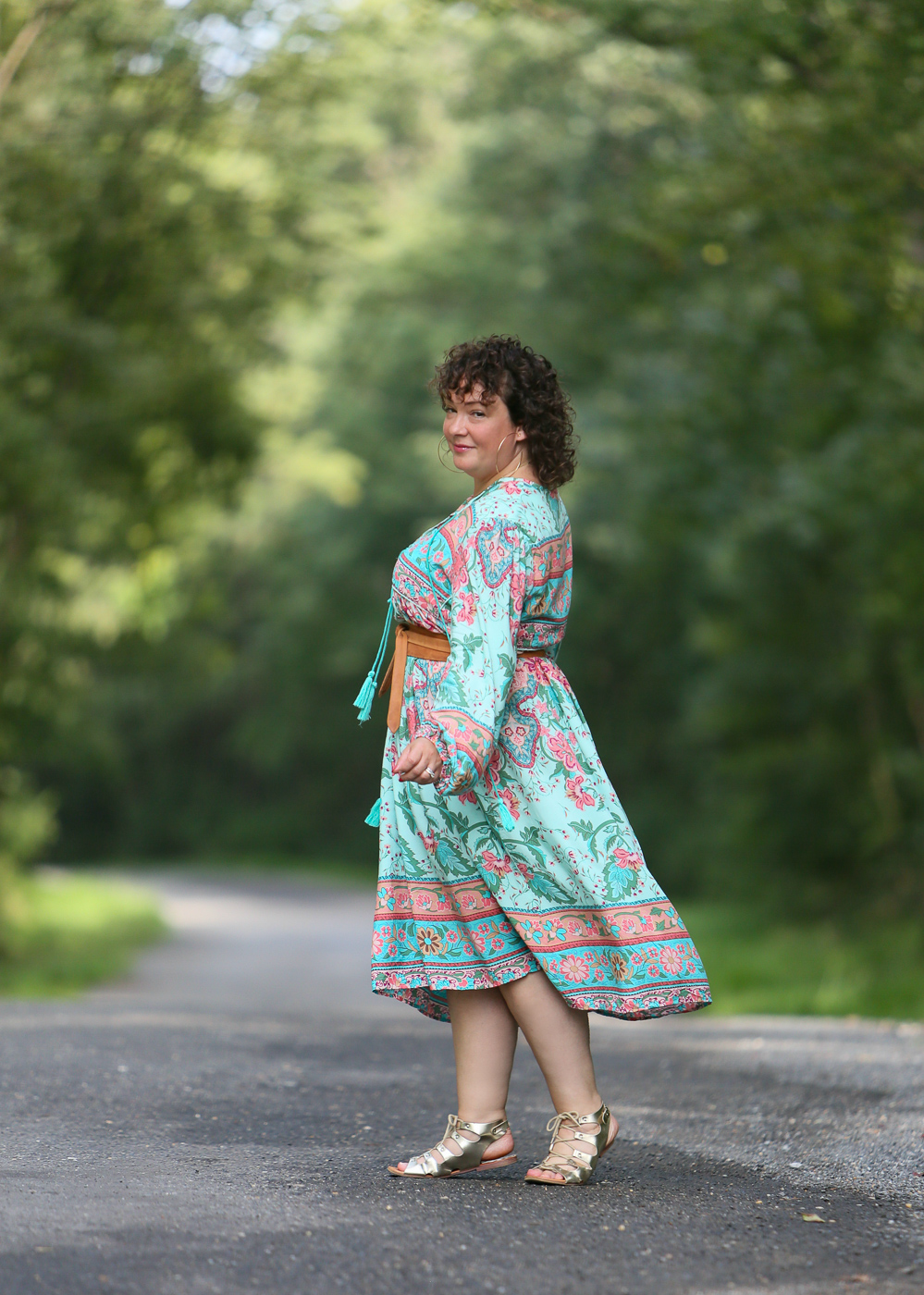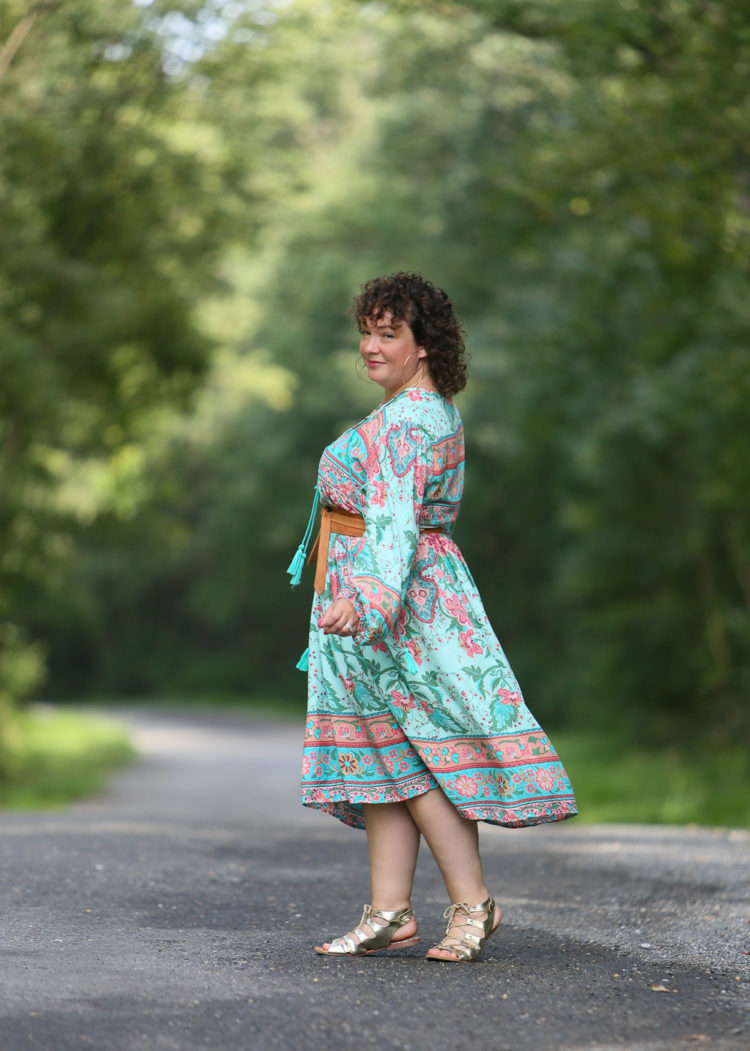 What is the Quality of the Amazon Nightgown?
The dress arrived in two days, it was packed in a heavyweight plastic bag with zipper closure. I appreciated the packaging, it was protected but quite wrinkled. The garment tag has the brand and size; from it is a hang tag that states it is made in China, and uses international washing signs to state that you should hand wash, no bleach, iron on medium, hang dry, and not use the dryer. I plan to wash on gentle and line dry, will let you know how that goes.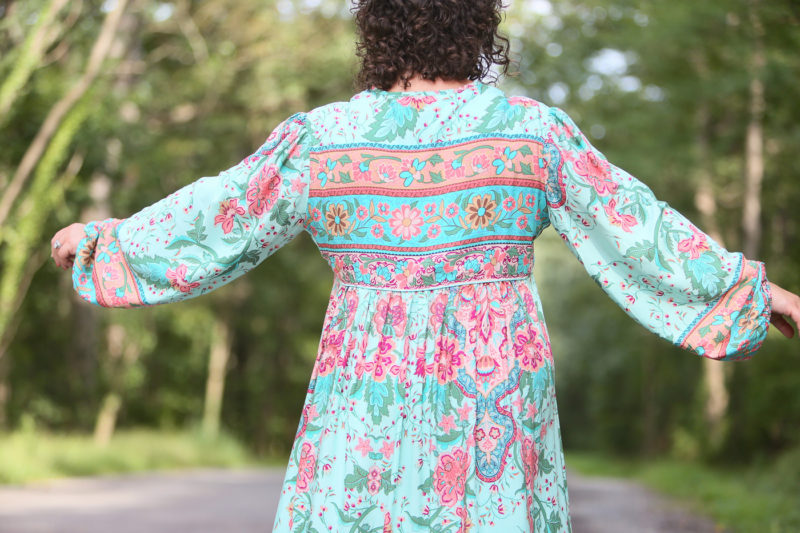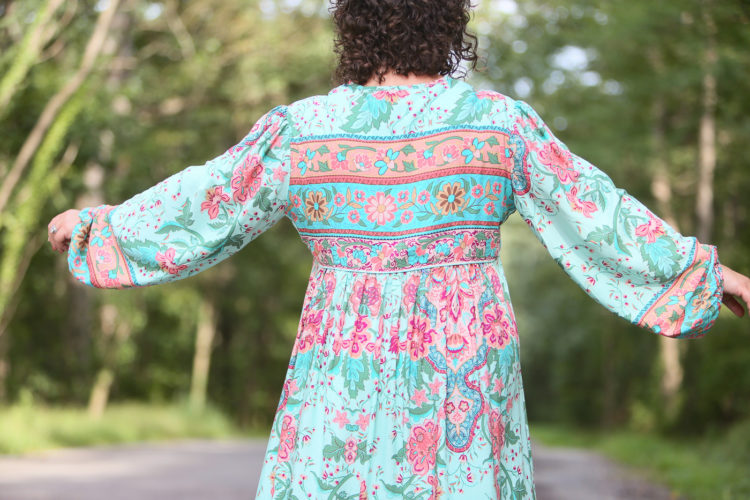 The dress description says this is "60% Cotton Blend Very Soft Material;" I think it feels and looks like rayon. However, it's not thin; some rayon can feel so thin you could poke your thumb through it. This is a bit heavier, actually a nice weight for the kind of fabric. Do not expect the print to match up at the seams, but I did find the dress relatively well crafted – no loose threads and sewn with a pale mint-colored thread which matches the primary color of the print. The only stitching issues I saw were on the hem of the skirt where it looked as though threads from the fabric or hanging around the sewing machine got caught in the stitching and left a small lump, though the stitching was perfectly even on the back. There are two ties on the front of the dress, the color pretty closely matches the jade color in the print and are secured onto the dress by both being sewn into the binding around the neckline and stitched against the edge of the dress. They are not silky ropes, but feel more like cotton (which means it won't untie at an inopportune time). At the seam separating the bust from the skirt, there is a line of Lightcyan piping; it's the same color as the ground on the floral print. There is a border at the hem of the skirt, it is part of the print and not a separate piece of fabric.
Lightcyan (essentially seafoam green with jade and pops of coral) is NOT the color I would normally choose, but I kind of love it. It sort of reminds me of this dress I used to own yet brighter. It feels more retro instead of boho, more summery, and I think will look great with gold jewelry, with white, and with tan and brown leather sandals and belts.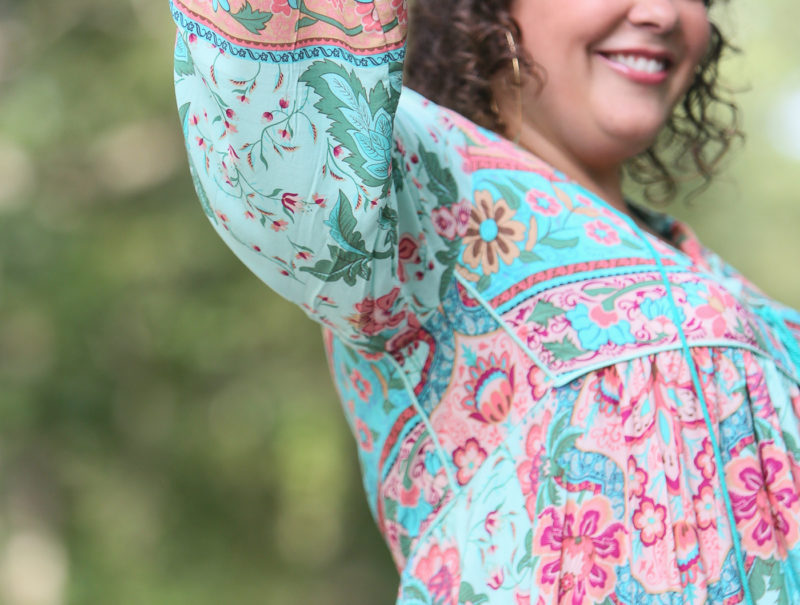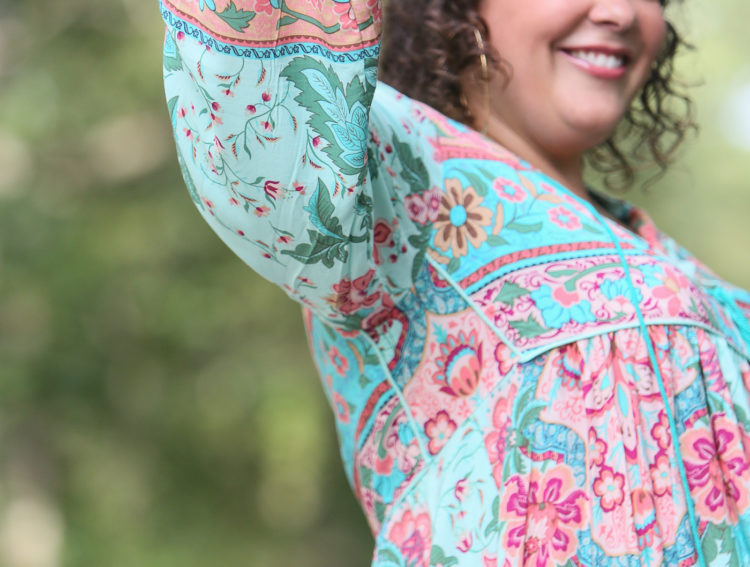 I steamed the dress with my trusty garment steamer before this shoot. It held up pretty well. This was shot in a day that was over 100 degrees and high humidity. We walked to the shoot location, and the belted photos were taken before the unbelted so you can see how it did being cinched.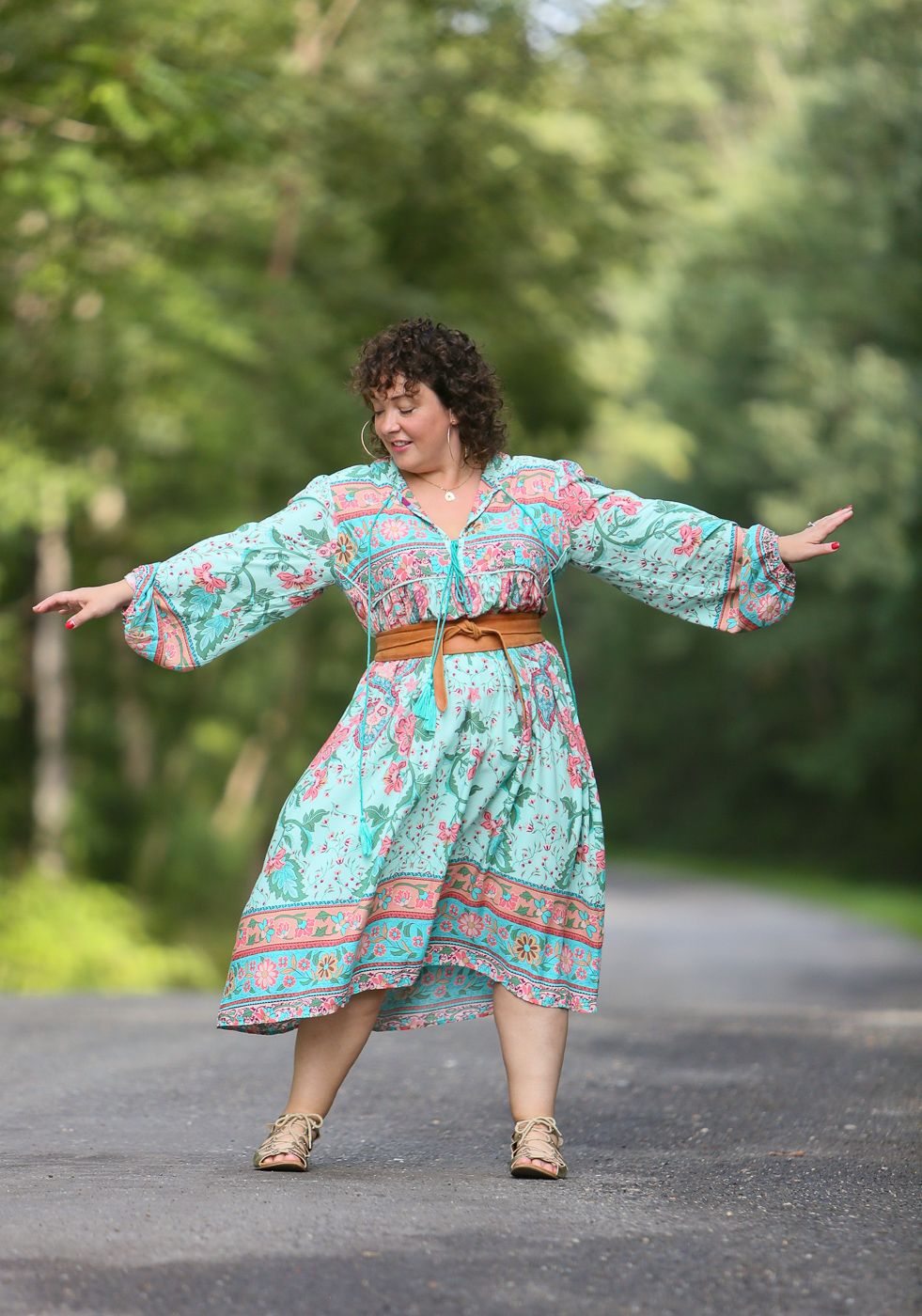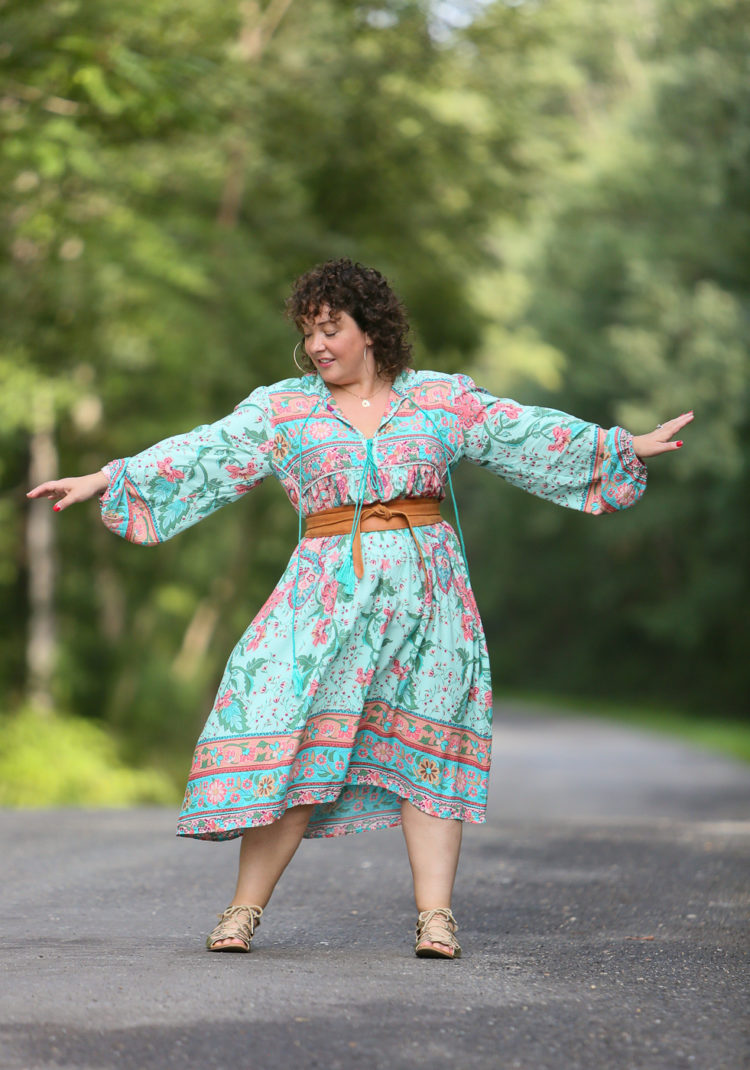 Does the Amazon Nightgown Fit a Large Bust?
The XXL is really big. I think an XL would have fit my size 14 body much better but think the bust would have been snug. And considering how low the neckline is, if it was tight in the bust I would be popping out. This fits comfortably in the bust, but is quite voluminous everywhere else with too-long sleeves. However, this makes it super comfortable, sort of in a Lily Pulitzer meets Mrs. Roper kind of way. Because of the yoke and that there is a separate panel of fabric under the arms, it's not a complete tent and has a bit of shape both in the front and back. It's all about what look you're trying to achieve and the occasion for it. Personally, I think it looks better with a belt.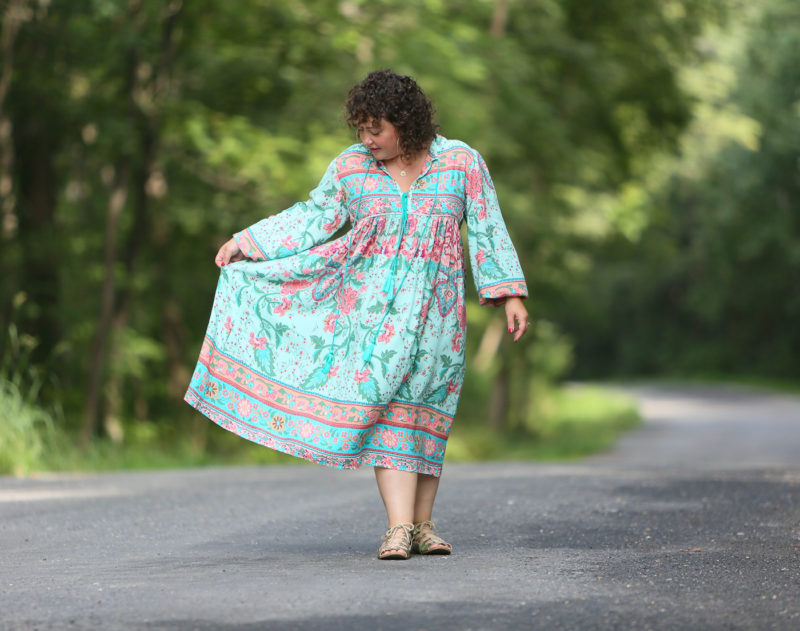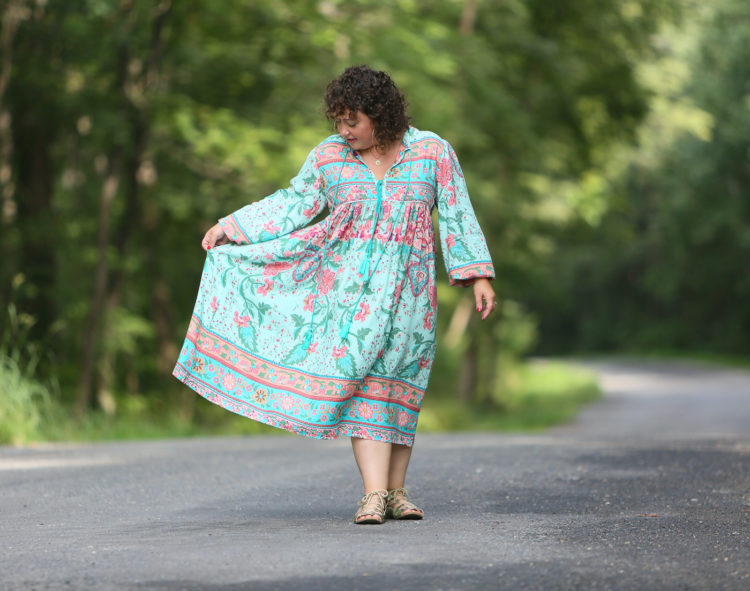 There are two ties at the neckline. When both are tied with my bust, it looks like a nightgown, whether or not it is belted. With one untied it feels more relaxed and beachy. Keeping the second tie closed keeps me from flashing my bra; if you examine my neckline you will see a bit of my bra showing, especially if you are looking down at me. This could be remedied with a camisole, but to be honest this is something that if I wasn't buying this for this review, would make me return it. This is the kind of dress that you want to be easy and breezy, and both descriptions go out the window when you need to add a second layer.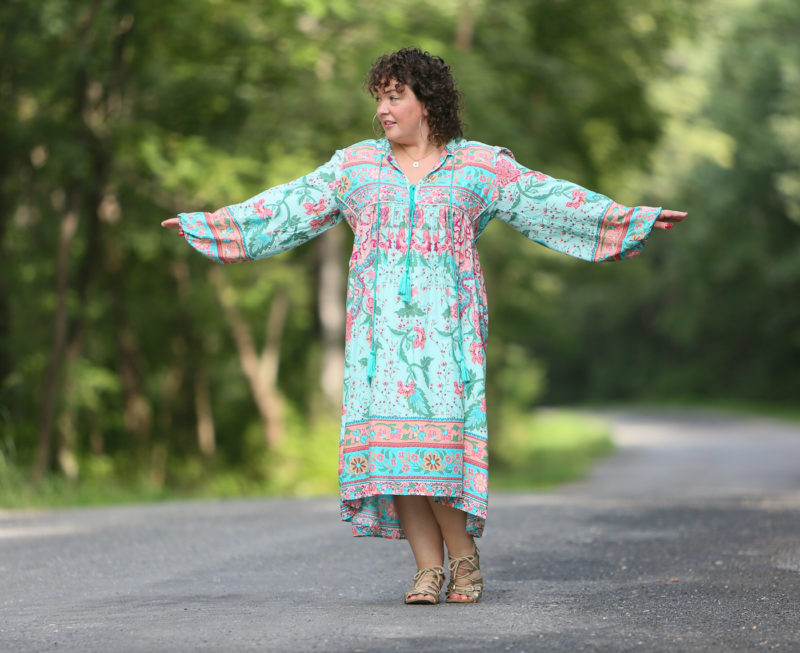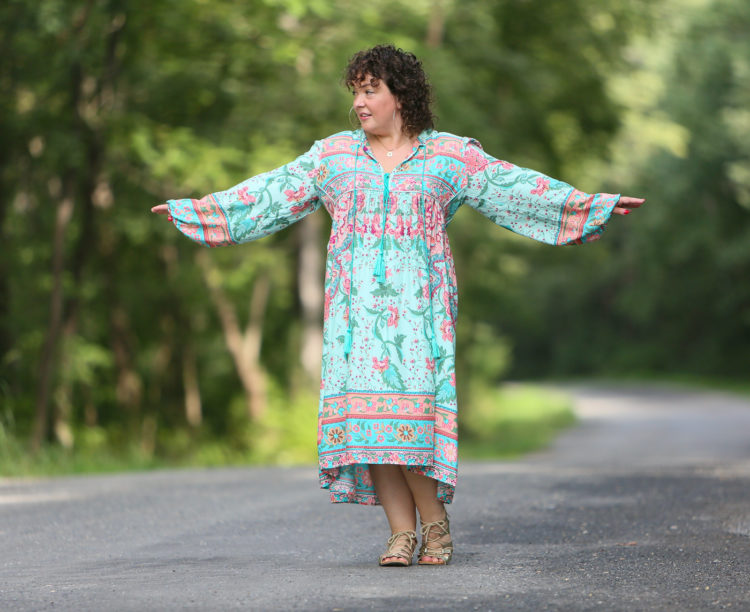 What Belt is Best for the Amazon Nightgown?
This dress is far more appropriate for streetwear when adding a belt. I tried several belts in my wardrobe; I thought a wider vintage brown leather belt with an O-Ring closure would look good but it made all the volume look messy when cinched. I tried an elastic belt, a skinny belt, a chain belt. The best looking belt is this obi belt from ADA Collection, which I've had for years (see me wear it here). It's very soft leather, wider in front and smaller in back so it gathers the fabric more gently making it look less like a cinched bag. I found my exact belt (it's the color tan, it comes in a lot of different colors) at Amazon and at Zappos; at both retailers, it is $85 with free shipping. If this seems pricey, know this belt has remained in my closet for over a decade, and when I have bought cheaper obi belts they haven't been as soft, as contoured, or as good with a tummy and soft curves. Unfortunately, this belt only comes in one size and from experience, I know it only fits up to a 16 at most. I have yet to find a worthy equivalent with such fit and quality in plus sizes; if you know of one please share in the comments.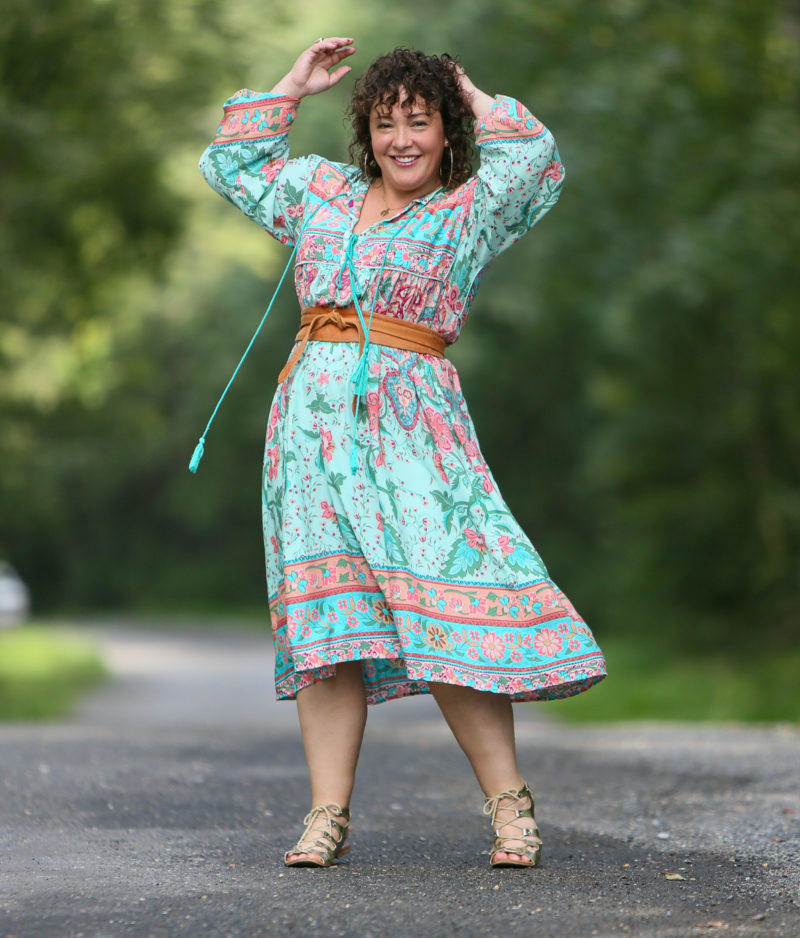 What I Don't Like About The Amazon Nightgown
I really really wish this dress had pockets. This is the kind of dress I'd throw on over my swimsuit, would wear around the house, or maybe try to Glam Mrs. Roper it with gold flat sandals and gold hoops and bangles and it would be far more versatile and wearable with pockets.
I think the washing instructions are a turn-off. I promise to update this post once I've laundered this dress to let you know if it can be simpler. If it handles the machine on gentle and line drying, I will then try the washer and dryer (taking one for the team!). I know the majority of you do not have the time or desire to hand wash and line dry a dress you plan on wearing for maxing and relaxing.
I don't like that I am a size 14 and fit the largest size available. This is one of the MANY reasons why I don't usually feature popular Made in China fast fashion looks on this site. It's terrible for many reasons, one being that it rarely is available in extended sizing.
The sleeves are bracelet length with an elasticized hem. The sleeve is comfortable when down, but if you push it up and have larger arms like I do, it may not be comfortable. I also find even when pushing the sleeves up even into my elbow, the sleeve has so much volume they're still full length on me.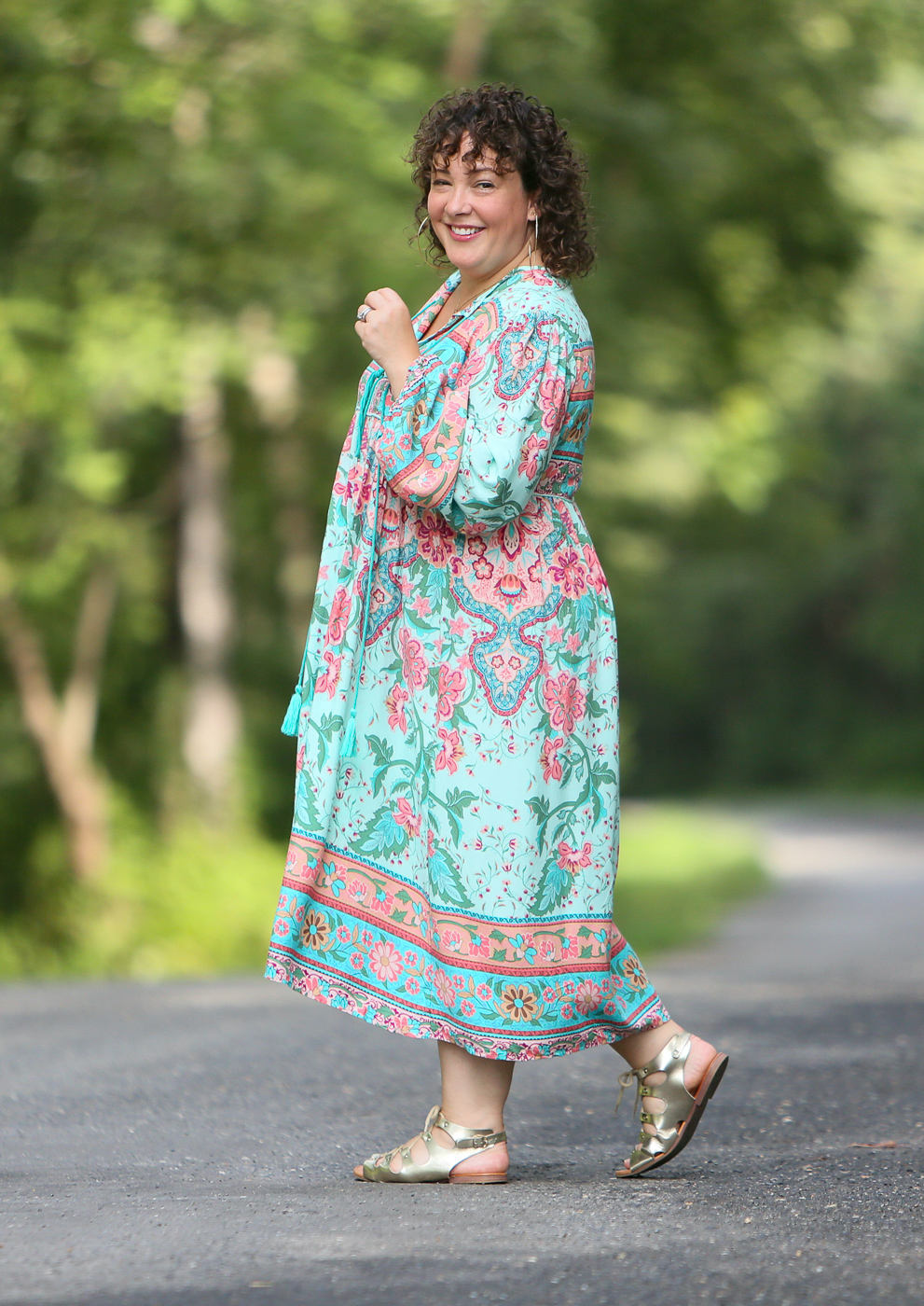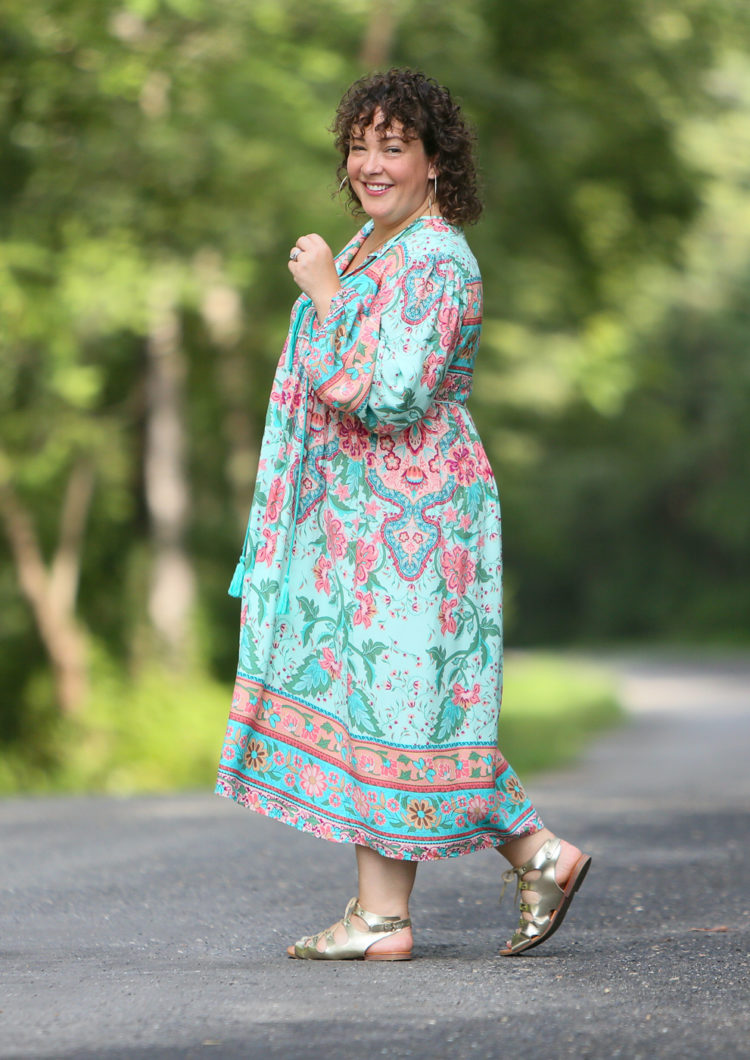 Would I Recommend the Amazon Nightgown?
If you are a 16 or 18 with a C or smaller bust, this dress may work for you. Otherwise, this dress is made for those who wear standard 0-14 sizes. If you have a DDD or larger bust, buy both one and two sizes larger and return the one that doesn't fit; if you're a C or larger you likely only need to try one size larger and then your regular size. As I mentioned above, order two sizes (that are available with free Prime returns) and keep the one that fits best. Yes, the Amazon nightgown fits a large bust, but only if you're a smaller clothing size.
I don't think it does my body any favors, I don't think it looks chic or cool or trendy, I don't see it as a piece that will work for a lot of real-life scenarios, but everyone's life is different and if this seems like a dress that would benefit your life and personal style, it's a great price and pretty good quality for what I've seen sold for ten times this price. Me personally, this dress is likely only going to be used as loungewear and as a swimsuit coverup.
Would you wear this dress? Have you seen it online and considered it? I'd love to hear your thoughts!
Shop the Post and Similar Styles: