This article may contain affiliate links; if you click on a shopping link and make a purchase I may receive a commission. As an Amazon Associate, I earn from qualifying purchases.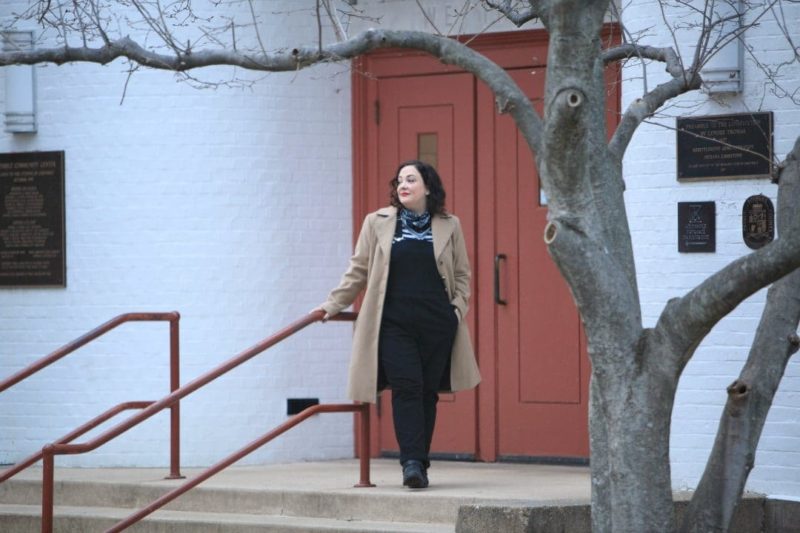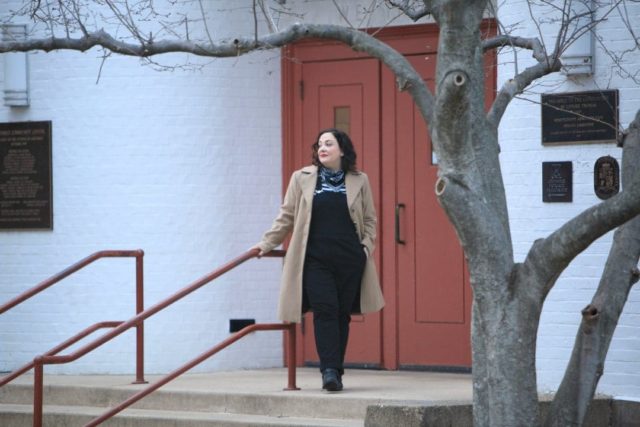 When I was in elementary school, my best friend Kelli and I had matching purple overalls. I loved those overalls and wore them all. the. time.
In college I again donned overalls with baby tees, pigtails, and a bandana and wore them to Dave Matthews Band and Blues Traveler concerts.
After college, I had a pair of plum velvet overalls from Express that I'd wear with a plum ribbed turtleneck (and plum lipstick and likely some sort of plum shimmery eyeshadow and maybe a plum Bobby pin holding back my "Rachel" haircut).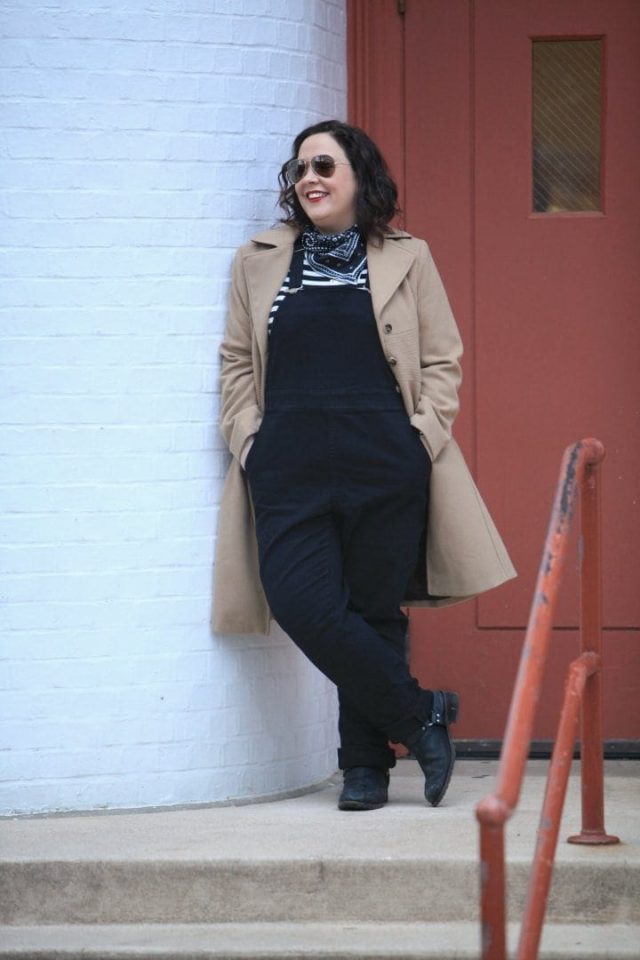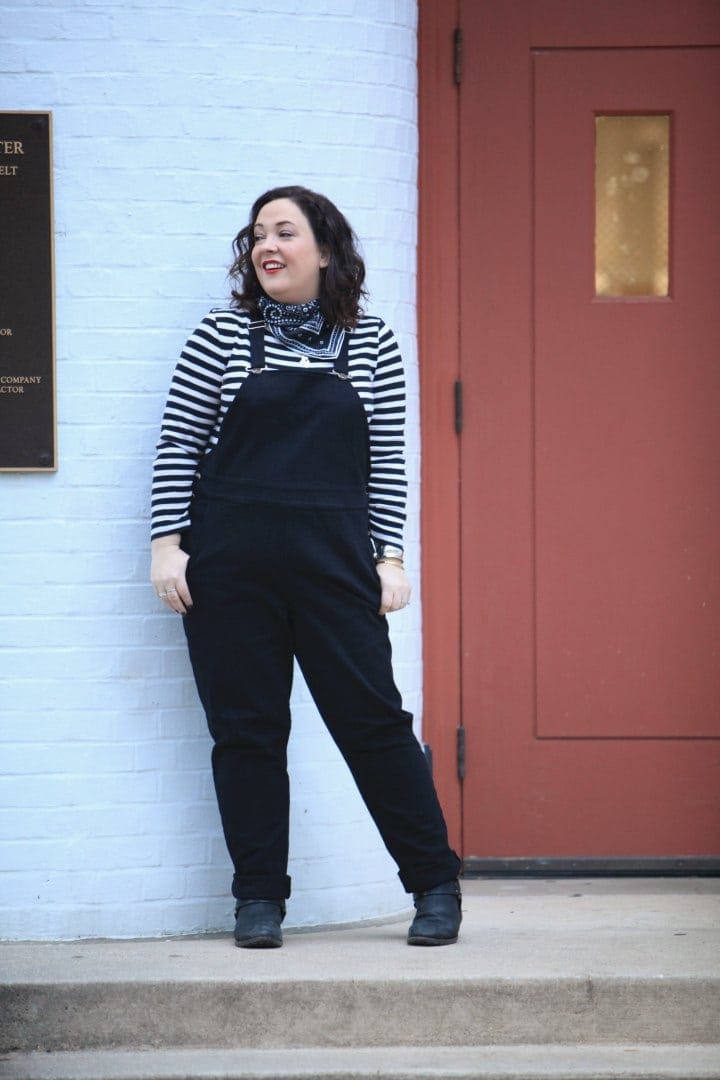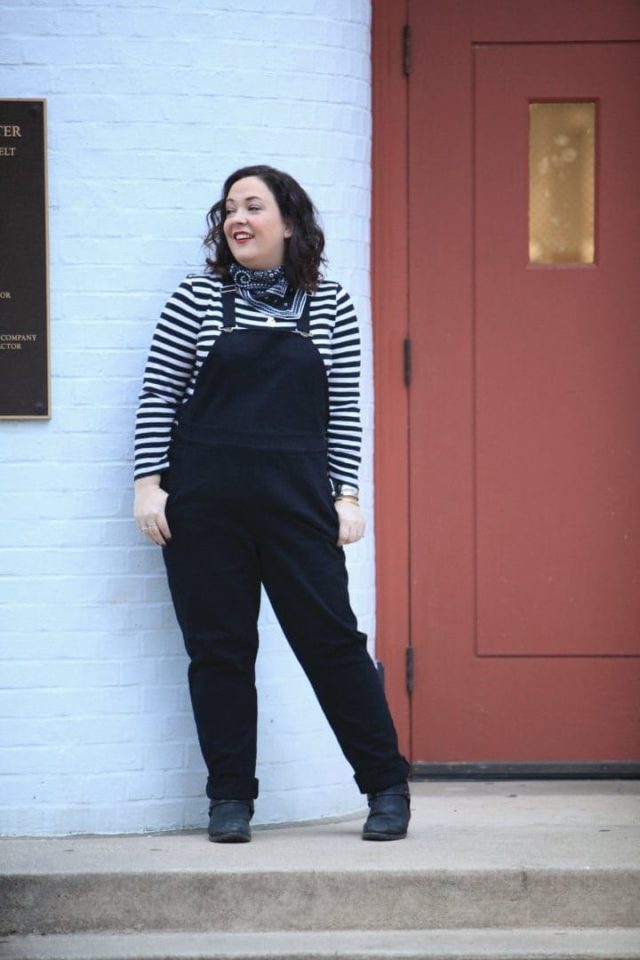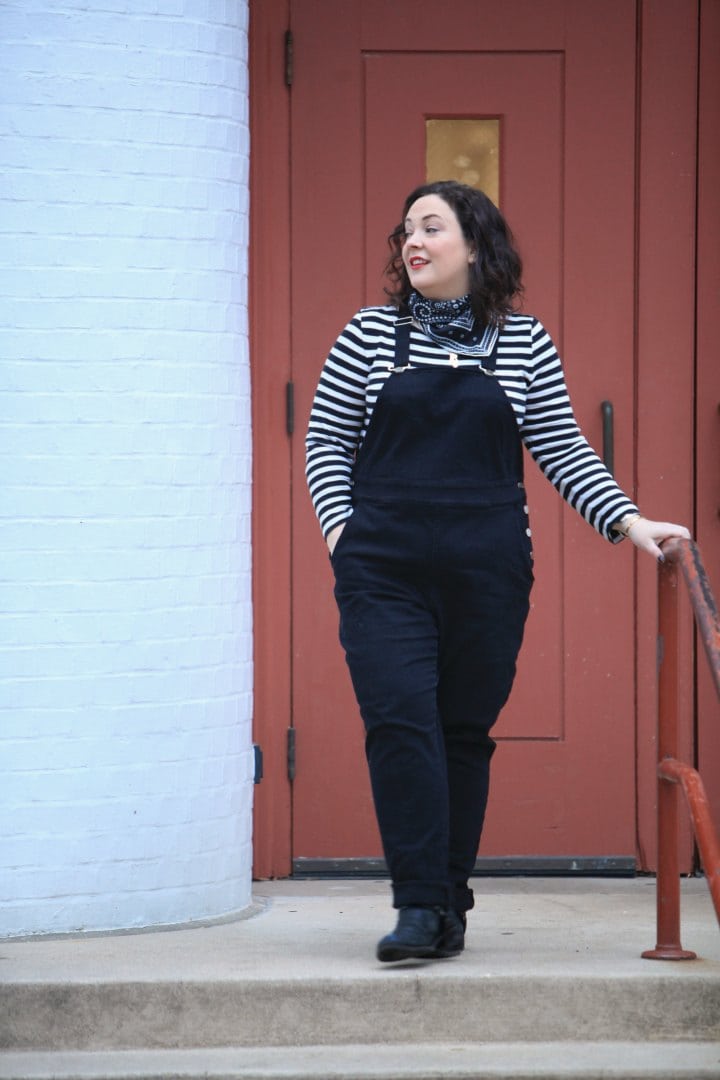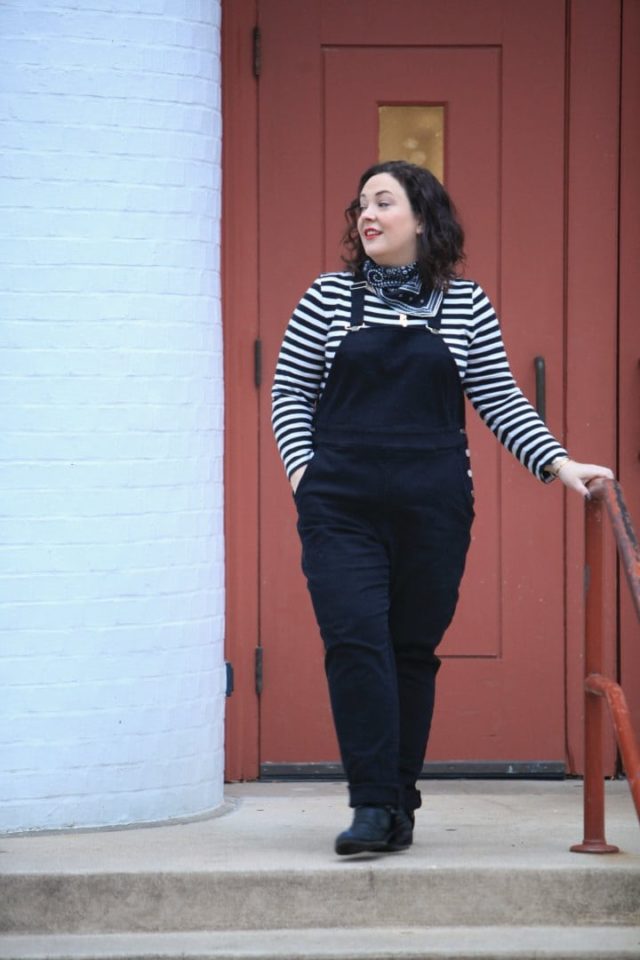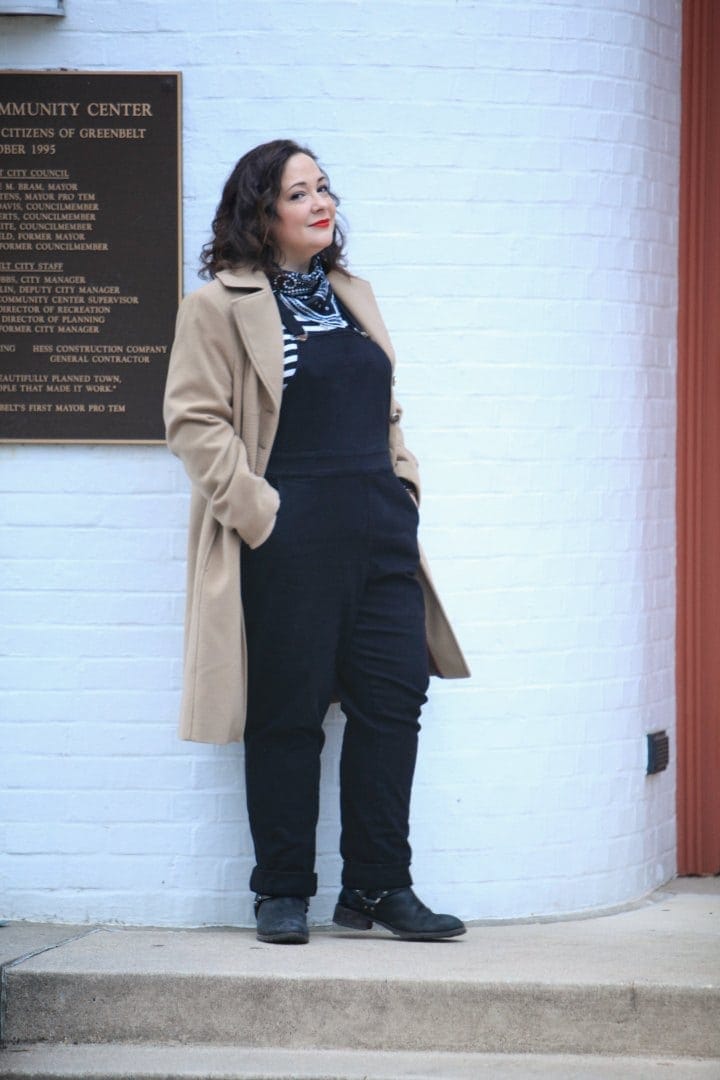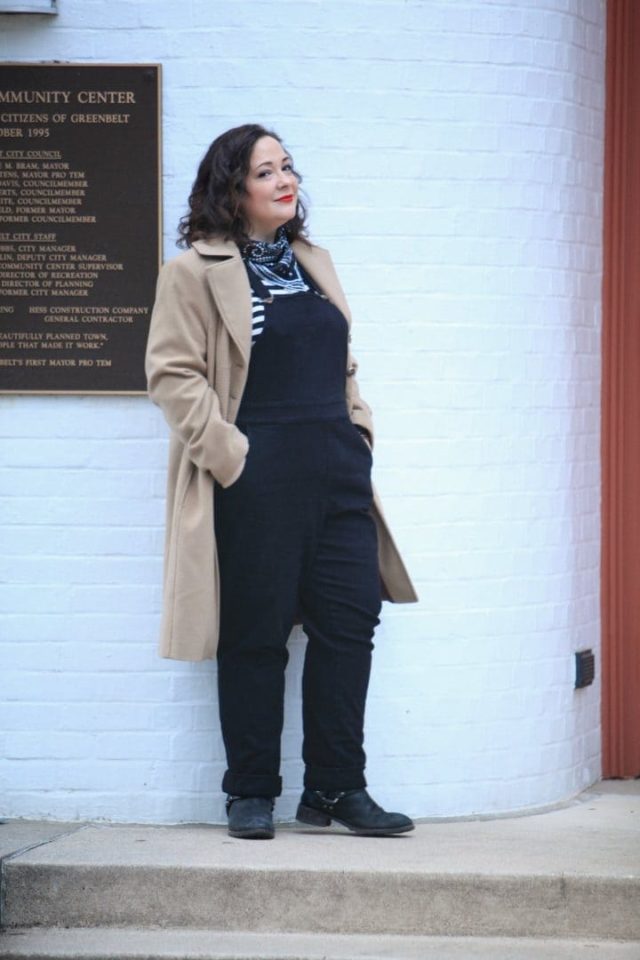 Overalls: Universal Standard (Small; purchased with gift card from company) | Tee: J. Crew (similar) | Boots: L.L.Bean (similar) | Coat: Tommy Hilfiger c/o Macy's – on sale! (0X, straight size option) | Lipstick: Lancome in Le Carmin | Bracelet: Had forever (budget-friendly option) | Silk Bandana (similar)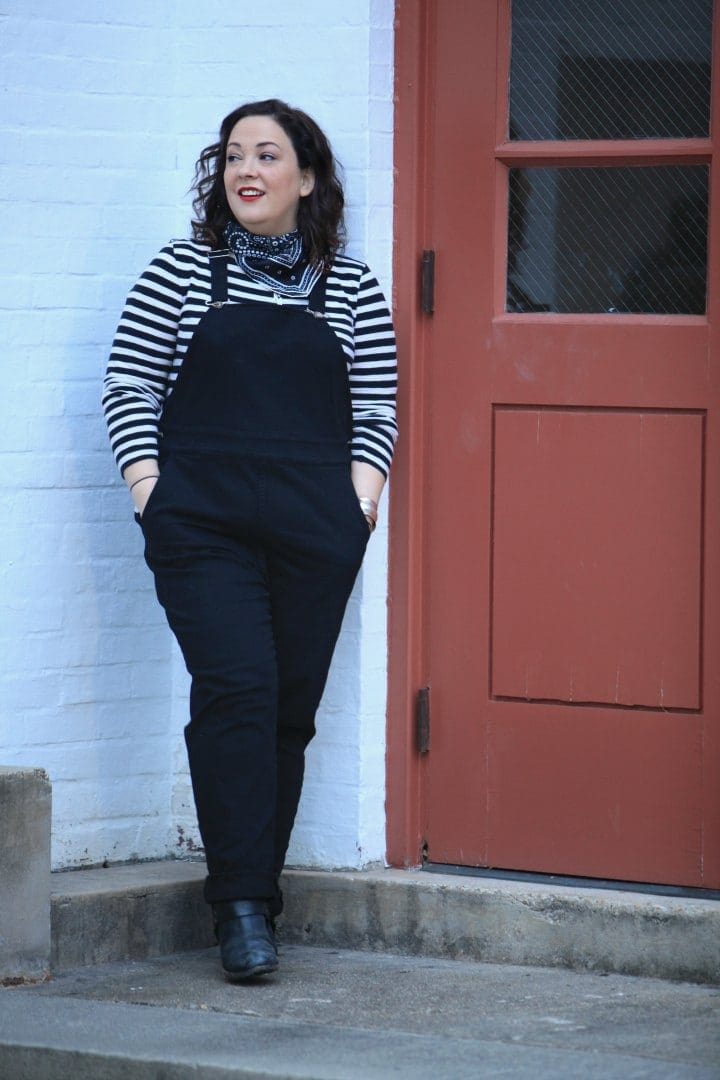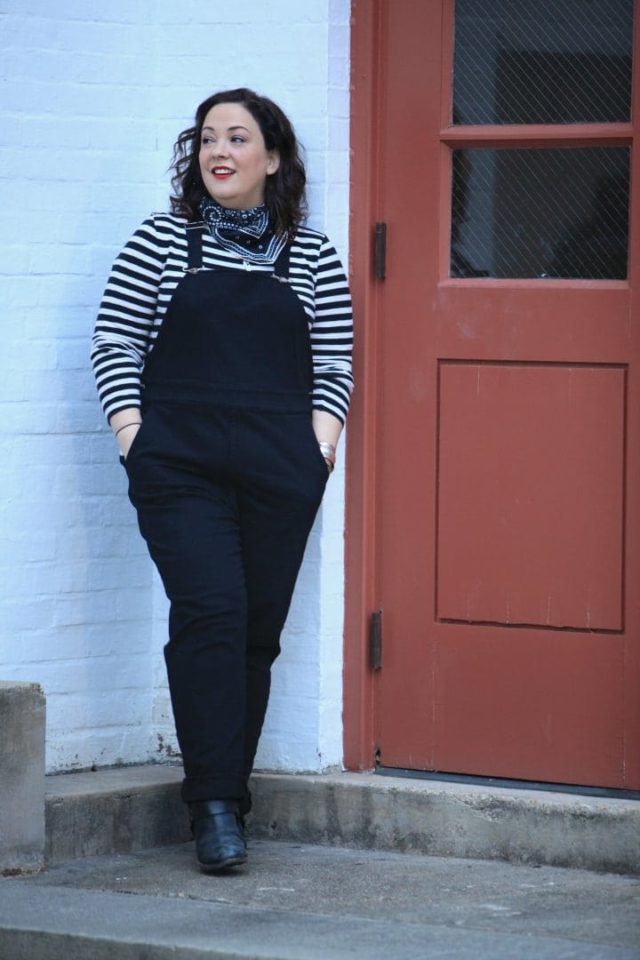 You can say, I'm an overalls kind of gal. But when overalls came back this go-round I said nope, no way, I'm too old for that trend. What do they say about not wearing the same trend when it comes back around? But then I saw these overalls from Universal Standard. And I saw them on various women with various bodies and various personal styles rocking the heck out of them on Instagram. And when Universal Standard sent me a gift card to thank me for telling you all about their DC pop-up shop, I decided to get myself a pair.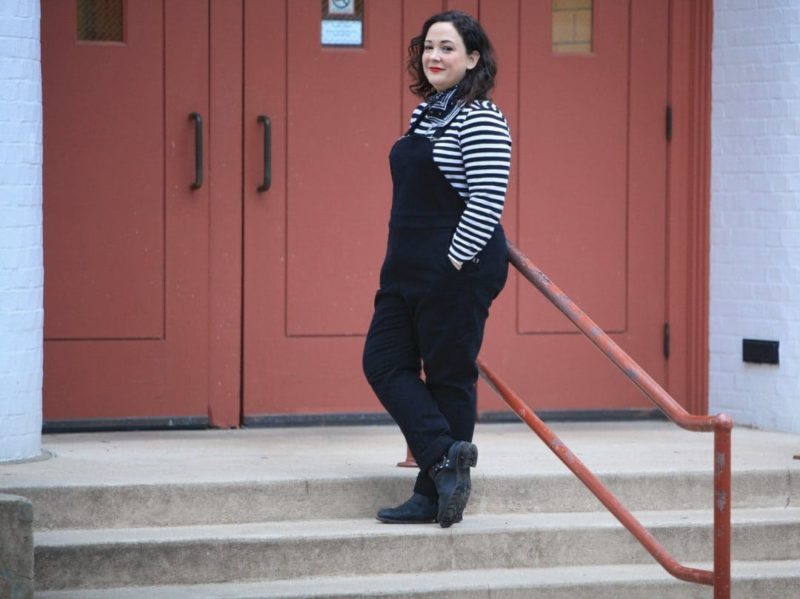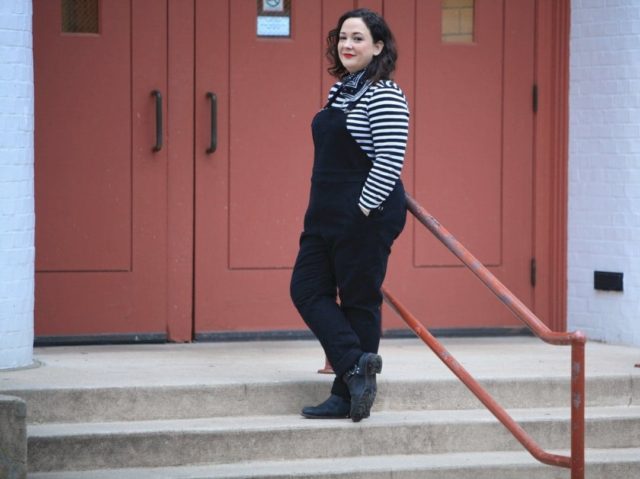 I am again an overalls kind of gal. Welcome to my new normal. I go to the gym, take Emerson to school, shower, and many days out of the week I don overalls (I also have a pair from American Rag that came in one of my Gwynnie Bee boxes and I decided to keep). When it is freezing, you may find them over a Lands' End cotton drifter sweater with a pashmina around my neck. When it's more temperate, I'm usually styling my overalls with one of my many striped tees and a bandana. Red lips, even with a bare face (okay not completely bare, there's some Cicapair, brow fill, and mascara going on) makes me feel put together. I bought these harness boots from L.L.Bean a few years ago and they're a winter favorite. I added shearling insoles to them and they sit by the door ready to slip on when I run errands or meet a friend for coffee. I'm finding my way with working from home, and right now overalls are a fun way to dress for this new job!
These photos were taken outside the Greenbelt Community Center in Greenbelt, Maryland. Greenbelt was one of three planned communities in America that were part of Roosevelt's New Deal plan. Settled in 1937, Greenbelt was created as a self-sufficient cooperative community. Portions of Greenbelt, especially the historic area where this building is located and where I live, still support cooperatives. From the nursery school to the local grocery store and even the housing community where I live, coops thrive in Greenbelt. This building was originally The Center School and it was built in 1937 with the city. Not only was it the town's school, it was also where residents gathered for dances and community events, and where the first library resided (the current library is a separate building next door). In 1991 a new elementary school was built on the other side of town. Greenbelt acquired grants and other funding to refurbish this historic building to its present status as the Greenbelt Community Center. This building houses art studios on the top floor, and the main floor has a gym, small museum, holds art installations, community groups, and the offices of the city newspaper.
SaveSave