This article may contain affiliate links; if you click on a shopping link and make a purchase I may receive a commission. As an Amazon Associate, I earn from qualifying purchases.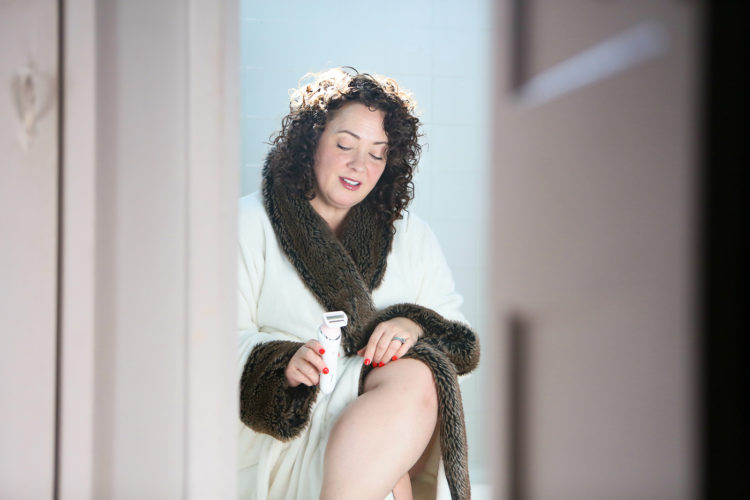 I joined my first swim team in elementary school, joined a second winter swim team in middle school, and as soon as I was old enough I became certified as a lifeguard and pool operator. My vacations are based upon the proximity to water – ocean, pool, lake, it doesn't matter as long as I can get in and swim. I'm confident in a swimsuit, and thanks to years in a swimsuit have been quite content with a standard razor. I was always the girl who didn't bother with shaving cream, could even whisk away stubble with a dry blade. However, with age, I've found my skin has become more delicate and sensitive when shaving. I've also been looking for a more environmentally friendly option for shaving. Come to find out, an electric razor is great both for sensitive and aging skin and for the environment.
This is a sponsored post for SheSpeaks/Philips.
I take after my dad in a lot of ways. We have the same eyes, some of the same mannerisms, and like he was I'm prone to bumping my head or stubbing my toe on the daily. And like my dad, I'm a hairy person. In middle school, I began bleaching my arm hair and even before that I began shaving my legs and underarms. I got really good at shaving as I needed to do it daily to prevent a five-o-clock shadow on my legs and pits. And when summer rolled around, the bikini line was included in that daily task. I could shave dry, I could shave with cold water, I've trimmed my bikini line in the back of a Toyota Camry and swiped my pits and calves in an Express fitting room. I never thought about the kind of razor I used, they all got the job done and rarely with nicks or razor burn. When I started caring about the amount of plastic I was using, I switched from completely disposable razors to the ones where I only had to replace the head.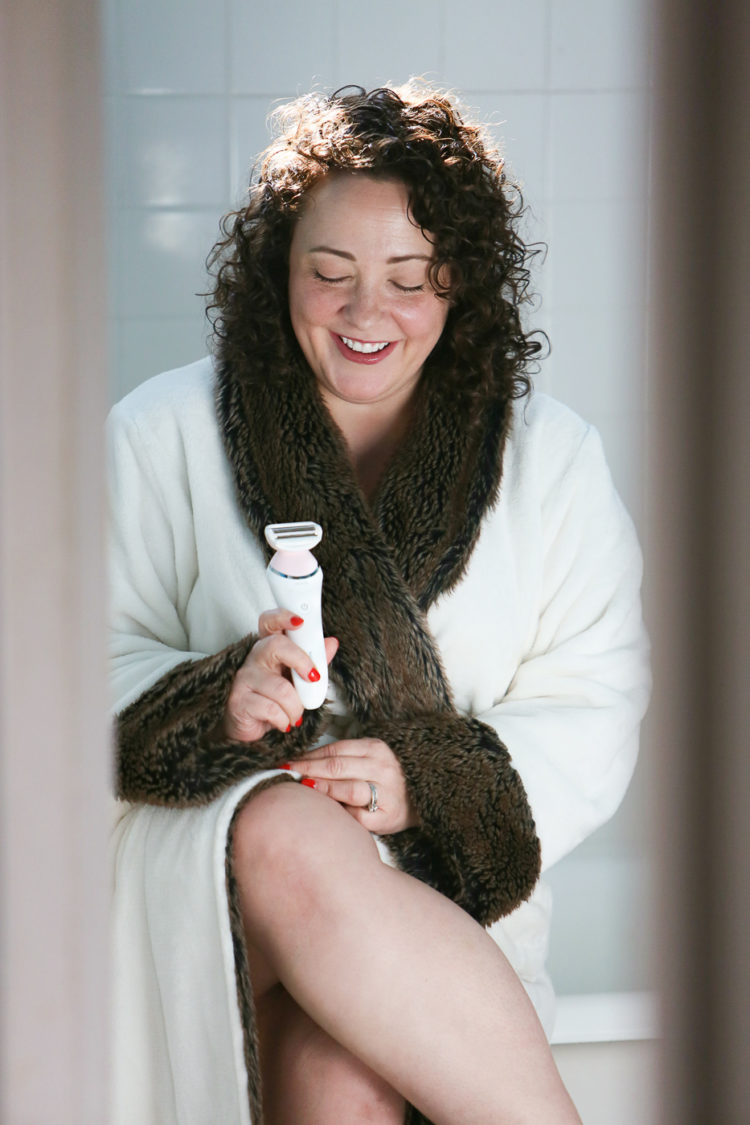 I don't know if it's due to looser skin or aging eyes, but I don't seem to get as close of a shave as I used to. I miss spots, end up with stubble in places I swore I shaved carefully, and am prone to nicks in terrible places like behind my knee or my bikini line. My husband suggested switching to an electric razor which he did last year after years using a straight blade and also finding himself starting to experience nicks and irritation. I was researching the best electric razors for sensitive skin when I was offered the opportunity to test out the Philips SatinShave Advanced Wet & Dry Women's Rechargeable Electric Shaver and share my experience with all of you.
Philips SatinShave Advanced Razor Review
I received the Philips SatinShave Advanced razor just before my trip to California and tucked it into my suitcase in place of my regular razor. I would be spending a good portion of this trip in swimwear and sleeveless tops so I needed the razor to perform. Once I arrived, I unwrapped it and plugged it in to charge. After eight hours plugged in, the rechargeable lithium-ion battery provides up to one hour of cordless use. When you plug it in, it will blink white. The light will stop blinking when it's fully charged, and then will change to an orange light when it needs to be charged again.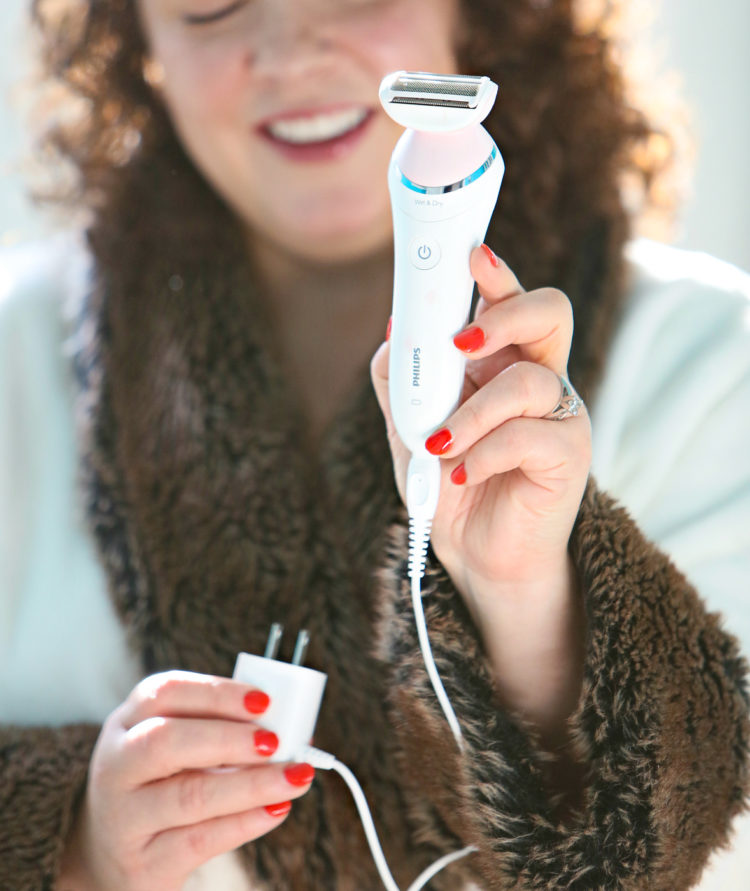 The Philips SatinShave Advanced has a floating foil. What this means is the razor will adjust to your curves and be kind to softer or more sensitive skin. Philips believes in this so thoroughly they have a 45-day money-back guarantee. Philips also offers a two-year warranty and I saw reviews online where individuals had an issue, reached out to Philips, and they replaced a part or the whole device. The foils and cutters are replaceable and available at the Philips website or you can order them by phone; they should be replaced once a year. I also saw many reviews where customers shared they found this razor to be quite durable and last longer than other electric razors. This makes me feel better about reviewing this product for you.
The Philips SatinShave Advanced comes with three attachments – an efficiency cap, soft glide cap, and a trimming comb. The three attachments will only click on in the direction they belong so no worries about snapping them on incorrectly. As someone who has never used an electric razor before, these confused the heck out of me. This is what I learned from the instructions, online reviews, and personal experience:
The efficiency cap (the white cap with the little loop at the bottom) is supposed to make hairs stand upright white shaving so they're easier to remove. I didn't find much difference using or not using this cap, but from what I've read online it does help especially with coarse hair.
The soft glide cap (the cap with the wider textured sides) is to protect your skin when shaving inward, curved areas such as underarms. This cap I did find useful especially when getting used to an electric razor. If you're not familiar with the weight in your hand and the amount of pressure, this easy to snap on and off cap does help you get a close, even, and non-nick shave.
The trimming comb (the clear pink gadget in the photos) will trim hairs to a length of 1/8 inch. This works quite well though I found, as the instructions state, to use it in different directions to ensure all the hairs end up the same length.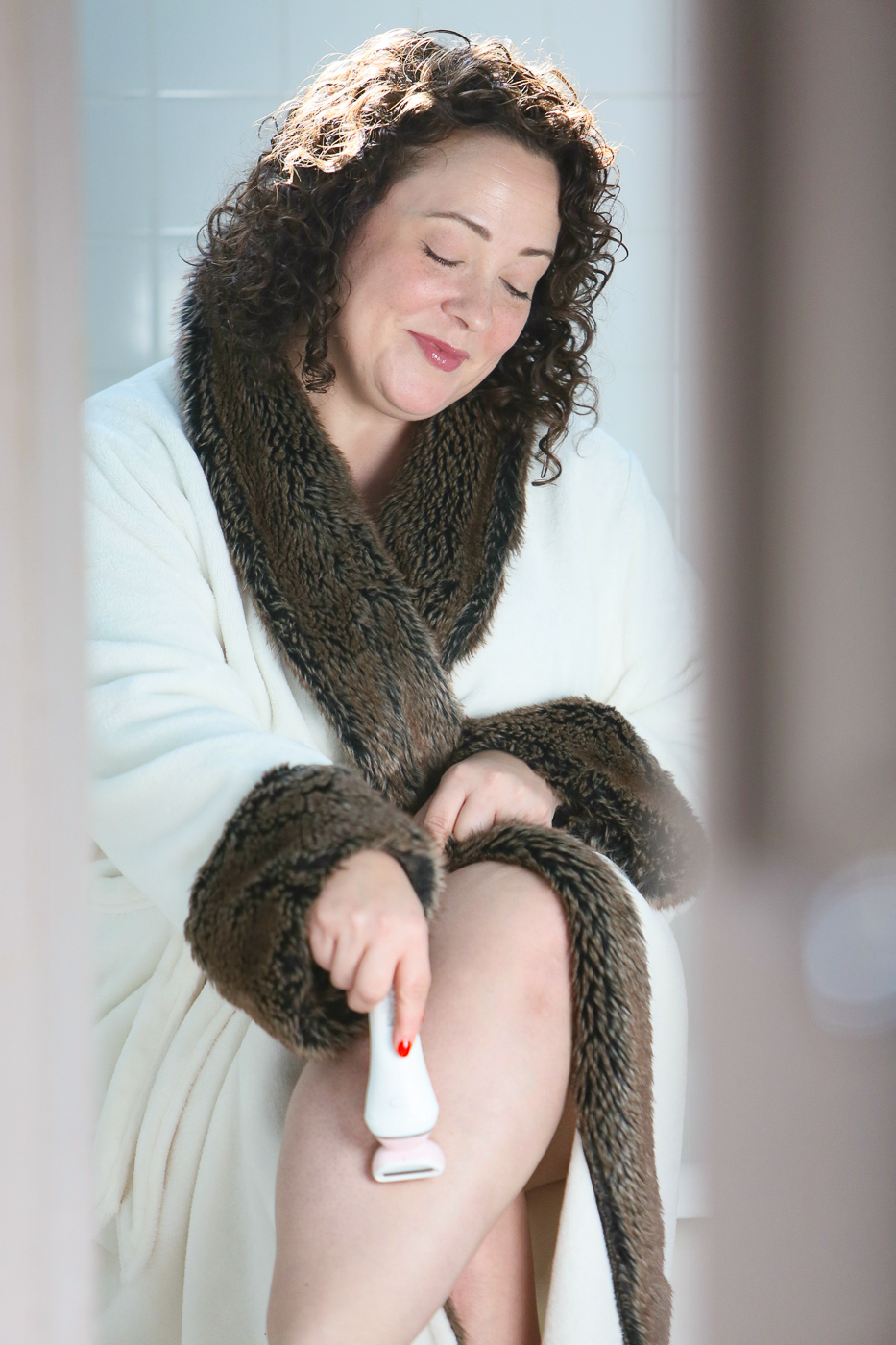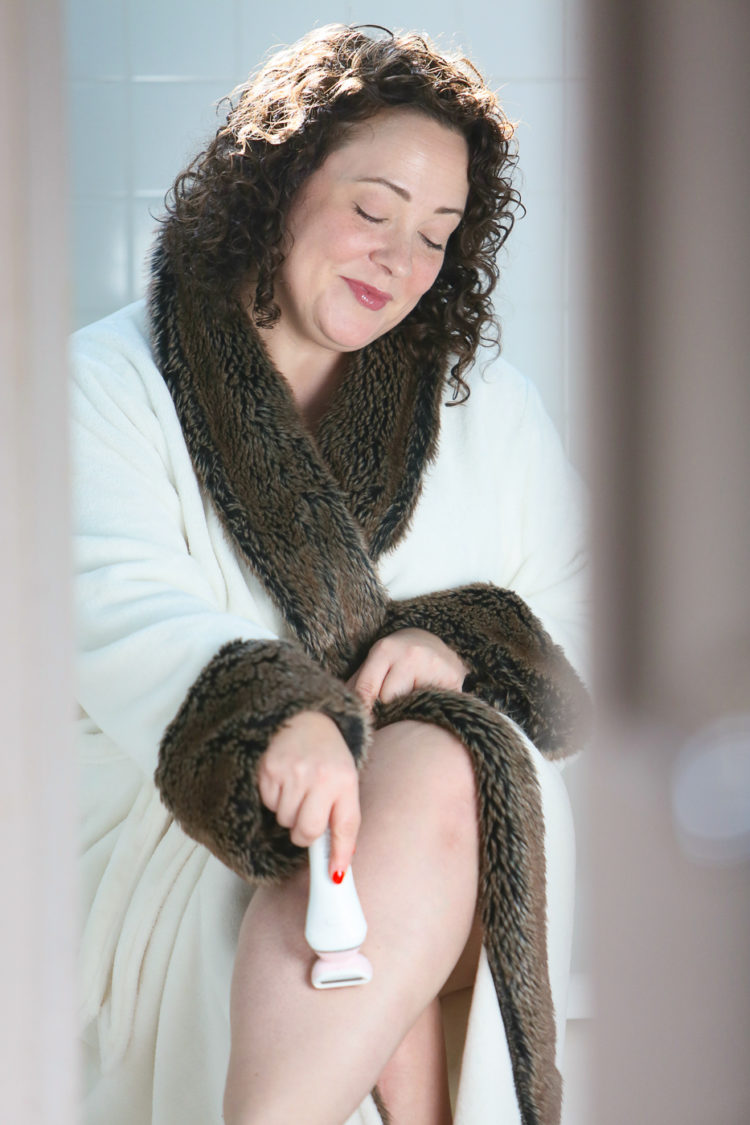 The razor works well on dry skin, and can also be used in the shower. As a newbie to it, I preferred starting on dry skin so I could better gauge what places I actually shaved and could see how pressure and angle of the razor provided a closer shave. If you're new to electric razors, I recommend starting on dry skin in a well-lit spot so you can get comfortable with the appliance. Once I became familiar with how the Philips SatinShave Advanced worked, I used it in the shower. I was impressed by how I didn't need a shaving cream or oil to get a close and comfortable shave. I love how it can be used wet or dry; if I need to shave but not do a whole shower I can save water. It also makes it easy to do a quick clean-up before heading to the pool or beach, or when you're switching after work from pants to a dress.
To keep your Philips SatinShave Advanced razor sharp and effective for as long as possible, it's important to clean it after use. It's easy to press the release button and remove the shaving head and pull out the cutting unit. The razor comes with a cleaning brush plus all pieces can be rinsed with tap water. Philips recommend you lubricate the shaving head every six weeks or so by spreading a drop of mineral oil over the foil and trimmers. I haven't yet done that so I don't have any tips; once I try it I will update.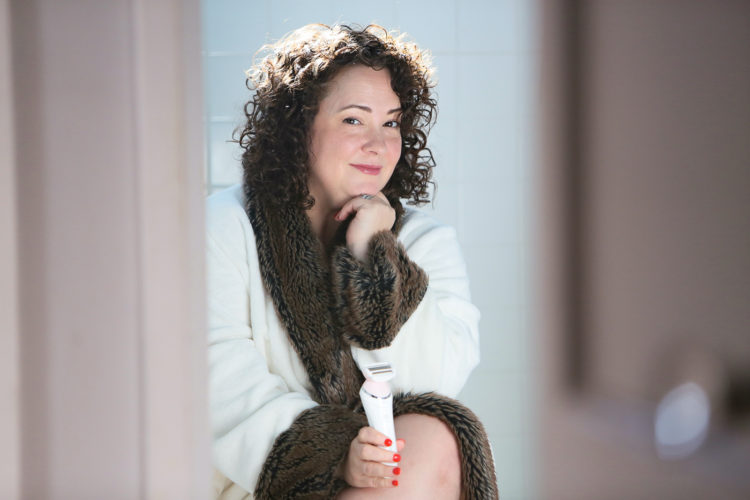 I am pleased with the Philips SatinShave Advanced and am glad to have had this opportunity to review it. I don't plan to purchase any more disposable razor heads as this is a great replacement for home and for travel, giving me a close and comfortable shave even with my aging eyes!
If you're interested, you can click here to purchase Philips SatinShave Advanced at Amazon, and take 10% off with the promo code SATINSHAVE at checkout.