This article may contain affiliate links; if you click on a shopping link and make a purchase I may receive a commission. As an Amazon Associate, I earn from qualifying purchases.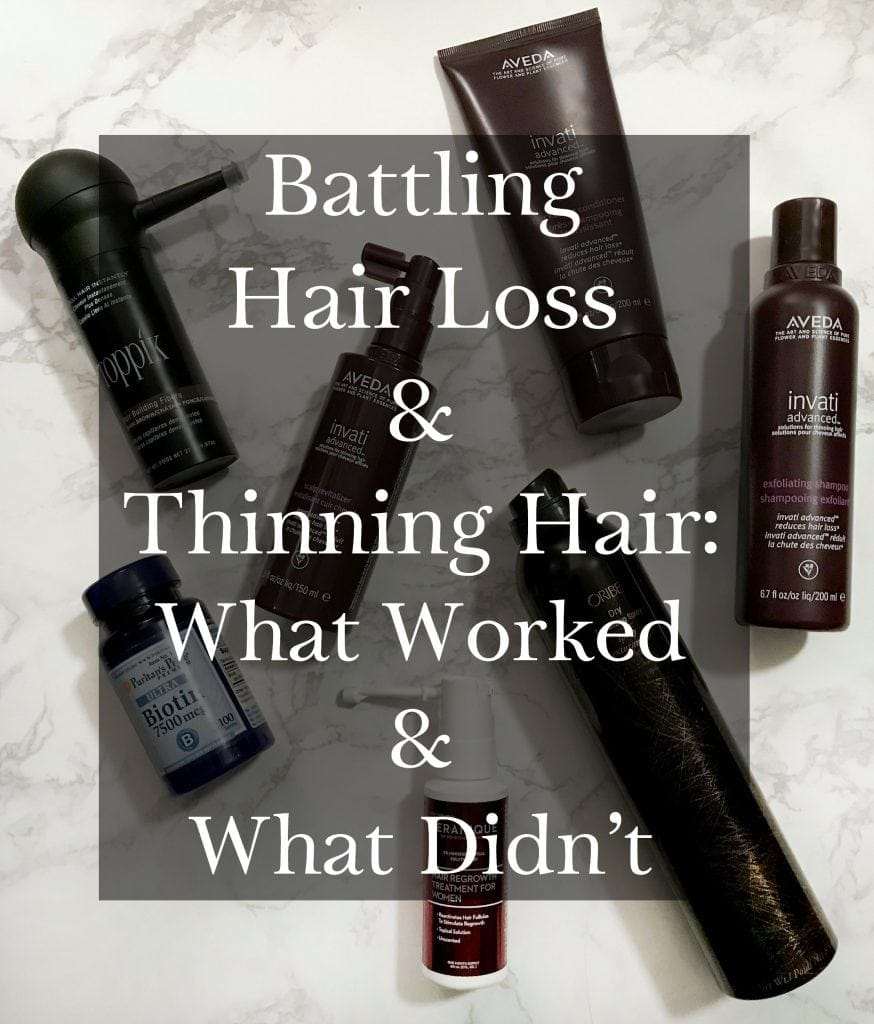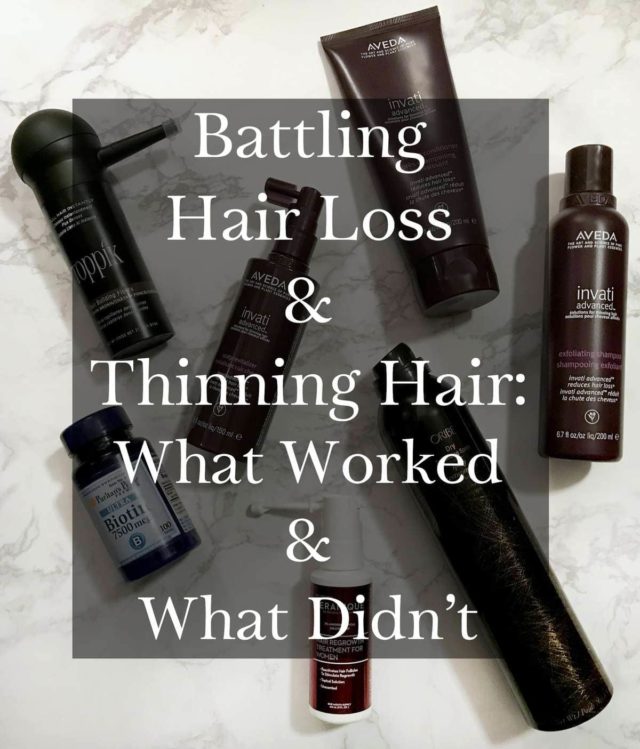 Since I wrote my post last year about dealing with hair loss when over 40, many of you have asked me to write a follow-up with what I am using now. I just re-read that post from April 2017 and my routine has changed and I have tried many products since. A recap of what I have tried and whether they worked or didn't.
Biotin
I mentioned biotin in the previous post, and my hair stylist who is the ultimate silver fox with glorious hair cascading down his back is also a biotin believer. However, since writing that post I learned from my stylist that while some biotin is amazing for hair, too much can cause more hair loss. I was taking the Nature's Bounty vitamins, separate biotin, and sometimes two. I switched to never more than one 7,500 mcg biotin pill a day and started taking the Nature's Bounty vitamins every other day. Within two weeks my hair seemed to either be growing back or falling out less. If you're taking biotin and dealing with a lot of shedding, consider reducing the amount. Biotin can also cause cystic acne; if you're taking it and have started seeing breakouts you may wish to reduce or stop using it.
TOPPIK Hair Fibers
When I wrote my first post some of you recommended TOPPIK hair fibers. I found them on Amazon, put them in my online shopping cart, and decided I'd buy them in January when I do my birthday beauty haul for the year. Then I had the opportunity to test the product and received free the hair fibers, applicator, and comb.
This stuff is so great I will be buying it again when this can of fibers runs out. It's like a powder, but has fibers in it that attach to your hair and scalp. A shake (or puff from the applicator) wiggles in between hairs to hide your scalp, make the hair appear thicker near the head, and even cover roots. Sure, if you scratch your head you may end up with powder the color of your TOPPIK under your nails, but this stuff doesn't drip, doesn't get on your hand when you run your fingers through your hair, and it doesn't make your hair greasy, gummy, or sticky. You can read more about my thoughts on TOPPIK in this blog post.
Aveda Invati
Aveda was kind enough to send me their Invati Exfoliating Shampoo, Thickening Conditioner, and Scalp Revitalizer. This line says it takes 12 weeks of regular use to see results. I planned to go 12 weeks but stopped after three. With the results I was getting, three weeks was as long as I could go, and I was glad I didn't have a day job to go to.
The shampoo and conditioner (not sure if both or one, I used them the same amount, never one without the other) made my scalp greasy before the end of the day, my ends dry, and ate away my haircolor. I kept trying thinking my hair needed to get used to it, but it only got worse. There's no instructions on the actual bottles, but online it says to massage the conditioner into the scalp. If you do that, you'll have greasy roots as soon as you dry your hair and the Aveda smell is so intense it ends up smelling medicinal. I started just having it from tops of ears down and it helped but I was still a greasy/fried and dry combination.
The Invati Scalp Revitalizer is a pump with a nozzle that directs the spray right to your scalp. You are to apply 16 sprays all over the scalp daily. If I did it on damp hair and used product and a blow dryer after, it wasn't an issue. When I let my hair airdry, this product made my roots look… like they had product on them like mousse or gel. Sort of a wet look. They also felt as though there was some sort of product on them.
I am a huge Aveda fan and wished for this line to be great. Do note their trials showed the products work to prevent hair loss from BREAKAGE, not age/stress/hormones/yadda yadda. So even if I did it for 12 weeks I don't know if I would have been a fan because it's not breakage that's causing my thinning hair.
Keranique
Keranique was recommended by a couple of you and had positive reviews on Sephora so I decided to take a chance. All I ordered was the one-month supply of Hair Regrowth Treatment for Women. This product contains 2% Minoxidil, the only FDA-approved treatment for women's hair loss. Like the Invanti Scalp Revitalizer, this is a bottle with a long skinny nozzle to target the scalp. Six sprays twice a day for the rest of your life (seriously, they say if you stop using it your hair will fall out again).
I did not like this product. I used for only two weeks (not at the same time as Invanti) because this not only made my roots greasy and feel like they were coated with product, it also made my scalp burn and caused some bumps/acne on my scalp and anywhere it dripped (it's a super drippy formula). From what I read, this isn't an unusual side effect from Minoxidil, especially if you have sensitive skin.
Wigs and Extensions
I've tried both, I don't like them. I find clip-in extensions heavy and when your hair is thin, it's easy for them to be visible if you're not super deft at putting them in. I had a set, and ended up getting rid of them because if I didn't spray my normal hair into a helmet, the tops of the extensions would eventually peek out. Also, extensions don't help if the thinness is on the top of your head. Wigs aren't my jam, though I have close friends and family who wear them and look awesome.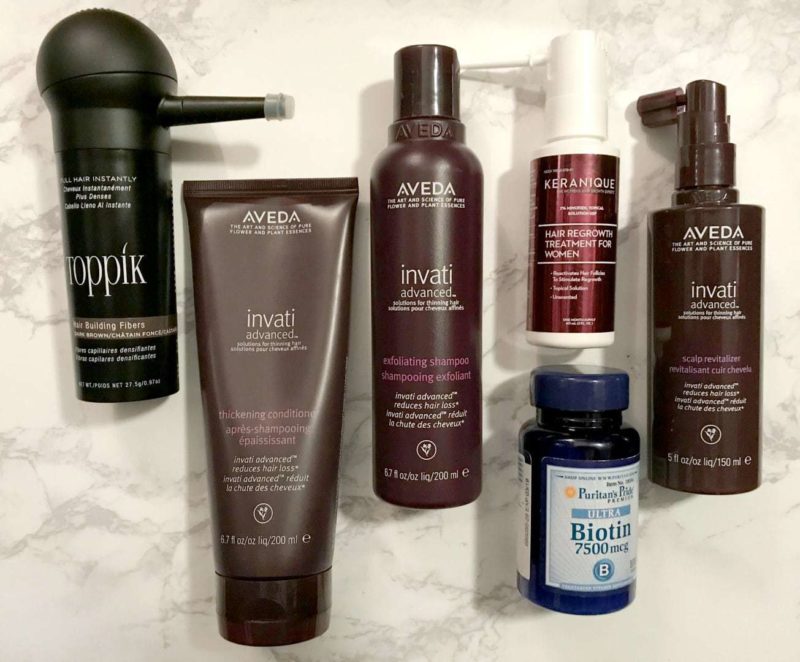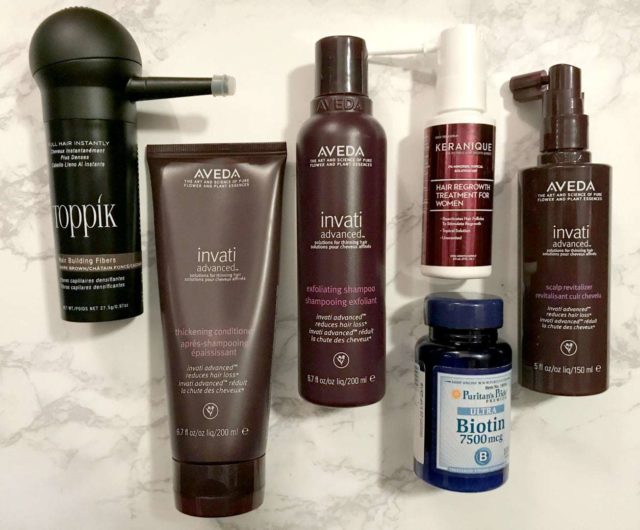 The Current Situation
Since stopping all products for hair loss except biotin, my hair is so much happier. I may not have the same thick head of hair I had a decade ago, but at least now my hair is shiny, bouncy, my scalp happy, and I don't look like an oil slick by 7pm. I've decided to do what I preach on here all the time – quality, not quantity.
Using TOPPIK has been enough to not have a lot of white scalp showing. I use Oribe Dry Texturizing Spray to add volume to my styled hair and also hold it in place. I am now using a shampoo and conditioner with argan oil which protects my hair without making it greasy.
I try to go without a hair dryer or curling iron as often as possible (yes even in the winter, I'll put my hair in one of these towel turbans until it's as dry as possible then let it air dry the rest of the way).
I've stopped trying to cover my roots and dye my hair at home; sometimes it worked but if I did it more than once I'd end up with oversaturated ends, missed greys, and it just didn't look as natural. Going to the salon is more expensive, but the results look better and last longer.
I got a full blood workup to ensure everything's running properly under the hood. I'm getting more sleep. I've improved my diet, take supplements, and started working out on a regular basis. I figure if I can be as healthy as possible on the inside, it likely will help with the outside.
If you're experiencing thinning hair or hair loss it can be so frustrating. Men can strut around with receding hairlines, bald spots, and completely hairless heads and still look virile, strong, and sexy. When women experience hair loss it can give an effect of frailty, illness, or unkemptness. But it's equally as bad to sacrifice health and comfort. If you've tried the pills, the sprays, and the topical ointments and had bad reactions, stop! Consider a fiber product to bulk up the roots, or consider going with a shorter cut and a lighter color that doesn't have as much contrast with your scalp. Look beyond the hair and see if there's external or internal issues causing it (stress, insomnia, thyroid, and many supplements and medication can cause hair loss), and if it makes you comfortable, find yourself the best most badass wig in your pricerange. I wish you the best, and if you have any products or tips, share them in the comments!