This article may contain affiliate links; if you click on a shopping link and make a purchase I may receive a commission. As an Amazon Associate, I earn from qualifying purchases.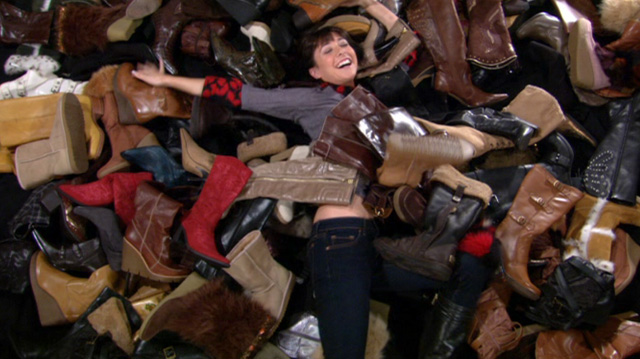 Last night I was watching one of my guilty pleasures, How I Met Your Mother (if you haven't seen it, it is a pretty witty show). Lily, the character played by Alyson Hannigan admitted she was severely in debt because every time she was unhappy (even being unhappy over a large credit card bill) she would go shopping. This is not just sit-com fodder, but a true situation happening with many women I know. We feel sad, or fat; we got dumped or passed on for a promotion; we shop. We feel that maybe a pair of new boots, a haircut with highlights, a dress even though we are more comfortable with pants will somehow fix us. That transforming the outside will in turn transform our inside.
No one has been a guest on Oprah because her new wrap dress helped her lose weight. I have never met a person who can claim she married her soul mate because a pair of leather boots, and though I do agree with the belief that you should dress for the work position you desire and not the one you have, unless you work in the fashion industry rarely will you be chosen for a position over another because your new suit for the interview was inspired by Karl's recent collection for Chanel.
Having a wardrobe that fits not just your body but also your lifestyle and personality CAN transform you from the outside in. Wearing what makes you feel and look good helps boost your confidence, helps others see the real you and gives you respect in social situations. It very well could help you land that job, meet the love of your life or encourage you to lose those last few pounds because you have one less thing to worry about and stress over.
But the confusing thing about a great wardrobe is more isn't better. Three bits of cheesecake is delicious, three slices of cheesecake is nauseating. A larger wardrobe can often make the owner sick with confusion. We buy more to make ourselves feel better, but instead make ourselves feel worse because our wardrobe no longer works for us.
French women are known for being very chic and stylish. They are also known for having the smallest of wardrobes. Many French stylists and authors will admit they have no more than 20-60 garments in their collection (including shoes, outerwear, and athletic gear). How do they look so chic and polished on such a tiny collection?
They purchase that which they need, nothing more. Additions to the collection are made to replace something that has worn out, or if a new aspect in life (job, activity) takes place. They buy the very best quality they can afford, don't succumb to trends, and baby the garments they own with proper cleaning and storage. They don't self-medicate with throwaway garments and don't try to reinvent themselves every fashion season.
A couple of months ago, I provided a list of questions to ask yourself to define your personal style. That, along with classic staples should help you get started. As the leaves are turning and the weather is getting cooler in most parts of the world, now is a good time to reassess your wardrobe. Look at that list, and look at yourself in the mirror and go through your closet. Hopefully by now you have gotten rid of anything that does not fit, is in awful condition or harbors bad memories (so many women I meet have the back of their closet full of wedding gowns from previous marriages, dresses worn the night they broke up with their ex, suits they wore for their last job they hated, bridesmaid dresses with bows on the rear and clothes several sizes larger than their current size "just in case" they go back to that size). Now it's time to look at the rest of the collection and see if it fits you here and now.
Does yellow make you anxious? Then why are you holding onto that canary cashmere sweater? It may be great quality and even fit nicely, but it doesn't make you feel good. How about that conservative tailored pantsuit? You work in a creative field and haven't had to don a suit in years… why are you still holding on to it? And that frilly dress you bought when you were feeling insecure in your relationship. You're not lace and bows no matter how hard you tried – get rid of it.
Again, this should be done after getting your feel of your personal style, your interests, likes and dislikes. If so, you'll find that the items you are removing are either gifts or items purchased on a whim or in an emotional state. The items forced upon you, or the items you purchased to subconsciously self-medicate for another situation in your life.
You'll also find that the removal of these items will not make it harder to get dressed every morning, but easier. Less decisions – an arsenal of go-to pieces that make you happy, fit you well and work for you occasion. Don't think of it as losing your collection – think of it as becoming chic and polished like the French. As you work with this simplified wardrobe, you will start to see what you really do need to add to your collection, and start shopping for needs, not wants. Find joy in texture and colors and the beauty of knowing that new garment will add life to many other pieces already at home and work with the true you, not the sad/bored/frustrated temporary you.