This article may contain affiliate links; if you click on a shopping link and make a purchase I may receive a commission. As an Amazon Associate, I earn from qualifying purchases.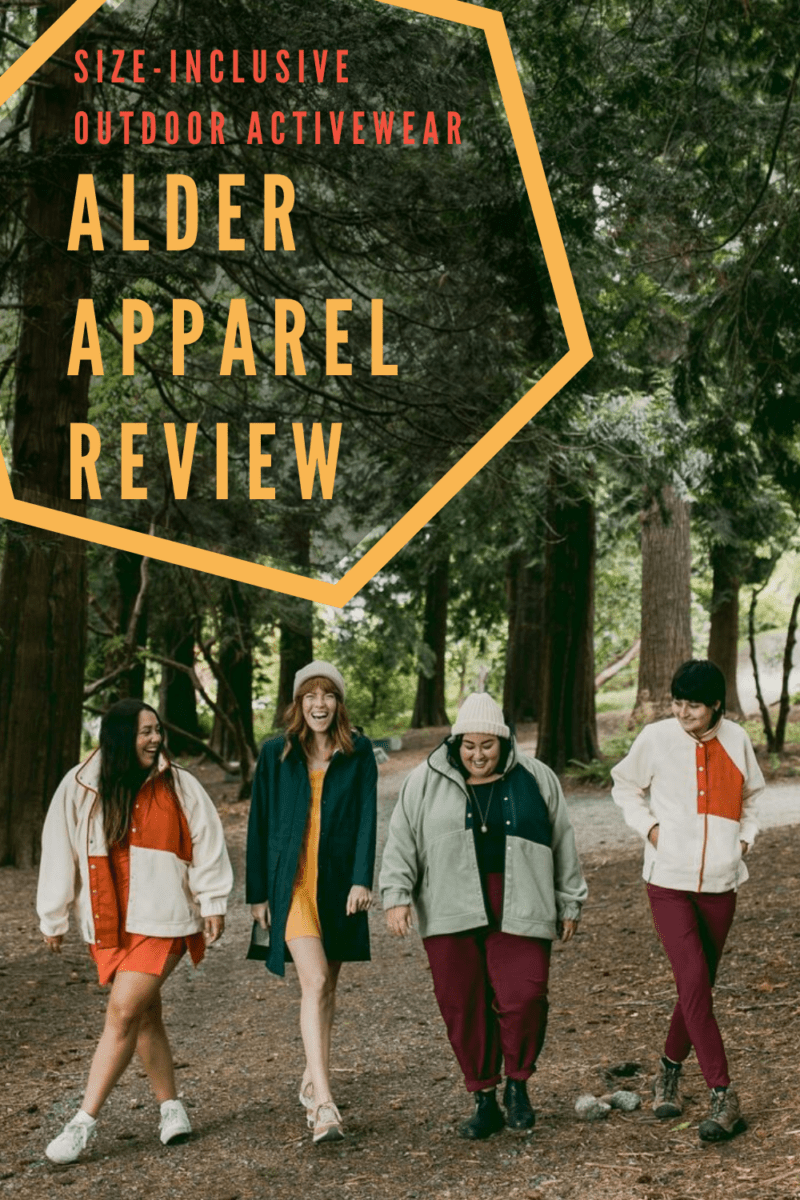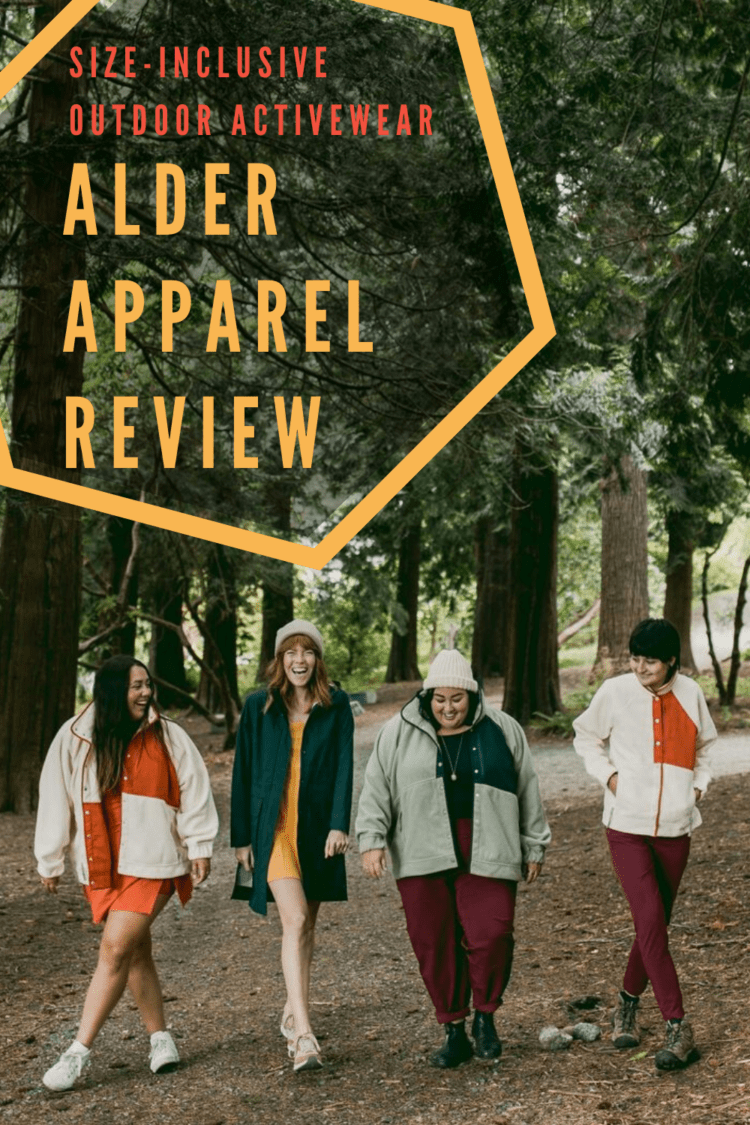 As someone who enjoys the outdoors, but hasn't always been a size where I can find quality outdoor recreational clothing, I have been intrigued by alder apparel, a sustainable Canadian clothing company that offers such gear up to a size 6X. I invited Lissa, who has shopped alder apparel, to provide an honest and unpaid alder apparel review based on her purchases. I know many of you, like me, are looking for size-inclusive outdoor recreational clothing to enjoy activities on your terms in clothing that can keep up.
This apparel review is by Lissa, who you may recognize from her Christy Dawn fashion review, or her informative posts in the Wardrobe Oxygen Community. Lissa is passionate about sustainable and size-inclusive fashion and having a different body shape and height from me, I thought her reviews with outfit photos would be a wonderful addition to Wardrobe Oxygen. On a monthly basis, Lissa will share her thoughts on sustainable fashion brands she owns that have extended sizing (at a minimum up to XXL/size 20).
What is alder apparel?
I first became aware of alder apparel in 2019, when they ran a Kickstarter to crowdsource funding to make their open air pants. I've been burned by several clothing Kickstarters, so I opted not to back the project but I did keep an eye on the company.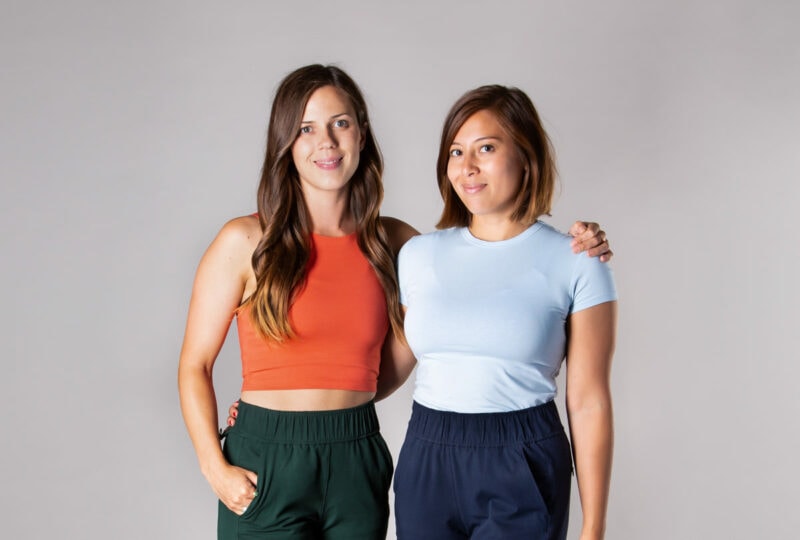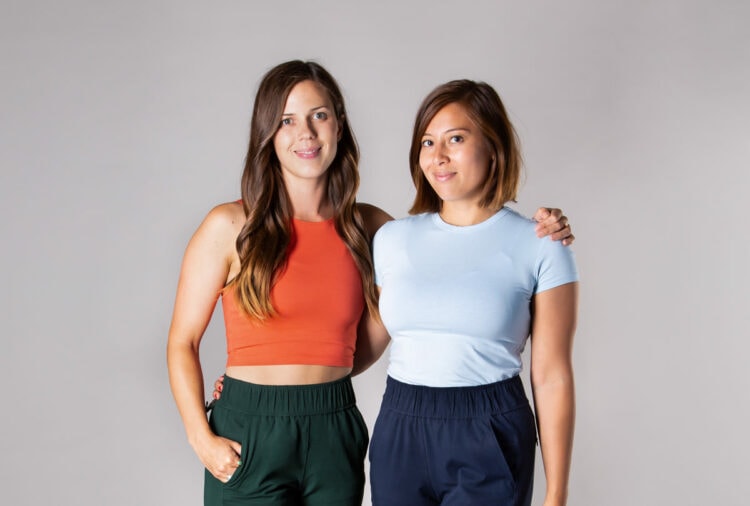 alder apparel is a woman-owned Canadian clothing company that specializes in making outdoor recreational clothing. Co-founders Mikayla Wujec and Naomi Blackman have been friends since childhood and shared the frustration of finding quality performance apparel that fit their bodies. With their expertise, they decided to create the change they wished to see in the women's outdoor apparel world.
Wujec works in the conservation and sustainability space, where she co-founded the nonprofit Riparia which runs programs for young women to learn about and form connections with Canadian waterways. Wujec is also a National Geographic Explorer and has participated in multiple projects abroad relating to conservation and sustainability. Blackman has a background in fashion marketing and worked at the apparel brand Joe Fresh prior to co-founding alder apparel.
is alder apparel sustainable?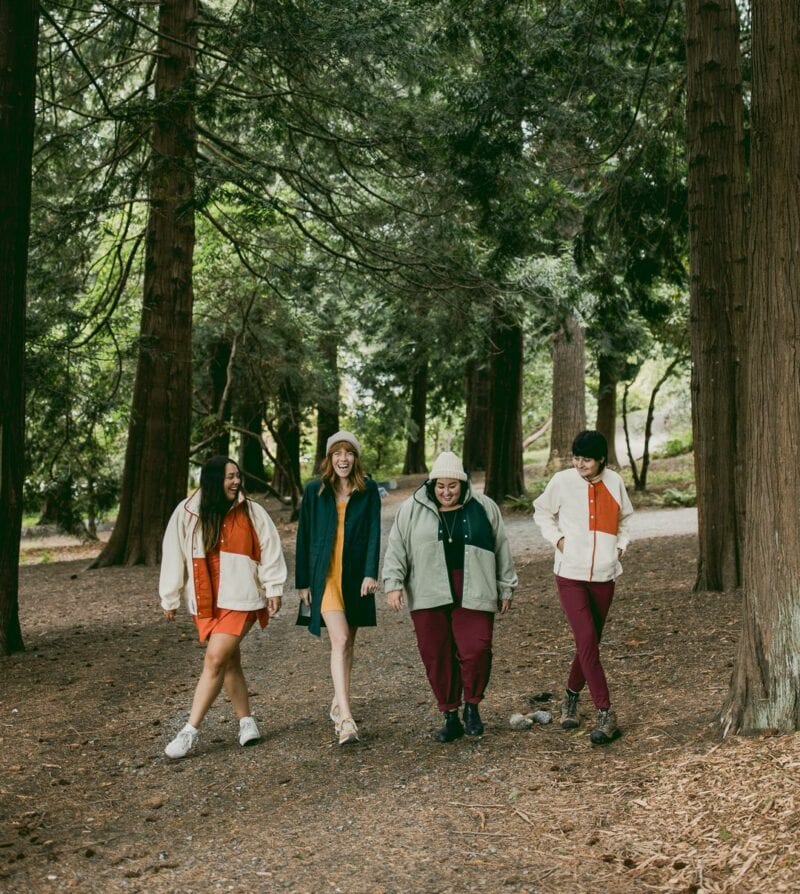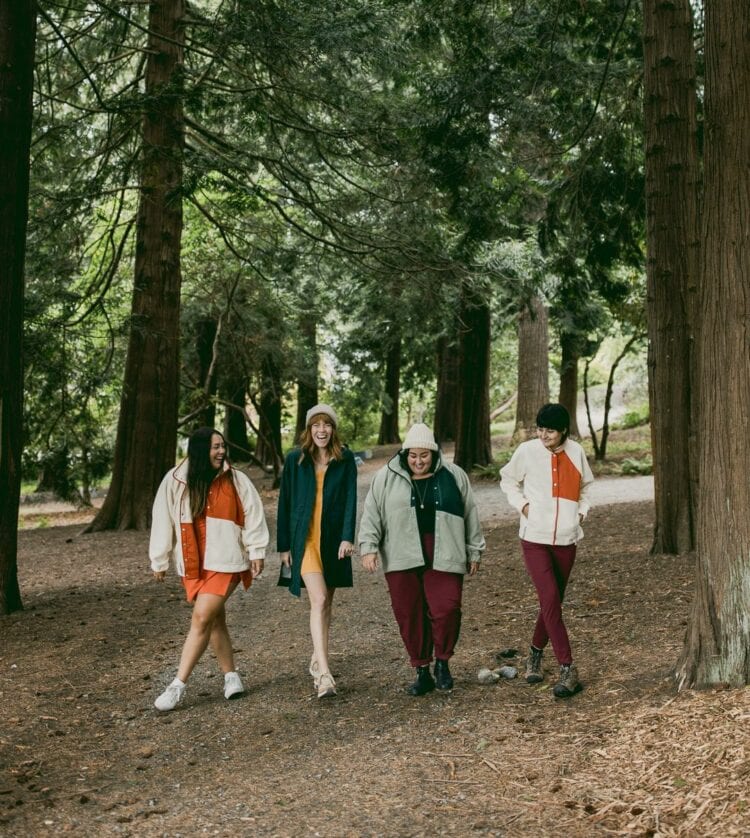 alder apparel's mission is to produce quality and sustainably made clothing in inclusive sizes. Their mission statement indicates that they want their clothes to focus on the fun part of recreation, as opposed to more performance-based brands. On the alder apparel site, they carefully outline all of the fabrics that they use in their clothes, how they are sourced and how sustainable they are.
alder apparel also has a page that provides names and photographs of the factories where the clothes are made and detail the working conditions, pay, and benefits for the garment workers. The brand's supply chain is impressively transparent and it is clear that a lot of thought has gone into sourcing materials for the clothes.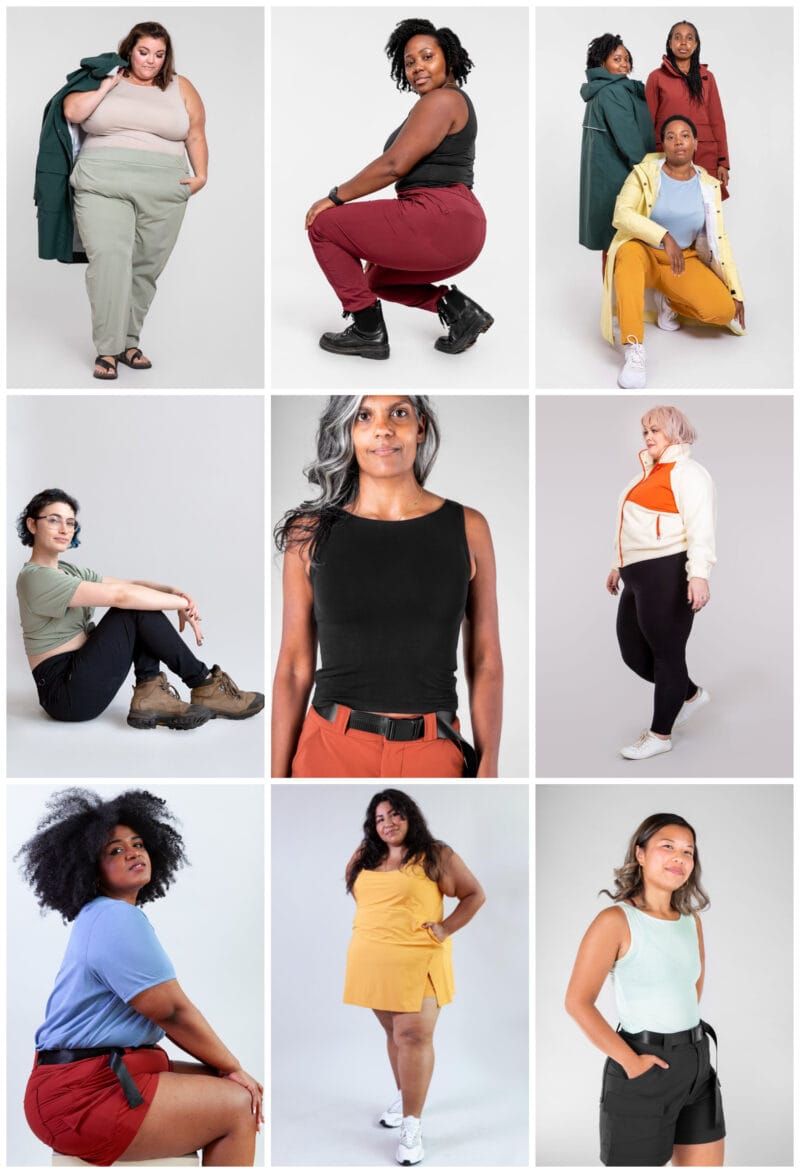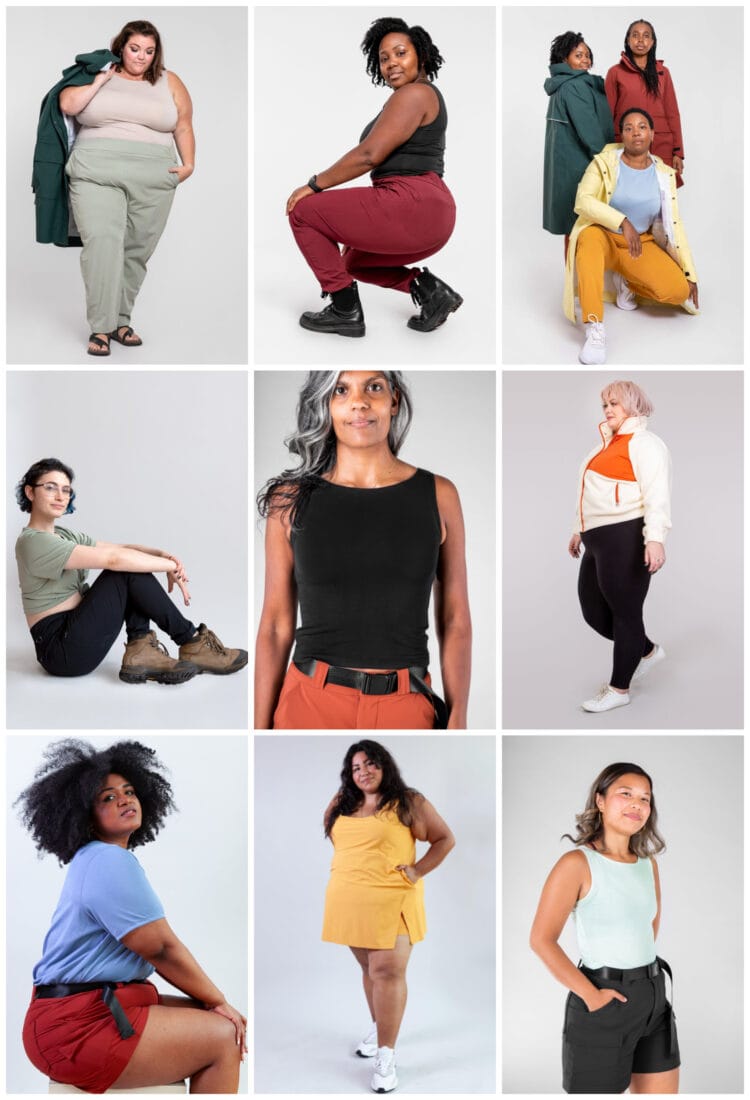 A quick perusal of the models on the alder apparel website illustrates the company's commitment to diversity and inclusivity. Each product is featured on a variety of models of different races, skintones, body shapes, sizes, and there is even a bit of age diversity as well. The images do not look to be filtered or Photoshopped and feature the models moving and being active in the apparel.
Why Lissa is the Perfect Person for an alder apparel Review
Something you may not know about me is that in the real world, I am a scientist that studies fossils. No, not like Ross on Friends, or Jurassic Park – first, because those are both fictional characters and second, because I don't study dinosaurs. But what is true is that a big part of my research is going out into the world to locate, collect and study fossils. Much of my work has been in remote areas, I am typically out there for two to six weeks, and if there is running water available it is considered luxury accommodations. You can think of fieldwork like camping on steroids – long walks, hot days, sometimes really fun, and sometimes really frustrating.
This has been part of my job for twenty years. Aside from fieldwork, I love being active outdoors. I have lots of happy childhood memories from Girl Scout camps and my high school wilderness adventure club. I've hiked in state or national parks in most (if not all) 50 states and at least half of the Canadian provinces. I truly love it.
Also, while I love a leisurely stroll in the woods, I also do a lot of strenuous hiking with significant gains in altitude over uncertain terrain. I also enjoy getting outside even during our west Michigan winters where the winter daily temperature can be below freezing and I need my microspikes on my boots for the ice and snow.
Seeking Size-Inclusive Outdoor Recreation Apparel and Gear
When I first started doing fieldwork in 2003, I could not find gear that fit my body. I remember being given a list of things that I would need for the field that included clothing like pants in technical fabrics, zip-off pants, and button-down shirts with SPF and permethrin. In the year 2003, there was no company that existed that made clothes like that for a body like mine.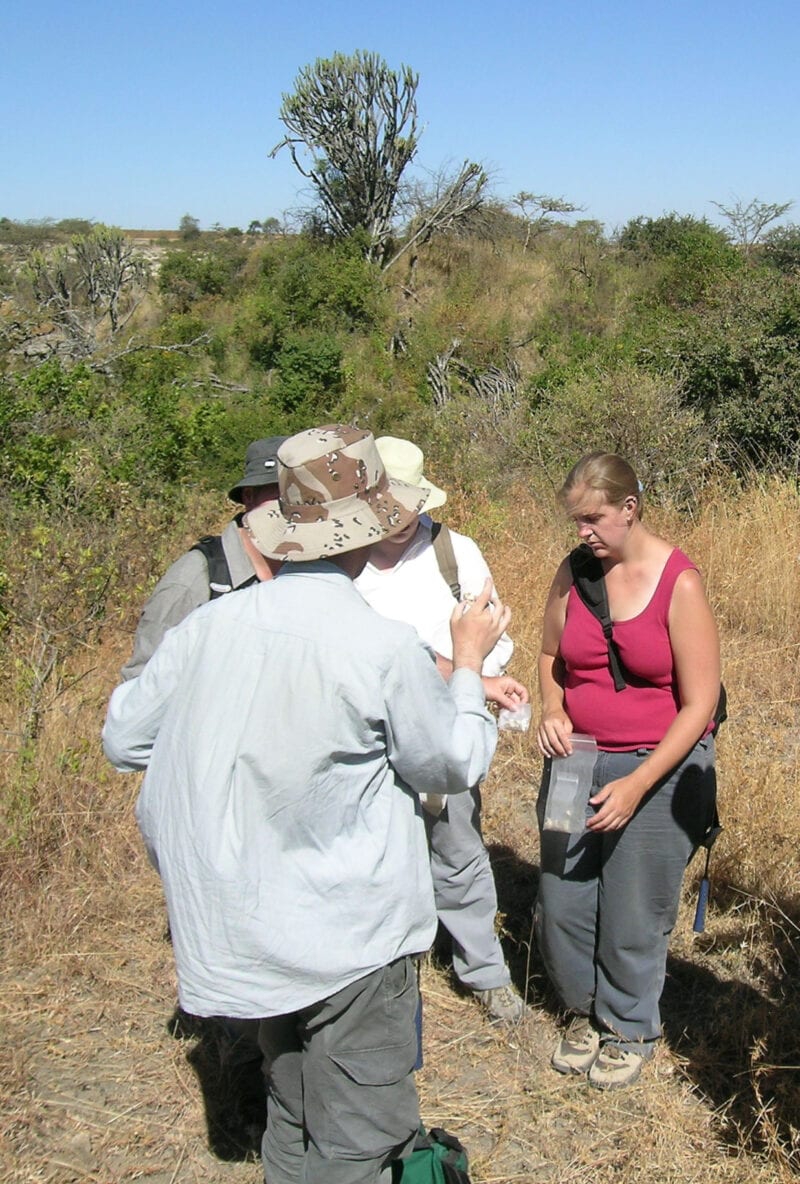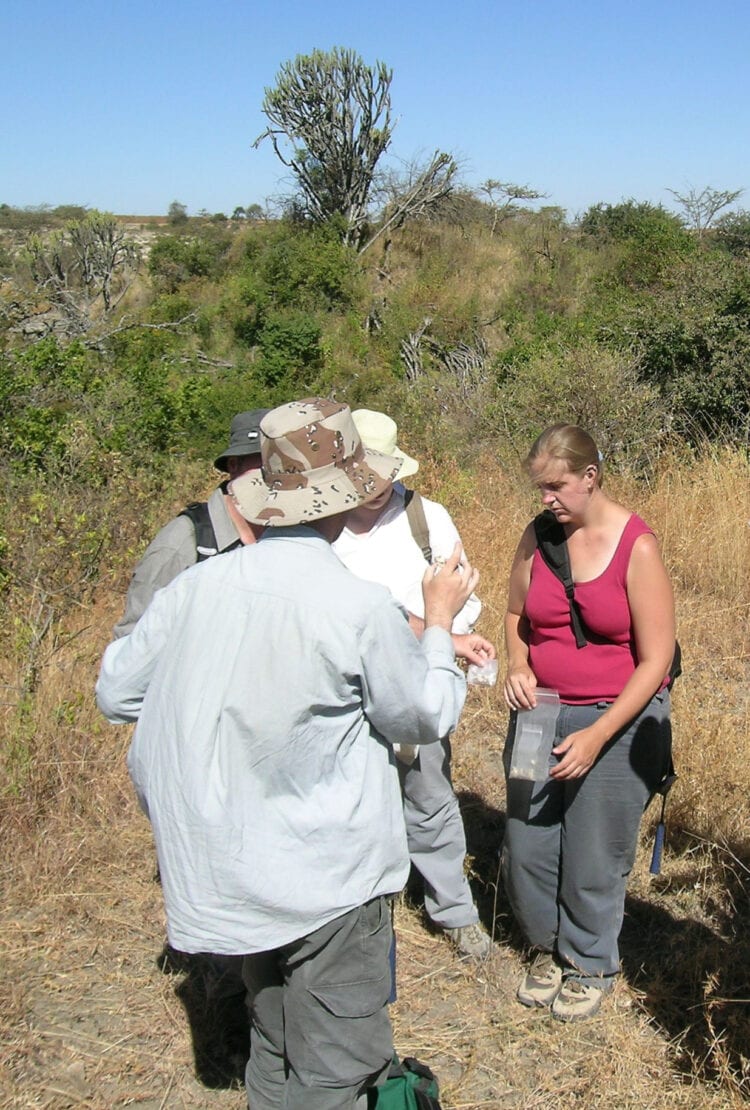 To add insult to injury, outdoor clothing often runs small so even brands that offered up to a size 20 (my size) did not always fit me. For my first field experiences in grad school, I ended up buying men's carpenter pants in the largest size that Old Navy carried, and wearing those with tank tops and some of my dad's old work shirts for sun protection.
Fast forward to today, and there are more brands making outdoor clothing in larger sizes. However, a lot of these brands still run small and many stop at a size 18 or 20. Aside from clothing, there are even fewer options for things like backpacks and sleeping bags for people with larger bodies.
At 5'10" and a size 20, I frequently zipped two sleeping bags together to give myself more freedom of movement when sleeping. I am also a certified SCUBA diver and have experienced going on vacation and not finding a single wetsuit for rent in my size. In 2010 I found one company that carried a wetsuit in my size and purchased it, while smaller friends can lighten their luggage and rent once at their destination.
When companies fail to make appropriate clothing and gear in your size, it sends the implicit message that this activity is not for you – and that is BS. The outdoors are for everyone.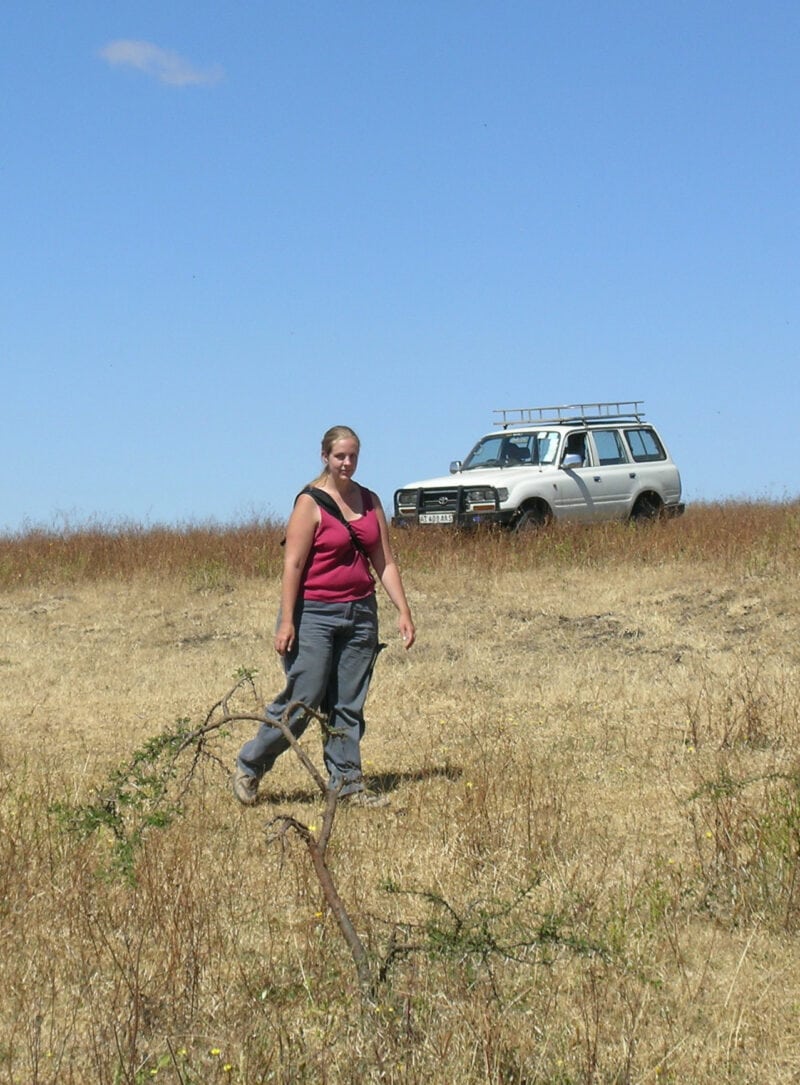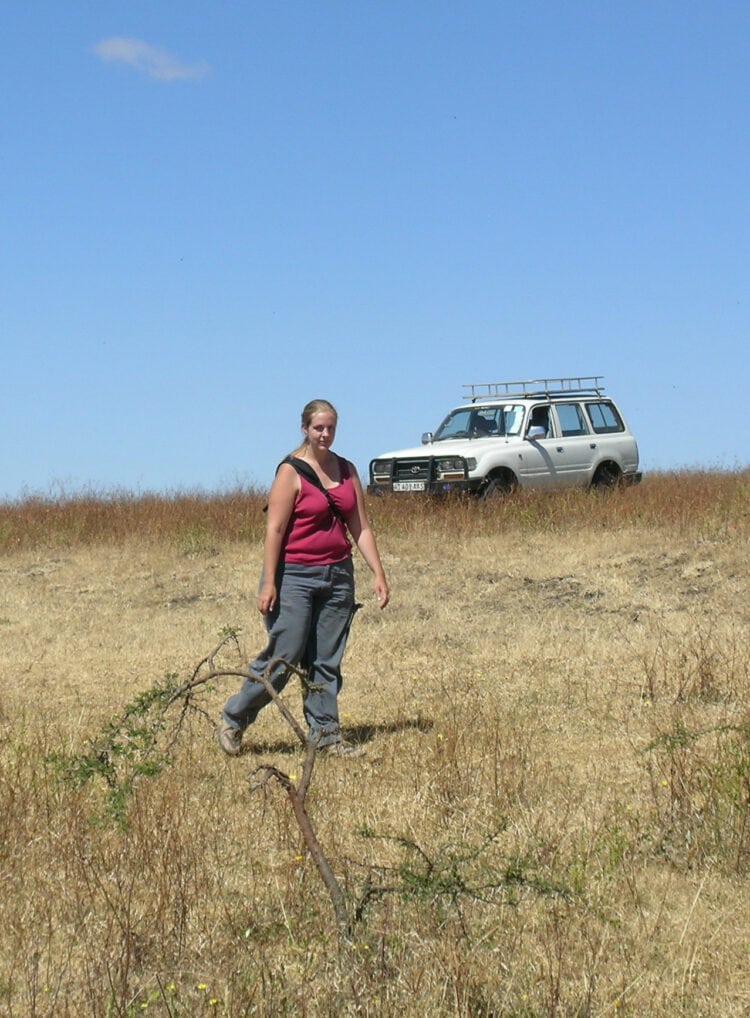 So I guess what I am saying, in a very long-winded way, is that alder apparel's mission of inclusivity is extremely important to me. alder apparel's clothing runs from an XS to a 6XL. They consider a 6XL to be a 61" bust, 57" waist, and 66" hip. They only make a few different types of clothing and they often sell out. If something that you're interested in is out of stock, you can put in your email or phone number to be notified of a re-stock.
Alder Apparel Review
From alder apparel, I have tried:
I ordered the pants, shorts, and tank last year in advance of a hiking trip. I originally purchased the pants and shorts in an XL and the tank in an L but I ended up exchanging my entire order for the next size up. I felt like the pants in an XL looked more like leggings. While the shorts in an XL had a looser fit than the pants, they still pulled a bit across my hips.
The tank fit fine, but it was extremely sheer and I thought the next size up might be more opaque. When I got my order exchange, the 2XL shorts were too big. The waist was so large that it kept sliding out from under the belt. The pants and shirt I kept, the shorts I returned. I ordered the get dirty dress and the go far fleece for this alder apparel review.
As a reminder, I purchased all these items for this alder apparel review with my own money. alder apparel is not aware of this review and in no way have I or Wardrobe Oxygen been compensated. alder apparel doesn't even have an affiliate program; this review is a PSA for the Wardrobe Oxygen Community and for those seeking size-inclusive outdoor activewear.
Alder Apparel Be Free Cropped Tank Review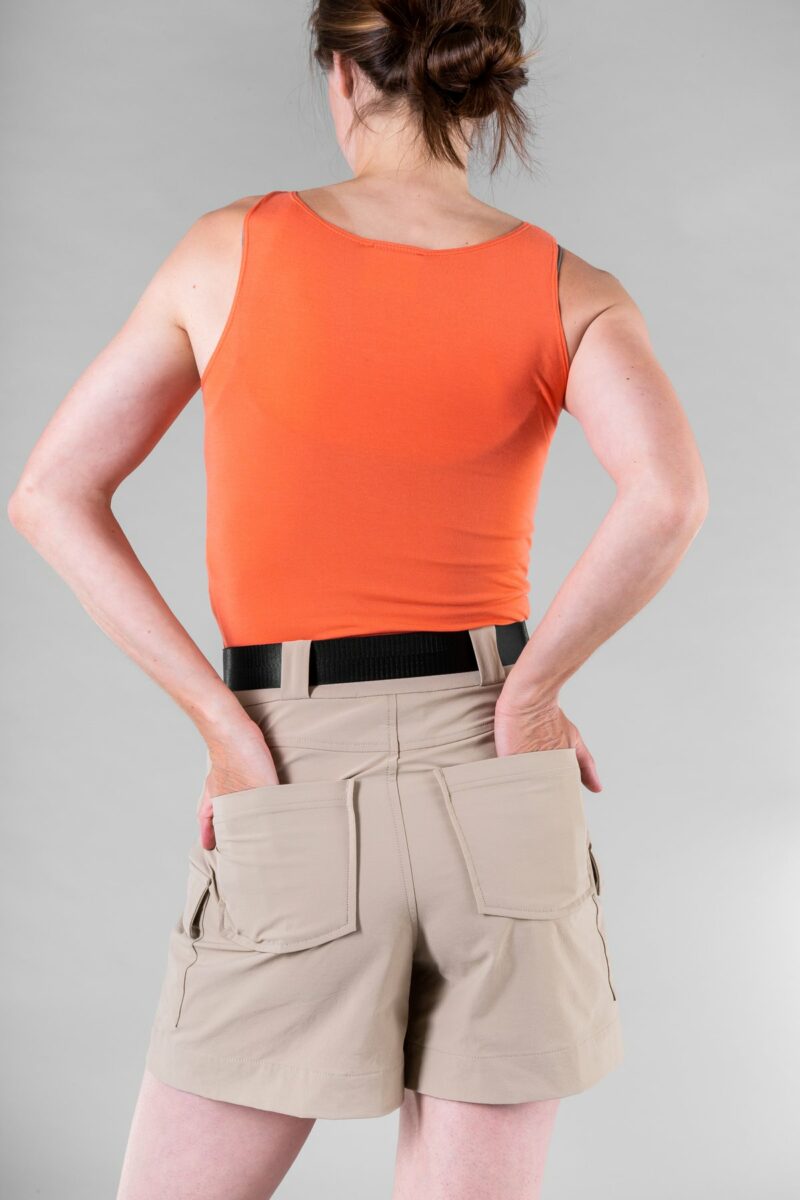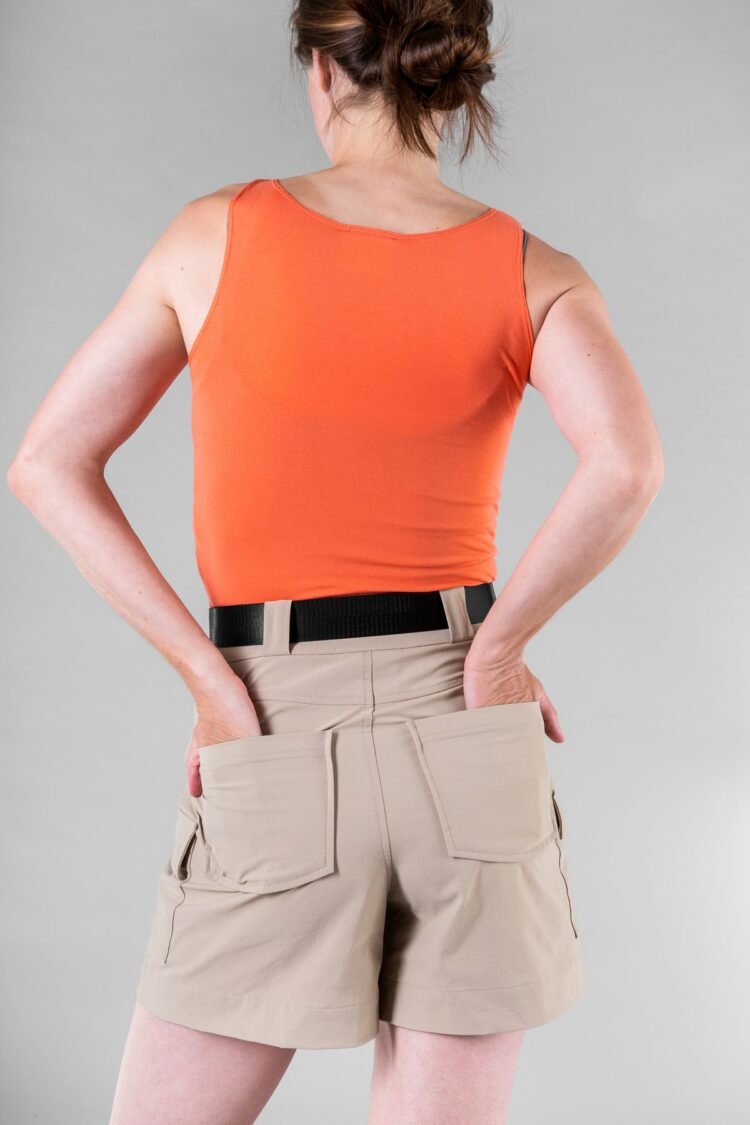 I ordered the be free cropped tank in the papaya color. I have a long torso, so this is truly a cropped tank on me and I only wear it with high-waisted pants. Recently they have launched this tank in extended length, but honestly, I don't like this tank so much that I need multiples and I prefer the cropped length for workouts. I originally purchased this thinking that it would be great for everyday wear, but even the XL is a little too see-through for that. That said, I do wear this pretty frequently for workouts.
The fabric of the alder apparel be free tank is thin and smooth, which is great for the heat and humidity of the hot yoga studio. I really like it for running because the armholes are relatively small and the fabric doesn't chafe the insides of my upper arms on a long run. I love the bright orange color; it makes me happy every time I wear it and it almost perfectly matches a pair of GRRL capri leggings I already owned. Supposedly this shirt should be line dried, but I accidentally tossed it in the dryer and it didn't seem to shrink.
Overall, I like the be free cropped tank specifically as a workout tank. Perhaps the darker colors would be more opaque, or I could have sized up again to try to get less stretch in the fabric.
Alder Apprel open air pant Review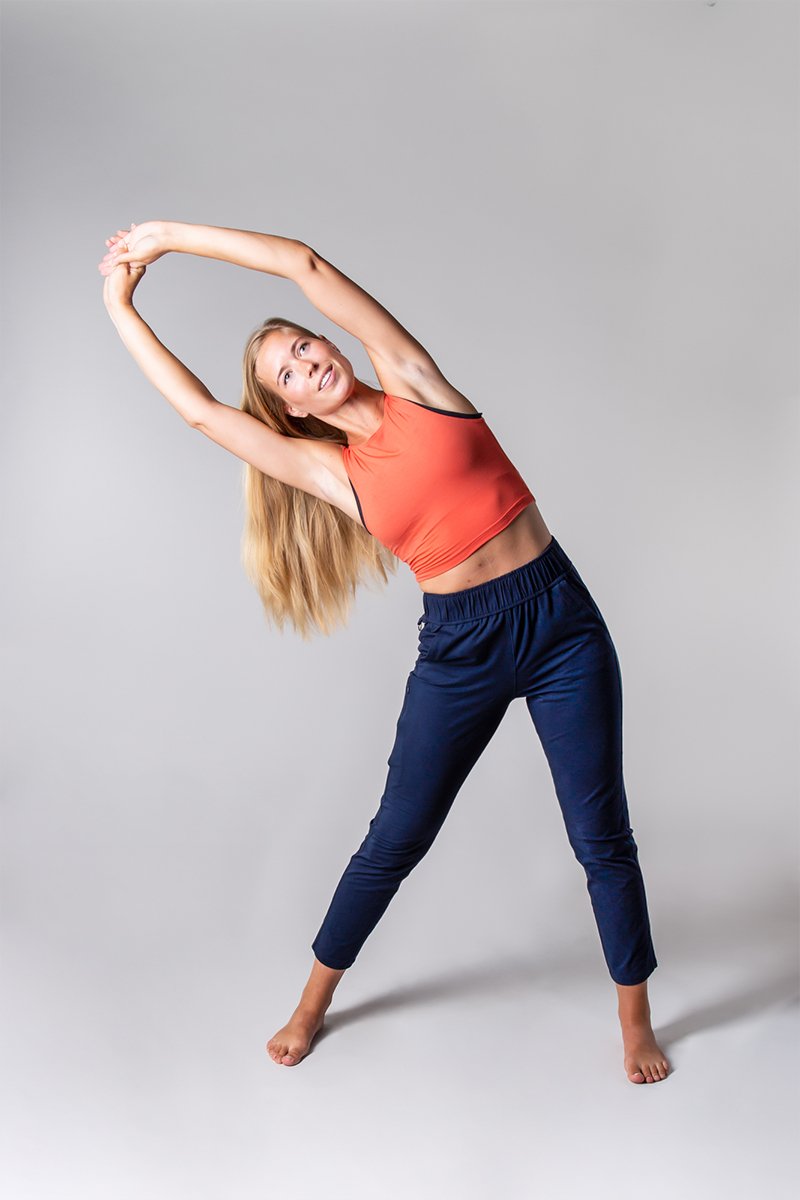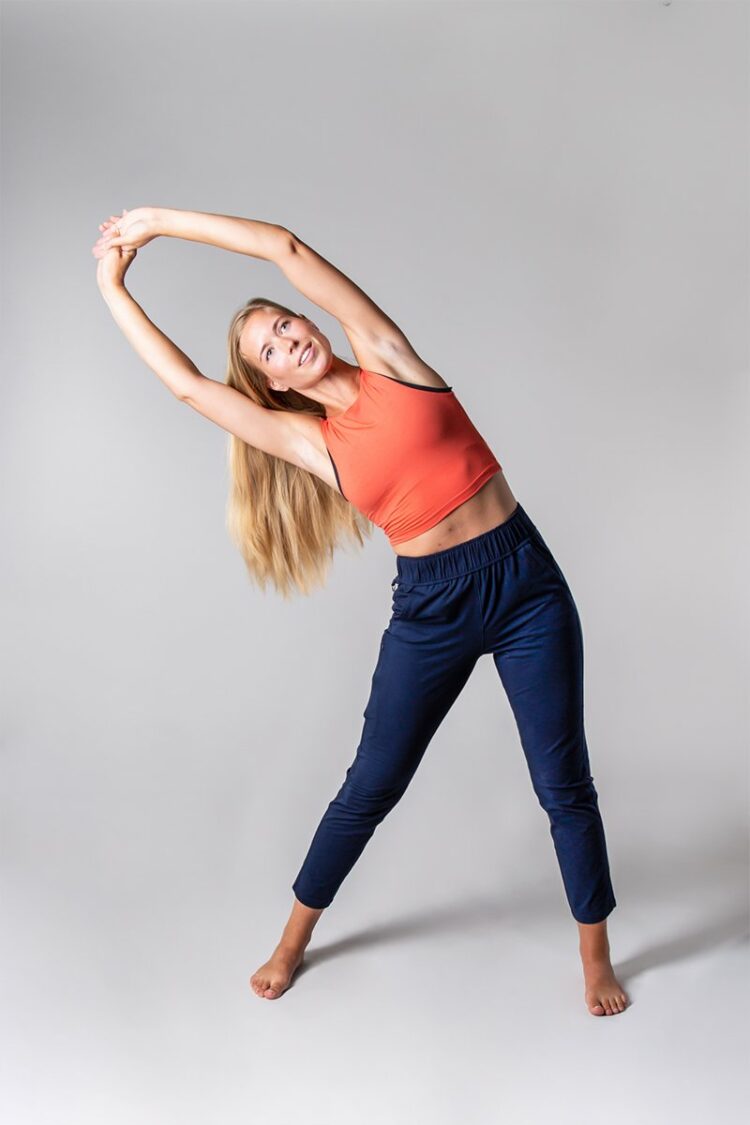 I bought the alder apparel open air pants in the navy blue, the only color available in my size at the time that I ordered. Straight out of the bag, the 2XL was a little big in the waist and high hip but I decided to keep them. The construction and pockets are great. I can fit my iPhone 8 Max into even the side pocket on my pant legs. I tried them for the first time in Colorado in May, and I wore them twice on that trip.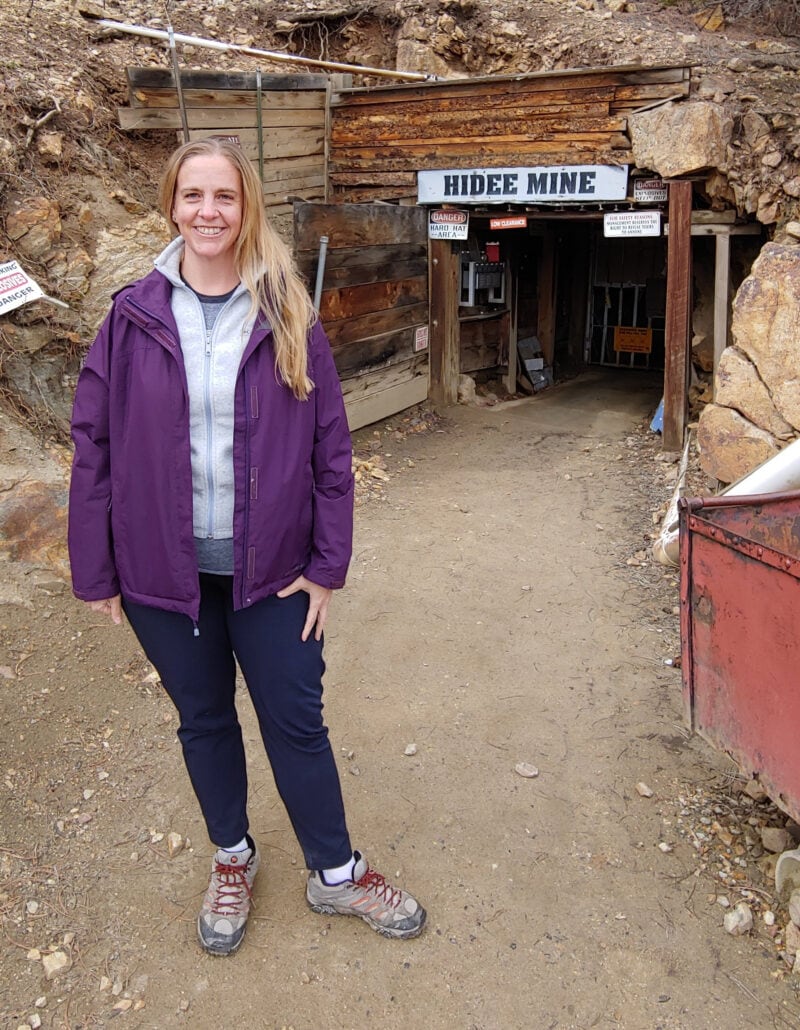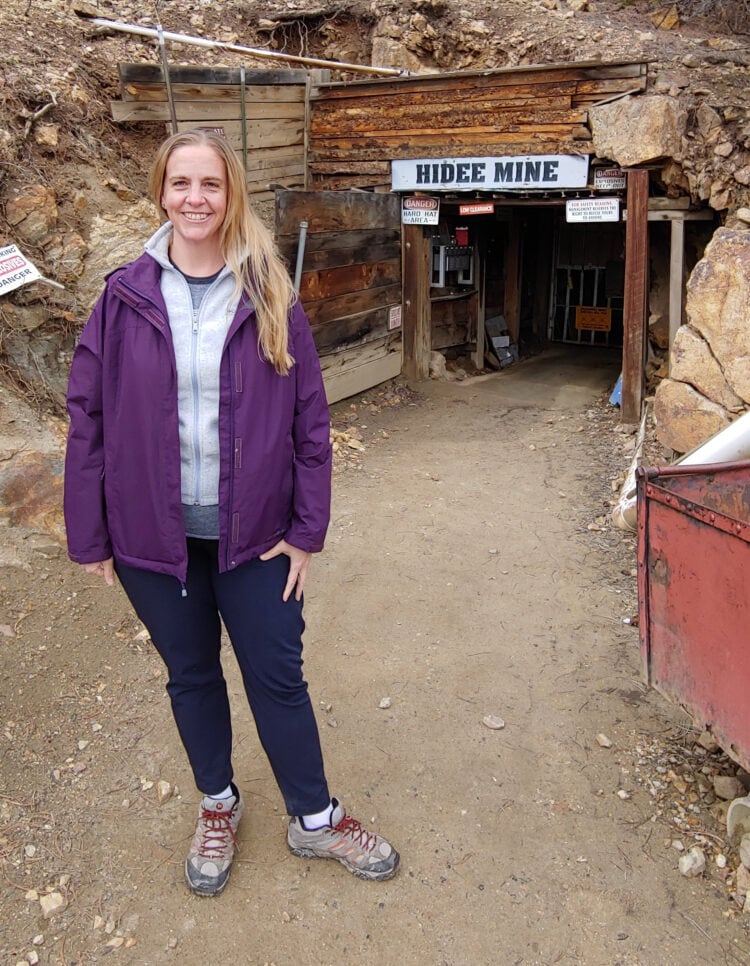 I was originally not a huge fan of the open air pants, to be honest. I found them to be short; the inseam is only 28" which is great with sandals, but not as great with hiking pants where I would like to keep my ankles covered. (They have a new version of these with a 32" inseam and I am on the notify list for when they are re-stocked. ) These pants are really stretchy which is wonderful for movement, but the fabric does not snap back as well as some of my other hiking pants. On second-day wear, the fit is substantially baggier than on day one, particularly in the thighs and butt. I decided to sell them.
Before reselling these pants, I decided to give them a second try and took them with me to Alaska in July. It was there that I fell in love with them. The weight and stretch of the fabric is perfect for year-round. At first, I thought that I wouldn't like them for summer hiking, but they were fantastic on an 80-degree day. In fact, these pants were the MVP of my trip to Alaska.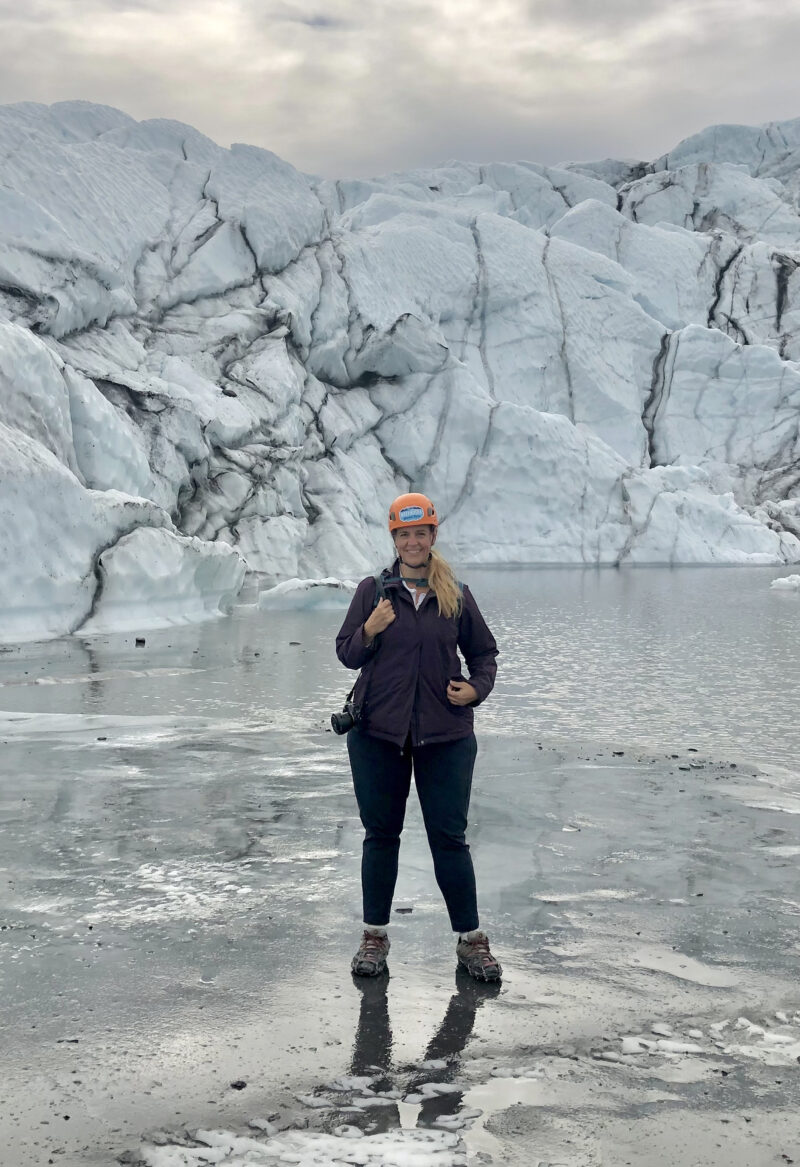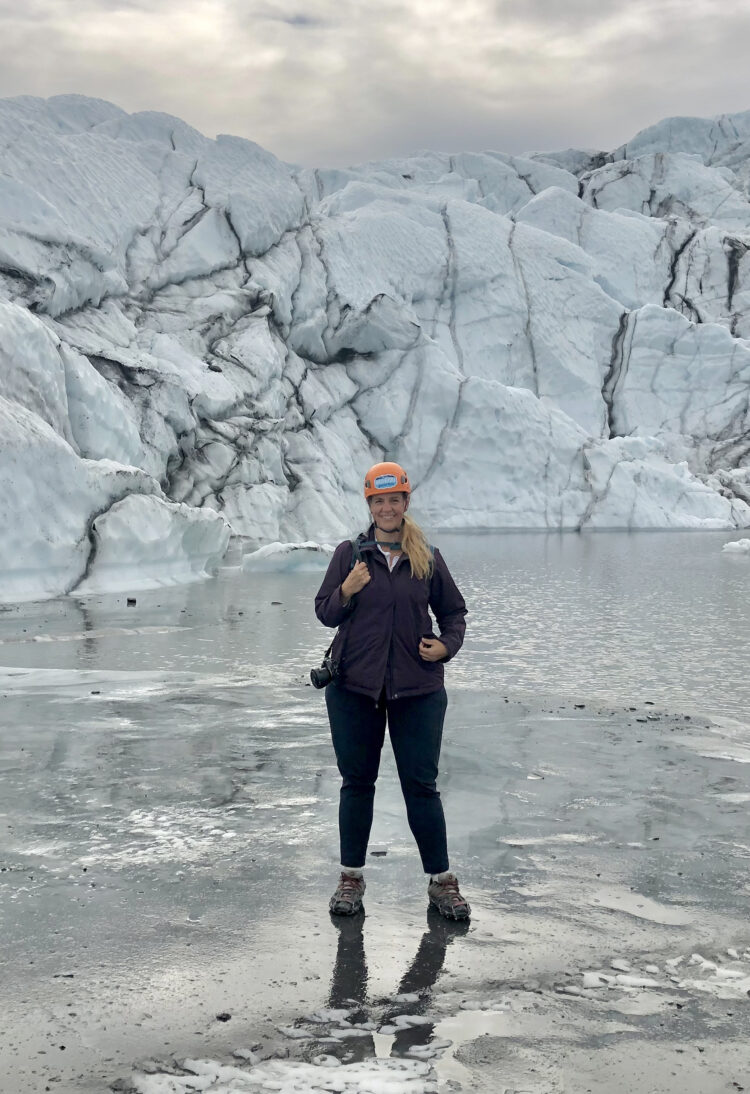 Glacial silt and other dirt just sort of brushed off of the open air pants. I wore them in the back country as my afternoon/evening activity pants. I wore them in the car as comfortable travel pants that would allow me to jump out and do whatever at any time. I wore them under rain pants and the rain pants slid right over them. They did not stink. They did not show sweat marks. They were thick enough that mosquitoes couldn't bite me through them. While they still stretched out like they did on my Colorado trip, it only made them more comfortable and I was less bothered by it on that trip.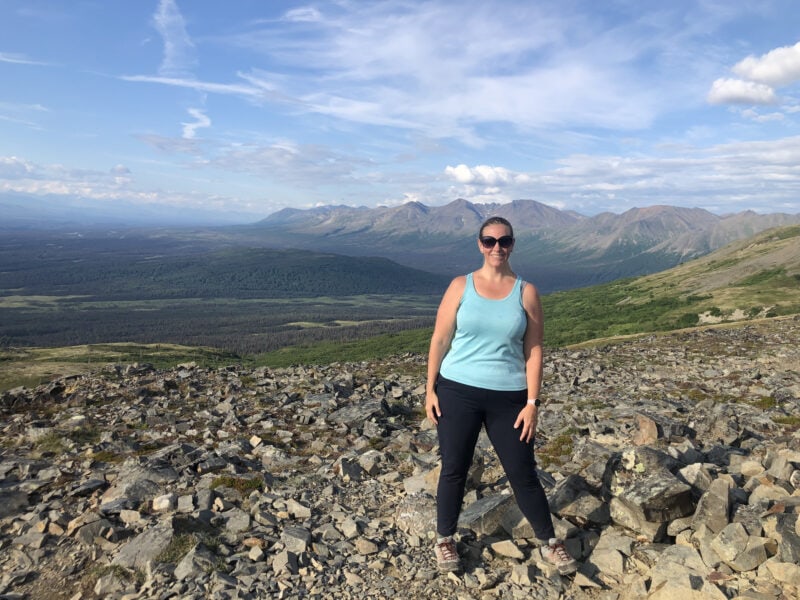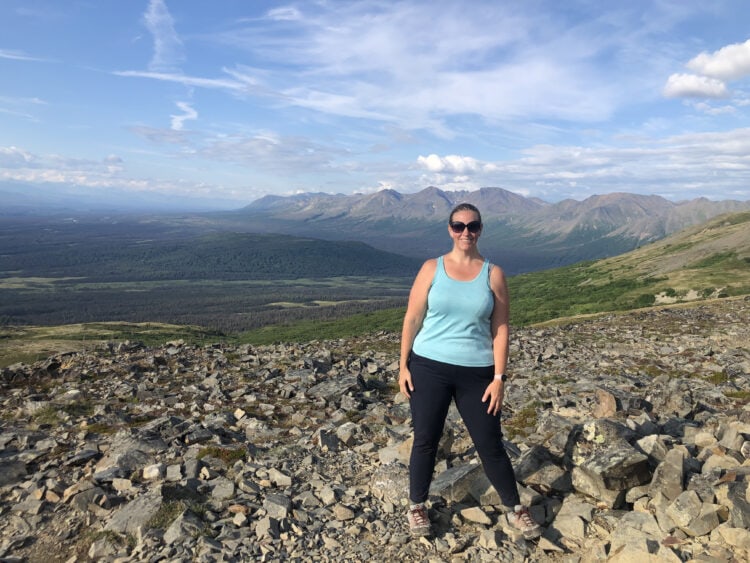 As a bonus, I think that the open air pants look great – they easily could pass as "normal" pants. With the ankle length, they really look like regular street clothes. I think that they could really shine for city exploration. I can imaging pairing them with a cute pair of flats and a casual tee shirt to go exploring any major city. I do wish I had kept the XL though, as I would still prefer a closer fit on the second or third day wear.
Alder Apparel Get Dirty Dress Review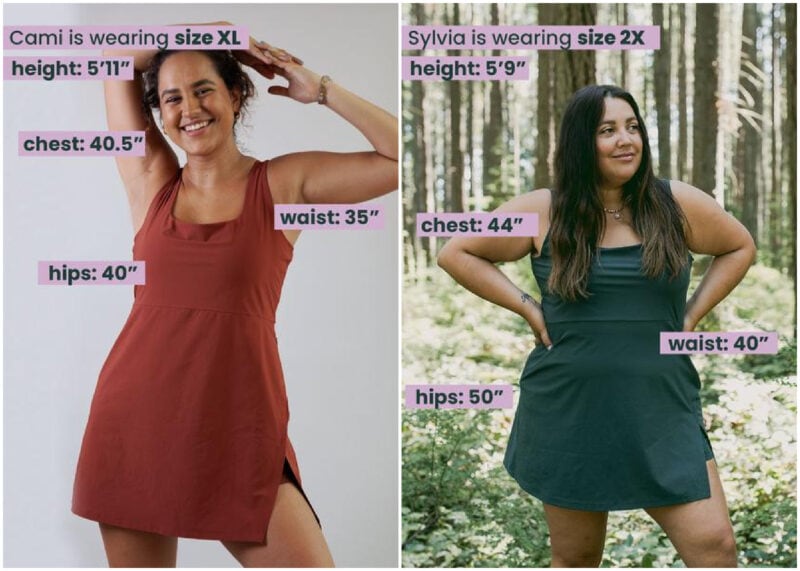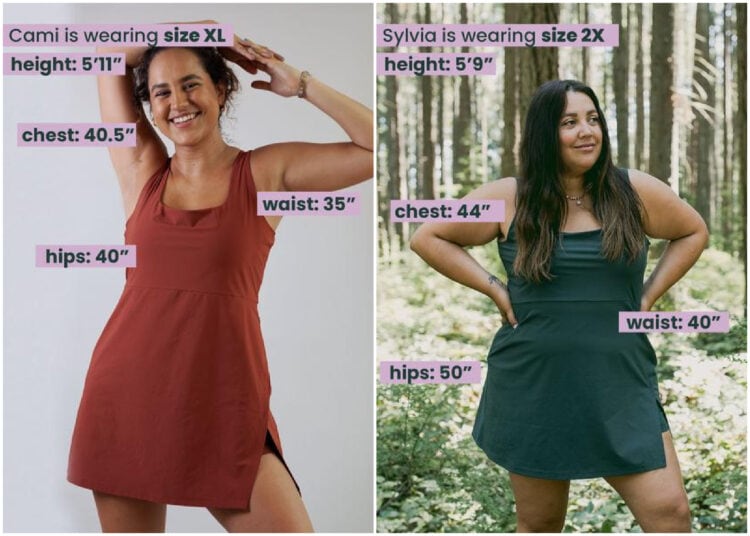 When alder apparel came out with their get dirty dress in the spring, I thought it was a really cute idea. It is an exercise dress with built-in shorts and I thought it would be fun for summer barbeques or for walking my dog in the hot weather. When I decided to write this review, I figured it was the perfect excuse to get this dress. Since I am regularly between sizes at alder, I ordered the XL and the 2X in the forest green.
The garment dimensions of the XL get dirty dress looked more like the dimensions of clothes I usually purchase, but my body measurements fit better in the 2X. I also looked at the models wearing the XL and 2X, and my body measures are closer to the 2X model. Well, as it turns out I am still between sizes at alder, but I think that this time I am between an XL and an L.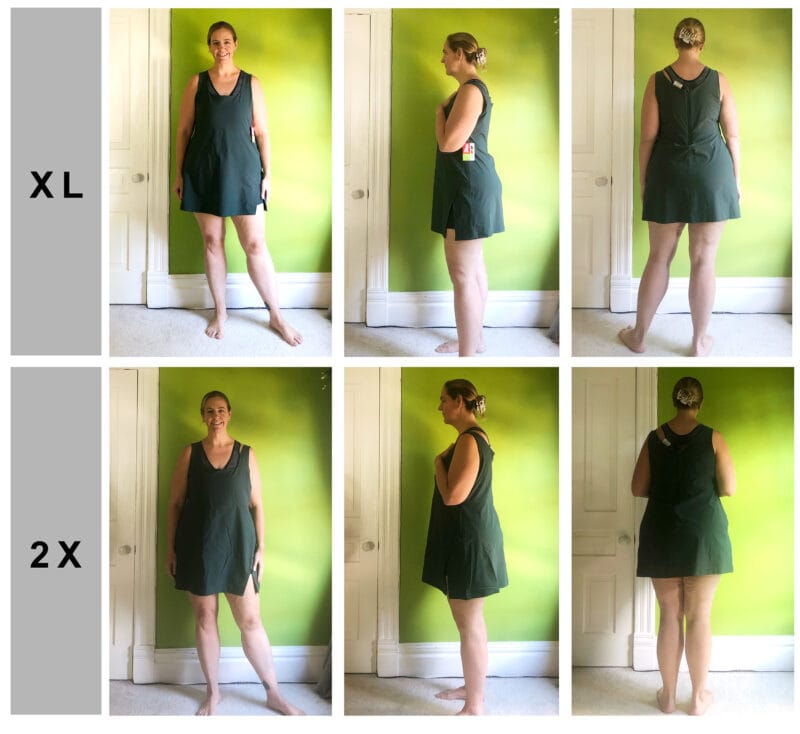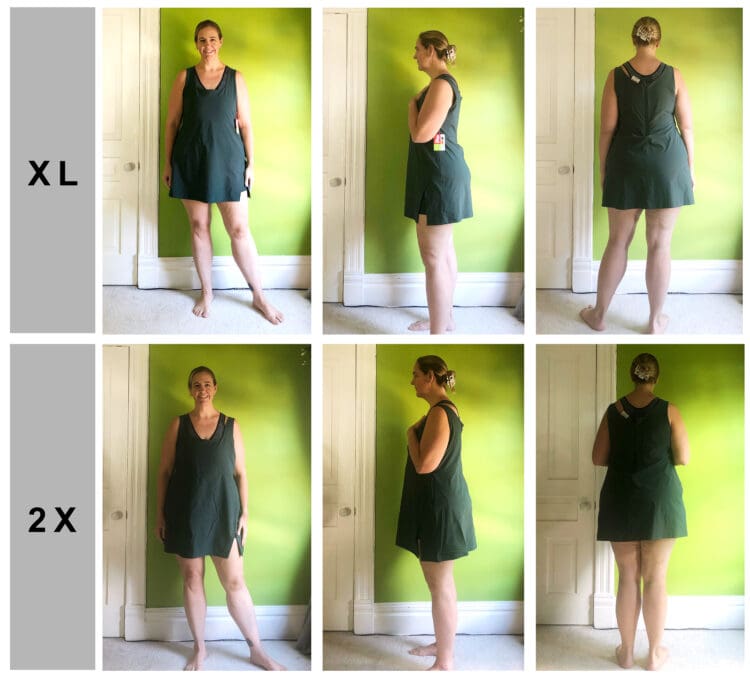 The 2X get dirty dress was huge and I did not even need to unzip it to get it on and off. The XL was a much better fit, and the skirt sat perfectly over my hips without bunching. The waist and top on the XL are both too big though, giving me the extra triangle of fabric in my armpit and a weird bunching of the zipper where my waist narrows above my hips and butt.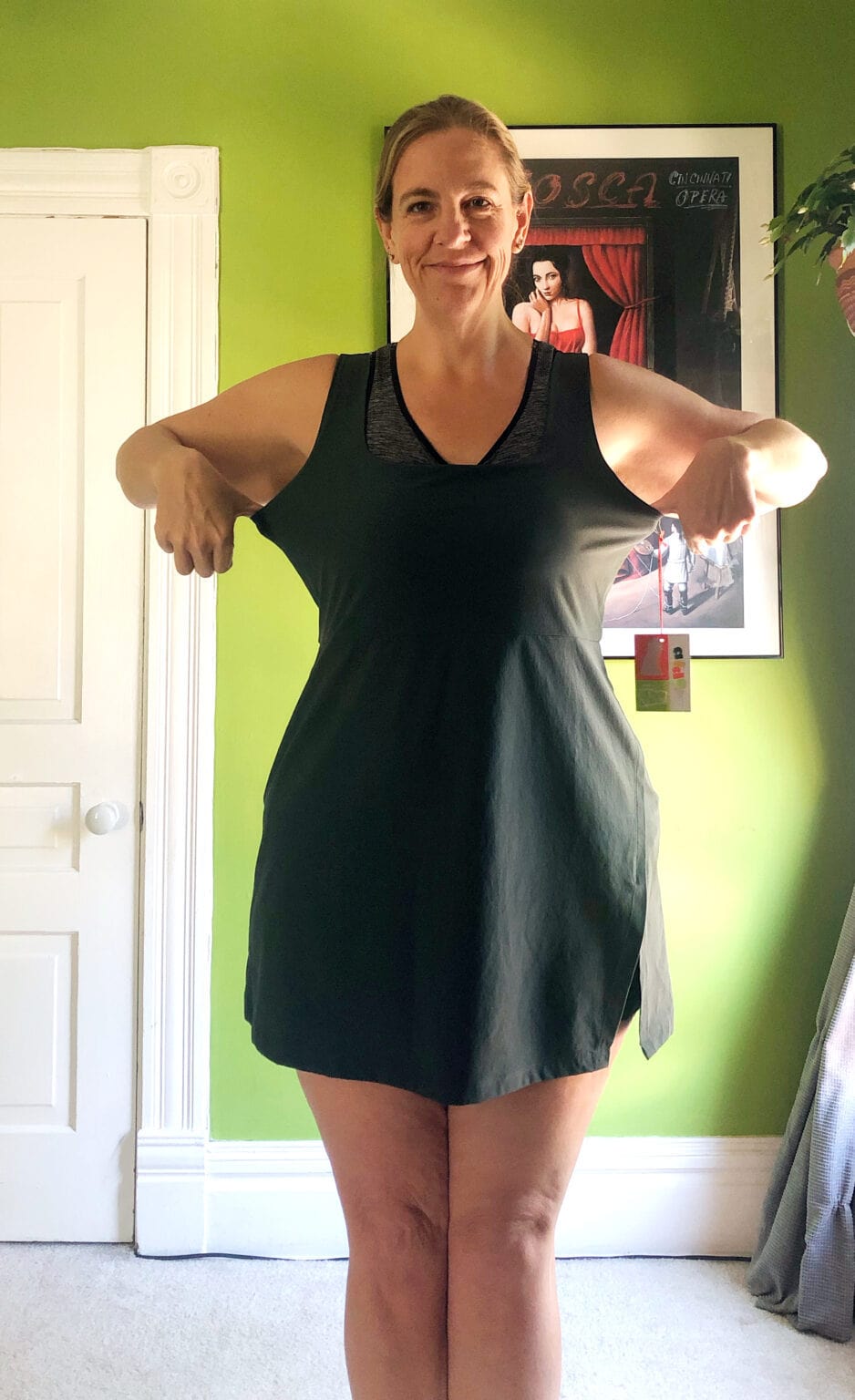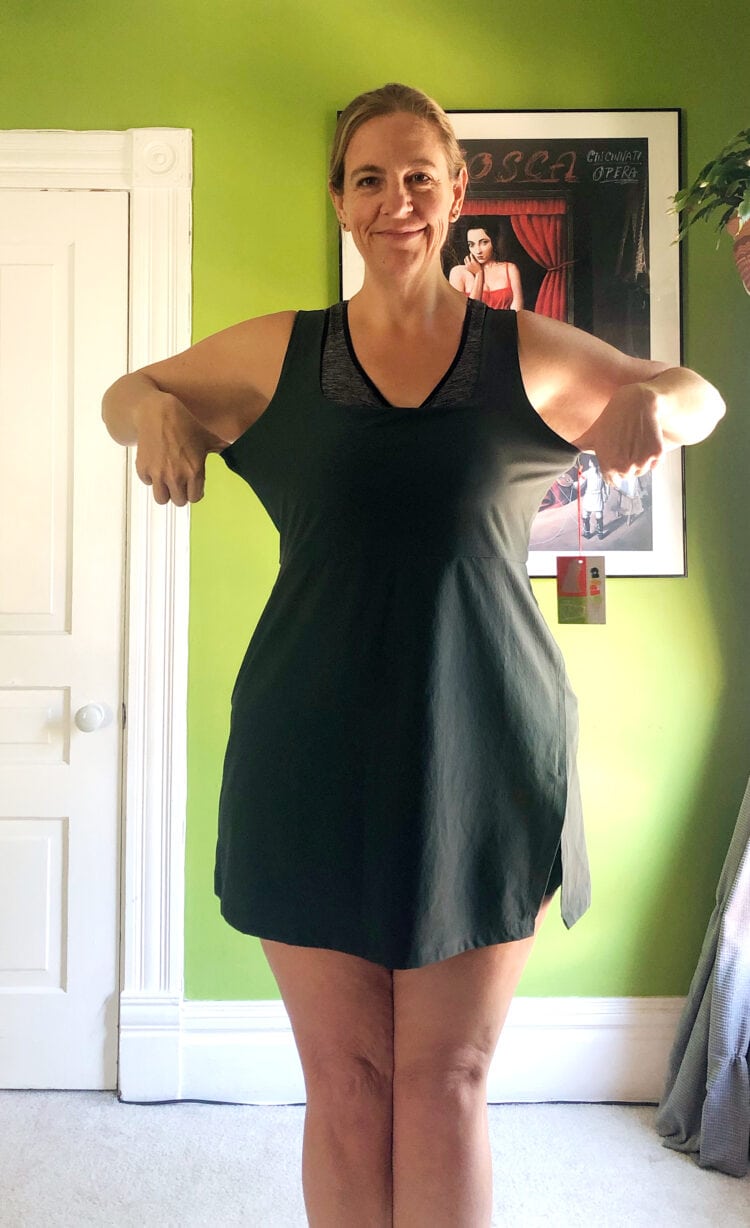 The fabric of the alder apparel get dirty dress is so stretchy and there was enough slack in the skirt that I actually think I could go down a size and get a better fit, but the area with the zipper has no stretch and it felt difficult to pull up over my hips. Additionally, I walked around my house for a little bit wearing both the XL and 2X; in both cases, the shorts slowly began to migrate northwards. I think if I wore this dress out and about for any significant period of time, I would be either chafing or constantly pulling the shorts down.
Sadly, I packed up both sizes of the get dirty dress to return. This is a better fit for a person who is bustier than I am as compared to my hips/butt. I saw on alder apparel's Instagram stories that they are currently revamping the fit of the get dirty dress and will be releasing a new version next spring. I am really looking forward to seeing what tweaks they are going to do – it sounds like maybe more coverage up top and/or a version without the built-in shorts.
Alder Apprel Go Far Fleece Review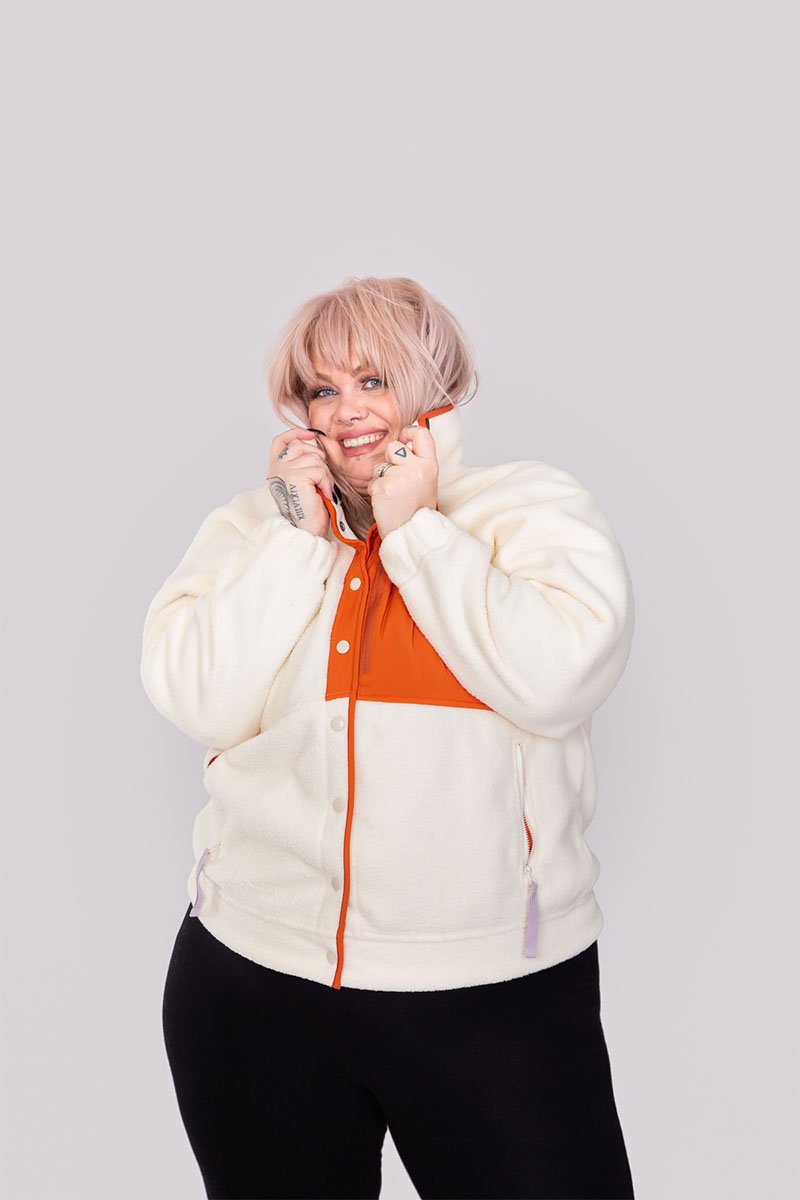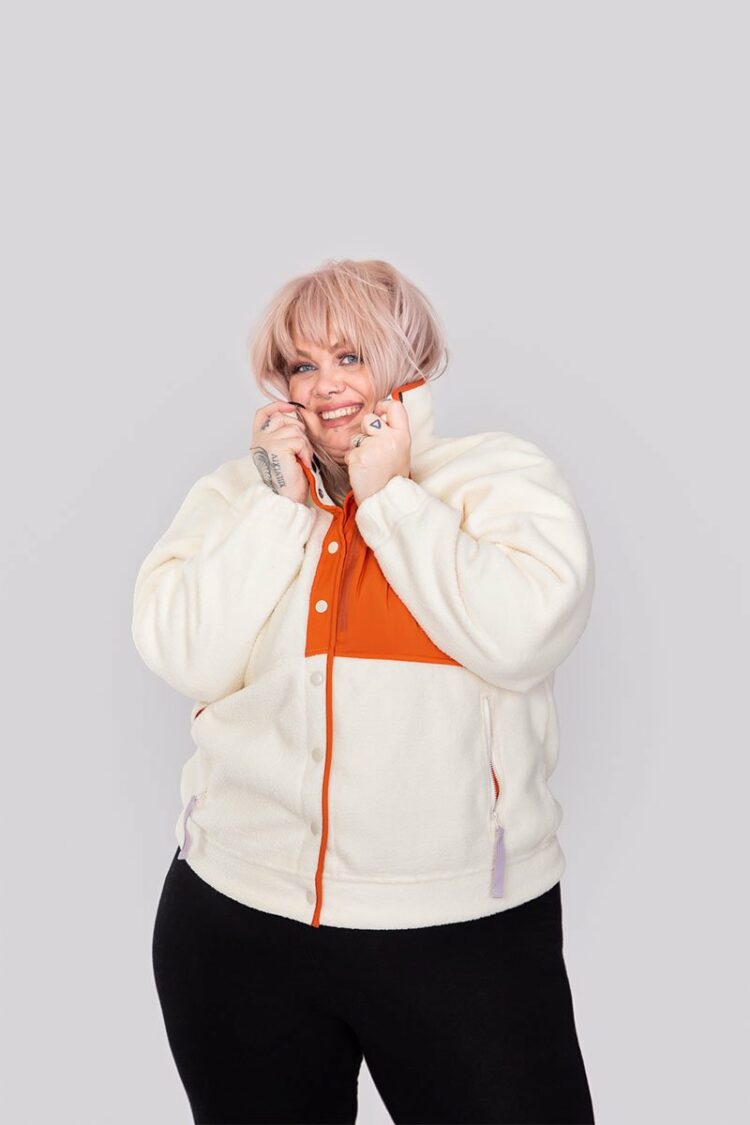 As you might notice from all of the pictures in this alder apparel review, I tend to have a field/hiking "kit" – I wear the same gear over and over until it wears out. I do this because I like the predictability of wearing clothing that I absolutely know fits and functions well when I am going to be out doing physical activity. My purple rain jacket is from Eddie Bauer and three years old; it is 100% waterproof and packs down small and light. My fleece vest is from Columbia Sportswear, also several years old, and it fits nice and close to my body as an extra warmth layer.
I actually never intended to keep the go far fleece from alder apparel, I already had my "kit," but it has rapidly become my favorite piece from the brand.
Prior to the go far fleece, my top layer for winter hiking was actually the Sophia Bomber from Universal Standard (no longer available, though there are some on eBay). It works, but it isn't ideal – mostly because it is dry clean only and hiking can be dirty, sweaty work. Well, enter the alder apparel go far fleece. This is definitely heavy enough for an outer layer for fall hiking.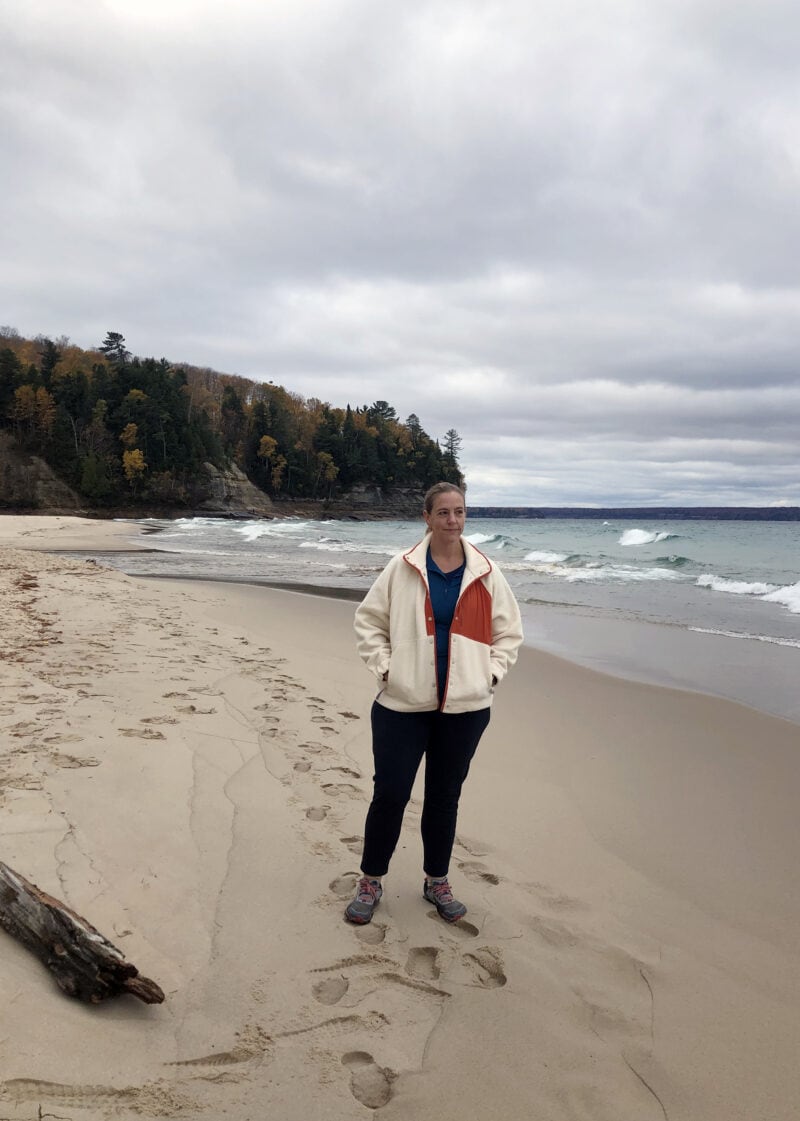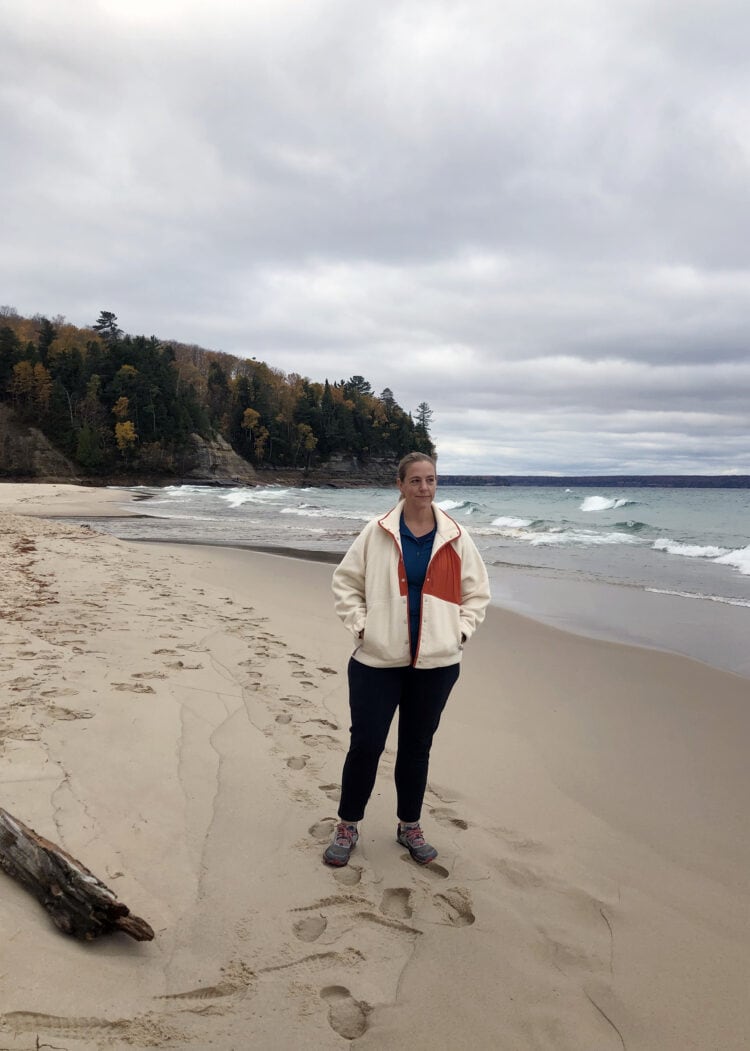 I took the go far fleece for its first outing a couple of weekends ago at Pictured Rocks National Lakeshore in Michigan's Upper Peninsula. This alder apparel fleece kept me toasty warm in the wind coming off of Lake Superior at temperatures in the low 40 degrees. It is cut straight up and down, so I had to go with the XL/XXL so that it would snap across my hips. As a result, the waist and shoulders are really big, but I don't mind as my plan is always to wear at least two layers under it.
I love that this fleece has snaps and not a zipper so that I can snap some of the middle buttons for medium warmth between completely open and completely closed. This fleece has tons of pockets – on the chest, inside, along the sides. I was able to tuck my running gloves, my mask, and my cell phone into the pockets with plenty of room to spare. And, it's so cozy that I sometimes toss it on over my clothes when I am sitting around the house if I want to avoid turning up the heat.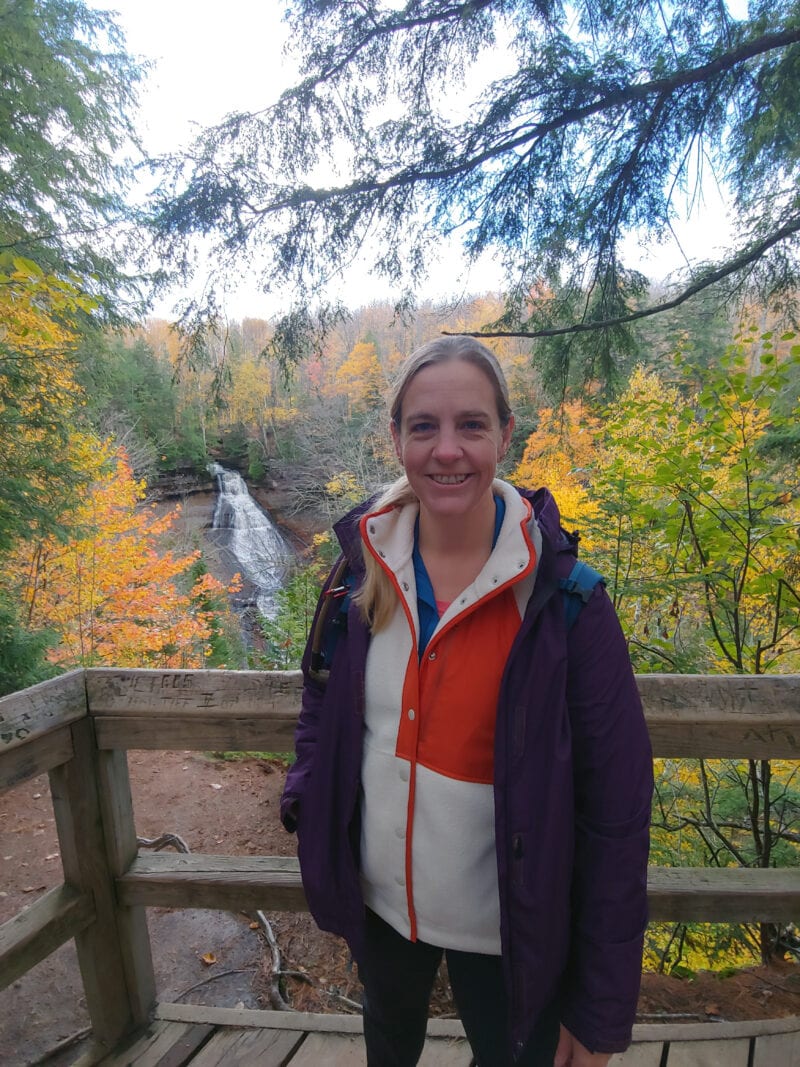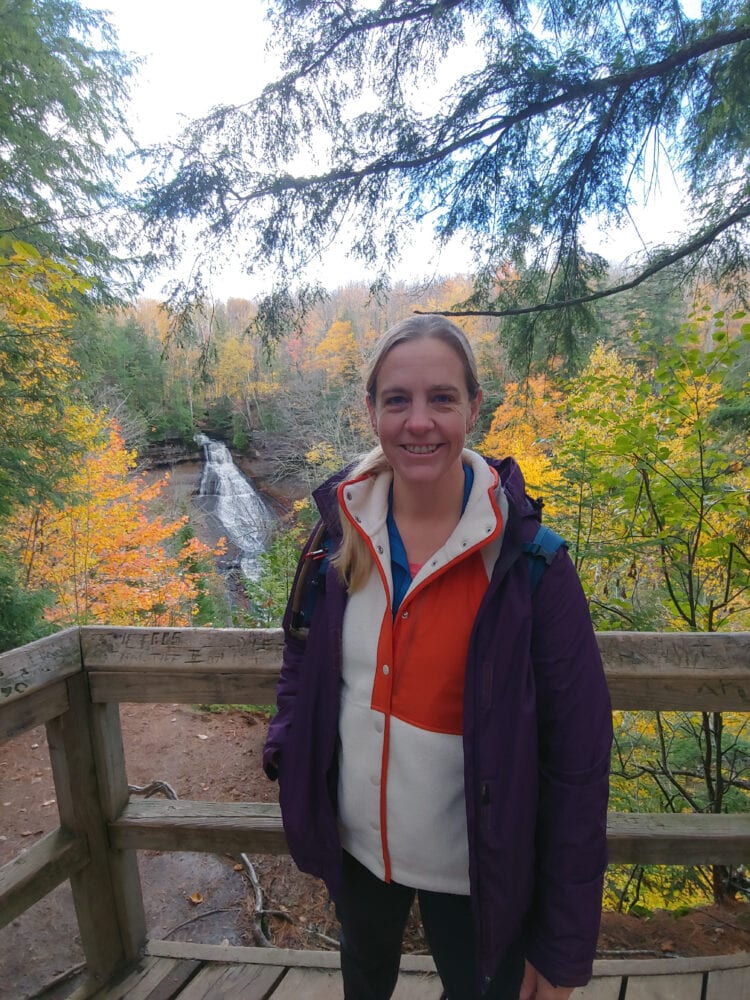 While I was up north, I had my boyfriend take some photos of me wearing this fleece (some you see here) and I must admit that I was a little dismayed. I didn't feel like the Go Far Fleece was particularly (pardon my use of the F word) … flattering. It doesn't show off my waist and it hits my hips at the widest point.
But then I remembered that, like Alison, I am a grown-ass woman and I do not care. It is perfect for what I need it to be and the go far fleece is now part of my regular hiking/trekking kit as well as my dog walking, cold-house-sitting, weekend lounging kit.
Shipping and Returns with alder apparel
Living in the United States, I was curious about alder apparel's return policies and shipping costs since the company is based in Canada. Shipping at this time is only available to Canada and the United States. I found shipping to be free on all items, even the tank, which is the cheapest item currently available from the brand.
alder apparel has their return policy at this link; there is a 45-day window that is based on the order date, not receipt date. While you can try on at home to decide whether to keep your order, all items must appear unworn and be unwashed, undamaged, and unaltered to be returned or exchanged.
alder apparel Review: Final Thoughts
I am stubbornly between sizes at alder apparel, but I have more or less made the brand work for me. I think that the clothes are playful, fun, and thoughtfully made and they are really one of the only outdoor companies making clothing for people with bigger bodies. While I have mostly talked about recreating, I think there is space for each of the pieces I've mentioned here to be worn during non-hiking/exercise activities. As such, I am going to keep giving alder apparel my money as they come out with new pieces that I think would fit in my lifestyle/wardrobe.