This article may contain affiliate links; if you click on a shopping link and make a purchase I may receive a commission. As an Amazon Associate, I earn from qualifying purchases.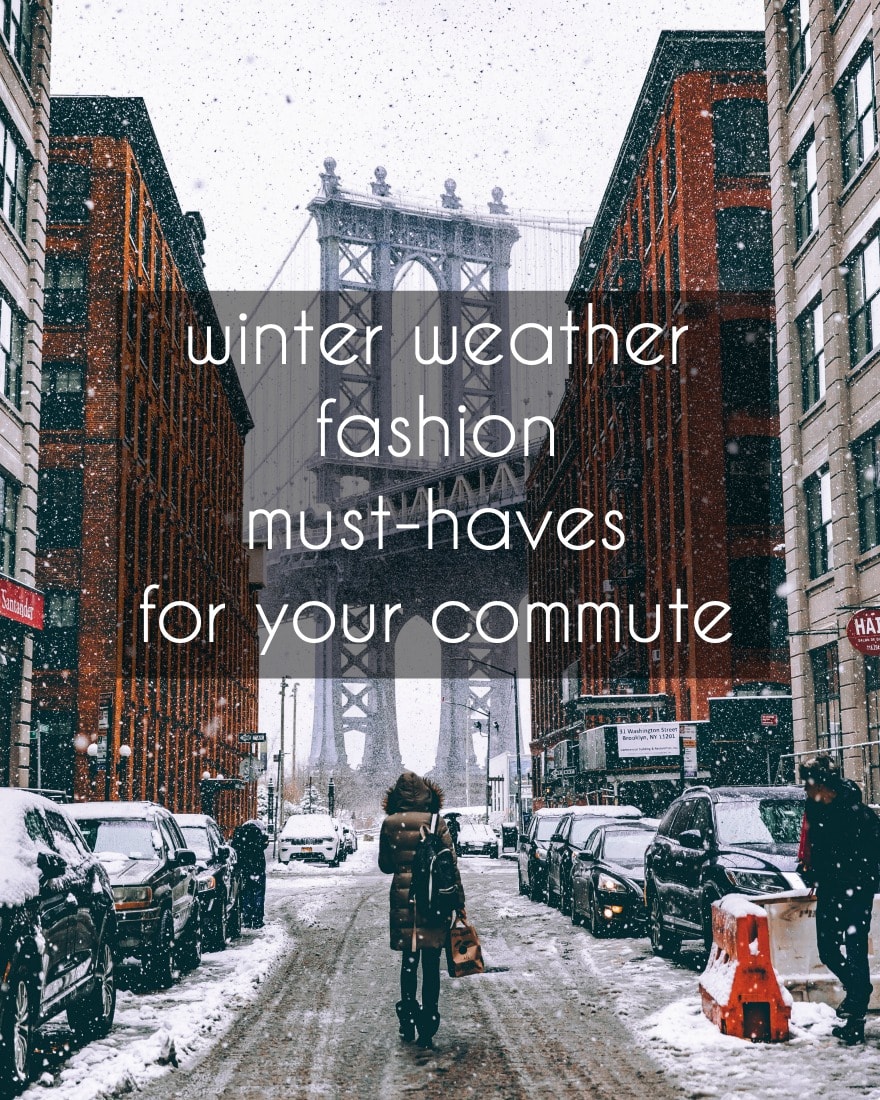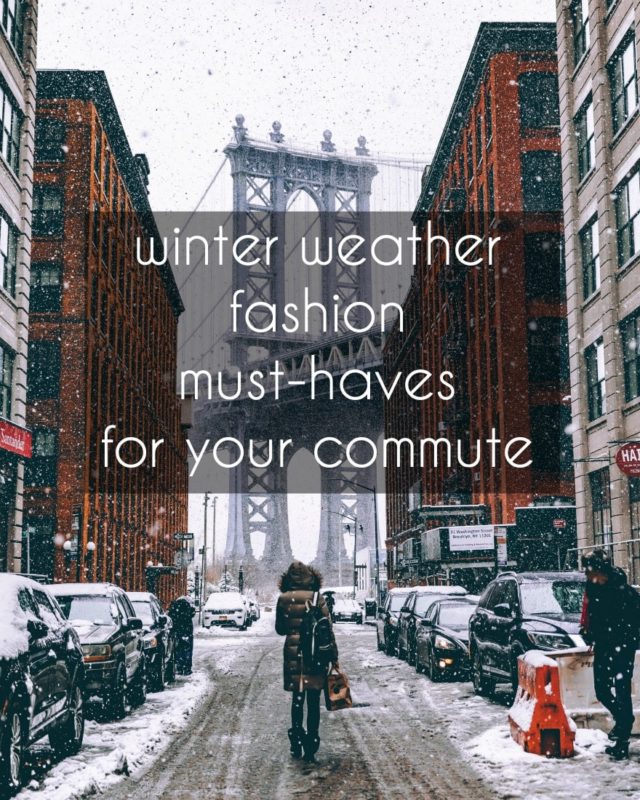 For years, I commuted from house to car, and car to office. I could get through most of winter with a cute wool peacoat and my pumps and kept my parka and boots for shoveling snow. When I switched to a job in the city, it gave me a hard dose of winter reality and my wardrobe changed. Having a child and seeing snow, not just as an inconvenience but a time to get outside and play also taught me how to better handle cold weather. There are some winter commute must haves that will improve your trip to and from work as well as your every-day when the temps drop.
Winter Commute Must Haves
Start with a Base Layer
A couple years ago I bought some Lands' End Thermaskin Long Underwear and it was a game changer. Very thin and lightweight and silky, they don't add bulk while adding warmth. I find they slip easily under jeans and trousers and I've even worn them under thick leggings. They come in a variety of colors and styles; their cami is a favorite as it provides modesty under a blouse or dress while also offering more warmth than a traditional camisole. The leggings are a must have; I also like the long-sleeved crewneck for weekends as I can remove other layers when I get indoors and not look as though I'm hanging out in my long underwear. Best of all, Lands' End carries their Thermaskin collection in plus sizes and many pieces come in petite and tall sizes.
Many suggest silk long underwear for the same reason and I agree it's fantastic though a bit more expensive and harder to find in a broad size range. But don't worry, I found plenty of brands that have a good size range.

Look for Breathability
When switching from windy arctic outdoor temps to the overly heated office, it's important to choose pieces that will breathe. This way, you're warm outside, but not a sweaty overheated mess inside. This year I got one of Chico's Coolmax turtlenecks and am obsessed. It's a great weight and fit that looks stylish and professional under a blazer, untucked with trousers, or tucked into a skirt while also keeping you warm. However, the Coolmax fabric wicks moisture and keeps you from being overheated once indoors.
Merino wool is one of my winter must haves. A dense knit, it looks elegant and professional yet merino wool also wicks moisture and keeps you both warm and cool depending on whether you're inside or out. Over the years I have found beautiful and professional looking merino wool sweaters and sweater dresses that have been winter mainstays for the workweek as well as the weekend. UNIQLO is a great place for budget-friendly merino sweaters. Banana Republic carries a line of washable merino sweaters that go up to size XXL.
Merino wool is also great for socks as it will keep your feet warm but also dry. My favorite wool socks are by Smartwool; they make many styles that are dressy enough to look great with your suits and work dresses.
Consider Skirts Instead of Pants
This may seem weird, but it's far easier to look professional and be warm when wearing a skirt or dress than trousers. One of my go-to looks in winter is a shift dress with tights and knee-high boots; it looks polished but offers so many ways to stay warm and repel wind.
Under the Dress: Add a slip to repel wind and add warmth
Fleece Tights: They look like opaque tights but add more warmth and wind resistance
Tall Boots: Tall leather boots provide wind resistance, protection from salt and slush, and can hide tall socks. They can also be insulated further with shearling insoles.
Leg Warmers: Not just for Jazzercise, leg warmers are great for adding warmth between your shoe and skirt
Long Coats: With a longer commuter coat, you receive better protection than with pants and it's fabric created to stop wind and wash off grey road slush and salt.
Invest in Winter-Weather Footwear
Since slipping on black ice a few years ago and shattering my radius, I'm very particular with my winter footwear. The brand Merrell has a line of boots called Arctic Grip with a Vibram sole created specifically to provide grip even on slippery and wet ice. I got a pair two years ago and they're super comfy and supportive, not too athletic looking, and give me confidence when walking on snow and ice.
One of my favorite pairs of boots are my Sorel Joan of Acrtic Wedges. The wedge gives lift so my pants don't drag in the snow, the boot is stylish enough to tuck under pants or lace over skinny jeans and leggings, and the sole is thick and grippy to give a secure footing.
If it's not icy or too slushy, I recommend waterproof leather boots. Yes, this is a thing and a stylish one at that! Brands like Blondo and Aquatalia offer elegant and professional looking tall and ankle-height boots that won't be destroyed by winter weather. And if there's unexpected ice, I invested in a cheap pair of crampons which can be tucked into my work bag and slipped over any shoes for grip. Add a pair of shearling insoles to keep your feet warm without getting sweaty; this is an especially nice touch if you have to stand at a cold bus stop as they will stop the cold from seeping up through your soles.
There's nothing wrong with having work shoes waiting for you at the office or even tucking them in your bag for a quick change when you reach the client site. When it comes to your commute, function trumps fashion.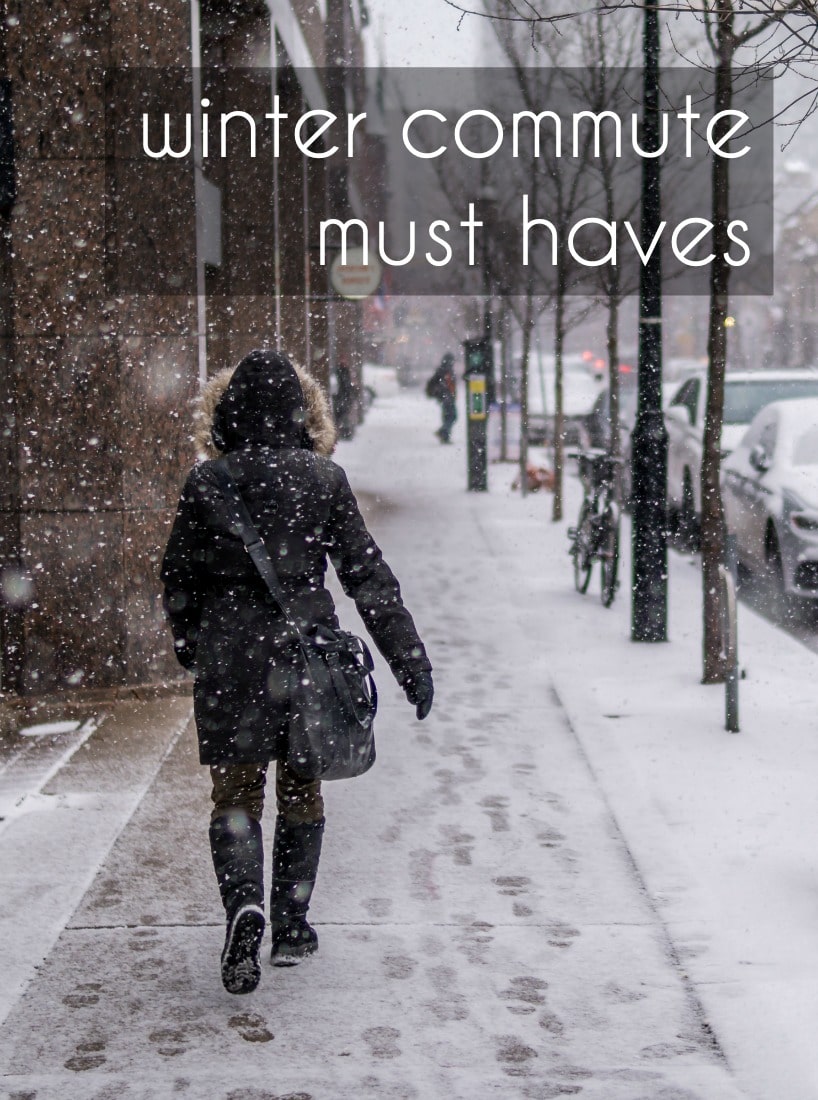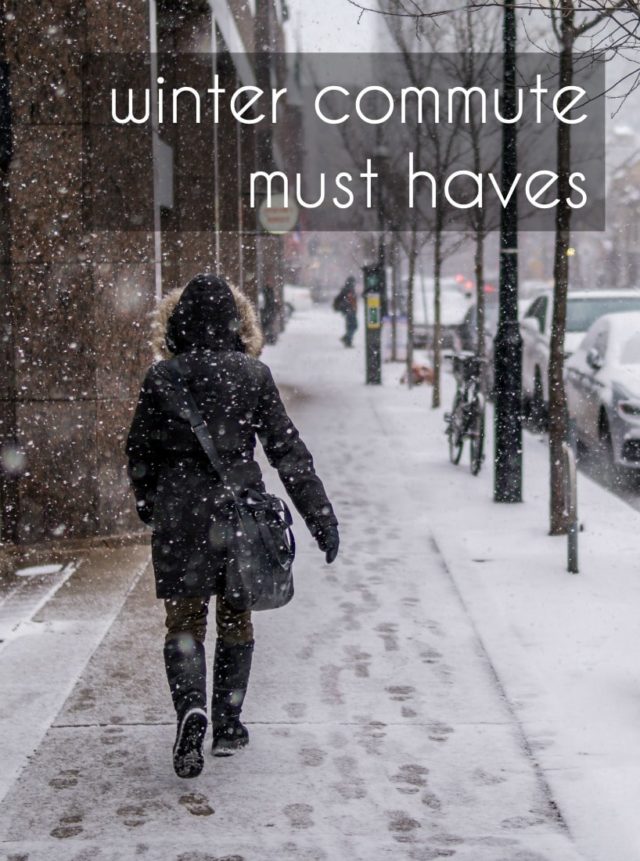 When it Comes to Coats, Go Long and Puffy
While a wool coat may look elegant, it's not the best when the temps drop or when there's precipitation and wind. As with your footwear, it makes sense to choose function over fashion when it comes to a winter commuter coat. A coat that's below the knees will keep your rear warm when sitting at a bench waiting for the bus and will offer warmth and wind protection to your legs. My favorite coat hits at the bottom of my calves, offering plenty of warmth without restricting movement. I also recommend a hood; while you may not always wear it, it will offer rain and snow protection and extra warmth over your hat or earmuffs.
Most coats these days offer temperature ratings which can help you find the right weight for where you live. Before investing in such a coat, do your homework. Google the brand and style and you're likely to find customer reviews, bloggers sporting the coat, and even message boards discussing how the coat fares after several wears.
Weatherproof your Beauty
When the weather changes, so should your beauty routine. Cold air is drying and can do a number to your hair and skin. As the temps drop, look for ways to add moisture to your routine. I add a drop of oil to my daily moisturizer to amp up the hydration and protect my skin, and at night I apply an oil over my night cream. I've also been known to add a drop of oil to my foundation to make it slide better over dry skin and hydrate all day. For my hair, I rinse my hair and then add a small drop of conditioner back to my hair on the ends as a leave-in treatment. Dry shampoo can leave hair looking flat; did you know they also have dry conditioner? It's great for smoothing hair, reducing flyaways, making hair look revived without any grease or heaviness.
Not all lip balms are created equal; switch out that waxy Chapstick for a product that has hydration properties but will also coat and protect your lips in the wind. I love Sun Bum and Aquaphor, both which offer hydration as well as SPF (yes you can get sun damage even in winter).
I know I'm not the only one whose eyes water in the winter wind. The best thing I ever did for my winter beauty game was switch to tubing mascara. Unlike waterproof mascara which can damage your lashes if worn regularly and requires hardcore products to remove, tubing mascara comes off with warm water. Even though it's easy to remove, it stays in place through crying, sweating, and watery winter eyes. I've tried many brands of tubing mascara and will have a full review soon, but my current favorites are from DHC and Blinc.
I keep a tube of quick-drying hand cream in my car's center console and apply at long stop lights. There's cuticle oil next to my keyboard and hand cream next to the liquid soap in every bathroom. The more you protect your skin, the less likely you'll end up with dry, chapped skin and ragged winter cuticles.
Winter Weather Accessories
Gloves, hats, and scarves are a given, but there's many other accessories that will keep you comfortable all winter long.
Earmuffs with Built-in Headphones – if you're the type who enjoys music, podcasts, or Audible on your commute, this way you can continue while keeping warm.
Slouchy Cashmere Beanie – I have several of this one from Nordstrom and love how it keeps my head warm without destroying my hairstyle. It's also low profile so it can continue to be worn indoors with casual outfits.
Molded Cup Bras – Extra wind and chill protection for one of the most sensitive parts of the body. I swear by these in the winter; this one from Soma is a favorite.
Sunglasses – No need to put these away when summer is over; a pair of large-framed sunglasses will protect your eyes from snow glare and also protect your face from the wind.
Cashmere-lined Leather Gloves – These are the kind of gloves that just get better with time. I have a pair in many coats; I buy them at the end of the season or during winter sales to get the best price. They mold to your hands so you can still open your bag, zip your coat, or hold a cup of coffee yet keep you much warmer than knit. Some styles have a eTip so you can use your smartphone without having to remove your gloves; if you go that route ensure you choose the right size so the pad is in the correct place on your finger.
Neck Gaiters – Scarves look chic, but often leave pockets where cold air can slide in under your collar. A neck gaiter is like a turtleneck you can wear under your coat and even under your hat to create seamless weather protection. Gaiters can also double as a hat or headband, or pull up to cover your mouth and nose. I find the fit and quality of Lands' End's gaiters to be great and they're regularly on sale.
Shearling and Wool Insoles – I know I've mentioned these a million times already but they're truly a gamechanger. When I added a pair of shearling insoles to my favorite winter boots they became shoes I never wanted to take off. I could stand waiting for the Metro for hours on an outside platform and not get cold, plus they offer a bit more cushioning. If shearling is too thick to fit in your shoes, they also have wool insoles which are slimmer and also help keep you warm.
I know those of you who live farther north have even more wonderful tips for how to stay warm and stylish all winter long. Please share your suggestions for winter commute must haves in the comments!