This article may contain affiliate links; if you click on a shopping link and make a purchase I may receive a commission. As an Amazon Associate, I earn from qualifying purchases.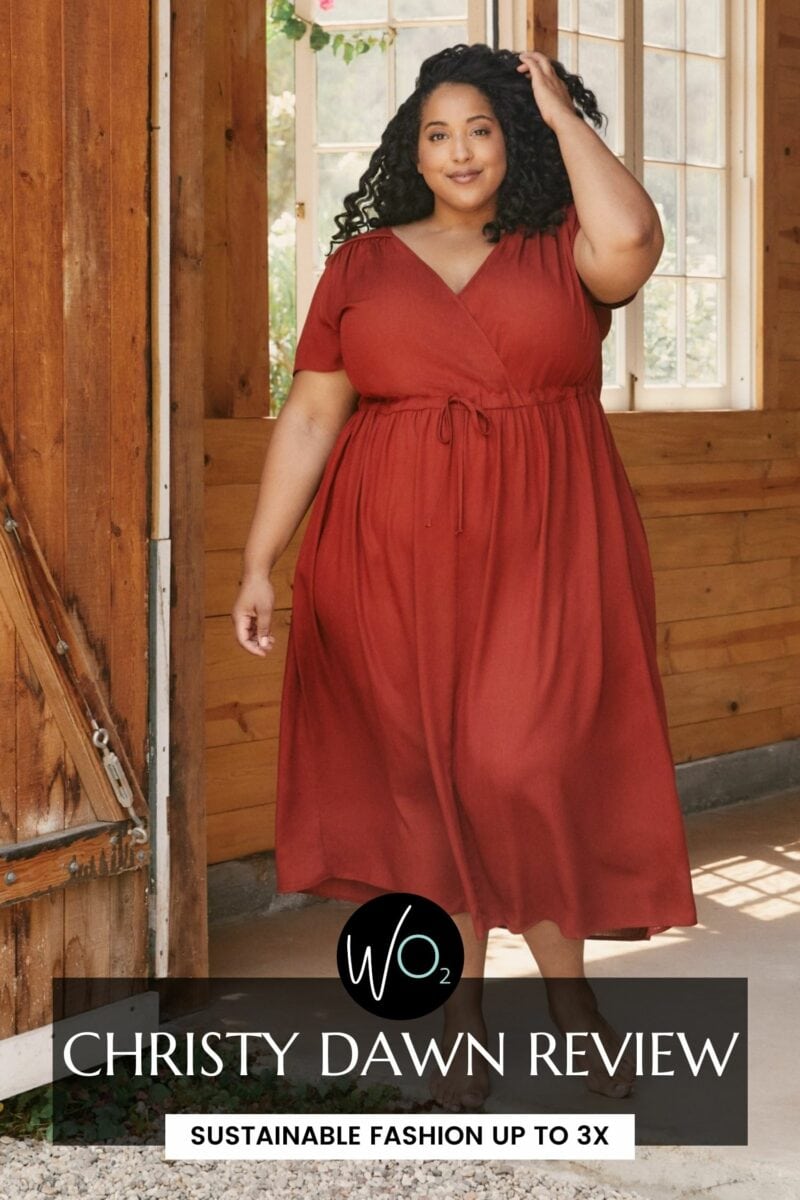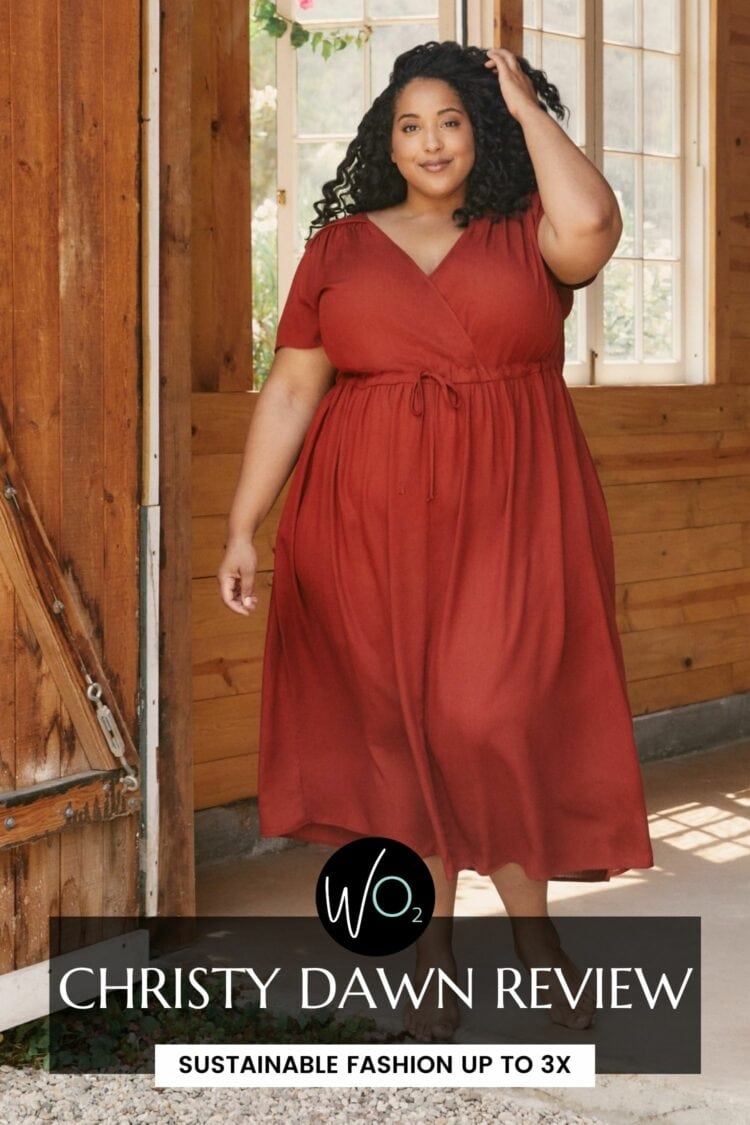 by Lissa T.
Three or so years ago, I discovered the sustainable brand Christy Dawn via the magic of social media marketing. Christy Dawn was actually the first sustainable fashion brand that attracted my eye and got me thinking about fashion and sustainability. When Alison invited me to write about sustainable fashion brands, I suggested a Christy Dawn review. I purchased all apparel seen in this review; this is an unpaid, honest Christy Dawn review.
This apparel review is by Lissa, who you may recognize from her Tiny Closet fashion review, or her informative posts in the Wardrobe Oxygen Community. Lissa is passionate about sustainable fashion and having a different body shape and height from me, I thought her reviews with outfit photos would be a wonderful addition to Wardrobe Oxygen. On a monthly basis, Lissa will share her thoughts on sustainable fashion brands she owns that have extended sizing (at a minimum up to XXL/size 20).
Who is Christy Dawn?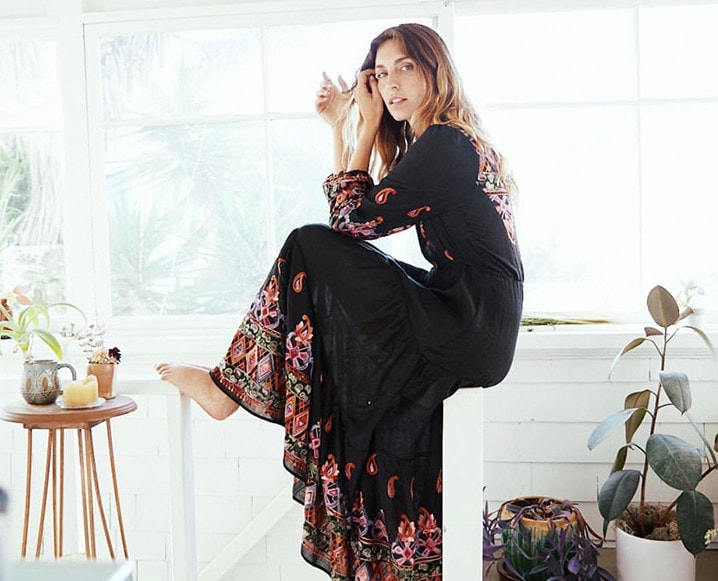 Christy Dawn is not just a name for a brand that specializes in floral dresses, it is also the name of the brand designer and co-founder Christy Dawn Peterson (she started the business with her husband, Aras Baskauskas). Growing up in a small town that was hours away from a shopping mall, Peterson relied on thrifting and altering those thrifed pieces to fit her body and aesthetic.
Prior to starting her eponymous fashion brand, Peterson spent a decade in front of the camera as a model. That experience helped her "see how the sausage was made" when it came to the apparel business and it benefitted her when she started her own business.
Peterson has always been a fan of the look of vintage dresses, but such dresses were often stained and damaged when found at thrift stores. She created Christy Dawn to offer the same aesthetic, with sustainable practices like thrifting, and with limited edition colors and prints from deadstock fabric to still have that feeling of specialness and exclusivity.
What is Christy Dawn?
At its inception, Christy Dawn made all their clothes in Los Angeles from deadstock fabrics. As the company has grown, they have expanded their original scope to involve growing their own crops for fabrics. They recently started a "farm-to-closet" series where they partnered with farmers and makers in Erode, India to rehabilitate land that was poorly managed to grow cotton.
Their Indian partners in the Oshadi Collective then weave and dye it in a sustainable way, and everyone is paid a fair wage. The fabric is shipped to California where their dressmakers use it to make clothes and all their dressmakers are also paid a fair wage. The company as a whole is quite transparent with its business practices.
I found their entire aesthetic really appealing. Most of the advertising photos are gold-toned and show their models in rural locations – walking through a field, or a forest, or maybe hanging out in a barn. The clothing is very vintage, cottage-core and I really bought into the vibe.
Is Christy Dawn Size Inclusive?
When I first started to look at Christy Dawn, they did not carry sizes beyond an XL but in the last year or so they expanded to 3XL in some dresses. They also carry petite in some styles.
Christy Dawn was criticized in the past for its lack of model diversity. While the majority of their models have been smaller-sized, white, female-presenting people, they have made an effort in the past year at diversifying their model pool.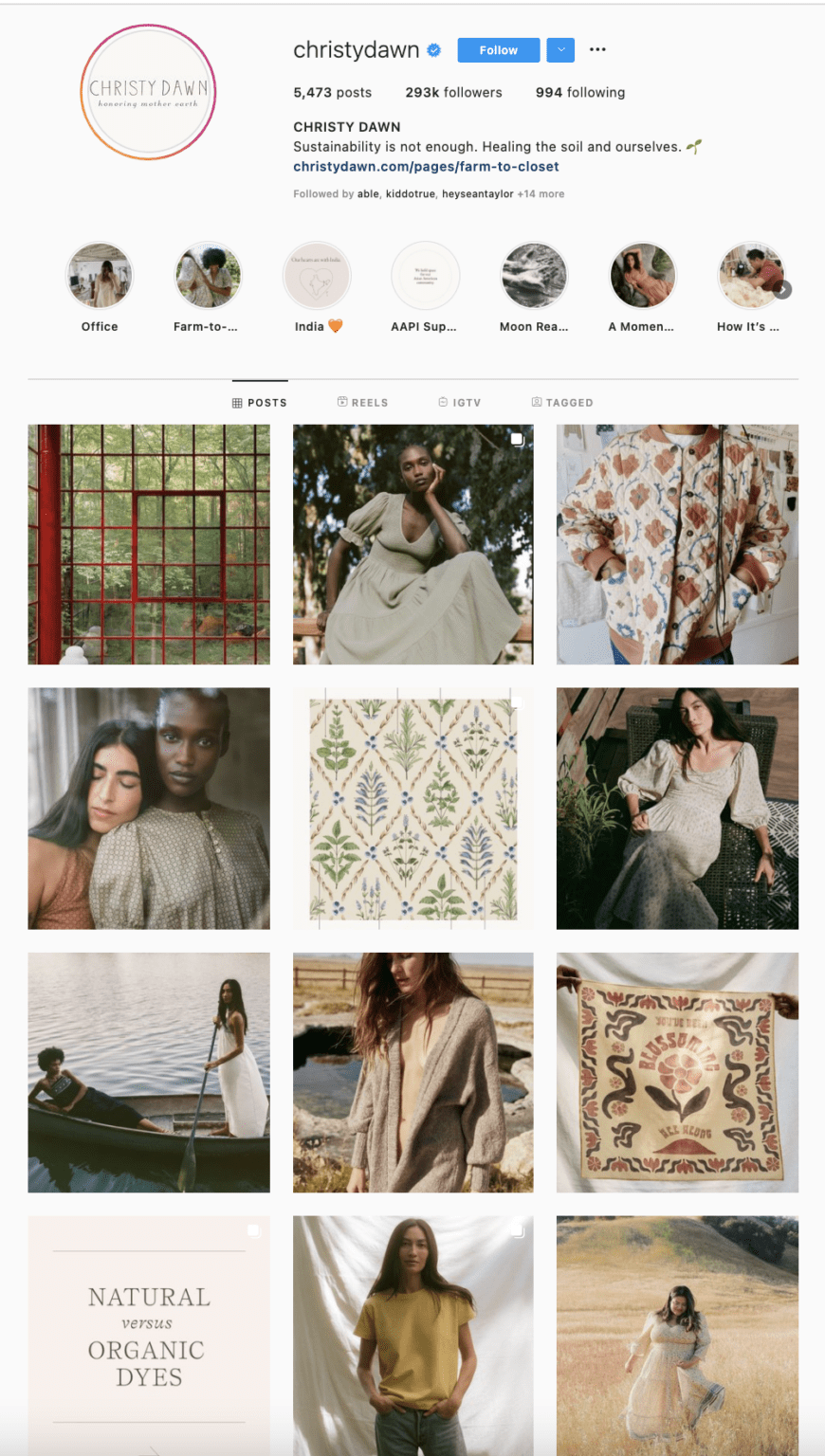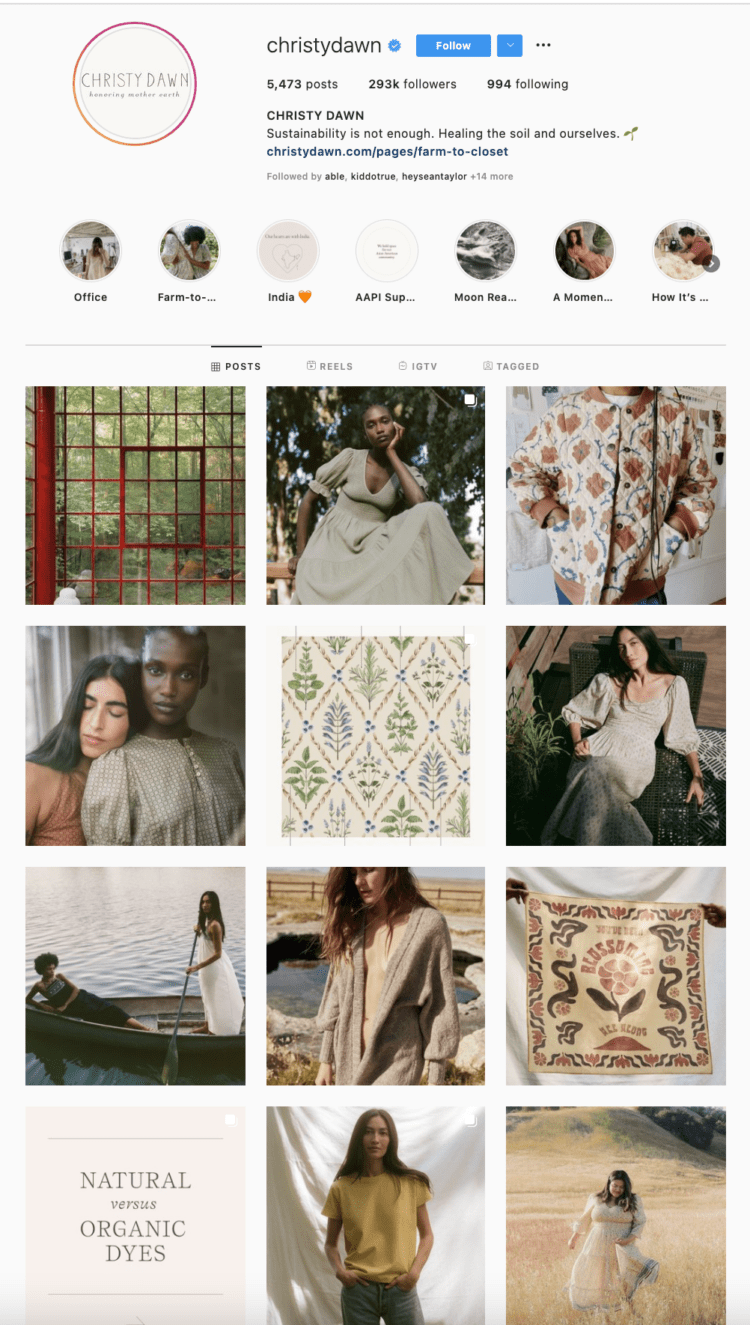 When I clicked the link on their site to see their whole range of apparel, seven different models were featured on the first page of product. The majority of these models were Black and other women of color. Almost every single row of images on Christy Dawn's 2021 Instagram feed features at least one woman of color.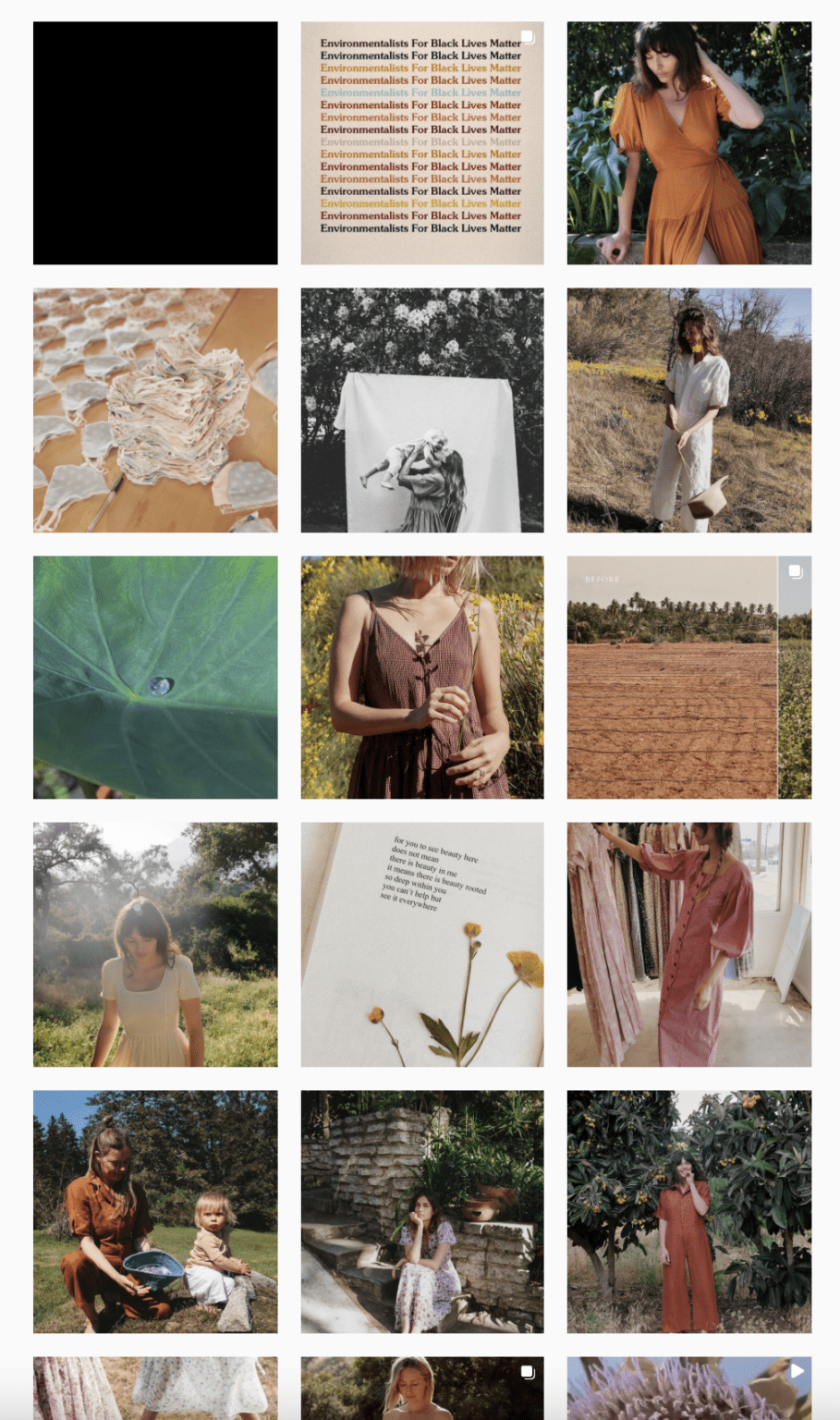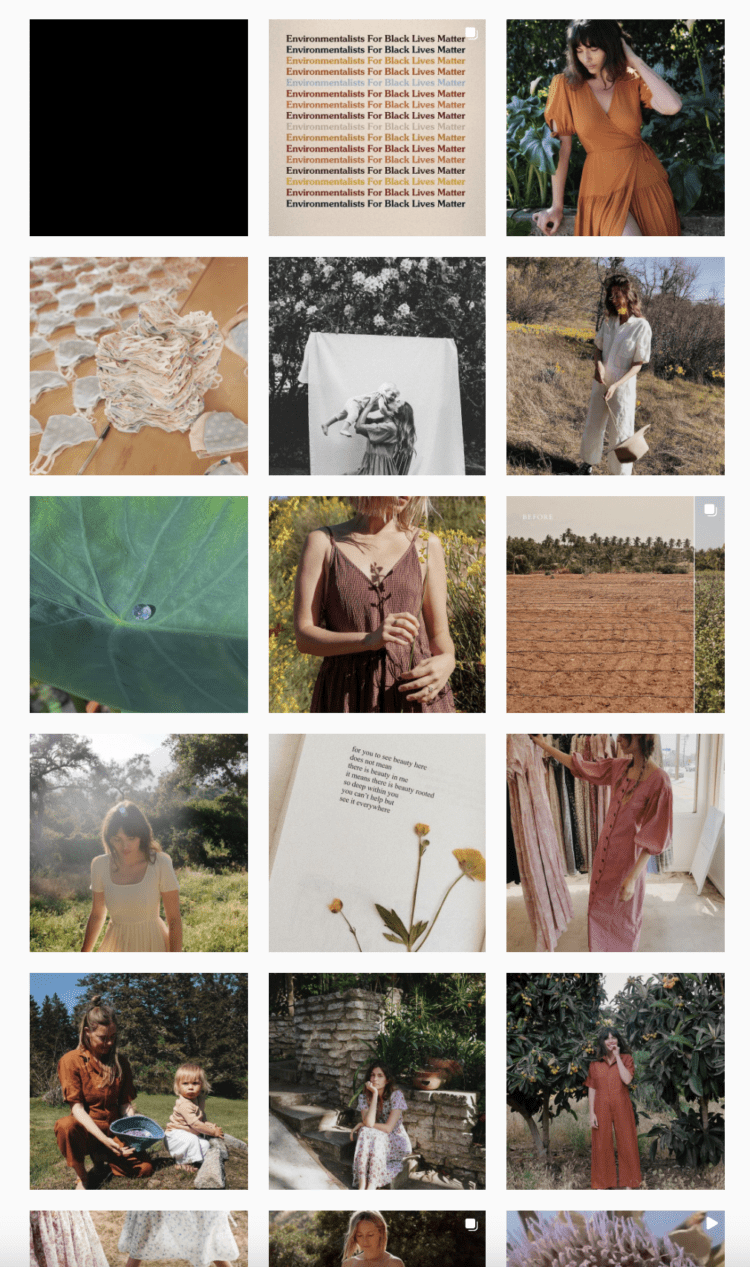 Prior to the George Floyd protests of 2020, the Christy Dawn Instagram account and website looked very different. Above is a screenshot of the brand's Instagram account just before they shared the infamous Instagram black square at the end of May 2020. Comparing the two screenshots shows the change in Christy Dawn's marketing. This change is seen throughout all their marketing and has also affected their business practices for the better.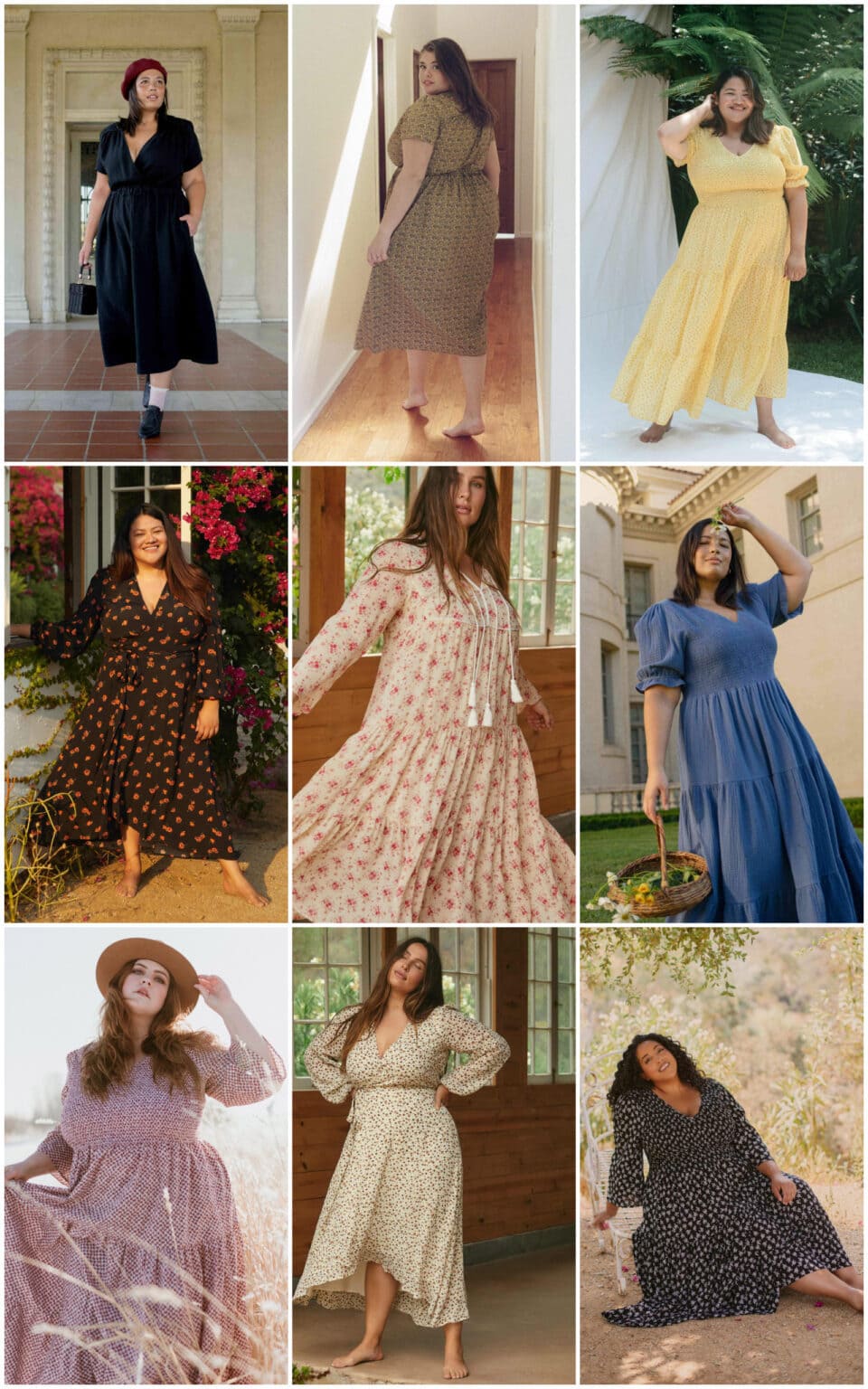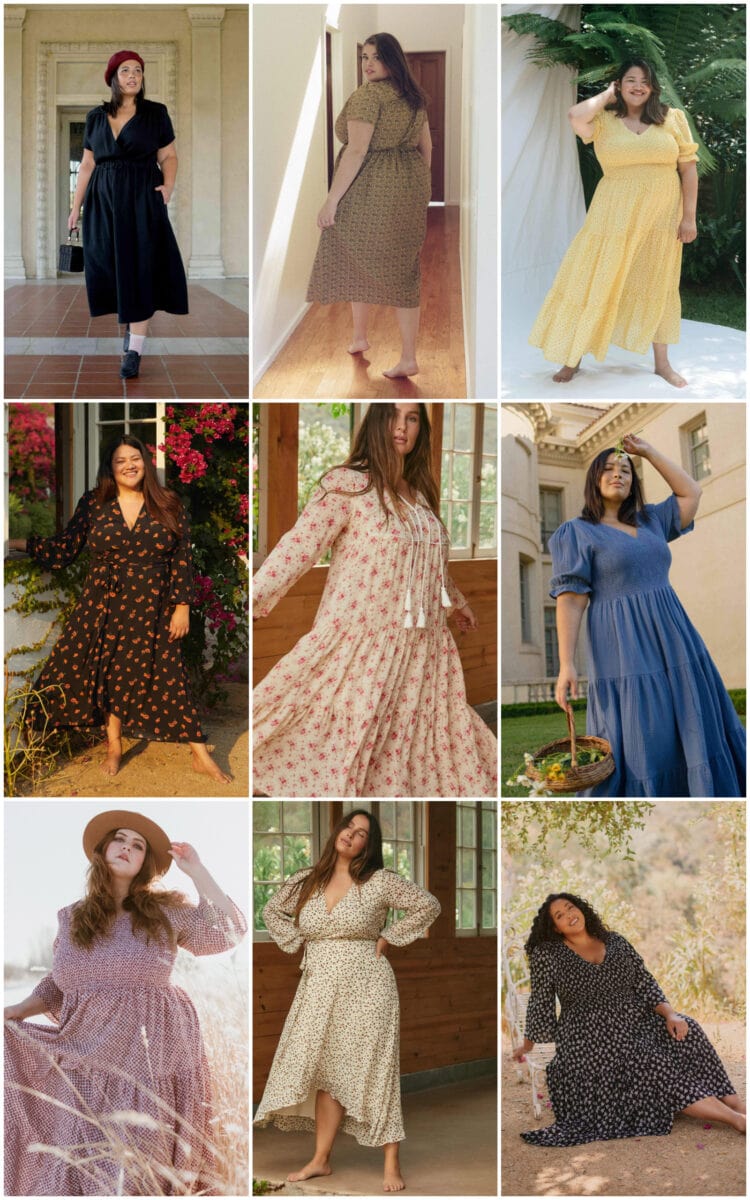 Extended-sized versions of dresses are at separate links and modeled by plus size bodies. However, there is no link on the straight-sized page of the same dress to the plus page (or vice versa). Christy Dawn has a range of plus sized models and several are women of color. However, the plus sized models are rarely shown on Christy Dawn's Instagram or marketing pages on their website.
At the time of writing this, Christy Dawn has shared over 350 photos in their Instagram feed in 2021 and six, maybe seven of them feature a plus sized model or Instagrammer. Granted, not every graphic they share features a model, but the size diversity in their marketing is still lacking.
My Christy Dawn Review
My Christy Dawn review is of three of their styles of apparel, purchased over the past couple of years. I share when I bought them and if any of these garments have been modified by the brand since my order.
My first purchases from Christy Dawn were in the Fall and Winter of 2019. A quick search of my email history showed that I ordered my Dawn Jumper during a Black Friday sales event and my Dawn Dress during an after-Christmas sales event. I used 30% off coupons for both pieces which brought their prices down considerably, but they were both final sale.
For reference, I am 5'10", and typically wear a size 12 dress and 14 pants at Loft or J.Crew or an XS at Universal Standard.
Review of The Dawn Jumper from Christy Dawn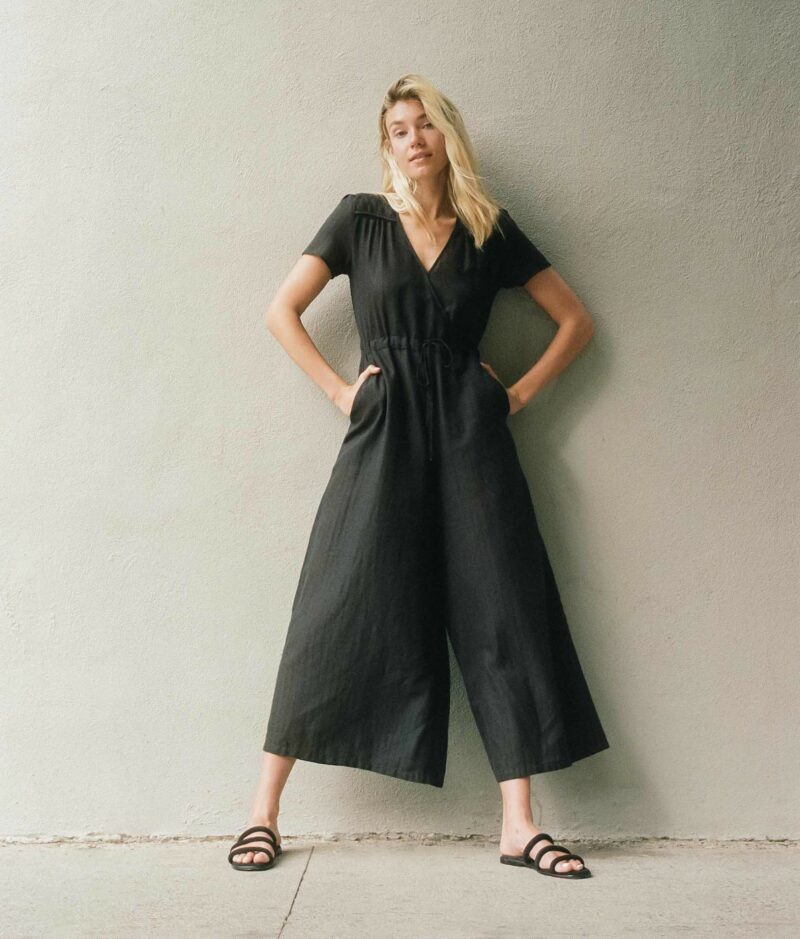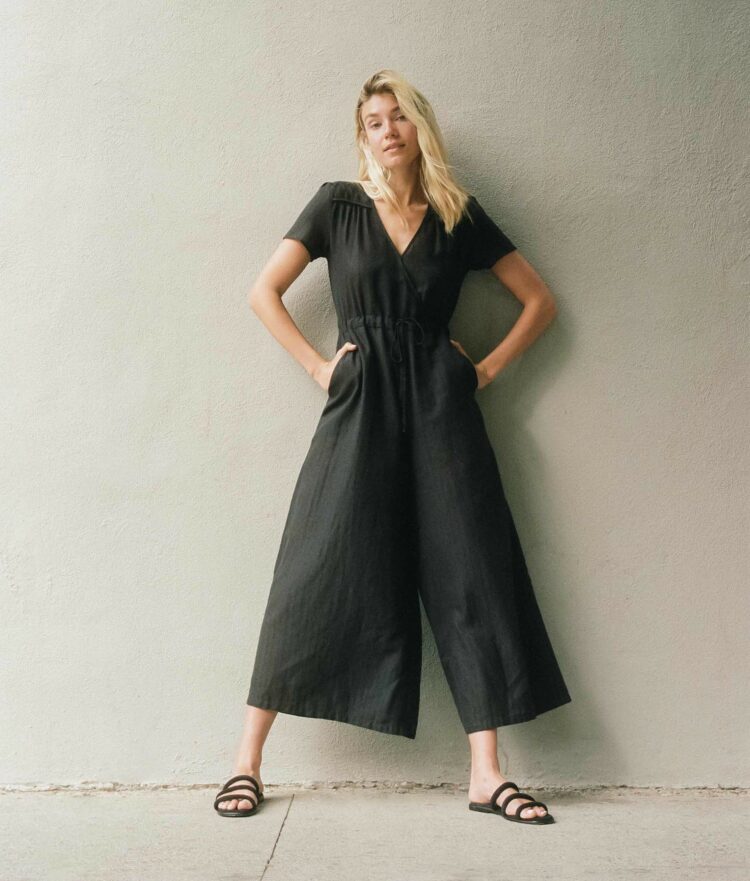 My hips are my largest measurement, so I usually purchase based on my hip dimension. According to the Dawn Jumper garment information, I could have taken an L or an XL but I figured it is easier take something in than let it out. Plus, in the pictures, the jumpsuit had a draped, oversized look so I went with an XL. The extreme cottage-core aesthetic is not normally what I wear, so I got it in black linen thinking that that would be a versatile piece that could be worn at least in the spring/summer if not all the way through fall.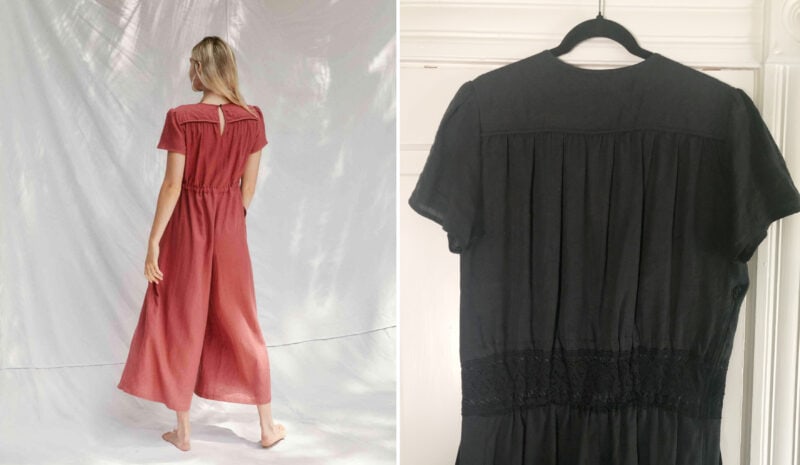 Something to notice about the Dawn Jumper on the website now is that they have a button in the back with a little keyhole. The original design for the Dawn Jumper lacked that detail; my jumpsuit has a solid back. This is important because linen does not have a lot of stretch to it. When I got my jumpsuit, I had to turn sideways and really shimmy the neck up over my hips. Then, I reached my arms back and shrugged into the sleeves to get the jumpsuit all the way on.
As you're probably guessing, the fit of the Dawn Jumper was very, very poor. The torso was too short for me by a good two inches and the top was far too large in the waist. Drawing the under-bust drawstring tighter only made the torso even shorter and more uncomfortable.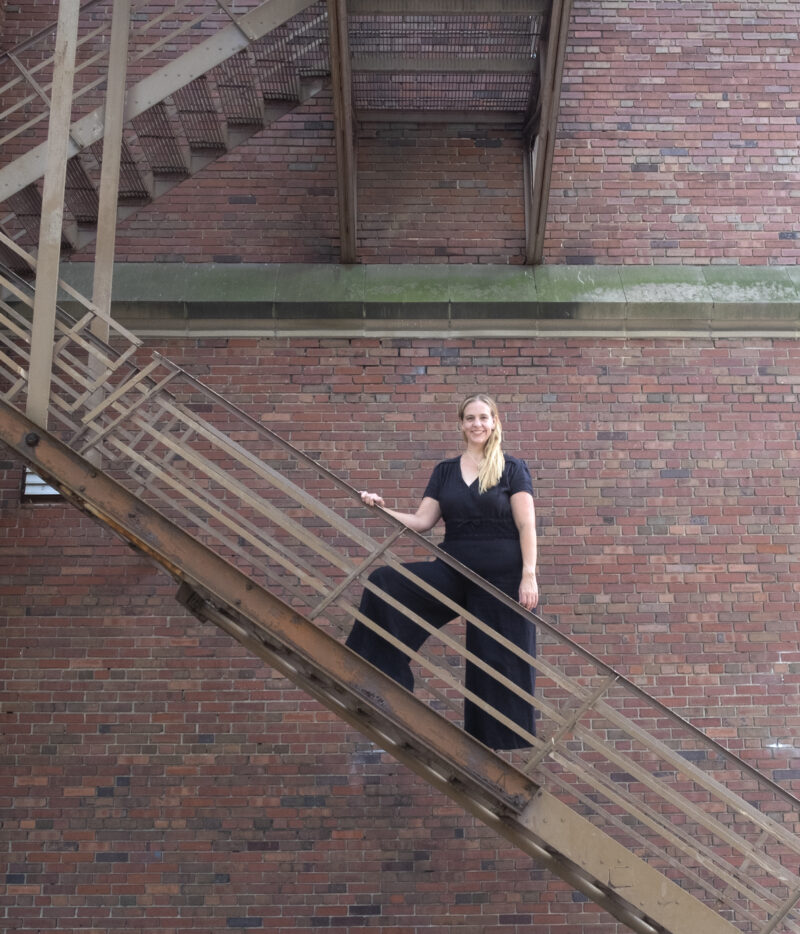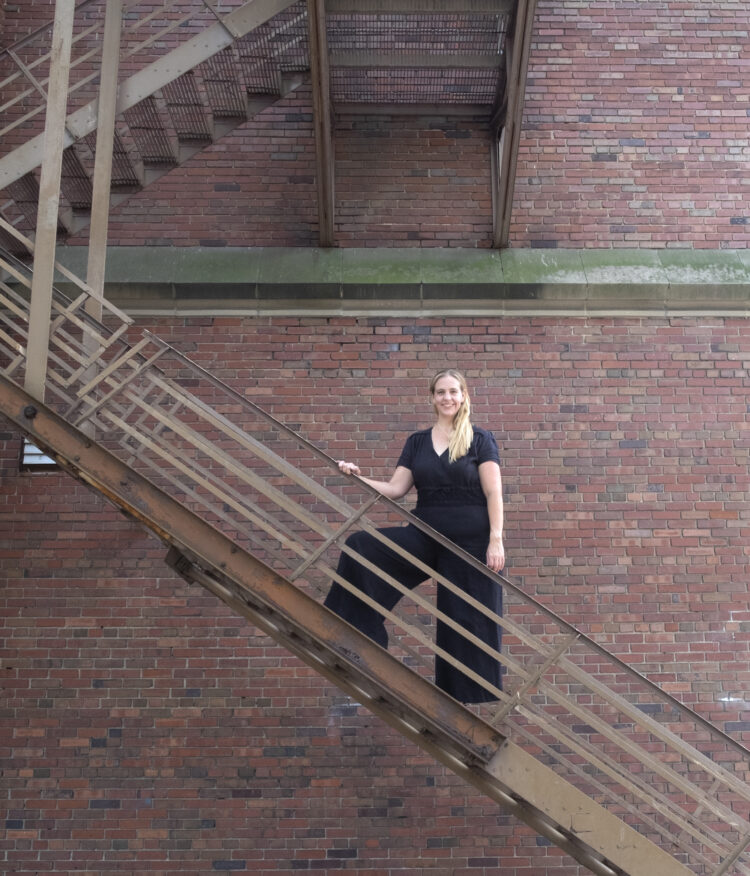 I checked myself out in my bathroom mirror and was disappointed with what I saw. And then, even more disappointing, I could not get the jumpsuit off. Because linen does not stretch and there was no back button or zip, I couldn't wrench my arms back enough to squeeze the sleeve off my shoulder – and keep in mind that my shoulders are so flexible that I have trouble stabilizing that joint when I do things like pushups when I work out.
My other problem is that I live alone, so there was no other human around who could help me. I spent almost twenty minutes trying to extricate myself from the Dawn Jumper. I didn't want to sit down in the jumpsuit because the torso was so short that I thought I might break some of the stitches. I finally gave up and called a friend who lives nearby to come over and help me. She was able to pull the back of the jumpsuit down and I was able to shimmy out of it.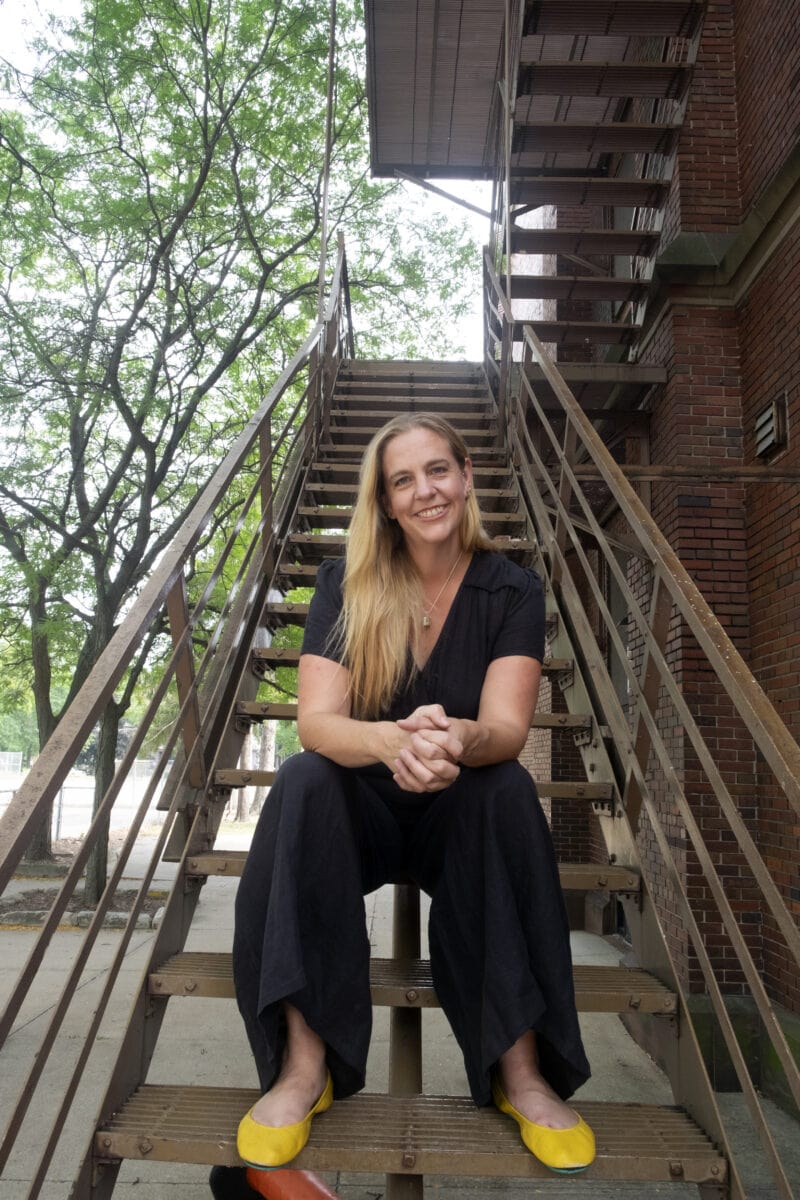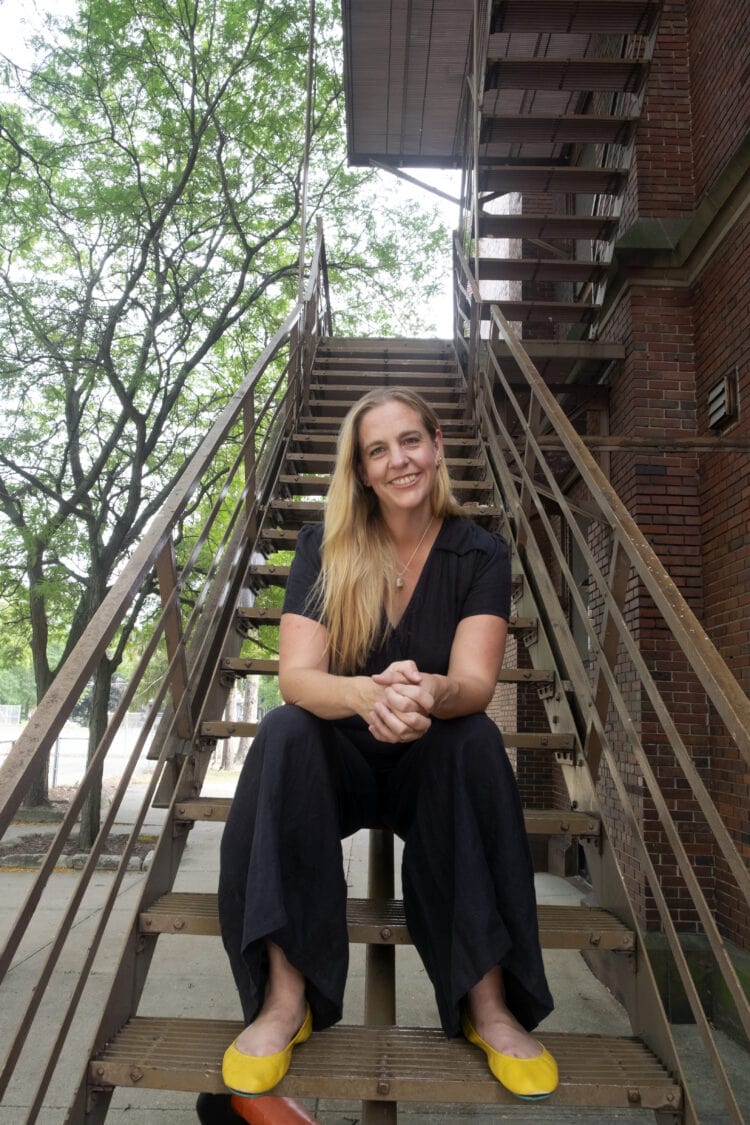 I assume that the addition of the button in the back solves this issue, but I would not purchase another Dawn Jumper to find out. There are a lot of Christy Dawn products on the resale market, so I recommend checking to see whether there is a back button if you are thinking about purchasing a second-hand Dawn Jumper.
At this point, I had an expensive jumpsuit that I purchased as a final sale item. I still liked the style and the fabric, and the jumper looked very well made, so I took it to my tailor to see if she could do anything for me. (As an aside, she also had to help me get out of it after I tried it on so that she could see the fit.)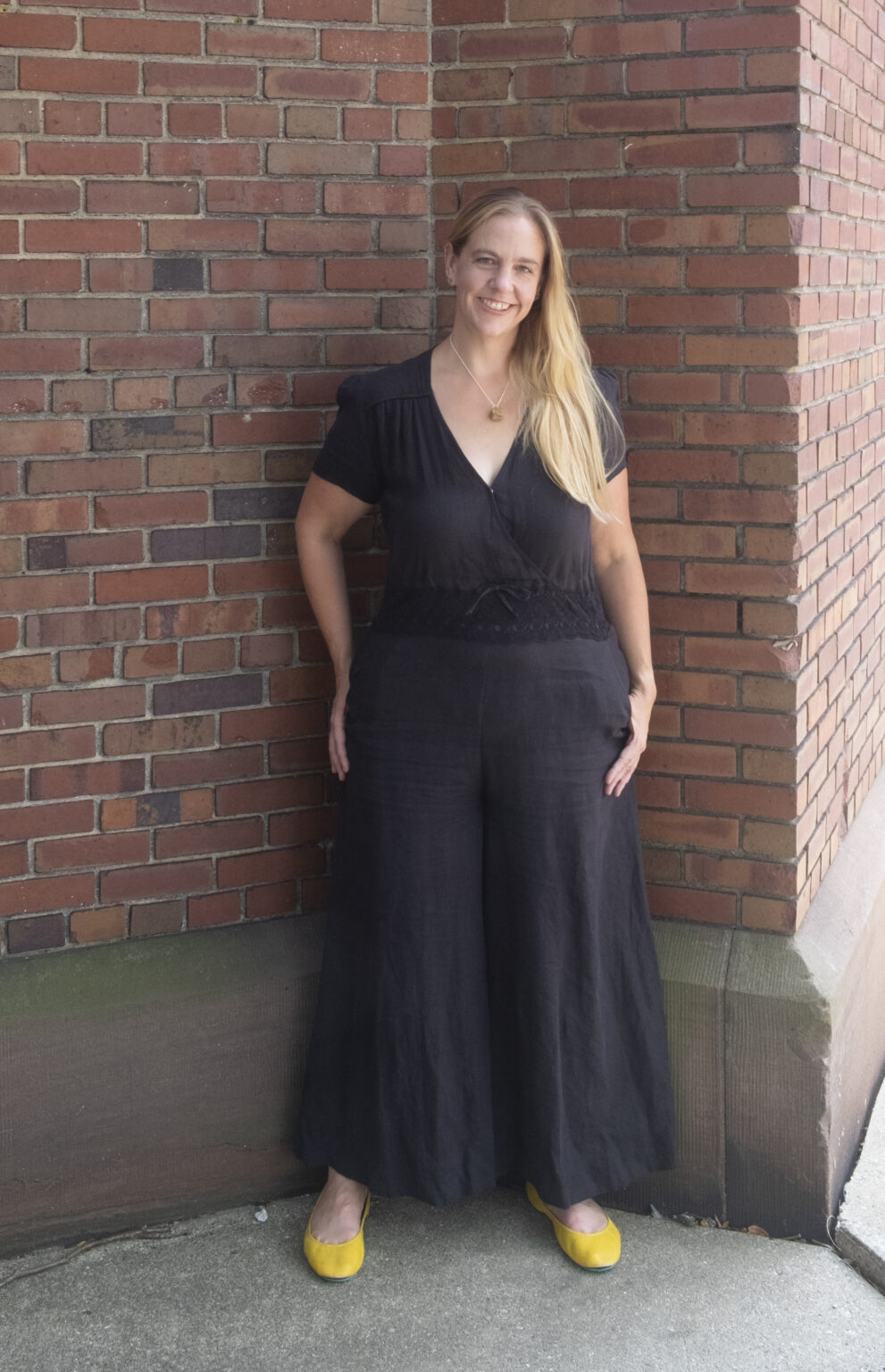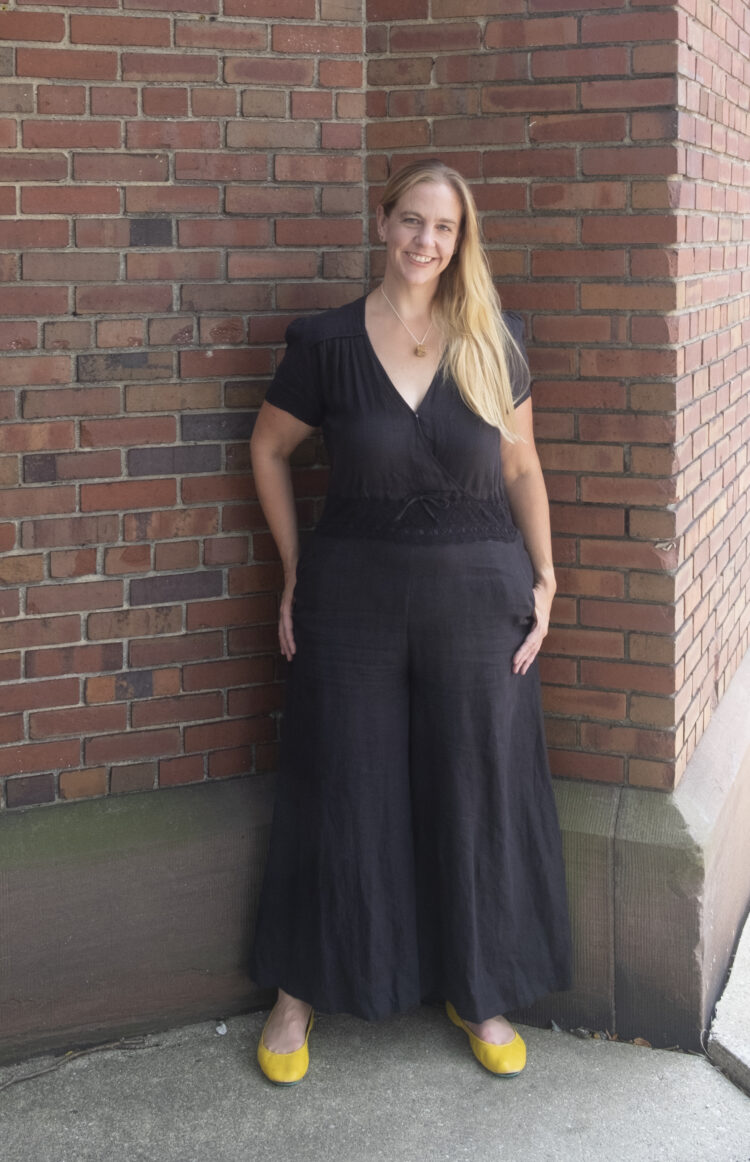 My tailor was able to cut the jumpsuit in half and add two inches to the torso, just under the drawstring. It's a double layer of black mesh and lace so that it is opaque but adds interest without changing the aesthetic of the garment. To get around the issue of getting in and out of it, she added a really long side zipper. This jumpsuit now unzips to my mid-thigh on the right-hand side. That allows me to cock my hip out of it and then I can relax it off my left shoulder and slide it down.
It is still not easy, and I never wear this jumpsuit if I think I might have to go to the bathroom an above-average number of times. Lastly, she couldn't take in the top (because I would never be able to get it over my hips) but she did put some thin elastic in the back to make it sit closer to my waist without having to pull the drawstring tightly.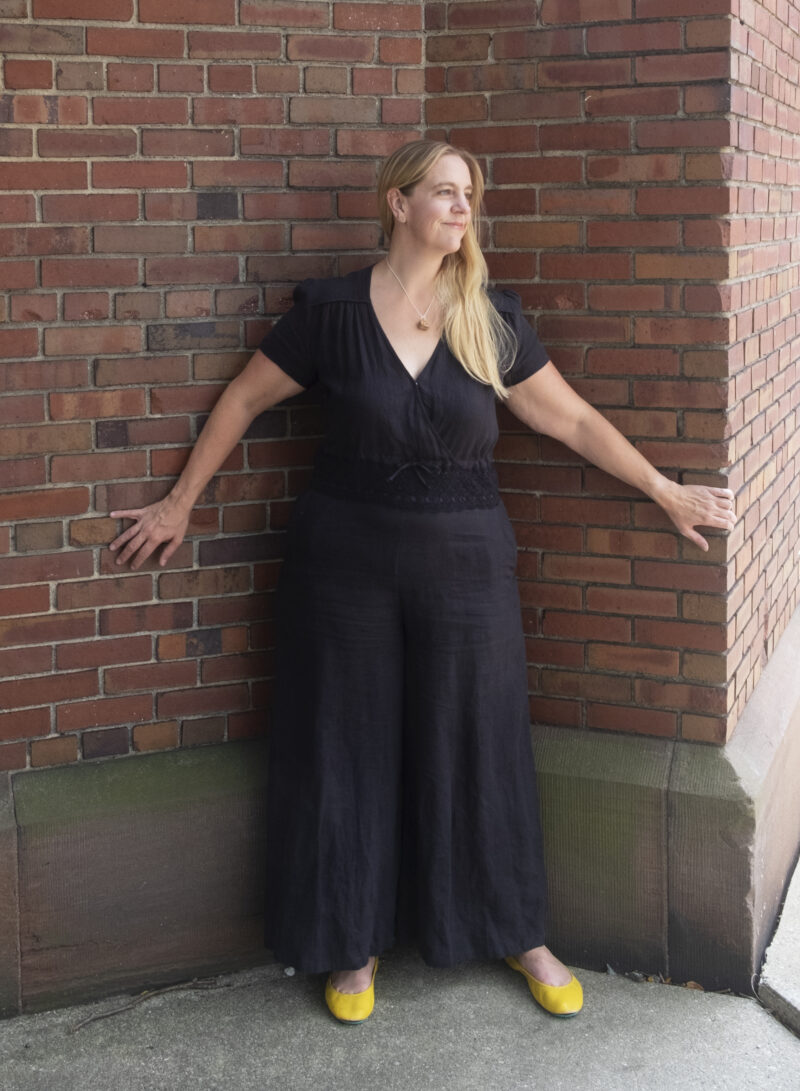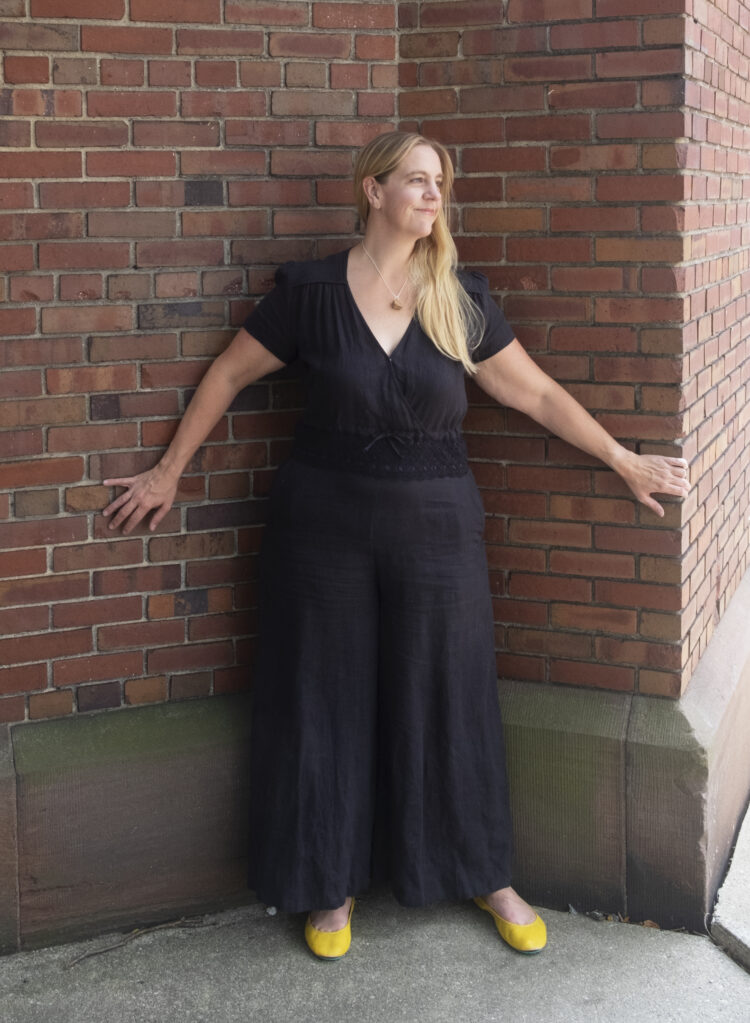 With the cost of all the tailoring, I basically had a full-price jumpsuit from Christy Dawn. That said, I do wear this jumpsuit all the time. It has washed very well. It has not shrunk and the linen has gotten softer and more pliable over time. I love this in the fall with a long, drapey sweater over it, and in the spring with sandals and a denim jacket. I've worn this to work, and I've worn it to grab drinks with friends (but not too many drinks, because then I would have to use the bathroom).
I get compliments almost every time I wear it. So, the story of this jumpsuit does ultimately have a largely happy ending, but that happy ending required three fittings with my tailor to make it happen.
Review of the Avery Jumper from Christy Dawn's Farm to Closet Collection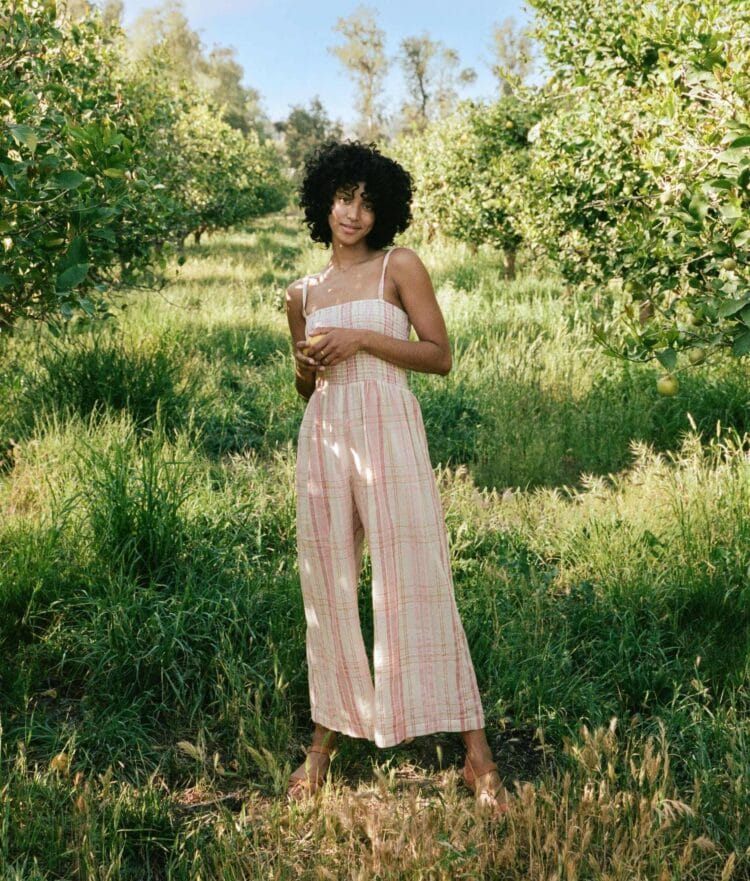 I recently purchased another jumpsuit from Christy Dawn, from the Farm-To-Closet collection, in a size large. It came packaged with a bunch of dried lavender, which I assume was an attempt at referencing the "eco" nature of the collection, but mostly just annoyed me as the dried leaves got all over the floor when I opened the bag. The Avery Jumper has a smocked top with adjustable spaghetti straps, so I figured that the torso issue would not be a problem.
Well, I was wrong and the proportions were still very bad for me. I had to let the spaghetti straps out entirely to get the crotch to sit comfortably. But at that point, the top sat so low on my bust that one wrong move would have the elastic sliding down around my waist. The cotton fabric of this jumpsuit was absolutely lovely but extremely sheer. I was wearing light-colored underwear and it was possible to see the details in the edge of the thin elastic at the waist.
It looks from the pictures of the models that most of the Farm-to-Closet dresses are made out of the same sheer, lightweight cotton as this Avery Jumper, so if you decide to try one of these, I would recommend also ordering a slip if you don't already have one. I will not try another Christy Dawn jumpsuit and I returned it (with the lavender) without taking any pictures.
Review of The Dawn Dress from Christy Dawn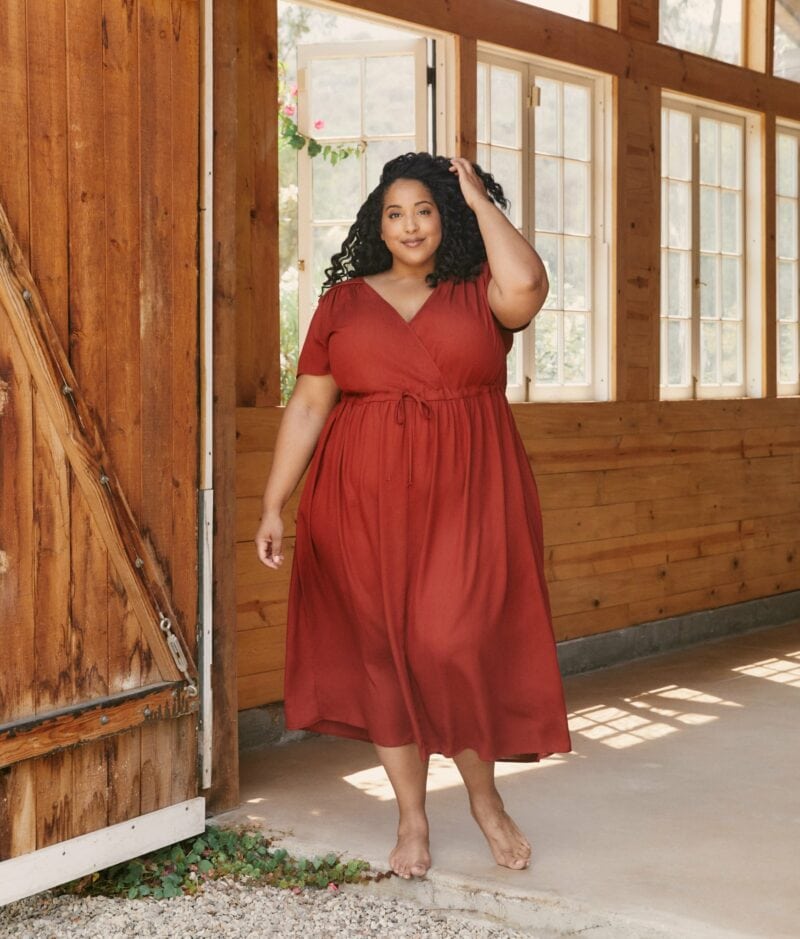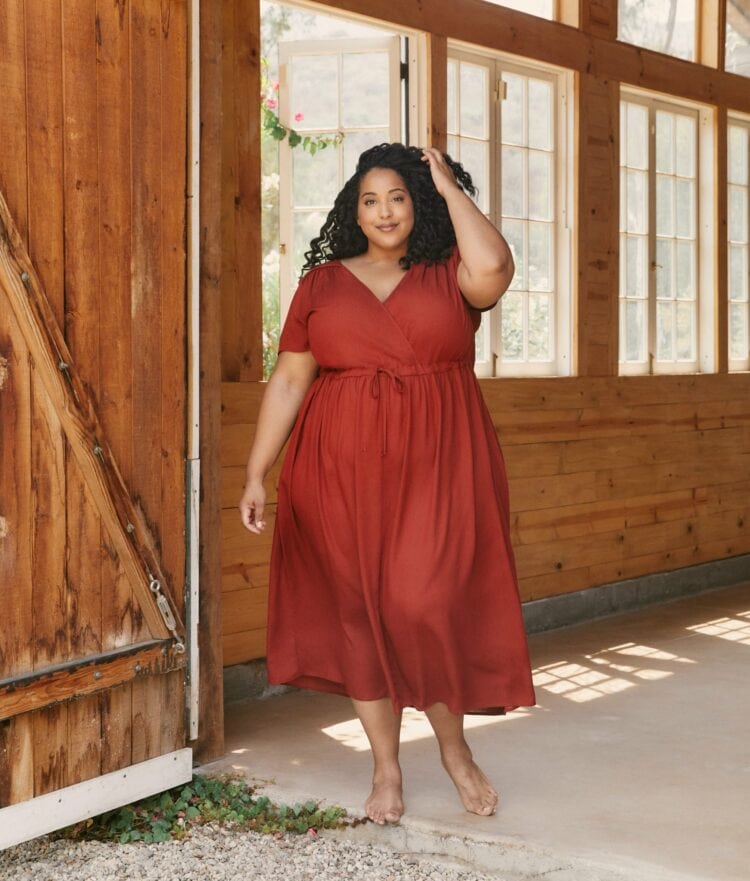 The Dawn Dress has the same top as the Dawn Jumper, but a full midi skirt instead of wide-leg pants. I remembered how giant the top was on my jumpsuit, so I opted for a size large in the dress, in the large scale floral print "Night Anemone". This is one of the styles from Christy Dawn available in extended sizes 1X-3X. The Dawn Dress is also available in Petites XS-XL.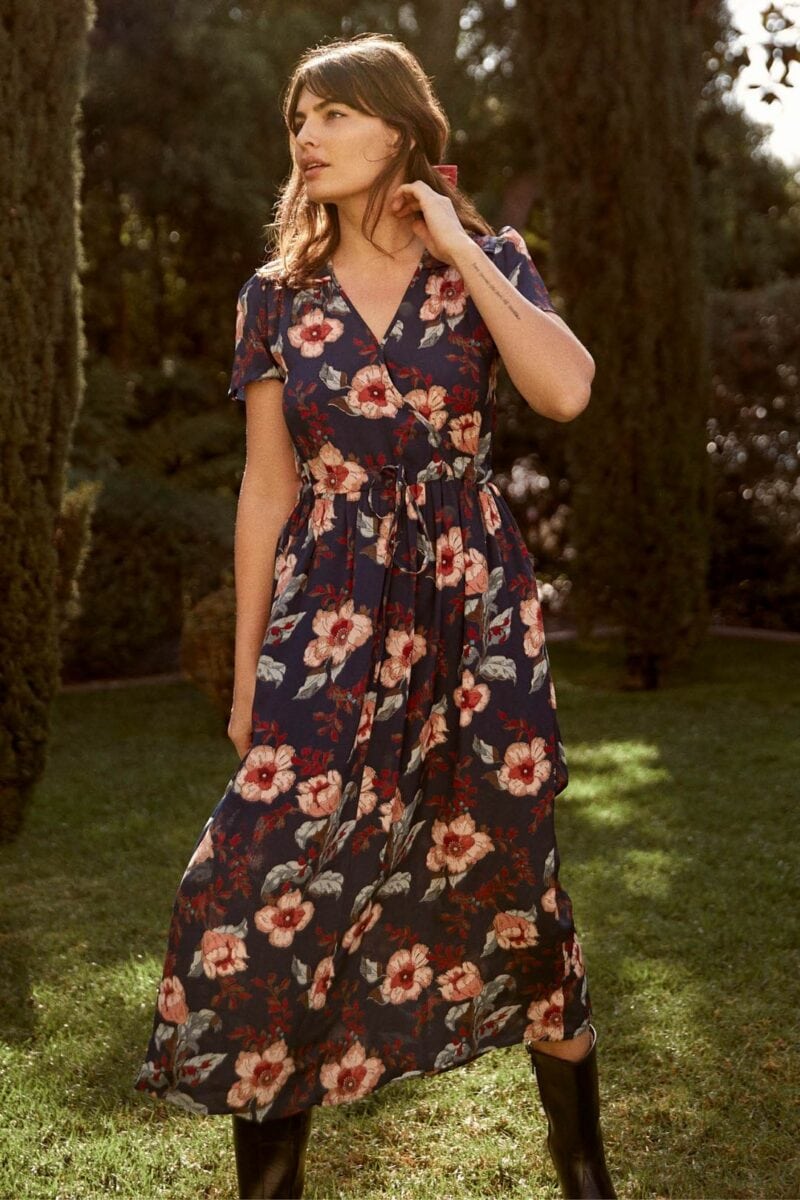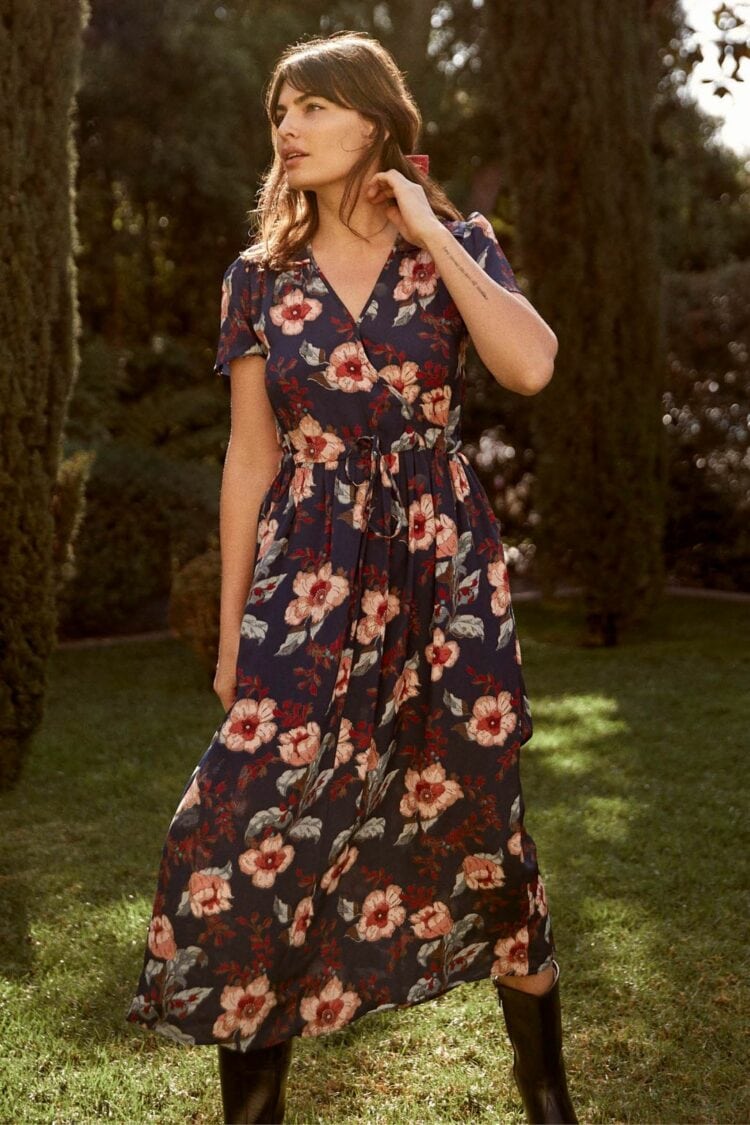 The fabric of the Dawn Dress feels like some kind of rayon and it has a very nice drape and weight. Like the jumpsuit, the dress was very well made. Also like the jumpsuit, the top of the dress was absolutely enormous on me and not in an intentional, cottage-core, chic kind of way. With the print and the drape, it sort of looked like I was wearing a floral couch cover.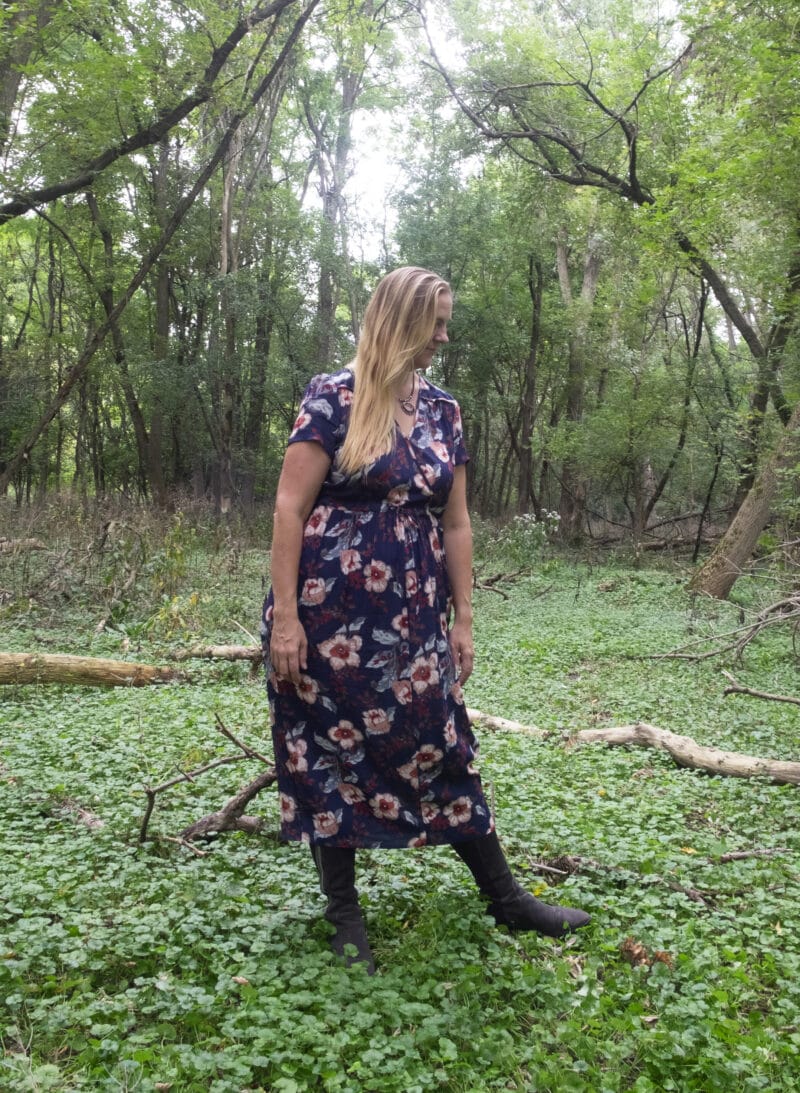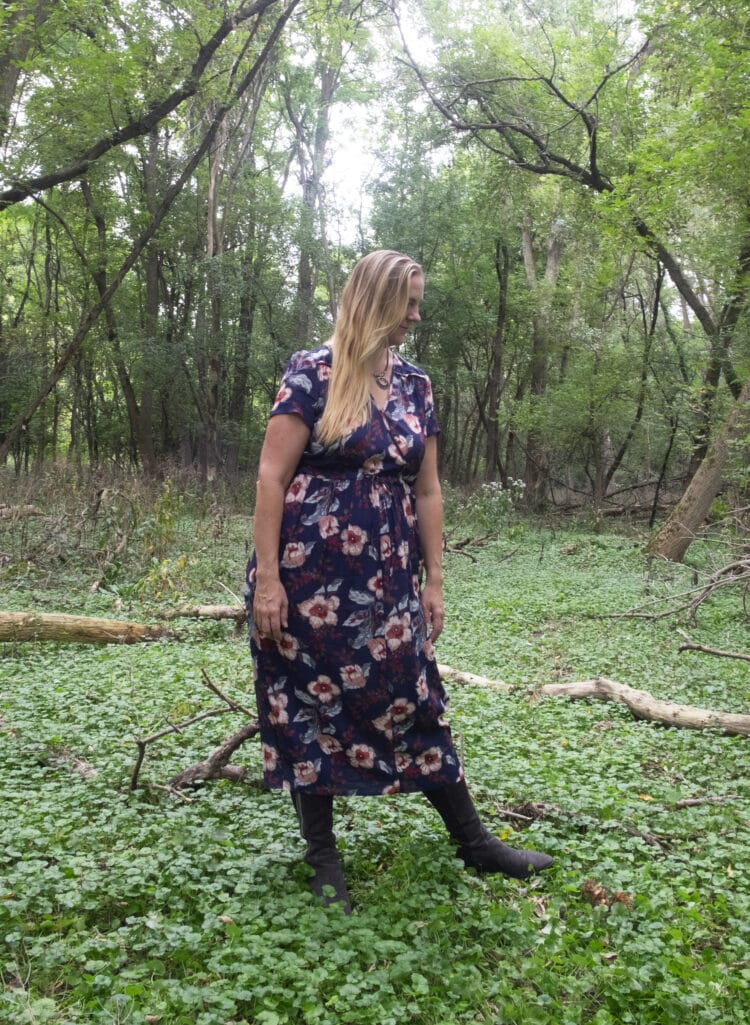 Since the dress was final sale, I also took it to my tailor. She took about three inches out of the top and the skirt and suggested that I take the hem up as well. I decided to leave the hem alone but I honestly regret that decision and I think that next time I see her, I will have it hemmed to my knee. I think the dress (with the alterations) looks fine but in the last year, I think I have worn it once.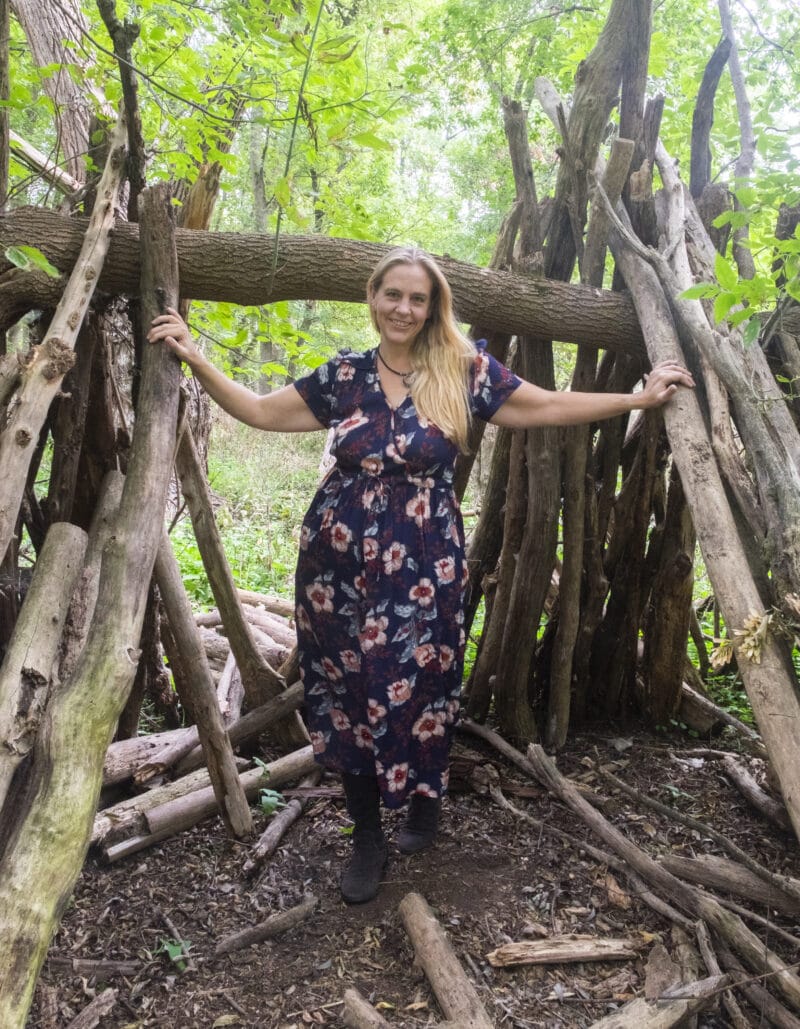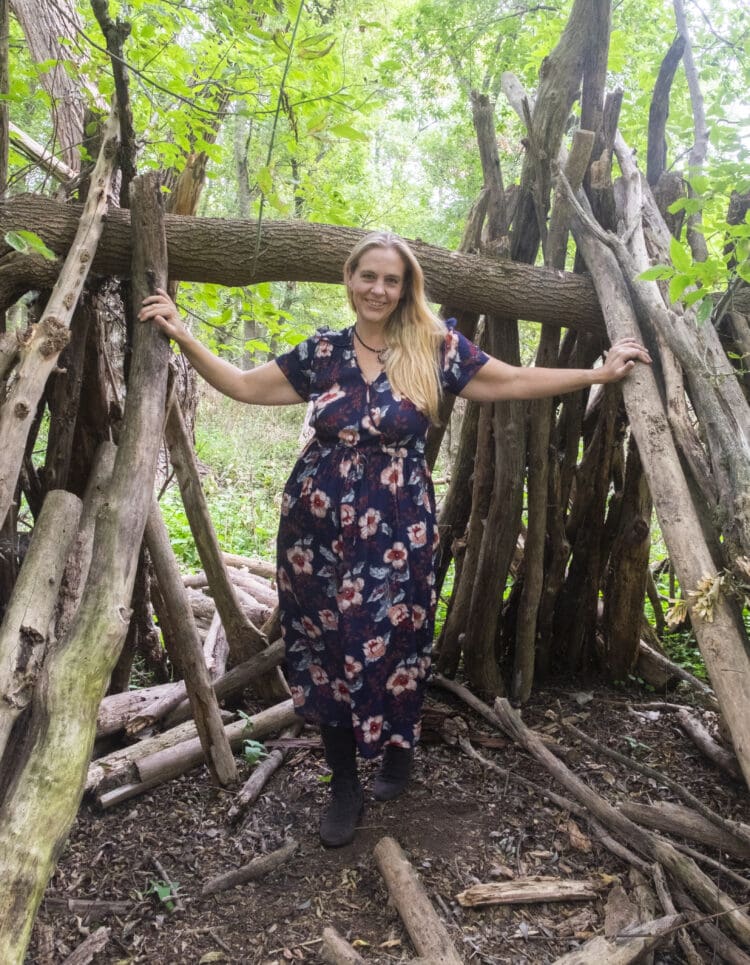 Part of this is COVID (I mean, I barely left the house for months), but part of it is that the large-scale print on this sort of cottage-y dress is really not my style aesthetic. I was wooed by the picture of the model wearing this dress in a verdant green garden and I thought that I would also look beautiful in this dress sitting in a verdant green garden. But, I have played around with taking the hem up by folding it under and I think it does make a huge difference in the style of the dress.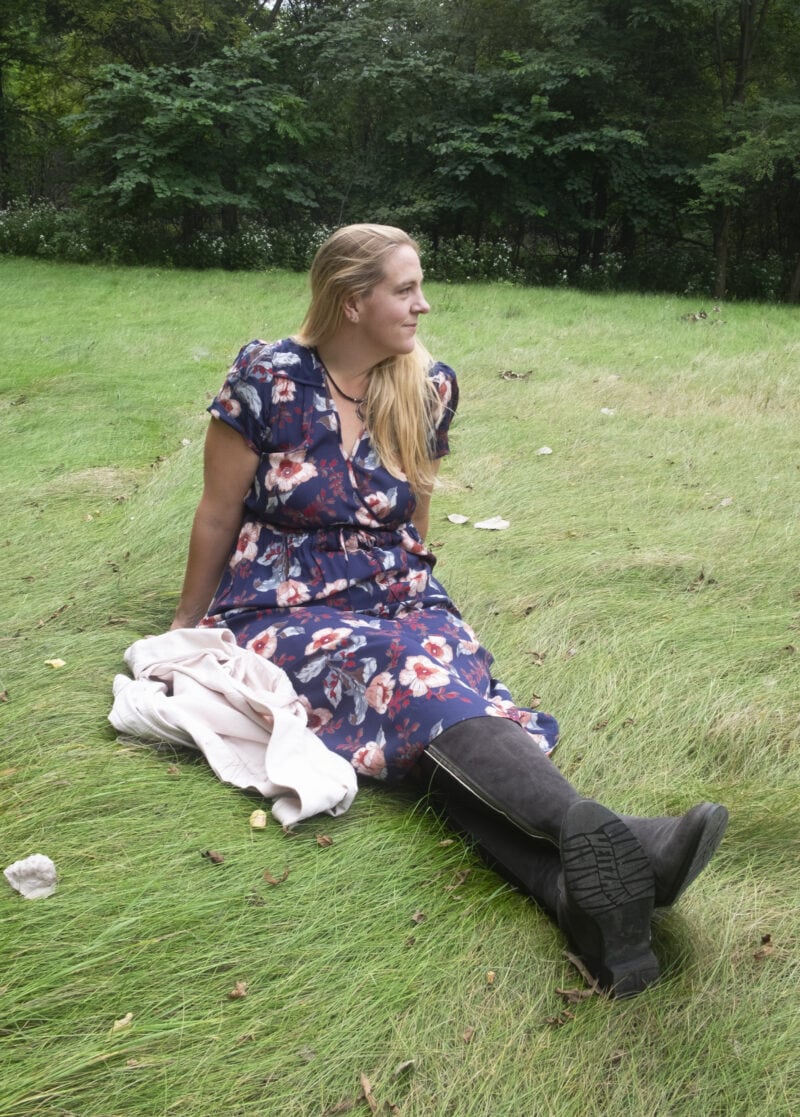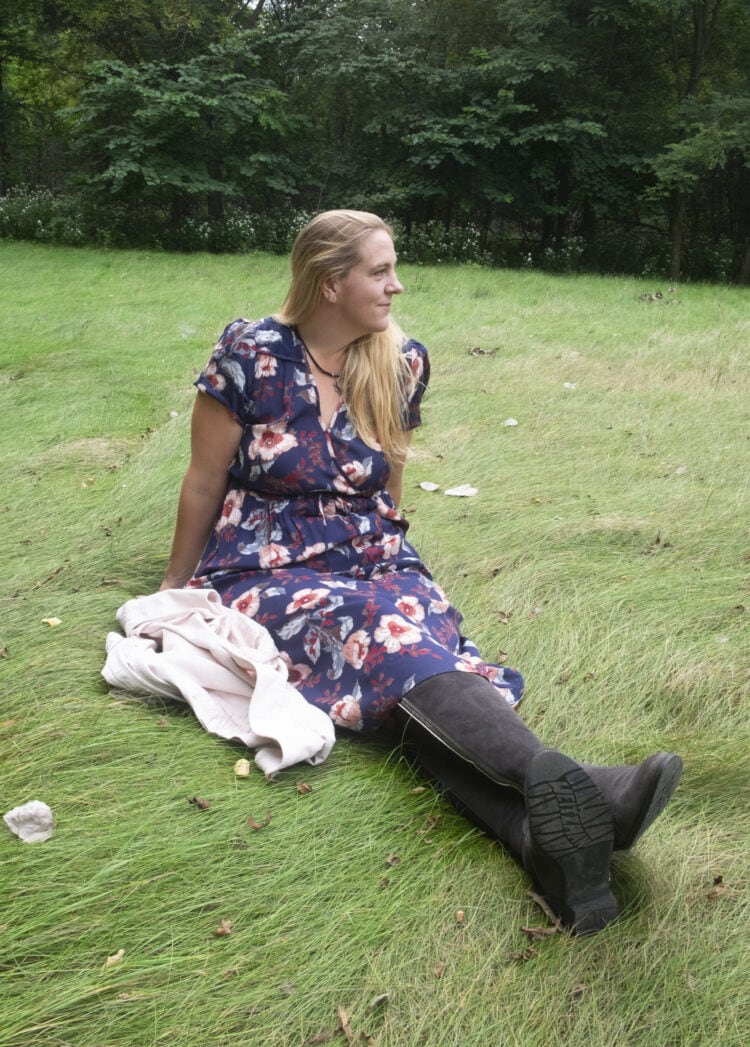 With the current hemline, I think about this dress as a fall dress. When I did wear it, I styled it with navy tights, booties, and a denim jacket. Without a jacket or sweater, I find the print overwhelming. A shorter length would really change the entire feel of this piece and I could see myself reaching for it in the spring, with some minimalist sandals and understated jewelry.
Review of The Lincoln Dress from Christy Dawn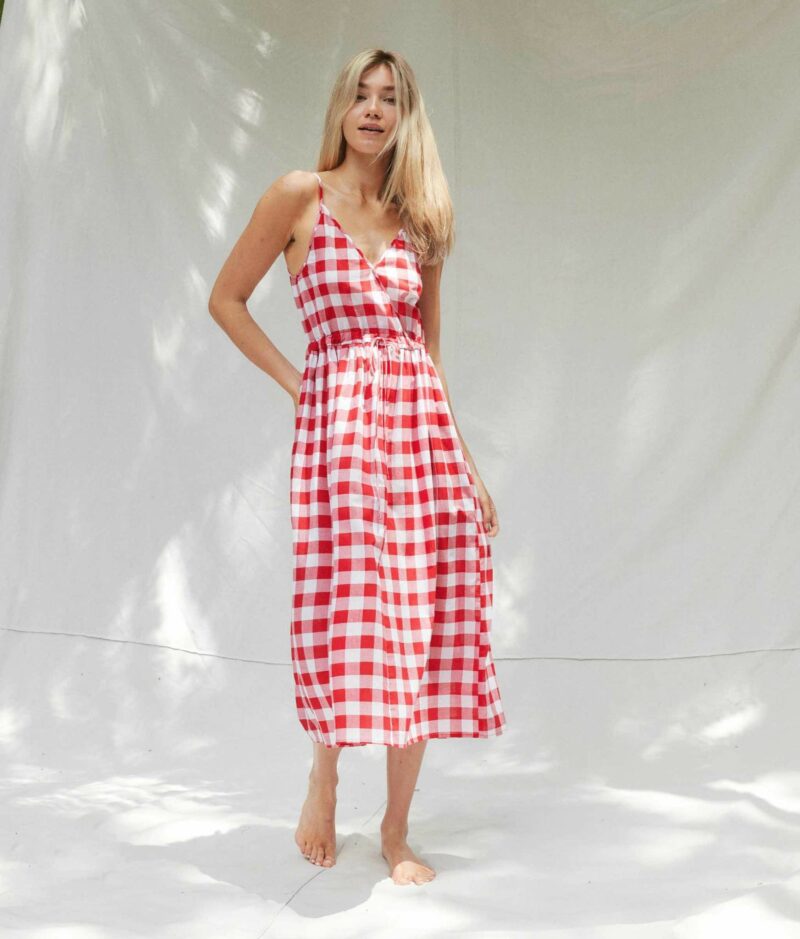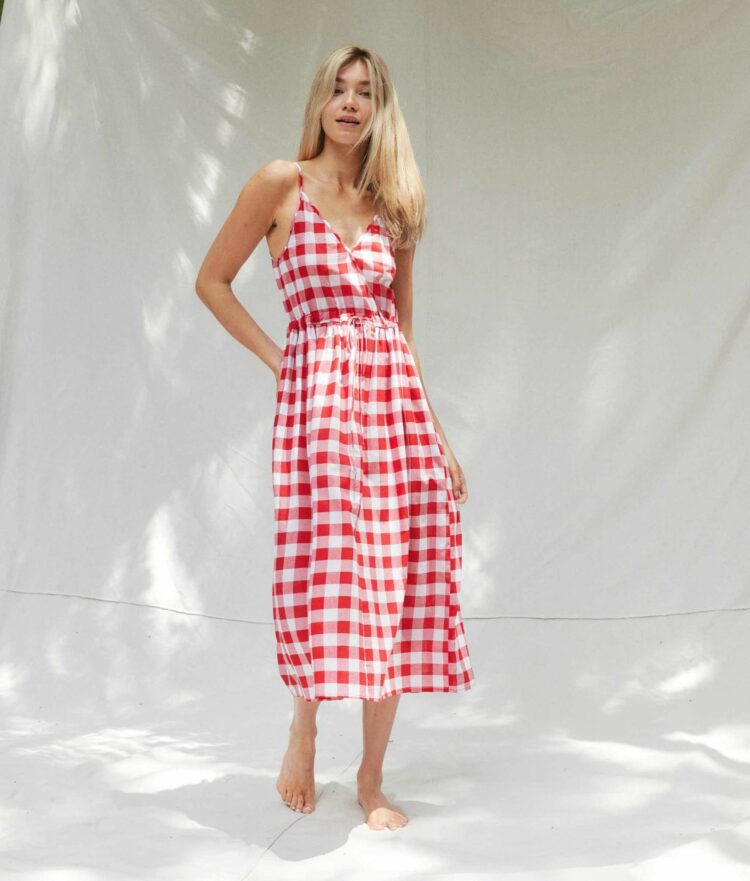 The Lincoln dress has the same cross-over front and underbust drawstring as the Dawn Dress and Dawn Jumper but without sleeves. I saw a large-scale blue gingham fabric on the website in the summer of 2020 that I really liked, but nothing was left in my size. I watched resale sites until I was able to snag a Lincoln Dress from Poshmark this past January in the blue gingham fabric that I liked.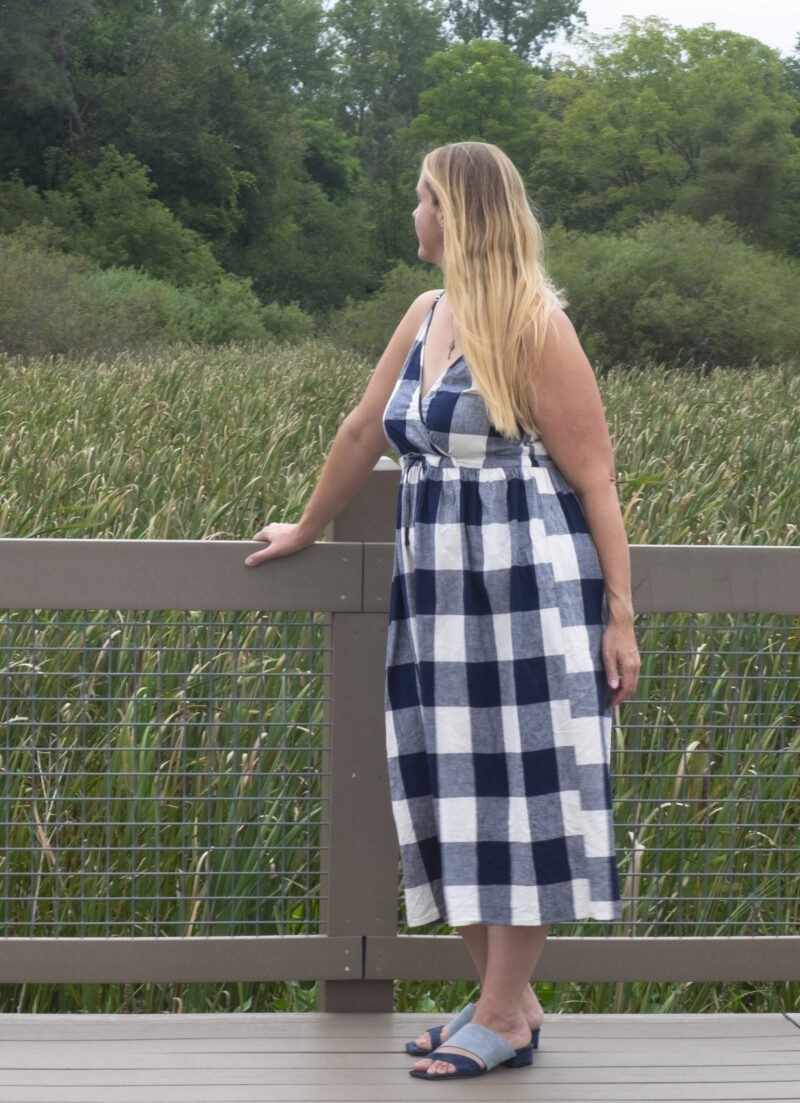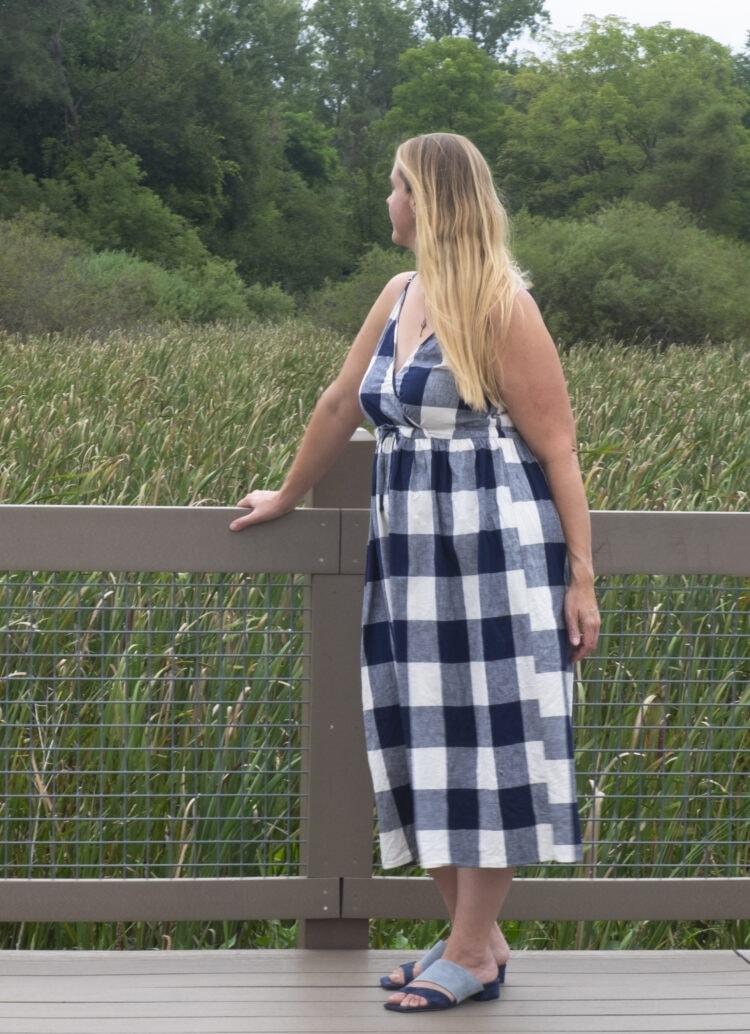 This time I ordered a size medium, which ended up fitting mostly perfectly. The blue plaid feels like a heavyweight cotton. From the pictures, I thought that the fabric would be much lighter but I don't mind the heavier weight as it makes the dress opaque. However, because the fabric has some weight to it, when I pull the drawstring under the bust of the dress, I sort of have to arrange the fabric so that the gathers are evenly distributed all around.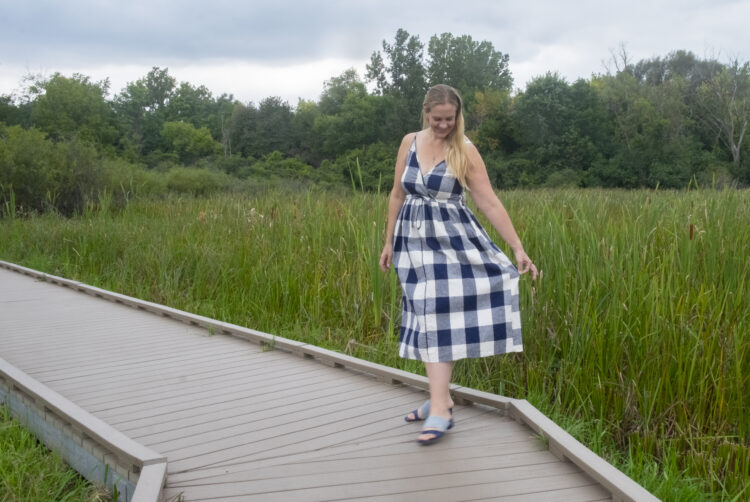 I love this dress though, and it has been in regular rotation this summer. In this one, I like the midi length because I think it balances the bareness in the top. The heavy cotton is a little much for especially hot days (which I found out the hard way at a BBQ one particularly humid afternoon) but otherwise, it has been very comfortable.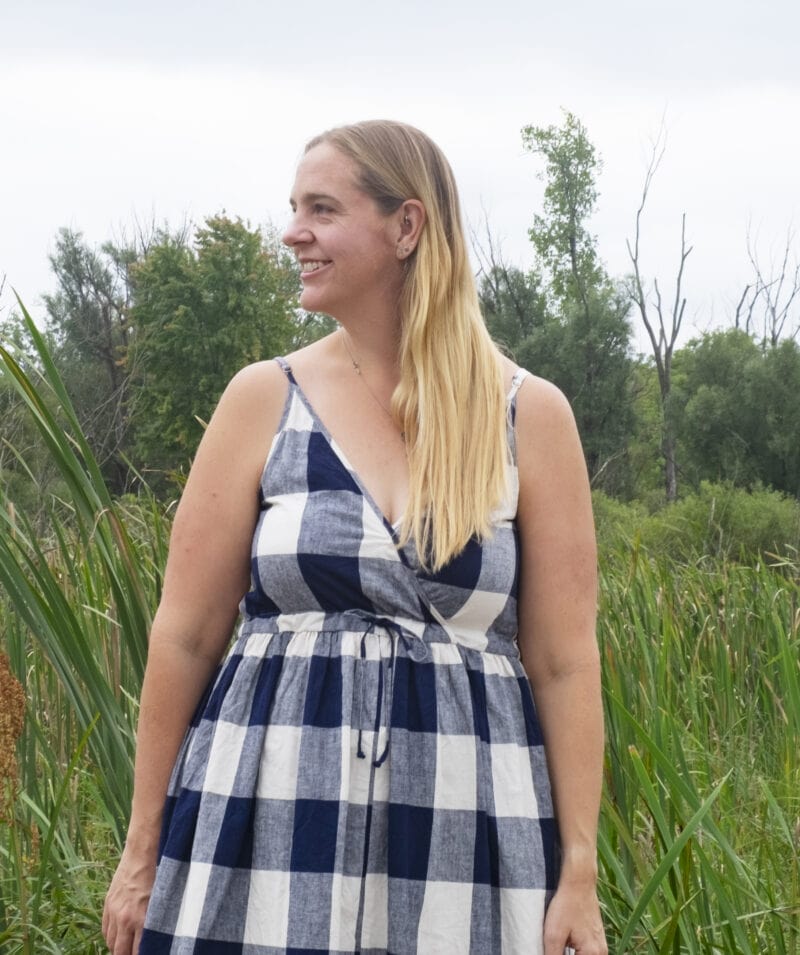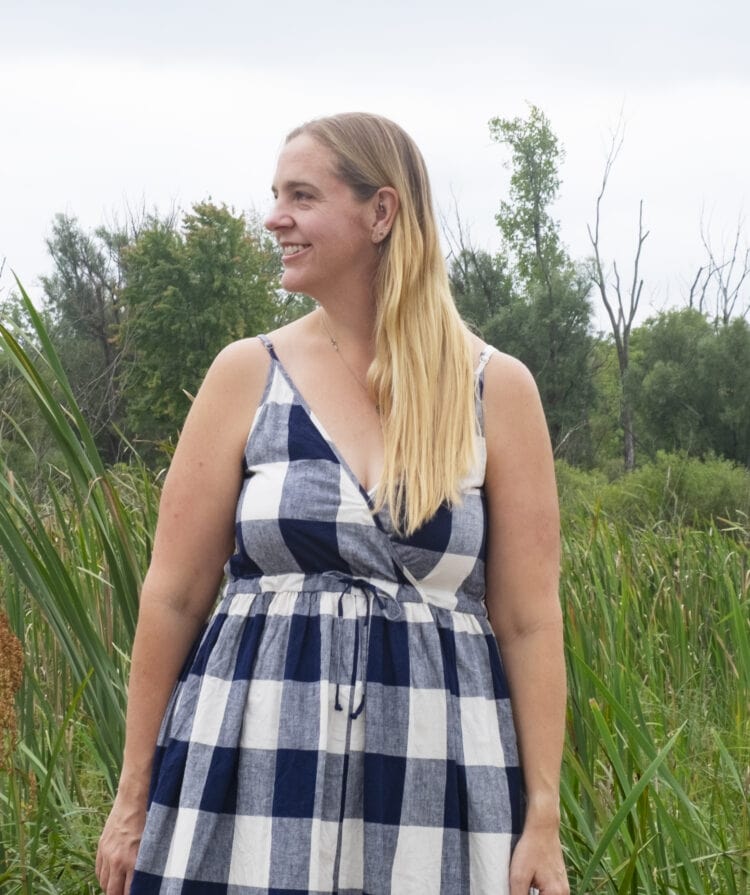 There is a little snap at the neckline to help keep the Lincoln dress from gaping, but the snap is too low for my bust and pops open when I breathe. That said, the top follows the contours of my bust well and doesn't gape open or show my strapless bra. When I want some extra modesty (like when I wore this dress for a meeting this summer), I put a navy camisole under it for more coverage. I've mostly worn this with sandals, and I'll throw a denim jacket over it if I'm worried the night will get cool.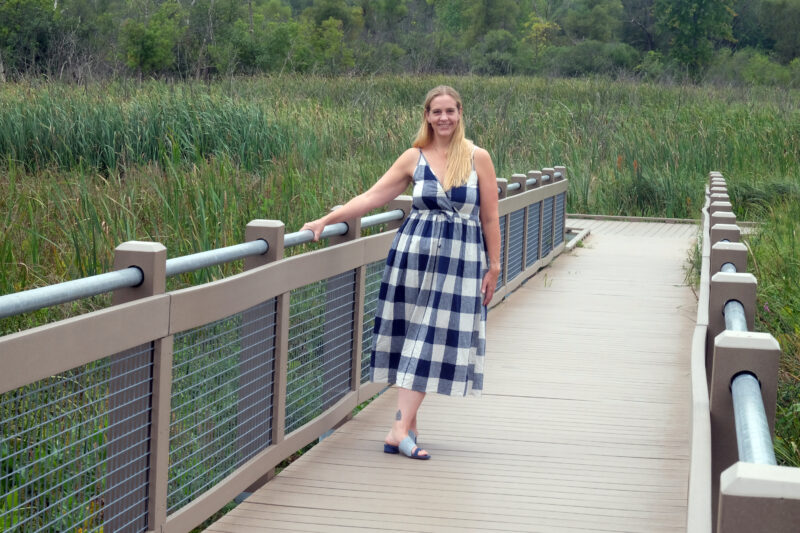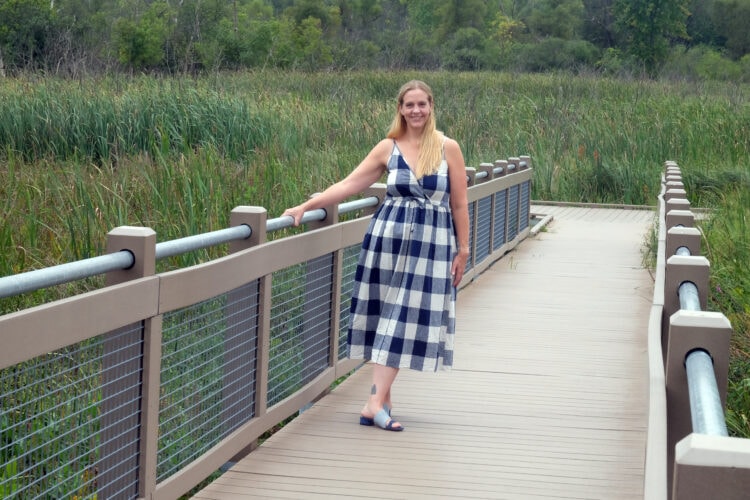 I've washed and line dried this several times and it did not shrink. It's a little wrinkly once it is dry, but some of the wrinkles hang out pretty quickly and I don't mind a slightly rumpled look. The cotton has softened up a little with washing, but not a lot. This was by far my most successful Christy Dawn purchase and I like it so much that I've considered purchasing another Lincoln Dress in a different fabric.
Will I shop Christy Dawn Again?
In general, I would say that Christy Dawn's clothing does not appear particularly well suited to my body type. The proportions of the jumpsuits are all wrong for me, and even the Lincoln dress that fits me well was obviously cut for someone with a smaller bust.
I think their clothes are cut for people who are more "rectangular", with similar measures at the bust, waist and hips. The said, the aesthetic of their catalog and model shoots really appeals to me in some fundamental way, even though I know that the cottage-core look is not typically my style.
I do appreciate the thoughtful and ethical way that they go about making clothing, and the clothes are very well made. I probably would try other styles depending on the print of the fabric, but I probably will not purchase anything else final sale.