This article may contain affiliate links; if you click on a shopping link and make a purchase I may receive a commission. As an Amazon Associate, I earn from qualifying purchases. 
I am a 42 year-old who has recently gone back to school. I have been invited to a girl's night out on a cruise ship. A majority of the women that are invited work for the school, with one being the Dean. I know that it is completely a social event, but I want to make a good impression. I am a plus-size woman with a full chest and am only 5'4″. It is a fun, dress casual event. What would you suggest that I wear? I would love something with a fun beachy or nautical feel, but I do not want to look like Thurston Howell (If you are even old enough to know who I am talking about. LOL!).
LOL I totally know who Thurston Howell is, and I will not suggest a navy blazer and ascot! But I think it is wise of you to consider not only the situation but the attendees and wanting to have fun but also make a good impression.
A great and easy way to get a nautical feel is with white pants or jeans. Somehow this change from indigo to white gives a more polished look, but also a sea-worthy vibe. I have the NYDJ "Marilyn" straight leg jeans in white and love how crisp, opaque, and polished they are. The NYDJ "Barbara" is a subtle bootcut that won't look dated, but can balance out a top-heavy figure. Both come in plus size, but not petite; if you purchase them at Nordstrom they will do alterations for free; if you purchase them elsewhere white jeans are an easy alteration even at your local dry cleaner because there's no need to keep the original hem. I used white jeans as the basis for three different outfits that give a but of a nautical feel, are fun and festive, yet aren't going to be inappropriate when schmoozing the Dean.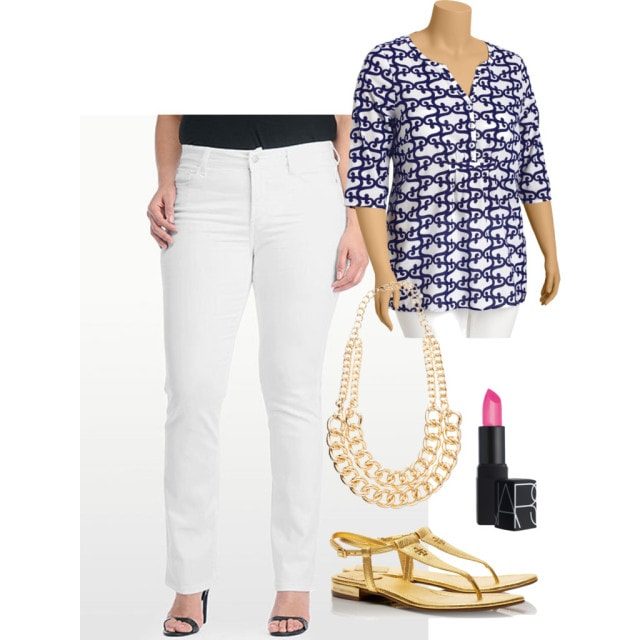 A quick way to get a nautical effect is mixing white with navy. This tunic from Old Navy has a preppy/nautical vibe with the print, and I love the concept of a primarily white top with white jeans for a very crisp summery feel. Paired with gold sandals and chains, it will be very yacht-esque while still fun. A swipe of hot pink lipstick will make this more Girls Night Out than Thurston Howell III.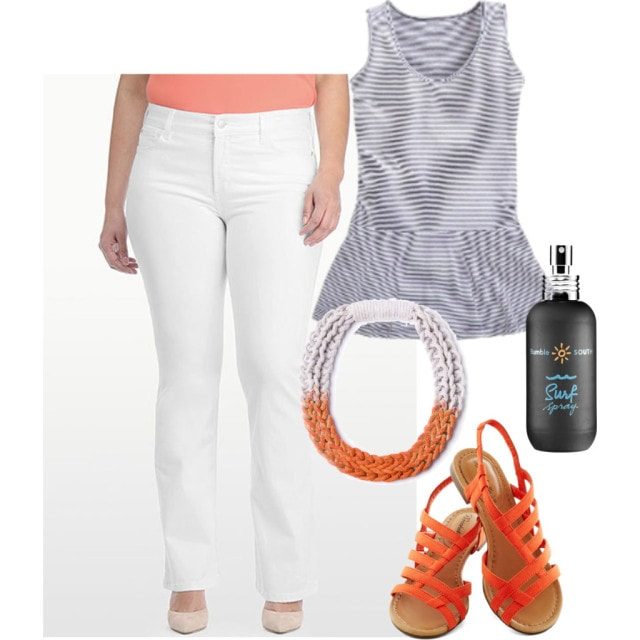 No better way to get the nautical feel than with a striped top! Instead of a traditional Breton tee, a peplum tank is feminine, fun, and better for a party. An accent color will keep it from looking too uniform. While yellow and red are traditional accent colors for navy or black and white, I decided to switch it up with bright orange. I thought the necklace was fun since it has a rope/nautical feel. To keep it from looking too daytime or preppy, let your hair be in loose beachy waves and add a second coat of black mascara.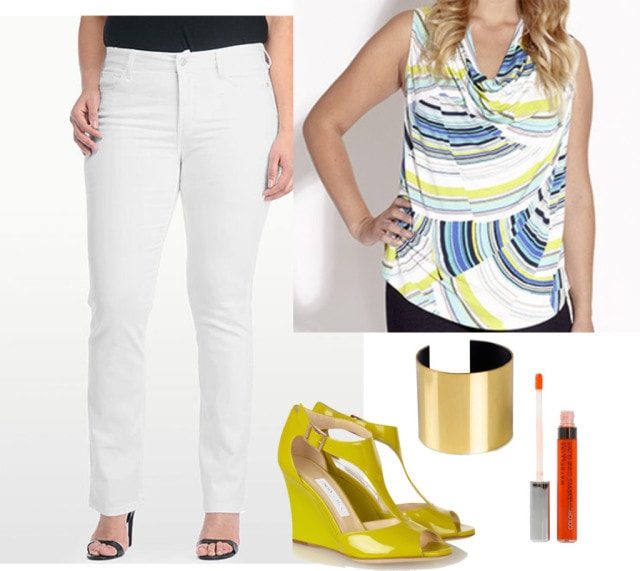 You can get a real beachy vibe just by your choice of colors. This drapey top has all the colors of the surf with a fun pop of lime. I continued the color with lime wedges which are surprisingly versatile and can look great with this, as well as denim, neutrals, black and white, and even bold colors like pink and turquoise. A bold statement accessory like a large gold cuff makes the outfit fun, add a lip gloss in an unexpected color like hot pink or red-orange to amp up the party feel.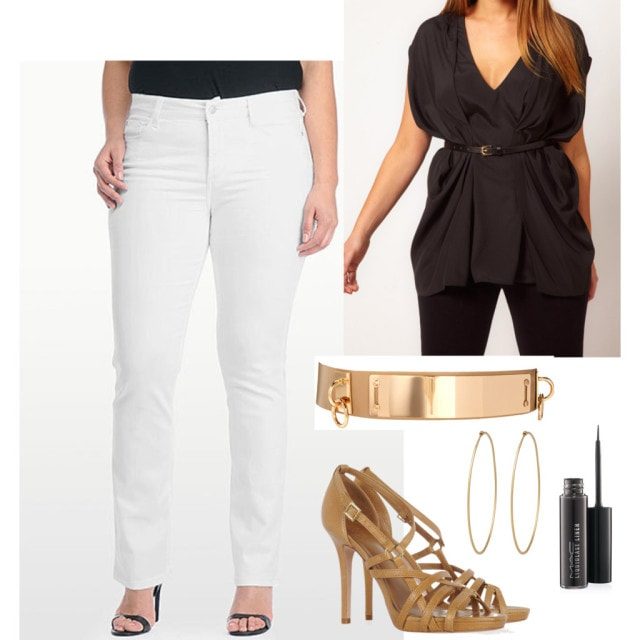 You don't have to wear stripes or boats to get a nautical vibe. Since you will be on a cruise ship, I really got into the yacht feel with this ensemble, and it's a bit dressier than the rest (you will know better if it's too glam for this event). Black and white is classic and chic, adding tan and gold accents makes it luxe. Switch out the belt of this top with something that makes more of a statement and add some sexy shoes. Gold hoops and black liquid liner will make this glamorous while still appropriate.
***
You'll see the outfits I chose are pieces that can be worn again, but also can be worn be you 22 or 42. I don't think your age necessarily has to change your style if the pieces are relatively classic. Don't be afraid to wear statement necklaces, trendy details like peplums, origami structured pieces, or a funky shoe – accessories are a great way to modernize a wardrobe of staples and show that you are aware of trends without being too trendy. Accessories are also a great way to make your day or work clothing suddenly look perfect for a girl's night out.
Do check if there are any specific dress codes before choosing your outfit. Most party/cruise boats can handle heels and all types of shoes, but some may ask you to wear flats and shoes with certain types of soles. It may be a bit chilly, consider bringing a pashmina to wrap around you once the sun goes down. As for a purse, switching from a handbag to a clutch always makes an outfit look more dressy and festive; a simple tan leather bag would look great with all three outfits and be a good buy for future events as well.
Note: Some links are not to the exact item. I tried to find the exact pieces, but when I couldn't I chose very very similar alternatives that provide the same effect.
Follow Me | Twitter | Facebook | Instagram