This article may contain affiliate links; if you click on a shopping link and make a purchase I may receive a commission. As an Amazon Associate, I earn from qualifying purchases.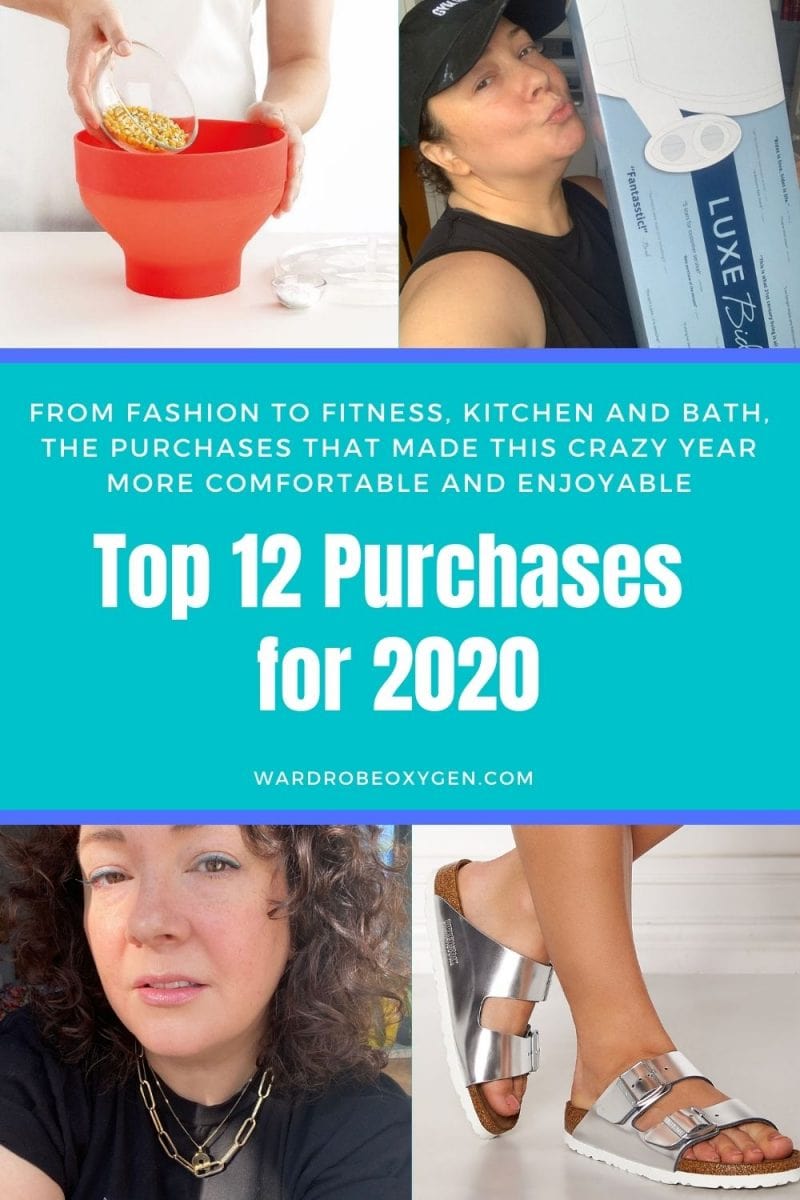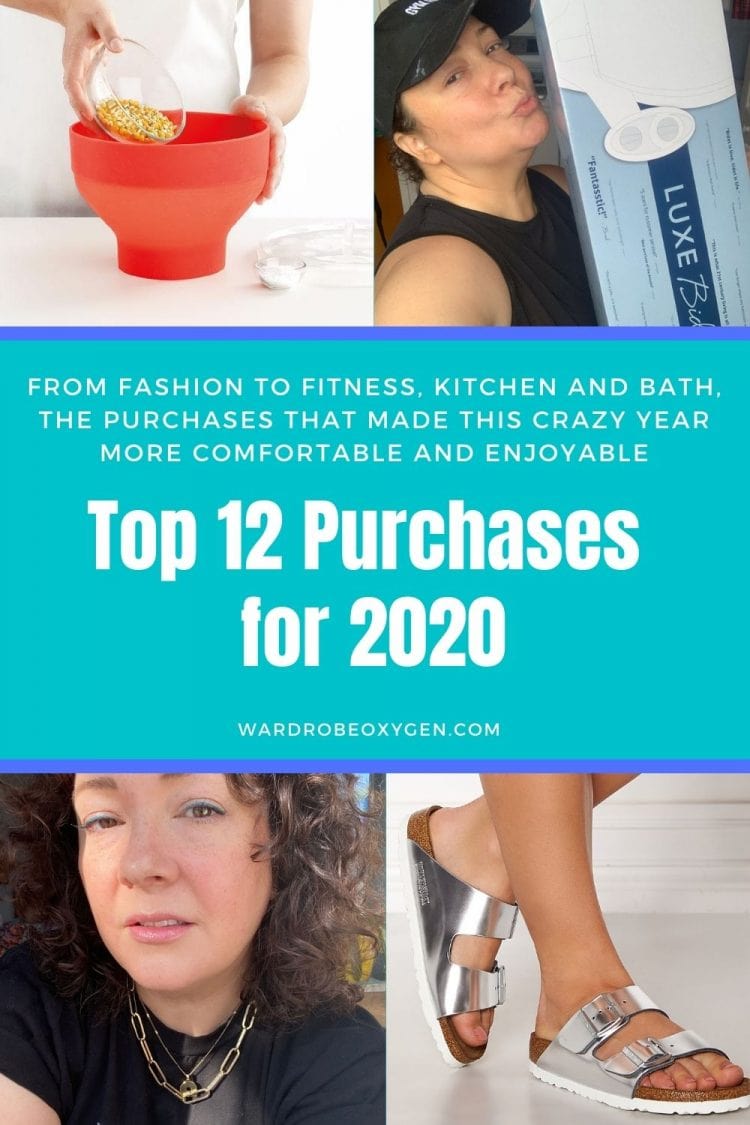 This has been a year unlike any other, and with it, I found that the items I purchased and found most valuable were different from any other year. This year was spent more at home, focusing more on comfort and health. Even though I am known as a fashion blogger, I often write about wellness, lifestyle, and non-fashion topics and discuss such products.
This list of my top 12 best purchases for 2020 has a touch of fashion, but plenty of unexpected items that made this year better. More enjoyable, more comfortable, and yes, more stylish.
Not everything was purchased this year, but this is the year that made me really value having this item in our household or my closet.
My Top 12 Best Purchases of 2020
The first item on this list HAD to be this bidet! We bought our first one in 2019 and loved it so much, we bought a second in March just before the pandemic!
I'm not afraid of a little TMI; I have dealt with hemorrhoids for years, and last year it got so bad I had to go to a proctologist to take care of the situation. I eat a high-fiber plant-based diet, stay well hydrated, but especially near my cycle, I seem to get them. I tried a Squatty Potty, got moist wipes, but then after doing some research on the internet, got this bidet attachment, which is less than $40.
This thing is the sh*t, pun intended. The water isn't heated, which may take some getting used to, but it cleans gently requiring less wiping and less paper and no need for wet wipes. My husband is also a fan, so we added one to the half bath downstairs. We love them so much we miss them when we're traveling.
My husband installed them, but said it was relatively easy, no need to have plumbing skills. Both have held up beautifully without any issues.
We didn't buy this Nespresso coffee maker in 2020, but we never used it as much as we did this year!
We have had Tassimo, Keurig, a stovetop moka, a variety of French presses and all were... fine. Actually, we didn't like our Keurig at all and the Tassimo was meh coffee. The French press was our favorite but it was time consuming and I just never mastered the griding and amount of coffee grounds per water. I wanted something I could do half asleep at 5:30am knowing no one else would be drinking coffee until around 9:30 and not be a waste. I splurged on this Nespresso coffee maker and haven't regretted it at all.
I experienced Nespresso on business travel in hotel rooms and was obsessed. The coffee was so good, I enjoyed it black. I loved the foam on top, the elegance of the machines, the whole process. I liked that the pods were recyclable - the pod itself is aluminum and recycled, the coffee grounds composted (in NYC you can throw them in your commingled recycling; for the rest of us Nespresso offers free bags to ship them back via UPS).
I didn't need fancy gadgets like milk frothers and such and wanted to be able to have a variety of sizes so went with Vertuo (the original Nespresso is only small espresso-sized coffees). Perfect choice. You can click here to read my Nespresso coffee maker review and why it's worth it.
We get coffees right from Nespresso; they have the best selection, the price is the same wherever you buy it, and it ships super fast. We bought this stand/drawer which holds four sleeves of Vertuo pods and place our machine on top of it. It makes it easy to grab a pod and go. Our go-to pods are Colombia, Solelio, Decaffeinato, and Half-Caffeinato.
We actually bought our first Ring doorbell several years ago, but we truly found its value in 2020. While my job has had me online shopping for years, this year we did far more online shopping and home delivery than ever before. It has been wonderful to have a video doorbell that not only lets us know when someone is at the door, but also when anyone enters our property.
There are many video doorbells now on the market, but back when we got the Ring (inspired by an ad playing during some show about war or aliens on the History Channel) it seemed to be the only one available that was designed to be a doorbell. We liked how it looked, and liked how we could answer the door from anywhere. I remember talking to our UPS person from my hotel room in Columbus, Ohio. My neighbor wanted to get in touch with us and forgot our number; she rang our doorbell and we were able to chat right away. It was brilliant.
As Ring grew, so did our collection. We upgraded to a newer version of their doorbell, and used the old one on the back door. We got one of their security camera/lights to replace it in the back area. We upgraded the technology and have never regretted the purchase.
With our Ring doorbell, we're notified not if someone walks past our house, but only if they open our gate or are within our fence line. We've controlled the settings so we're not told when the neighbor's cat or a deer comes in our yard, only when it's a human.
Thanks to Ring, I've been able to let brands know that their delivery has arrived, even if I am in another state. We've thwarted porch pirates and have had fun scaring off raccoons trying to get in our trashcan in the middle of the night. We can communicate with delivery people without having to open the door, and have recorded video if there is an incident where we need it for evidence.
You don't need to drill Ring into your house, you don't need an electrician, and the only monthly fee is if you want to be able to store videos and stills in their cloud storage. We liked ours so much we got one for my mom. It's a reasonably-priced piece of technology that can offer peace of mind and protection for your online purchases; I can't recommend it enough.
Photo Credit: Birkenstock
I have worn Birkenstocks for years, but never appreciated them as much as I did this year. While I already worked from home before 2020, I did a lot of working from coffee shops, The Wing, a friend's house, and such. I also often had events during the day and in the evenings that required me to pull myself together, put on shoes, and leave the house. This year, I did a lot of being home 24/7 and started a lot of that in my stockinged feet.
I soon realized my feet were miserable without any shoe to support them. I ended up taking two pairs of Birkenstocks: an EVA style to be my outdoor shoes when I went out in the yard, and my silver metallic ones to be my house shoes. My feet immediately felt better with the cork sole offering support and cushioning.
As the weather has gotten colder, I got a pair of slippers, but honestly, my favorite footwear around the home is still my Arizonas from Birkenstock, just with a pair of cozy socks.
I asked my husband to get these for me as a Christmas gift last year. I was so obsessed with them, I got them for him, and then as a graduation from elementary school/you're surviving the 'demic and being such a rock star about it gift, got a pair for our daughter.
These headphones stay in, even if you bend over or lie on your side. They are sweatproof and water-resistant (I may or may not have worn them in the shower). They're comfortable (they come with a variety of ear pads for a custom fit), they come in fun colors (I have white, my husband has a yellow/green, my daughter has pink), they cost less than AirPods, have excellent sound quality and battery life.
I use them for calls and Zooms, for Peloton rides and guided meditations, for listening to podcasts while cleaning, and music when taking walks outside to get fresh air. Do note, these are not noise-canceling, but I think these are well-made, high quality headphones worth their cost!
With a large bust that has been graced by gravity and years of breastfeeding and weight fluctuation, I have always been looking for a truly supportive sports bra. However, I also want that bra to lift, separate, give good shape, and not require me to be double-jointed to put it on and take it off.
I am now the owner of three of these bras from Freya and unless I take up a higher-impact sport in the future, have no desire to find a different one. This ticks off all my boxes while also being so cute I could dare to wear it and just it with a pair of leggings to a public gym.
In fact, it is so comfortable, moisture-wicking, and giving of great shape that for much of 2020, I have also worn these as everyday bras. I have some wireless bras that I like, but honestly, I find these more comfortable and like the shape better, especially when I leave the house.
I had this ring light in my virtual shopping cart for months, but finally pulled the trigger March 14th of this year, realizing I'd have to spend more time doing shoots and calls and videos from home. That early in the year, I had no idea how valuable this ring light would become.
This ring light is floor standing. It has an attachment to hold a smartphone, but it's easily switched out to instead hold a DSLR or tablet. It comes with a remote to control that smartphone or other camera that uses Bluetooth has a flexible neck and adjustable height. It also comes with frosted and amber sleeves to go over the bulbs so you can have a ring of cool or warm light. You can also adjust how dim or bright you want it.
All my Zooms have used this light. My IGTVs and IG Lives used this light. I did these photos and this photo and this photo with the light and remote (the last one, my toe clicked the remote). These photos were done with the light bouncing off the ceiling. My daughter has used it to film videos for Girl Scouts and school.
It's not small. While it can be packed down, I just keep it standing in the corner of our home office/virtual school/gym room so it's at the ready for the next video or photoshoot!
I was influenced by my friend, who would get on Zoom game nights with this red bowl full of popcorn. She had all these creative recipes to jazz up the popcorn too. She said it made popcorn so easy, and it was consistently great popcorn without needing any oil. So I ordered one.
She was right, this thing is awesome. Not only do you not need oil and don't have extra waste from those microwave bags, but you may get at most one or two unpopped kernels and none of the popcorn burns. Time and time again we have been served fluffy, well-popped, delicious popcorn from this device.
It's dishwasher safe, it's so easy your kid or tech-unsavvy parent could do it. It comes with a few recipes so you can make fun popcorn recipes with curry, honey, coconut flakes, and such. Or you can just enjoy popcorn popped so perfectly it tastes great on its own.
It was hard to think of which item of clothing I bought this year was the best purchase. I wear my Athleta Polartec leggings all of the time, I loved my J. Crew sundress this summer, I wore the heck out of my J. Crew Breton shirt. But these leggings have impressed me the most and have been worn way more than I ever could have imagined. Here is my initial Spanx faux leather joggers review.
Many of you have shared cheaper faux leather joggers you have found online and I am glad as these aren't cheap. But as a leather and leather-like lover, I know faux leather is usually a short-lived trend in one's closet. You need to baby it, and even so it will eventually crack, peel, wear holes, and disappoint. That which is more durable usually feels more durable which doesn't mean comfortable.
I have washed my Spanx faux leather joggers a dozen times and they still look and perform the same. I have napped in them, and stretched in them, they are that comfortable. The pockets are deep, the waistband is wide and doesn't fold over. The legs aren't too tight for my solid calves and thighs, but not so loose I look like a fashion victim. A perk to these is they're wind-resistant while also being lined in soft knit so they are really warm and cozy and great when being outside.
They make me look pulled together, even if I'm wearing well-worn boots and an old turtleneck, and I know they will look cool when the world opens again.
Photo Credit: shopstyle.it
In a year where accessories weren't necessary and often a nuisance, I wore the HECK out of this necklace! It was just the thing to look more polished on a Zoom call, to dress up casual knits, and to feel myself when nothing felt normal. I wore it often with my Jenny Bird initial necklace, but also on its own. I don't think there was a single item more asked about that I wore on Instagram either, I must have shared a link to this necklace in my DMs at least a hundred times. And with all that wear (and even the occasional wear by my tween) it still looks great; I am always pleased with Baublar quality!
I had 11 items on this list and wanted a nice even 12 so I asked my daughter what she thought was the best family purchase of this year. She didn't hesitate in saying our Hyperice and I bet my husband would say the same (or else the Peloton which is right below this on the list).
This January, my trainer brought his TheraGun to the gym; he got it for Christmas and was obsessed. I didn't understand the appeal or the pricetag, even after trying it on my arm after my workout. But once I began riding the Peloton regularly I got it. There were some days where a foam roller didn't do the trick plus the stress of this year did a number to my neck, my back, and all other parts of my body (did the stress my feet held this year!).
Doing my research, I found the Hypervolt from Hyperice was just as highly recommended as the TheraGun, but less expensive. I got it for my husband for Christmas but I ended giving it to him early when he had an especially hard workout that left him hobbling around the house.
The whole family is a fan; if you saw my Instagram Stories from Christmas you know we even had my mom try it out. It's as powerful as you want it to be, easy to control, and a variety of attachments to target muscles or for a more all-over massage. It has a corresponding app that will provide "workouts" or classes on what to massage and how depending on your needs (I love that it has a bunch of workouts for office workers!).
How could I not include our Peloton bike? One of the most impactful purchases of the year, this bike has changed my fitness game, helped me mentally, and provided a way for my husband to click over a new shared hobby. I've written a lot before about the Peloton so I won't go into it again, but even if you're not athletic and you hate cardio you may find something like a spin bike to be what changes your opinion.
If you are considering getting one because of my review, use XV4E4E at checkout and you'll get $100 worth of Peloton bike accessories for free and I'll get a store credit in the Peloton boutique.
And now I would love to hear from you! What would you consider to be your best purchase of or for 2020?
Shop the Post: