This article may contain affiliate links; if you click on a shopping link and make a purchase I may receive a commission. As an Amazon Associate, I earn from qualifying purchases. 
Hi Allie,
Can you recommend a way to start to add romantic elements to a wardrobe? My wardrobe mostly consists of classic pieces and my body shape doesn't do well with ruffles, bows and frou-frou, but I have a romantic personality and would like to express that in my clothing.

For instance, I've got lots of t-shirt dresses for summer in vibrant colors – any way to add some romantic details to those?

Thanks!
Amy



Hi Amy!
Great question! Staples are great because they are versatile, but they really don't show your true personality. Solid colors and clean lines often give a more professional/hardened feel if not accessorized correctly. This makes it extra difficult for those who have a softer or more romantic side. Here's a few suggestions to make those t-shirt dresses and other classic pieces for your romantic self: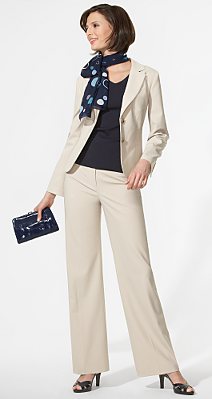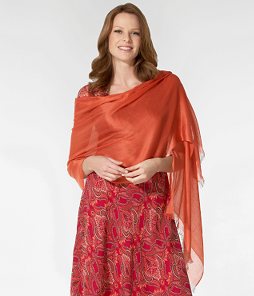 Scarves:
A beautiful large, square silk scarf in a romantic floral or painterly pattern can transform most any style. Tied in a square knot at your throat with that t-shirt dress will make the style more feminine and polished; add a delicate gold bracelet and some delicate heels and what could have been quite the knock around garment is now elegant. An oblong scarf looped around the throat dresses up a simple shift dress or top – combine it with a necklace or two and you have a romantic version of a simple tank and jeans. That oblong scarf can also replace a belt for a simple shell and trousers (tie in a knot and have the knot off to the side so it hangs as a sash), and there is nothing more elegant than tying your square scarf to the handle of your handbag. In place of a cardigan or blazer, wear a shawl or pashmina, the drapey fabric gives a romantic feel to the most standard of pieces.
Both looks from
Ann Taylor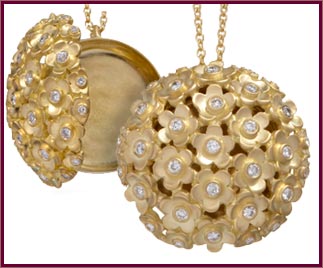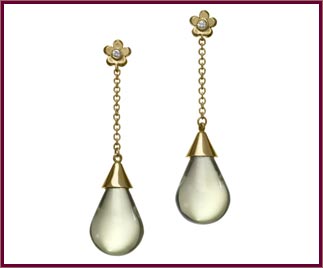 Jewelry:
I am a HUGE jewelry-aholic. Any trip I take, thrift store I enter, or even cheap kid's boutique I pass in the mall, I check out the jewelry selection available. No accessory can show your true personality better than a great jewelry collection. Yesterday walking down the street, I saw a woman wearing the same dress I own. It is a black ponte knit sheath with short sleeves and a square neckline. I had to look twice to recognize the dress for her jewelry completely transformed its look. She had a long strand of pearls looped around to make a choaker and then an opera-length of beads. Along with it, she had an opera-length strand of thin gold links that were interspersed with crystal drops. A gold and crystal bracelet matched this necklace. The look was so feminine and romantic, it completely transformed what I saw as a dress with very strong, graphic lines.
Pearls are always a safe bet, as are bracelets with charms or baubles. Don't worry about piling them on if they are in a similar style set (all gold, all beaded, all antiqued silver) – this gives even more of a romantic and individual look. I have an old coworker who used to soften her business suits with cameos and vintage brooches – they were elegant, unique and showed that she was a romantic soul under all that pinstripe!
Next time you go shopping, wear a simple outfit and check out your look in a mirror and you experiment with different pieces of jewelry. You will be amazed how a simple necklace or pair of earrings will give a whole new life and style to your wardrobe basics.
Both looks from Wendy Brandes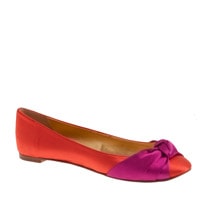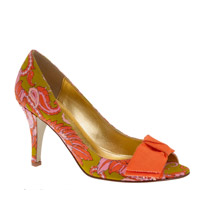 Shoes: We women are so lucky, this season seems to accept most any style of shoe. Like a chunky wood wedge? No problem. More the type to love a delicate kitten heel? That works! Whether you like flats or stilettos, platforms or Pumas, there is a style that you can find and fits your personality.
It is getting far too warm for this now, but come fall, boots are a great choice. Flat riding boots, lace-up granny boots with delicate heels, sleek leather boots with pointed toes and slim heels, nothing else better defines a look than a great pair of boots. To show your romantic side, don't be afraid of details like frog closures, decorative heels, lacing, or unusual colors like Bordeaux, gray, hunter or navy. A great and unique boot can be a signature piece that works with tights and a simple dress, a romantic floaty skirt, or even over slim jeans or leggings with a men's inspired fisherman sweater.
I often tell women that if you can't wear a certain color near your face, you often can near your ankles. Look terrible in yellow but love the hue? Get yourself some great yellow sandals! Can't wear lace and bows and frou-frou? Why not let your shoes have the fun. Take a simple black shift dress and add spectator pumps, peeptoes with a pink grosgrain bow, floral silk mules with a kitten heel and you look stylish yet true to yourself. Having a simple wardrobe makes it easier to get creative with your footwear, since they will take center stage and most likely compliment a larger portion of your closet.
Both looks from J. Crew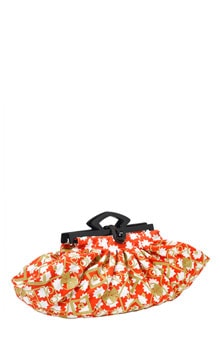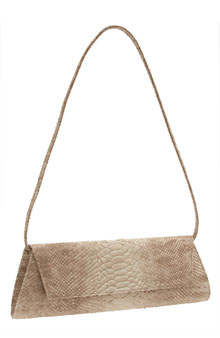 Purses: So all the It Girls are carrying a leather hobo big enough to store a family of four… that doesn't mean you need to. Another thing the lady on the street with pearls and my dress had was a clutch purse. It was black leather, rouched, and looked large enough to comfortably carry all her necessities. Tucking her bag into her elbow instead of hiking it over her shoulder gave a completely different effect and silhouette – far more feminine, delicate and romantic.
If clutches aren't your thing, try a handbag. My good friend who sees Marilyn Monroe as a style icon always carries a small ivory wicker bag with red ribbon handles each summer. The bag is so sweet and feminine; it really transforms her look, even if she's heading to the market in a tee and capris. Classic Kelly bags are a great choice, as are bags you have picked up on your travels. Made of unique fabrics and styles, they will be a signature piece that adds your true self to your finished look.
Both looks by Nordstrom

Your Hair: We often get into the long-layered rut. It's simple, it's easy and everyone else is doing it. Well if you are a romantic, long straightened hair doesn't always fit the look. Try a beach spray (or make your own with water and sea salt) and encourage natural waves. If your hair is naturally curly, let your wild show with a cascade of curls, or a face-softening short cut that gives a halo of spirals around your head. A few warm highlights can really transform your look and add depth to your natural color. If you have bangs, consider growing them out into a layer or having them made into a side-swept style that is more relaxed and feminine. If you are a romantic, longer hair is often more flattering (no matter your age). Keep it relaxed but well maintained and your mane alone can add much romance to your classic look.
Finally, what you wear underneath may not be seen by the public, but it affects how you stand and how you feel. Invest in some feminine frilly confections for your lingerie drawer. You may be buttoned up in wool gabardine, but your lovely lacy bras, panties and slips will remind you that you are all woman!