This article may contain affiliate links; if you click on a shopping link and make a purchase I may receive a commission. As an Amazon Associate, I earn from qualifying purchases. 
After a six year hiatus, I am back to sign language interpreting as my part-time gig. As a sign language interpreter, we are required to wear dark, solid clothes (they are the background for our hands, and anything else would be "visual noise"). Do you have any suggestions for spring/summer outfits that will make me look and feel fabulous?

My new job requires me to wear all black, and they encourage fashionable styles that aren't too over the top. I work long hours and do a lot of standing and sitting so I need clothes that can hold up for it. Where do I start?

I just changed [retail store] companies and my new place has an all-black dress code. I'm a trainer so I need to look good but also be able to wear clothes that can handle a lot of business travel and washings. Suggestions?
For a few years of my life, I worked for a skincare company as a manager and trainer and had to wear black every day. At first I felt it was so limiting to be forced into one color, but over time I think it was a good experience for honing my personal style. By being confined to black, I cared more about fit, style, silhouette. I also found that black can be found at most any pricepoint, so I would purchase quality basics (well-fitting pants, nice dresses for speaking engagements) and have a bit more fun with budget-friendly tops that incorporated current trends.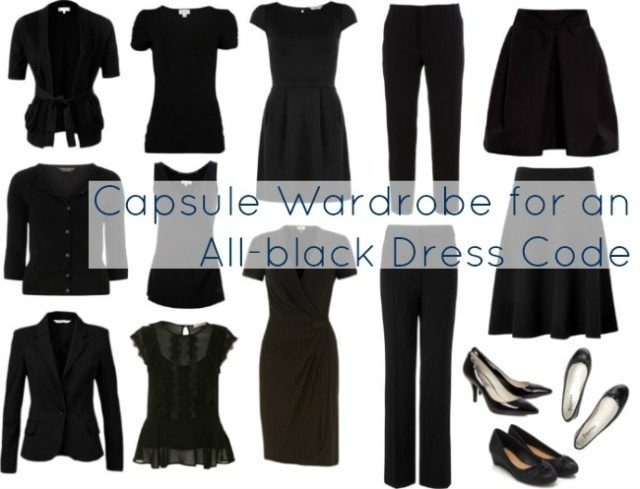 Above is a sample all-black capsule wardrobe and it shows that you can have style and fun while sticking to a single color. I was channeling a modern-day Audrey Hepburn with this collection, choosing simple pieces with a touch of femininity.
I can recall days where I was processing shipment or completing floor moves and was happy just in a black tee with a flattering silhouette, some cropped pants and flats. However, it was great to have a jacket or cardigan in the back room to pull the look together if I had to be out on the sales floor. Sticking primarily to fabrics with stretch (matte jersey, ponte, quality jersey) means the clothes will survive a long day and a lot of movement. Wrap dresses are one of the greatest inventions of our time – in matte jersey such a dress can look great at work with wedges or glam up for a weekend wedding with heels and sparkly jewelry. Even better, the fabric is resistant to stains, can be machine washed, doesn't wrinkle and dries quickly. When I worked retail, a large percentage of my wardrobe was matte jersey for this very reason, and I regularly wore a wrap dress for training seminars.
A variety of shoes is a must to keep your feet happy for a long span of time. Wedges, flats, and kitten heels can look great with pants and skirts of all lengths without leaving you in pain at the end of the day. If your wedge and heels are the same length, you won't have to have different lengths of long trousers. I learned quickly that if you wear a different shoe every day, even if it's the same heel height, your shoes will last longer (they have a chance to air out and return to their original shape), and your feet will be happy.
To add personality, consider accessories. Your job may not allow colorful accents, but you can better define your style with a strand of pearls, a crystal statement necklace, or a studded leather cuff. Also belts in different textiles (haircalf, patent, tumbled leather) can really switch up the look of black wardrobe basics.
Finally, buy in bulk. If you find a pair of trousers that make you look three inches taller and ten pounds thinner, purchase two pairs. When I worked for the skincare company, I had five of the same black pants I found on clearance at Express. They fit, they flattered, they were machine washable, and no one was keeping count how many times I wore them because they were so great. I did the same with blouses and knit tops that were perfect for my career and style – black can fade over time so if the price is right, prepare of the future by having one in reserve!
Follow Me | Twitter | Facebook | Instagram