This article may contain affiliate links; if you click on a shopping link and make a purchase I may receive a commission. As an Amazon Associate, I earn from qualifying purchases.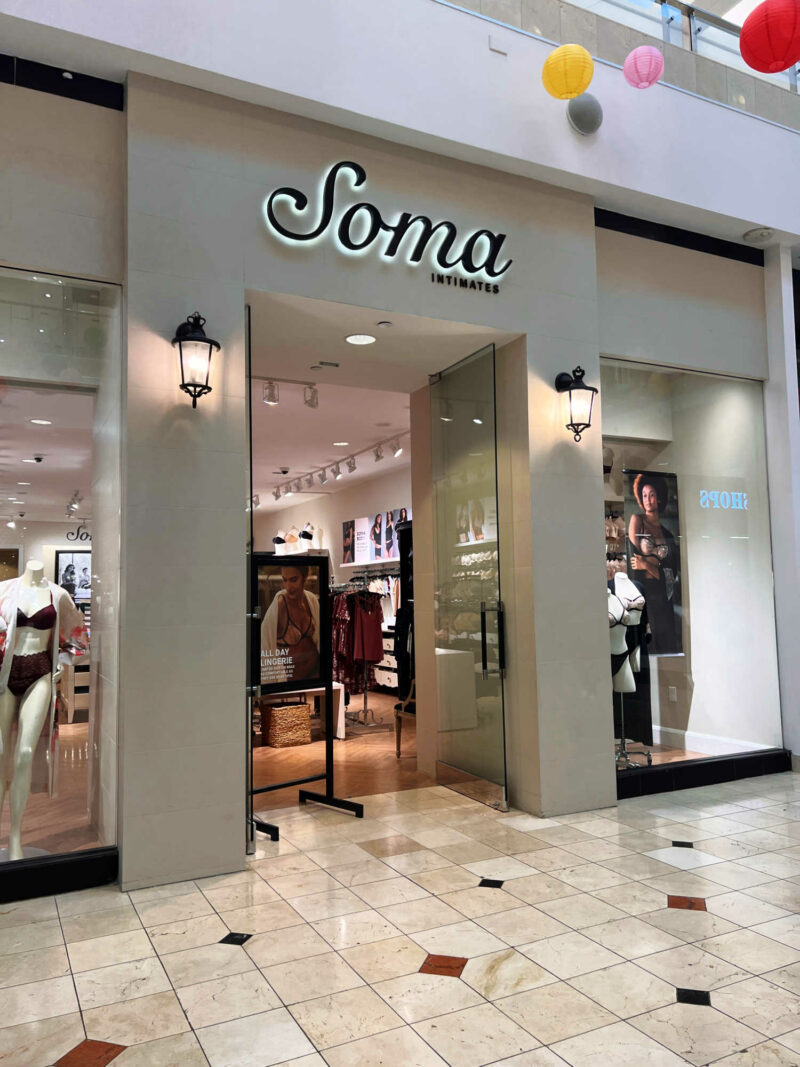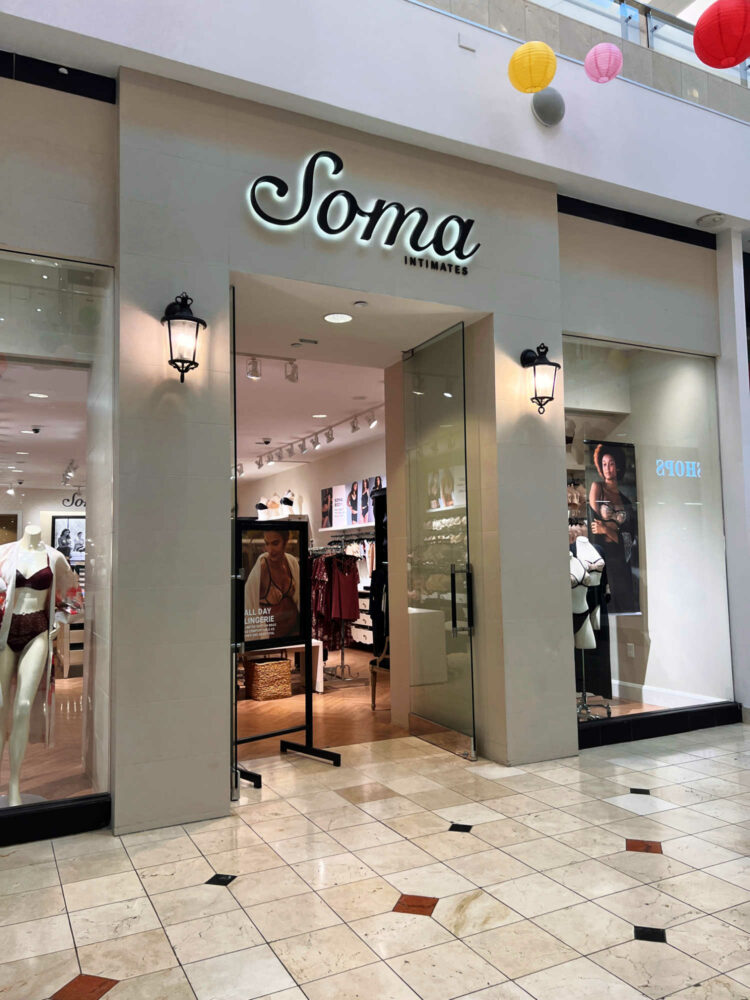 When was the last time you were fitted for a bra? If you're like most of America, the answer is that it's been far too long. Did you know you should get a bra fitting every six months? Your body is constantly changing due to gravity, age, exercise, weight, and more. Bras, even when properly cared for don't last longer than that, so it makes sense to visit a skilled bra boutique to get a fitting and update your lingerie drawer. This experience isn't one many women look forward to; I found Soma makes the bra fitting experience quite painless and dare I say fun!
Soma Intimates Bra Fitting
I originally wrote this Soma Intimates bra fitting review in 2018. However, earlier this month in 2023 I went back to Soma to get an in-person bra fitting by their experts. I had done a virtual bra fitting with Bravissimo but actually hadn't done an in-person bra fitting since before the pandemic. I knew my body and lifestyle had changed since my last fitting and decided to see how it affected my bra size.
I also was looking for new bras and hadn't tried Soma in a while. I had heard they had changed the fit and technology of some of their bras, they had changed the branding and style, and I wanted to see what was new with Soma, especially in regards to Soma's bras for larger busts. Did they have anything new and innovative that would elevate my bra wardrobe?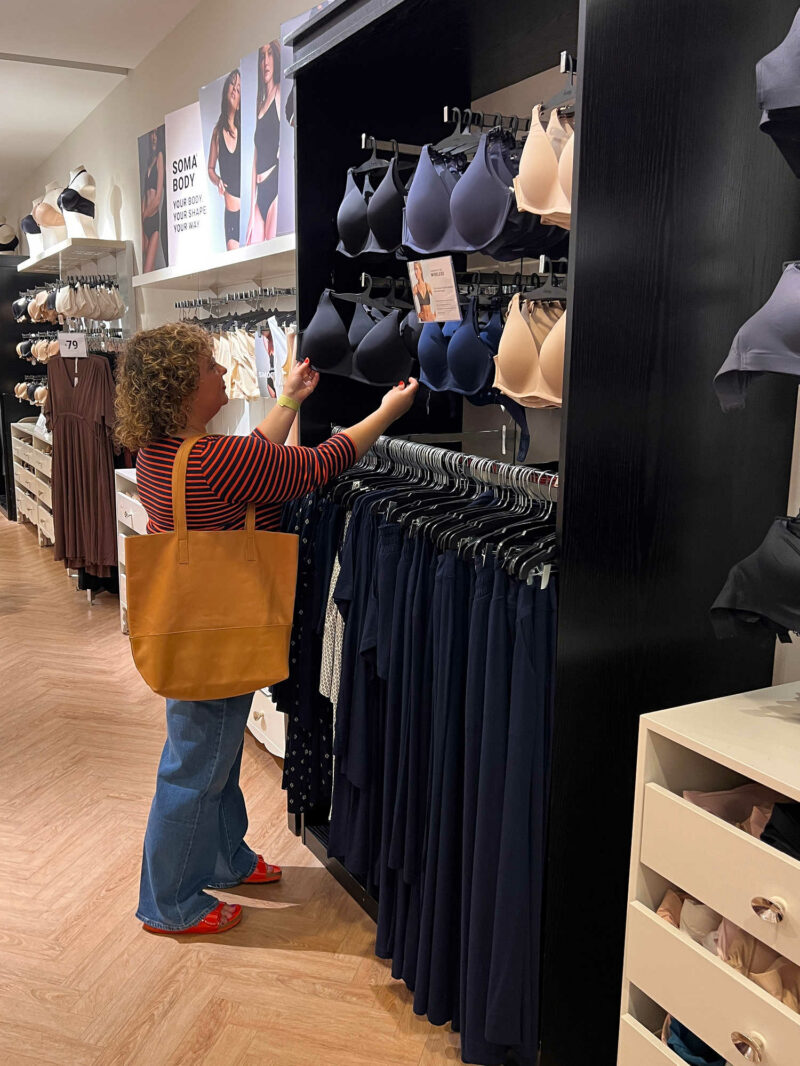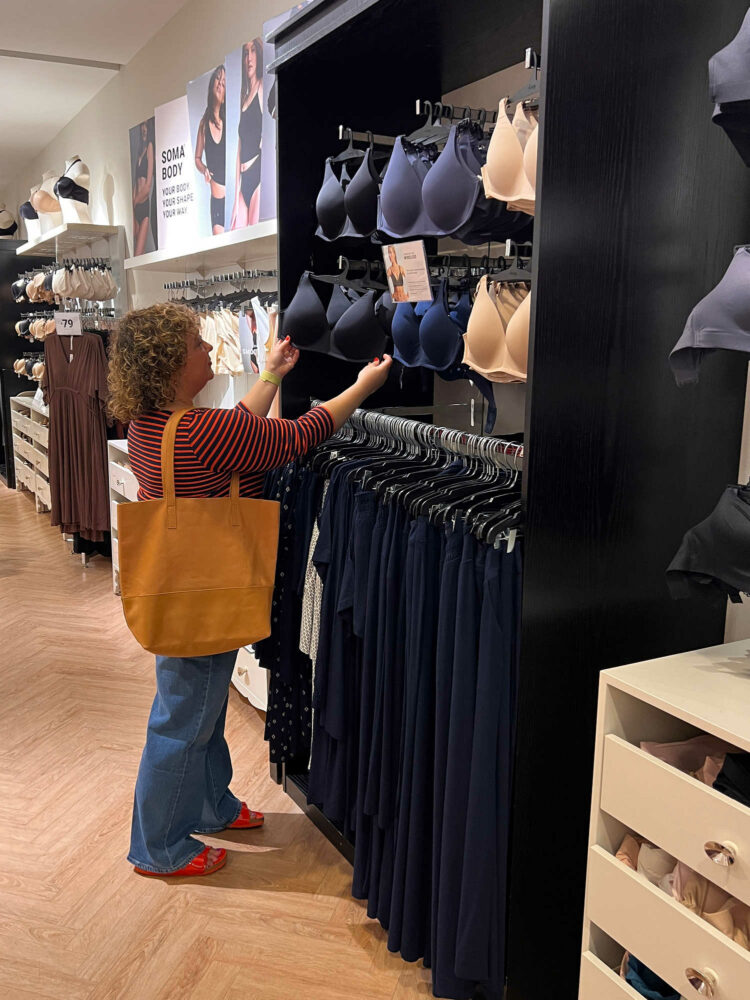 Visiting Soma for a Bra Fitting
I've always had success with Soma and I love that they have staff on hand at every boutique, all the time, to help you find the perfect bra while feeling comfortable (and not having to get naked!). I visited the Soma in Westfield Montgomery Mall in Bethesda, Maryland. I met with Amanda, one of Soma's Expert Fit Stylists. I went early on a weekday when I knew the store wouldn't be too busy; I was the only customer Amanda ended up having to care for while there, which really put me at ease. I never felt rushed.
Amanda asked me what I was looking for that day. I told her I needed to be fitted, as it had been a few years, and that I was looking to see what Soma currently had available for a large bust. While I had been a bigtime Soma customer before the pandemic, I hadn't really kept up with the retailer recently and in general wanted to see what was new.
Amanda had a tape measure around her neck, and on the salesfloor over my clothing, she did a super quick bra measurement to get a gauge of my size. Then, based on what I tried, she would either do a more precise measurement in the fitting room or adjust what sizes she'd offer based on how they fit.
She also asked what kind of bra I was wearing as the design can affect shape and volume. I appreciated this process as I know bras vary in shape and design as well as size and just because a bra comes in my size it may not be right for my unique frame. I found I was the same size I was for my last Bravissimo virtual bra fitting.
Amanda walked the store with me, asking me what kind of bras I like, what sort of silhouette I desire, what I feel is missing from my current bra collection. As we stopped and looked at different styles of bras she felt may be a good fit, she asked me about colors, prints, and the kinds of clothing I wear with such bras. With this intel, Amanda picked up a few bras from around the store and then led me to the fitting rooms.
Trying on Bras for Large Busts at Soma
The fitting rooms are spacious and have flattering lighting. There is a bench to sit on and place bags and try-ons, a full-length mirror, and plenty of bars and hooks for merchandise. Already hanging in the fitting room was some of Soma's iconic Cool Nights sleepwear, including a robe. Amanda lay two of the bras she selected on the bench, asked me to take my time but if I needed any assistance just to call out or pop out my head from the fitting room door.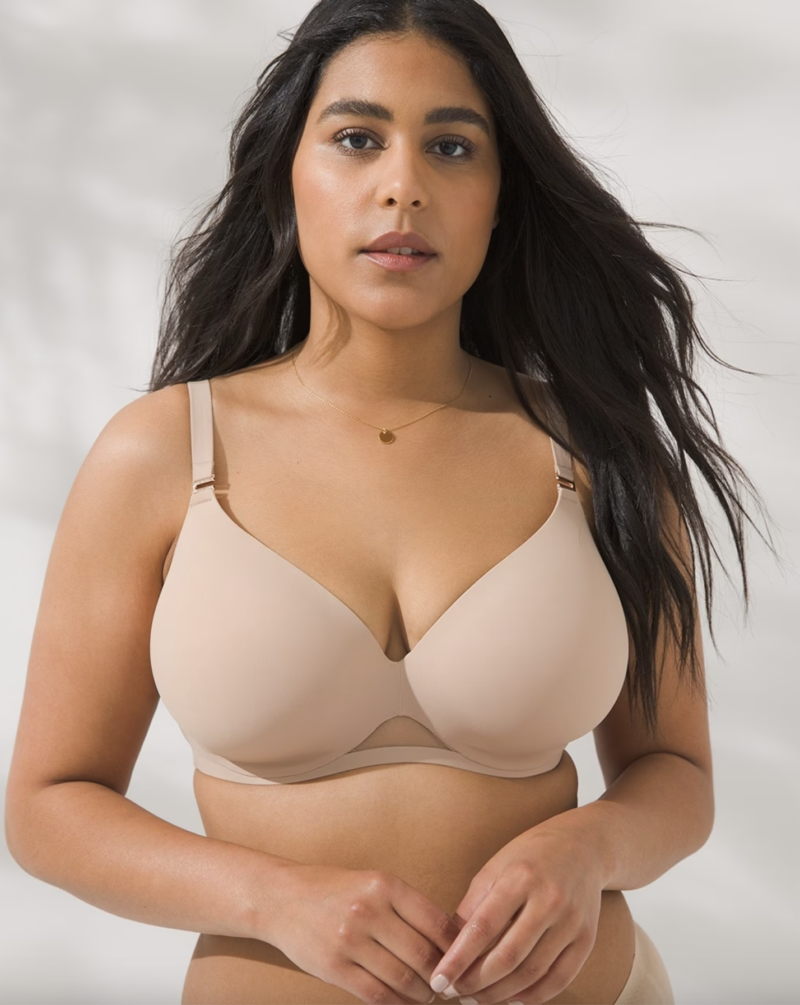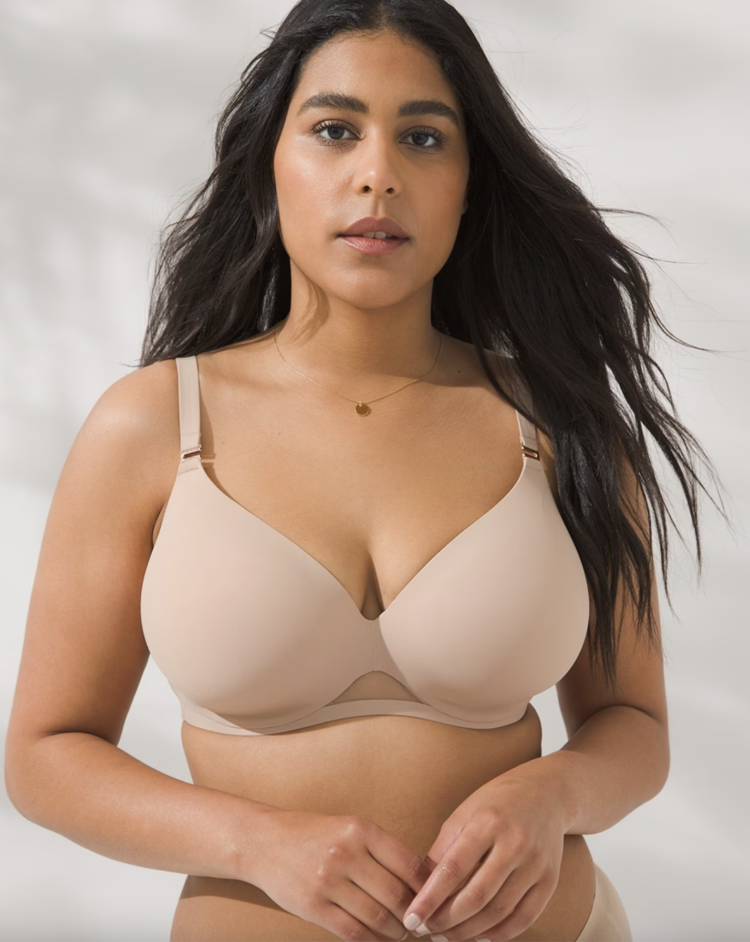 Bodify Perfect Coverage Bra
The first bra I tried was the new Bodify Perfect Coverage Bra. Available in six colors, band sizes 32-44 and cup sizes B-H, this is a surprisingly lightweight bra. This bra has patent-pending innovative Flexicup™ 360 cup technology with self-healing material that stretches and hugs for a custom fit. Patent pending Floataway Wire™ in airflow mesh moves with you while keeping you cool. "Get a Grip" straps stay put without pinching like silicone and other no-slip materials.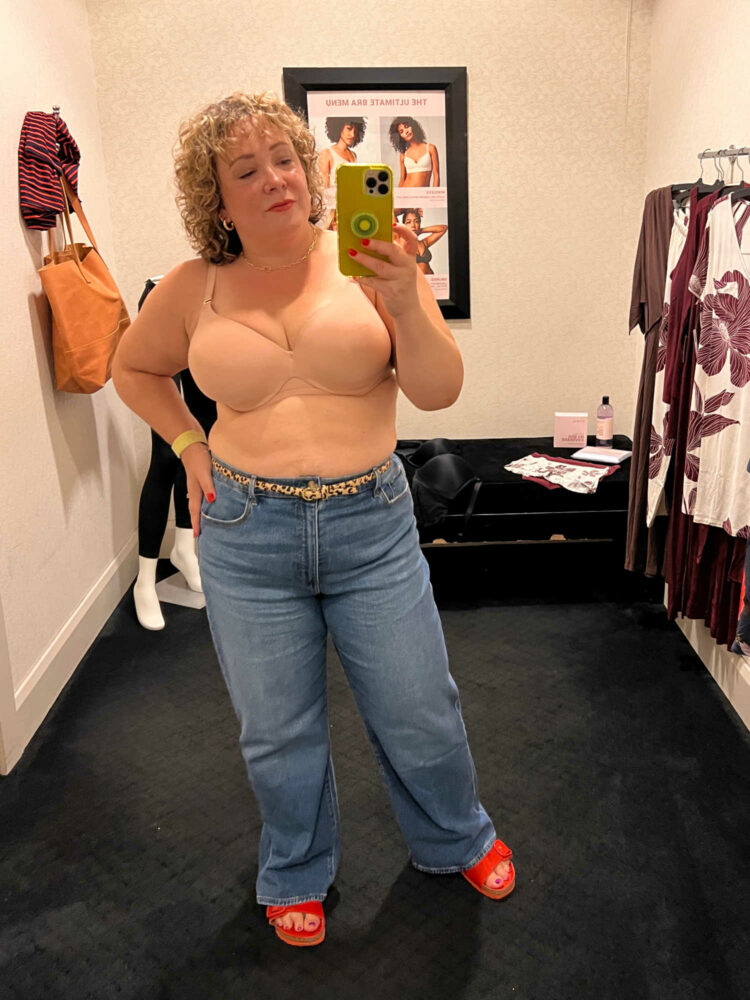 This bra was incredibly comfortable. Amanda showed how the wires weren't too deep for my petite frame, hitting at the right place where they gathered all the breast tissue under my arm without digging in. The straps did grip without pinching, it felt like hardly wearing a bra at all while keeping me lifted and separated. However, the cup shape wasn't quite the same as my breasts, and the effect under a fitted tank wasn't smooth. Amanda and I both agreed we liked some aspects of this bra, but this specific bra wasn't right for my frame.
Can I just say how nice it is to get this kind of second opinion? If I had ordered this bra online, I'd likely keep it thinking the problem was me. I'd keep playing with strap length and eventually give up and donate the bra. But by having an expert there to agree the bra isn't the right choice and to take that information and find a better one? Priceless.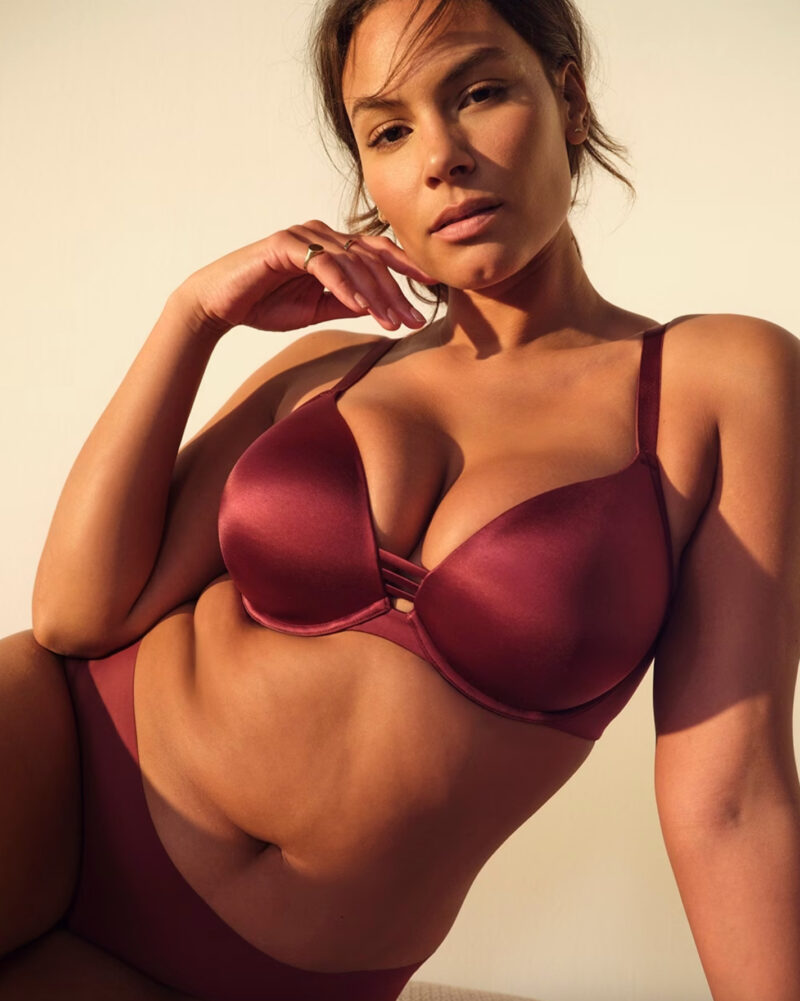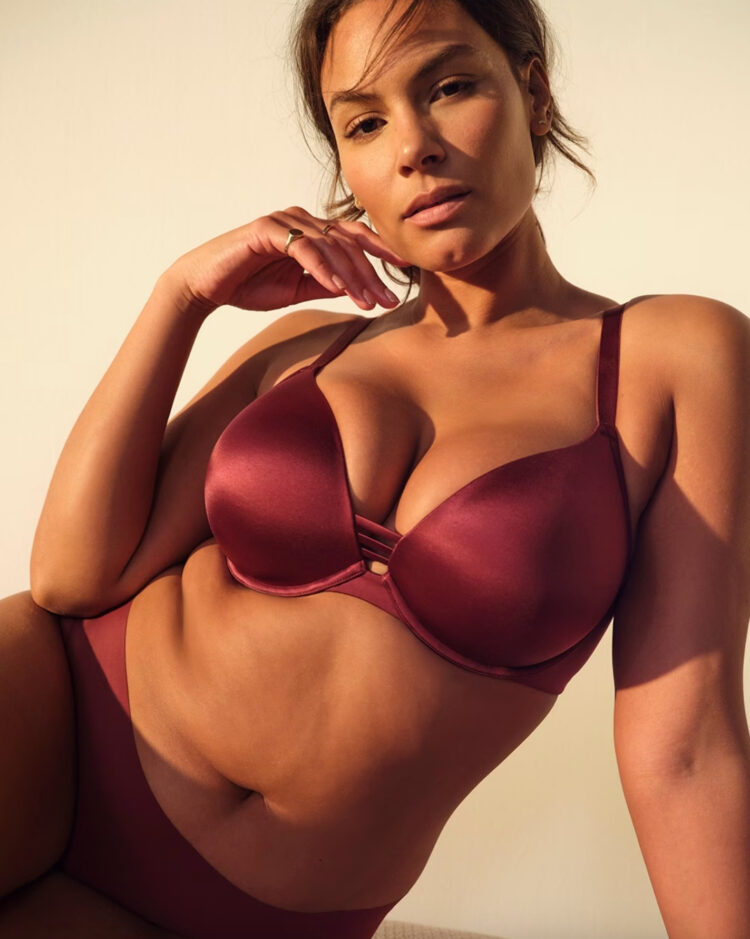 Soma Stunning Push-Up Bra
The next bra I tried was the Soma Stunning Push-Up Bra. While many with large busts are looking to make their chest appear as small as possible, I don't mind my size as long as it is well-lifted, shaped, and separated. So I was intrigued by a push-up bra designed for larger busts.
Available in 4 colors, band sizes 32-44, and cups B-H, this is a sexy satin bra with a plunging neckline making it the perfect bra for special occasions and sexy night out looks. Seam-free with a sexy strap detail in front, this is a bra that will virtually disappear under knits but if it does show a bit, it will look great (I personally love such a bra to wear alone under buttoned-up blazers).
This bra… va va va voom! I looked like a pinup under my fitted tank. The bra didn't show, and it was surprisingly lightweight and comfortable even with that padding and support. This is a definite date night bra, and the kind of bra I didn't think I could carry off with my 40-something bustline that has been blessed by gravity, size fluctuations, breastfeeding, and life in general. I didn't get it because I don't need it in my life now… but I may go back and get a Soma Stunning Push-Up Bra to wear with dressy looks around the holiday season.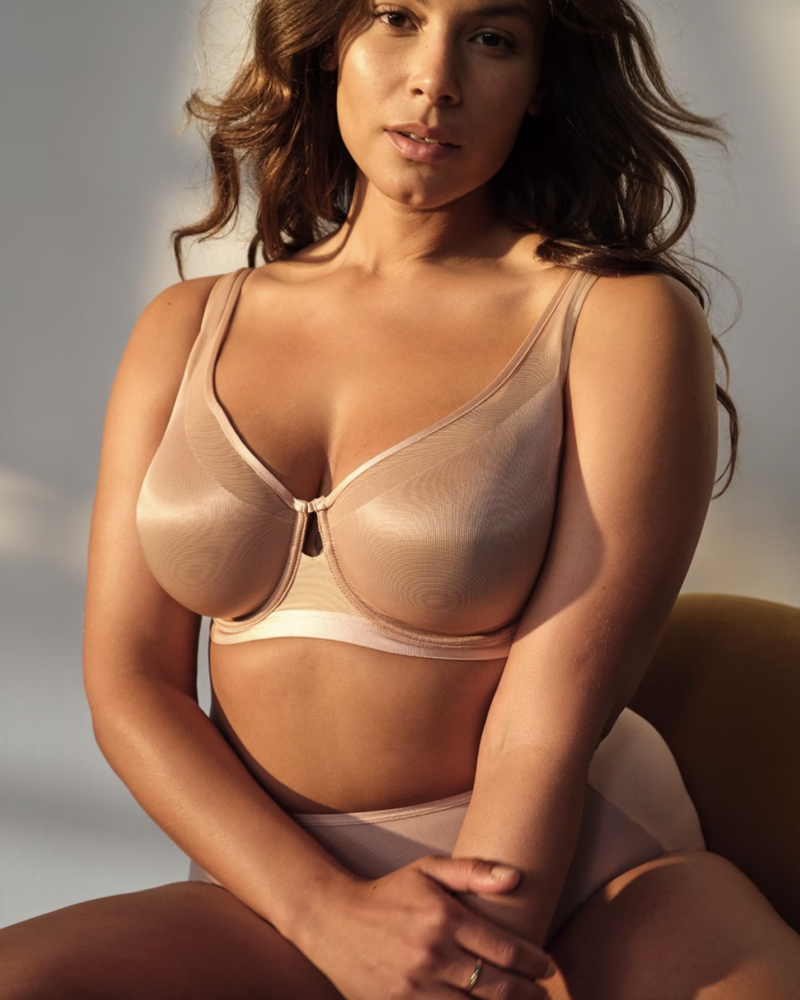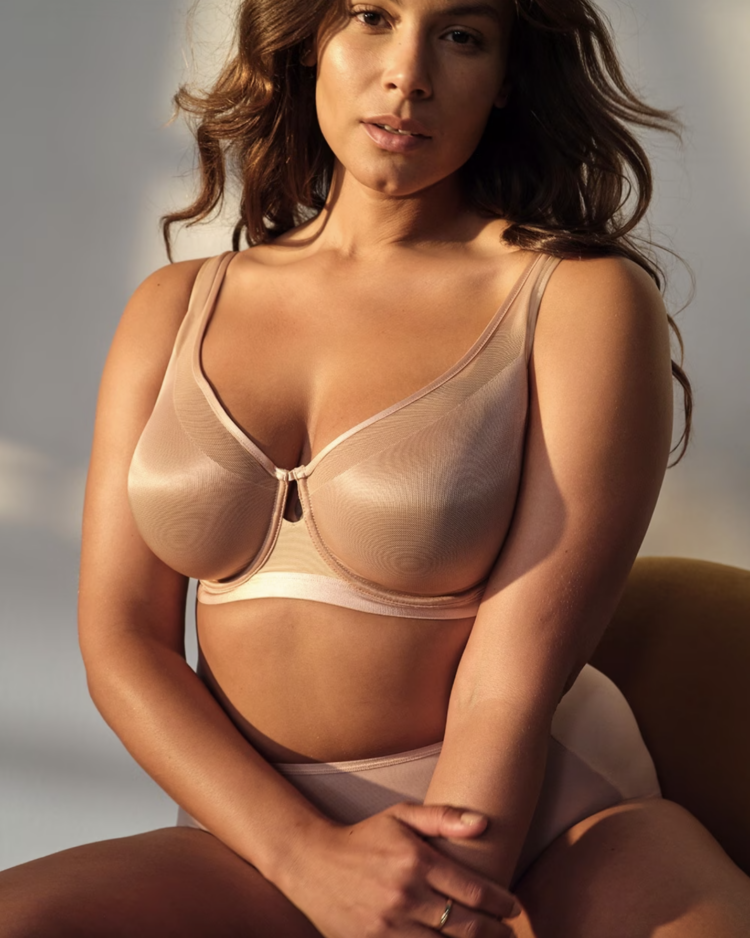 Soma Unbelievable Lift Scoop Balconette Bra
When you're someone with large breasts, sometimes you can just look at a bra and decide it's not for you. And when I saw the Soma Unbelievable Lift Scoop Balconette Bra that Amanda suggested I try, I laughed. This delicate bra, no seams, no structure, no hardcore hardware… this was going to leave my large over-40 breasts a swinging sloppy mess. I couldn't be more wrong, this was my favorite bra from the entire Soma bra fitting!
The Soma Unbelievable Lift™ Scoop Balconette uses targeted support zones with engineered lift to provide shape and support without padding. The power mesh sides smooth while flat satin binding at the neckline and underarm stays sleek and streamlined under clothing. Available in 3 colors, band sizes 34-42 and cup sizes B-G, this is a beautiful and lightweight bra with some serious innovation for large busts.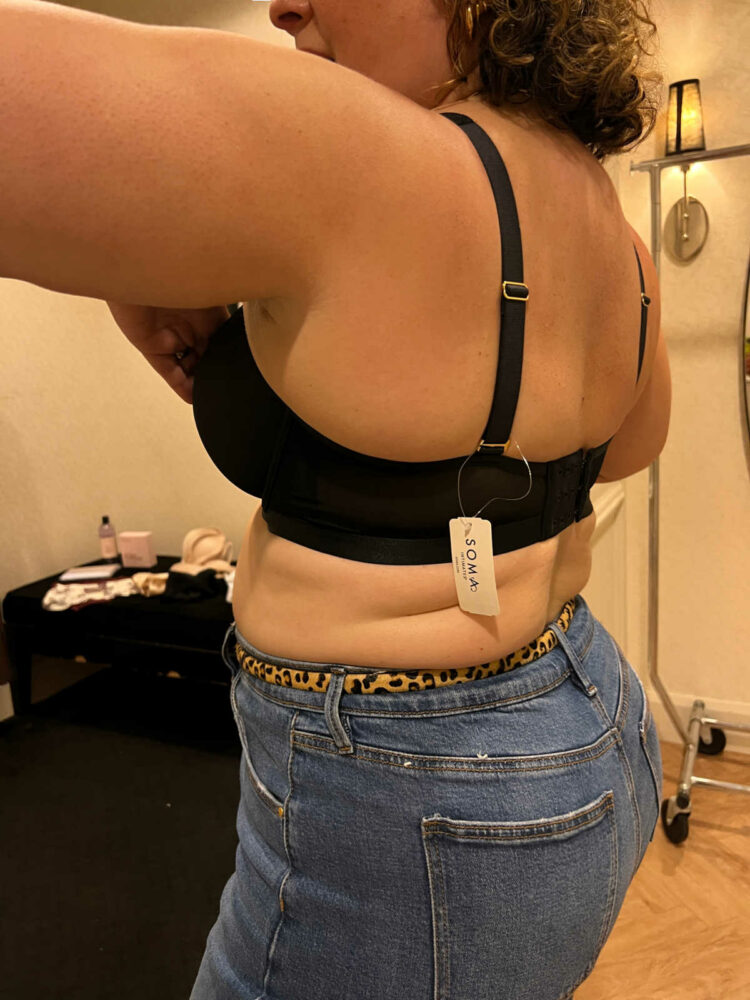 I tried this bra in black and was immediately in love. It's a sexy bra; while the cups are less sheer than the trim they are still transparent. The design really flattered my bust and made it look lifted, nicely shaped, natural but defined. And it was so lightweight! This is a fantastic summer bra for large busts, a sexy date-night bra, and a great everyday bra (as long as you don't desire padding to prevent "headlights"). Big fan, I likely will be going back for more in different colors once it gets colder and I'm wearing fewer fitted knits and lightweight fabrics.
FYI, Amanda shared the balconette was likely such a winner because I am petite (5'3″) with a shorter torso. For those with a longer torso or are taller, they may also like or prefer the Unbelievable Lift Unlined Perfect Coverage Bra. Same concept, but a different cup shape, along with a broader size range and more colors.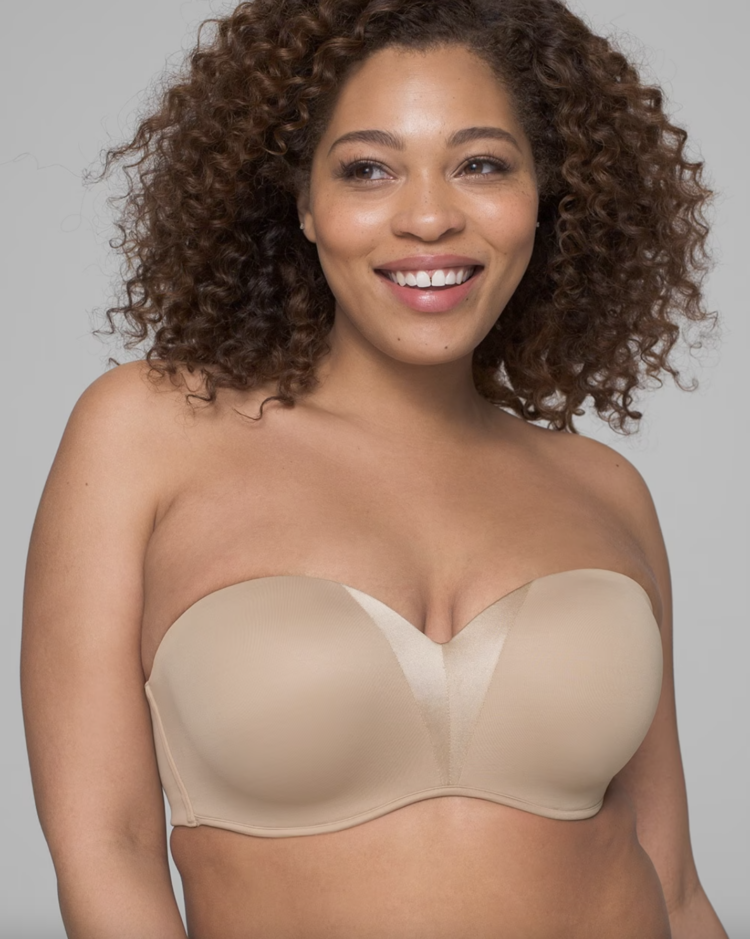 Soma Stunning Starlet Multi-Way Strapless Bra
Amanda asked if I wear strapless bras and if I'd like to try the Soma Stunning Starlet Multi-Way Strapless Bra. I shared I got one of these strapless bras a few years ago and find it supports but is heavy and not very comfortable. Amanda shared that Soma has updated this strapless bra and I will likely find it just as supportive but more comfortable. And yet again, Amanda was right.
The Stunning Starlet Multi-Way Strapless bra is smooth and seamless, disappearing under clothing. With multiple hooks inside the bra and two adjustable straps, this bra can be strapless, one shoulder, halterneck, racerback, and much more. Availabl in black and beige, band sizes 34-44 and cup sizes B-G, this is a firm strapless bra that will ensure lift, separation, and shape without sliding down halfway through the day.
Folks, I JUMPED in this bra. Like hop hop hop in the fitting room and that bra didn't go anywhere. I felt as secure as I did in my favorite sports bras. More comfortable than my circa-2020 Soma strapless but giving just as good of a shape, this bra even looked good under a fitted tank. This strapless bra gave me confidence and I'll surely be wearing it soon.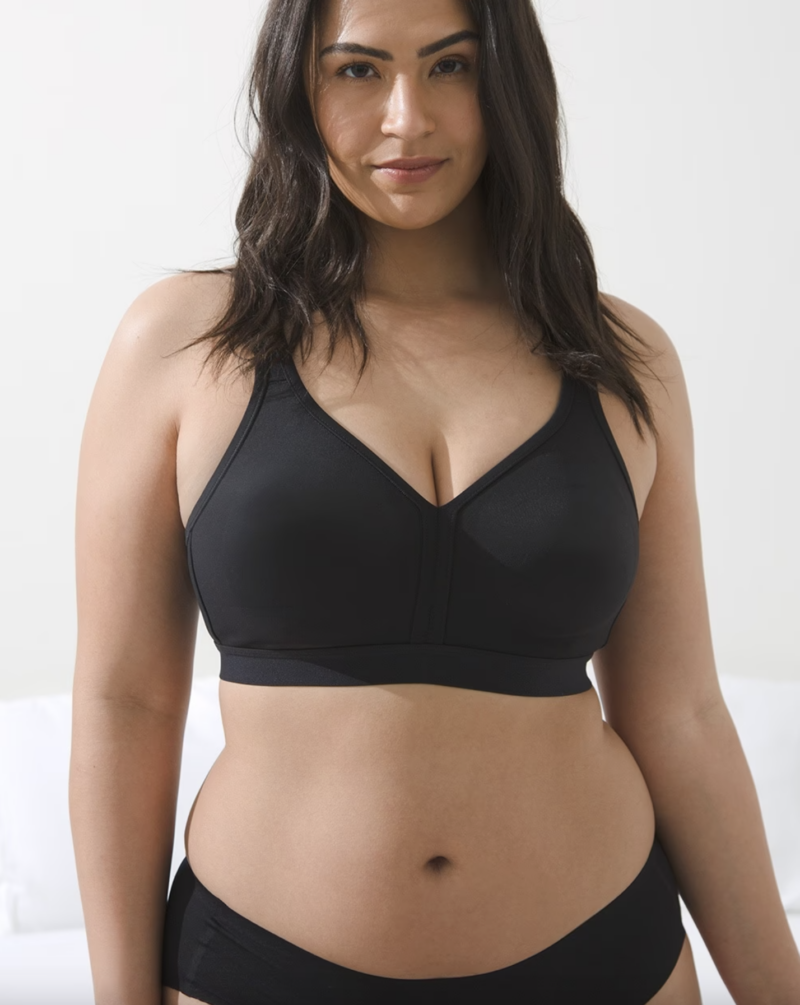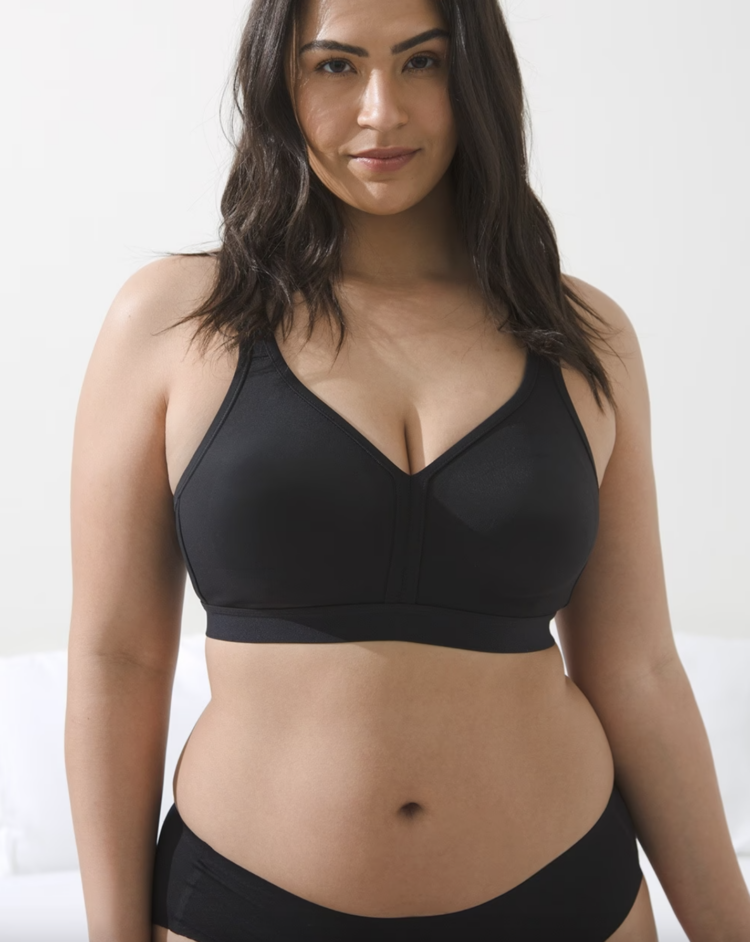 Soma Embraceable Full Coverage Wireless Unlined Bra
When Amanda suggested the Soma Embraceable Full Coverage Wireless Unlined Bra I smiled. I have this bra. I love this bra. I personally think it's the best wireless bra for large busts. Comfortable, supportive, gives shape and no "monoboob," this is the wireless bra I wear the most… and honestly my current ones look it too.
Trying on a new version of this bra I love was a reminder of how great it is when it's in new condition… and why we need to replace our bras on the regular. Much more comfortable, much more supportive, and far better looking than the sad well-worn versions in my intimates drawer, a new wireless bra felt like self-care. Available in 4 colors, band sizes 34-44 and cup sizes C-H, this wireless bra is specifically designed for a larger bust.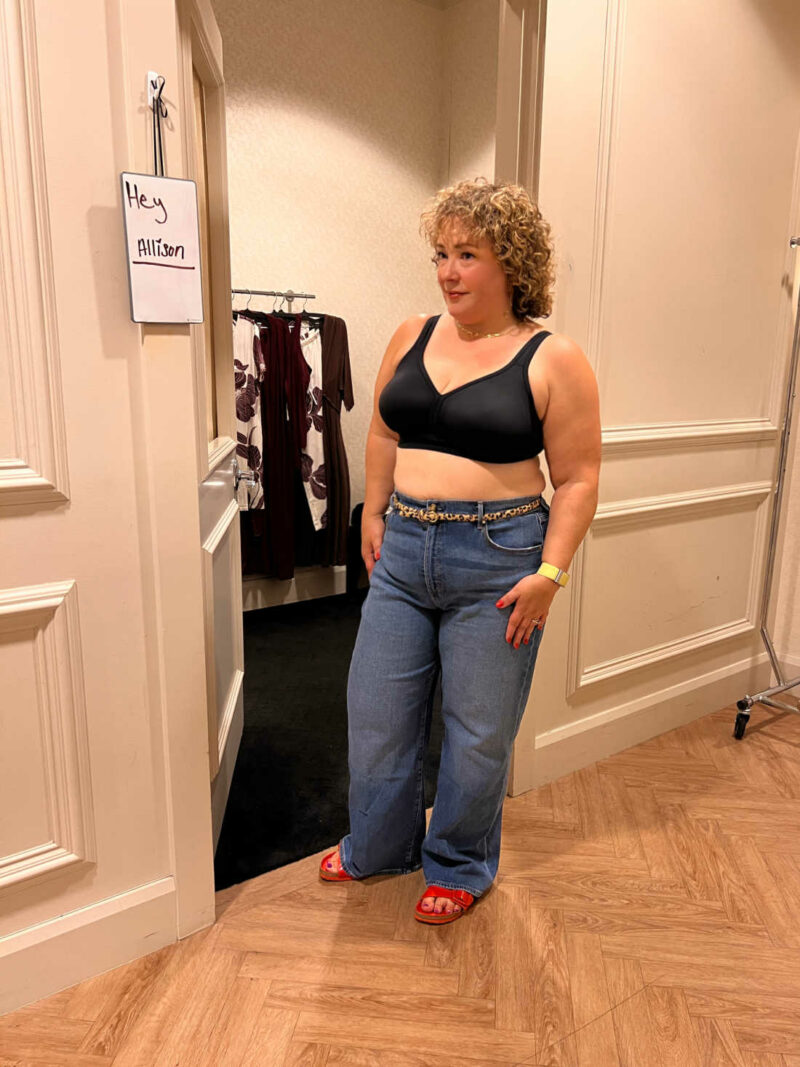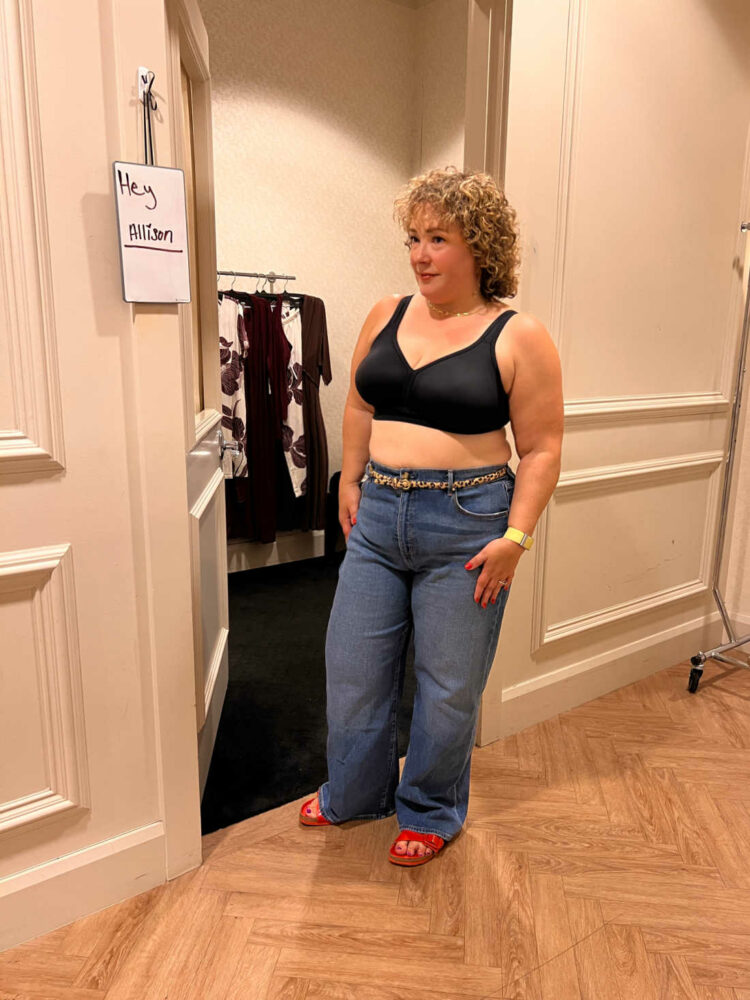 If like me, you save your money for what you wear out the door to work and for social occasions and spend your downtime in your worn-out bras and loungewear… I encourage you to consider an upgrade. Putting on a fresh version of this familiar bra made me see my entire body in a new light. I had better posture, my bustline looked better, I felt more confident. And new, this bra gives enough shape to leave the house, especially under fall and winter fashions!
How to Adjust a Bra for Perfect Fit
I was taught at some point in life that I should hook my bra on the middle hooks. Amanda taught me that no, I should actually put it on the last hooks. Then as the bra stretches out with wear I can go tighter and lengthen the life of the bra. She also showed me how to adjust my breasts in the bra cups for the best shape.
Amanda adjusted the straps until I could comfortably slip two fingers underneath. More space, and the bra isn't lifting like it can. Less space, and you're putting strain on your shoulders. Slipping a fitted tank (which Soma provided in the fitting room) over the bras really helped me to see the shape and fit of each bra.
You may have heard of the SOMAINNOFIT Measuring Bra and the the SOMAINNOFIT app to get your perfect fit. According to Soma "This exclusive measuring bra provides your precise measurements right through your smartphone and curates a collection of Soma® bras just for you." Please know that Soma no longer creates this bra-fitting tool. Instead, Soma offers a virtual styling experience and this really helpful guide on how to measure yourself at home for a bra. Soma believes this will provide you with a more personalized and accurate fit.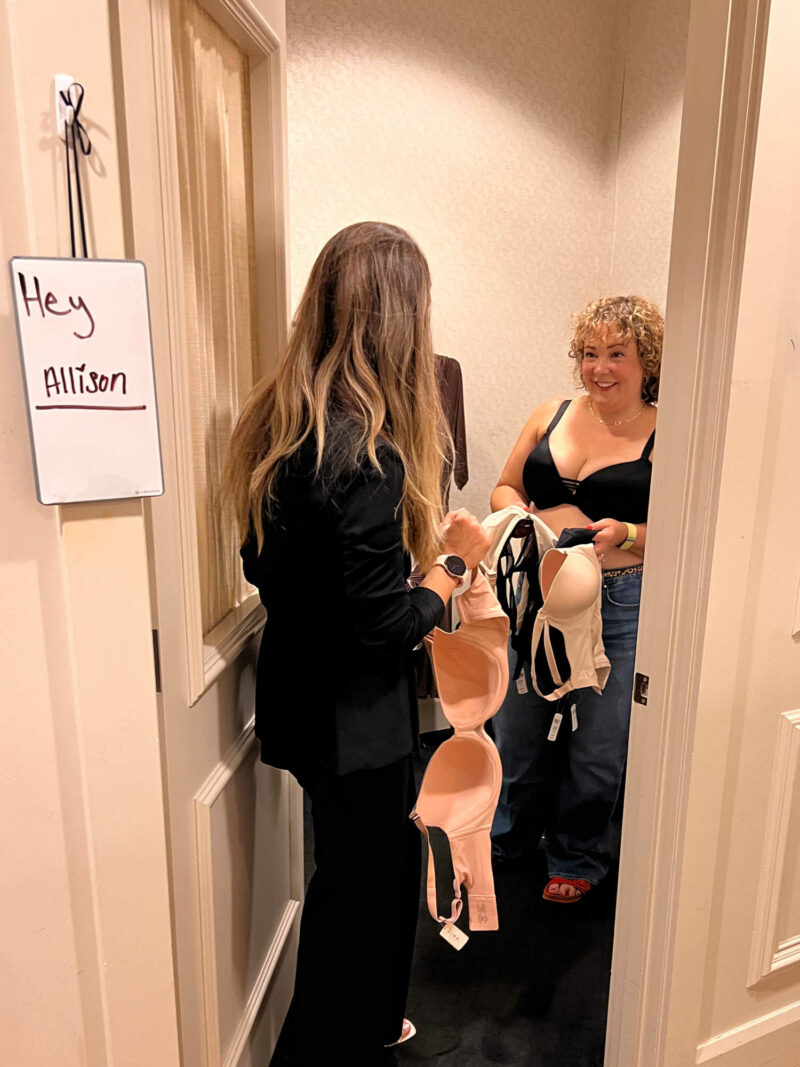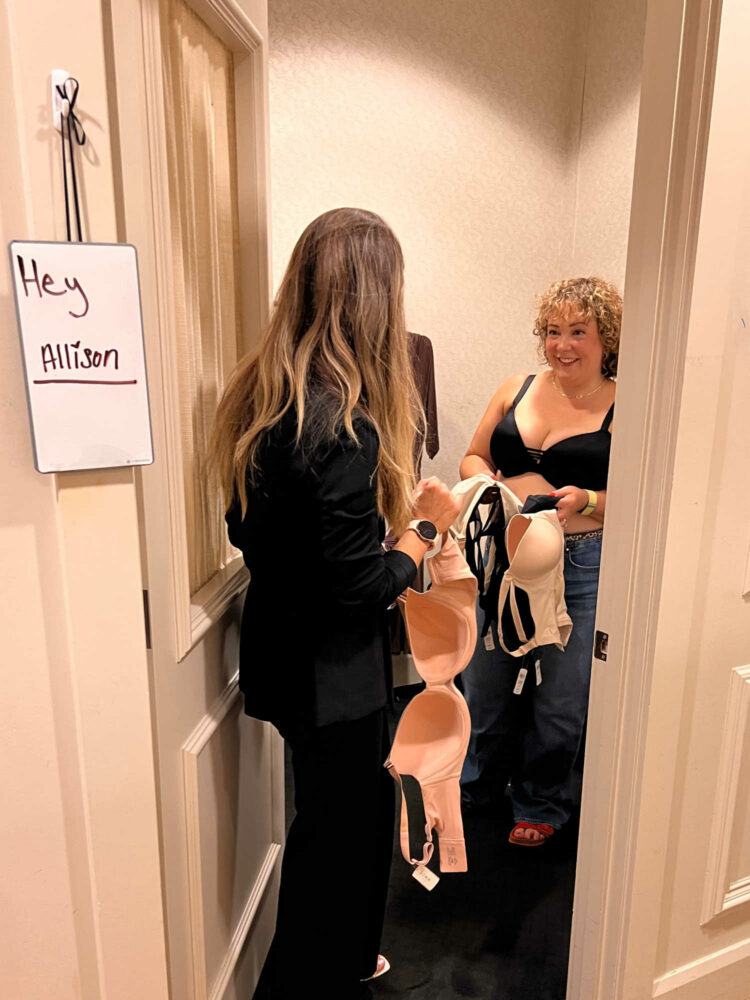 The Soma Shopping Experience
Amanda was completely honest and would tell me when she didn't think a bra did my figure justice. She also didn't quibble if I said I didn't like a bra. It was nice to know we were on the same team, working to find me a great bra versus make a great sale.
After trying on all the bras, I got dressed and met Amanda out on the sales floor. Armed with the bras I did like, we went through the walls and drawers and found the colors and patterns I preferred. She showed me coordinating undergarments, but there was no sales pressure. I took a look around at the racks and tables and Amanda provided information about each product. While she was helping me, there were other salespeople assisting other customers, managing the registers, restocking the sales floor, and keeping the place looking beautiful. As a previous retail manager, it was clear the whole team was well-trained and felt confident in their roles.
This was by far one of the best in-person shopping experiences I have had in a very long time. In this day and age, the Internet is king and the mall has been affected by fewer payroll hours, disinterested sales staff, and fewer customers. But walking into a Soma reminded me of the mall experience of the '90s. Beautiful store, well stocked, engaged staff, personalized service.
Soma is also a great place because their prices make sense. You can find bras up to an H cup, but you won't be paying a fortune. The quality is stellar, but you won't be spending $100 for a single bra. On top of that, if you join their free program Love Soma Rewards you gain points with each purchase (online and in stores) to earn $5 rewards you can use toward future purchases.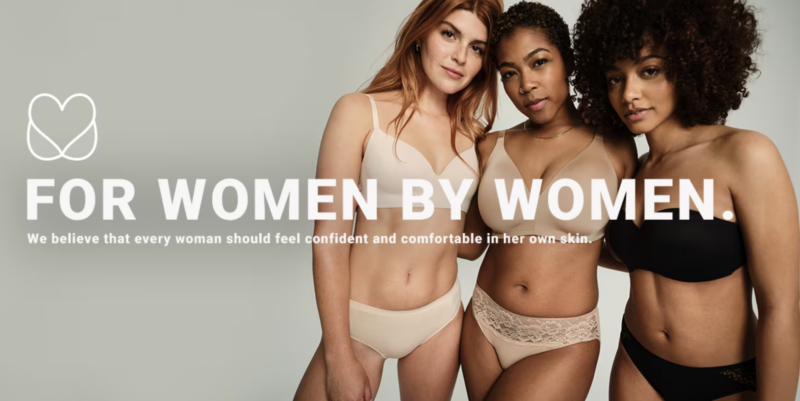 Soma Bra Donation
In July 2010, Soma set out on a mission to make a difference by collecting bras for women in need. Soma partnered with the National Network to End Domestic Violence, the leading voice for survivors with more than 2,000 affiliated shelters across the country. Soma expanded to include the I Support the Girls organization and has been working with ISTG for the past seven years. In total, Soma has donated over 2 million bras to those in need over the past 13 years.
I have written about I Support the Girls in the past, have hosted donation collections at my old office, and find them such an amazing charity. Inspired by Soma's Bra Donation, Dana Marlowe began to collect bras and hygiene products for women staying in homeless shelters in the DC area. I Support the Girls now helps to restore dignity and self-respect to folks across the globe and Soma donates some of the bras they receive to this organization. Wardrobe Oxygen makes a monthly donation to I Support the Girls.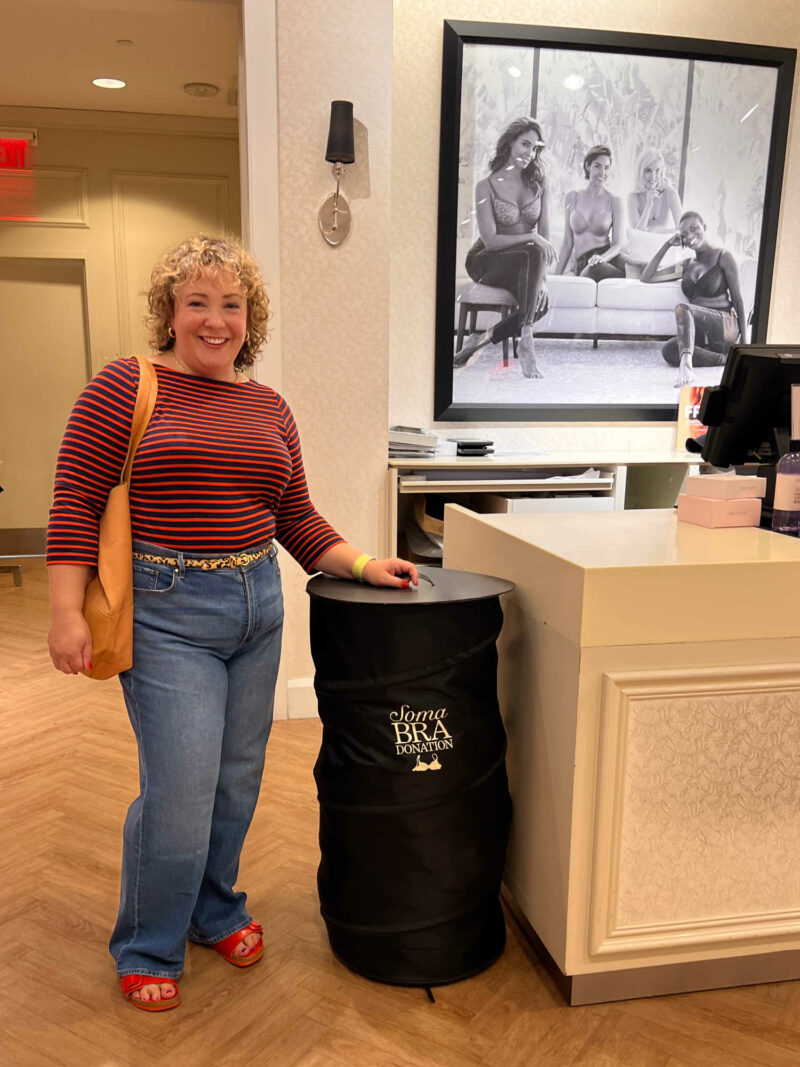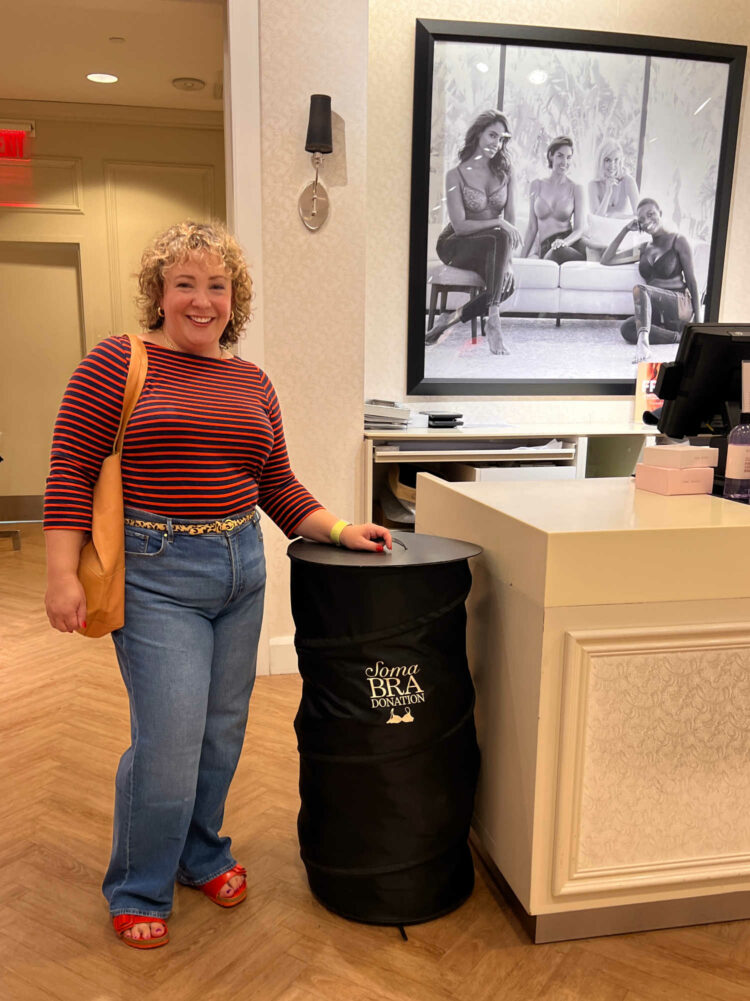 Donate new or gently worn bras to your local Soma boutique and get up to $10 in Soma Rewards to use for your next purchase. Help your figure and help a fellow woman who is in need. Click here to learn more about Soma's Bra Donation program and promotion or visit your local Soma boutique for more details.
Have you experienced a bra fitting at Soma Intimates? Do share your results in the comments along with your favorite Soma pieces. I learn so much from you readers, in fact, you're the reason I became a fan of Soma years ago. Your faves may become the new fave of a fellow reader!