This article may contain affiliate links; if you click on a shopping link and make a purchase I may receive a commission. As an Amazon Associate, I earn from qualifying purchases. 
I work in a corporate office as a call center representative. My office has a business casual dress code, but we took the last two months off and were just casual. I was very excited about this, because I can wear t-shirts – specifically band t-shirts. Alas, casual months is coming to an end. Is there a way to incorporate band t-shirts in a business casual setting?
Guessing by what you shared with me, your office may have a business casual dress code, but they are pretty relaxed in regard to how that code can be translated and do allow such tops. For many offices, a band tee shirt, no matter how awesome looking, is not appropriate. I have worked in offices that specifically state no crew tee shirts, and others where they ask us to use discretion.
At my current office, while I do push the sartorial boundaries on occasion, I have only worn band tee shirts a couple times (seen here and here). My position requires the occasional client meeting, I am in management, and there's always clients visiting the office so I choose to not wear such shirts.
When trying to incorporate a tee shirt into a business casual outfit, it's important to choose one that has a more refined silhouette (a classic tee that fits well or one of the modern tees with a trendy fitted or slouchy silhouette) and is in good condition (no faded black or holes). It's also important to think about what is on the shirt – the workplace is not where you should wear words or images portraying or referencing sex, drugs, alcohol, obscenities, offensive language, or violence. It's also important that the shirt isn't the focal point. You are at work, not a concert. Consider a band tee shirt in the same way you would a camisole – it will pull a look together and add pizazz, but it won't be the star of the show. Here's a few ways to incorporate a band tee shirt into a creative business casual office environment: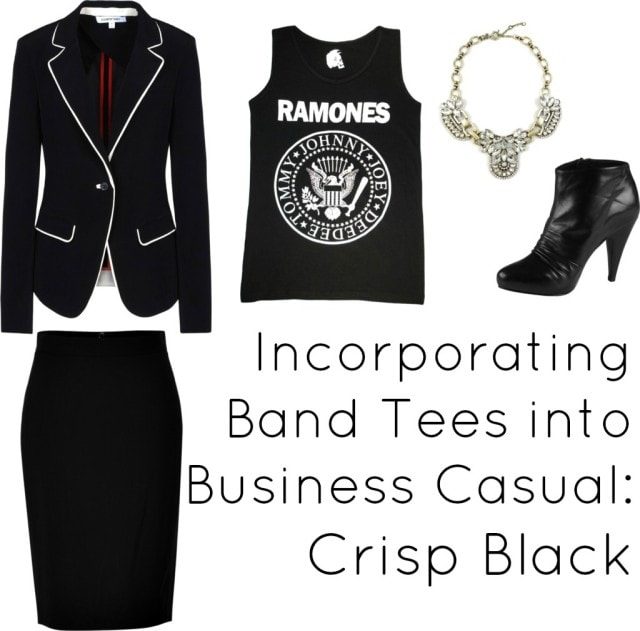 Crisp Black: With a monochromatic ensemble, it's easier to incorporate an untraditional piece. With this look, I chose a blazer with white piping so it would pick up the print of the tee and make it look purposeful and more a print than a logo. A simple black pencil skirt keeps the look professional. Black leather booties continue the rocker vibe while still being office-friendly, a sparkly statement necklace pulls together the look and keeps it from being too severe.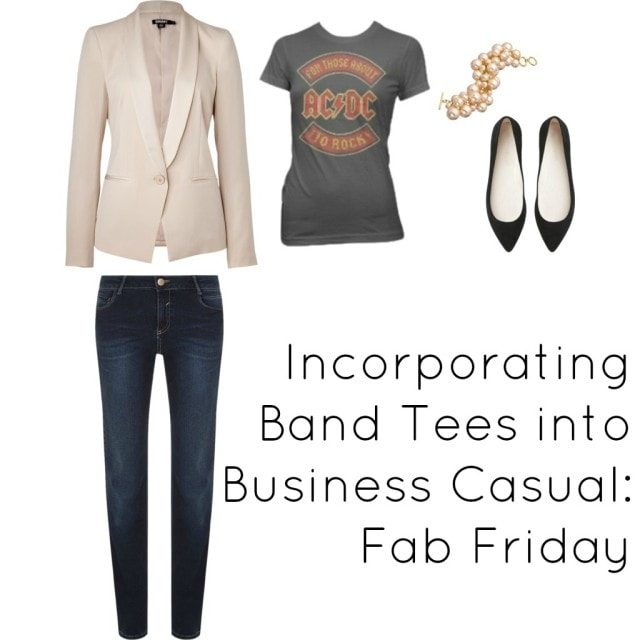 Fab Friday: Fridays are usually more casual than the rest of the week, and a great time to try out a band tee shirt in your casual or creative workplace. The key is to keep the rest of the look polished. Paired with crisp dark jeans in a slim but not tight silhouette, the tee shirt doesn't look as bummy. Topped with a tux-inspired blazer with strong lines, the tee shirt is an accent and not the focal point. Pointed-toe flats and a feminine bracelet keep the look from looking too rock-n-roll and is a fun contrast to the band you are featuring.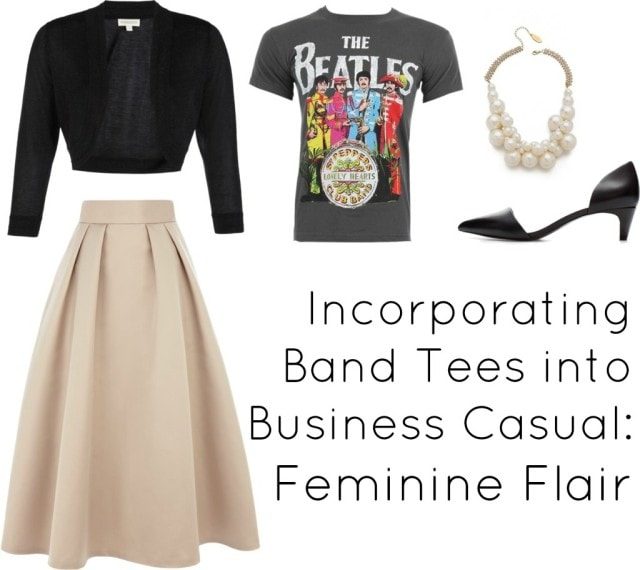 Feminine Flair: Another trick to incorporating an nontraditional workplace piece is to pair it with contrasting garments. A rock tee shirt is casual, tough, and a bit masculine. By pairing it with a full midi skirt, kitten heels, and a pearl necklace, the tee shirt is upgraded and seems more appropriate for the office. A shrug will tone down the tee shirt without covering up the print. The neutral color palette is purposeful – printed shoes or a brighter skirt would veer into Cyndi Lauper territory, subtle shades keep the look elegant and more professional.
Finally, I cannot stress it enough. If you are unsure whether a band tee shirt is appropriate at your office, it likely isn't. It is never worth it to sacrifice your position and credibility for a fashion moment. Unless you work in a creative, laid-back, or eclectic work environment, it may be best to save such shirts and these types of ensembles for weekends and after office hours.
Follow Me | Twitter | Facebook | Instagram