This article may contain affiliate links; if you click on a shopping link and make a purchase I may receive a commission. As an Amazon Associate, I earn from qualifying purchases.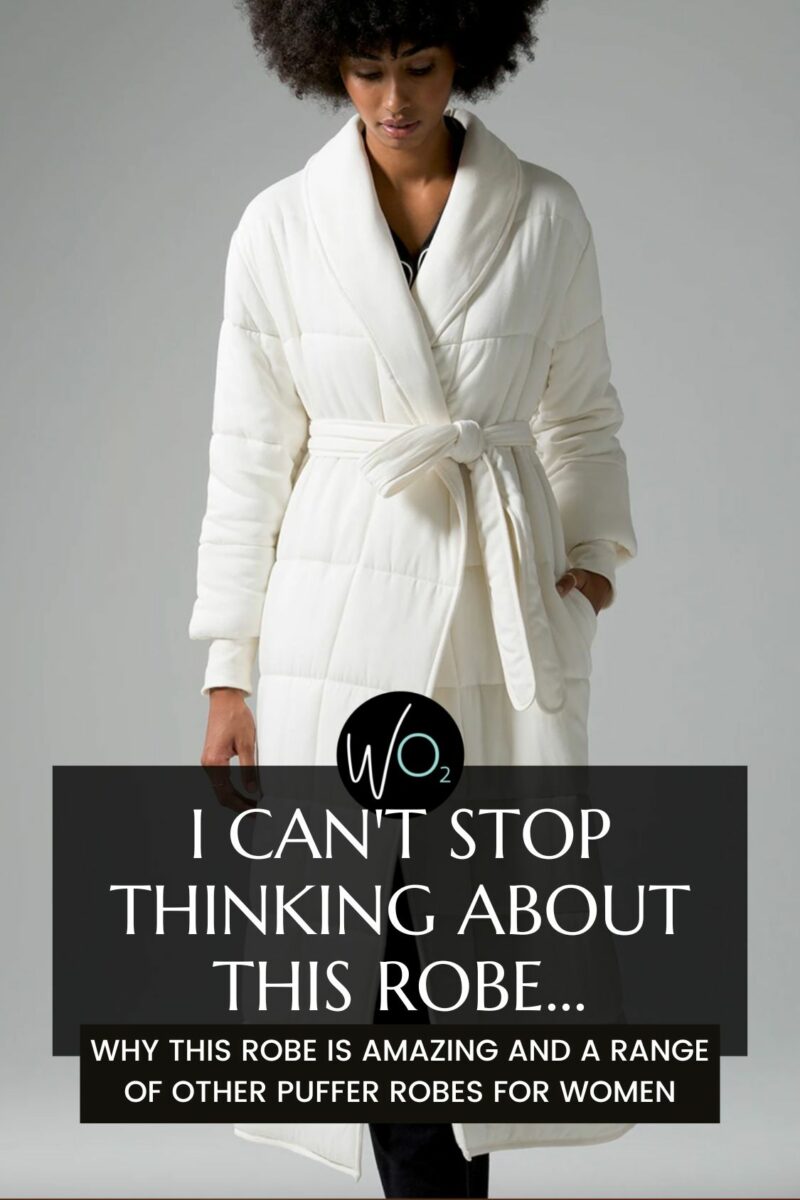 A Twitter friend mentioned me in a tweet; she bought a robe from Soma last winter and loved it as much as I did. She was recommending it as a great gift, especially because at the time of her tweet and the time I am writing this, it was on sale. And now I can't stop thinking about this robe from Soma.
I bought the short version of this robe last spring on clearance (h/t @wardrobe_oxygen) and it feels like wearing a plush blanket. Like a hug, even. It would make an excellent gift, and it's on sale!https://bit.ly/3PnXEcI

— fancypance (@fancypance) December 10, 2022
I Can't Stop Thinking About this Robe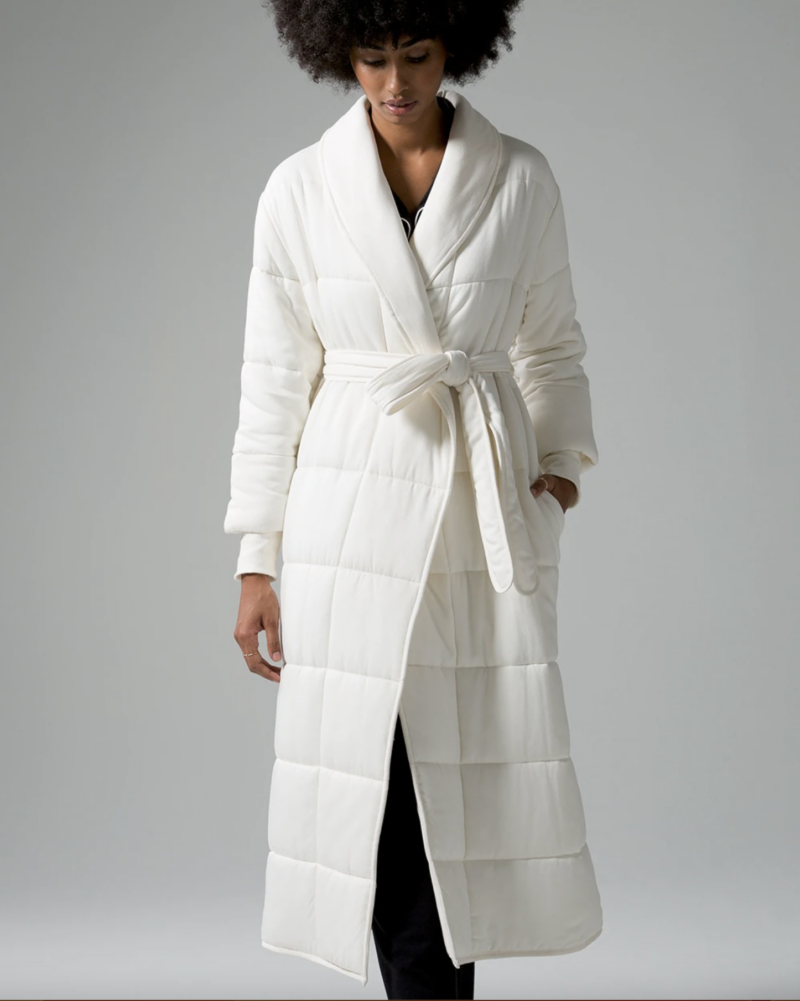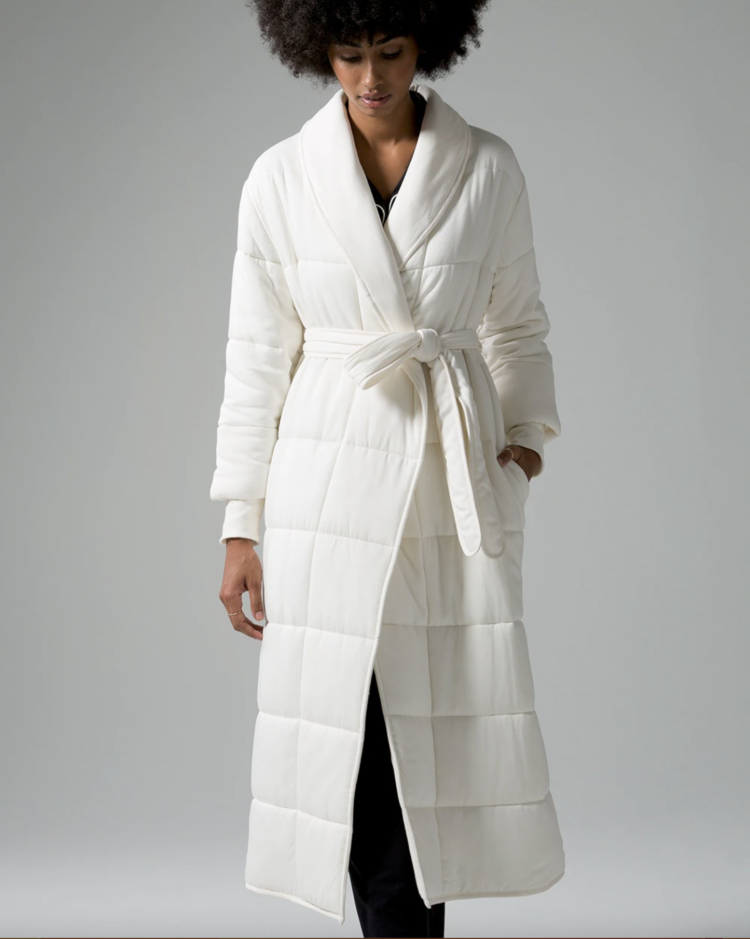 I went to check out the Soma robe she was recommending and it was this quilted Soma robe. And I was instantly obsessed. Because around this time last year, I was a Soma ambassador and they gifted me a version of this robe. It was the same quilted appearance, but last year's Soma robe was gray and only hip-length.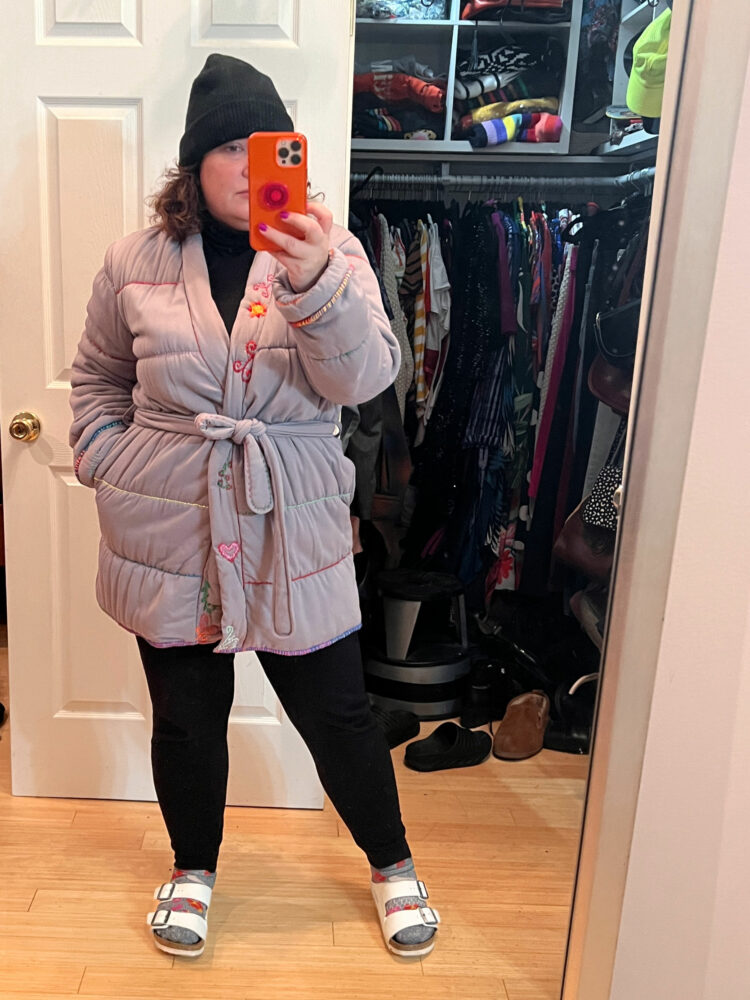 It didn't matter if I didn't love wearing the color of the sky in the dreariest part of winter, it didn't matter that it wasn't long enough to cover the basics let alone ward against the chill of a New Deal-era wooden frame home owned by energy-conscious folks. It was lovely.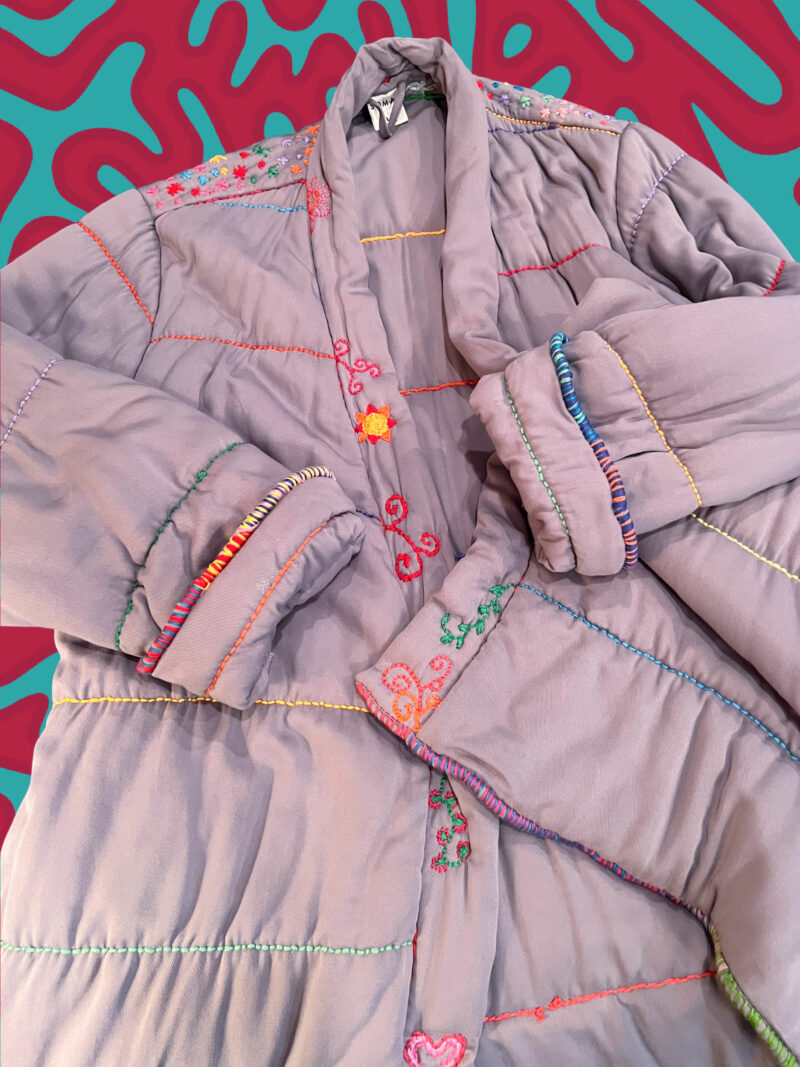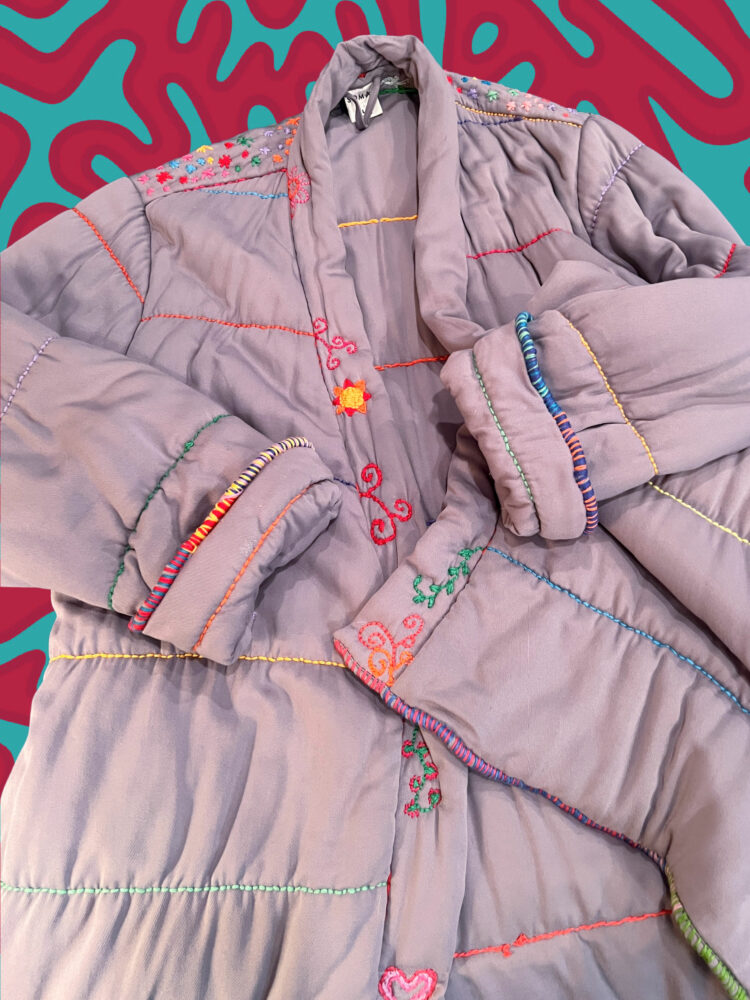 I wore it almost every day as my house jacket, thrown over sweatshirts and turtlenecks while working from home. I counteracted the gloomy gray color with embroidery floss rainbow stripes and rudimentary stars and flowers. I wished it was longer, I wished it was a color that brightened a gloomy day but still felt elegant, I wished it had cuffs.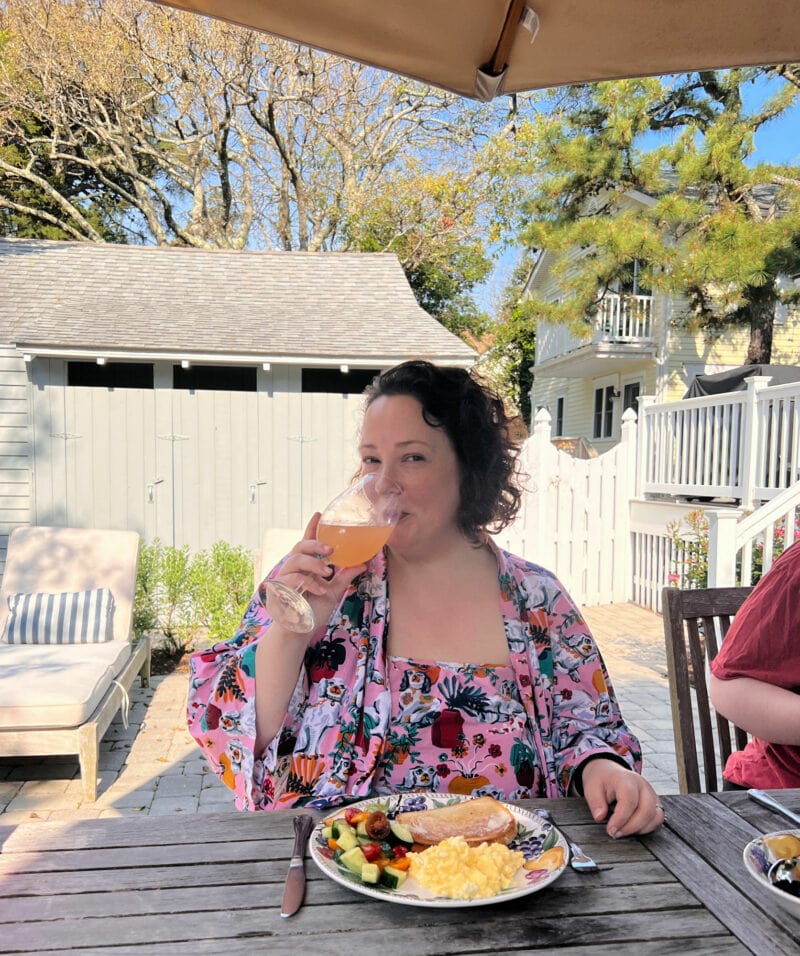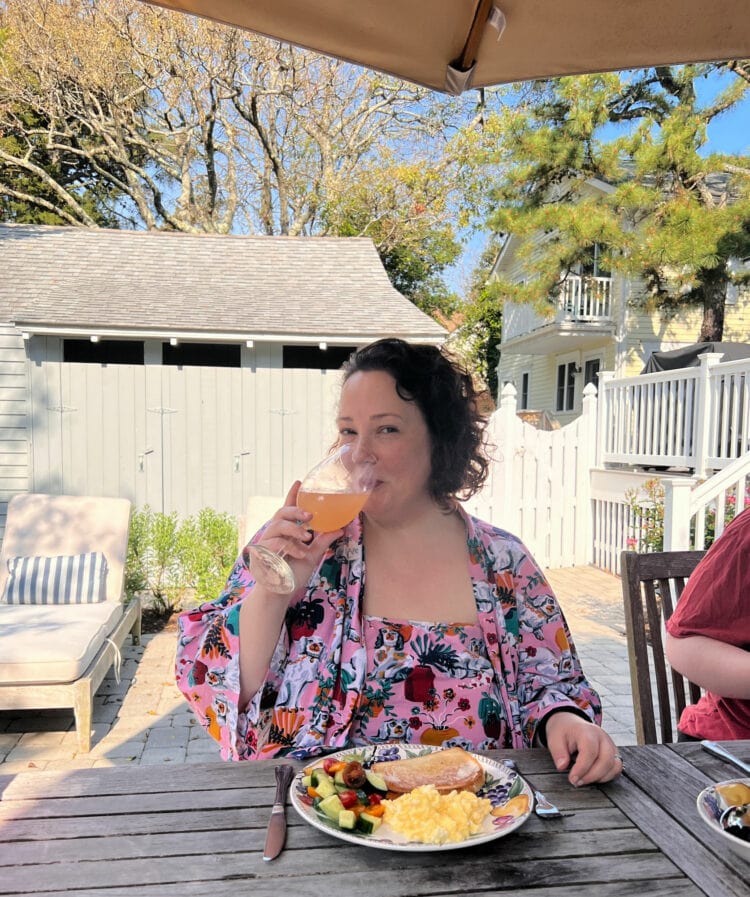 I have a summer robe I love; it's the cotton Printfresh robe. It's lightweight but not jersey so it doesn't cling. It has deep pockets and sturdy enough fabric that if I put my phone in the right pocket the whole robe won't collapse under the weight. As it gets washed it gets softer and a bit more rumpled and faintly faded looking like something that hangs on a hook behind the bedroom door of a beachside cottage. I wear L/XL.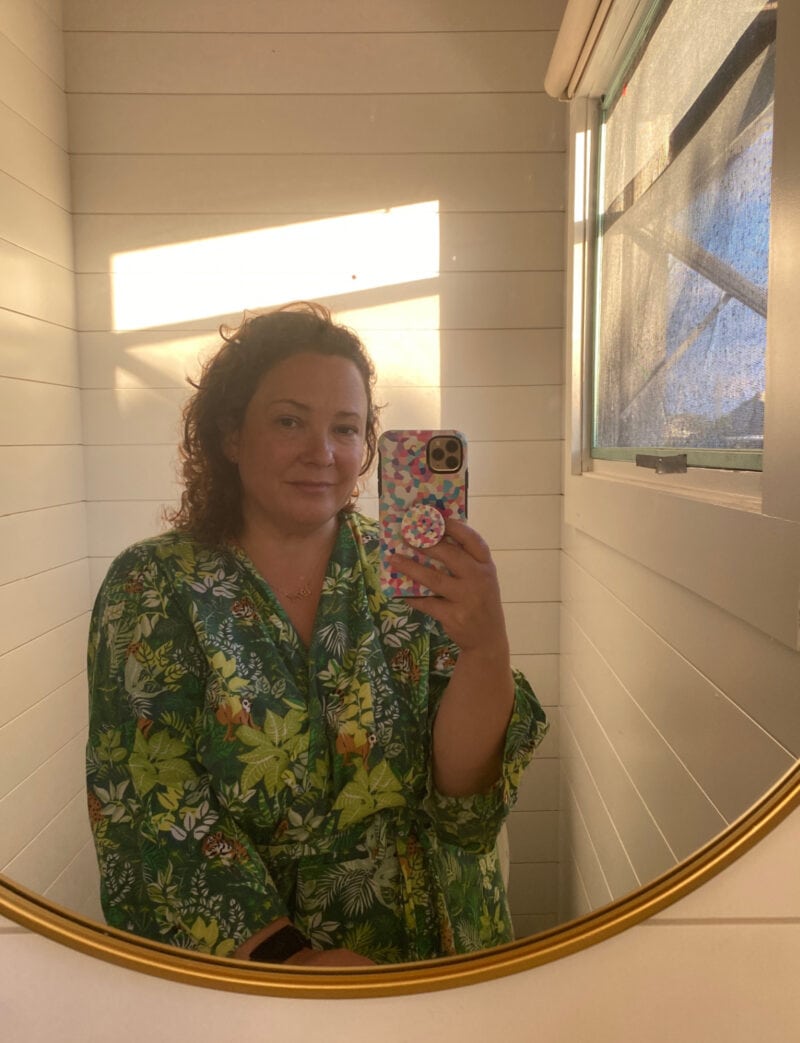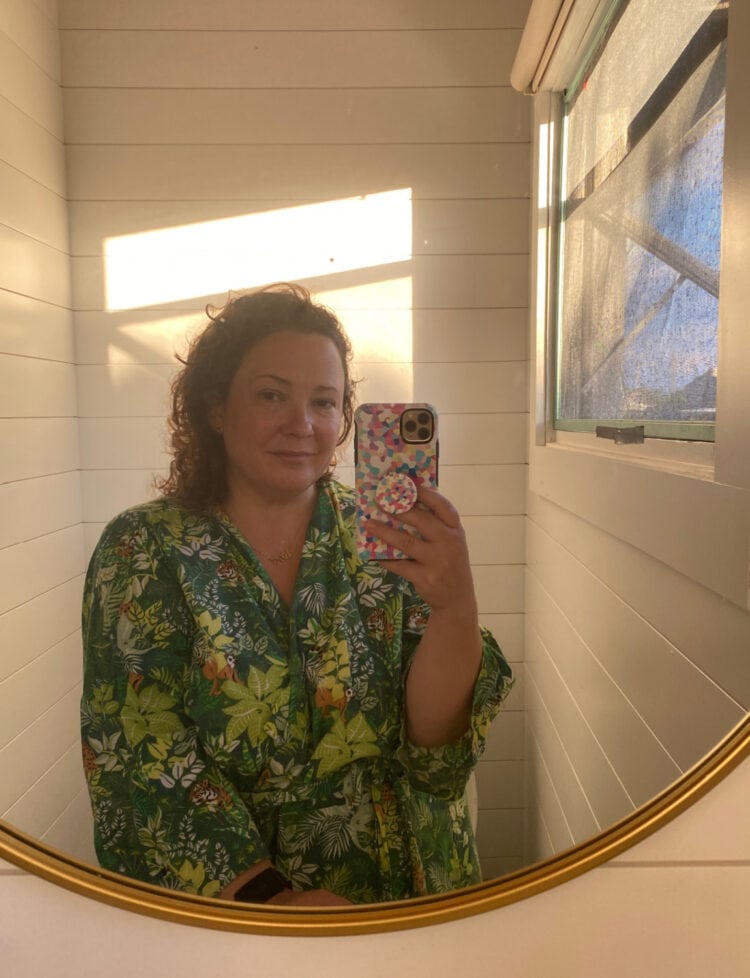 By the way, Printfresh knows I am a fan (read my original Printfresh pajamas review) and provided promo code WARDROBE_OXYGEN for Wardrobe Oxygen readers to get 15% off your purchase.
But let's get back to winter, which many of you are also experiencing. I know here in the DC suburbs of Maryland, it's now Wear a Hat Indoors Season. And it's the season when that Printfresh Robe looks like a joke and I think I'd be more warm going from bathroom to bedroom in a damp towel.
The long bathrobe I wore last Wear a Hat Season Indoors Season wasn't sufficient. While long enough, it's fleece and getting a bit thin because it's a couple of years old. And honestly, fleece is not enjoyable for me to put on damp skin coated in lotion and then Neutrogena Body oil.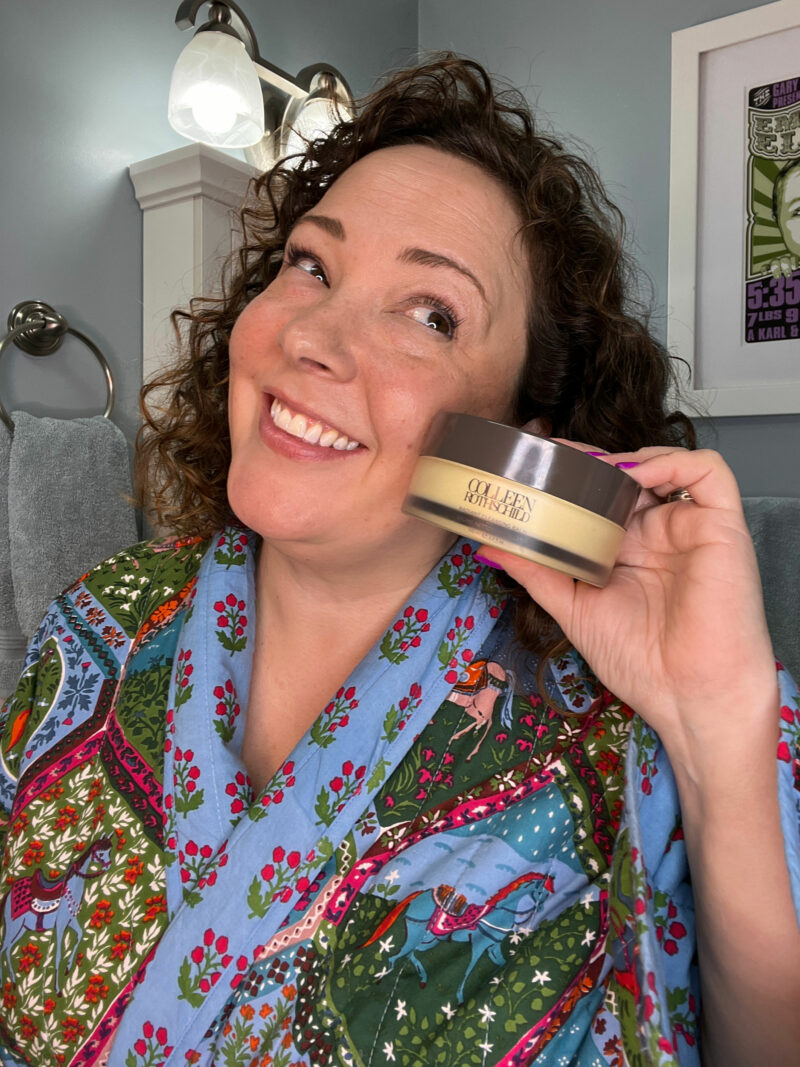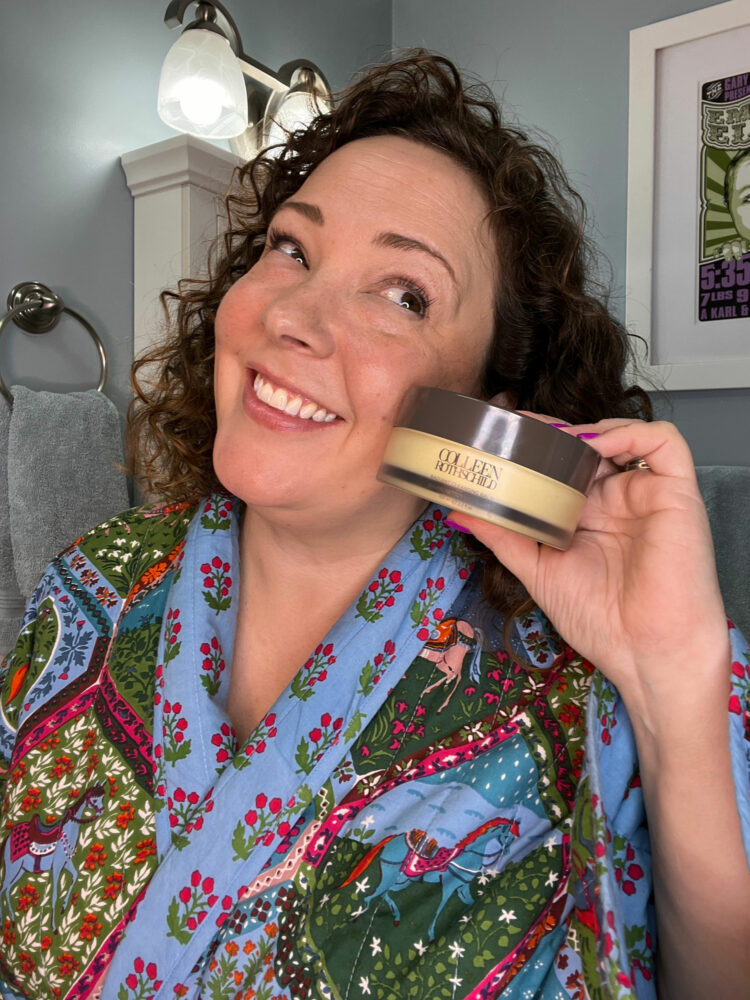 This Wear a Hat Indoors Season I am currently wearing this quilted robe from Printfresh. Printfresh sent it to me this summer and unsure of fit, I thought it would be better too big than snug and gaping open when I sit and sized up to 1/2X (it is available in sizes S/M-5/6X). The robe is beautiful but it's not long enough (knee length) for Wear a Hat Indoors Season and the too bog makes it really boxy and awkward to wear with a belt that is too long and too stiff for that length being a pain in the tuchus to knot it. I love it, but I wish I went down a size and like the short gray now-embroidered robe I have from Soma, I wish it was longer.
And then I see this robe from Soma… it's elegant but cozy, and it's like Soma went into my mind and heard my desires for my current Soma quilted robe and used them to design this year's version. Sure ivory can get dingy, but I can't think of another color that would give a spa-like vibe, not feel gloomy or industrial or have my husband say it resembles a womb or a wound.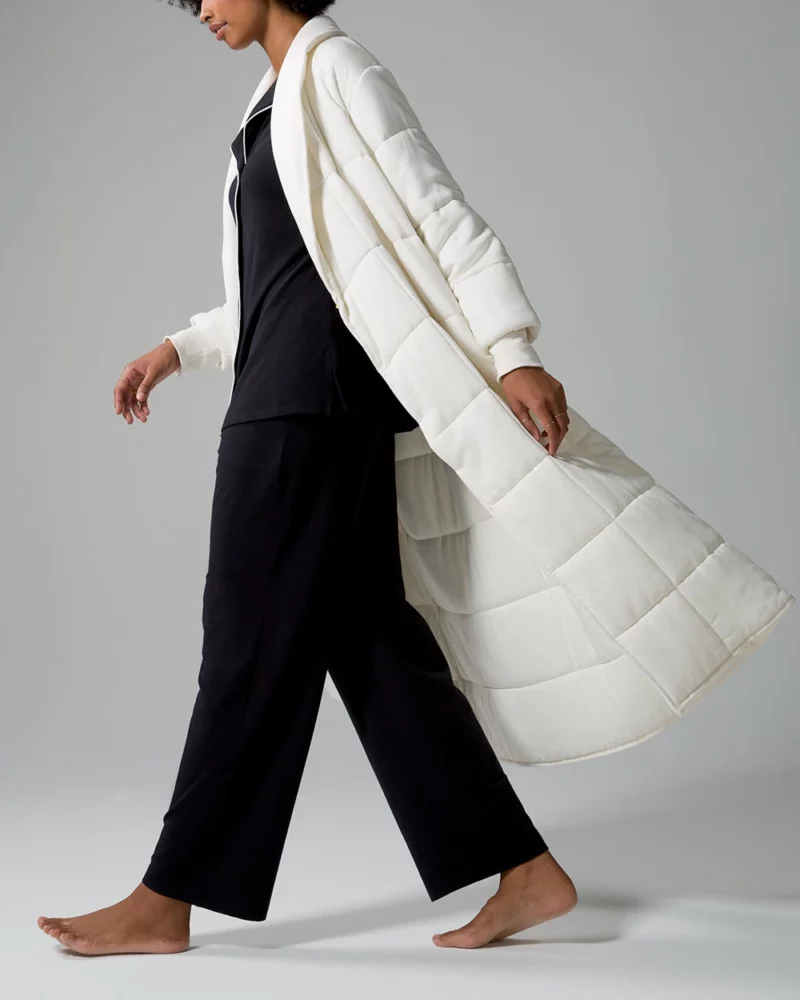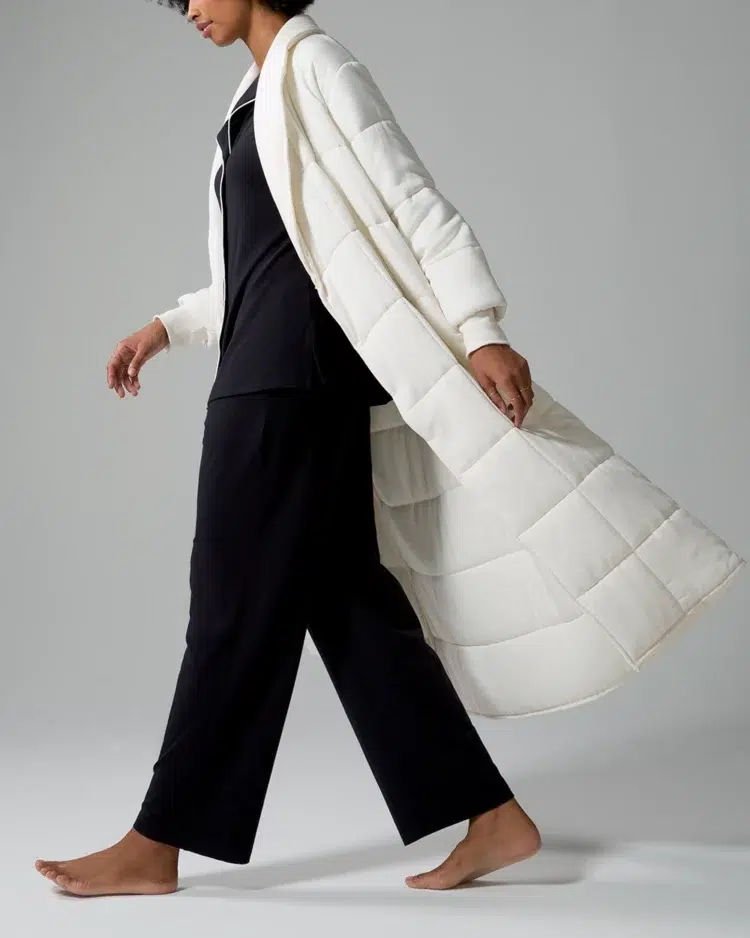 It's calf-length on the leggy Soma model so it may hit near the ankles of my 5'3″ body. Instead of straight sleeves that fold up at the end, these have knitted cuffs to keep breezes from slipping up wrists. It has pockets and ones from a fabric that is durable enough that I can carry my Snow gadget and gel in one pocket, my phone in another, and it won't collapse open. And in ivory, not white, the quilted robe will feel both warm and light, and it won't be as obvious when I accidentally get lotion or toothpaste or coffee on it (because it will happen). And speaking of which… it's machine washable.
I will not be ordering this robe because I cannot justify the purchase considering I already have perfectly good robes. But I am sharing because maybe you're trying to figure out a gift for someone, or maybe you can justify the purchase of this Wearing a Hat Indoors Season robe from Soma. This robe is available in sizes XS-XXL. I usually buy blazers in size 16 petite; knowing how Soma fits and how my gray robe fits I would buy this for myself in XL.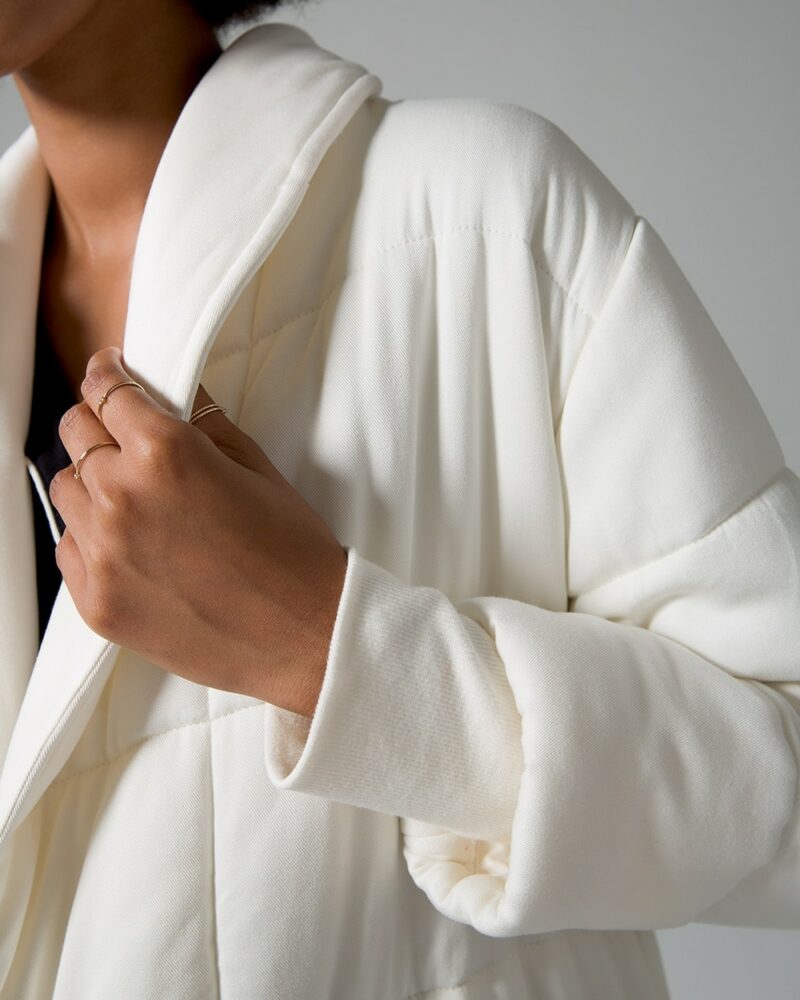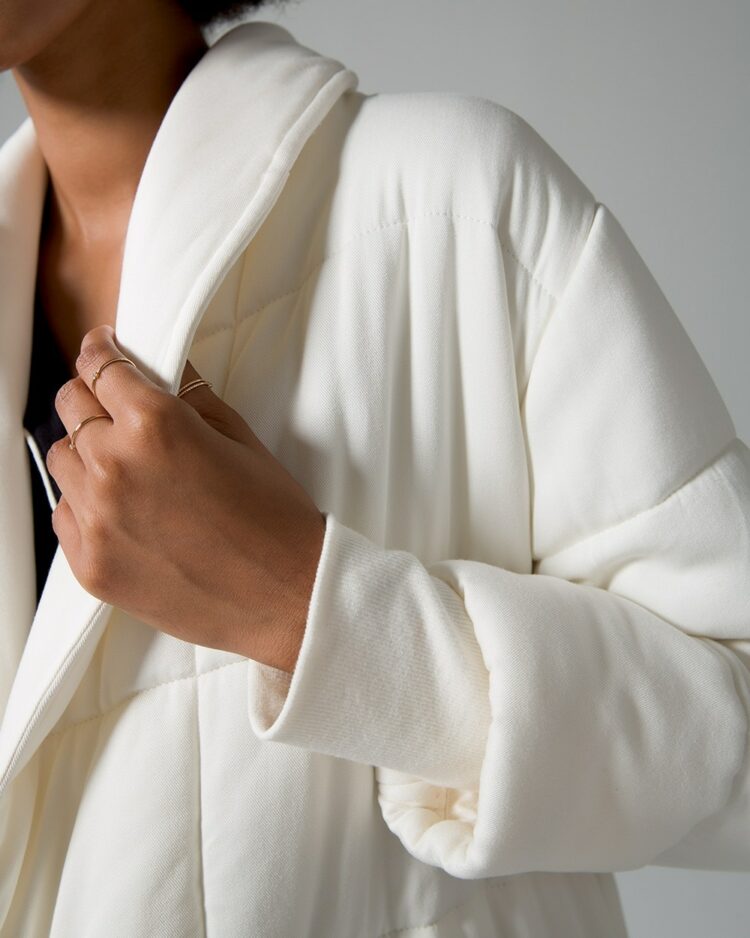 At the time of writing this, this Soma robe is only available in ivory. However, last year my Soma robe/jacket was only available in gray but a couple of weeks later they offered it in a couple of other colors (blush, ivory, and dark red if I recall correctly).
More Quilted Robes for Women
If you know me, you know I am the queen of finding the best for less online. I can't just accept what one review or one retail offers, especially if I am going to share it here on Wardrobe Oxygen. I know this Soma quilted robe isn't for everyone. The size range is limited, the color is polarizing, and there are many other features that would turn some of you off. So this is what other quilted robes I found: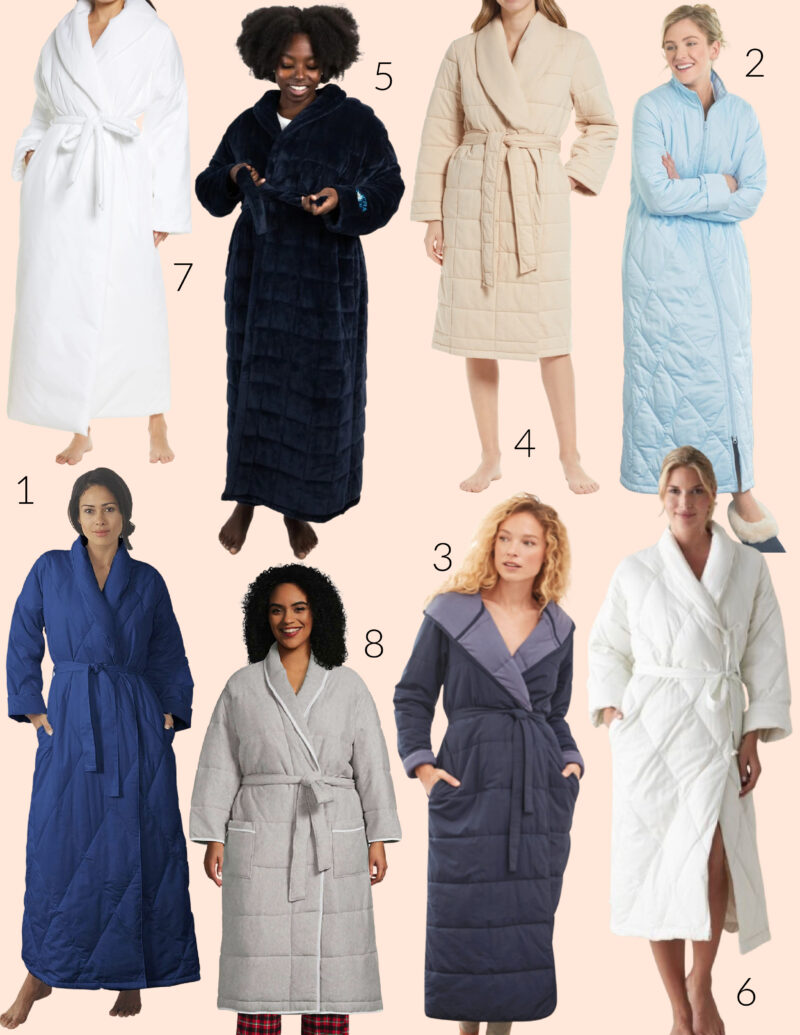 Shop the Post:

Sure I found a lot of pretty fantastic alternatives but knowing how fantastic my Soma quilted robe from last year is, I can't stop thinking about this robe. If you have a robe that you think is pretty fantastic, do share it in the comments. It may be just the thing another reader has been looking for!