I've learned a lot about you through my reader survey. I've learned what you like, what you hate, where else you read, and what you wish I'd provide on Wardrobe Oxygen. Some, I will try to do in the future (yes, there may be the occasional fitting room selfies to share my thoughts on a retailer's new collection), but some I just won't do because they don't fit with the concept of Wardrobe Oxygen.
And one is getting the look for less.
I don't believe in getting the look for less, because it NEVER WORKS. While it may be the same silhouette, the same color, or have the same trendy detail, it's not the same and what made it great is usually lost with the loss of dollars. Sometimes, pieces are expensive for no particular reason, but often that pricetag is justified.
It's fall, you may want to incorporate a couple current trends into your wardrobe that have an autumnal feel. A great choice is a tie-neck blouse in a dark red color. Marsala is the Pantone color of the year and all shades of scarlet, burgundy, and claret are hot because of it. The tie neck blouse has been stylish for a couple seasons now, but this fall it's more relaxed, less of a pussy bow of last fall and a true tie. This is a garment that really runs the gamut in regard to price (I saw everything from $24 to $2,000 when searching to make this graphic), but also in regard to detail and what you get for what you spend.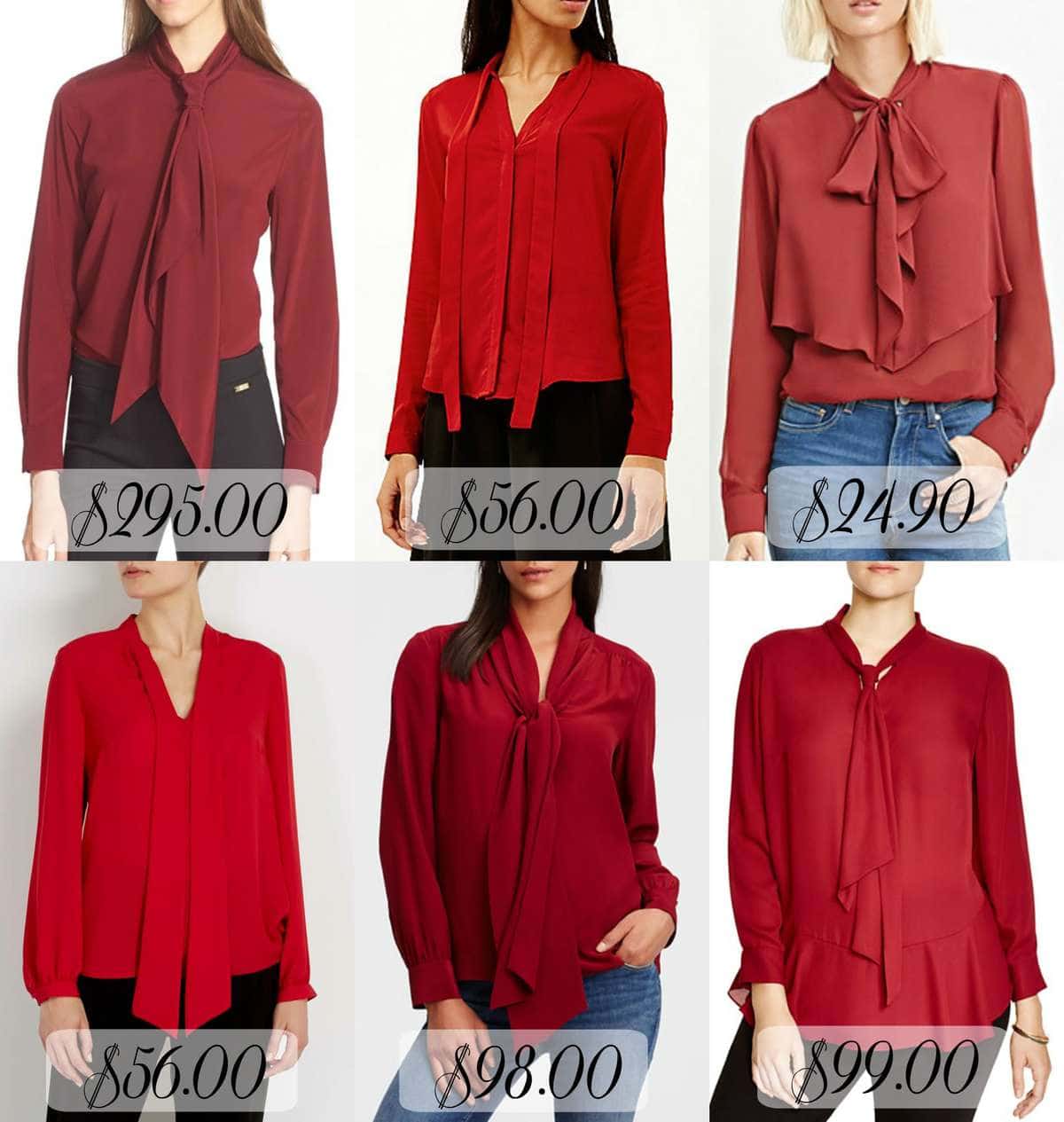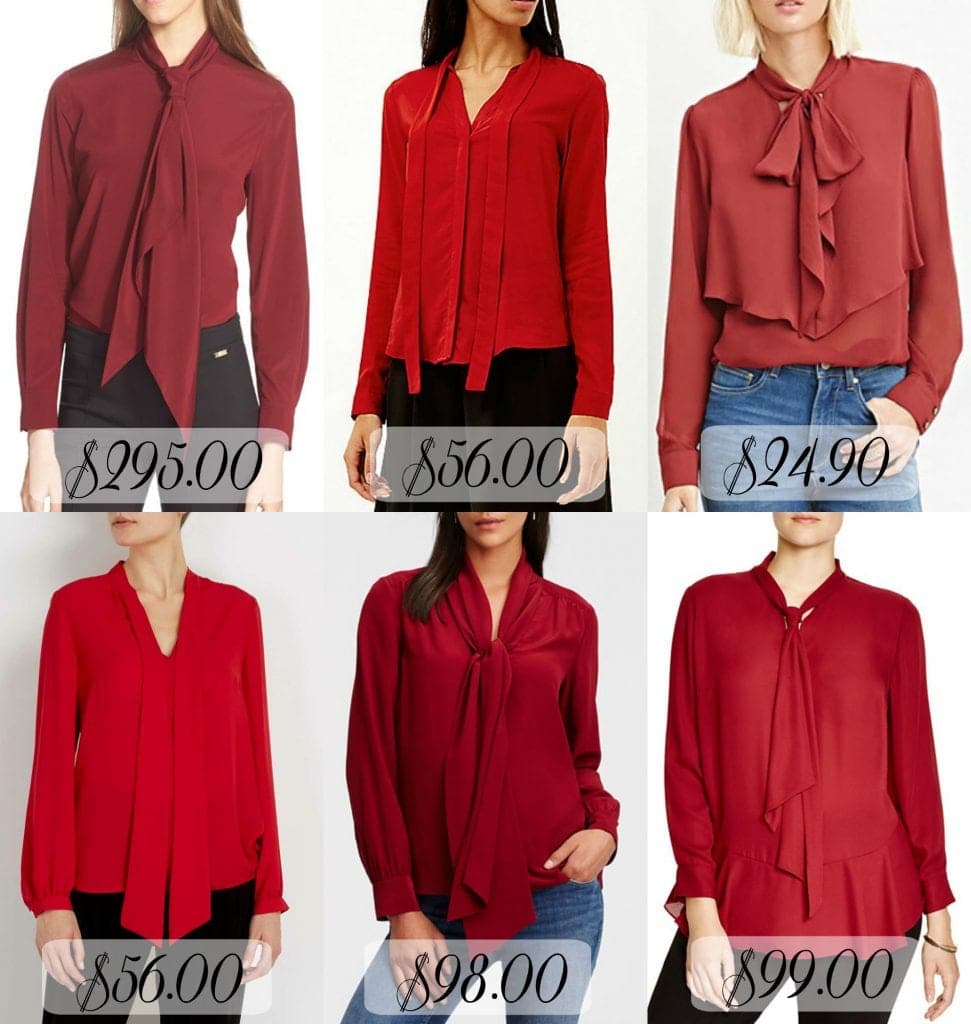 $295.00 blouse | $56.00 blouse | $24.90 blouse | $56.00 blouse | $98.00 blouse | $99.00 blouse
Here are six red tie-neck blouses that are currently available at popular online retailers. The prices range from $25 to $295 and at first glance they don't seem that drastically different. Without trying them on or seeing them in person, you may feel you truly can get the look for less. But looks can be deceiving.
Let's first examine the $295 blouse. 93% silk, 7% spandex crêpe de Chine. Detachable neck tie, which makes this blouse more versatile and wearable once the trend passes. Button front closure under the tie (and it is a covered placket meaning fabric covers the button area), and double buttons at the cuffs; buttons are the same color as the blouse. The cut is tailored and has side slits so it can be worn tucked in or left out. The tie is long enough to knot as featured, or loop into a bow. While the product is made in China, the designer claims to have relationships with the factories and specifically handpicked which ones to work with.
And now the $24.90 top. 100% polyester, unlined, and even from this photo it's clear the top is sheer and requires a camisole. What this picture doesn't show is that there is a keyhole back; that is the way to put on this top as there's no buttons down the front. And speaking of buttons, the ones on the cuffs are a brushed gold. The side view on the site shows the top is quite full, so full I am guessing the model is likely pinned in the picture I featured. The sleeves are also fuller; detailed shots show there's pleating on the shoulders and at the cuffs. The ruffle over the bust provides some opacity, but that ruffle does not continue to the back of the blouse. While the description states the blouse has modest side slits, a photo of the backview of the top shows the slits go almost up to the waistband of the model's jeans, making it difficult to tuck in and blouse out. On top of this, the company who provides this shirt has been sued for copyright infringement and has been busted for using child labor and unsafe factory conditions.
The other blouses vary in price, and much has to do with the following reasons why you often can't achieve the look for less:
Construction
Why is it that some retailers are so inconsistent with their sizing? I can go into a mall store and try on 10 jeans, same cut and same size and they will all fit differently. Some are shorter, some are longer, some have more narrow of thighs, and heck some even seem to be made of a completely different fabric composition. This is proof of getting what you paid for.
To save money and get product to the stores super quick, retailers will source from multiple factories in different countries. I remember when I worked for Express; I came to favor the tees made in the Mariana Islands because they had the best cotton/Lycra blend of all. Also, they seemed to be cut in the most consistent manner. For another way retailers save money is to cut higher piles of fabric. Trace a pattern on a piece of paper; place two pieces of paper underneath and cut out the pattern. All three pieces will be around the same size. However do this same exercise but instead cut out 12 pieces of paper at the same time, you'll see that the pieces will really vary in size. This is why a pair of jeans may have one leg more narrow than another or one size 8 dress seems twice as big as another.
Cutting fewer pieces at a time and sticking to one factory and/or fabric source costs more. With higher-end brands you're more likely to find consistency in cut, fit, and composition.
Choice of Fabric
The $56 blouse and the $98 blouse in the collage are very similar, but the biggest reason why the one on the left is almost half the price is because it is made of polyester while the other is 100% silk. And fabric details only tell so much; think about thread count when it comes to sheets. Two sets of sheets can both be 100% cotton, but the percale bedding will not be as silky, tightly woven, or comfortable as the 800 thread count cotton sateen set. This holds true for clothing fabric as well and is why your Old Navy tee shirt may start pilling after one wear while your James Perse tee looks new after a year of washings.
Location of Manufacturing
It's cheaper to manufacture clothing in other countries, and while many of us hate to think about it, the reason is because many other countries don't have regulations to enforce fair wages, safe working conditions, or to prevent child labor. While there is surely a markup on clothing, there's likely some unethical practices taking place to be able to offer a blouse for only $25. I am learning as I go when it comes to ethical manufacturing; I am working to purchase and feature brands that stand up for where they make their product and am trying to purchase less in general. This is an opportunity to make change with your wallet.
Attention to Detail
Did you ever wonder why cheaper clothing seems to be more… elaborate? Going back to that $25 blouse, it has the shiny buttons, the keyhole back, the ruffle in the front… is this all to add style or to hide the fact that it's not well made? It's easy to miss the forest for the trees, and cheaper retailers often hide shoddy construction or cheaper fabric with embroidery, studs, rhinestones, ruffles, and fluff.
The thing is, all this extra embellishment takes away the style. Look at celebrity fashionistas, fashion editors, style icons. Do they have rhinestones on their ass? Do they wear blouses with ruffles and bows and cut-outs and shiny buttons and pleats and and and? No, because they purchase quality and quality doesn't have to be hidden under sparkle and shine.
What If You Can't Afford Quality?
Quality can be found at every pricepoint, but not every look can be found for less. Style doesn't come from adopting trends, but from creating a wardrobe that fits your life, your personality, and your figure. If you have a limited budget, the last thing you should be purchasing is trendy pieces like tie-neck blouses, ponchos, and super-flared jeans.
Consider your current wardrobe and your current lifestyle. If you see the need for a not-so-little black dress in your life, shop slow and with care. Visit retailers you would normally consider out of your pricerange and head directly to their sale rack. Feel the fabric, look at the details, see the piece past the pricetag and how it makes your boobs look. Whether a piece is $20 or $200, if it's well made and of good fabric, it may be a sound investment to have it tailored to fit properly. You don't need a dozen pairs of jeans, you don't need 8 work dresses, a drawer full of knit tops for the weekend. Buy less, and buy with care. You can rock that same blouse every week to the office and Saturday night for drinks with the girls and no one will care or question it if it's a great fit for your figure and personal style.
Check out retailers known for classic quality.  I adore Lands' End; their prices are reasonable (and they have amazing sales) and their quality is excellent.  They have more classic of pieces, but often incorporate a bit of current trends and color palettes.  If you find a purchase doesn't live up to your expectations, return it.  Lands' End has a lifetime guarantee.
Keep your wardrobe simple, and add trends and personality with accessories. Head to Nordstrom Rack or TJ Maxx and get great scarves, necklaces, and bags for less. You can transform your look from summer to fall with the quick change of your lipcolor; go from desk to drinks with the addition of a smoky eye. I believe in the power of a leopard print pump; it makes a black dress festive and takes jeans and a simple white shirt to style icon level.
Blogs and magazines that create the look for less are rarely looking deep into what they are selling. For rarely can you truly get the same effect, quality, fit, and ethics when you try to go on the cheap. Keep costs down by buying less and honing your own personal style.