This article may contain affiliate links; if you click on a shopping link and make a purchase I may receive a commission. As an Amazon Associate, I earn from qualifying purchases. 
I love the look of boyfriend jeans, but I am 65. Am I too old to carry off this look, or is there a way to make them look age appropriate? I am fit and lean, but I am not ashamed of my age and do not wish to look as though I am dressing too young. Suggestions?
On-trend denim is a great way to update your look, no matter your age. The beauty of denim trends is that because jeans are so popular, the trends are quickly modified to flatter a variety of ages, figures, and lifestyles. The other day my mom came over and she was wearing a straight cut denim that was widely cuffed to the "boyfriend" length and the effect was modern, stylish, on-trend, but not too youthful and not at all inappropriate. I chose a similar boyfriend jean style for you, but in a dark wash that will look great now, and as we transition into fall.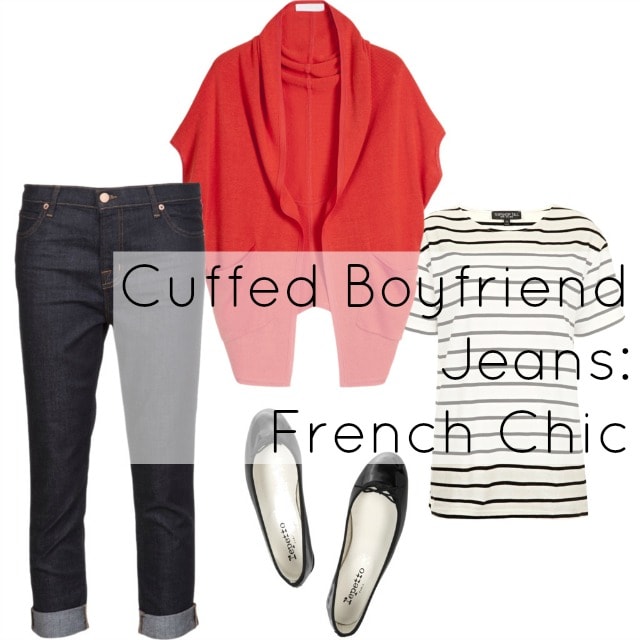 For this look I did a variation on one of my favorite looks – a Breton striped tee with a contrast color accent. The dark jeans and the classic stripe look even more fresh with a pop of hot coral. A drapey cocoon cardigan like this is quite versatile in that it can be paired with a same-color shell for the office, slipped over a simple sheath dress, and worn three seasons out of the year. Paired with classic Repetto ballet flats, this look is fresh, modern, and appropriate no matter your age.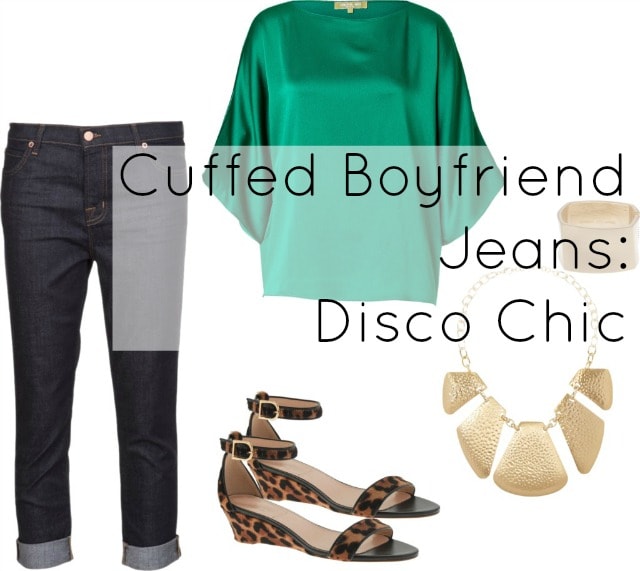 A "boyfriend" jean can be dressed up or down quite nicely; I often wear mine with high heels and a sparkly top for a night out on the town. A jewel-toned dolman top looks modern with bold gold jewelry; low wedges in leopard print are comfortable but also show you are aware of trends and know how to make them rock at any age.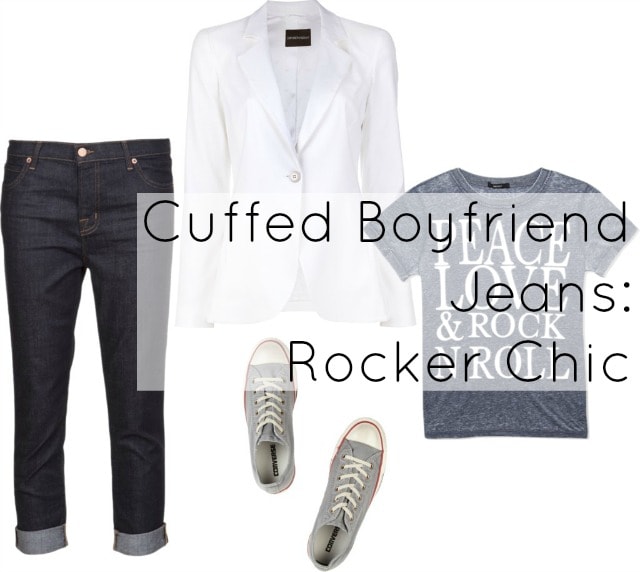 Who says that rock and roll is only for the young? This outfit was inspired by all the amazing music lovers of all ages that I met recently at the Forecastle Music Festival. Pairing a favorite band tee shirt with dark denim and a crisp tailored white blazer makes the ensemble sophisticated and chic. This length of jean looks great with a slim canvas sneaker and makes it an outfit that would be fantastic for sight-seeing or lots of walking and standing.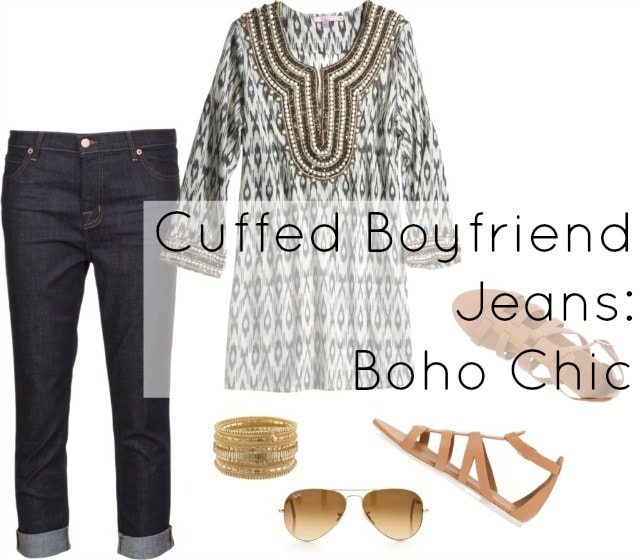 You stated that you are fit and lean, which means you can totally rock the long top with cropped jeans look. A crisp cotton caftan looks modern and fresh with dark cuffed jeans; continue the boho look with flat leather sandals, beaded bracelets, and a pair of classic-cool aviator sunglasses.
My goal with these ensembles is to show you that age should not determine what trends you can and cannot wear. Boyfriend jeans as well as all other popular fashion trends can be incorporated to feel comfortable, chic, and age-appropriate. Instead of ruling out a trend, try it in a variety of cuts and shades for an appropriate version. Fashion trends aren't as black and white as they were a couple decades ago so you can alter them to fit your style, age, and life. There's nothing wrong with choosing a version that is a bit looser, a hair longer, a less dramatic wash or color, whatever makes you feel confident and fantastic. You can wear hot trends without having them wear you!
Follow Me | Twitter | Facebook | Instagram