This article may contain affiliate links; if you click on a shopping link and make a purchase I may receive a commission. As an Amazon Associate, I earn from qualifying purchases. 
I would love to add a more boho vibe to my closet but I'm feeling so stumped where to shop- especially given that I'm carrying some additional weight & am big busted naturally. I admire Free People but I'm at serious risk of dislocating joints trying to get in and out of their sizes and I've got lingerie more modest than some of their stuff. 😉 Do you have some suggestions on where to shop and/or other bloggers to follow?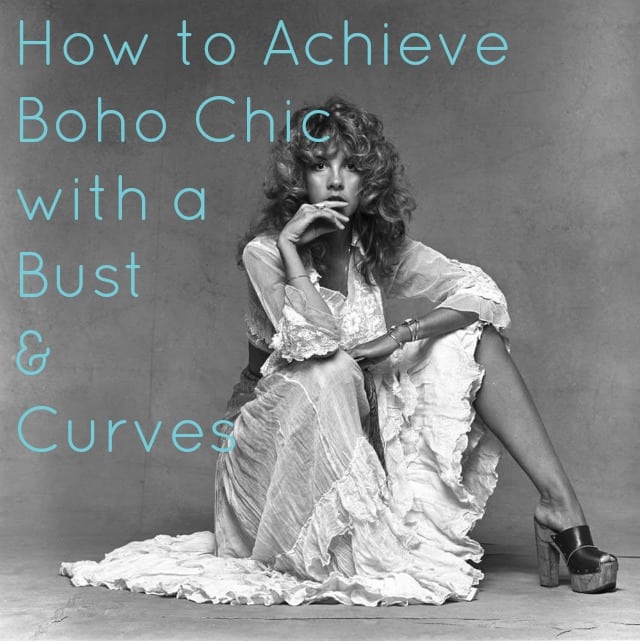 Oh how I can relate! Especially once the weather warms, my inner Steve Nicks wants to come out and play in floaty layers and vintage-inspired prints. Thing is, many of the popular brands that carry on-trend boho-inspired fashion don't carry larger sizes and often are not modest enough for everyday wear (let alone cover a supportive bra).
Continue your Admiration and Use it as Inspiration
I too love Free People, and occasionally I do find pieces that fit, but mainly I use the brand as inspiration. I see how they combine prints, note the length of the skirt, the length of the vest, how they're showing a cold shoulder or a certain type of fabric and look elsewhere to get that same effect. The key to successful boho is to keep it current. Free People really gets this right, knowing to combine a full peasant skirt with a top that is lean, to have sexiness from a bit of back or shoulder instead of full-on cleavage, to have everything a bit slouchy versus baggy or droopy, to always have some modern touch that lets you know this isn't from the Salvation Army and it is not 1969.
I'm not the biggest Pinterest fan because it can quickly become a timesuck of no-bake cookie recipes and how to make things you don't need from pallets or popsicle sticks but it is really good for its original purpose – to create inspiration boards. By seeing everything in one place it's easier to see the details that make boho successful and those details you can bring into your own wardrobe.
One note when pinning – before you pin, ask WHY the picture resonates with you. Is it the beautiful lighting through the model's hair, or is it the drape of her dress? We can often get caught up in the beauty of a picture and when you're pinning to build your own wardrobe, such photos may not help in the long run. Such pictures evoke a feeling and create a mood, but in the long run, especially if you don't look like that model or live a life like the picture, those pictures may make you feel such style is even further from your grasp. I often make my inspiration boards private so they can be less "pretty" but more functional for my life and my wardrobe.
Go for Accent Pieces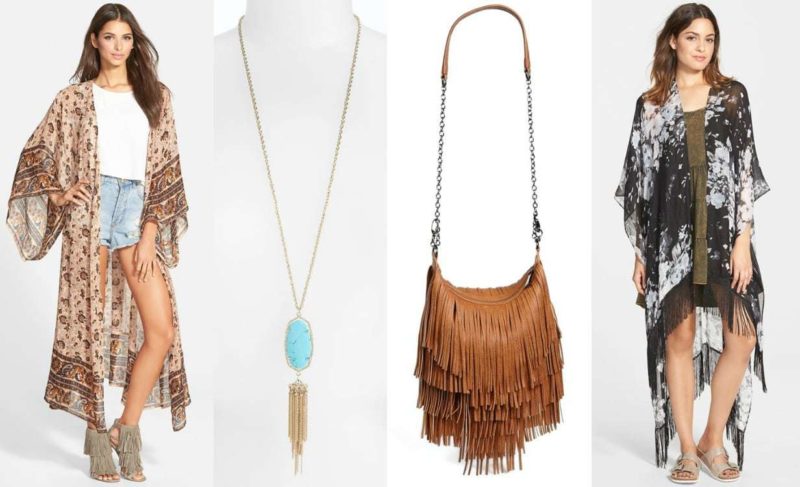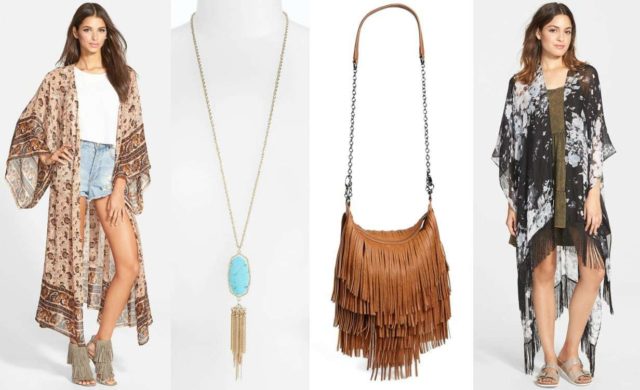 Band of Gypsies Kimono, Kendra Scott Necklace, Steve Madden Bag, Capelli of New York Kimono
The boho vibe is all about the details. A simple black dress can go from preppy to punk, classic to crunchy with a quick change of accessories. A fringed kimono, chunky turquoise rings, leather gladiator sandals, wrist of silver bangles, a suede fringed bag… pieces like this can take simpler garments and make them boho chic in an instant.


Accent garments can often be purchased from retailers who may not normally fit your figure or your budget and give the right vibe to your existing wardrobe. Last summer I had a fringed kimono jacket from MINKPINK and wore it often with denim cutoff shorts, Birkenstocks, a white ribbed tank and a bunch of bracelets. The shorts were from Target, the tank J. Jill, but the kimono made the whole thing looks boho and pulled together.
Shop Spring and Summer
Right now is festival season, and every retailer jumps on the bandwagon offering their most hippified pieces, usually styled with a fringe bag and some beaded bracelets. Seriously, your favorite retailer for corporate suits or formalwear come May will be showing crocheted vests, turquoise rings, and peasant skirts. Take advantage of the trend and stock up on boho chic while it's hot.
Go Outside your Retail Comfort Zone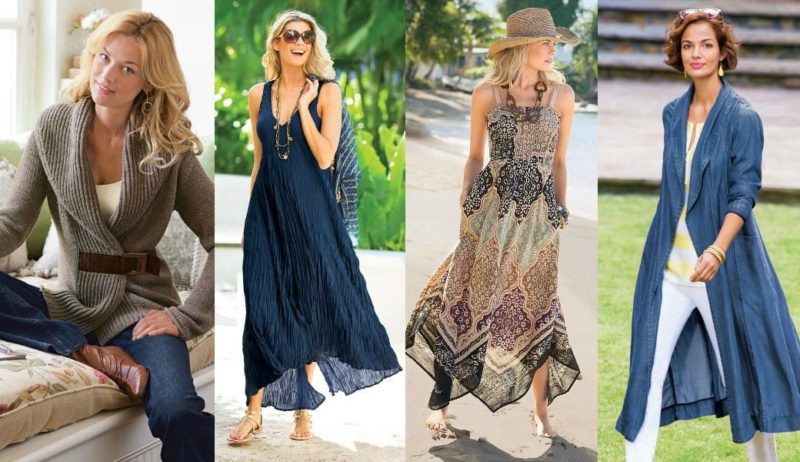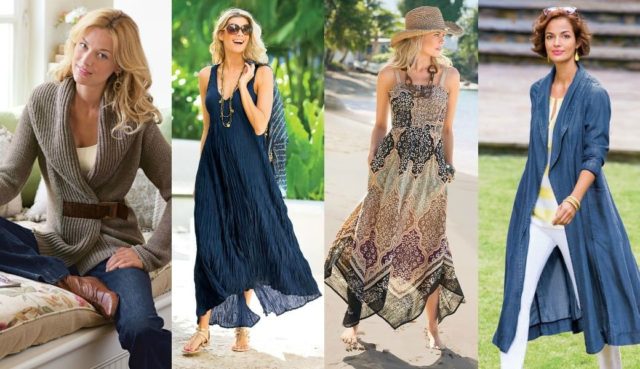 Soft Surroundings Country Weekend Sweater, La Paz Dress, Boho Beach Dress, Terrific Tencel Duster
I'm going to tell you a little secret about where I find my boho clothes – Soft Surroundings. Their target market may be older than you and seem to all have lanais to relax on but that doesn't mean they don't have some really beautiful (and well made) boho pieces. Use your inspiration as a guide and look past the caftans and shark bite tunics and see what may be just as lovely as Free People. I have a few skirts from Soft Surroundings that I'll pair with a cut-up band tee or fitted ribbed tank to give them a modern boho vibe. See the pieces as separates instead of ensembles and use your inspiration for styling tips.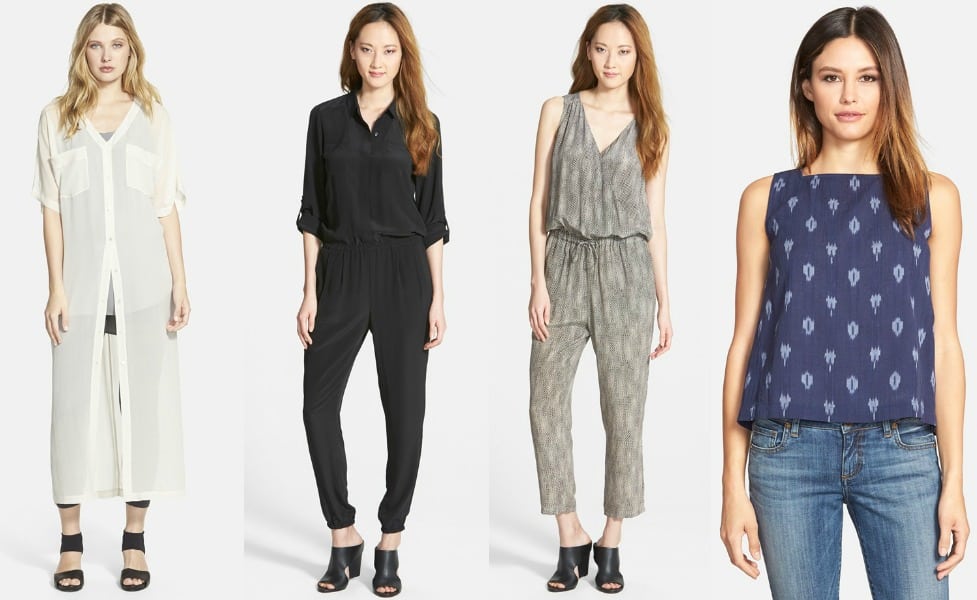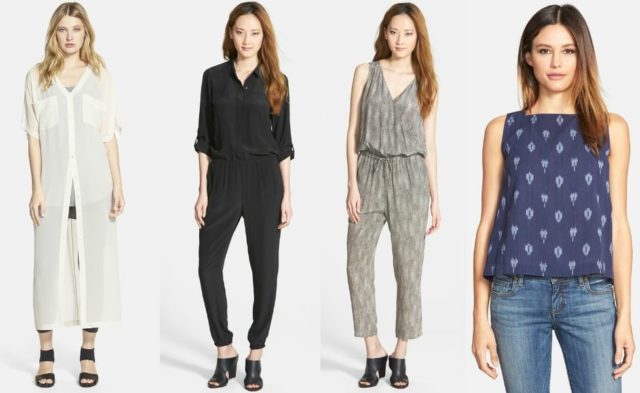 Eileen Fisher Short Sleeve V-neck Maxi, Silk Jumpsuit, Chain Print Sleeveless Jumpsuit, Ikat Square Neck Crop Shell
Eileen Fisher is another brand you may not connect to boho, but pieces on their own can be quite chic and fun. Be sure to check out their collection The Fisher Project, which has some really unique silhouettes and modern ideas.  Again, take all preconceived notions out of your head and shop not seeing the model or the styling of the photo but the actual garment.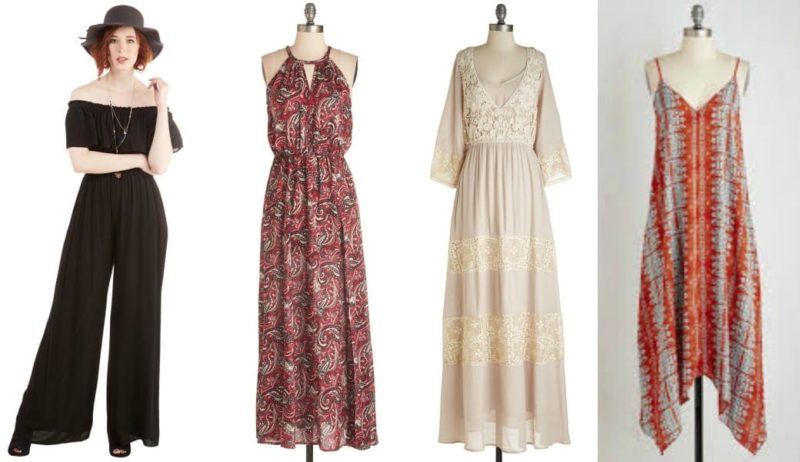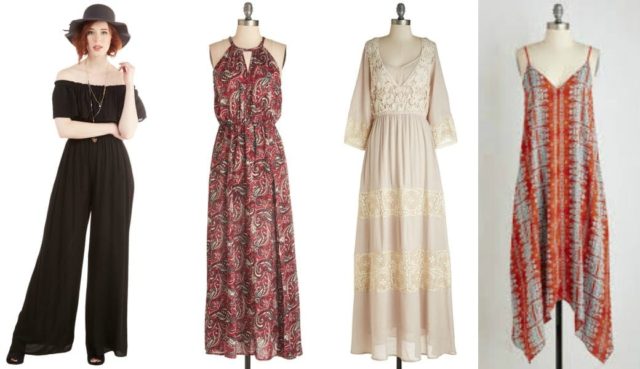 Modcloth Rooftop Balcony Jumpsuit, Ink Positively Dress, My Antique Fair Lady Dress, Raise the Barbados Dress
Modcloth is known for adorkable cutesy frocks, but they also have a pretty big boho selection. Much is cheap and not everything comes in a decent range of sizes, but if you're a careful shopper and willing to scroll, you can find some fab pieces at fab prices.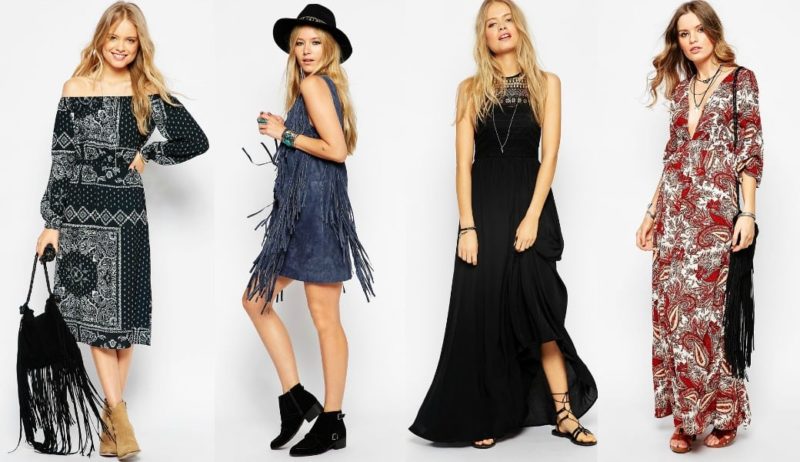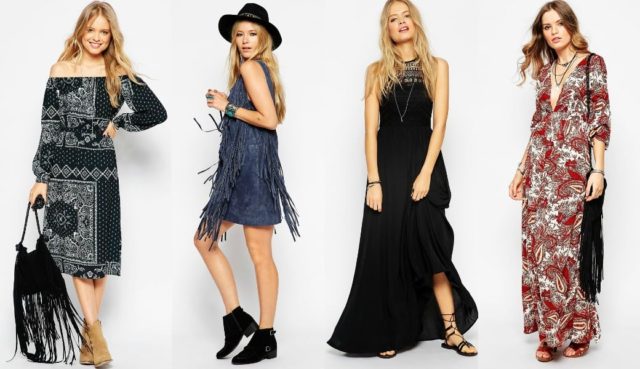 ASOS Gypsy Midi Dress, Fringe Dress, Halterneck Crochet Maxi, First & I Paisley Dress
ASOS is one of my favorite summer fashion destinations. While they have their in-house line, they also carry other brands for a real variety of styles, prices, and sizes. They do trends well, and there's plenty of boho styles to choose from, many in plus, petite, and tall sizes.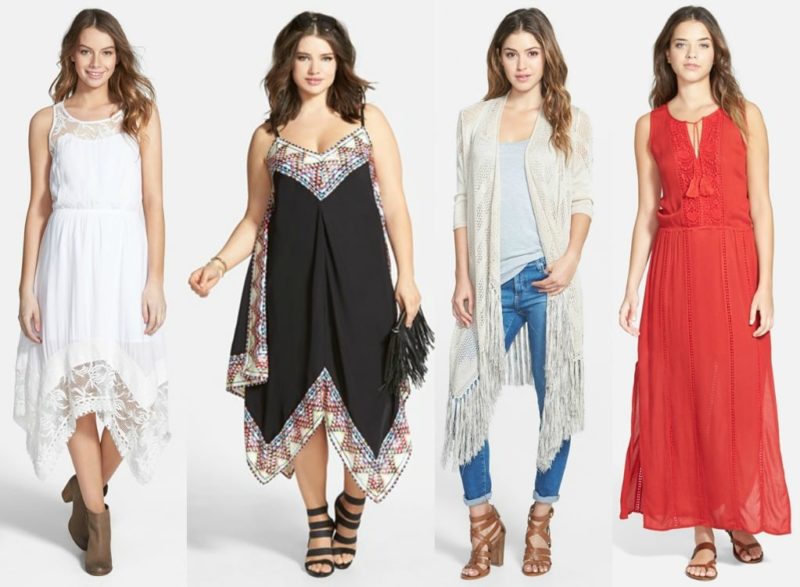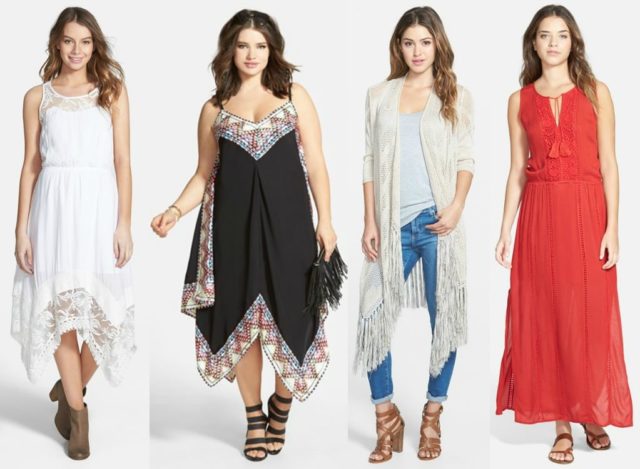 Sun & Shadow Handkerchief Hem Dress, City Chic 'Festival Border' Dress, NIC + ZOE Fringe Cardigan, Hinge Lace Trim Maxi Dress
Department stores are a surprisingly great place for boho chic. While a brand may not be known for boho, they may have a piece or two that give the vibe you desire. I've found Tart, Karen Kane, MICHAEL Michael Kors, Topshop, and Sanctuary all have great boho pieces within their collections that come in a broader range of sizes and can accommodate a larger bust and a bra.
Boho Bloggers with Curves
As for blogs, I'd love to hear from you readers. I know many of you love the boho trend, and I bet you know many bloggers who rock this trend.  Who is your favorite?
Shop the Post: