This article may contain affiliate links; if you click on a shopping link and make a purchase I may receive a commission. As an Amazon Associate, I earn from qualifying purchases. 
We all have that friend or relative who doesn't NEED anything and finds most traditional gifts frivolous. While she may be perfectly happy with a gift card to Target, it's nice to buy actual gifts for people to unwrap and realize you thought of them. While I have been scouring the web for other posts, I've been bookmarking things I find to be so practical yet lovely that most anyone would like it as a gift. All of these are under $100 and have free shipping.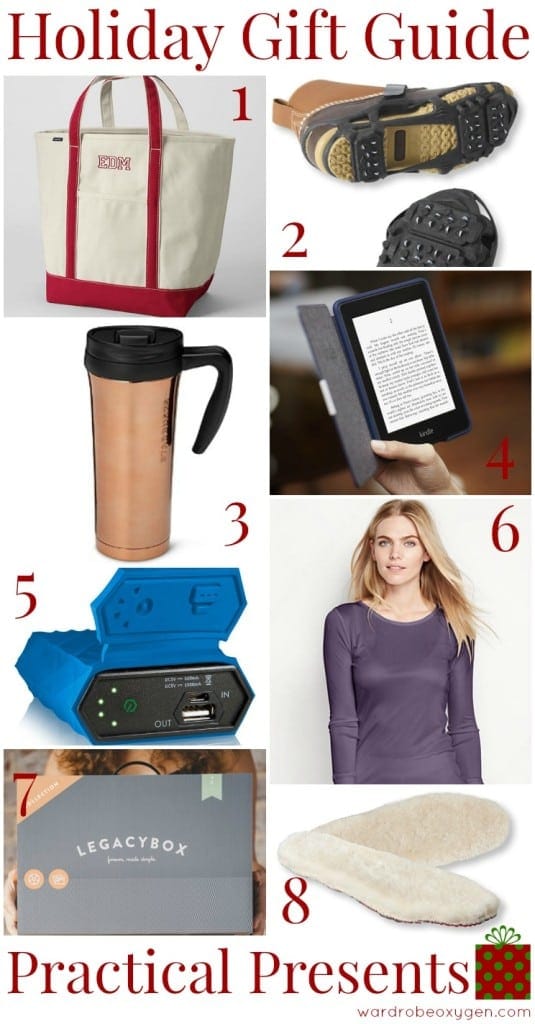 A little secret, this is one of my favorite baby and bridal shower gifts. While many sizes of this tote are available, I find the Large Tote to be the most versatile size. It can be a beach bag, overnight bag, reusable grocery tote, tote all your kid's toys to grandma's, tote your dirty clothes to the Laundromat… I love carrying potluck items in it – I wrap the casserole in towels on the bottom and on top I can put a 6-pack, bottle of wine, present for the hostess and it won't topple over in the trunk on the way there. Personalization is free, making it the gift she didn't think she needed but will be using regularly for years.
I may be biased from my ice slip last year, but this was an AWESOME gift from my sister. They're rubber so they stretch over shoes pretty easily, and are easy to slip off once you get to your destination. A great choice for anyone in an icy location, and especially good for those who aren't as steady on their feet (or fear black ice after a previous fall, jus' sayin'…). Do know they run a bit small, if unsure go up a size because they still won't be too big for boots and sturdier shoes.
Almost ten years ago, I won a $50 Starbucks card and I bought that year's version of this mug. And I am still using that mug today. Most travel mugs get weird with time – the lids get stretched out, they leak, the double walled system separates. Not this baby. While it doesn't look brand new any more, it keeps my coffee hotter longer than any other mug I've had, fits in all the cupholders in both of our cars, and it holds a full 16 ounces. This is something that is worth spending a bit extra and your loved one will thank you five years from now when she's still reaching for it for her daily work commute. Do note, this isn't one with free shipping (it is on Amazon with free Prime shipping but costs $10 more), but I've seen it in several Starbucks locations this year so it's easy to pick up in person. If you plan to buy more at Starbucks, code AFF10 should give you 10% off your first purchase with them online plus free shipping if you spend at least $65.
I got one free last year as part of a blogger promotion and it made me a Paperwhite convert. My mom bought her boyfriend one last Christmas and he loves it. Long battery life, great for the practical person who doesn't want to add more stuff to her house, and especially nice for those with poor vision or dexterity. While the newest generation Paperwhites are $119, you can find perfectly good refurbished ones under $100 and Amazon provides a 1-year limited warranty and proper packaging so you can feel good giving refurbished as a quality gift.
The more we rely on our smartphones, the faster we deplete their batteries. This compact charger that isn't much bigger than a smartphone adds a boost of power to small appliances just when you need it most.
Of course you better know the person quite well to give such a gift, but it's likely one that will be loved and well used by the recipient for many years to come. Since he doesn't read my blog I'll let you know I got Karl the Silk Interlock Crew and Pants for a gift this year (thank you Lands' End for carrying it in Tall!) and I know he'll go gaga for it while he usually finds most gifts silly. Lands' End has a great return policy, are known for quality, and have a nice variety and pricepoint making it a good destination for such gifts.
What a cool concept; fill a Legacybox with old films, photos, slides, negatives, tapes and more and send it back with the pre-paid shipping label and they will carefully digitize all your memories. You will get back all your original memories as well as DVDs with your digital copies. At the time of writing this, if you visited the site and provided your email you'd automatically get a 25% off coupon and last week I received a coupon for 40% off and a promise to have Legacybox delivered in time for Christmas.
Slip them into a pair of your tall leather or snow boots for warmth and comfort or give new life to an old pair of slippers. Made from natural shearling which wicks moisture and EVA foam which adds cushioning, these would be a welcome treat for anyone's tootsies this winter.