This article may contain affiliate links; if you click on a shopping link and make a purchase I may receive a commission. As an Amazon Associate, I earn from qualifying purchases. 


"I'm not bound by time" I used to say in my 20s when asked why I didn't wear a watch. Now in my 40s, I still don't wear a timepiece, but to say I'm not connected to the unavoidable ticking of the clock is far from the truth.
I time nearly everything I do. Obviously, I have to keep meticulous time of the yoga classes I teach. They run for 45, 60, 75 or 90 minutes, and before class starts, I assign a "trigger song" on my playlist, a song to signal it's time to wind my students down. For my consulting firm, I bill clients to the quarter of an hour and detail how long I worked on what project. I maintain a timesheet app for one of my projects; there is little I find more depressing than getting an email from the app asking if I forgot to turn off the timer when the answer is no. I may have the luxury of working from home, but part of what I'm adjusting to is I'm on all the time.
In yoga teacher training they taught us to seek the balance between effort and ease. That is to say, if your practice doesn't feel like work, push a little harder. But if you find yourself struggling, take it down a notch. In yoga I embrace this lesson, but in the rest of my life I have trouble with the stepping back part of the equation. It all came to a head last week when I taught eleven yoga classes, billed 45 client hours and had the kids for all but two days. It took a minor breakdown to get it; in order to strike a balance, I have to know where my edge is. And once I recognize where the edge is, I have to respect the boundaries to keep myself off its ledge.
So as I write, this column is 36 hours late, I haven't practiced yoga yet today and my laundry basket overflows. But I spent time in the garden, had a rained out barbeque with dear friends and watched Star Wars: A New Hope with my younger son. To maintain the point between effort and ease, I decided to not check email. My professional life abounds, but it's just one part of who I am. And for other aspects of my life, I have to save time on and off the clock.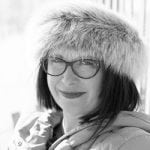 Chelsea Henderson is an aspiring novelist and recovering Capitol Hill staffer. When she isn't sneaking time to finish writing her second book, she advocates on behalf of clean energy and environmental policy, reads, practices yoga, and single parents her perpetually hungry pre-teen boys. She also periodically contributes to her lifestyle blog, the Chelsea Chronicles and is intermittently good at Twitter.