This article may contain affiliate links; if you click on a shopping link and make a purchase I may receive a commission. As an Amazon Associate, I earn from qualifying purchases. 
Two conversations this weekend led me to the same conclusion – most clothing made for women over a size 14 is CRAP. Why do plus-size designers believe that anyone who wears their clothes are the size of a typical size 8, just stretched in every direction? Not all size 18 women are 6' tall with shoulders like a linebacker. Not every size 20 woman has size F breasts, and just because someone wears a larger size in jeans does not mean she also has a higher rise. The average size of an American woman's dress may be growing, but that does not mean the height of an American woman is growing at the same speed. More often than not, that plus sized shopper has the same bone structure as her size 8 counterpart, just more curves and padding over those bones.
And another thing, why is it that the only choices for a plus sized woman is to look like a tramp, a dowager or blob? No matter our size, we should be able to easily express ourselves – our sophisticated, creative, feminine, chic self.
Walking through the mall, a woman over a size 12 has minimal options. Good old Lane Bryant may have some great pieces, but they are stuffed on overcrowded racks and rounders with utterly hideous polyester confections, gaudy prints and muumuu-like frocks. Avenue and Ashley Stewart rarely have the quality and current style of say, Bebe or Ann Taylor and I don't even want to mention the majority of crap on the racks of Fashion Bug and Deb. Hit J. Jill, Coldwater Creek and Eileen Fisher, and if you are under 40 (or over 40) you may feel as though everything is wrong wrong wrong for your lifestyle and personality. The local department store may have a Women's section, but it's often small, limited and usually the worst maintained section of the whole store.
Why do we allow this? Why are we accepting this crap for our beautiful bodies? Just because we aren't a size 6 doesn't mean that we don't deserve style, quality and proper service. We are professionals, fashionistas, women with just as much money (and money equals power) as our slimmer counterparts.
As I said in my Target article, vote with your pocketbooks! Write letters and emails and fill out comment cards at shops. Tell retailers when they get it right, and when they get it deathly wrong. If a company sees something sells, they will make more of the same. If it doesn't sell, they will discontinue it. If you feel that the basic tees and tanks in a retailer are of sub par quality, let them know. If you feel that the sizing is all off (hello Lane Bryant and your new jeans sizing!) SAY SOMETHING! Get on message boards, write to plus-size magazines and forums.
The problem is that many plus-sized designers are not plus-sized, and are often not women. They don't understand how weight is distributed, that we don't want to hide under a swath of paisley chiffon, don't always want to wear high-waist jeans and ponchos, that we may actually find our body beautiful and ourselves worthy of great style. They make great shoes in larger sizes, they make fabulous jeans in long lengths, women with curves deserve and should demand the same luxury.
Retailers see the success of Lane Bryant and make carbon copies of it, hoping to jump on the plus-sized fashion bandwagon. If Lane Bryant does it for you – style and figure-wise then I am happy for you. However if you are like most women I know who are in double-digit dress sizes, you wish there was more Torrid and IGIGI and Marina Rinaldi in the world, and less of this discount crap that is unflattering and unworthy our hard-earned cash.
As I always say, do not settle. You are better off with the same black pants worn over and over for now, than to buy crap and encourage these designers to purchase more crap. No matter your dress size, you should be a discerning shopper, hitting the fitting rooms and the internet to find the right fit, the right quality, the right style, the right price. High-end department stores like Saks Fifth Avenue and Nieman Marcus are getting progressively more diverse departments for sizes over 14 and the lower-end market is being saturated with plus-size crapola shops. What about the middle? We need more mall shops that are the same caliber as J. Crew, as Banana Republic, as The Limited.
Let your opinion be heard. Women often stay mute for seeming bitchy, pushy or rude. We feel we maybe don't deserve it because of our shape. I say NONSENSE, every person on this planet is special and beautiful. Beauty is in all shapes and colors and maybe it's the crap we are forced to purchase that makes us feel less than utterly gorgeous.
So to my sisters who are in the double digits, I will share with you a few beauts I have found online… to show you what you deserve for your fabulous body. If you want to see more of this… then you know what you need to do… (and tell them you want to see plus size women model those fashions too!)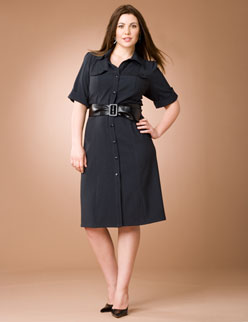 Charcoal Shirt Dress from IGIGI – Shirt dresses are a stylish way to be dressed for work OR play. I love this one because it nips in the waist and has all the current details seen on other brands.
Purple Wrap Dress from IGIGI – Purple is a hot season for fall, and IGIGI seems to know how to make a wrap dress that works on many shapes without showing off too much in front.
Hot Orange Dress from IGIGI – Don't hide behind drab colors; this dress will light up a room and your face!
White Tailored Shirt from Nexx – The tie detail and the French cuffs are elegant, not cheesy.
Denim Trousers from Kiyonna – I swear by my denim trousers – they work for business casual, dress up a simple top to make it work for a night out on the town, and the dark color is current and flattering.
Embossed Leather Jacket by Berek – How fun and daring is this jacket? with a white tank and jeans, or even with a shell and trousers for a night out or to work!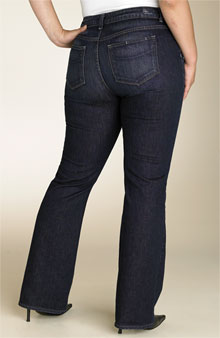 Mandeville Canyon Jeans from Paige Premium Denim – Paige cuts all their jeans for a real woman's shape, and the quality is awesome. Plus, it's always fun to sport some sassy designer jeans!
Freestyle Revolution Skinny Jeans in Smoke – the skinny jeans are still hot this fall, and this smoke color is fun and will look great with the fall's brights as well as the darker colors of the season.
Giraffe Print Dress from Kiyonna – Utterly gorgeous and elegant, and a cut to flatter, not fight against your curves.
Dana Buchman Silk Charmeuse Wrap Top – Gorgeous color, gorgeous fabric – wear with denim trousers for a night out, with crepe trousers or a skirt for a party, and even with suiting pieces for work.
Royal Blue Jersey Cocktail dress by Tadashi – Gorgeous color, elegant draping, and perfect for all your seasonal holiday parties!