This article may contain affiliate links; if you click on a shopping link and make a purchase I may receive a commission. As an Amazon Associate, I earn from qualifying purchases.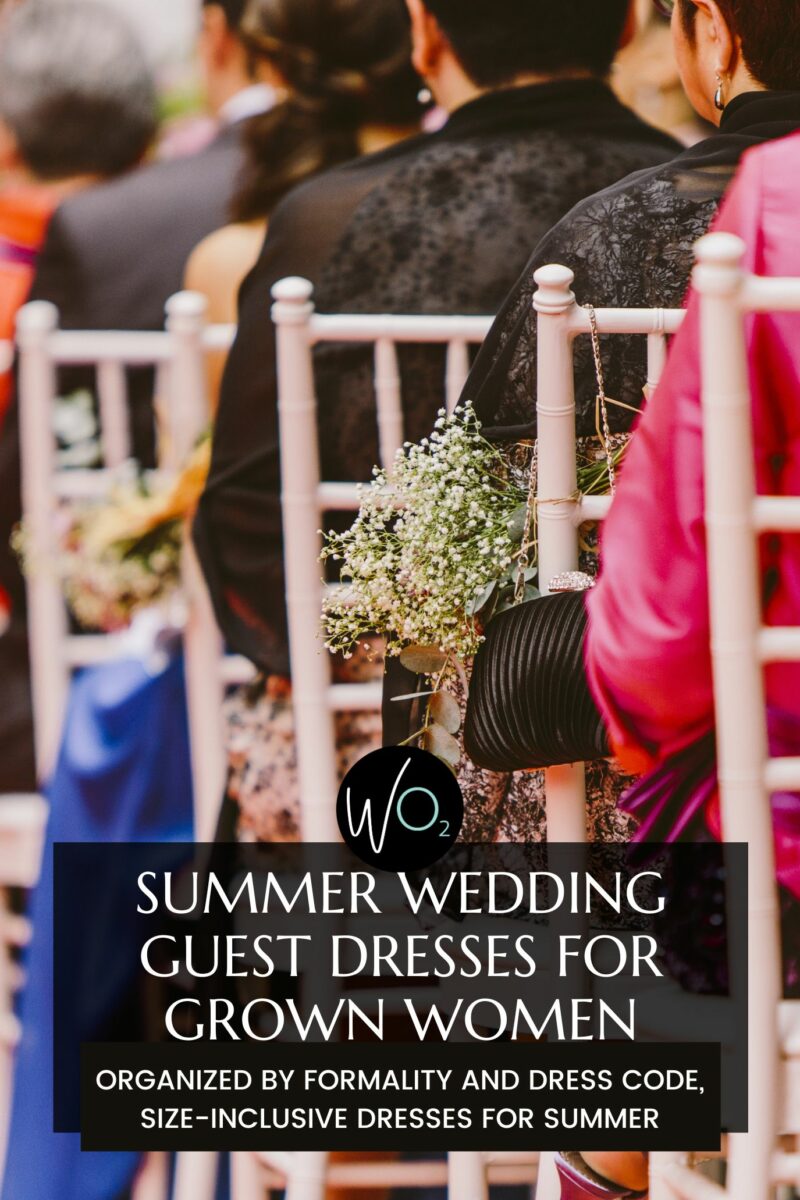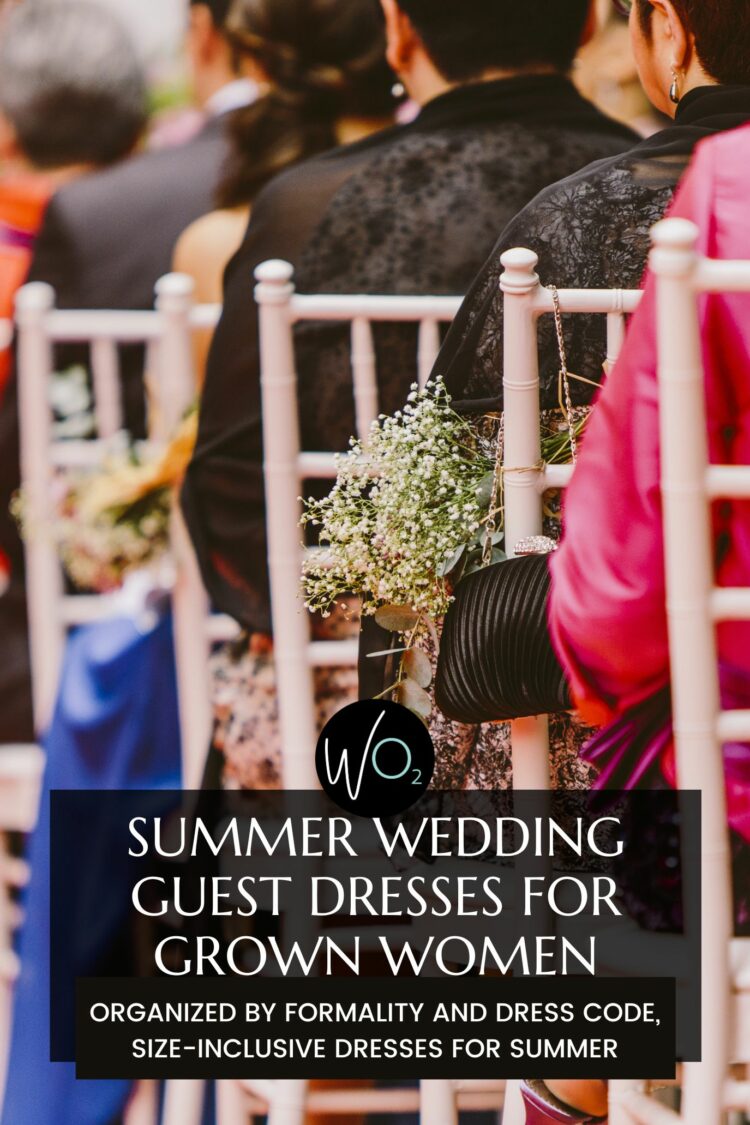 'Tis the season of weddings, and if you're on the hunt for a summer wedding guest dress you are not alone. It makes sense to shop early so you have time to coordinate footwear and accessories and get any tailoring completed in time. I've been scrolling through online boutiques and department stores and am thrilled to see the variety and fun in summer wedding guest dresses this year for grown women. It inspired me to write this!
I just posted this article last month, but a lot of the dresses are already sold out so I have updated it. I know with spring weddings and graduations, a ton of potential dress options sold out fast. Almost every single collage has been recreated with new offerings currently in stock. I also added more dress categories and selections to the article based on current trends.
Summer Wedding Guest Dresses for Grown Women
Now you know that I believe any person can wear whatever they like. But we grown-ass women have certain things we look for in our wedding guest dresses. Can you wear a bra? Can you go without control garments if you so desire? Does the dress look great even if worn with low-to-flat shoes? Do you need to buy special shoes or a special bag that won't go with anything else ever again? Is the dress joyful enough to want to wear again?
I believe the selection below is varied enough that you can hopefully find the perfect dress or gown for the next summer wedding that you attend. There are over 60 summer wedding guest dresses in the collages but even more in the shopping carousels throughout.
Garden Wedding Guest Dresses
For a day wedding that is early/brunch, outside, or a more casual vibe, a short to ankle-length dress in a casual fabric is a great choice. This is when you can rock that cotton or linen sundress, or even a work dress that can feel festive with a switch of accessories. Midi- to full-length jumpsuits in such fabrics are also a great choice. The key is choosing cheerful colors and prints that remind you of a garden or a bouquet of flowers.
For outdoor weddings, keep shoes flat or if you desire some height, look for wedges and block heels that won't sink into grass or get stuck between flagstone blocks. Small bags in candy colors or wicker/raffia will fit the vibe. A dress with some volume will help you keep your cool while also looking festive.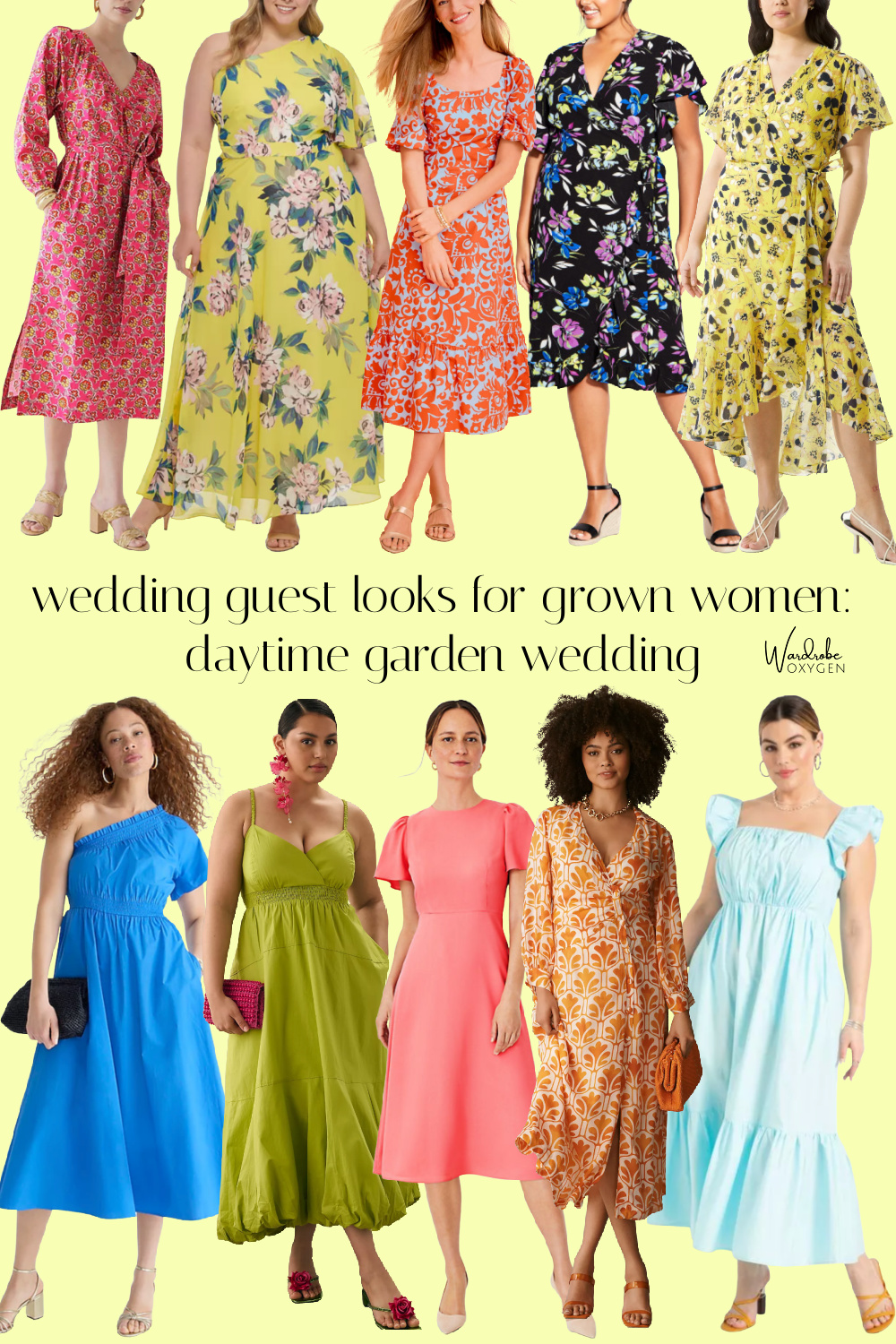 Top Row, from Left to Right: one (XXS-3X) | two (14-22) | three (2-20 & petite) | four (14-30/32) | five (00-20)
Bottom Row, from Left to Right: one (XXS-3X) | two (XXS-3X & petite) | three (00-18 & petite/tall) | four (00-26 & petite) | five (14-32)

Daytime Wedding Guest Dresses
Daytime doesn't always mean casual. If the wedding it taking place at an historic building or in a ballroom, your attire will be more like a hybrid of day and evening. Think short to midi length dresses in florals and summery colors, but out of dressier fabrics. Keep the full-on sequins and beading for evening, but chiffon, lace, metallic threads and finishes, and shiny fabrics are good choices.
If you choose black, go with a shorter style or temper it with less shiny or embellished fabrics and lighter-colored accessoires. Navy is a nice option which is still dark, but not feeling quite as formal or evening. Shoes and bags can be what you use for evening (metallic, dressy fabrics and embellishments), but again try to steer clear of black or overly-embellished pieces that feel more Black Tie.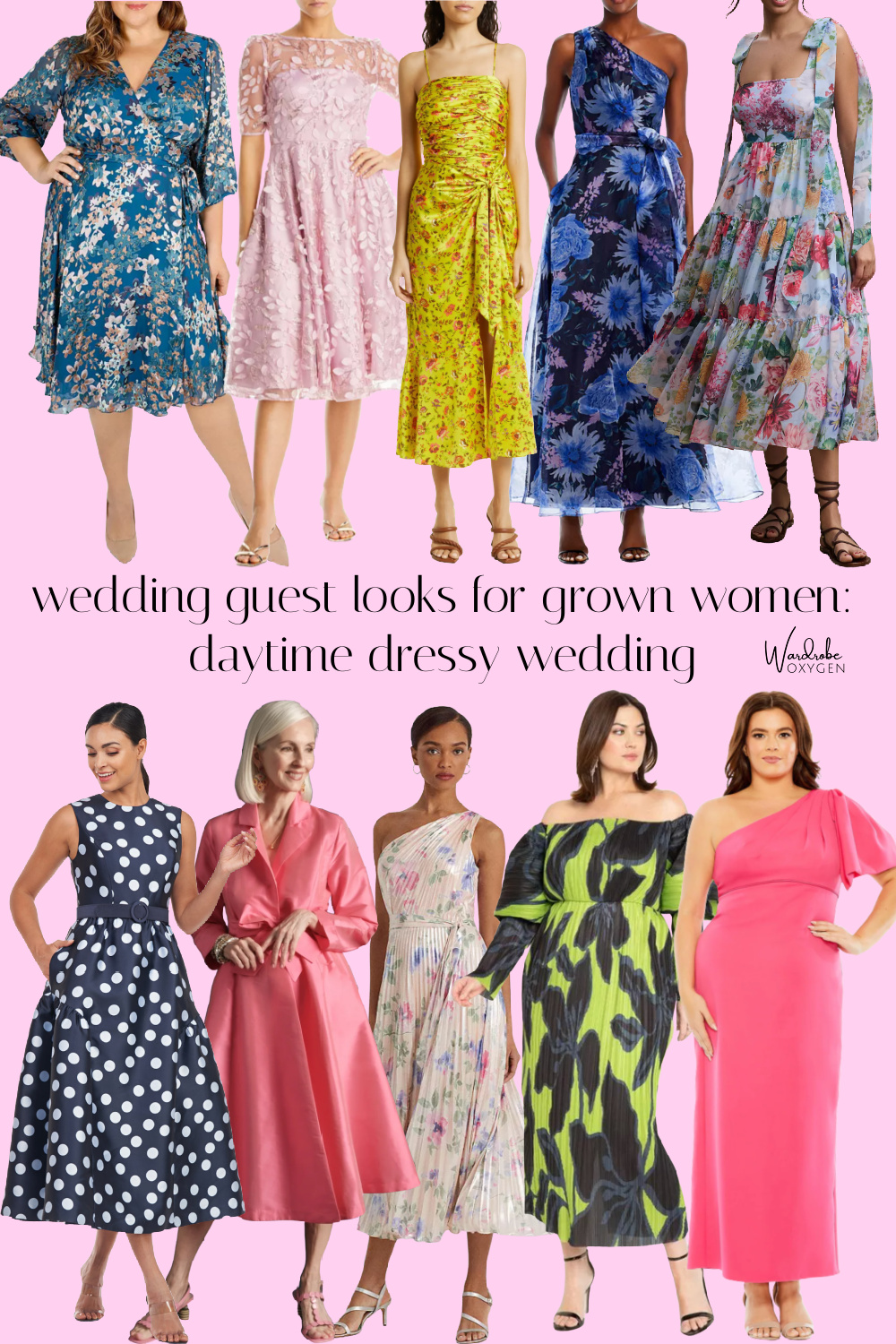 Top Row from Left to Right: one (14-26) | two (2-12) | three (0-14) | four (2-18) | five (0-16)
Bottom Row from Left to Right: one (2-16) | two (2-16) | three (XXS-3X) | four (14-32) | five (14-20)
[

Wedding Guest Dresses for a Destination Wedding
When it comes to destination and beach weddings, volume is your friend. A dress that hits below knee to the ground and can swish around will keep you covered when it's windy, make it easy to sit on benches or blankets, and step up onto a pier or boat.
Formality depends on the couple. Is the reception a clam bake on the beach or is it in a candlelit ballroom? If unsure, a midi- to maxi-length floral dress that is halter, off the shoulder, or a wrap/surplice style is a safe bet. If sleeves, choose the "flutter" style that isn't fitted and moves in the breeze. Flat sandals that are easy to slip off are a great idea; consider a metallic that will look dressy.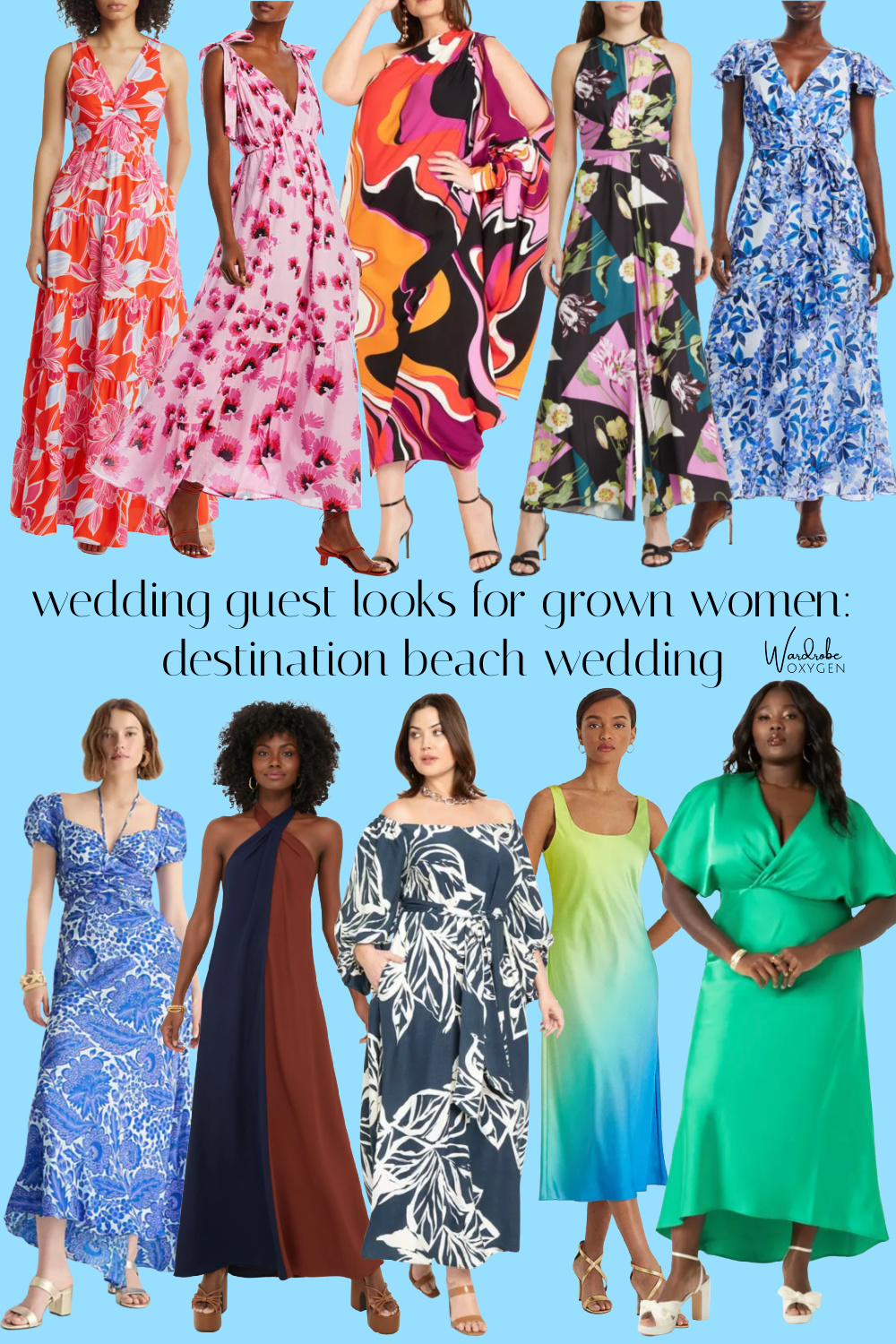 Top Row from Left to Right: one (0-18) | two (XS-XL) | three (14/16-30/32) | four (00-16/18) | five (0-16)
Bottom Row from Left to Right: one (00-24) | two (XS-XXL) | three (14-26) | four (0-16) | five (14-32)

Wedding Guest Dresses for an Evening Wedding
Evening weddings can vary in formality just like destination weddings. The key is the location. If it is at a ballroom, historic building, or hotel, the looks above should be a safe bet. When searching for wedding guest dresses, look at what is under the "cocktail" category. Usually, that will be a good choice. However, try to keep cocktail dresses seasonally appropriate. In "cocktail," even come the middle of summer, you will find plenty of sleeved dresses and heavy fabrics like full sequins and velvet.
Look for fabrics that catch the light and are fun to dance in. For shoes, choose comfort so you can enjoy dancing or standing during the cocktail hour. A metallic shoe or a shoe in a fabric like satin or crepe will look evening appropriate. Don't worry about heel height if you're not comfortable in heels. A fuller style or a longer skirt will nicely balance out flatter shoes.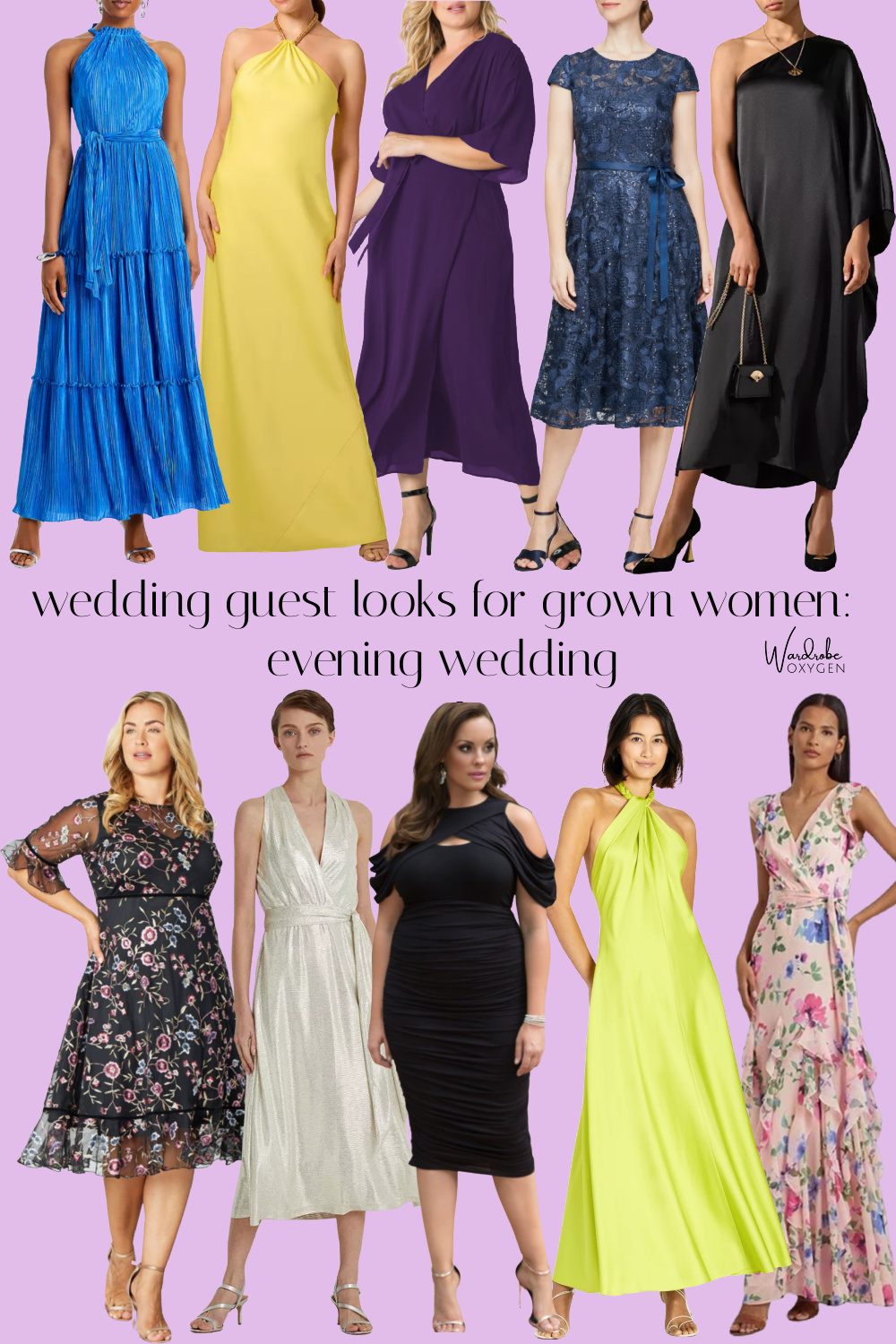 Top Row from Left to Right: one (0-16) | two (0-16) | three (1X-3X) | four (4-16) | five (XS-XL)
Bottom Row from Left to Right: one (10/12-30/32) | two (0-16) | three (10/12-30/32) | four (00-14) | five (4-16)

Black Tie Wedding Guest Dresses
It's hard to find black tie and mother of the bride dresses that don't look frumpy or dated. Designers still think that "women of a certain age" wish to fade into the background. And if you aren't one to steal the spotlight, that's okay, but that doesn't mean you have to resort to mauve beaded shifts with matching sheer waterfall jackets. Society has told you otherwise, but your body is the same body whether it is in black or blue, sparkles or matte fabric, in a sleeveless dress or one with a swath of chiffon covering the biceps.
It is an honor to be your age, and it is an honor to attend this formal event, whether you are the mother of the married or the plus one. Black tie and formal dresses are not cheap, so buy one that brings you joy. Take the time to get it altered; well-fitting garments will always make your body look its best. Even if you aren't the mother of the groom, your dress can be taken to a bridal boutique for alterations. Purchases at Nordstrom can be altererd at your local store, and check your local message boards and Yelp for tailors in town that excel in altering formalwear.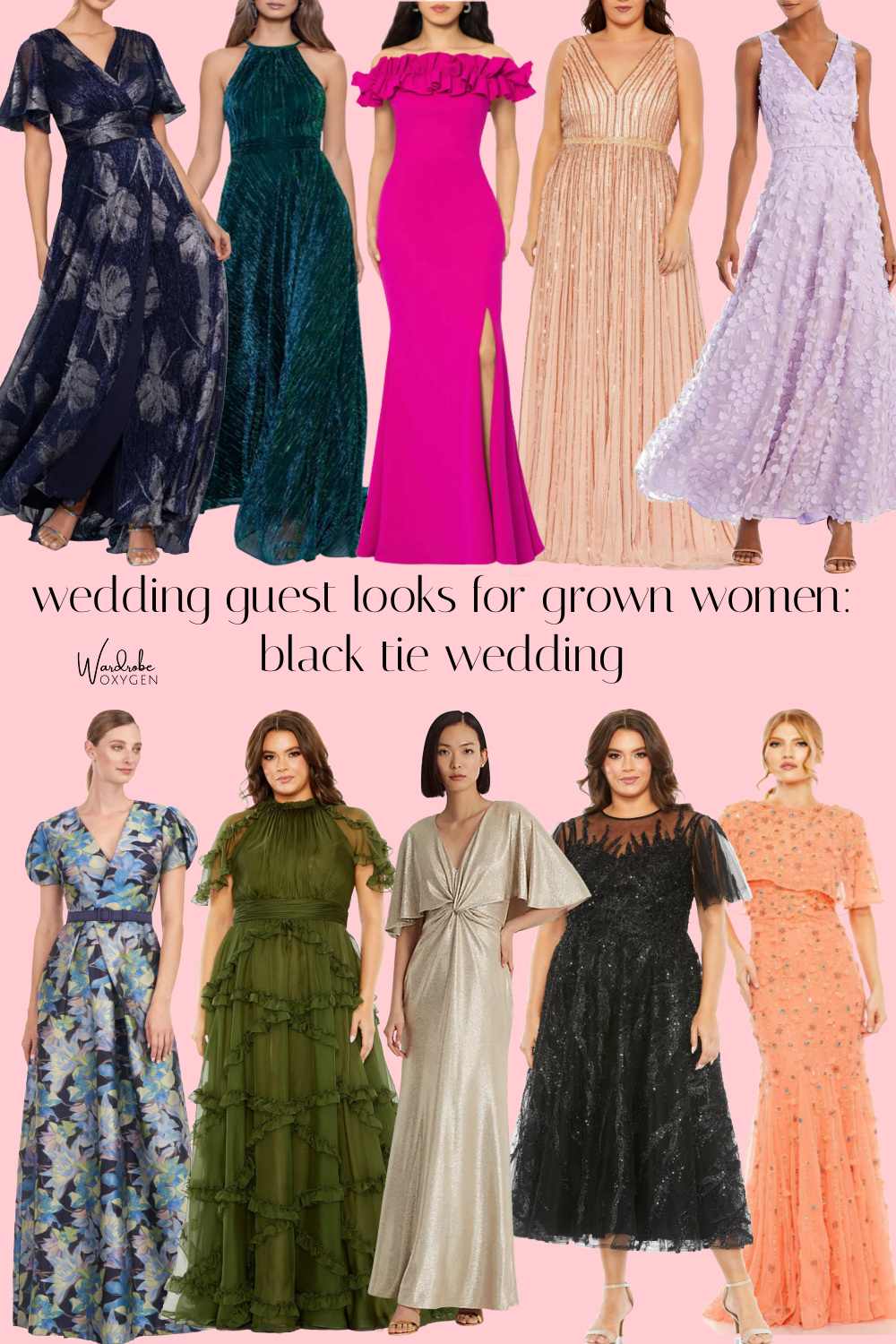 Top Row from Left to Right: one (4-16) | two (2-12) | three (2-16) | four (14-20) | five (0-18)
Bottom Row from Left to Right: one (2-18) | two (14-24) | three (2-18) | four (14-24) | five (6-20)

Mother-of-the-Bride Wedding Guest Dresses
Just like the wedding party in tuxes and formal gowns, the parents elevate their look so the effect is cohesive. You will likely be instructed to choose a certain color or pick one that matches or complements the colors of the wedding. While a parent shouldn't try to upstage the couple in neon, red, white, or any shade close to white, don't be afraid to wear a real color.
If you wear a longer gown, you can get away with flat shoes. A simple beaded flat or mule in a formal fabric is a comfy alternative to strappy sandals. Your bag should be small and of a dressy fabric. Jewelry can be minimal so your dress shines; a pair of CZ studs (or the real thing) can be plenty to finish your look. If you want a statement piece to glam up your look consider a sparkly bracelet that will show in photos and as you dance and eat.
If your dress is less formal, glam it up with your hair, makeup, and accessories. This is when a sparkly earring that dangles will be a benefit. A tidy updo (bun, French twist, or something more elaborate) reads formally. If you wish to wear your hair up but don't know how there are YouTube tutorials for almost any hairstyle. Also, hair salons and styling bars like DryBar will do updos for day-of glam.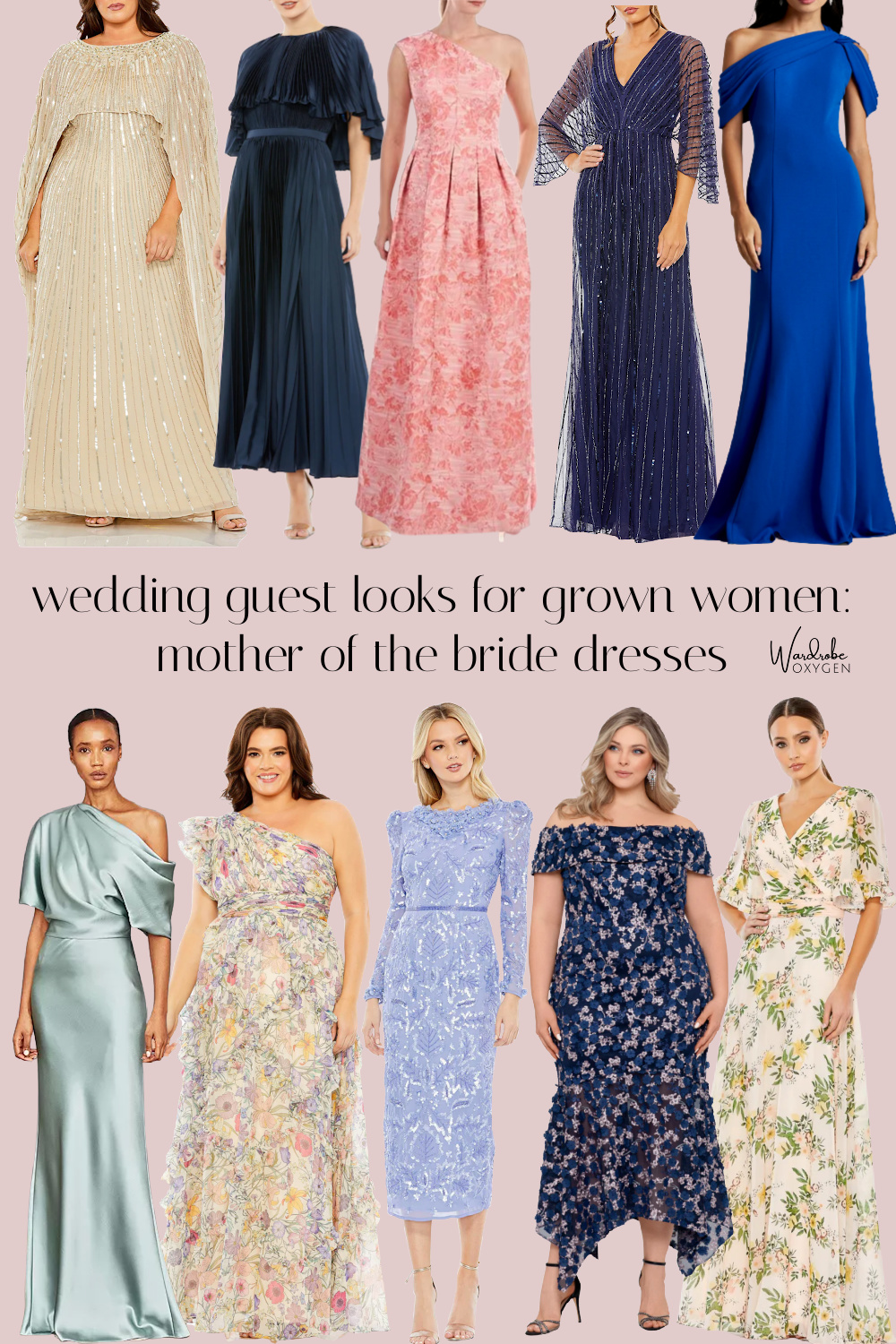 Top Row from Left to Right: one (14-24) | two (2-20) | three (2-16) | four (4-24) | five (XXS-XXL)
Bottom Row from Left to Right: one (0-18) | two (14-20) | three (0-16) | four (14-22; link for misses)| five (2-24)

Boho Dresses for Wedding Guests
The boho trend is hot and it is a perfect choice for daytime weddings and destination weddings. Offering drama and interest without having to be a formal fabric and a trendless style, boho dresses are a great choice for us grown-ass wedding guests. In addition to being a fashionable choice, boho dresses also come in a wide range of styles and designs, making them suitable for different body types and personal preferences. Whether you prefer a flowy maxi dress or a more fitted silhouette, there is a boho dress out there for you.
Plus, you can easily dress up or down a boho dress depending on the wedding dress code or your own personal style. So, don't be afraid to embrace the boho trend and make a statement at your next wedding event!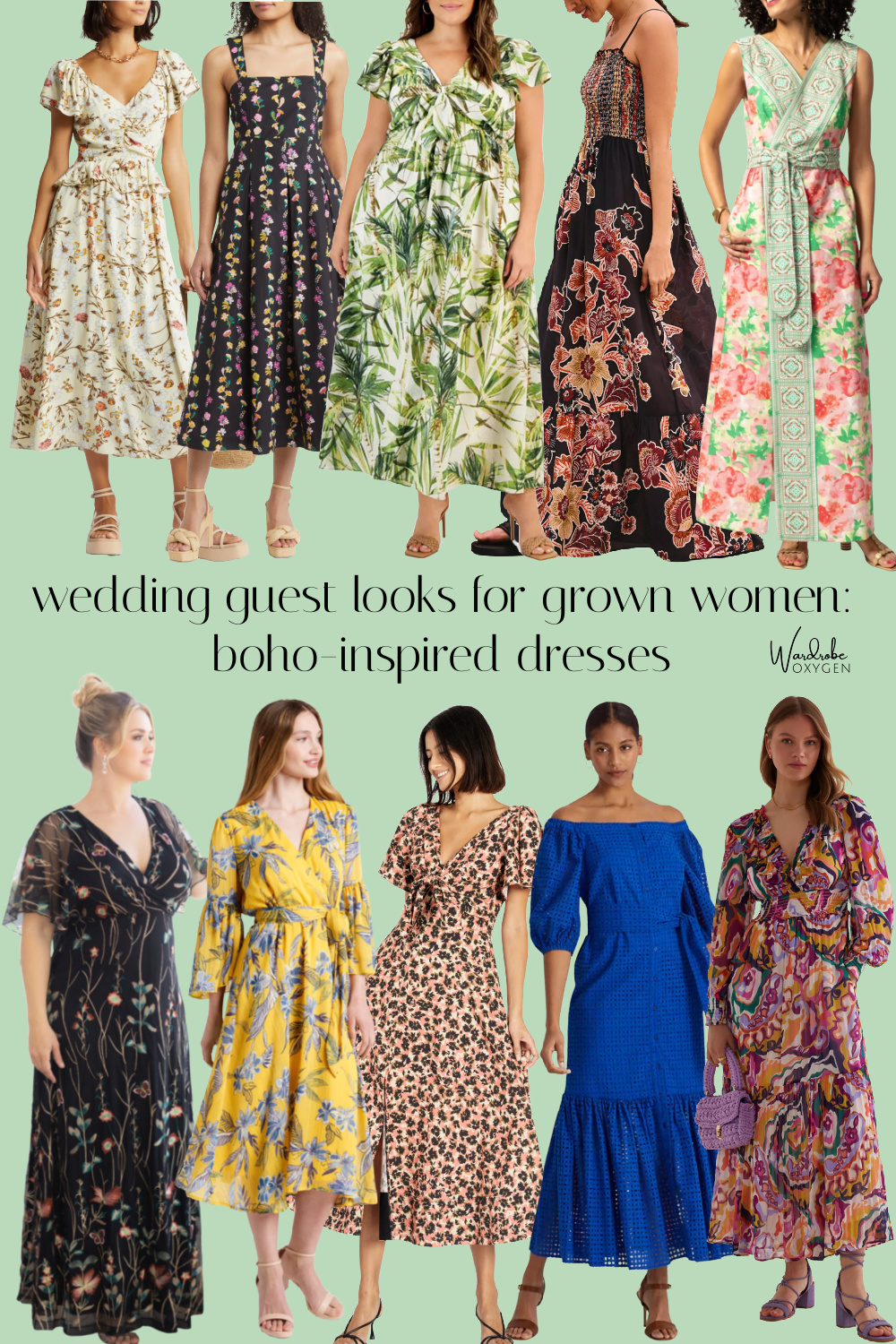 Top Row, from Left to Right: one (XXS-XXL) | two (XS-XL) | three (14-24) | four (XXS-3X & petite) | five (0-18)
Bottom Row, from Left to Right: one (10/12-30/32) | two (XS-3X) | three (00-14) | four (0-16) | five (XXS-XL)

Not-So-Little Black Dresses for Weddings
These days in the United States, black has become acceptable at most wedding ceremonies and receptions. If you believe the couple has specific religious or cultural beliefs that do not support wearing black, ask before wearing. But a black dress can look cheery and festive, formal and elegant, and often work for multiple seasons just with a change of accessories.
While a metallic or black shoe and bag is a safe bet, a wedding is a time for joy. Don't be afraid to have fun with color. This is also a way to embrace current trends and update a not-so-little black dress already in your closet. A cute little bag or clutch embracing a favorite color, a pop of color on the lips (try coral, berry, or pink if red feels too wintry), or a statement shoe can truly transform a simple black frock.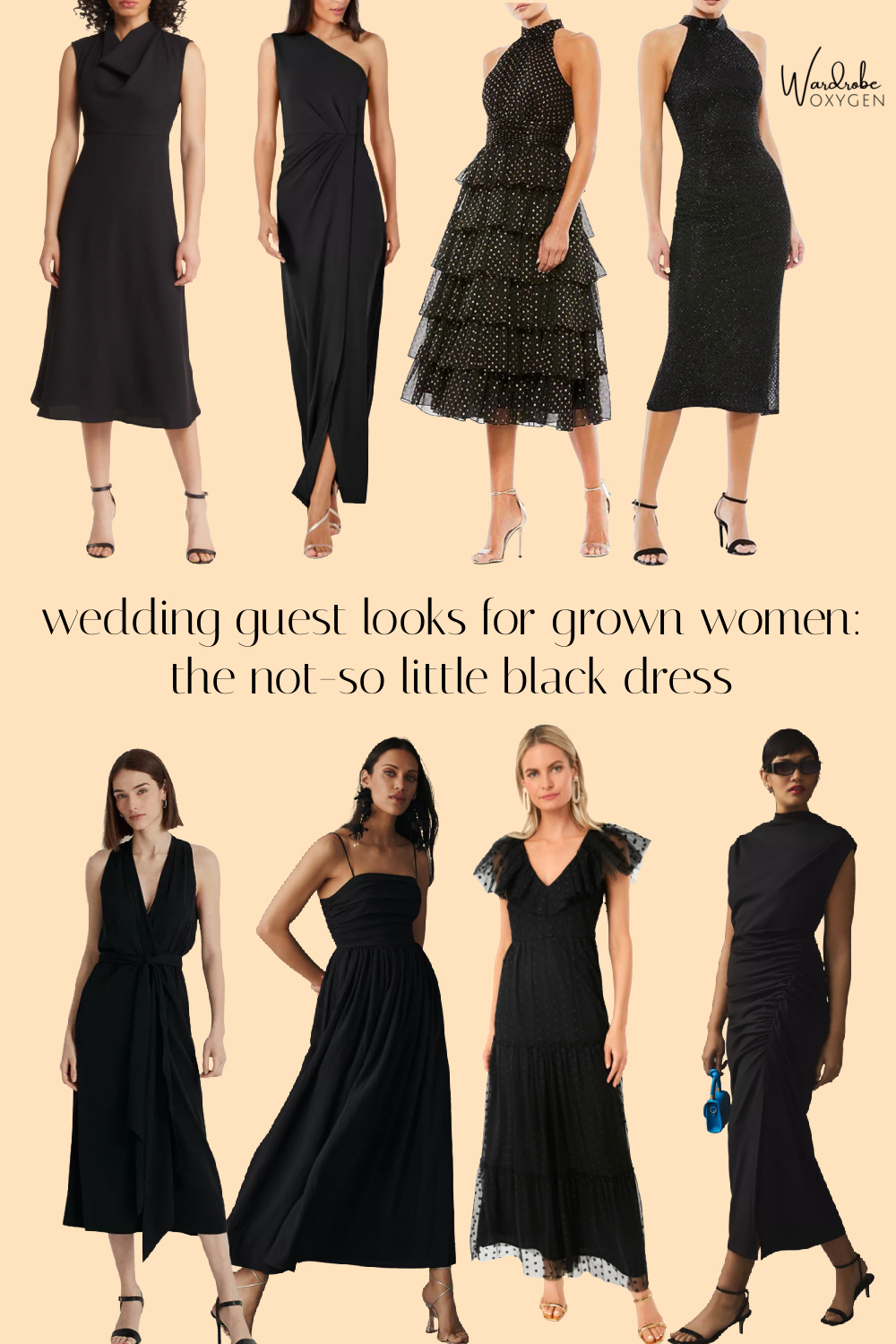 Top Row from Left to Right: one (S-L) | two (2-16) | three (2-16) | four (0-14)
Bottom Row from Left to Right: one (00-18) | two (XXS-3X & petite) | three (XXS-XXL) | four (XXS-3X & petite)

When shopping for summer wedding guest dresses, if the item you like is out of stock, Google it. Just because I shared it from Nordstrom or Bloomie's doesn't mean it's not also available at Saks or even the designer's retail boutique at the same price. It may also be available in a broader size range or other colors!
I know shopping for wedding guest dresses is an arduous task. I put about 10 hours into this post the first go-round and seven this second time. I hope it narrows down your search and possibly introduces you to start shopping with some new brands and retailers in the process!
ORIGINALLY PUBLISHED: 05/04/2023
UPDATED: 06/04/2023