This article may contain affiliate links; if you click on a shopping link and make a purchase I may receive a commission. As an Amazon Associate, I earn from qualifying purchases. 

Valentine's Day is usually about a significant other, but I really see it as a day of love in general. Paper valentines to classmates, taking the time to tell your family members how much you love them, having a good time with your favorite person or people… and loving the most important person of all – your self.
Below are some goodies I indulge in when I want to pamper myself. No matter what you do this Valentine's Day, and no matter who you spend it with, be sure to show some love to yourself – you deserve it!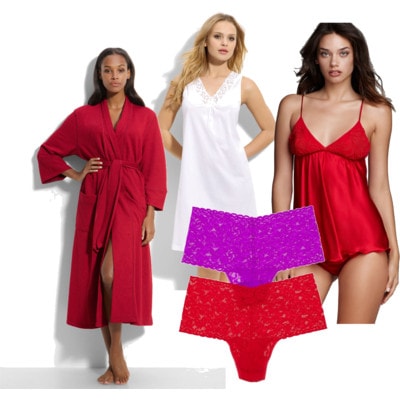 Flattering Underpinnings
Recently I wrote about lingerie and loungewear for large busts, and since then I have been able to try out and learn about a few more brands. Through this experience, and through trial and error here are some of my fave brands for flattering and fun underpinnings:
Hanky Panky Retro High-waist Thongs – I fell in love with the Hanky Panky Retro High-waist Thong a couple months after I had Emerson. While I wanted a thong to get rid of VPL, I found most styles of thongs rolled below my postpartum belly. Ones that claimed to be high-waist would often dig into me and cause my soft stomach to pool out of the leg openings. These thongs are truly high-waisted – they come all the way up to the waistband of your pants or skirt. Since the thong is completely made of lace, it doesn't have seams to dig into curves. This is also a comfortable thong – no wedgies!
Tip – Hanky Panky changes their colors each season, which means old colors end up at great sale prices!
While I have many in beige and black, I also love the intense colors that are available – nothing more fun than to have some private colorblocking – pair red pants with a hot pink thong, a blue pencil skirt with ultraviolet!
Bijte Lingerie – I mentioned this brand in my previous post, but since then I have been able to experience the line first-hand.
"Bijte is specifically designed to fit the full bust, but standard sized woman," the company's founder, Diana St. Louis, said. "Our items target women who have been traditionally ignored by the lingerie market. We developed the line to offer women in this market a collection of luxury, well-fitted, sexy lingerie that meets their specific size-centric needs."
The lingerie is so elegant and well-crafted, soft feather-light lace and silky charmeuse. I tried the Medium and the Large, and while I liked the looser fit of a Large camisole, both fit and flattered not only my torso but my large chest. I also appreciated the color line – choices that will flatter multiple skintones. Bijte is a New York-based company who also will do fitting parties – if you live in the area I can't think of a more fun Valentine's Day-themed girl's night in!
Bare Necessities – When looking for large-bust lingerie and sleepwear, I visited Bare Necessities. I have known of this site for quite a while, but don't visit it on a regular basis. I am glad I stopped by for now I am a huge fan. Since I get their emails I found out today that they now have BarePlus – a site geared just towards curvy and large-busted women!
Through Ebates, you get 8% cash back on every purchase at Bare Necessities. Sign up for their emails and you'll be regularly notified of sales and promotions. They have $5 or free shipping (depends on size of order) all the time, and a no-hassle 60-day return policy. Hot brands, and cool sales – just before Christmas, I purchased a Flora Nikrooz gown on sale for less than $40 (usually $80) and with free shipping .
Natori – Natori is a brand of sleepwear and lingerie that is sold at high-end department stores. Unlike many brands, Natori offers silhouettes that are flattering to a woman with curves or a bust. Natori uses luxe fabrics and doesn't shy away from rich colors. Natori can also be pretty pricey. I like to follow sales on Nordstrom and other sites and because of it have been able to find Natori at reasonable prices. I recently scored a chenille robe through Nordstrom at about 75% off; this robe has changed my life.
I have always had a terry robe to wear when out of the shower or for padding around the house early in the morning. Most recently, my robe was hot pink and from Victoria's Secret, and I felt that it was just as good as any other robe. My husband made a comment about how threadbare my robe had gotten and I decided to get a new one. I saw a chenille robe from Natori on clearance at Nordstrom – it came in a deep purple and teal; I chose the teal.
This robe is warm and cozy, but it doesn't make me look like a marshmallow. It nips in at the waist, somehow makes my shoulders look narrow, and glides over curves. Unlike cheap robes, it has a inner-tie to keep the robe securely closed. My husband says it's the first heavy robe I have ever owned that is sexy!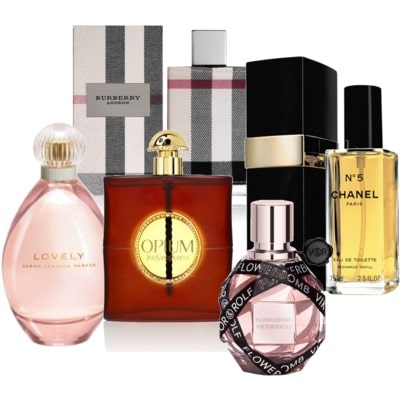 Delicious Scents
Signature Fragrance – I truly believe in a signature fragrance for completing your personal style. I am not one to stick to one style of clothing; I also don't believe in wearing the same fragrance every day of the year. However, as one has a general theme through her closet, having a signature fragrance keeps your look and style cohesive.
In the summer, I often go fragrance-free, or choose a lighter or more green like Calyx Exhilarating. In the winter when I have a night out, I will choose something more sultry like Opium. However for day to day, I wear Burberry London and have for years.
Do you have a fragrance you love? Many choose to forgo perfume saying it's too strong, causes headaches, and allergies. I can relate – put me in an elevator with a woman wearing Calvin Klein Escape and my throat almost closes and my tongue sweats. Some fragrances can be cloying on one woman and subtle on another, irritating on one and delightful on another. A fragrance doesn't have to be a perfume in a glass bottle – it could be the scent of your shampoo, your favorite fruity body lotion, even the scent of Ivory soap. But if you don't have a signature fragrance, consider doing so for Valentine's Day!
There's many a tutorial online on how to choose a fragrance; I found Burberry London as my newest signature scent by going to Sephora. I told the salesperson what I liked, what I didn't, what my personal style was and she narrowed down the choices. She didn't put more than three fragrances on me, and had me wear them around the mall to get used to them. I chose Burberry London because I didn't even notice it; the others I would catch a whiff of when turning my head or moving my arm. Burberry London felt like a part of me, my natural scent, just like my natural personal style.
Tip – Scentmap is a great way to find alternative to your current fave – enter the fragrance you currently wear, add some descriptors, and you will receive several suggestions that you can note and check out at your nearby Sephora or department store.
If you already have a signature fragrance, consider purchasing a body product from its line. A lotion can make a scent stronger and last longer on the body; it can also be worn alone for a lighter version of your fave. I love indulging just a few times a year in a bubble bath with product in my favorite scent – it's not something I can afford to do on a regular basis, so it feels especially indulgent and fancy.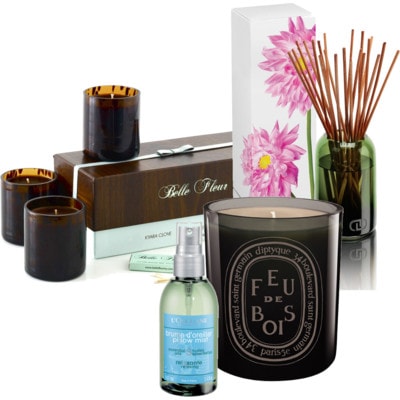 Home Fragrance – One of the most lovely gifts to receive is a luxurious scented candle. There are designer candles that cost a pretty penny but the price is usually justified – the candles last hours longer than ones from your local body lotion shop, the containers are works of art, and the scent is mature, elegant, and becomes part of your home.
I respect those who like to have their house smell like buttercream or mangoes, but for those who find those scents to conflict with your personal style or home décor, treat yourself to a designer candle. While descriptions online may be detailed, it is best to smell these in person. As with perfume, only choose three to smell at a time, and try sniffing coffee beans between tries to refresh your sniffer.
Some don't like candles because they can be safety hazards, I have really come to love reed diffusers – they gently add fragrance to the air without being overpowering and you can control the level of scent. I also love linen sprays – I will mist them on curtains, duvets, the back of throw pillows for a subtle hint of scent throughout the home.
Personal Pampering
I have a birthday tradition; each year I indulge in a new beauty treatment or product. Last year I bought myself a Clarisonic Mia; this year I scheduled a Day of Beauty with hair cut and color, brow waxing, and spa pedicure. I often repeat this tradition for Valentine's Day.
Maybe purchase that designer mascara that your favorite beauty blogger raves about, consider scheduling a facial or body scrub. This is a great time to try a bright lipstick or hit a department store makeup counter for a blush consultation.
It's also a great time of year to do an at-home spa day. With very little supplies and money, you can steam your face, do a scrub, mask, and hydrating treatment; heat up some olive oil for a deep hair conditioner; add essential oils to a tub for a relaxing foot soak. Google and Pinterest are your friends – use them to find tried-and-true ideas for a DIY spa experience.
Journaling
I believe in the power of the written word. Holidays are wonderful times to reflect on your life, the year, and your future. Note the positive aspects of you, what makes you love yourself, and what others find so lovely about you. This isn't narcissistic, this is a great lesson in loving and respecting yourself, reminding yourself of all your positive characteristics.
if you don't currently have a journal, consider buying or creating one. If journaling is new, use Valentine's Day as a starting point, and write only on special days through the year. This way, it's not overwhelming and doesn't become a just a rant-fest. Read previous entries, and see how you have grown since then and learn from your own experiences.
How do you plan on celebrating Valentine's Day?
Note: I received free merchandise from Bijte, however the including the brand in this post and what was said about the brand was completely my decision.
Follow Me | Twitter | Facebook