This article may contain affiliate links; if you click on a shopping link and make a purchase I may receive a commission. As an Amazon Associate, I earn from qualifying purchases. 
As you know, I mentioned the Maidenform Breakthrough Backless Bra a couple of posts ago. I received a press release from Maidenform and was excited to try this. As a woman with large breasts, many fashions are impossible for me to wear because my bra would be showing. The concept of a backless bra geared toward busty gals seemed to be too good to be true.
It is.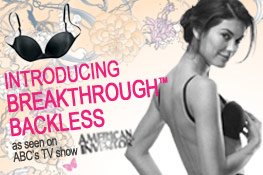 The bra arrived this weekend. It is a molded cup bra and as soon as I saw the wide yet shallow cups, I had a feeling it wouldn't work for my breasts. Molded cups don't work for all shapes of large breasts, especially if those breasts are natural and have some age; many molded-cup bras are made to cover, but not support and lift. Second concern was the straps – all elastic, and very narrow. Now narrow straps are great for sleeveless and tank styles of tops, but those of us with large busts know they usually don't provide enough support. Being of all elastic also means they will usually provide less support and quickly stretch out.
The bra looks like a classic bra in front, but the straps attach under the arms where the bottom/side of the cups are located, instead of on a back band. No rubber or adhesive to keep the bra in place, no weird gizmos, just a little bit of useless silicone on the underwide portion. The bra goes on like a backwards vest, over each arm.
On me, the bra sat away from my body because of the size of my bust. When I tried to lift and place my breasts in each cup, they just slid down so they were hanging below the underwires. I moved my arm to readjust the cups and the strap slid down my arm. Went to slide up the strap and my breast fell out of the cup. I bent over and the entire bra pulled away from my body. Stood up and I now had breasts under the bra, and straps hanging down my arms. Oh gosh, imagine if I actually left my bedroom in this contraption! I suppose this backless bra would work if you were very very thin with sharp protruding shoulders and shoulder blades and had very very small breasts. Anyone else… don't even waste your time or money.
This morning I received an email from Maidenform asking me to complete a survey regarding my experience with the bra and I was very honest and very detailed with my response. I hope everyone that tried this bra does the same.