This article may contain affiliate links; if you click on a shopping link and make a purchase I may receive a commission. As an Amazon Associate, I earn from qualifying purchases. 
Nope, no baby and no more pets. But we did get a new dining table!
Let me give you a bit of history. When my sister and I got our first post-college apartment together, we went to IKEA to outfit the whole pad. For our dining table, I got a round oak pedestal table and four Windsor chairs that was one of those last page of the IKEA catalog specials. That dining set went with us when we moved to Annapolis, and then moved in with me and Karl in 1999. We kept it until 2009 when we inherited Karl's dad's dining set.
Karl's dad's table was… well it was bigger. It had two leaves so it could seat up to 8 people comfortably. However, it was rickety and strangely had metal caps on the legs which scratched the floor and needed little coasters to sit on (which always slipped when the table was moved/enlarged with leaves). But it was free, and we're big fans of free.
Karl has been talking for a while about making us a new dining table, weathering wood and making a sturdy farmhouse style table that can withstand years of science fair projects, birthday parties, Easter dinners, crayon marks and condensation rings. He just hasn't had the time. So when my sister sent me a link from Craiglist, we were excited.
We were even more excited when we visited the table maker and saw one of these tables in person. And found that he was a really awesome guy, a dad of a little one who is making these in his basement. And yes, the price was still the same price when we confirmed with him.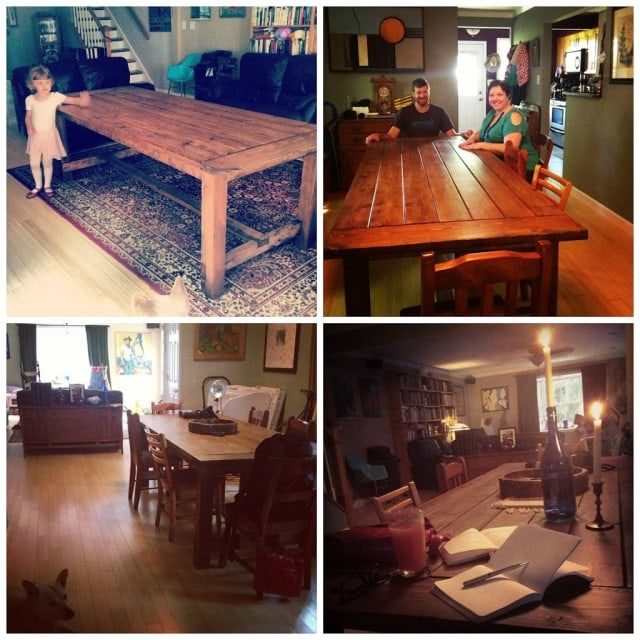 Less than a month later, he emailed me to let me know the table was ready. We don't have a vehicle big enough to transport such a table, he had a friend who delivered it to us for a reasonable fee. We love it even more now that it's in out house. It's exciting to have a table that WE chose, that fits our style, instead of making it work. We haven't bought a ton of furniture for our home – most is what we brought from my bachelorette apartment or we inherited from our families. We feel so adult making such a big and long-term purchase for the house, and are thrilled to be able to support a local craftsman in the process!
And for those who asked on Instagram, the gentleman also makes coffee tables, console tables, benches for the dining tables, and dining tables of any size.  He also can stain the table to the color of your choice.  Feel free to tell him Alison Gary sent you if you are interested, I can't say enough good things about the table, his customer service, or the whole experience.

As for the old dining table?  We'll be giving it a new life.  Stay tuned for a post on that… and stay tuned as I'll try to have a post all about our dining room before the summer is over!
UPDATE: The Craiglist posts are dated, but if you are interested in a similar table, contact me and I can get you in touch with the builder!
Follow Me | Twitter | Facebook | Instagram