This article may contain affiliate links; if you click on a shopping link and make a purchase I may receive a commission. As an Amazon Associate, I earn from qualifying purchases. 
I just bought a black sequined pencil skirt and I'm wondering what to wear with it. Several years ago I saw Belinda Carlisle wearing one, and I've wanted one ever since.
Do you know how many pieces of clothing I own or still desire years later because I saw it on an artist or in a music video? Far too many to count, so when I got your email, I completely understood. And when it comes to sequins, I am all about it and LOVE figuring out how to incorporate them into a wardrobe! A sequined skirt can seem really over the top, but these days a bit of sparkle is commonplace in fashion. This means a sequined pencil skirt is even more versatile and wearable. Here's a few different examples on how to style a sequined pencil skirt to get your sartorial juices flowing for holiday parties or just the next day that needs a bit more glam!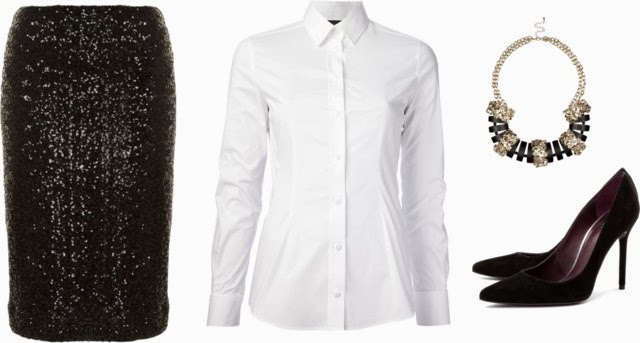 Especially in black, a sequined pencil skirt can dress up and down pretty easily. In this ensemble, I styled the sequined pencil skirt with a crisp white button-front shirt for a classic ensemble that would be perfect for an evening on the town, or an evening work event. How dressy this look is depends on how you accessorize; you could switch out the necklace for a printed silk scarf to make it more low-key, or trade the pumps for sexy high heels and look elegant for a cocktail party of holiday affair.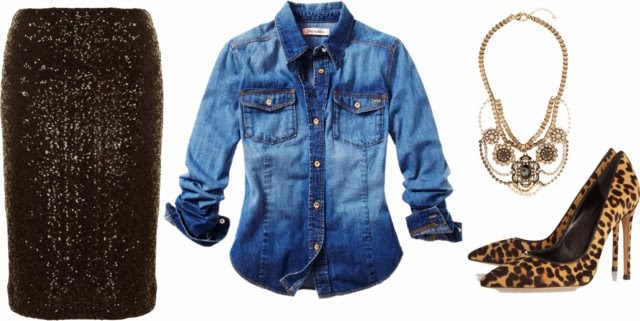 I consider this the quintessential fashion blogger ensemble. When I think of fashion blogger trends, I think of how we often wear sequins for daytime, and temper the sparkle with a completely contrasting material. A denim shirt seems to be the absolute worst thing to wear with sequins, but the combination is actually quite beautiful (see me wear denim with sequins in this outfit post). Leopard is a neutral, and adding a print to this mix makes the sequins less sparkly and more of a pattern. A statement necklace with some shine will pull the whole look together and make the combination quite purposeful.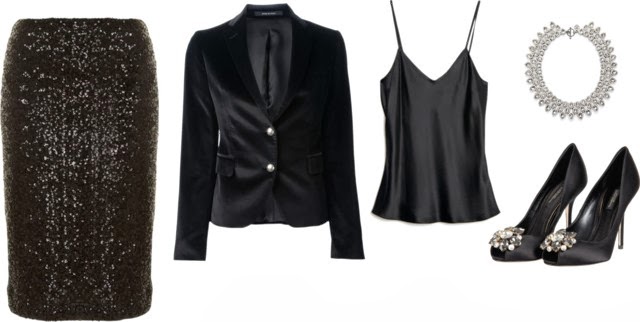 A sequin pencil skirt can dress up quite well for all your holiday parties, from happy hours to dressy affairs. In this ensemble, I styled the sequined pencil skirt with other luxe fabrics for a black tie optional affair. A black velvet blazer is another piece that can go from day to night with ease and looks especially glam with the sequins; a simple silky camisole continues the luxe fabrics, and a sparkly necklace lets everyone know that you're dressed to impress.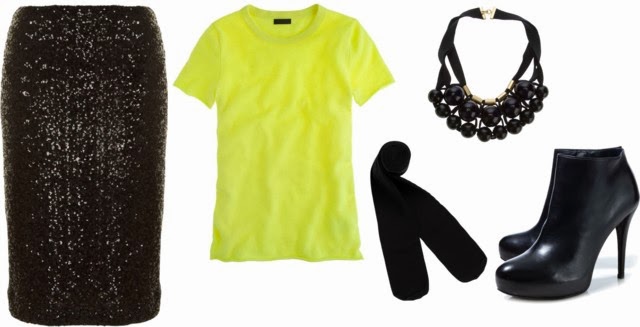 I love the combination of sequins and cashmere, the cashmere seems to tone down the sparkle and both are luxe fabrics that play nice together. For this ensemble, I paired the sequined pencil skirt with a cashmere tee shirt. This look could be replicated with a long-sleeved sweater, and you can easily switch cashmere out for merino wool or a fine cotton knit. As for the color of the top, anything goes, though know that red and green will automatically give a holiday vibe and classic black, ivory, or white may make the look too formal for daytime. To tone down the sequins, I finished the look with super opaque tights and solid black booties; a black statement necklace finishes the look without adding more sparkle.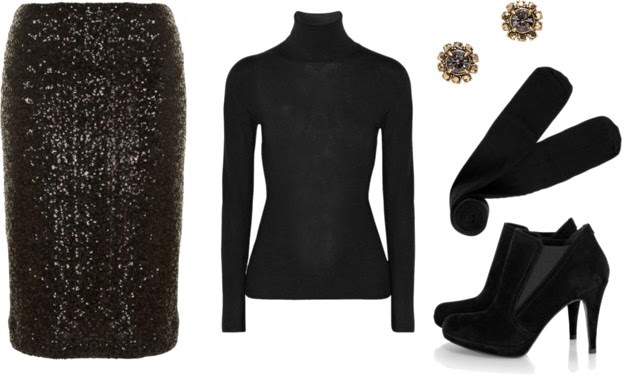 Showing how a slight switch of silhouette and color can completely change the look of a sequined pencil skirt, for this ensemble I took pretty much the same look as above, but used a fitted black turtleneck sweater. The high neck gives a look of sophisticated glamour and the monochrome look is more elegant and evening-appropriate. With such a skirt, the only other decoration you need is a bit of sparkle at the ears.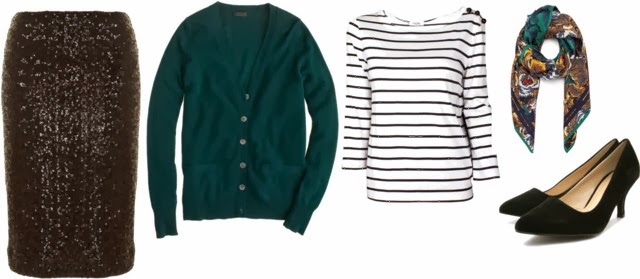 Finally, another look that shows that sequins don't have to be left to the evening hours. By styling the sequined skirt as you would a traditional fabric skirt, you can make it work for a creative office or a daytime social affair. For such a look, steer clear of bold primary colors or neon hues which would make the look a bit too costumey; the dark green is elegant and classic and makes the sequin choice more purposeful. Adding classic accessories like a printed silk scarf and single-sole pumps shows that you are making a very thoughtful decision with your ensemble.
Follow Me | Twitter | Facebook | Instagram