This article may contain affiliate links; if you click on a shopping link and make a purchase I may receive a commission. As an Amazon Associate, I earn from qualifying purchases. 
I spend my days in a pretty casual office, where even the managers wear jeans and t-shirts, so my minuscule capsule wardrobe has remained something I use only for date night and visits to relatives. My company is sending me to the corporate HQ and I need to dress professionally.




I am blonde and my wardrobe staples are khaki. I love the idea of the fitted white oxford shirt and nice heels with my khaki staples. Problem is, when I have these clothes on I look professional, confident, put-together… and about 20 years older!! How can I wear the classics and still look like an up-and-coming star-employee of an edgy internet start-up company?
I think your question is one that many small wardrobe folks battle with. A wardrobe full of hard-working classics that mix and match with ease, but can feel a bit dowdy or boring, especially when dealing with creative types. However, there are many trendy and stylish people who have a similar wardrobe. When you analyze the wardrobes of style icons you will see they too have a closet of classics, and they are usually in a neutral shade. Here's a few examples of current-day style icons who wear very classic looks, and what they do to look current and fashionable.
Gwyneth Paltrow – Fit
On the red carpet, Gwyneth Paltrow often wears very edgy and modern gowns. However off the red carpet, Paltrow is known for her very clean and classic wardrobe. She's not one to wear a lot of color, accessories, or embellishments and doesn't jump on every trend bandwagon. The way she makes her very basic wardrobe look modern and hip is by having a very keen eye for fit. Paltrow regularly wears slim pants, structured jackets with strong shoulders, and slim sheath dresses. Everything has been tailored to perfection to best flatter her lean frame. The slim silhouettes and perfectly hemmed trousers and skirts make classics look quite chic and very modern.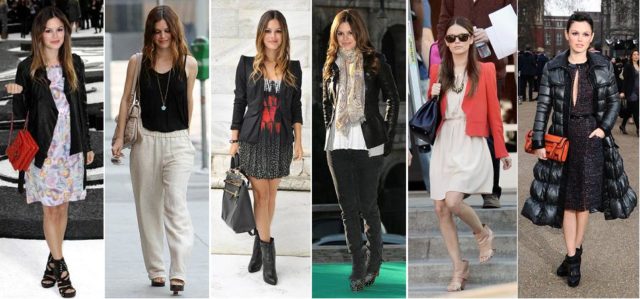 Rachel Bilson – Accessories
Rachel Bilson's look is young and fresh, but her personal style is surprisingly classic and simple. Over and over, she wears the same sort of silhouettes – styles that work now and would also work a couple years from now. Bilson keeps her personal style on-trend and covetable by adding accessories to the mix. She is known for bold booties with everything from skinny jeans to floaty frocks, looping colorful chunky scarves and pashminas at her throat come winter, and carrying a statement bag – be it a clutch or an oversized hobo. If you remove her jackets, bags, and shoes you will see her core wardrobe is quite timeless and simple. The addition of accessories adds edginess and a youthful vibe.
Michelle Obama – Color
Michelle Obama will occasionally add current trends and edgy designers to her wardrobe, but in general her personal style is quite classic. What makes her stand out in a crowd and be seen as a style icon is her great use of color. The First Lady's closet must look like a rainbow, for she hardly wears neutrals or pastels. Her silhouettes are usually classic – most often you will see her in ladylike full and pencil skirts paired with fitted blazers or cardigans or a classic sheath dress. However she doesn't shy away from any color – from school bus yellow to fire engine red, FLOTUS has worn it and worn it well. For you, you can make it a signature color or colors to go with your khaki-based wardrobe staples.
Kate Moss – Defined Personal Style
Kate Moss is known as a fashionista, but when you break down her wardrobe, it's quite simple. Moss has a uniform of a tiny dress or skinny jeans and trousers paired with a blazer. What makes it style icon-worthy is how her personal style is so clearly defined. Kate Moss loves rock and roll and it's clear by who she marries, what social events she attends, and how she dresses. Her classic ivory pantsuit will have very square padded shoulders and be paired by platform high heels; a typical date night ensemble of little dress and blazer is made edgy with snakeskin print and satin lapels. Even for red carpet events, Moss chooses either short and sparkly, or long and flowing with a '70s vibe. She keeps the color palette simple, the silhouettes classic with a rocker vibe, and shows her personal style with tiny touches that all add up to big fashion.
Follow Me | Twitter | Facebook