This article may contain affiliate links; if you click on a shopping link and make a purchase I may receive a commission. As an Amazon Associate, I earn from qualifying purchases. 
I can't imagine wearing boots to a music festival! I saw your post on Inforoo saying you wear them but it seems so hot I plan to wear some TOMS what's the benefit of boots?-family: I know you've been to music festivals before, what do you recommend for shoes?
I've been to Bonnaroo several times, attended the Virgin FreeFest and Forecastle and have worn a variety of shoes. Sandals, flip flops, Chucks, even Crocs (I know, I know!). However for the past couple of years my go-to shoes for music festivals are boots. Yes, even in the dreadful heat of summer in Tennessee, I wear boots.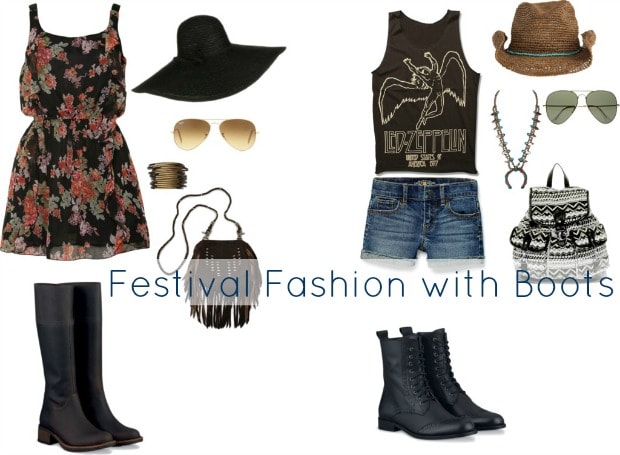 Why Boots Rock for Music Festivals:
They are Sun Protection. You can't imagine how many people get the tops of their feet burned at fests. It's the part you forget, the part that gets dirty and the sunscreen rubs off, the part (other than the top of your head) that gets the most sun as you walk from stage to stage.
They are Injury Prevention. I know someone who had the scary spiky grass of Bonnaroo pierce her flip flop and spike the bottom of her foot. I've had many a person step on my feet as they are wiggling to get closer to a stage, and my sister hobbled through one Bonnaroo because an unfolded E-Z Up tent fell on her foot. Mosh pits, hot cups of coffee, setting up camp accidents… boots keep your feet protected so you can enjoy the festival.
They are Cooler Than You Think. I wear a pair of DUO Boots I bought eons ago, they're calf-height, very low heel, leather but have a shearling lining. They keep my legs warm in winter and surprisingly cool in summer. I wear with cotton or wool socks to add cushioning and breathability.
They Support Your Feet. TOMS are cute and may be comfy when walking around town, but they don't have arch support or cushioning that can be quite nice after 12 hours of standing and walking on hard ground, rocky terrain, and concrete. Trust me. A boot can also be made even more comfy with insoles; I buy a new pair of insoles made for work boots prior to each music festival.
They Can Take a Beating. I spray my boots with waterproofing spray before I go and don't even blink when I have to tromp through mud, dust, or worse. Most boots look better with some wear; when I get home I clean them, give them a good polishing, take out the insoles and have them ready for weekends and casual affairs.
Be they a pair of tall boots with a babydoll dress, lace-up granny boots with a peasant skirt, some Docs with denim cutoffs, or Western-inspired booties with a boho-inspired dress, a low-heeled boot can offer comfort, protection, and miles of style at a music festival. Don't sacrifice your comfort for fashion when there's alternatives that can give you the best of both worlds!
Do note that the sample ensembles feature some important things for festivals – sunhats with decent sized brims (no fedoras or beanies), large sunglasses, and bags that can be worn while you dance and rock out.  Your accessories are just as important as your shoes to ensure you have a fabulous time this summer at the music festival/s of your choice.
Follow Me | Twitter | Facebook | Instagram