This article may contain affiliate links; if you click on a shopping link and make a purchase I may receive a commission. As an Amazon Associate, I earn from qualifying purchases.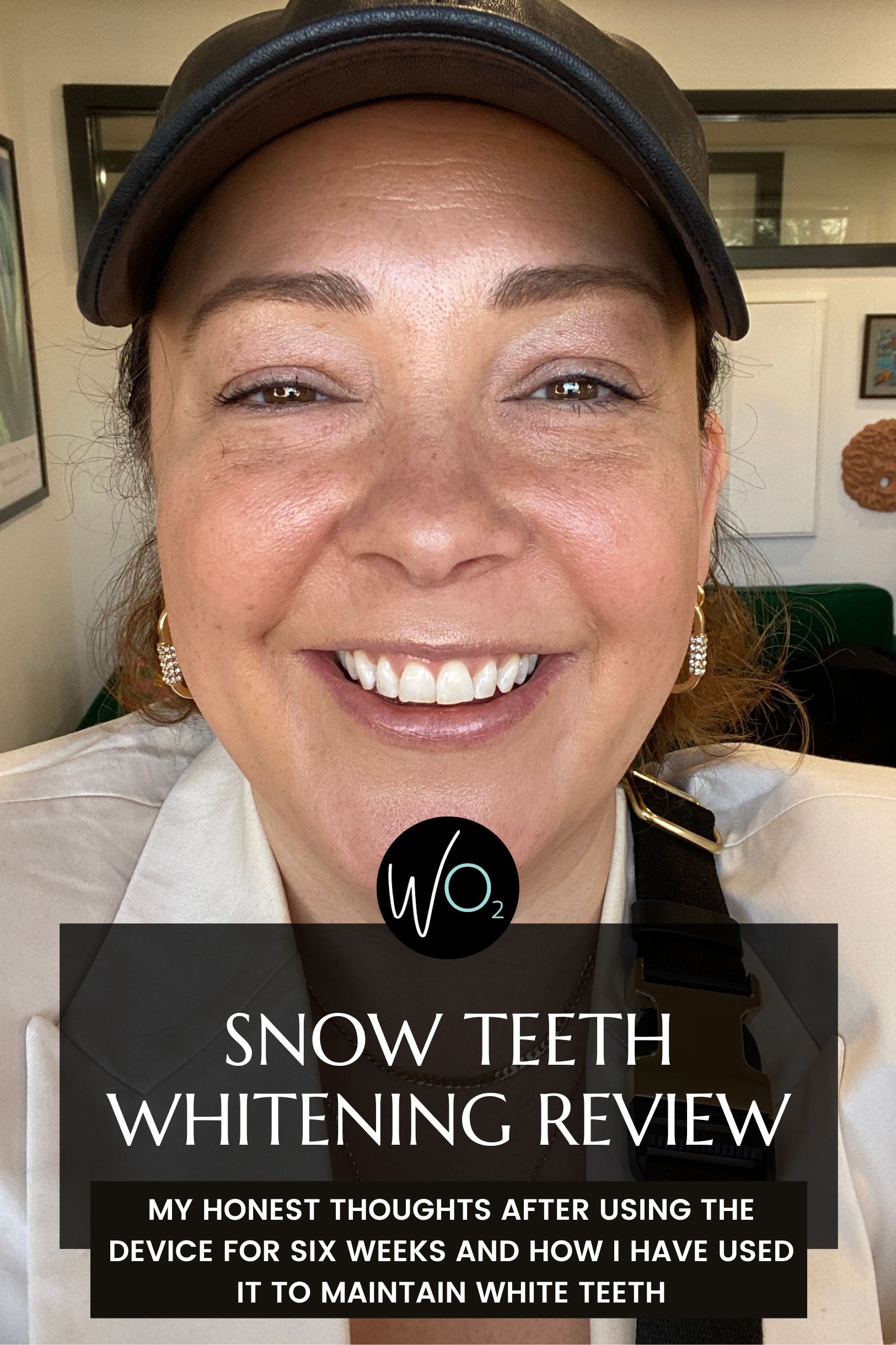 There's just something about a radiant smile that exudes confidence. A bright, white smile makes a lasting first impression. The key to a radiant smile is good oral hygiene, of course, but brushing and flossing aren't always enough to keep your teeth white.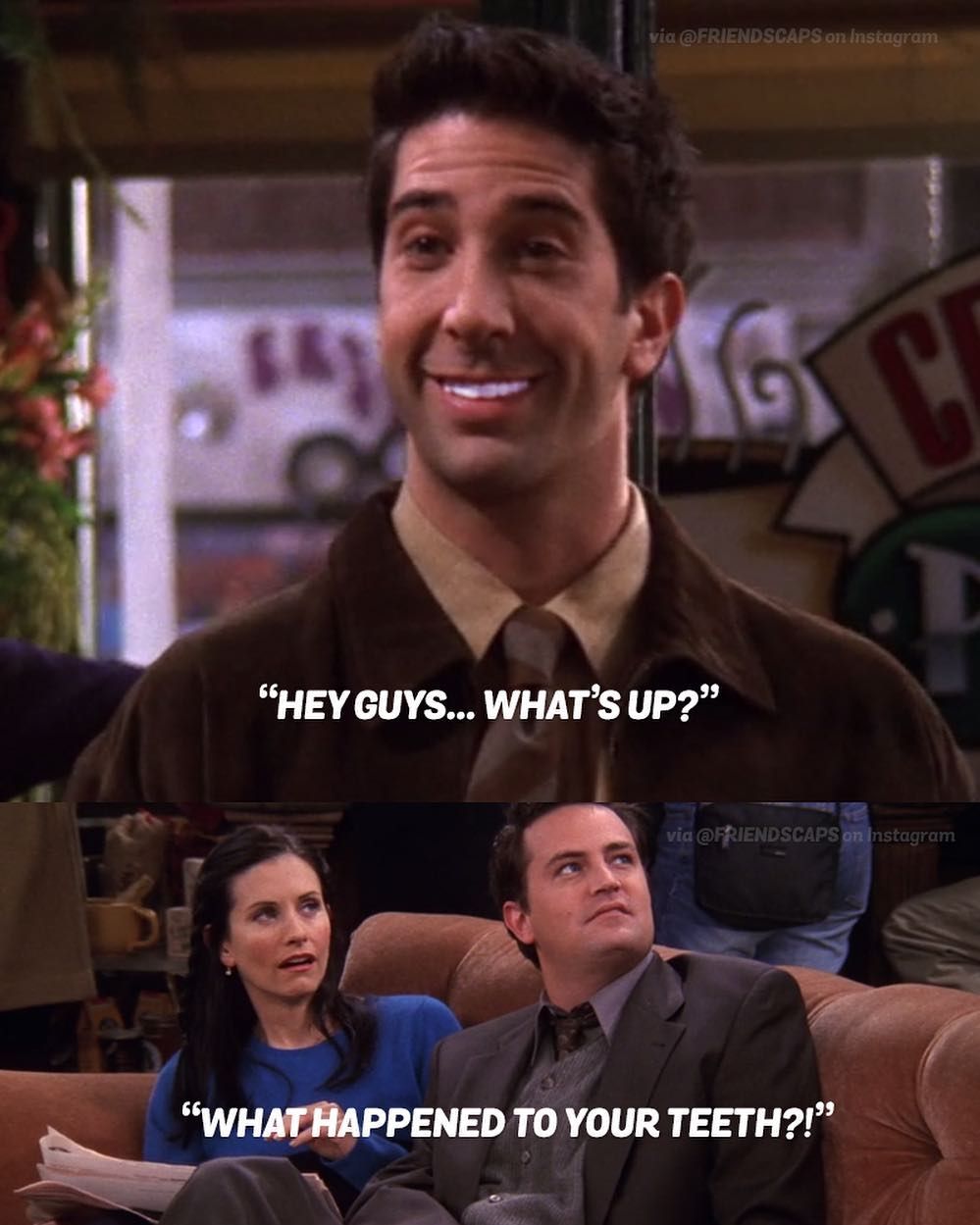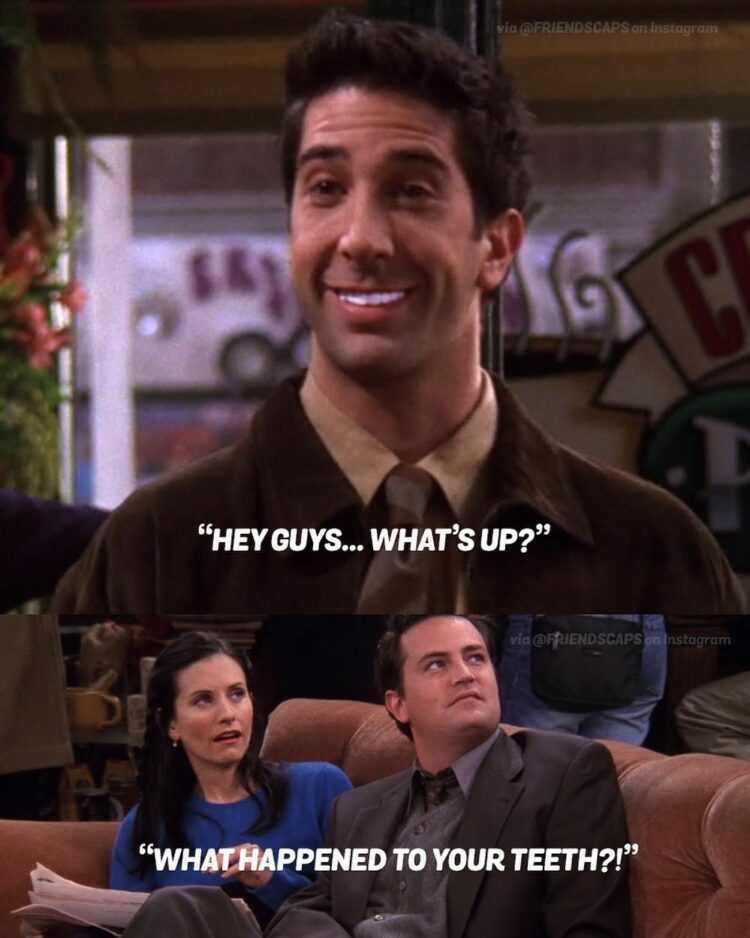 As I got older and realized that my teeth were lacking their luster, I started to look for ways to whiten them. Throughout my teeth whitening experience, I tried different ways to achieve natural-looking results. I wanted a brighter, whiter smile that suited me, not teeth that were so blindingly white that they look fake. Remember when Ross on Friends had his teeth whitened? That was NOT the look I was going for.
I was also looking for something that wouldn't cause teeth sensitivity. I had success with teeth whitening gel and trays from my dentist in my 30's, but when I tried it again in my 40's I found it too painful. The teeth whitening strips didn't do anything and I was already using whitening toothpaste but not getting the results I desired. That's how I came across the Snow Teeth Whitening kit.
The more I learned about Snow, the more excited I became. Not only does Snow promise real results, but their teeth whitening system is also gentle enough to use on sensitive teeth (a big win for me). I'm sharing an honest review of the Snow Teeth Whitening kit so that you can decide if it's right for you.
Snow Teeth Whitening Review
This isn't your everyday teeth whitening system. The Snow Teeth Whitening Kit reportedly has over 1 million satisfied customers. It's also received thousands of five-star reviews on Amazon. Probably most impressive, is the 87% clinical rating it received from Dental Advisor. For an easy way to whiten your teeth at home, this kit is the real deal.
The Snow Teeth Whitening kit was formulated with the help of expert cosmetic dentist, Dr. Brian Harris. It's designed for sensitive teeth, it's gentle on your enamel, and supposedly, it won't cause any sensitivity. The system promises professional-level results at a much more affordable price tag. Is there any wonder why I was intrigued by this kit but also skeptical?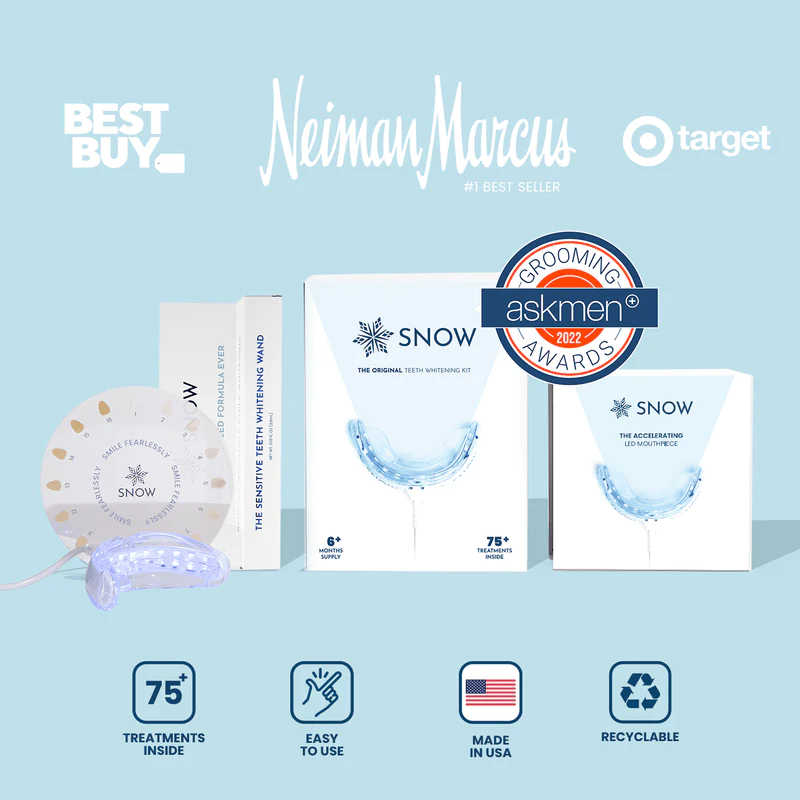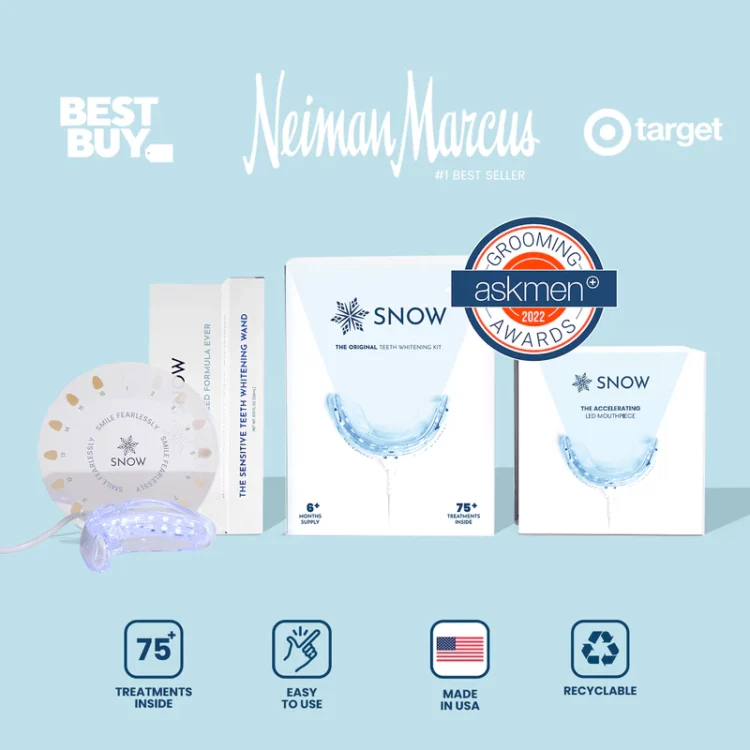 Each kit includes 1 SnowLight LED Accelerated Whitening Device, 1 Extra Strength Whitening Serum Wand, and 2 Additional Teeth Whitening Wands. The kit also includes a box and mouth guard to protect the mouthpiece when you're not using it, a shade guide, and several adaptors so that you can use the kit with different devices. There are up to 75 treatments in each kit.
How Does Snow Teeth Whitening Work?
How Does The Snow Whitener Kit Work?
Snow Teeth Whitening Kits contain hydrogen peroxide and carbamide peroxide, the same ingredients that dentists use in their own teeth-whitening products. These ingredients are combined with a blue LED light engineered to activate the ingredients and intensify their whitening power. The peppermint oil for flavor is a nice touch!
The Snow Teeth Whitening Kit used advanced technology, as well as modern oral hygiene and dental techniques, including:
Reacts to LED technology to accelerate the whitening
Wired LED mouthpiece (wireless also available)
Doesn't cause sensitivity
9-minute application for up to 21 days
What's Different About Snow Teeth Whitening?
Several unique attributes make Snow different from other teeth-whitening products, including:
LED activating light
Desensitizing serum
Safe for use with crown and bridge, braces, and veneers
No impressions or custom trays needed
Two strengths of whitening serum
LED mouthpiece plugs into your phone (wireless teeth whitening kit also available)
Is The Snow Teeth Whitening Worth It?
If you're hoping for overnight results, this isn't the right treatment for you. But if you can commit to using the kit regularly for 21 days, it's definitely worth it. The Snow Teeth Whitening treatment is also a much more affordable option compared to professional teeth whitening at a dentist's office.
As long as this kit is used as directed, for no more than 30 minutes per treatment, it's entirely pain-free. This is a big deal to me, given how sensitive my teeth are. Plus, if you take good care of your teeth, they'll stay white for a year or longer.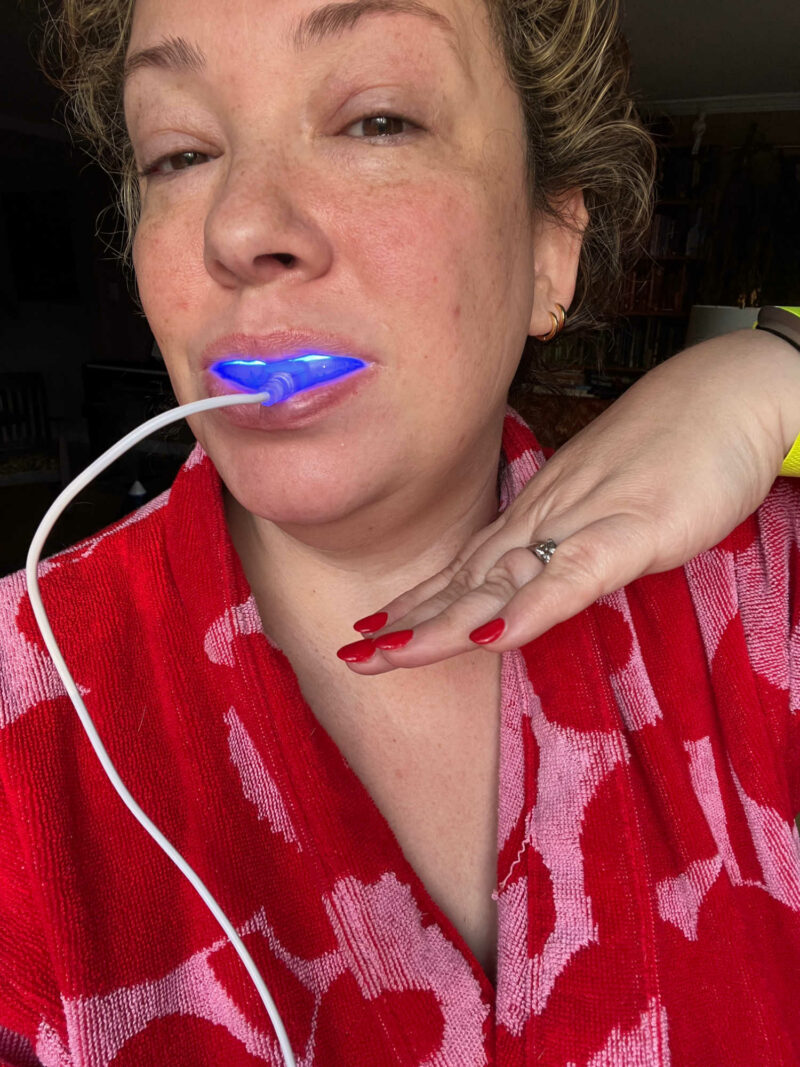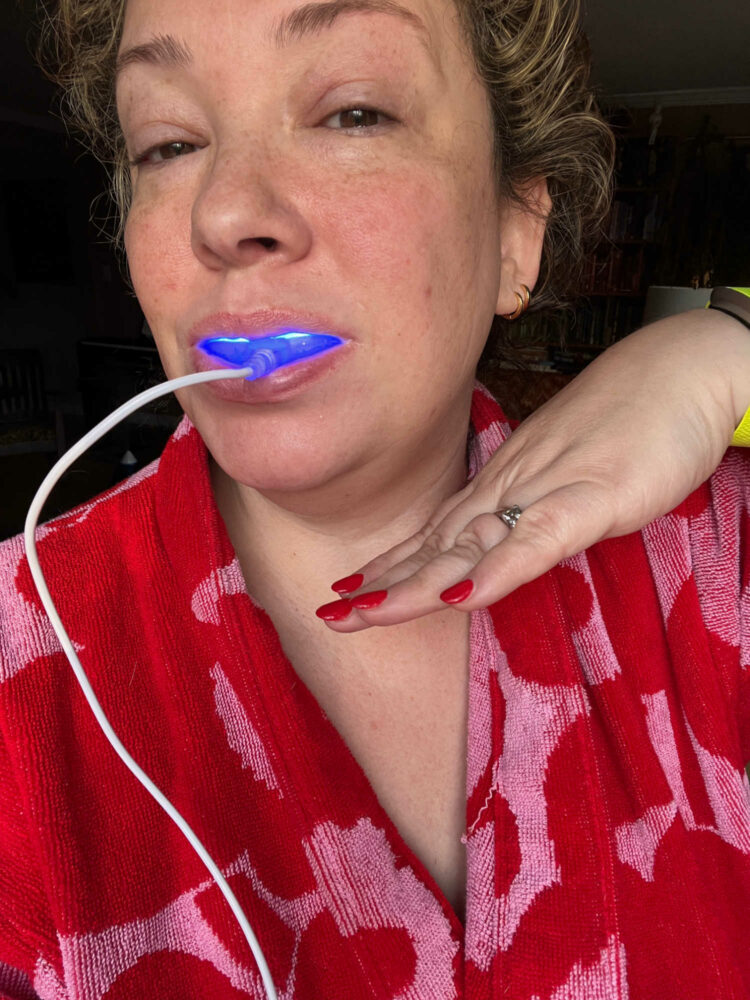 I have fillings and bonding in my mouth and was afraid that whitening would make my teeth look like a patchwork quilt. When I used a dentist-provided teeth whitening kit, I was warned that my fillings and bonding would look mismatched and I may want to have them replaced to match my newly whitened teeth. With Snow, the results are so gradual I was able to stop when my teeth looked whiter, but weren't whiter than the dental work.
I now only do maintenance sessions with my Snow Teeth Whitening kit. Every couple of months, I'll use the system for a few mornings in a row to get back to the level of whiteness that appeals to me. I appreciate that I have the ability to customize my results and I haven't had to buy additional products over the year.
Snow Teeth Whitening Before And After Photos
As I have mentioned, I have tried different teeth whitening products over the years, but once I got into my mid-40's (or maybe because I am in perimenopause because that has allllllll kinds of symptoms and side effects) my teeth got extra sensitive. My old teeth whitening solutions weren't working or were downright painful. I decided to try Snow and see if it worked like the ads showed and was as gentle as the brand claimed.
For eight days straight, I used the Snow teeth whitening device with the Extra Strength whitening serum for a minimum of ten minutes. Most days I wore it more like 20 minutes. Unlike other whitening products I used in the past, I didn't feel any tingling, sensitivity, or that weird effect of feeling like your teeth are loose.
In fact, I can't say anything bad about what I experienced. The serum has a faint peppermint taste; nothing so good you want to keep it in your mouth forever but nothing gross at all. The mouthguard/device is comfortable in the mouth. The concept of charging the LED light with your phone is genius and I loved that the cord has extensions built in for most any kind of phone or mobile device. After use, I'd rinse the device and put it back in the case, and rinse out my mouth to get rid of any residual serum.
However, after a little over a week, I wasn't as consistent with using the Snow device. I was using it at least three times a week, sometimes more, but not every single day. Snow says 100% of customers see results within 21 days and that is true… but it's 21 days of being used so if you don't do it daily, it's a given it will take longer to get the effects you desire.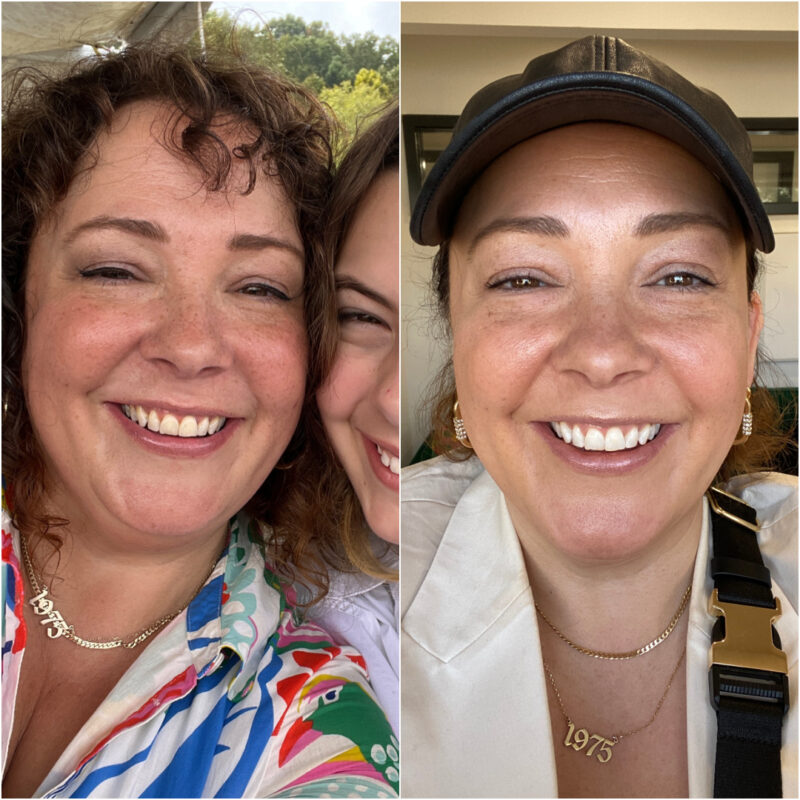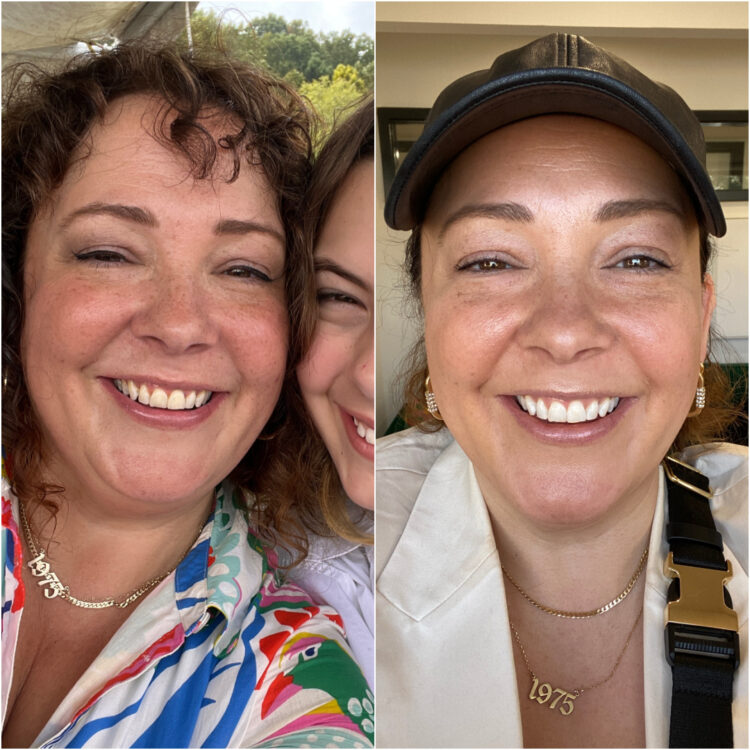 Within six weeks, I had reached the level of whiteness I desired. And within six weeks, I hadn't experienced any sensitivity, irritation, patchiness, or other side effects common to teeth whitening products. I loved how the results were so subtle; no Ross Geller experience and no one even noticed I was gently whitening my teeth.
Once I finished up the extra strength serum I switched to the regular serum; I personally didn't see much of a difference but that may be because I started with the extra strength. I also found a year after purchase, the serum in unopened tubes still was effective.
Since reaching my desired color of teeth, I maintain it by using the Snow teeth whitening device and gel every so often. A couple days using it in the morning for about 10 minutes is all that is needed to get back to the color I like best for my smile.
How To Use Snow Teeth Whitening
How To Use The Snow Teeth Whitening Kit
There are four easy steps to whitening your teeth at home with Snow:
Brush your teeth for two minutes with a soft-bristled toothbrush, then floss and rinse.
Twist the whitening serum wand until the surface of each tooth is painted
Plug the LED light device into your phone or a USB port. Put the mouthpiece in and leave it in to lighten your teeth for 9 to 30 minutes (depending on your whitening goals).
Unplug and remove the LED light device. Rinse your mouth and the LED mouthpiece.
When To Use The Snow Teeth Whitening Kit
For the best results, use the Snow Teeth Whitening kit once a day for 21 days. After the initial 21-day treatment, you can continue to use the treatment as needed to maintain your pearly white smile. For maintenance, it's recommended to use the kit twice a week. You will probably need to purchase additional wands for maintenance.
Products like this are super easy to forget to use. I found the best success by keeping the LED light device and a tube of the whitening serum in the pocket of my bathrobe. In the morning, I would get up and brush my teeth. Then I would paint my teeth with the serum, put in the LED light device mouthguard and plug it into my phone, which I'd drop in my bathrobe pocket. Then I'd go and open curtains, let out the dog, and the other tasks I do first thing in the morning.
Once I had finished (around 10-15 minutes) I'd rinse the LED mouthpiece and put it back in my bathrobe pocket. The mouthguard comes with a case so it stays clean and protected. This way, as soon as I put on my bathrobe when I woke, I'd feel the device in the pocket and be reminded to do a Snow session.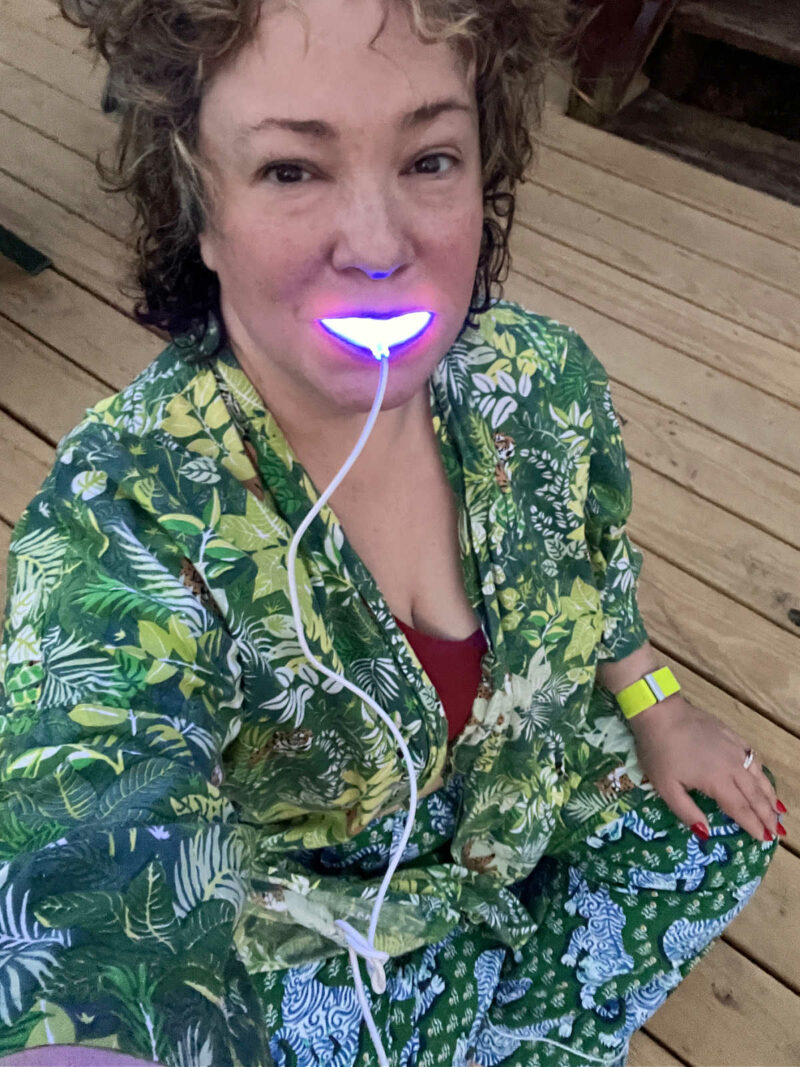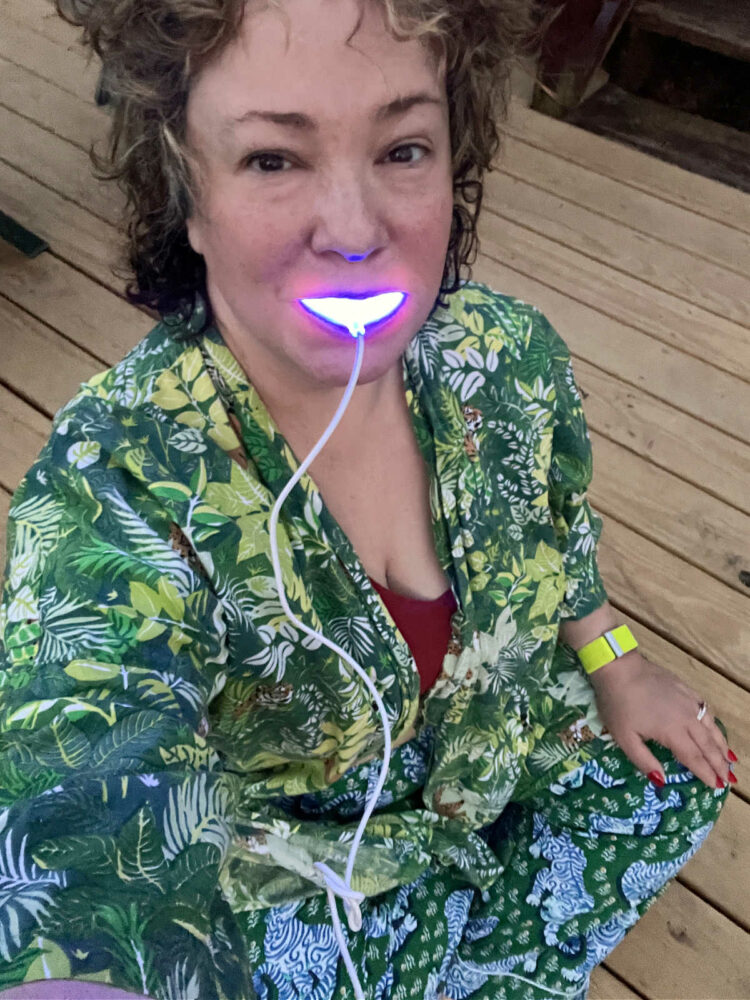 I have been known to wear the Snow device while doing a morning meditation. The device isn't so big I can't close my mouth and breathe through my nose, there is no sound, no pain or sensitivity, no buzzing, just the blue glow. The cord for the device is long enough that I can have my iPhone next to me and I can get into a comfortable position without the cord interfering. I like I can multitask with the Snow teeth whitening kit.
How Long Until You See Results With Snow Teeth Whitening?
Again, if you're looking for a quick fix, this isn't the teeth whitening treatment for you. With consistent use, you will start to see some results in two weeks. I found after about six weeks I had dramatic results and was at the level of whiteness that I desired without looking like Chicklet teeth.
How To Keep Your Teeth Whiter For Longer
To enjoy your radiant, white smile for as long as possible, you should avoid things that will stain or discolor your teeth. To keep your teeth whiter for longer:
Maintain a consistent oral hygiene routine (brushing, flossing, etc.)
Avoid or limit the consumption of coffee and tea
Swap dark sauces for light-colored ones
Avoid acidic foods and juices
Use reusable straws when possible
Avoid smoking and using tobacco products
The snow teeth whitening kit is an affordable, effective way to achieve a brighter, whiter smile at home.
Please know, whatever color your teeth are is lovely. No one needs to whiten their teeth to look or feel great. I believe in our bodies, our choice when it comes to absolutely everything. I am only sharing this Snow teeth whitening review because I have discussed it often in my Instagram Stories and many have asked for details on my experience.
When I felt my smile was looking dull and yellow and not the way that made me feel confident, I searched for an effective whitening solution. When I came across the popular, at-home whitening product, Snow Teeth Whitening, I knew I had to at least give it a shot. I am so glad I did. It takes consistent use over about a month, but given that it took as little as 9 minutes a day, I had no complaints.
The results were even better than I expected. Not only are my teeth whiter, but I feel like I can flash a toothy grin with confidence. Plus, it didn't damage my teeth or cause any pain or discomfort. It's also much more affordable than a professional teeth whitening treatment at the dentist. Overall, I'm a big fan of the Snow Teeth Whitening system.
You can read more product reviews, including some of my favorite at-home treatments and solutions, over on my blog.