This article may contain affiliate links; if you click on a shopping link and make a purchase I may receive a commission. As an Amazon Associate, I earn from qualifying purchases. 
Do you know where I can find 'nude' bras for women with darker skin? I'm South Asian (& so naturally olive-skinned), but all the 'nude' bras I try on in my local shops are too light for my skin- it's frustrating!
I know in your email you said this wasn't necessarily post-worthy, but I think it is. With bras and shoes, I love how they say beige is "nude" yet such a small percentage of this planet is beige in color! I did a little sleuthing and found some bras that come in more than white, black, and bisque. I limited it to what are known as tee-shirt bras, since those are the styles that are best for wearing white, light-colored, or slightly sheer fabrics.
You also asked for more budget-friendly bras; bras are something I really think you should invest in, but I tried to find a broad range of prices, as well as sizes. All styles shown are from online retailers I know, like, trust, and have flexible return and exchange policies.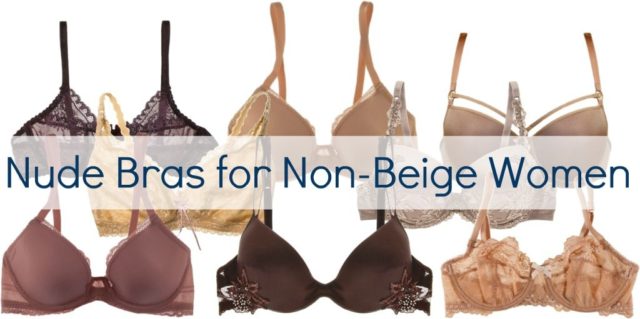 Nordstrom
Nordstrom is one of my favorite places to shop because they have great variety, great brands, and great customer service. I also love all the customer reviews – really helps me decide on a purchase! However, I find their online selection of bras to be a bit lacking – not as many colors or sizes as in-store. They offer free shipping and returns so I looked for some non-beige options and found:
Calvin Klein 'Seductive Comfort – Customized Lift' Underwire Bra – On Sale for $28.90
This bra receives five positive reviews on the site, and comes in Dune (beige) and French Roast (online looks to be taupe but by the name I expect in real life it is more of a dark tan).
Chantelle Intimates 'Basic Invisible' Memory Foam T-Shirt Bra – $68.00
Two positive reviews, a bra brand I know and love, and it comes in Ivory, Beige, and Toffee.
Bare Necessities
Bare Necessities is my first stop online for bras and other underpinnings. Their selection is extensive, their prices competitive, and they have a reasonable return policy (60 days, $6.95 returns or DIY postage). Like Nordstrom, they have customer reviews to help you with your purchase. If I had ventured out of tee shirt bras, I probably would have found dozens of styles that offered more than beige. However in this category I found four:
Le Mystère: Dream Tisha Seamless Full Fit Underwire Bra – $47.99 – $69.00
Surprisingly, the "Nude" color is the one on sale; they also have French Roast (online it looks like a pretty classic brown color), and Natural (which has more of an olive tone than Nude).
Barely There: Invisible Look Underwire Bra – $35.00
A positive review, and comes in colors such as Brown Sugar (light brown), and Soft Taupe (looks a bit darker than beige).
Panache: Porcelain Lace T-Shirt Bra – $62.00
While reviewers say it runs almost a cup big, it still seen favorably. It comes in Mocha, which from other Panache bras I know to be a darker shade than beige.
Huit: Purely Irresistible Underwire Bra – $79.00
I don't know much about this brand and there aren't any online reviews, but I found it pretty, Bare Necessities says this is a great brand, and it comes in Cookie (light brown) and Nude.
HerRoom
Another go-to for me when shopping for lingerie online. HerRoom offers free shipping over $70 ($5 otherwise), and super-swift returns. Again, online reviews to help you choose the right item. They also have an extensive selection online and cater to the woman with the full bust. I love their Universal Cup Sizing, which is so helpful for a woman like me who may be an E in one brand, an F in another, and a DD in yet another.
Playtex Side Smoothing Wire-Free Bra – $26.25
Decent reviews, killer price, and it comes in Soft Taupe (looks like a typical beige) and Maple Leaf (which looks to be a dark taupe or dark honey color).
elomi Caitlyn Underwire Side Support Bra – $55.00
Fabulous reviews and from a brand that caters to the woman with the full bust. This bra has a bit more decoration than others in this post, but I still think it's subtle to work in many situations. Available in some fun colors, as well as the skin shades of Nude and Truffle.
Simone Perele Andora 3D Full Cup Bra – $89.00
A few reviews state this bra runs a bit small and I have encountered similar with this brand. However, like the reviewers say the bra is comfortable and attractive – a rarity for full figured tee shirt bras. Available in a variety of shades including Linen (online can't tell if this is gray or a taupey-ivory), Nude, and Café So French.
Fresh Pair
My best friend told me about Fresh Pair. Like Bare Necessities and HerRoom, they have a huge selection and reasonable return policy. However, Fresh Pair often has obscure and discontinued brands and styles available for rock-bottom prices. These deals may be final sale, but if it's a brand and style you know, you may end up getting a pretty fabulous deal. Again, I stuck just to tee shirt bras in my search and stopped searching when I got to the clearance styles since they had fewer sizes available. If you extend your search criteria, I know you'll find more in the color and size you need. I also found many styles previously mentioned from other sites (I always featured in this post the lowest price I found from all four sites):
Leonisa Absolute Support Push-Up Bra- $35.00
This bra doesn't have any customer reviews and it's a brand I am not familiar with, but I like the price and love that it comes in Dark Brown as well as Nude.
Now I would love to hear from you – where do you find bras that are darker than nude? What brands, stores and styles do you like best?
Follow Me | Twitter | Facebook