This article may contain affiliate links; if you click on a shopping link and make a purchase I may receive a commission. As an Amazon Associate, I earn from qualifying purchases. 
A few years ago, I wrote the post, "What Every MAN Needs in his Wardrobe." Since then, I seem to get comments and emails about it every month, and it has been mentioned in many articles on sites all over the Web.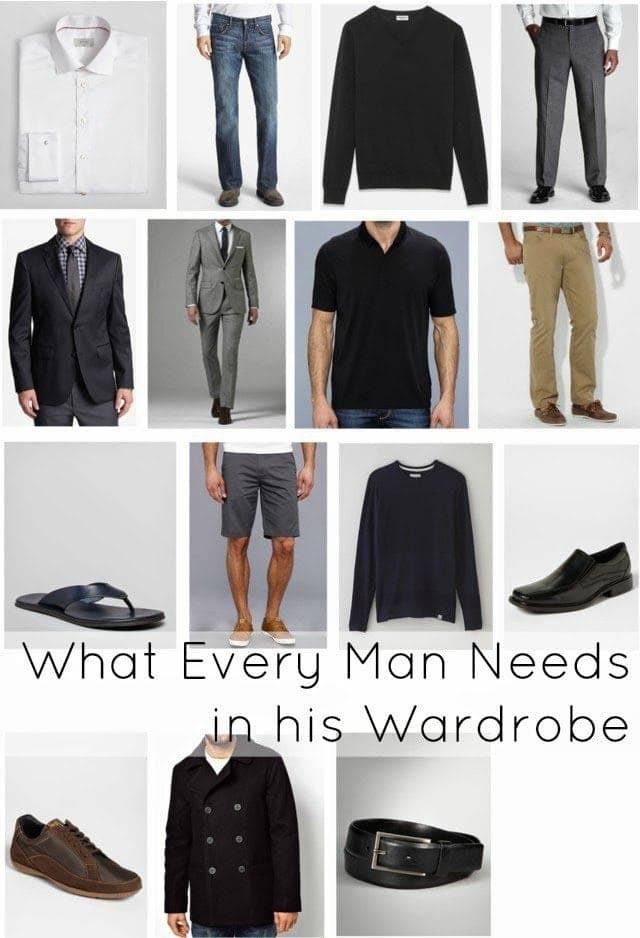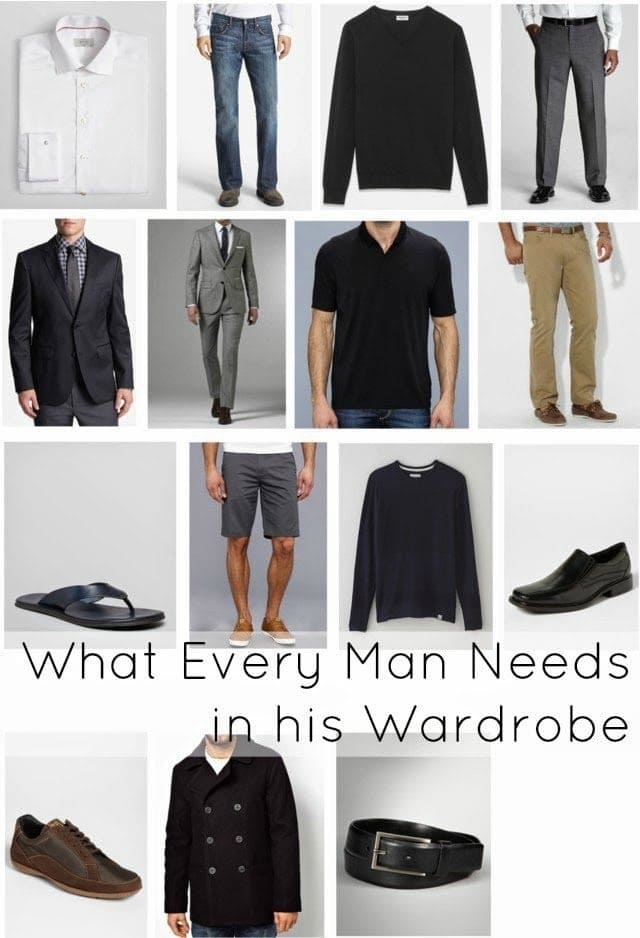 Men's fashion is so difficult because it is so simple. A man can't feign style with trendy colors, bold accessories, or an It Bag. A man has a harder time making a Tarjay purchase cut it in the corporate world. Men's retailers don't help the situation – with women's retailers we can tell that Mom Jeans are passé because they can only be found at cheaper Big Box retailers; men can find all sorts of Fashion Don'ts at the nicest brands and shops.
However just as with women, if a man has a very simple base wardrobe of staples, he can get away with adding some trendy or fun pieces to the mix without looking like a fashion victim. Purchasing quality, classic pieces means one's wardrobe can stand the test of time and be far more versatile.
Re-reading my list of wardrobe staples for men from back in 2006, very little has changed. The good thing about men's fashion is that it isn't as quickly changing as that for women. Jeans you buy in 2007 will most likely be stylish in 2011, and silhouettes don't change as drastically as those for women. However some trends have happened that aren't TOO trendy, and can adjust the staples for any man. So let's revisit that list.
Here's a recap of the original list from 2006:
1. White dress shirt
2. Bootcut jeans
3. Black merino v-neck sweater
4. Flat front gray trousers
5. Black blazer
6. Gray suit
7. Solid-colored polo shirts
8. Flat front chinos/khakis
9. Sandals
10. Longer chino shorts
11. Casual crew neck sweater
12. Black slip on loafers
13. Euro sneakers
14. Wool coat
15. Black dress belt
1. Crisp White Cotton Shirt. This is a given. Every man needs at least one of these, as that they are so versatile and look best when very white, very crisp. Over the past couple of years, trimmer cuts have taken center stage. If you are a lean gentleman, do not let your white shirt balloon around you – this look will completely kill any style. European brands like French Connection offer narrower cuts, American retail favorites like Banana Republic and Gap also offer dress and casual shirts in fitted silhouettes.
If you are tall, look for brands that cater to tall men. My husband is a big fan of the Banana Republic line for Big & Tall men – the quality is good, and the cuts really do fit far better than standard brands. If you are shorter, you will always be better off heading straight to a shop like Brooks Brothers or a department store to get the right length of arms along with right size of neck.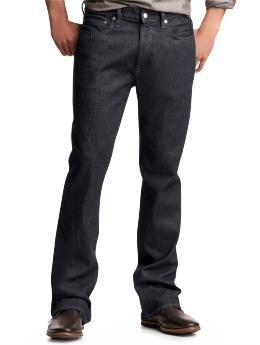 2. Comfortable Bootcut Jeans in a Semi-dark Color. This is one of the items that has changed the most drastically since the original post. Jeans are a wardrobe staple for most any person on this planet and retailers know this. Styles in denim change faster than with any other type of garment.
The mentioned relaxed bootcut jean is still a decent choice – it's not too trendy, yet not dated. However since then other cuts and washes have become classics.
A very dark crisp jean, often called "rinse" in color or described as "rigid", "selvedge", or "raw" denim has become a classic for men as well as women. This is not a dark wash, but a deep, even dark indigo where the denim looks untouched. Often the inside seams are stitched in red, and the denim is far heavier-weight and stiff than most jeans in the store. In a slim, straight or slight boot cut, this look can be a great staple for most men. Adding the slight bootcut or a more relaxed cut is a good choice for very tall and lean men, as well as for shorter or heavier men. You want to balance out your shape, so you don't look top heavy. A great classic choice for this type of jean is the Levi's 501.
The vintage jean is a jean that is supposed to look as though it has been weathered through use. This jean doesn't have the pronounced whiskering I mentioned in the original post, but all-over wear. We're not talking shredded jeans a la the Glam Rock days, but something that looks as though a farmhand took a pair of raw denim and wore them for an entire season out in the fields. This look can be a bit looser and more relaxed than the dark denim, but it is still not baggy or loose. Again, a straight or slight boot cut will be your best choice.
Jeans now can be cuffed, but you are treading into trendy territory with this choice. If you don't feel confident in knowing how to cuff your jeans in a fashionable manner and only plan to cuff to achieve the proper length, I encourage you to instead buy the right length or head to a tailor to have them properly hemmed (ask them to keep the original hem or at least hem style so it doesn't look as though Mommy did it for you). If you know your length, many online retailers offer extended lengths and waist sizes online so you can get the right fit from the get-go.
3. A Black Merino V-neck Sweater. Yeppers, this is still stylish. Just be sure it fits you, and isn't overly baggy. The only thing that has changed in the past few years is that cuts are now more trim. If you have some meat on your bones, don't try to hide it with an oversized sweater, but don't go too skinny. A straight fit in your regular size will actually make you look more slim than something that is baggy.
In the original post, someone commented that cashmere is a better choice. Cashmere is always in style, but it requires a bit more upkeep. If your budget and lifestyle can handle cashmere, by all means choose it. However most men I know are better off with a sweater that can handle being thrown in a hamper or sent to the cleaners to be cared for. Cashmere is best cared for with hand washing and being laid flat to dry. If you don't have the life for that sort of care, it's okay. Merino wool is a wonderful alternative and holds its shape great, wear after wear.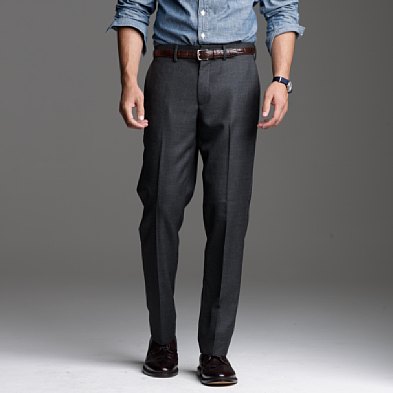 4. Flat Front Tropical Weight Wool Trousers in Gray. Another classic. My only suggestion is that if you are deciding between cuffs and no cuffs, go without the cuffs. Cuffs are being seen less and less and are becoming something that is trendy – let those pants be stylish for many years to come and choose to go without cuffs, or any other trendy embellishment.
The narrow pant has become very stylish in the past couple of years. If you are reading this for clothing advice, I recommend you do NOT go for the narrow pant. The narrow pant is a hard look to pull off and can only be worn with certain shoes, certain tops, and on certain shapes of men. Keep it simple, keep it classic, stick to a flat front, standard leg, standard length.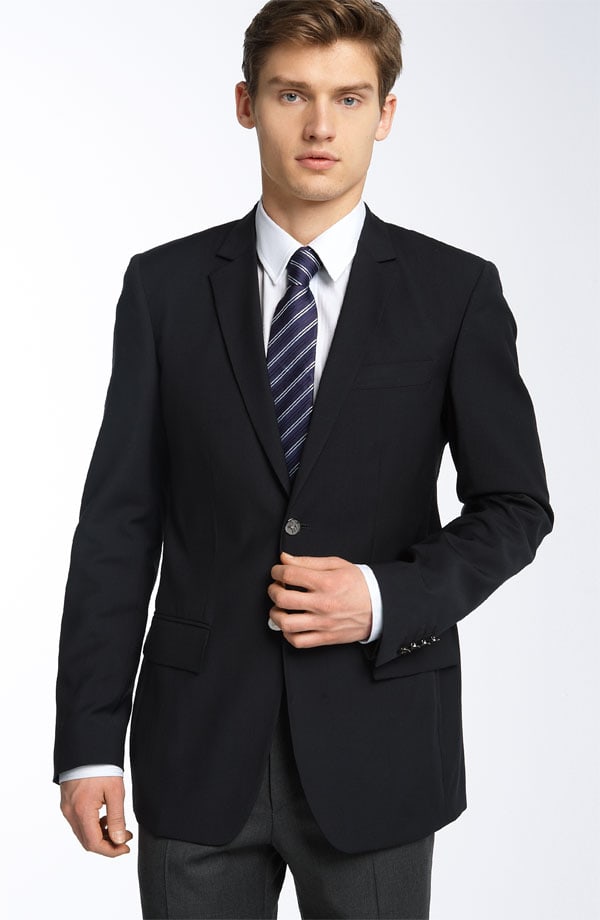 5. A Black Suiting Blazer with Three Buttons. Classic. Simple. Just keep with current trends and keep it well-fitted. Get it properly tailored to fit your body – it will make you look more muscular, more fit, more trim if you have a well-fitting jacket.  As for figuring out fit, I love these tips from a Suitable Wardrobe and this link for sizing from SuitUPP – every man should bookmark them, print them out and take with you to the tailor when you get your jackets fitted (for no jacket fits properly off the rack – sorry to tell you guys, but it's worth it to get them tailored.
When I originally wrote this, I chose black over navy for the same reason I choose black as the base color for my list of women's wardrobe staples – it's easier. You can't get the wrong shade of black, and with black you always know what color shoes to wear. Navy is a wonderful choice for a blazer – it is classic and elegant, but the problem is navy can look more like blue if the wrong shade, navy will show the fabric better so if you don't have high quality fibers it will be obvious, and often people pair navy with colors that don't compliment well (hello black trousers). If you can find a dark navy of quality fibers, it is a worthy replacement of black. But if you're unsure, stick with black for it's safe and in this day and age, considered as versatile as navy.
6. A Gray Suit. Yep, this is still a classic. Far more versatile than any other color available, and more likely to look elegant in five years. Make sure it is tailored to fit you properly, and it should work for most any event that life throws in your direction.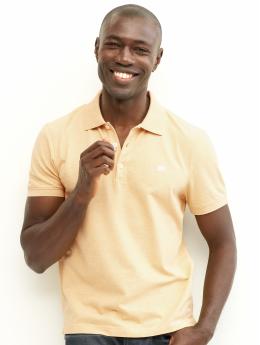 7. Three Solid-colored Polo Shirts. There are more hip, more trendy, more fashionable choices than polo shirts, but nothing that is as timeless, budget-friendly, and versatile. My only update is again about fit – keep it trim (not tight) and be sure the length is correct. I constantly see men who have polo shirts that barely cover their belts, and other men who wear ones that hang to their knees. The current look is no longer baggy, so even if you are short and stocky, you should be able to find a polo shirt that doesn't look like a dress. Tall men, almost every online retailer offers long lengths – you can easily get a few polos on sale at J. Crew or Gap and replace your belly-baring tops.
Keep your polo shirts looking better for longer and don't wash them with your jeans, towels, or any athletic wear with grommets or Velcro. My husband washes his with other knits and they don't fade or stretch out as quickly.
8. Flat-front Chinos in a Khaki Color. Still a classic. If you wear khakis for work, keep one pair that is only for social events. Often I see men at weddings and happy hours with stained or snagged chinos, and it's obvious they are the same ones they wear on the job.
Again I have to mention length. It's better to get them too long and have them hemmed than go too short. Any drycleaner can hem your pants and get them back to you in a couple of days. J. Crew and Lands End are two of many retailers that sell unusual lengths online. J. Crew even offers a raw hem so you can have them hemmed by your own tailor for the perfect length.
9. A Pair of Sandals. Magazines and Web sites will talk about all sorts of other summer shoes, but if you are a Fashion Freshman, I don't suggest many other trendy alternatives that are out there.  I recommend checking out Zappos, a site with a HUGE selection of shoes. When I recently searched for men's leather sandals, they had 545 options. It is possible to find a pair of thong or slide sandals that look manly, will be comfortable, and be a great choice with shorts or jeans.
10. Longer Shorts in Olive or Khaki. I am not saying your shorts should hang past your knee. You're looking for that happy medium that is between the thigh and the knee. The baggy look is out guys, so pass on the pleats, the millions of cargo pockets and any pair that can't stay on your hips without a belt. A heavier-weight chino will keep a crisp, sophisticated look.
I mentioned cargo shorts as a good alternative, but since that original post cargo shorts have started going out of style. I really think every man need a clean, crisp pair (or three) of cargo-free chino shorts. It's far more modern, flattering, and stylish.
11. A Casual Sweater with a Crew Neckline. There are a lot of thin cotton sweaters out there that end up clinging to your tee shirt, stretching out in the wash, blousing out weird at the hem. It's better to have fewer sweaters in your closet and know that the ones you have fit well, launder well, and will keep their shape and color. If you buy quality, this sweater can still be one you love to wear a decade from now.
If you have this crew sweater, you can definitely branch out with necklines. More v-necks, a shawl collar, etc. Start with crew, a crew is a wardrobe staple and a good first choice to build your proper wardrobe.
12. Black Leather Slip-on Dress Loafers. These are so versatile, you may even want a second pair. Seriously.
And with the new dark, crisp looks in denim, these loafers can now be worn with that type of denim and look stylish.
13. A Pair of Euro Sneakers or Rugged Leather Oxford Shoes. This is probably the only item on this list that has really changed over the years and isn't still considered a perfect wardrobe choice. Really, that's to be expected – a shoe like this is more of a novelty piece and will change with the times and trends. You're looking for a casual shoe – something more socially acceptable than an athletic sneaker, but not as dressy as the black loafer. .
A popular choice for this type of shoe is the Converse All Stars "Chucks" sneakers. In black, with a low rise, these are a wonderful choice to add to your wardrobe. My husband's friend has a pair of loafers, but they are a dark brown with a more rugged sole that look great with his chinos and jeans. I love the look of engineer boots or chukkas – a great choice with this season's trim dark jeans.
Pick a style that works with your personal style. Into the music scene? Consider some Doc Martens. A bit preppy? How about some Sperry Topsiders? Like sports? Instead of a pair of old Nikes, consider some Adidas "Shell Tops" (just be sure they stay in immaculate condition). Desert boots are a good choice if you have more of a beachy or boho sense of style.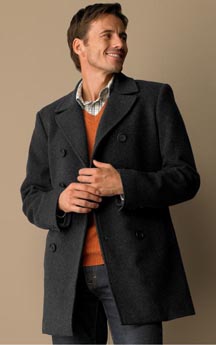 14. A Wool Winter Coat. Still a classic, and still a wardrobe essential.
15. Black Leather Dress Belt. If you own #12, you need #15.
Additional Items You Should Have in your Wardrobe:
1. Oxfords shirts in blue and white. These shirts are different from the dress shirt. They are more casual, have a heavier textured weave, button-down collars, and aren't meant to be worn with a suit. Go for a trim cut, and you can wear them tucked in with jeans and pants, or even untucked with chinos or shorts. If you have a sense of flair, feel free to stray from the basic blue and white – real men DO wear pink, and other hues are hot and surprisingly versatile. This sort of shirt also looks great under a sweater come winter. For summer, here's a great link that tells you how to roll up your cuffs.
2. Other casual button-down shirts. Right now, the button-down shirt is hot, as long as it's the right fabric and fit. Shirts shouldn't be blousy, and they shouldn't have texture or shine. The vintage look is hot for casual wear. Plaids have come back in style, and we're talking cotton, and not grunge-era flannel. Stripes are great too.
Before I stated that short-sleeved dress shirts are goofy. I still believe that. However, since the original post, fashion has made great strides with the short-sleeved casual shirt. For lean men, the semi-fitted button down in plaid is a nice look; for stocky men the more casual beachy short-sleeved shirt in chambray or a lightweight cotton looks great untucked with shorts or chinos.
3. A light blue or French blue dress shirt. Same rules apply as for the white dress shirt.
4. Ties. Just as stated before, solid for more formal events, stripes for work, patterns and more casual fabrics for festive occasions. Please get your ties cleaned occasionally, and especially after any event that includes cigars and/or large consumption of alcohol. Nothing worse than a stained or rumpled tie. And for some wonderful tutorials, here is a fabulous site that shows you with diagrams as well as videos on how to tie a tie with the four most popular knots (I recommend four in hand for pretty much any affair, Half Windsor for the more formal affairs).
5. Dress socks. Your black SmartWool socks are NOT a choice when wearing a suit. You should own at least two pairs of socks that are meant to be worn with suits. As a rule, have your socks match your pant, not your shoe.
6. A leather wallet. Get rid of your Velcro-closure one from Billabong, and get rid of the one you have had since you high school graduation. A man's wallet is like a woman's purse – it should be well cared for, not overstuffed, and match your sense of style. Regularly remove receipts, business cards and other things that will make it be the size of a Dagwood sandwich.
7. Bathing trunks. Keep it simple – simple print or a solid. Trim but not tight, length similar to the abovementioned shorts.
8. An umbrella. This is not some swag you got from your last work conference. Get a travel one that will fit in your laptop bag, and can withstand fierce winds. My husband and I have a couple from Lands End that are classic, sturdy, reliable. Black is a safe bet, or you can add some color to your look with a muted plaid or solid color.  Any woman will tell you that she would find it terribly gallant for a man to pull out an umbrella to protect her during an unexpected rainshower…
9. Sunglasses. It's time to retire the Oakleys (or keep them for sporting events and the most casual of situations). Variations of the classic Aviator or the Wayfarer are popular now, but I recommend you visit a high-end department store or sunglass boutique in the mall to try various styles to find what fits your face as well as your lifestyle.
10. White tee shirts. You should own a couple crisp, well-made white tee shirts to wear under things. Those Hanes ads with Michael Jordan are right – the cheap tees that buckle at the neck look terrible. Be sure to wash your white tees with other whites, use some oxygen cleaner or line dry to keep them white.
11.  Casual belt.  If your casual shoes are black, look for a more casual black belt.  If they are brown, look for brown.  My husband always has luck finding casual belts on clearance at Banana Republic that are well-made, timeless, and budget-friendly.
Since the original post about what every man needs in his wardrobe, I have added several Web sites and blogs to my Blogroll that specialize in Men's Style.  Unlike me, their expertise is in men's fashion, and I trust them for advice and input on new trends.  Do check them out.