This article may contain affiliate links; if you click on a shopping link and make a purchase I may receive a commission. As an Amazon Associate, I earn from qualifying purchases. 
Swimming is one of the best exercises for pregnant women, and nothing is more enjoyable than a weekend at the beach or pool with friends or family. Thing is, maternity bathing suits are often unflattering, or terribly expensive. Where can a woman find a well-made, flattering and supportive suit that doesn't cost an arm and a leg?
Friends with kids have told me to check out Target online – the store selection of maternity clothing is hit or miss, but online the selection is far more extensive, and the styles are pretty stylish and flattering to a broad range of figures. After seeing dowdy suits in gaudy prints, or $80 suits at my local department store, I headed to target.com in hopes of finding a decent suit for my upcoming beach trips and to get in a few laps at the community pool.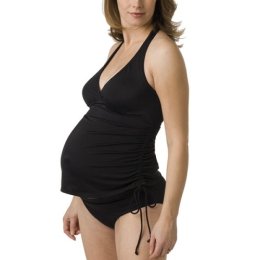 A great feature of the Target Web site is that it offers customer reviews. Target customers do not seem afraid of submitting comments, so I have found over time that these reviews have been extremely helpful in making online purchase decisions. Looking first by price (less than $40 was my budget), style (I want something that is feminine and flattering, simple and elegant, looks expensive), and then by reviews, I decided to order the Liz Lange® for Target® Tankini Top with Bottom (picture to left). This looked like a suit I would actually wear when NOT pregnant – a must for me during these few months. I knew a halter neck would be flattering as well as supportive to my large bust, and the tankini style would be more likely to fit my petite frame. Going by reviews and knowing what size I have been purchasing in maternity wear, I choose size Large (before pregnancy I wore a 10 or 12 in swimsuits and always chose a D-cup variation).
As soon as I received this suit I knew I would be pleased. The fabric is of good quality, seams well structured, proper lining throughout. The drawstrings on the sides were well fashioned and moved easily in their casing. The halter neck closed with a tie instead of a hook which made it easier to custom adjust to one's frame. The bottom was well structured with a wide waistband that would be less likely to roll down; the leg openings are conservative but not matronly.
The drawstring feature on the sides is quite a nice touch – fully gathered, they work to gather the belly and have it fit closer to the frame. Drawstrings loosened, the belly is looser and works for later months of one's pregnancy.
A size Large seemed perfect for my growing belly (loose but not baggy, quite loose with the drawstrings untied), properly covered and contained my breasts, and the bottom seemed to almost fit, and would probably stretch or go under the belly as I became larger.
Reviews on the Target Web site stated that the suit's top is quite low-cut. It isn't conservative, but I found the neckline appropriate, not too revealing and quite flattering. The fabric covered and stayed in place even when swimming and playing in the pool. I find that when a woman has curves, showing a bit of them is actually slimming, and this suit does elongate the body and make one appear more slim.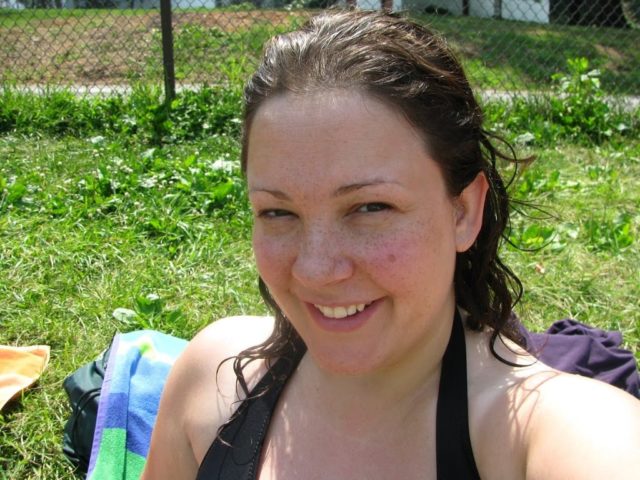 I took the suit out for a spin at the local community pool (picture to left – sorry but I am not going to post a full-length picture online). The synthetic fabric wasn't slippery when wet (this often happens with synthetics, causing ties to loosen) and it didn't become misshapen or separate from the lining (again something that happens with cheaper suits). After laps, water aerobics, and playing around in the water the suit didn't stretch out; once dried it was the original size straight from the packaging.
However, the suit does grow a bit in water, as do most fabrics when wet. The bottom which seemed to almost fit suddenly was far too large in the belly, and a big baggy in the rear. I had to hold on to it when doing any sort of quick activity like laps, a somersault or flip turn. This may be a good thing in future months, but at 15-16 weeks I think the suit is more geared toward standing and gentle swimming. The top still fit and was secure in the bust, but due to being so early on in my pregnancy the belly part of the top was incredibly loose – so loose the water encouraged it to float to the top of the pool, leaving my entire belly exposed. Again, this may be a good thing in future months for it shows that it will have room for a growing tummy. Neither aspect makes it a bad suit, just that I am still in that in-between phase of not pregnant and really showing.
I spent several hours in and out of the pool and never had to tug at the suit to put it in place. It did not chafe at the leg openings, and though the top and bottom were a bit too big for me, I still think it is a fine choice for sunbathing, occasional dips in the Atlantic and cooling off at the community pool. In a few weeks, I think the suit will fit well enough to do laps and engage in water aerobics classes. If one needed a suit that was secure enough for water athletics in the early second trimester, I would recommend a one-piece style. However if you wish to be a bathing beauty now and weeks from now, I can strongly recommend this tankini from Liz Lange® for Target®.

Shopping Tip: Before heading to the Target Web site, search online for some sort of deal. Target rarely offers coupons, and their shopping deals are usually well displayed on their site and immediately added to your Shopping Cart. However there are many affiliate shopping sites like Ebates and Upromise that will give you cash back, college funds, points towards future purchases, etc. that partner with Target. Five minutes of research may put an extra few dollars in your pocket (or your future child's college fund!).