This article may contain affiliate links; if you click on a shopping link and make a purchase I may receive a commission. As an Amazon Associate, I earn from qualifying purchases.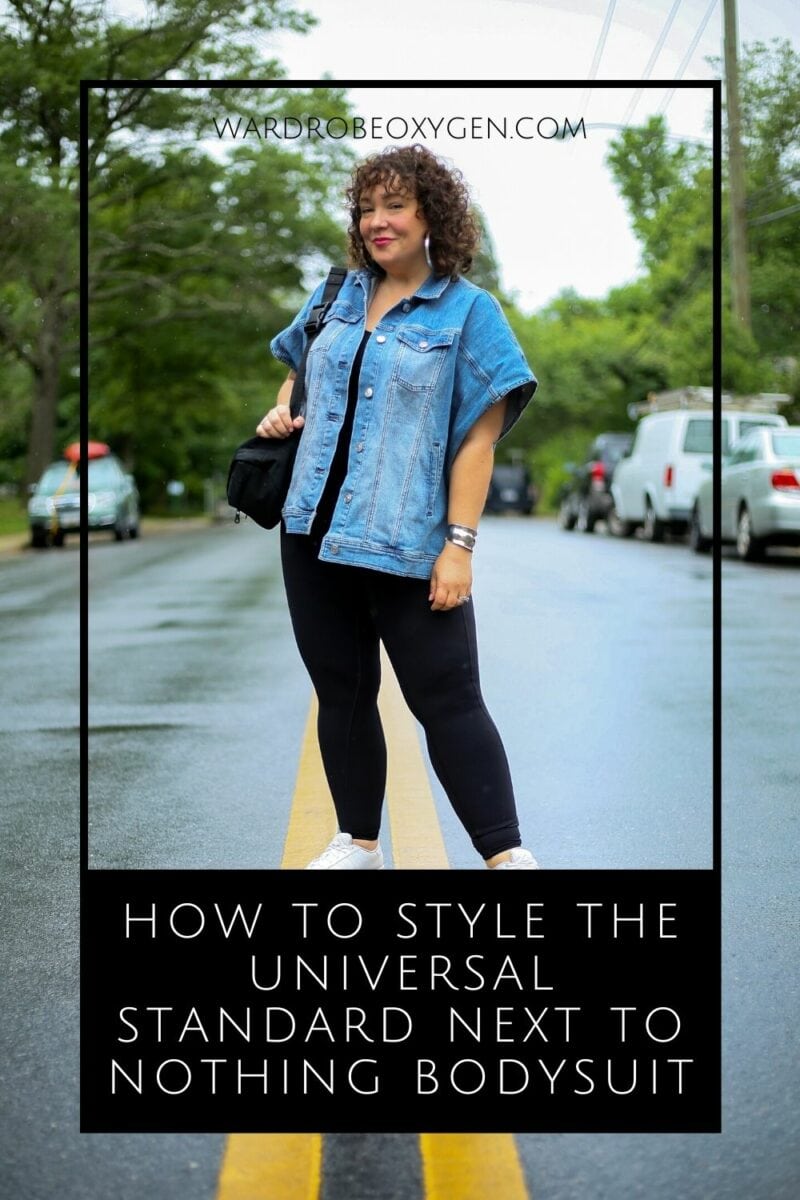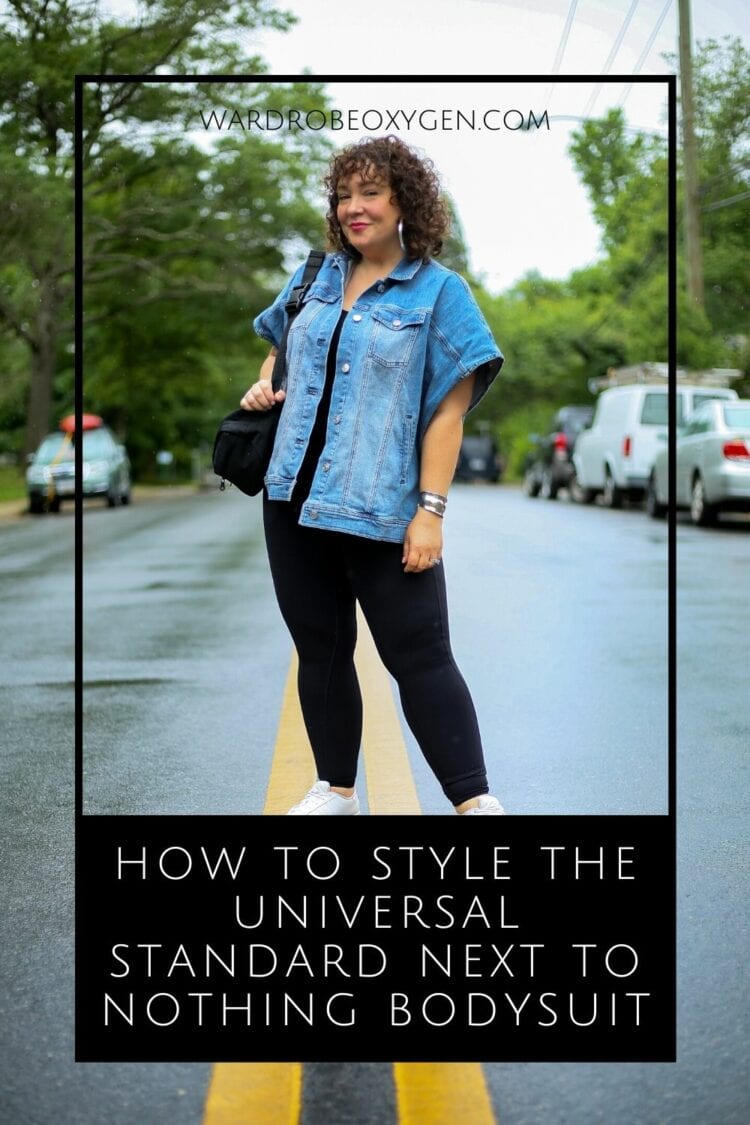 I share my love for the Universal Standard Next To Naked Bodysuit regularly on Instagram. I find it so comfortable, supportive yet not restrictive, flattering (gosh that is a loaded term) without being compressive. It's a favorite for working from home and doing yoga, but as I shared in my Universal Standard Next to Naked Bodysuit review, I think it is a piece that can be styled beyond the house or the gym. I wanted to figure out multiple ways of how to style the Universal Standard Next To Naked Bodysuit!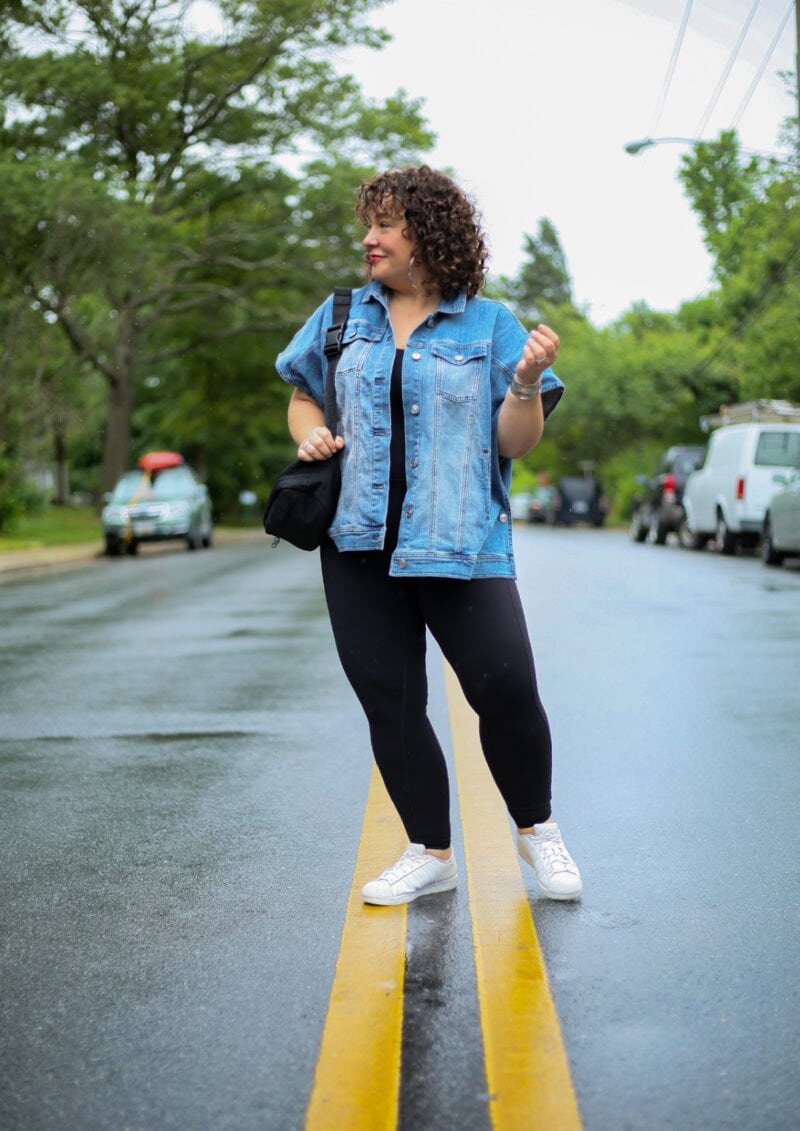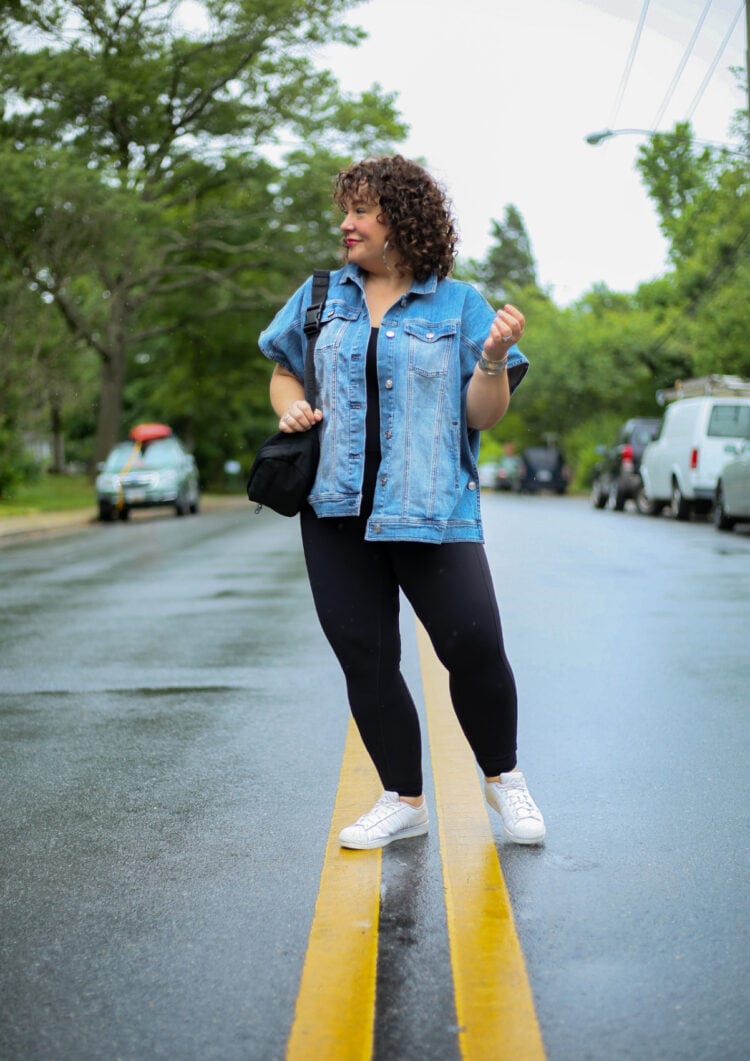 In my Universal Standard NTN review, I made a collage styling the bodysuit with a denim jacket, sneakers, a belt bag, and some accessories. I have worn this exact look, but now that the temps are rising I wanted to create a warm-weather alternative to this outfit. Enter the denim ruana.
How to Style the Universal Standard Next to Naked Bodysuit
You saw this denim ruana before in my Chico's ruana review. I just think the weirdness of this piece makes it cool, and I am totally okay and understand if you disagree! But I love how I get the same vibe of a denim jacket without being encased in denim. This ruana at Chico's is sold out in the larger sizes; a S/M I think would fit up to a size 10/12. For reference, I am usually a size 14, XL, or in Chico's, a 2. I am wearing the L/XL.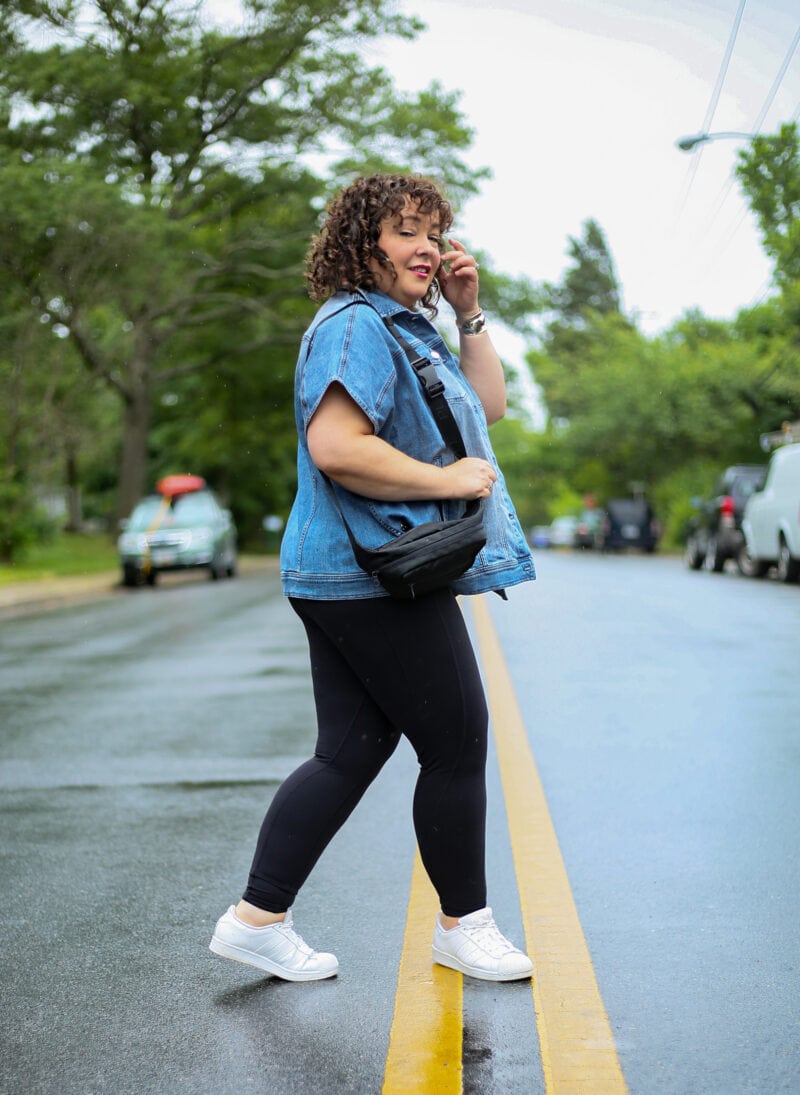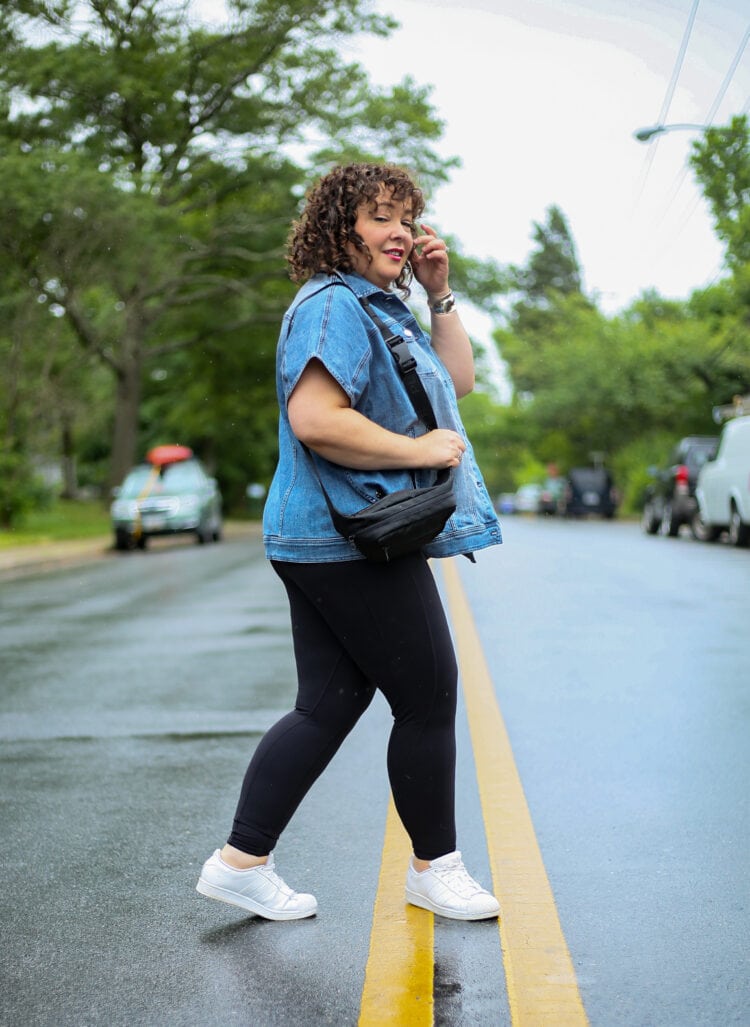 I tried to find similar products at other retailers so I could offer a decent range of sizes and prices, but if you Google "denim ruana" you're going to find a lot of lovely cashmere and linen wraps in a dusty shade of blue. Search for a denim vest or gilet, and you're going to find pieces at fast fashion boutique and motorcycle apparel retailers. But try sleeveless denim jacket or even sleeveless denim coat and you'll find that an elongated (tunic- to coat-length) sleeveless denim jacket can look cool on grown-ass women. Also check out vests; you'll find a lot of longer blazer-style vests that would also give a cool effect over the NTN bodysuit. Below I share some vests I thought would look cool
Shop Layering Pieces for the NTN:

But it doesn't have to be denim; any ruana will work really well over the Universal Standard Next to Naked Bodysuit. What's great about a ruana is it's easy when you use the facilities. Some styles of ruana are just a rectangle with a slit and neck hole which means you can keep it on and slip down the straps of the NTN. Others, like this linen ruana I own, have the edges stitched just for a small bit to create the illusion of sleeves; those too are easy to slip the straps down and adjust your arms without having to completely remove the ruana. And if you do choose to remove, it's so easy to hang on a hook and put back on without a lot of priming and adjusting.
Shop Ruanas for the NTN: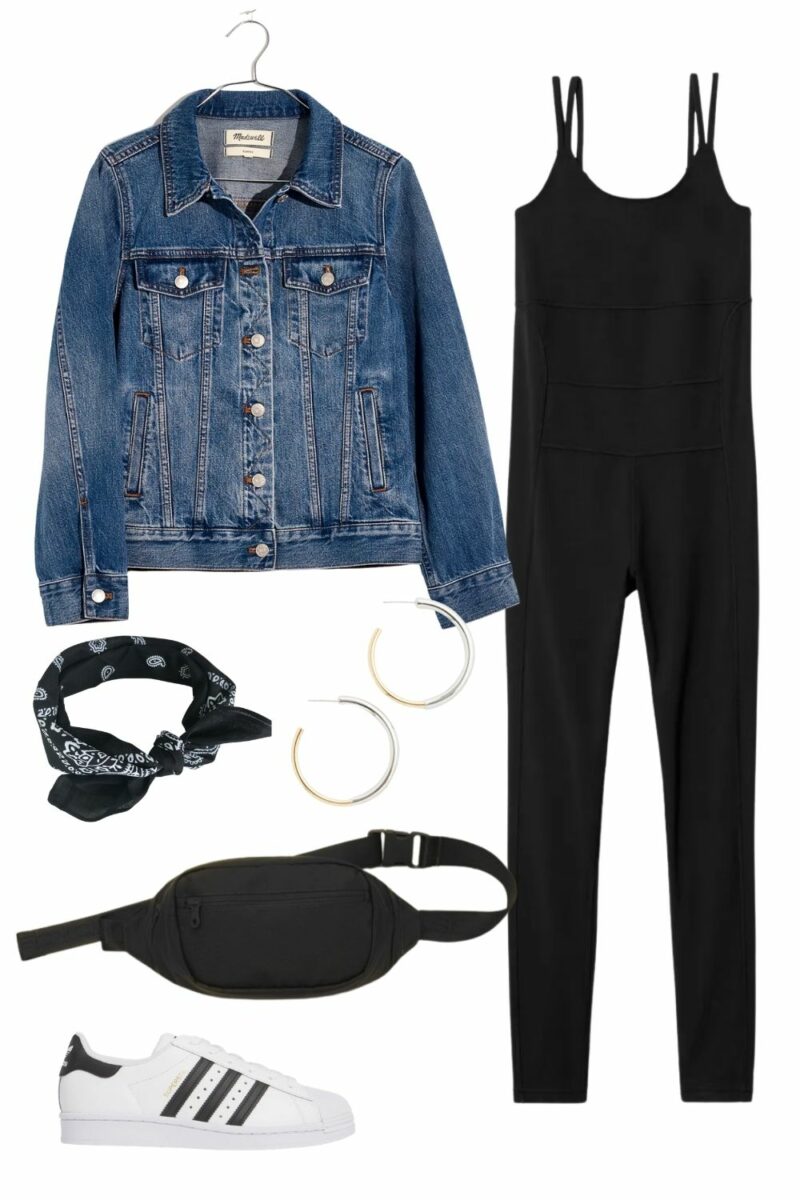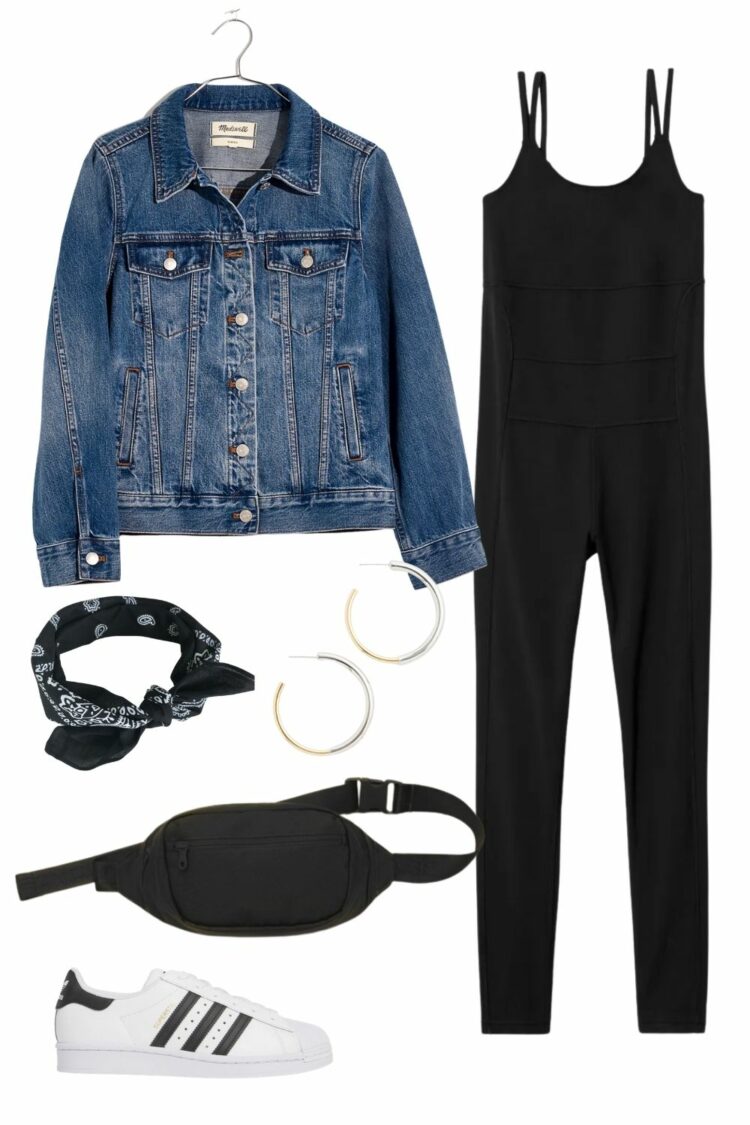 The Adidas Superstar is my chunkiest/most bulbous white sneaker. With thick ankles wide calves, and being petite I don't feel comfortable with too chunky or high profile of a shoe. I find it low enough of profile that they don't look like concrete blocks on me, though I like them best with a legging (like this bodysuit) or a shorter short/dress. I remove the insole of these sneakers and add my own for arch support; I use these insoles but any slimline or partial inset should fit. I do not put the old insole over the old; IMO there wouldn't be enough room.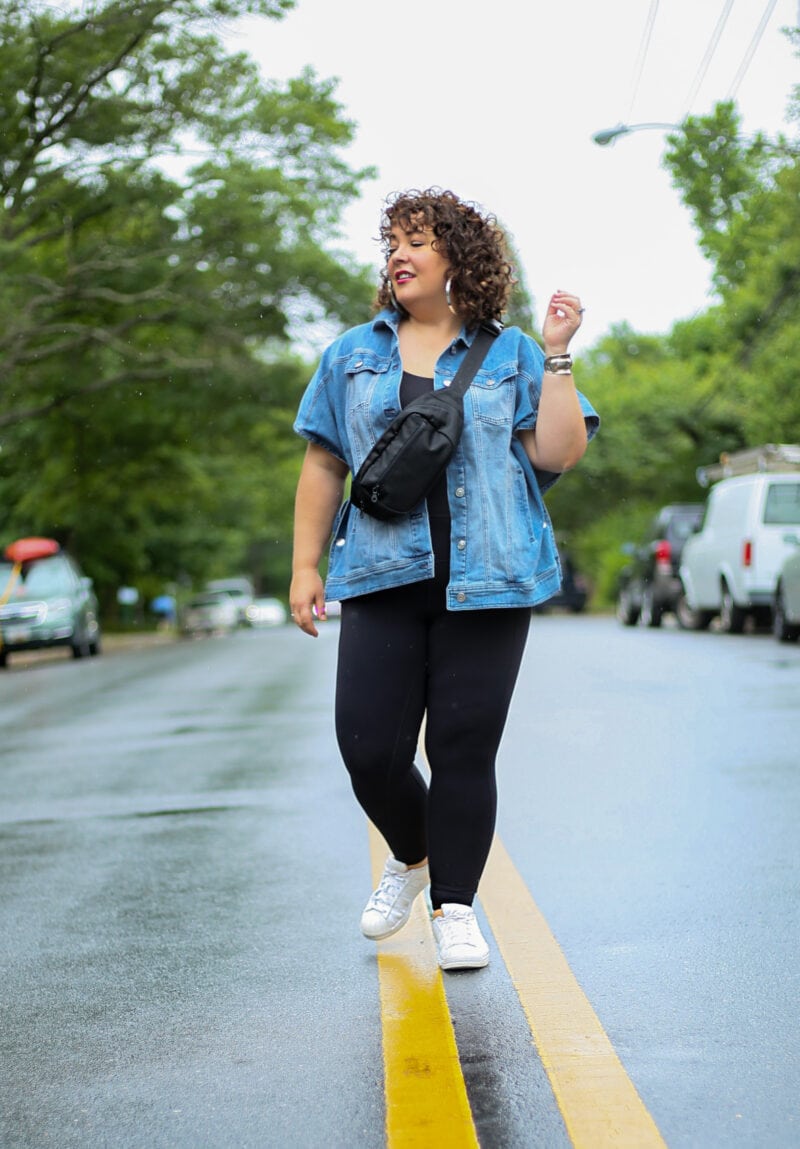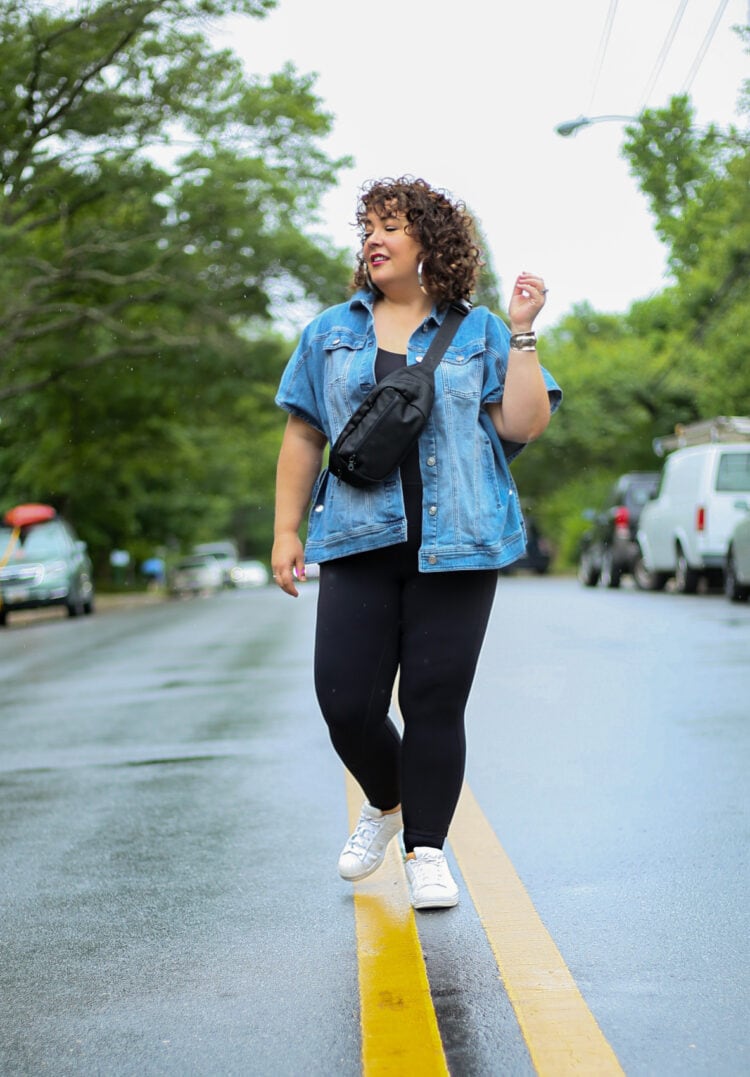 Anyway, this sneaker is known for the three stripes on the side and the "shelltop" toecap. I wore this same sneaker in my teens and 20's, but had the version with the black stripes. Now as a grown-ass woman, I decided to relive this trend but switch it up with white on white stripes. It's still on trend, but it's not quite as literal and it dresses up more easily.

A belt bag continued the sporty vibe of the bodysuit and sneakers. A traditional purse felt too proper and polished for this combination. I didn't want to be too literal and also wanted to squash down a bit of the volume of the denim ruana, so I wore it as a crossbody or on my shoulder.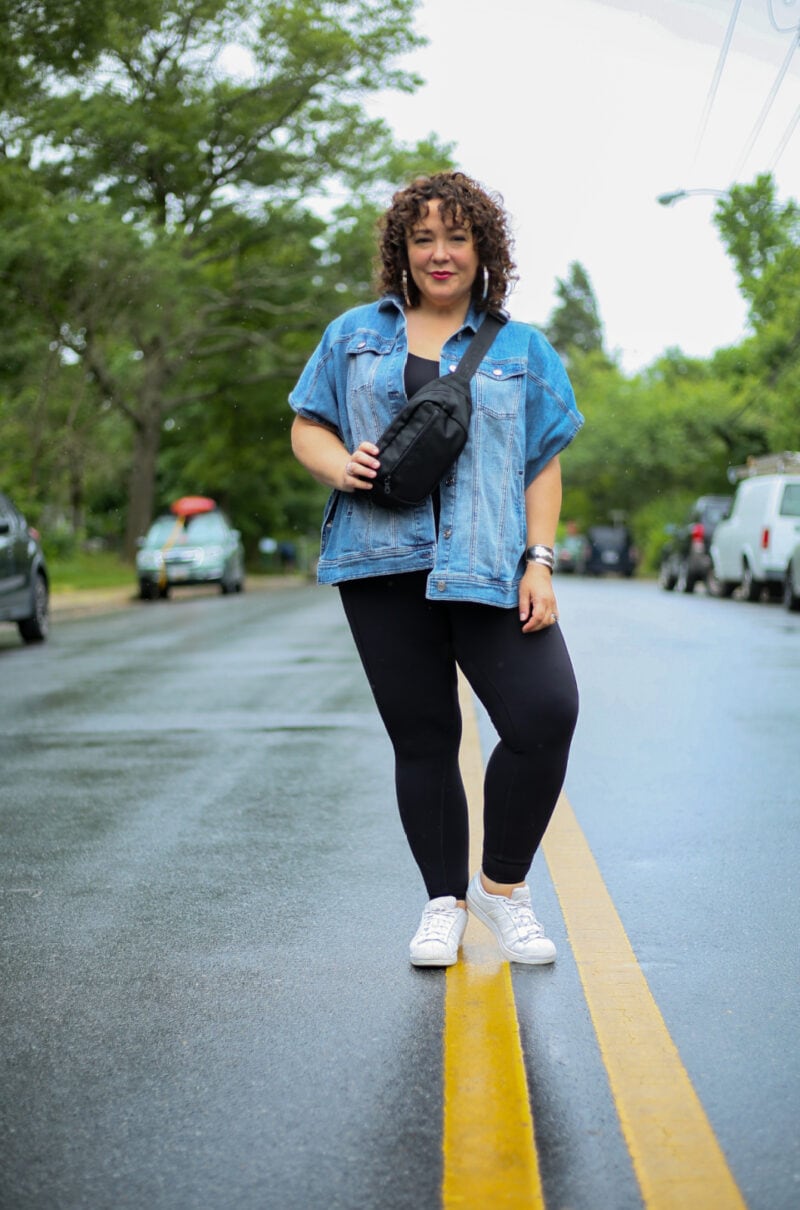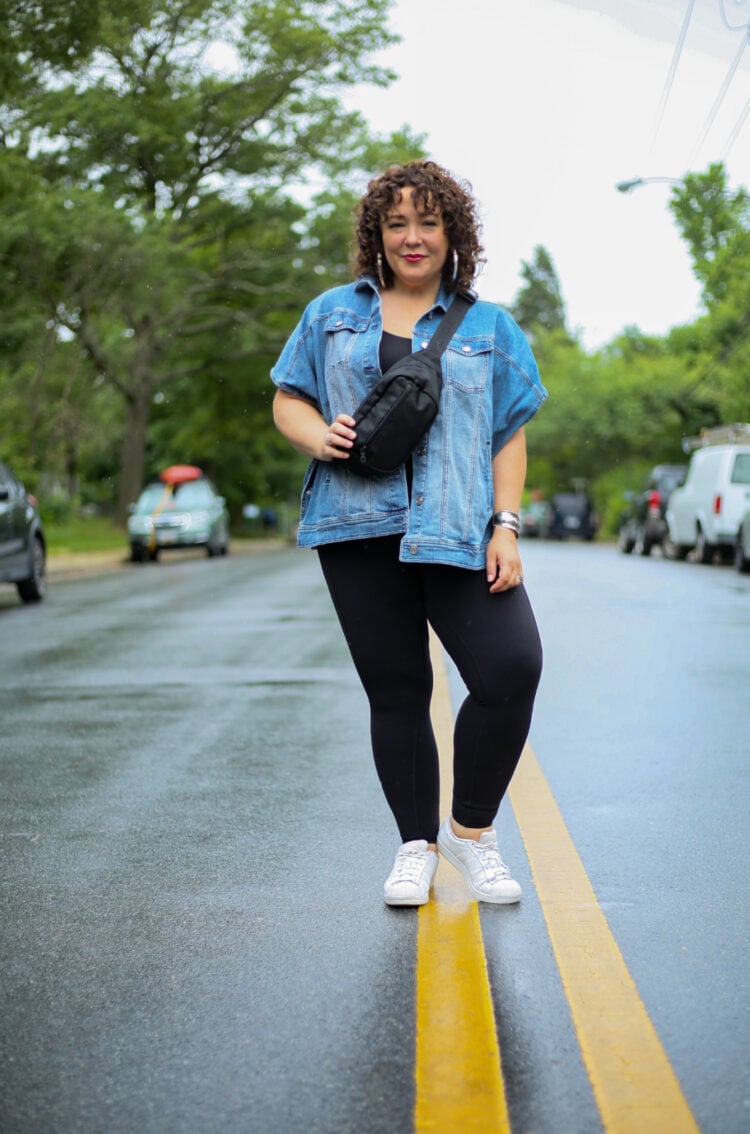 This belt bag from Girlfriend Collective has become a favorite. The bag itself is good and simple enough of design that it doesn't look dorky or overly trendy. It's lightweight but sturdy, has a bunch of smart pockets, it's easy to open and close with one hand, and if you cinch the belt to wear on the waist it doesn't slip. But the band to hold the excess of the belt is lacking (which you could hack with a hair elastic, double-sided tape, etc.) and the strap length will slip a bit when worn across the body (the weight of the bag pulls it). I appreciate the strap length; many popular brands of belt bags don't fit beyond a 14/16. I also like that this bag is made from recycled bottles.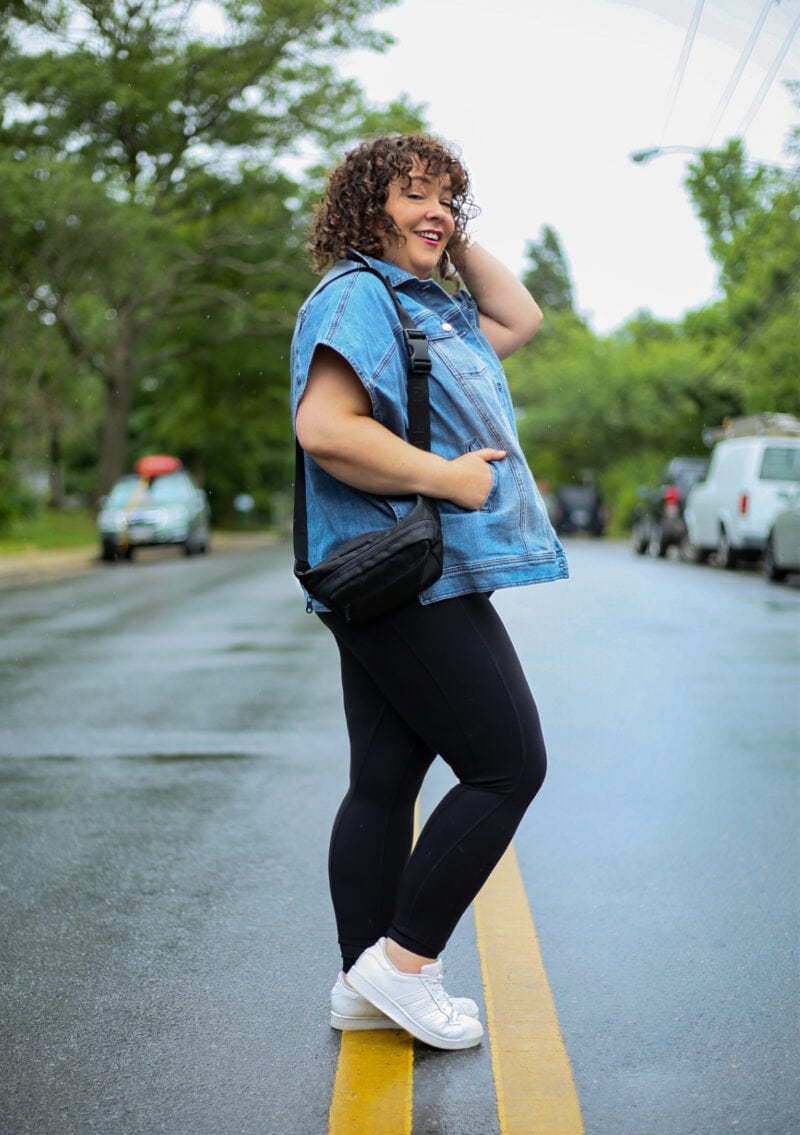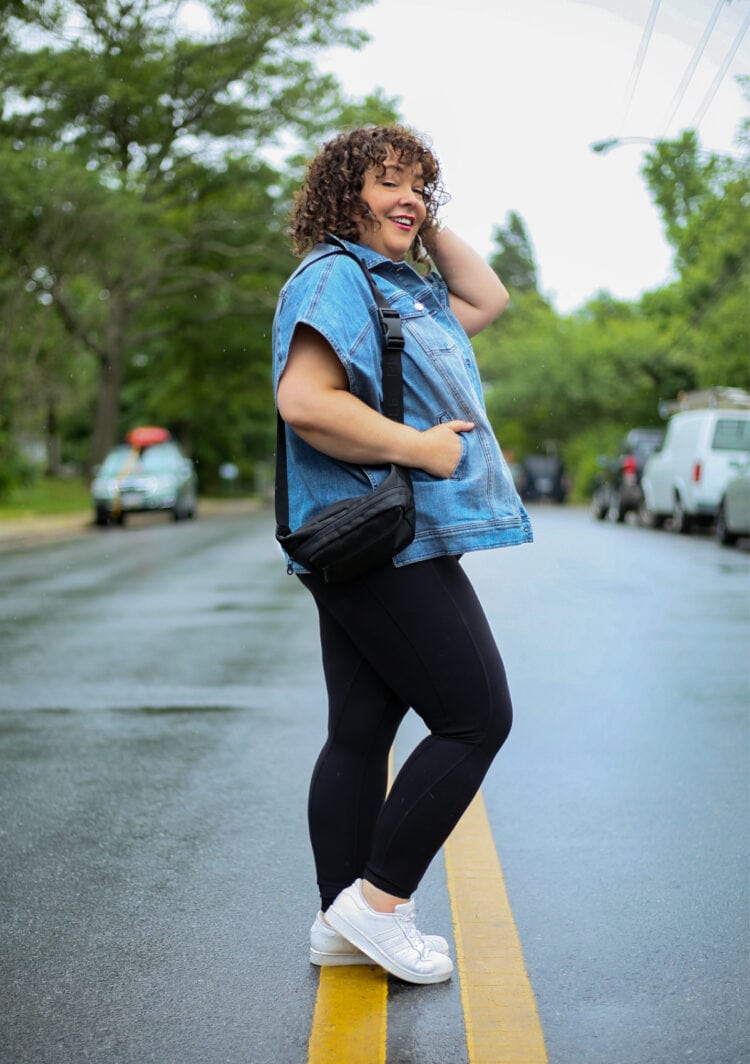 Don't think a belt bag can only be worn around your waist. You can carry it like a shoulder bag. But the on-trend way right now is as a crossbody. I like it a bit looser so the bag hangs against my side instead of across my chest. I love belt bags for travel because of this versatility and security close to the body. I even wear it around my waist on my flight, holding things like lip balm, earplugs, and medications on my person so I don't have to reach under the seat or overhead to get my essentials.
I added the black bandana tied at the neck like I did in the style example… and it was just too much. It looked like a costume. But it needed something so it looked purposeful and not like I threw this weird denim jacket hybrid on over my gym clothes. I added my big silver hoops from Jenny Bird (no longer available but these from Etsy have a similar effect) and my silver cuff (I bought this in 1997; this is similar on Etsy).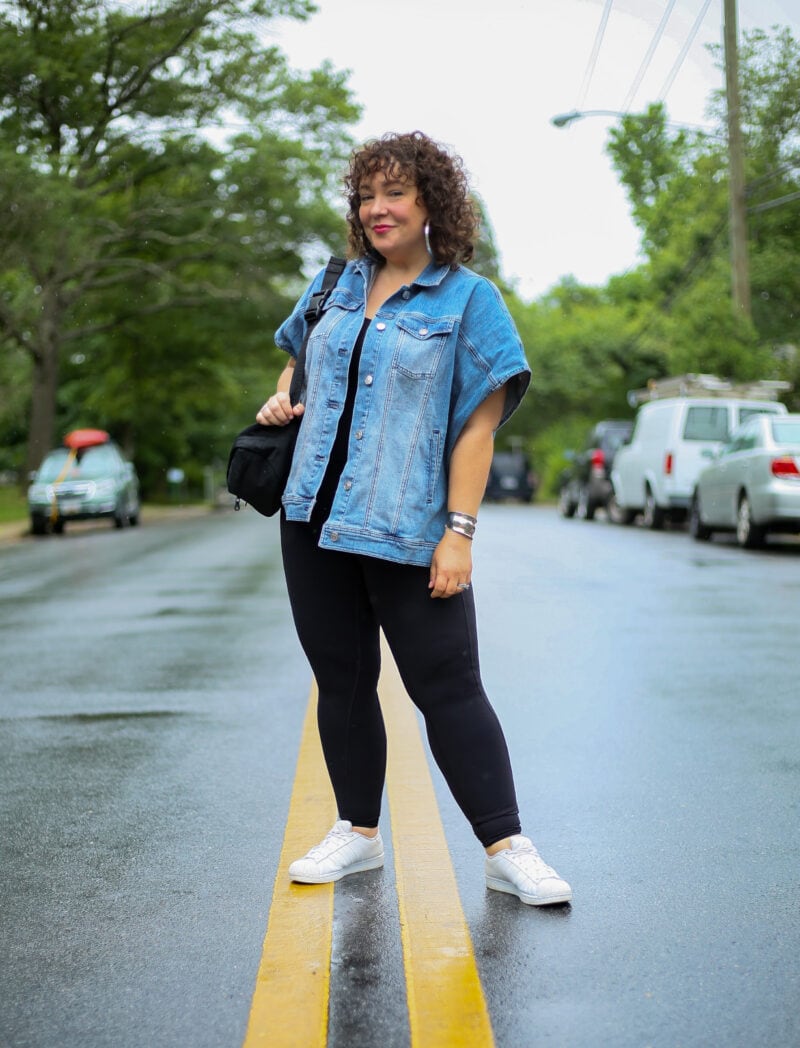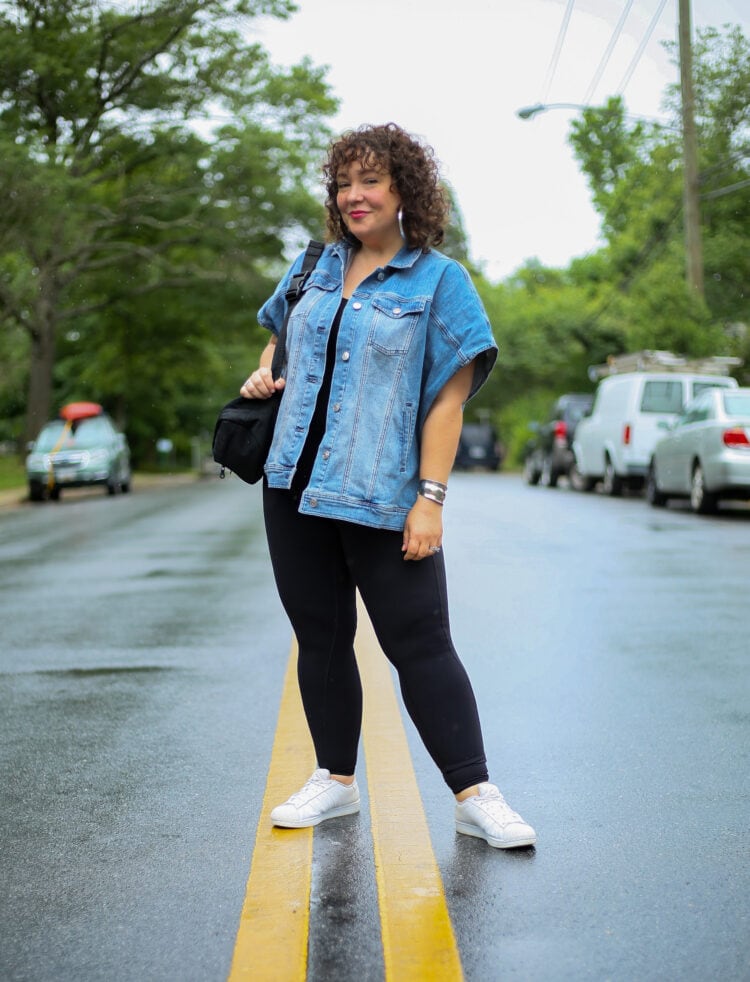 Since a denim vest can read dated/costume, I chose to have a subtle eye with just mascara and concealer, and add a bold lip in a non-red color. This is the Laura Mercier Velour Extreme Matte Lipstick in 'Clique.' It's a pencil, but a velvety pencil that feels good on the lips and stays in place through masking from car to table, an iced latte, and most of a salad. Even then, I wasn't left with a bright pink line around my lips; it faded in places but wasn't terrible and a second application didn't feel or look heavy.
Anyway, this is my translation of my styling idea from my original post and my mindset into why I chose what I did! Expect to see this Universal Standard bodysuit styled more ways in the future… and I also ordered a short one in navy and once it arrives I'll be thinking of ways to style it. Do you have the Universal Standard Next to Naked Bodysuit? If you do, share why you love it and how you love to style it!
Shop the Look: