This article may contain affiliate links; if you click on a shopping link and make a purchase I may receive a commission. As an Amazon Associate, I earn from qualifying purchases.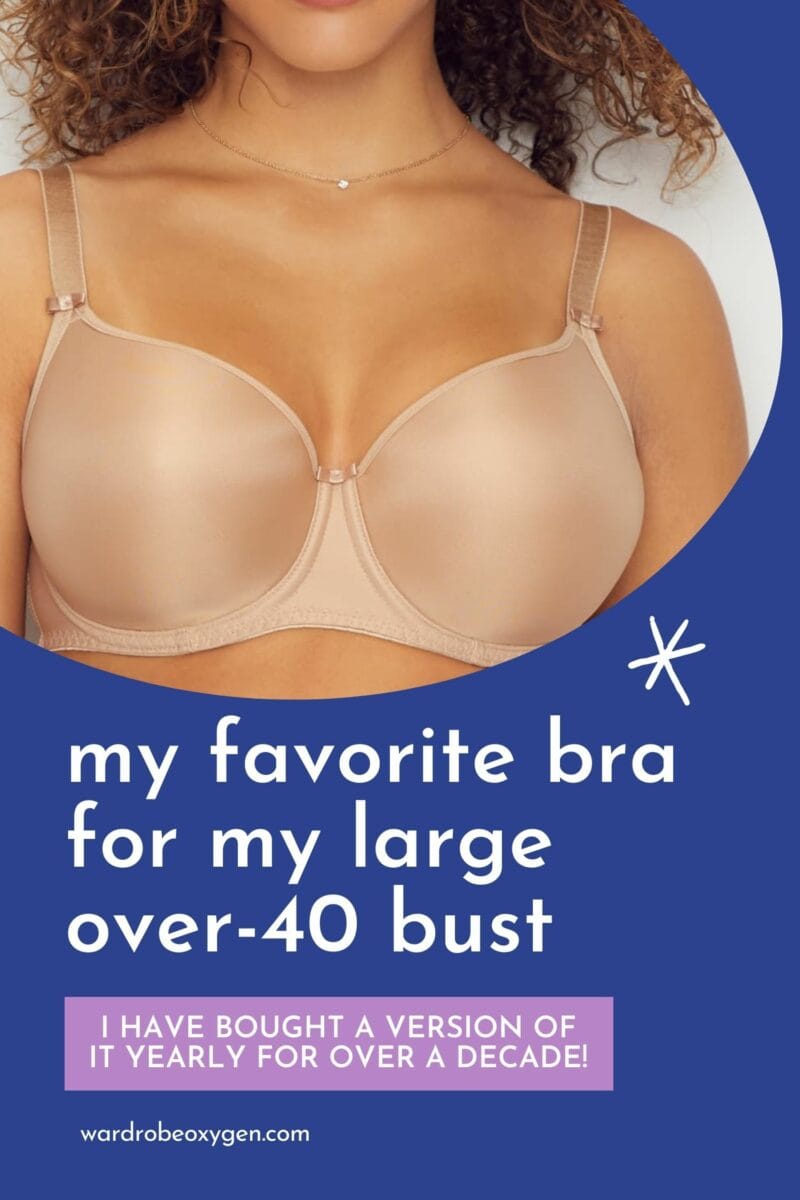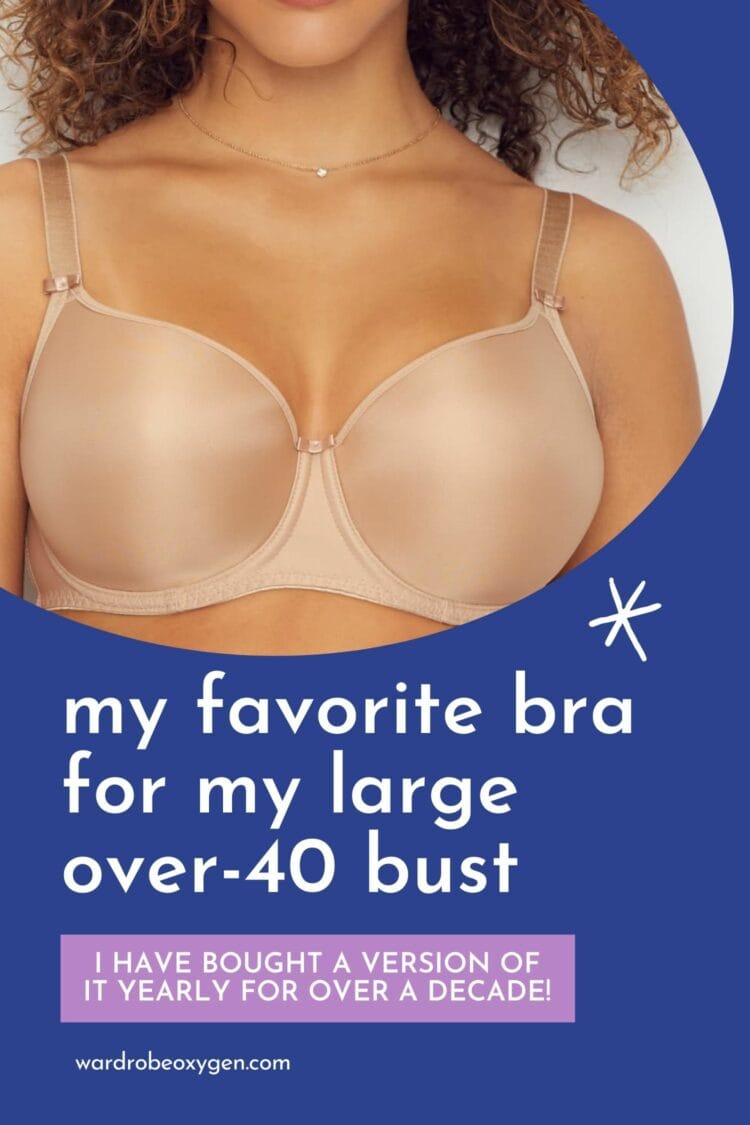 I shared a photo on Instagram Stories showing how my daughter is now taller than I am. While there were many comments on her height (not surprising, her father is 6'4″ and she has tall family members on my dad's side and her dad's dad's side), I received a bunch of DMs asking me about my bra! This is my favorite bra, one I have bought over and over again for a decade.
My Favorite Bra in my Intimates Drawer
The bra I am wearing is a style I have had in my intimates drawer for over a decade – the Fantasie smoothing t-shirt bra. There are two versions, the one I love is the molded cup version; it is style FL4510. I get myself sized yearly and then replace the bra with my current size.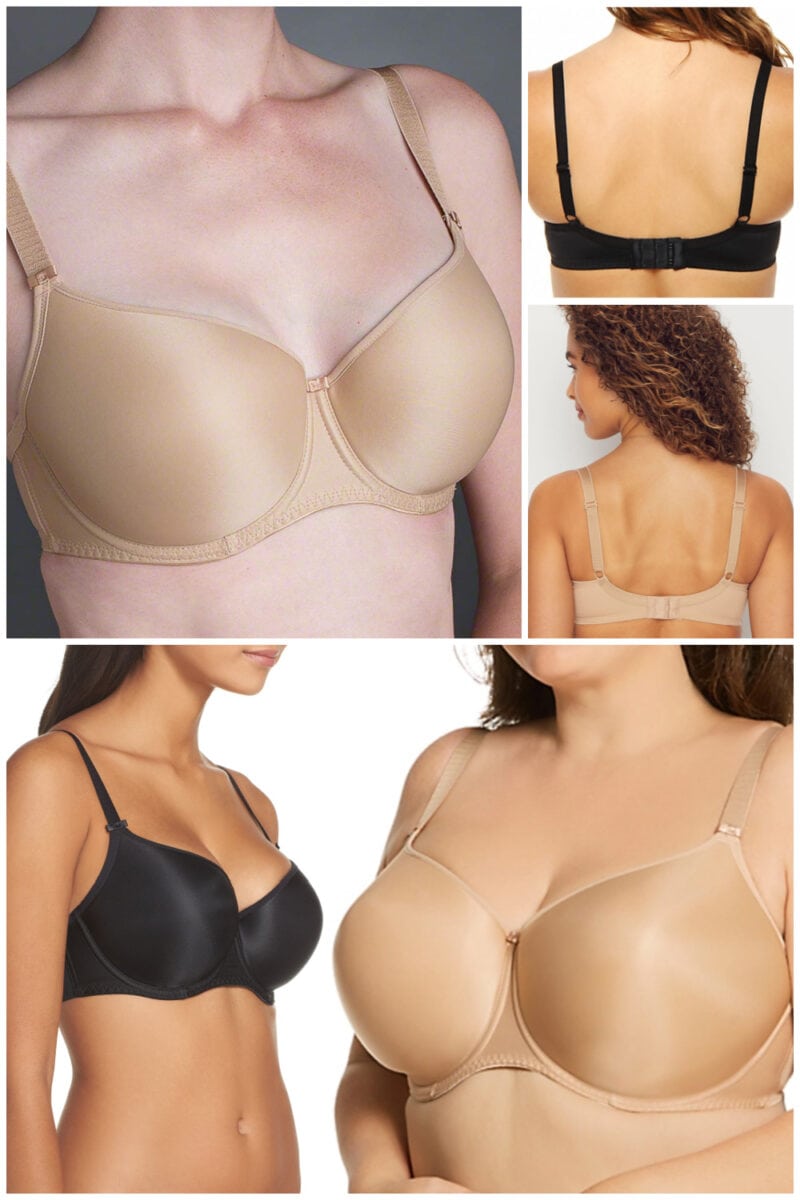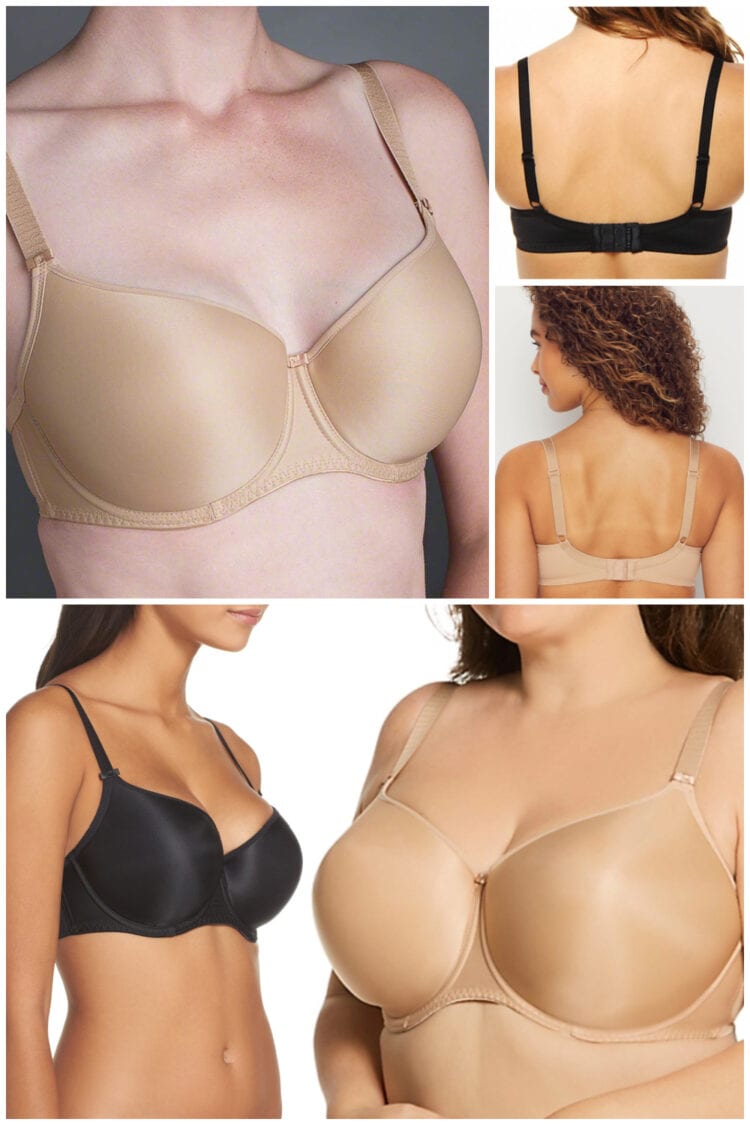 I love this bra because it's truly invisible under clothes, it has super simple slim straps that fit under slim-strapped tanks and looks okay IMO when peeking out of off-the-shoulder tops. But I love how it takes my semi-deflated large breasts and cups them and lifts them and makes them look the way I like while being relatively comfortable.
The straps are elastic, which I know a lot of folks do not like when they have heavy and/or larger breasts. I find this bra supports so well from the band and structure the straps aren't doing the heavy lifting.
This bra also has fewer hooks than a lot of my other brands (two hooks versus three, four, or even five). That can also seem like it won't work for larger busts. I have worn this as a 36DD, a 38G, and everything in between. I recommend reading reviews, especially on sites like Her Room where you can filter them by bra size, and Bare Necessities where you can filter by age, to see if others similar to you have had success.
I find my regular bra size for other department store bra brands (Wacoal, Freya) is the same for Fantasie. This Fantasie bra's band will be snug at first but it will mold to your body.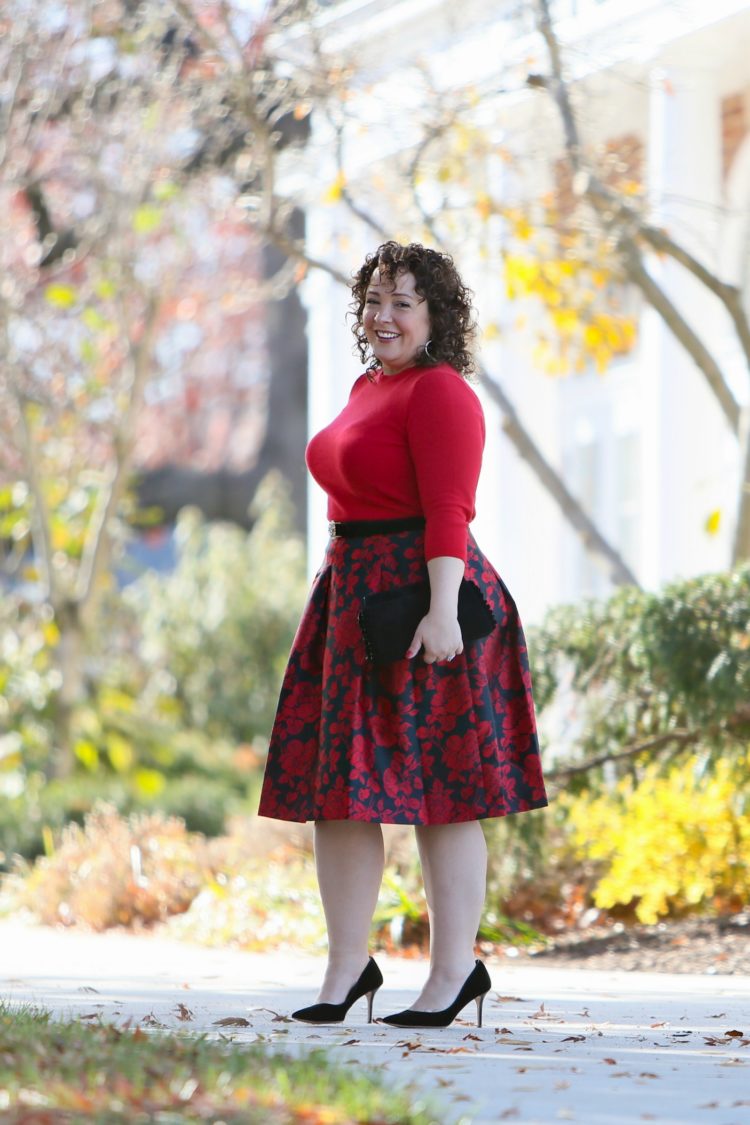 When to Replace Your Bra
If you are keeping your everyday bras for longer than a year or so, you are doing your bust a disservice. Regularly worn bras are not supposed to last forever and bra sizes change regularly with weight fluctuations, fitness changes, lifestyle changes, and gravity.
Do not wear your bras multiple days in a row. Give them at a minimum one day of rest so the elastic and synthetic fibers have time to cool off and dry out. There's nothing wrong with having multiples of the same bra; cycling them will have them all last longer.
I find this Fantasie bra needs to be replaced every nine months. I will know it's time to replace it when it stops being comfortable; I usually find the bottom of the band to start annoying me because the elasticity has broken down a bit and the band is starting to fold/wrinkle. Also, I find I have to repeatedly tighten the straps. I have never experienced a wire popping out, a strap breaking, or a hook and eye bending though.
Wearing a Molded Cup Bra for the First Time
If you haven't tried a molded cup bra before, they can take some getting used to. The molded cup lets you sort of play with the shape and positioning of your breasts. With traditional bras, I bend over and sort of sway my breasts into the right position in the cups. With a molded cup, I scoop the breasts and lift them into the cup and rearrange to get the right positioning, adjusting so the nipples are in the same direction/same height.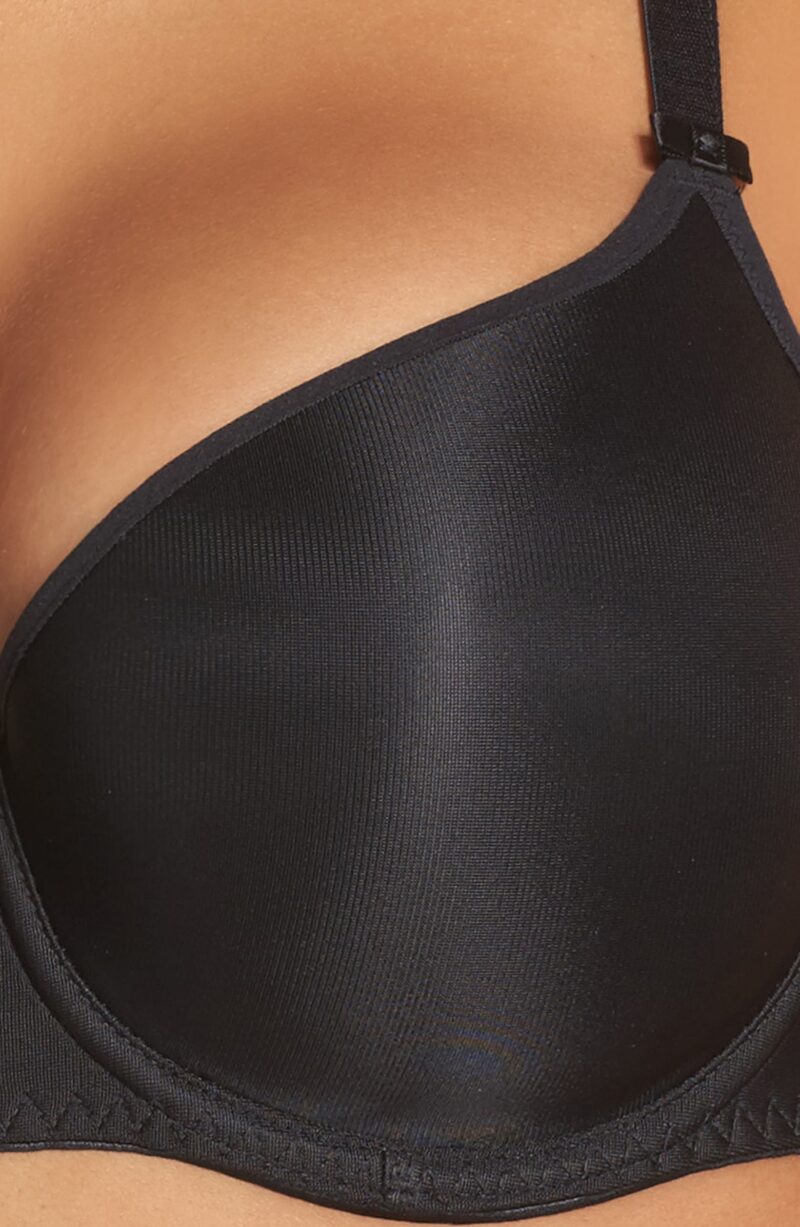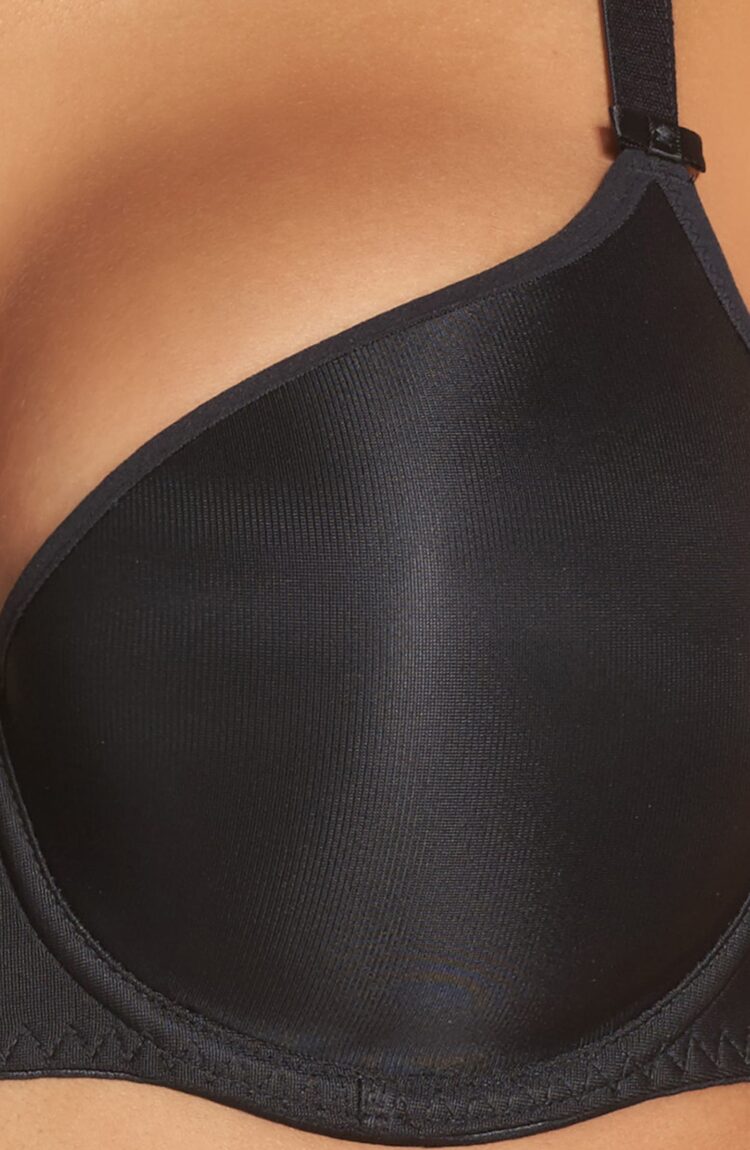 The first time I got this bra was at a bra boutique when I had a proper bra fitting after childbirth. I have found it at other bra boutiques as well. I also buy it at Nordstrom and have gotten it at Bare Necessities. I do not recommend buying on Amazon; I bought one there and while the photo was the same one at Nordstrom, I received the unlined version.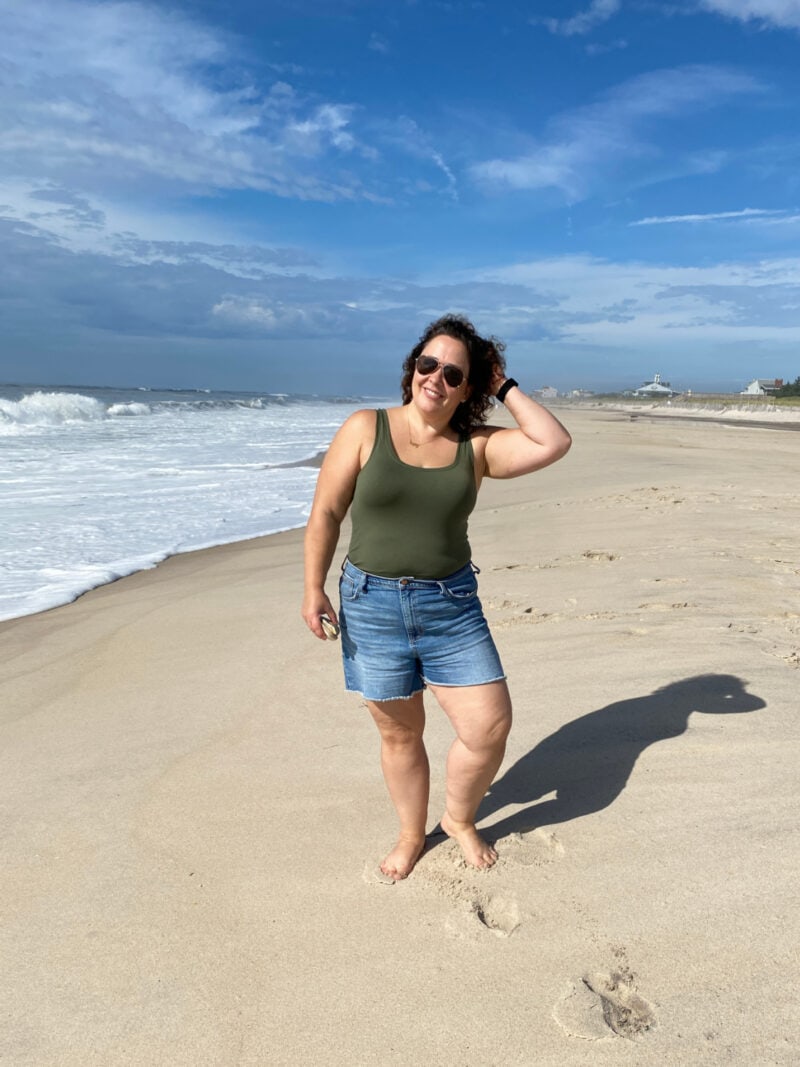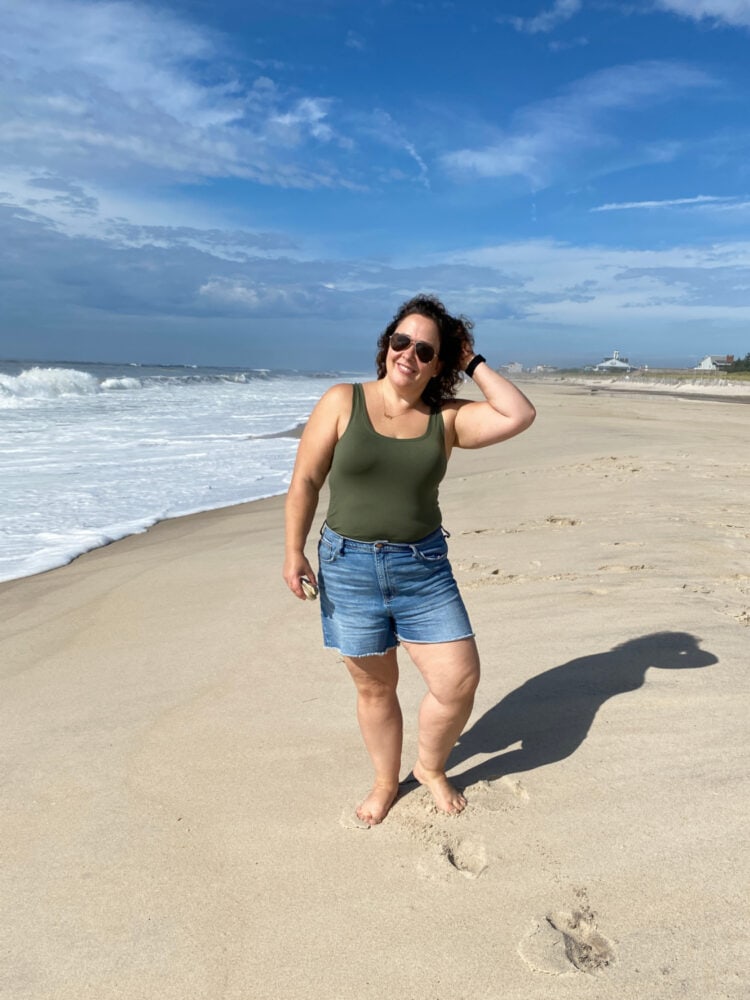 Getting Fitted For a Bra
I recommend finding a bra boutique near you for a fitting; there you will find the most expert staff and can support a small business with your purchase. If you do not have one near you, higher-end department stores usually have skilled bra experts in their intimates department. I have had a mix of experiences being fitted for a bra at Nordstrom; it really depends on the day and the person on staff and how busy they are with other customers.
Soma is a fantastic place to get a quality bra fitting. However, some may find that the size they are in Soma bras isn't the same with other brands. Soma does carry non-Soma brands; if you go to get fitted at Soma ask to try some other brands so you get a good feel for your size across companies. As with any store, if you go in for a fitting you should expect to make a purchase in thanks for the experience.
If you do not want to shop in person or are unable to shop in person, I cannot recommend the Subreddit, A Bra That Fits, enough. The group has created a bra calculator and tips to measure yourself at home. The Instagram account is helpful for seeing sizes on bodies (and the different sizes and brands on bodies) and they also have a private Facebook group. This site is also helpful in seeing what sizes look on different bodies.
For this Fantasie bra in particular, here is a link to several photos of the bra taken by owners. (Bratabase)
There is no Perfect Bra for Every Bust
Keep in mind that my favorite bra may not be yours. We are all shaped differently and this bra may end up a '50s bullet bra or incredibly uncomfortable on you. If you are shopping online choose a retailer with a reasonable return policy. I have shopped and returned to Nordstrom and Bare Necessities in the past six months and feel comfortable recommending them for shopping for Fantasie brand bras. I'll be honest, I haven't shopped HerRoom in a while, and there have been some comments in the Wardrobe Oxygen Community on Facebook that their CS has been spotty as of recent.
If you have tried this bra, whether you liked it or not, your feedback in the comments may assist a fellow Wardrobe Oxygen reader. Comments are anonymous; feel free to use a fake email address for additional anonymity (I am the only one who can see your email address; if you use a fake address you will not be notified of replies).
This review was originally written in 2021 but updated for 2022 after a discussion in the community about bras and because I ordered my replacement bras after my yearly fitting!