This article may contain affiliate links; if you click on a shopping link and make a purchase I may receive a commission. As an Amazon Associate, I earn from qualifying purchases. 
Hi Allie:




I need some advice about my spring and summer wardrobe. I am a curvy, petite 41-year-old and look best in tailored clothes. For work, I tend to wear classic pieces with a vintage twist and black is my neutral. Casual has always been harder for me, and therein lies my problem: while I am able to come up with a small summer work wardrobe with light weight versions of what I normally wear, I am lost when it comes to casual. I don't like the boho styles that tend to dominate summer, I don't look good in florals, white near my face is awful, I HATE pastels, and I am constantly disappointed by the quality of lightweight T-shirts, which aren't that flattering on me to begin with. I don't wear tank tops and capri pants make my legs look chopped off. I need some direction! Can you help?
I know by looking at stores' summer collections you would feel like the minority, but you wouldn't believe how many similar emails to this I receive. Not only that, I hear this same rant from my mom, who has a classic, clean personal style and isn't one to wear boho styes, flowers, or pastels. Here's some suggestions: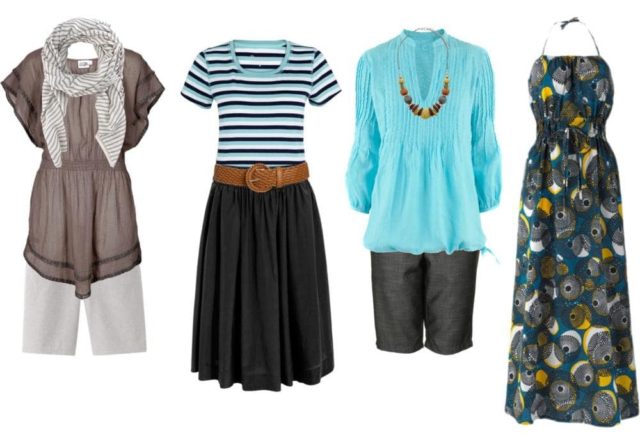 City or Bermuda Shorts. Just a few years ago, it was mid-thigh shorts or capris with nothing in between. Then around 2008 the City Short became a popular piece, often creating a summer short version of a suit. Not only that, Bermudas and City Shorts started coming not only in slightly varying lengths, but also leg widths. This meant if you had thick thighs you didn't end up looking as though you were wearing bike shorts, and if you're not a true petite or tall, you could find a flattering length without requiring alterations.
A pair of white shorts in a heavyweight cotton twill is amazingly versatile and surprisingly flattering. Paired with black and a pair of heeled sandals, such shorts are perfect for an evening barbecue or summer party. Wear with a brightly-colored tee and tan sandals for trips to the market or mall, and wear with a silk blouse and metallic sandals for an ensemble appropriate for a bridal shower or a creative office environment.
Other neutrals like black, khaki, ivory and olive can also be fabulous, but can look a bit extreme if you are petite, curvy, or pale. Be very aware of fabrics, length, and width to find a style that will fit and flatter your frame and personal style.
Midi Skirts. A softly gathered or pleated skirt in a lightweight cotton or gauze is a fabulous summer wardrobe addition. Pair with a fitted tee and flat sandals and wear anywhere from the mall to the farmers market to happy hour and even Casual Friday. Make it work with your personal style by adding accessories. Take a simple white scoop tee and black skirt – with a neon skinny belt and wristful of colorful bangles it is a trendy ensemble; with a brown wide woven belt and wooden bead necklace it's boho; with a fitted colorful knit blazer it's a great workplace look; with big silver hoops, a wrist of silver bangles and a gauzy oblong scarf at the neck it's artistic.
Midi skirts give you the freedom to sit in the grass, hop on a bike, chase after your toddler without having anything exposed, but has the airflow missing from maxi skirts. In a lightweight fabric it's comfortable on the most humid of summer days and gives a vintage feel without being too twee. By pairing with a simple fitted tee it's not too dressy for weekend activities.
Maxi Dresses. I'm sort, I'm curvy, and a lot of fabric makes me look even more short and curvy. However, I do love me some maxi dresses come summer! Anywhere from below the knee to the ankle bone, I am a fan. The way I make them work is by choosing lightweight fabrics, and have them pretty small on top. I know you don't like tanks and I can relate. However, I find a halter or spaghetti strap to be more flattering than tanks. Last summer thanks to a professional bra fitting, I found a strapless bra as comfortable and supportive as a regular bra and it opened up my casual summer fashion options. I also love the look of a big floppy-brimmed sunhat with a maxi dress – the hat really balances out the fabric of the dress and it distracts from the upper body.
Tee Shirts
A quality tee shirt in fun colors is hard to find. Many brands I found to be tee shirt Meccas have changed their fabric and cuts (hello Old Navy and J. Crew). However, these brands have proven time and time again to have a great choice of colors and styles made from quality knit.
Talbots – Talbots does a fantastic job of creating tees and knits that are classic, yet never boring. Strategically placed ruching and pleats, unusual necklines, multiple lengths and cuts of sleeves, petite and plus sizing means there is a tee shirt for most anyone.
Ann Taylor – I know I know, I am always preaching Ann Taylor. One wouldn't think of Ann Taylor for basic tees, but they know how to do them well. In 2008 I was heading to a Washington Nationals game and wearing the opposing team's color. I hopped into Ann Taylor hoping to find anything in red, navy, white or even black to show my team spirit. I picked up a red crewneck tee… and that tee became a favorite until it became too big. Because it became too BIG, not because it faded, shrank, stretched, or got icky over time. I washed and dried and wore that tee shirt for two years and it still looked great when I donated it. Since then, I look to Ann Taylor each spring and summer for standard tees. While they have creative styles with fun necklines and details, they also do a great classic v-neck, scoop, or crewneck tee in fantastic on-trend colors that are anything but boring (and there are very few pastels in the bunch).
Lands' End – Lands' End consistently makes high-quality knits in flattering styles. Each year they update their silhouettes and color choices. I wrote about many current styles here, but they have even more options online and in their catalogs. Also check out Lands' End Canvas, a more youthful and trendy version of Lands' End with the same quality and customer service.
Non-Tee Shirt Shirts
While tee shirts are an easy casual choice for summer fashion, there is more to life than short-sleeved knits. Here's a few of my favorite summer styles of shirts:
Thin Cotton Tunics. Made of linen, thin cotton, or gauze, a tunic with sleeves can be even more comfortable in the heat then a jersey tank. They breathe, they catch any breeze, and they are usually pretty easy care (and actually look good with a few wrinkles and creases). While many can look pretty boho, there are many that can be quite classic and polished. This linen tie-front top from J. Jill has clean lines that would look great with dark jeans and flat sandals, with crisp Bermudas and a low wedge, or even tucked into or belted over a skirt. This roll-sleeve tunic from Gap has a great self-belt that hits at the smallest part of a woman's torso, slimming and elongating the frame. I like the detail on this embroidered linen/cotton tunic from Eddie Bauer, and think the Vintage Blue or Sable would look smashing with white jeans and metallic sandals for evening, or a pair of faded denim or white shorts for daytime.
Striped Tops. If you've taken even a quick glance at my outfit posts, you know I adore stripes. While many think stripes widen a figure, I find them to distract the eye, and they are a cheap and fun way to add a current trend and a bit of pattern into the wardrobe. Stripes can give a preppy or nautical touch, a French Chic feel, or even a rocker vibe to your wardrobe. This pieced stripe tee from LOFT is a change from the typical knit top, and the color story would look amazing with black, denim, khaki, or an unexpected bright like orange or green. The short sleeve Breton top from Boden comes in a variety of fun colors, and has a wonderful feminine cut to it that makes it look anything but ordinary.
And now I ask you brilliant readers – what are your favorite wardrobe go-to pieces come summer? How do you stay cool and chic in the heat?
Follow Me | Twitter | Facebook