This article may contain affiliate links; if you click on a shopping link and make a purchase I may receive a commission. As an Amazon Associate, I earn from qualifying purchases.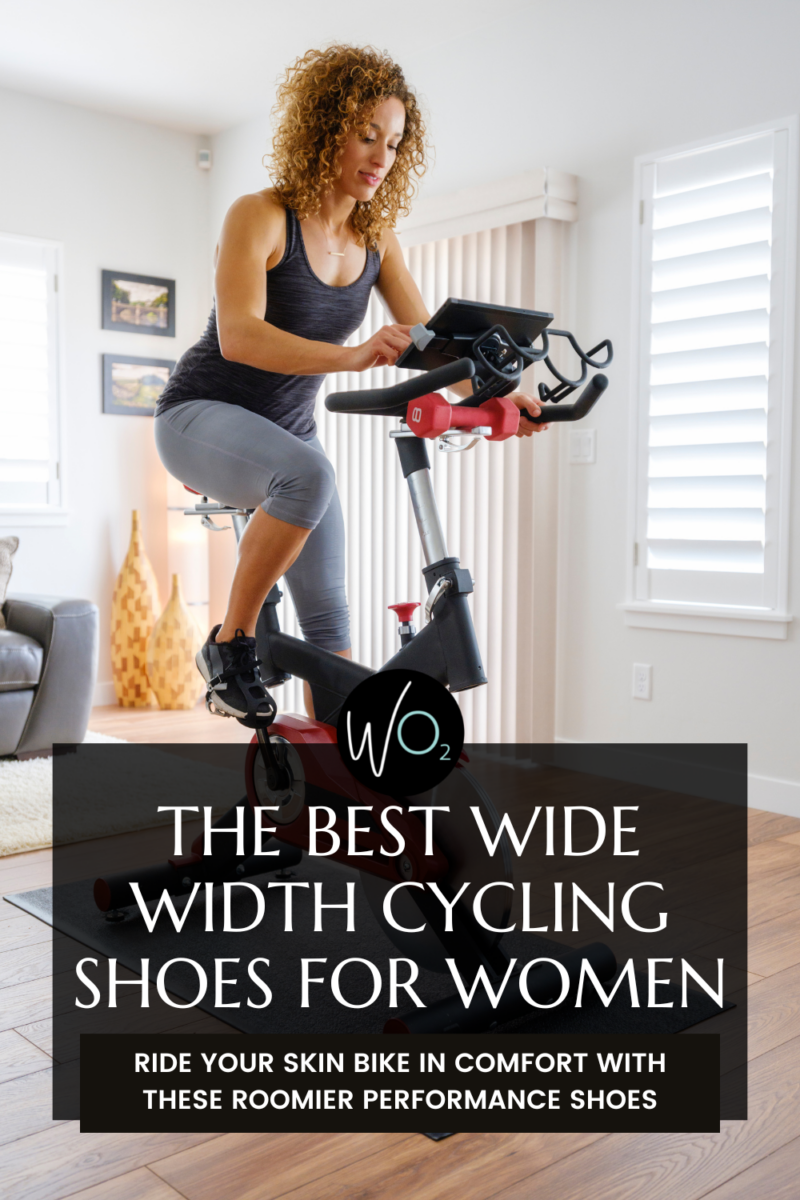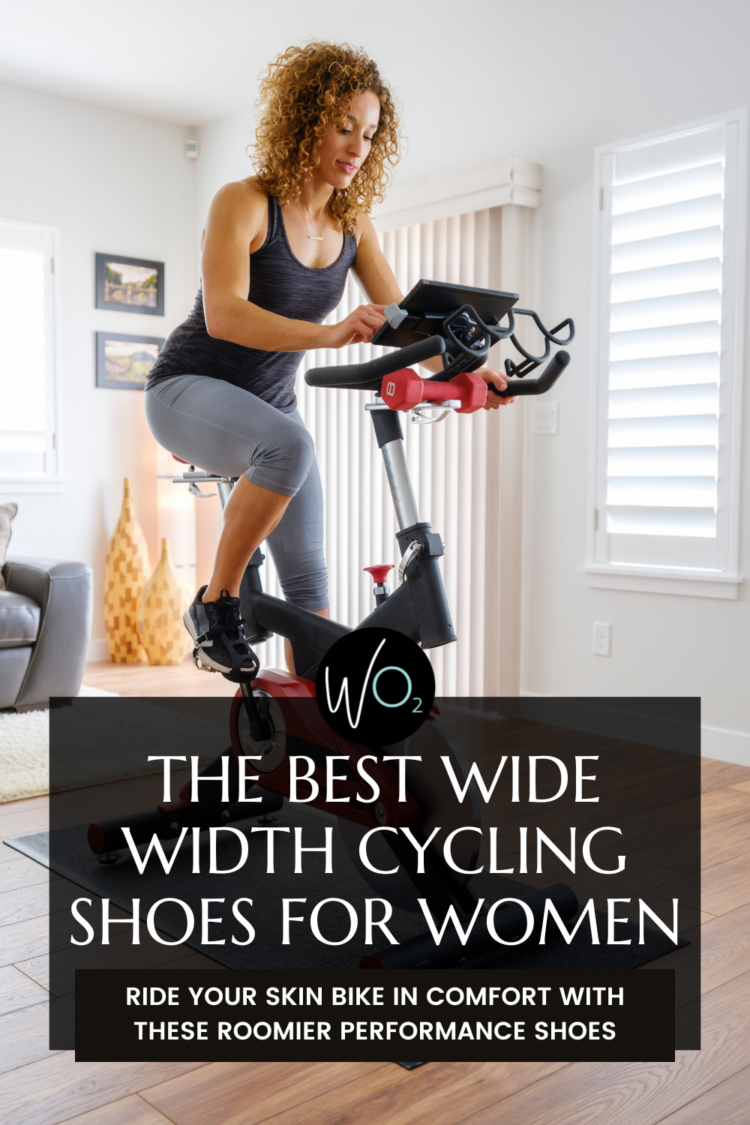 When I bought a Peloton bike in 2020, I knew the brand's bike shoes wouldn't fit me and didn't even order a pair. I have had wide and high volume all my life and am used to "standard" shoes not fitting my feet. I was on the hunt for the best wide width cycling shoes for women for my Peloton rides.
When you ask for advice on where to find wide width cycling shoes for women, folks will tell you to go to a local bike shop to get fitted. It's clear that most of those folks do not have wide feet because I took this advice, visited three different bike shops, and none of them had wide width bike shoes in stock nor knew much about wide width bike shoes.
At the shops, I was able to be measured, but it was impossible to find a brand that best fit my shape of foot as I couldn't get most of the shoes onto my feet. If you find a bike shop that has wide width shoes in stock, GO. You will get the best experience. But if not, your in-store experience may be like mine.
One shop told me to check online, one shop offered to order me shoes from a brand they didn't even have in store that they heard were wide, and the third tried to sell me shoes they had in stock that "run wider." (Those shoes did fit, but hurt the bottom of my feet as the sole was narrower than mine.).
This is why I felt I had to write this post about the best wide width cycling shoes for women because I know that "go to your local bike shop" isn't a possibility for all. I've done the research and have tried on and/or owned several of the styles I list below.
Shopping Online for Wide Width Cycling Shoes
When it comes to having to shop online for wide width cycling shoes for women, it's important to shop where return policies are generous. We wide-footed folks know that not all wide width shoes are created equal and it's a bit of trial and error to find a good fit. I only share places that provide reasonable returns (offer a mailing label, even if it is prepaid, at least 30 days return window, uses a standard shipping company like UPS, USPS, or FedEx for returns).
While I love my Peloton and ride it several times a week, I can't stomach spending $500 on a pair of indoor spinning shoes. I know I am not alone, so every pair of shoes in this list of wide width cycling shoes is under $200. I will list the price (or general price) for each style I share below.
How to Figure Out Women's Sizing of Cycling Shoes
I also only included styles that offered at least a women's size 8, if not smaller. If you've been searching for wide width cycling shoes for women online you've noticed that most lists include only men's shoes. While men's shoes in general run wider than women's, the size range often doesn't extend enough for smaller women's feet (men's sizing is in general, 1.5 sizes larger than women; for example as a women's size 8, I wear a 6-6.5 in men's shoes).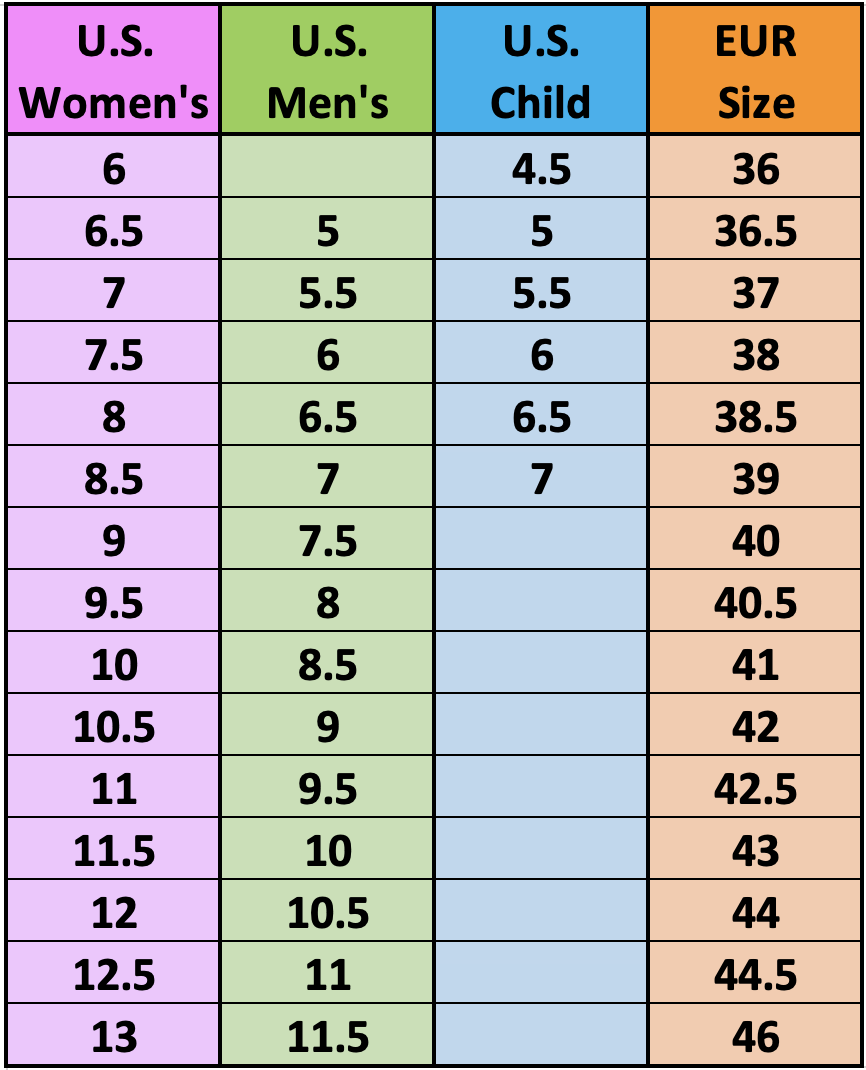 You will find a lot of cycling shoes are sold with European sizing. This chart above is a general guide for figuring out what your size is in relation to men's shoes, European-sized shoes, and kids' shoes (a great resource for smaller feet as kids' shoes also run wider than women's).
A good way to know your European shoe size is to check the tongue of your best-fitting sneakers. Usually, there is a label there that will share the US, UK, and European sizes of that shoe. In general with European sizing, I've found if I am between sizes I size down. I usually size up with US sizing to get more room for my wide feet, but I have found that doesn't help as much with European sizing and I just end up having the shoe fit wrong.
If you are shopping from an online bike shop, use their specific size chart and do not be afraid to contact them to confirm size before ordering. While bike shops may not have wide widths in stock, they do have the most educated staff who know sizing in general. If you can't buy your wide width shoes at a bike shop, consider buying your other gear there to support small independent shops and their expert staff.
The Best Wide Width Cycling Shoes for Women (and they're all under $200)
Whether it's because your local bike shop doesn't carry wide-width cycling shoes, or because you may not have a bike shop nearby, it's good to know what are truly wide width cycling shoes available online. And if you're like me and your feet are too small to wear men's sizes, you need to know what wide width cycling shoes are available in women's sizing. And unless you're an aficionado or pro, you likely want to stay under $200. Lucky for you, all the best wide width cycling shoes for women online are also under $200!
1. Tommaso Pista Women's Cycling Shoe
If you have been searching online for wide-width women's cycling shoes you likely have heard of the Tommaso Pista shoe. Most articles reviewing wide width cycling shoes focus on shoes for men and they will occasionally throw in the Tommaso Pista for us ladies. I liked that the shoe didn't cost a kazillion dollars (you can usually find them for under $100) and looked cute.
Seriously, if you search Tommaso Pista on Amazon (where this shoe is sold), you'll find a bunch of variations. Knit uppers, cable closure, Velcro closure, and plenty of different colors. Wanting a stiffer upper and the ability to custom fit my closure over my wide-volume feet, I went with this variation in the black/pink combo.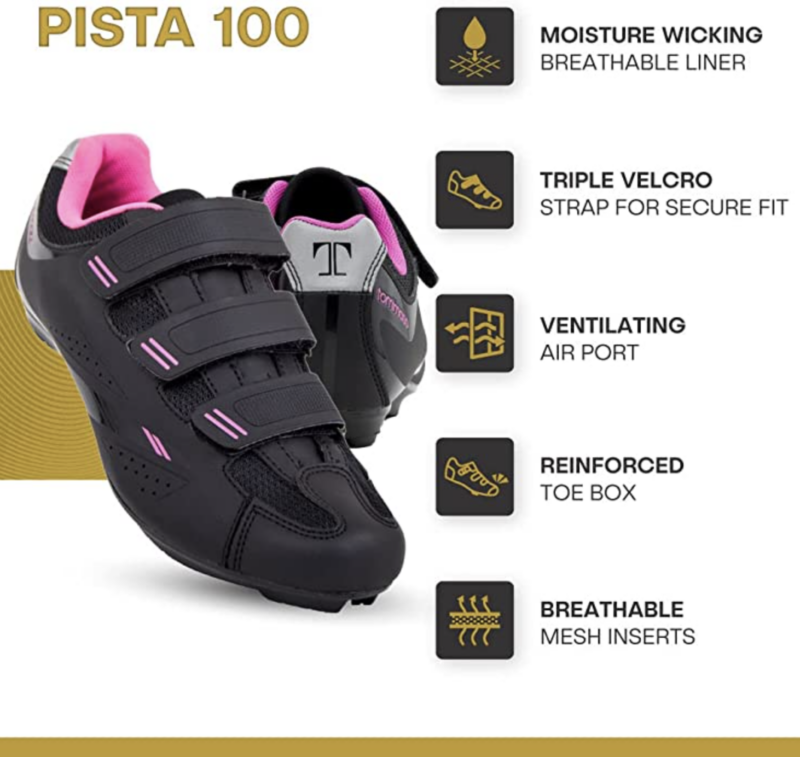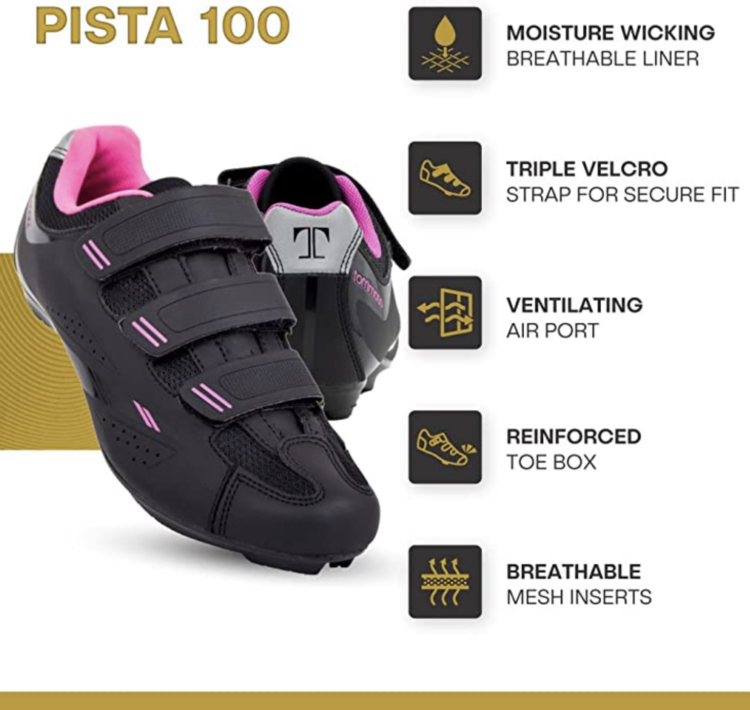 This shoe is not a fancy shoe. It came in a box without paper or protection. The shoe is clearly faux leather, with a few threads hanging from stitching. If you have previously worn cycling shoes from a highly regarded bike brand like Shimano, Specialized, or PEARL iZUMIi, you may want to turn your nose up at the Tommaso Pista. But don't because these shoes are brilliant for those of us with wide feet.
The Tommaso Pista is truly a shoe for wide feet. The Velcro closure meant I could have it roomier near the toes and snugger at the arch. The sole is wide, not just the shoe, so no pressure points on the bottom of your feet as wide-feet folks may be familiar with in other shoes.
I desired a stiffer shoe since I like to crank up the resistance on my Peloton and this version of the Tommaso Pista provided it. I felt far more secure on the bike, able to spin at a higher resistance without pressure on the tops of my feet. My Peloton performance improved when I switched to the Tommaso Pista shoes for my wide feet. And looks are deceiving: these shoes are still rocking over a year after I purchased them.
Not every pair of Tommaso Pista shoes come with cleats. If you are planning to wear these cycling shoes for your Peloton, check out the shoe bundles which come with a pair of LOOK Delta cleats, or be sure to purchase a separate pair of LOOK Delta cleats.
2. Lake CX 177 Cycling Shoe
If you search for wide with cycling shoes, you will find Lake. One of the few brands out there to carry truly wide width options in their shoes, Lake is also known for exceptional quality. The price shows it; Lake cycling shoes cost several hundred dollars. However, their one style, the CX177, is under $200. Reviews may say it's not as well-fitting a style as their other models, but I found they worked just fine for my wide feet and were higher quality than other styles of the same price.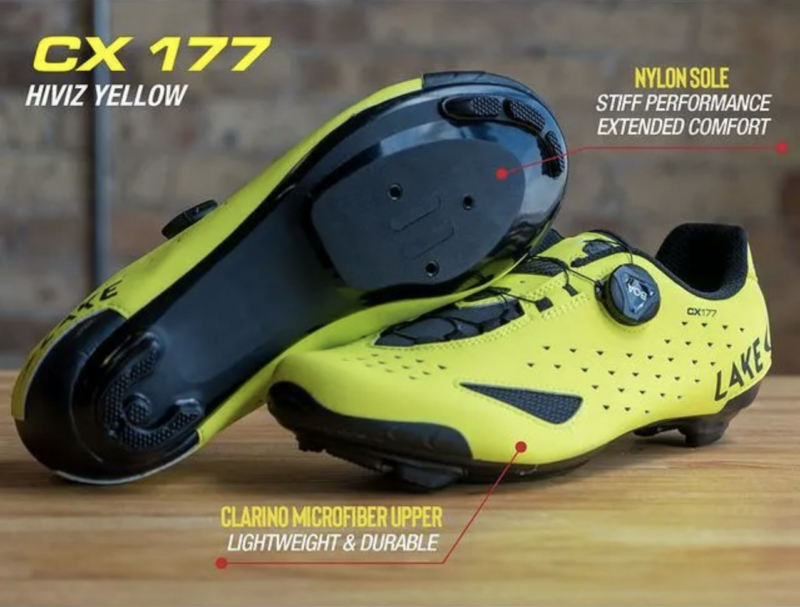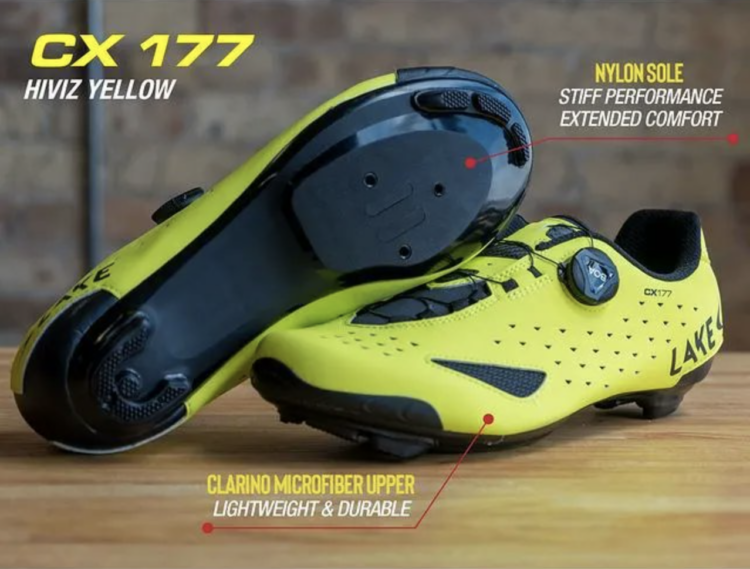 Finding the Lake CX 177 online with a reasonable return policy isn't easy. You can order directly from Lake, but you need to contact them within 14 days to start a return, you have to pay for your shipping, there are a couple of hoops that often happens when shopping direct. Most bike shops that have online stores have a similar policy (be careful, I found some that only offer in-person returns for online purchases).
I did find Lake CX 177 wide width cycling shoes at bikeshoes.com and this site has a 30-day return window. Email the company and they will send you a mailing label. Pack the shoes in the original box with the original packaging, and then place that box in a shipping bag or box and send back without additional fees or hoops to jump. Bikeshoes.com will also price match if you find Lake cycling shoes cheaper elsewhere.
While the Lake CX 177 is compatible with Peloton LOOK cleats as well as SPD cleats, they aren't sold with the shoes. You will need to purchase your LOOK Delta cleats separately.
3. PEARL iZUMi Vesta Cycling Shoe
While this shoe from PEARL iZUMi doesn't specifically state they are for wide feet, they are quite popular with women with wide feet as they run roomy for width and volume while also being quite comfortable and cushioned. If you struggle with narrow toeboxes, the Vesta may be the perfect shoe for you.
The PEARL iZUMi Vesta can be found at a lot of different retailers and since it is specifically a woman's shoe, you can find smaller sizes. The PEARL iZUMi site has by far the best size and color range of the Vesta. The PEARL iZUMi site provides 35 days to try before returning, and uses Returnly for the process, making it easy and not requiring prior approval for returns.
Amazon also has a good color selection, but price as well as return policy varies depending on color and size. Backcountry has the same color and price variation, with no shoe over $125. This shoe is also sold at REI, but only in black, for $125.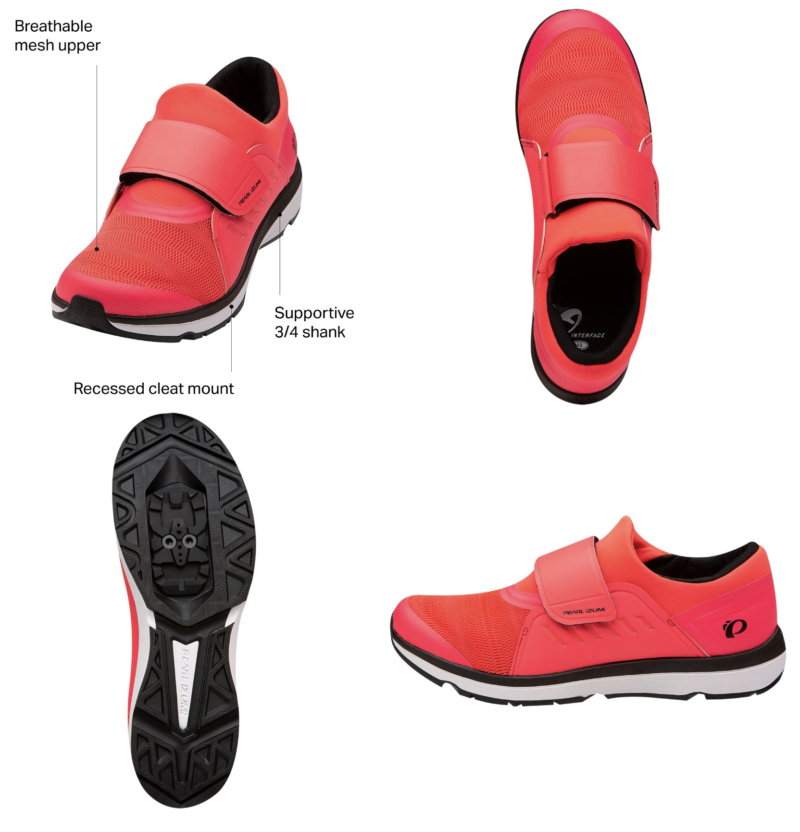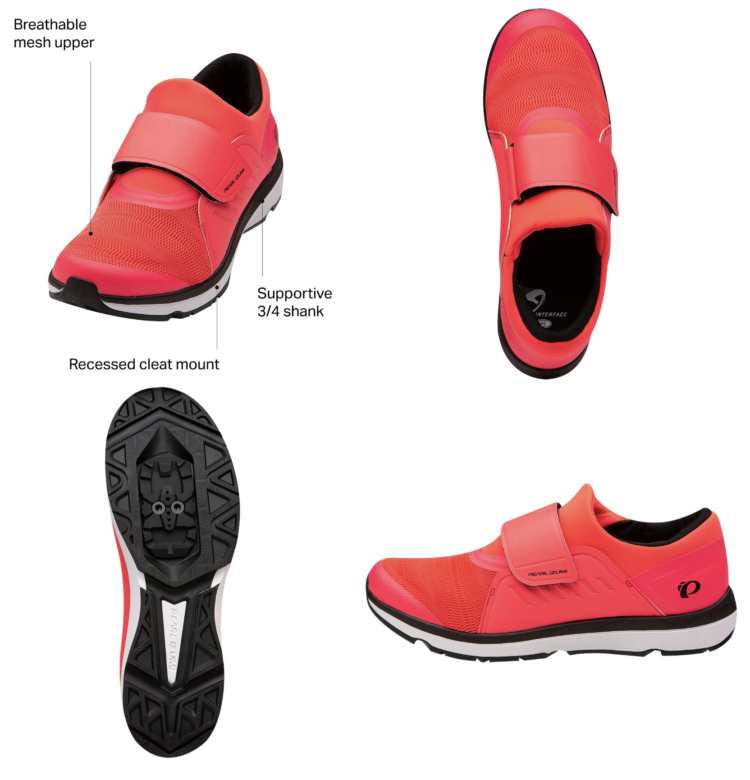 WARNING: The Vesta is a two-bolt cleat shoe, which means it works with SPD pedals and NOT standard Peloton pedals, which use LOOK Delta cleats. To use these shoes on a Peloton bike, you will need to switch out the pedals, which we did on ours.
4. Shimano IC5 Indoor Cycling Shoe
These are the first bike shoes I got when I bought my Peloton bike. I did a lot of research and read that Shimano ran wide, and these shoes have a mesh upper that is flexible and will adjust to fit a wider and higher volume foot. I bought mine at Zappos, where I knew shipping and returns would be free and I'd have plenty of time to try them out on carpet to see if they would not only fit, but be comfortable on the bike.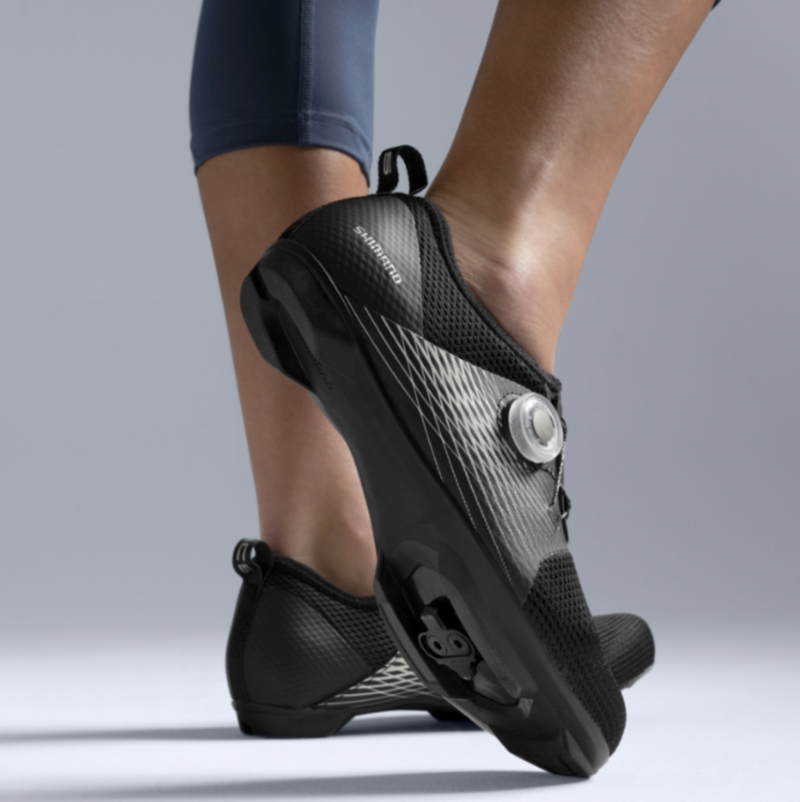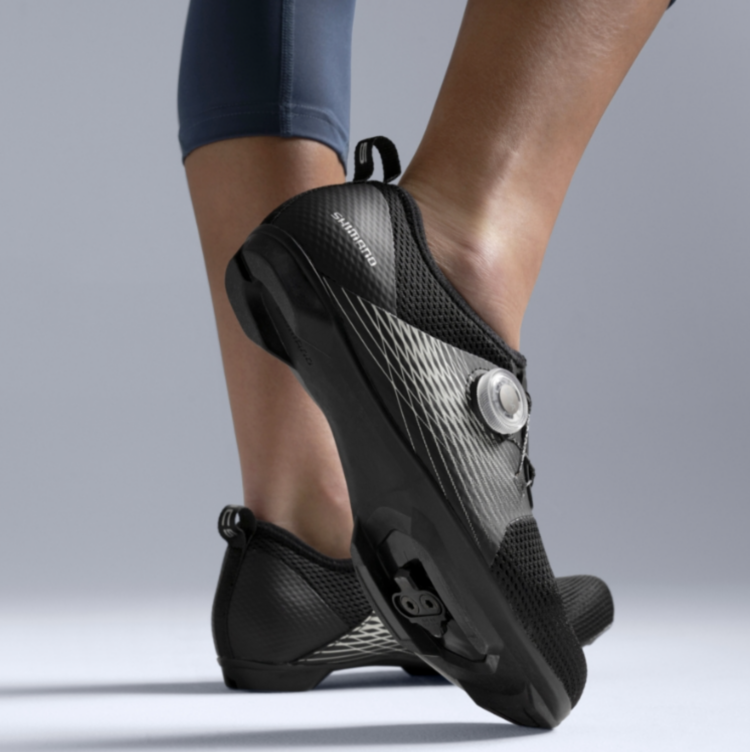 And these shoes did me well for me. They fit and there weren't any hot spots or irritation. The BOA closure made it easy to turn the dial to tighten the shoes and pop it open to release. I also thought they looked great (my purply-blue ones are on sale along with a black with white style and this link has the same shoes in a gorgeous cranberry color as well as black). I also found these shoes on major sale at Amazon.
I am usually an 8W in shoes; in the Shimano IC5 I got a 41 since they didn't offer a 40.5. I think I could have gone down to 40 but the 41 did me well and offered me enough room to add a pair of insoles for more support and rigidity.
However, as I got more comfortable on my Peloton bike, riding longer and with higher resistance, that flexible sock-like upper wasn't providing the stability I desired. It was fine at first, but I found my foot straining against the upper when I was on higher resistance and desired a stiffer shoe. This may not be for all; I have several friends who prefer the sock/mesh flexible upper of a cycling shoe.
WARNING: The Shimano IC5 is a two-bolt cleat shoe, which means it works with SPD pedals and NOT standard Peloton pedals, which use LOOK Delta cleats. To use these shoes on a Peloton bike, you will need to switch out the pedals, which we did on ours.
5. Shimano RP1 Unisex Cycling Shoe
Shimano in general runs a bit roomy in comparison to other cycling shoe brands, but this version gets rave reviews for comfort specifically from those with wide feet. And if the previous Shimano shoes appeal to you but you don't have SPD pedals, this shoe works with both 2-bolt and 3-bold cleats. Even better, this shoe is always under $100.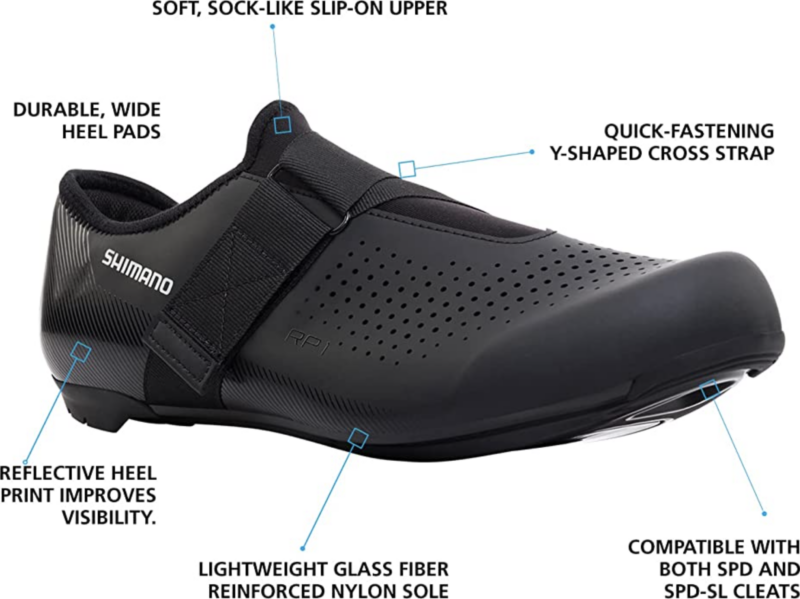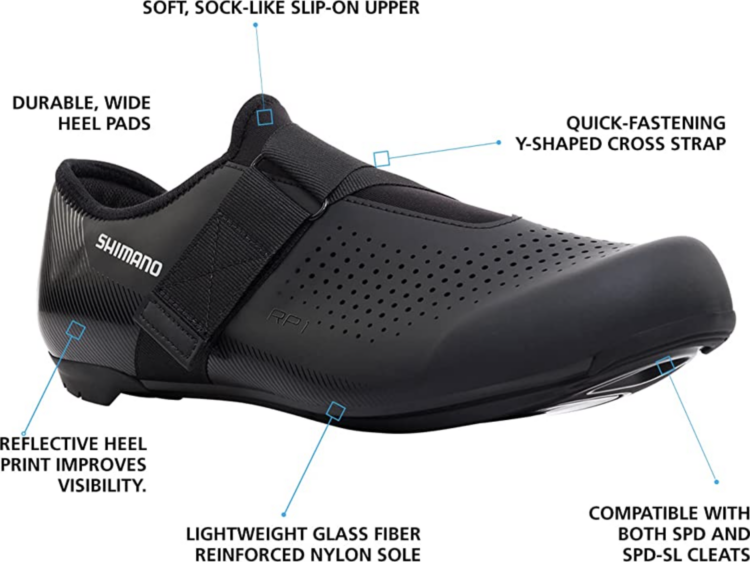 However, because these cycling shoes are faux leather instead of a knit, they won't be as roomy for high volume feet nor have room for insoles. But they are loved for a roomy toebox and adjustable Velcro closure and the stiffer upper and fiberglass-reinforced sole means stability and improved power with each pedal stroke.
6. Venzo Ladies Cycling Shoes
I have not tried these shoes from Venzo, but my friend who has "wide-ish" feet has and loves these and she could hardly fit her feet in the Peloton brand shoes. She likes the firm sole to get maximum power from her pedaling, and the three Velcro straps which help her get a custom fit. Hundreds of the reviews online share they find these roomier than most cycling shoes, especially in the toebox.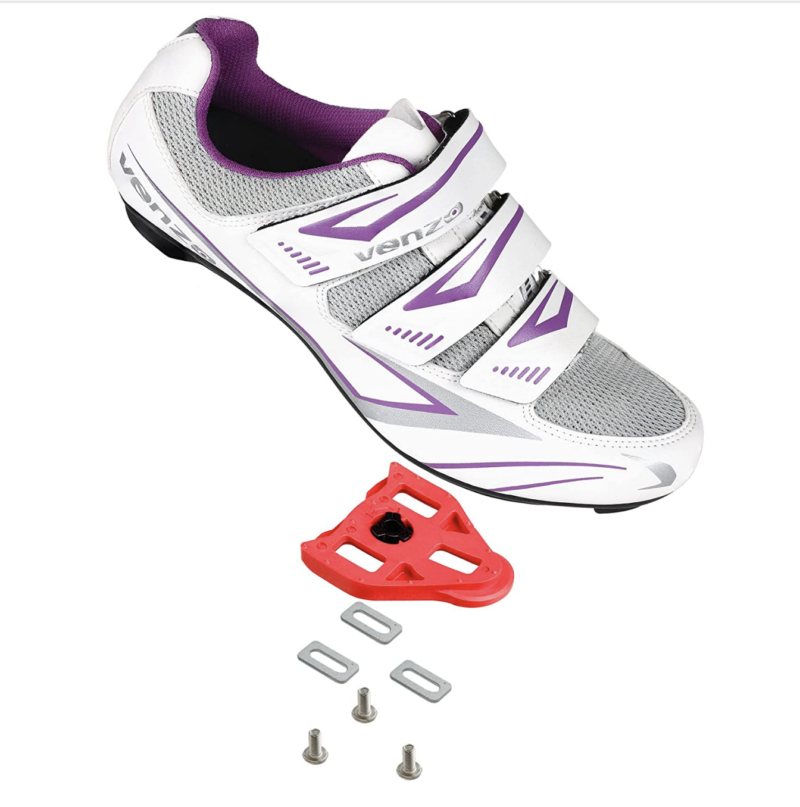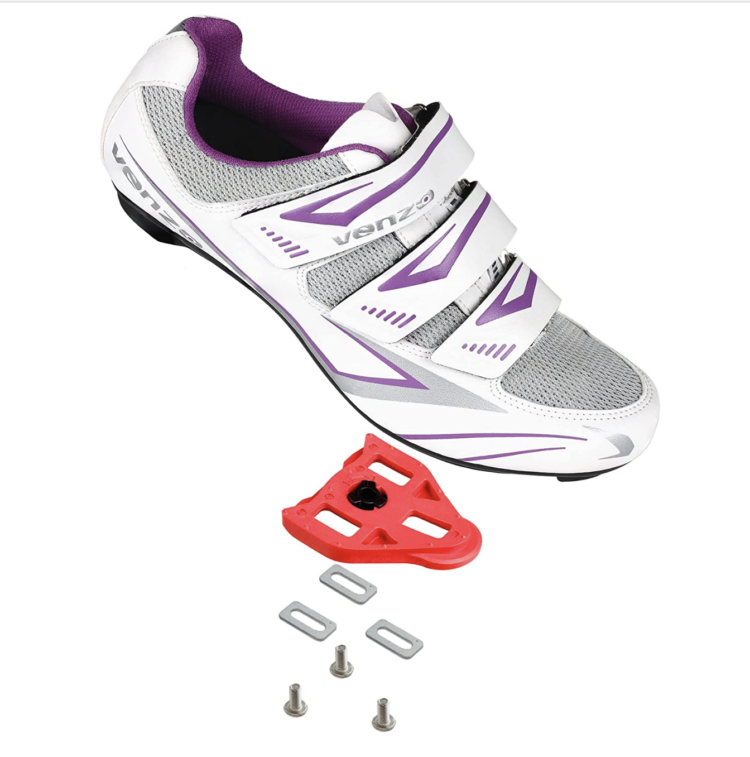 These shoes from Venzo come in a range of colors and come with LOOK Delta cleats, but you will have to attach the cleats yourself (this YouTube video offers a great tutorial). This is a good skill to learn, as cleats often need to be replaced before your cycling shoes.
Some reviews suggest going up a half or even full size for room. I recommend unless you've learned from past experiences, to stick with your standard size. Going up a size may offer room, but can also place pressure on the wrong parts of your foot and cause numbness while cycling.
7. Louis Garneau Women's Multi Air Flex II
The Multi Air Flex II from Louis Garneau is a bike brand shoe designed to flex and adjust to your feet. And unlike a lot of wider width cycling shoes from bike brands, these are made for women so you'll find smaller sizes (they start at size 36 which is close to a size US 6 for women).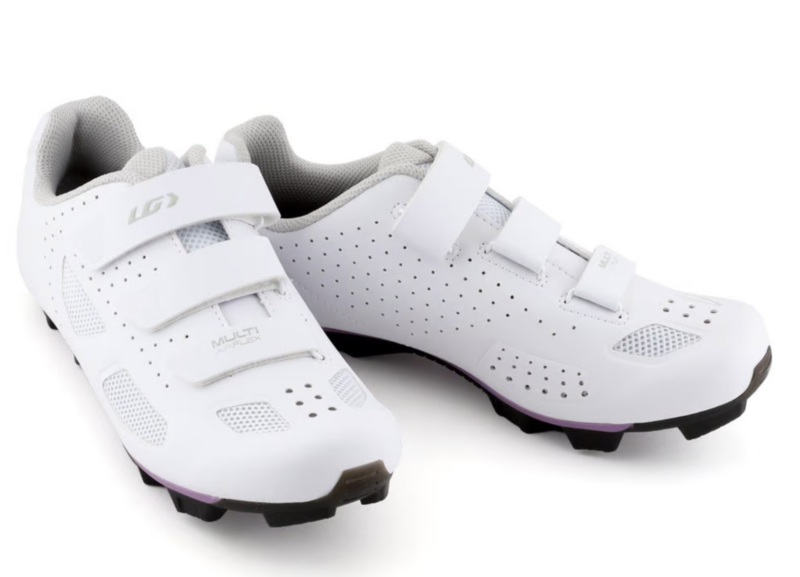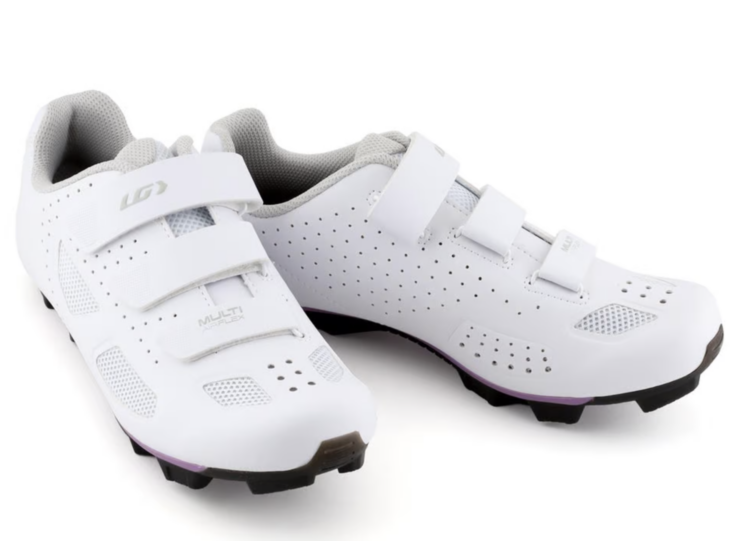 Advertised as roomier than many cycling shoes, the Multi Air Flex is quite popular and you will find rave reviews on all the sites where the shoe is sold. At Amazon, depending on size and color, you can find some for under $50 but be careful as not all offerings have easy returns. Dick's Sporting Goods has the most extensive color and size range, offering this shoe for just under $120. Backcountry also has this shoe for $119.99, but only two colors. Moosejaw has one color with select sizes under $50. And of course, you can get them at the Louis Garneau site. I recommend Dick's for easiest returns, best selection, and IMO best ethics.
Do note, these shoes only work with SPD cleats and you will have to purchase a separate pair of cleats.
Shop Wider Width Cycling Shoes for Women:

Switching Out Your Peloton Pedals To Accommodate a Two-Bolt/SPD Cleat
As you are searching for wide width cycling shoes, you may find that a lot of them, especially the ones from reputable cycling brands, have two-bolt setups. The Peloton bikes are set up to use LOOK Delta cleats, which need three bolts to connect to a shoe. Road and mountain bikes don't use this kind of cleat, hence not making shoes to accommodate a three-bolt LOOK Delta.
If you go to non-Peloton spin classes or use a spin bike at a gym, you will often find the pedals have toe cages on one side, and SPD on the other side. Pretty much in this day and age, the only folks using LOOK Delta are Peloton so most shoes and non-Peloton bikes will require SPD cleats to clip in.
If this is frustrating to you while shopping, know that replacing the pedals on your Peloton bike is not difficult, and it's easy to switch them back to the originals if you need to take your bike in for service. My husband is a cyclist and already owned cycling shoes he loved that had SPD/two-bolt cleats. Instead of getting new shoes, he decided to get new pedals for our Peloton.
I know that the Peloton warranty says changing anything out will void it; I recommend replacing the pedals with the originals if your bike needs service. We have had SPD pedals on our Peloton bike for almost three years without issue.
When we had a problem with our bike, we contacted customer service and were able to remedy it with a few photos and them shipping us a replacement part; the photos didn't include the pedals so we didn't switch them out and it was never part of the discussion to get the free replacement part. Of course, do at your own risk.
Bike pedals need to be replaced every year or so, even if you are using the original LOOK Delta ones from Peloton. It is important to know how to switch out pedals on your bike, even if you aren't switching to SPD. This YouTube video is a good tutorial because whether it's a road bike, a Peloton, or another brand of spin bike the pedals and cranks work the same.
I know from experience how hard it is to find good-fitting cycling shoes when you have wide feet. Switching out your pedals for Shimano SPDs may be what helps you to have a comfortable and supportive experience on your Peloton!
How to Try On on Cycling Shoes at Home
When you try on shoes at home, whether they are for the street or your spin bike, your try-on is exactly that and not a trial run. Do not remove any labels, wear socks, and walk in the shoes on a carpet to prevent scuffs. Whether you are shopping from a major retailer or an independent bike shop, returns of visibly worn shoes are rarely accepted and if they are accepted, hurt the shop's bottom line.
Wear the shoes while at a standing desk or doing an activity where you stand for a while; this is a good way to see how the shoes wear on your feet without causing a lot of creasing or wear. When cycling, you won't be bending and flexing your foot as much as your ankle so standing is a good gauge. Also point and flex your foot to see how the shoe feels against your ankle.
Keep all the packaging, from the box to the inserts to keep the shoe's shape in transit. If the shoes do not fit be very careful, packing them up as close to how they came. Do not put shipping labels directly on the shoebox; place the shoebox in a larger box with crumpled paper to keep it from shifting, or wrap the box in a shipping bag or heavyweight paper so the box is kept fresh and ready for the next customer.
If you have wide feet and have found great cycling shoes that fit, please share your recommendations in the comments. I want this to be a valuable resource for my fellow wide-feet friends and know/hope my list of the best wide width cycling shoes for women is not exhaustive!